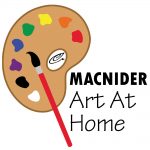 MacNider Art At Home was created in March 2020 as the COVID-19 pandemic began it's spread and everyone was encouraged to stay home. The MacNider staff hosted daily online art challenges, art talks, items-at-home art projects, and coloring pages.
When the museum reopened in June 2020 we were able to continue our online art interactions, but had to slow down the schedule to focus on how to operate safely in-person. Our last Items-At-Home project posted March 31, 2021, totaling 46 projects created & demonstrated by Pam Jost. The last Art Talk posted on March 10, 2021, totaling 48 informative talks by Mara Linskey-Deegan and Edith Blanchard. The last coloring/activity page posted on April 7, 2021, totaling 37 created by Laura Anderson.
WEEKLY ART CHALLENGE
The last Art Challenge was week 12 on June 5, 2020. We loved seeing all the amazing art submitted to us! Go to the Weekly Art Challenge page to view the galleries of artwork!
ART TALKS
Art Talks were hosted by the Museum Director and Curator and discussed various works in or related to the museum's permanent collection.
ITEMS-AT-HOME ART PROJECT
Museum educators demonstrated how to make art using items you have in your home.
COLORING PAGES
The Museum will posted an activity page that highlighted works in the collection.
TAKE & MAKE PROJECT
Starting Sun., April 5, 2020 we discontinued the weekly Take & Make projects to encourage everyone to stay home. This also allowed us to do more Items-At-Home Art Projects!
We hope that during this concerning time, the Museum brought enjoyment into the lives of our citizens through the therapy of art.