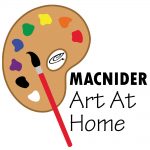 In order to engage the public the MacNider Museum has developed several online activities for use at home during this time of concern. Educational videos and contests will be posted both on our website and Facebook page as they are created.
WEEKLY ART CHALLENGE
Mondays – The Museum will host an art challenge where we ask you to draw / paint something in your home. The subject matter will be posted every Monday at noon. Submit your completed picture digitally by 8 am on Fridays to be entered in a drawing for Museum related prizes by age category. Ages are 18+, 13-17, 8-12, and 7 and under. You do not need not be a Mason City resident to participate. Entries must be submitted by emailing pictures to lthompson@masoncity.net or sent to the museum by Facebook messenger. Entries should NOT be dropped off at the Museum.
Friday – The Museum will post a gallery of the community artwork submitted during the art challenge and announce winners at noon. Winners can elect to pick up their prize at a later date.
ART TALKS
Tuesday and Thursday– You will be able to learn about a piece of art in the Museum's collection. Art Talks will be hosted by the Museum Director and Curator and will discuss the various works for about 10-15 minutes. Art Talks will be posted at noon each of these days. Feel free to contact the Museum for suggestion of pieces to discuss.
ITEMS-AT-HOME ART PROJECT
Wednesday & Sunday – Museum educators demonstrate how to make art using items you have in your home.  Once again, this video will be posted at noon on Wednesdays and every attempt will be made to adjust the project to various age levels.
COLORING PAGES
Saturday – The Museum will post an activity page out of its coloring / activity book of that highlights works in the collection.
TAKE & MAKE PROJECT
Starting on Sun., April 5 we will discontinue our weekly Take & Make projects and start posting an additional Items-At-Home project.
We hope that during this concerning time, the Museum can bring enjoyment into the lives of our citizens through the therapy of art.