Magical Fish & Mermaids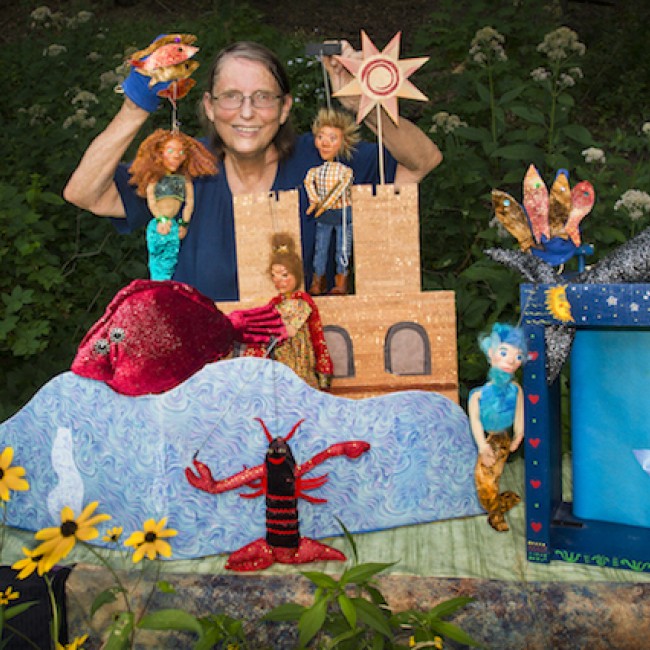 Admission is FREE!
Thursday, April 13, 2023 at 10 A.M. • 1 P.M. • 6 P.M.
The Eulenspiegel Puppet Theatre Company will present three showings of "Magical Fish & Mermaids" on Thursday, April 13, in the Salsbury Room at the MacNider Art Museum at 10 am, 1 pm, and 6 pm. All shows will be free and open to the public. Seating is first-come, first-served. Doors will open for seating 15 minutes before each show. This free show is made possible by a grant from the Bertha Stebens Charitable Foundation. Masks are optional.
The Fisherman and his Wife is the ancient Grimm's Fairy Tale of the magical fish who grants wishes until the beneficiaries become too greedy and too hungry for power. The Mermaid of the Magdalenes, a Canadian folk tale, is much newer and features an ocean full of fish, a canning factory, and a little girl named Madeleine who wishes she could live in the ocean. Will her wish be granted? The two stories are joined with a song, The Keeper of the Eddystone Light, illustrated with a cranky, an old fashioned illustrated scroll that resembles an old time movie. Both stories are performed by puppeteer Monica Leo with delightful Bohemian style rod marionettes.
Groups of 10 or more (schools, home school groups, daycare, etc.) should register in advance for the 10 am & 1 pm shows by calling 641-421-3666 or emailing jmbohl@masoncity.net. Schools are eligible for a bus subsidy while funds last.