Off the Wall showcases pieces from our permanent collection individually so you can learn a little bit more about the pieces in our museum one at a time.
*****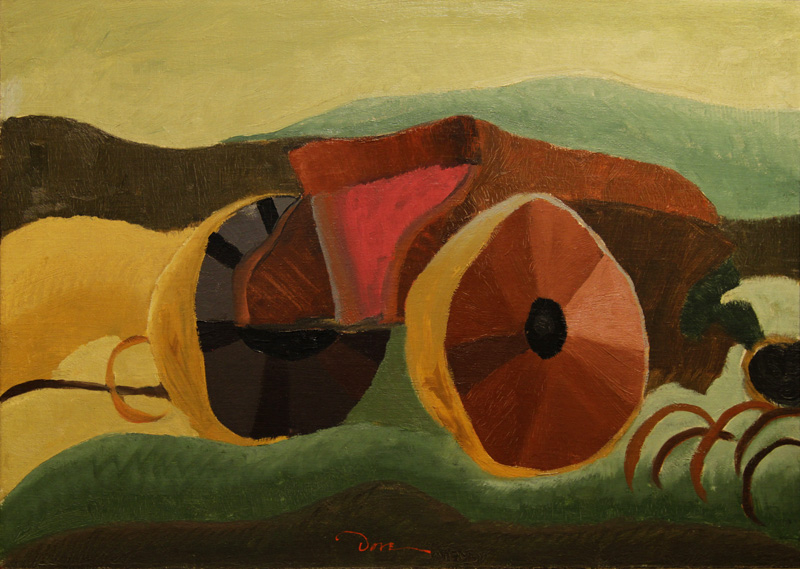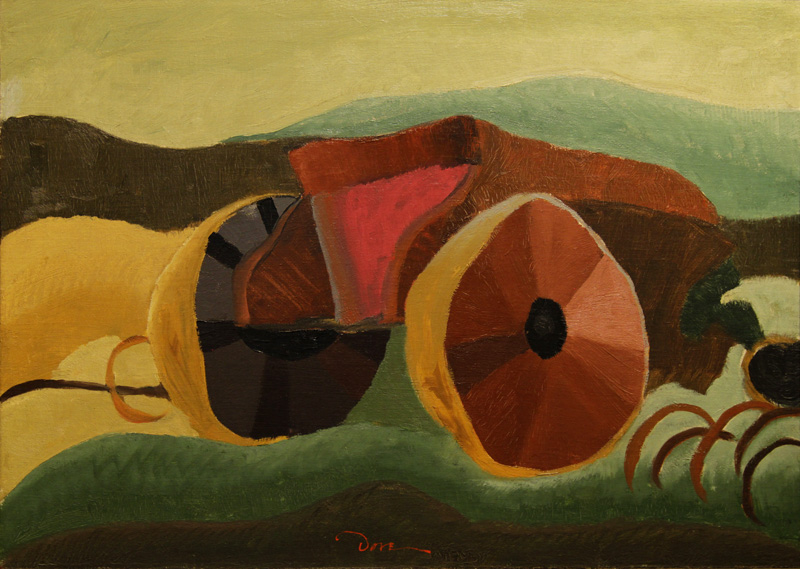 The Clay Wagon
Arthur Dove (1880-1946)
Oil on canvas, 1935. Gift of the Francisca S. Winston Trust. 1965.1
Arthur Dove was the first American artist to paint a completely abstract picture.  He did this around 1910, perhaps a little before the Russian-born Kandinsky's first abstract compositions. The difference was that Kandinsky's abstract work happened in the progressive cultural and artistic context of Europe while Dove's debuted in the general indifference of American taste.  His own reclusiveness contributed to the lack of impact his work had on the national art scene.
Dove's work was all about nature. He began his art career as an illustrator for the New York press and in 1907 went on a year-and-a-half trip to Europe, spending most of it in Paris. There he fell in with the circle of American expatriate artists. His early work shows the influence of Cezanne and Matisse.  As soon as he got back to the United States he "went native," as he put it, spending much of his time camping in the wilderness. "I can claim no background," he once reflected, "except perhaps the woods, running streams, hunting, fishing, camping, and the sky.  After he failed at farming in upstate New York, he bought a yawl on which he lived for seven years, sailing the waters of Long Island Sound along the Connecticut shore. These experiences fed into his work, while isolating him from New York's small avant-garde circles
In 1913 Dove explained to a friend his process of abstraction (or, as he sometimes called it, "extraction"): the landscape slowly disappears like the Cheshire cat in the tree, leaving the "abstract" form behind.  The first step was to choose from nature a motif in color, and with that motif to paint from nature, the form still being recognizable.  The second step was to apply this same principle to form, so that the actual object disappeared, and the means of expression became purely subjective.  In this way Dove believed he could arrive at "essences" that would transmit his sense of the spiritual in nature which was the deep concern of his art. Such "essences" were shapes that symbolized life forces and organic growth suggesting (he thought) some inner principle of reality.
*****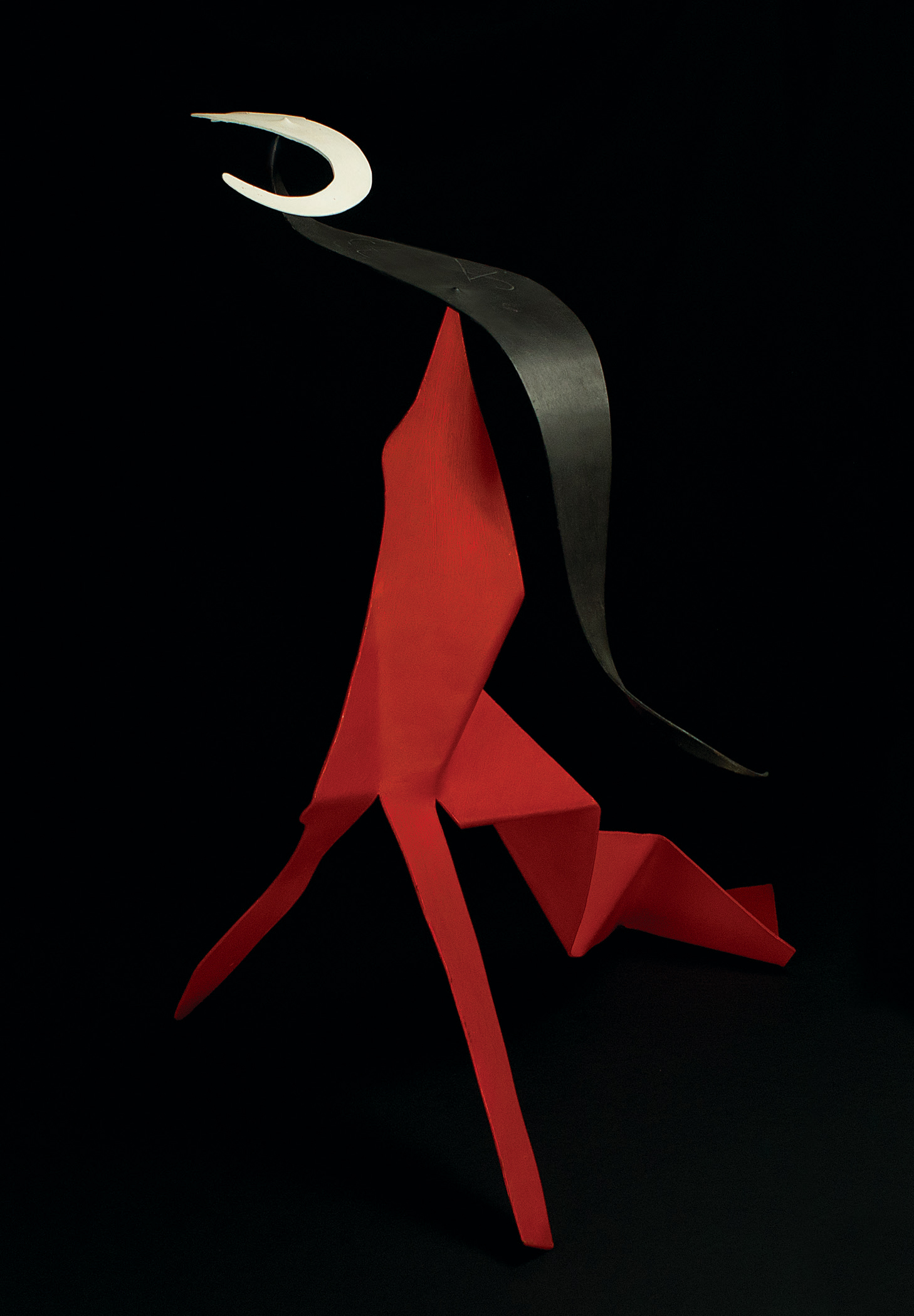 Sans Titre
Alexander Calder (1898-1976)
Painted aluminum sheet, 1973. Gift of Kelly Paulson. 2001.1
Alexander Calder was born on July 22, 1898 in Lawnton, PA.  His father was Alexander Stirling Calder and was a well-known sculptor in Philadelphia.  His mother was Nanette Lederer Calder and was a professional portrait painter.  He had one older sister named Margaret "Peggy" Calder.  He briefly attended Germantown Academy as a child and spent his early high school years at Croton-on-Hudson in New York.  He graduated High School from Lowell High School in San Francisco then moved back to New York to start his Art Career at Art Students League.
Calder is well known as a sculptor.  His first solo show was at the Weyhe Gallery in New York.  His first solo exhibit was at the Renaissance Society at the University of Chicago.  Many of his works can be found in the U.S. and in Europe.
Many of his work are found in Mexico, New York, Paris, and Grand Rapids, Michigan.  He is also well known for the creation of the "mobile", which was a plane and he had made numerous of these during pre and post World War II years.  During his criss-crossing of his shows on the Atlantic he met his wife Louisa James and they married in 1931.  They had two daughters.  Sandra born in 1935 and Mary born in 1939.
Calder died on Nov. 11, 1976.  On January 10, 1977, he was awarded the Presidential Medal of Freedom by Gerald Ford.  This award was the highest that any civilian could receive.
*****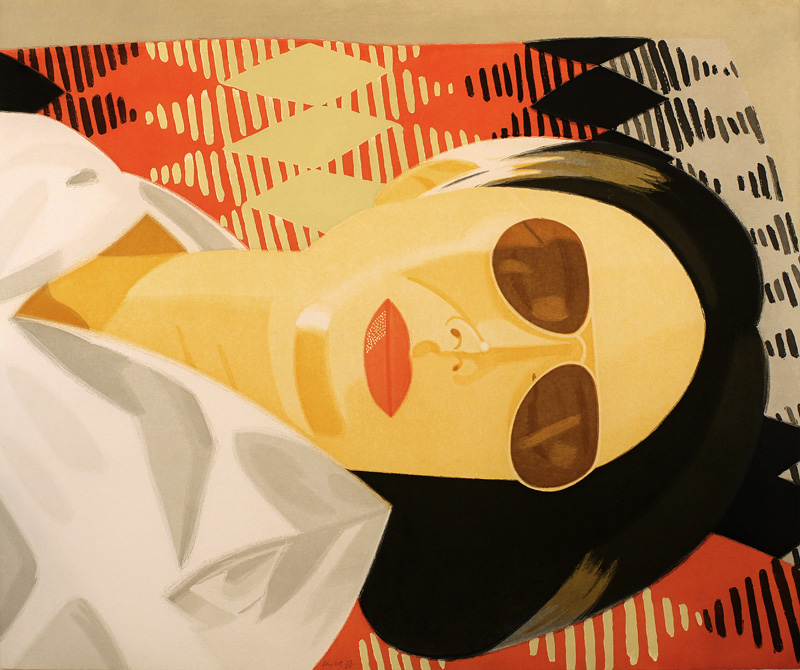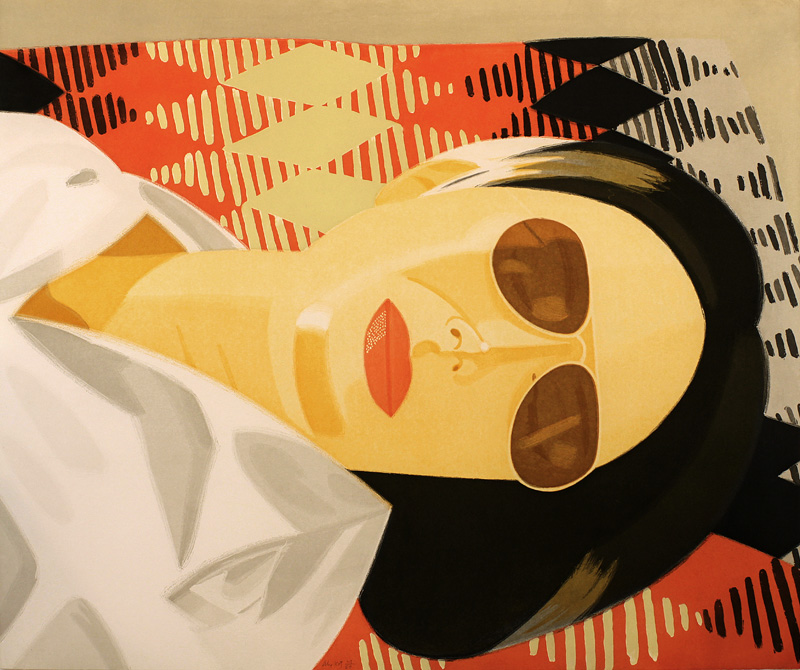 Reclining Figure
Alex Katz (b. 1927)
Aquatint color, etching on paper, 1987. John and Mary Pappajohn Endowment Fund Purchase. 1988.5
Born and reared in New York, Alex Katz is a prominent artist in the generation of painters who dedicated themselves to the figure when Abstract Expressionism ruled the art world and all but declared the death of portraiture.  Katz's flat expanses of color, reductive compositions and cool ambiance are a stark contrast to the Abstract Expressionist splatter and vigorous application of paint.  The measured combination of representation and abstraction in Katz's work has had a lasting influence on generations of artists working today.
Katz, still actively producing art as an octogenarian, has during his long career consistently made portraits of his wife, Ada.  These images have achieved iconic status and are extraordinary in their focus on a single figure over many decades.  His work is seldom critically described without mention of its "cool."  This mood is fostered in part by  the air of poise and effortless chic radiated by Ada, who has been described by Irving Sandler as being at once "wife, mother, muse, model, sociable hostess, myth, icon, and New York goddess."
In Reclining Figure, Katz visits this most frequent subject; his lifelong muse Ada, in familiar attire; sunglasses, and plumbs her image once again for more insight and meaning.  
*****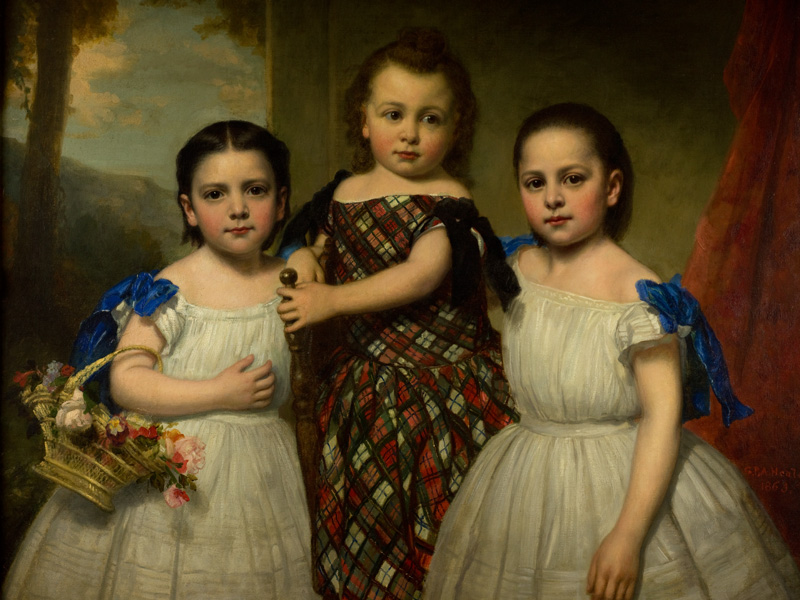 Children of Colonel and Mrs. Turnley
George Peter Alexander Healy (1813-1894)
Oil on canvas, 1863. Purchase with Belle Parker Jackson Bequest. 1970.1
George Peter Alexander Healey was born in 1813 in Boston, the eldest of 5 children.   When the family was left fatherless he helped to support his mother.  He started to draw at age 16 and immediately began to pursue a career as an artist.  His very earliest works were reproductions of other artist's work, which he used as a tool to learn, as well as to sell for income.  By age 18 he was able to make a living painting portraits.
In 1834 Healey traveled to Europe to further his schooling in painting.  He left Europe in 1840 and traveled to Chicago where he remained till 1869, and where this portrait was painted.
Colonel Turnley was from a prominent Southern family, which were frequent customers of Healey's.  This portrait is of three of Turnley's five children: The child in the middle, while dressed in a tartan dress, is actually believed to be their son, Ernest.  Historically it was normal for all children, even males, to wear dresses while young.  On each side in white dresses are their daughters Emma and Ethel.  Common for his portraits, the background of the work is muted to focus attention on the subjects of the work.   Before photography became widely available, it was customary for many wealthy families to immortalize themselves and their families in art.
Healey painted many important portraits of the 19th century including Daniel Webster, John Calhoun, Henry Clay.  One of his most famous works was his posthumous portrait of Abraham Lincoln.  Lincoln sat for Healey in August 1864 and Healey began working on sketches, however, after the president was assassinated, he did not conceive the painting until 1869.  It now hangs in the White House's State Dining Room.  Healey died in 1894, well known and respected as one of America's most prolific portrait painters.
*****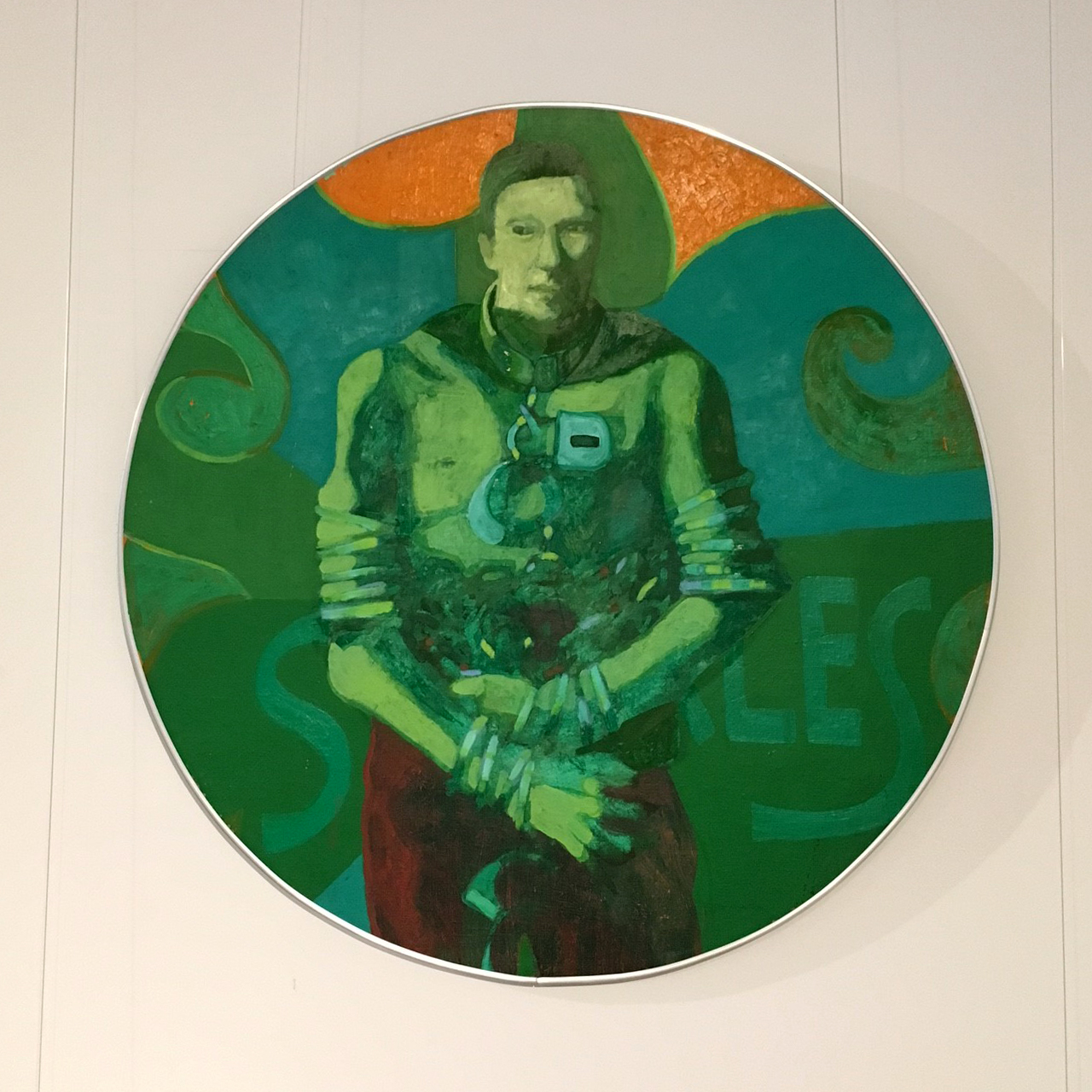 Shackles
Byron Burford (1920-2011)
Oil on canvas, 1965. Museum purchase. 1968.2
Byron Buford was born in Jackson, Mississippi July 12, 1920.  He studied with Grant Wood at the University of Iowa, earning a BFA in 1942.  He returned to the university after serving in the U.S. Air Force during World War II and he received his MFA in 1947.
Upon graduating he was appointed to the faculty and preceded to teach painting until 1986, when he was named professor emeritus.  Additional teaching was done at the University of Minnesota, California College of Arts and Crafts, and the Joslyn Museum.
Burford is known primarily as a painter and printmaker.  Almost all of his work is figurative and done with a muted palette. Many of his collections are found at Walker Art Center in Minneapolis, J.S. Guggenheim Collection in New York, Des Moines Art Center, Nelson Atkins Museum in Kansas City, Joslyn Museum in Omaha, and many others.  He has had exhibits in New York, Washington, Chicago, Venice, Italy, Colombia, Zurich, Switzerland, and others.
One thing that Buford is best known for is the images depicting circus life.  When he was only 14 or 15 years old, he briefly joined the Tom Mix Circus.  Since that time, he has gone out with circuses whenever he can – Clark and Walters, Famous Cole, Franzen Brothers, Great American – often as a drummer in the circus band.  Other bodies of work deal with the military, industry and sports.  Common elements include the passage of time and human endurance.
*****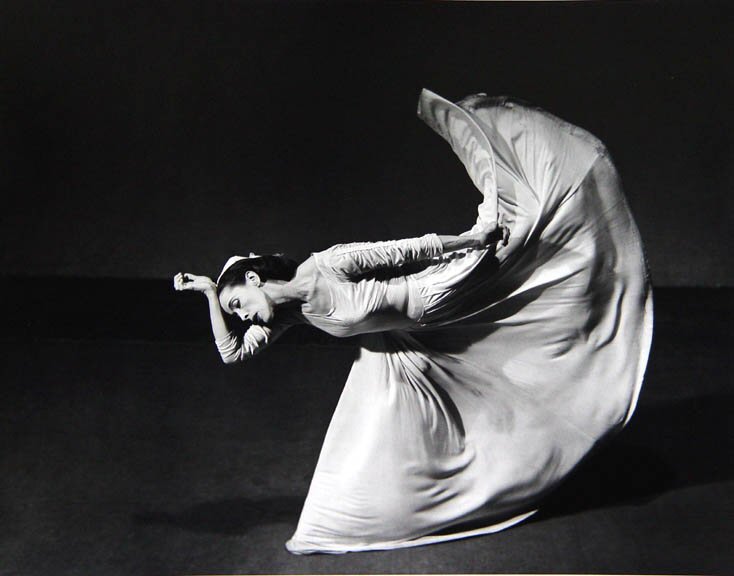 Martha Graham – Letter to the World
Barbara Morgan (1900-1992)
Photography, 1940. Gift of Mr. L. Bradley Camp (via the Ackerman Foundation). 1993.6.1
Initially trained as a painter, Barbara Morgan took up photography in the mid 1920's after realizing its artistic potential through seeing the work of Edward Weston. From the beginning, Morgan was inclined to explore the rhythmic motions of her subjects and was drawn to modern art.  In the United States, modern dance, perhaps more than any other art form, provided artists with fresh ideas to explore. Photography, too, was ripe for experimentation in the 1920's, through manipulated images of photo-montage, light drawings using photographic processing, and other constructed forms of image-making.
In 1935, Morgan met modern dance pioneer Martha Graham; the two women found they shared a common approach and immediately decided to work together, with Morgan photographing Graham's dance company over the next five years for an award-winning book. The shoots were preceded by conversations between the two, and hours of Morgan observing the dance works in actual theater performances. Morgan selected particular moments from the flow of peaks and repetitions throughout the dance, which to her captured its essence. Working with Graham and the dancers, she recreated these moments in the studio and based her photographs on the results.
Morgan's dance photographs rank among the classic experiments of Modern American Expressionistic photographic art. Photographic meaning for Expressionist photography extends beyond the photograph and becomes a symbol communicating personal vision and cultural values. Thus photography from an Expressionist's point of view is not essentially a vehicle for documentation, but frequently aims at a metaphorical interpretation of its subject. Expressionists such as Morgan advocate the separation of the medium as a fine art from its functional and casual "snapshot" tradition.
*****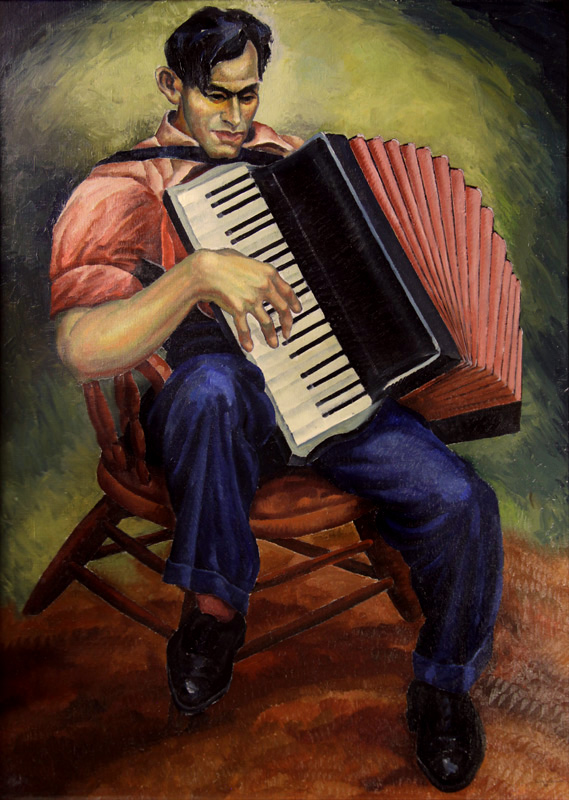 The Accordian Player
Todros Geller (1889-1949)
Oil on canvas, 1938
In a painting in the Hanford MacNider Gallery of the Museum a strong figure with a shock of dark hair pensively plays an accordion.  The chair on which the man sits seems to be floating in an indefinite space, which draws the viewer more deeply into his reverie.  The musician is not dressed for performance, but in work clothes, and perhaps his most striking feature is the oversized hand the artist has given him.
The painter, Todros Geller, was a Ukrainian American artist and teacher best known as a master printmaker and a leader among Chicago's art and Jewish communities.  Geller produced paintings, woodcuts, woodcarvings, and etchings.  His work focused on Jewish tradition, often including moralistic themes and social commentary and the intersection of Jewish tradition with modern day Chicago. He received commissions for stained glass windows, bookplates, community centers, Yiddish and English books and was regarded as a leader in the field of synagogue and religious art.
Geller viewed art as a tool for social reform and spent a large part of his career teaching art.  Many prominent Chicago artists studied drawing and painting under him, including Aaron Bohrod, whose work The Old Doll, hangs opposite The Accordion Player in the MacNider Gallery.
The Accordion Player was given to the MacNider Museum in the early 1980s by the Mason City Community School District and was produced as part of the WPA Federal Art Project.
*****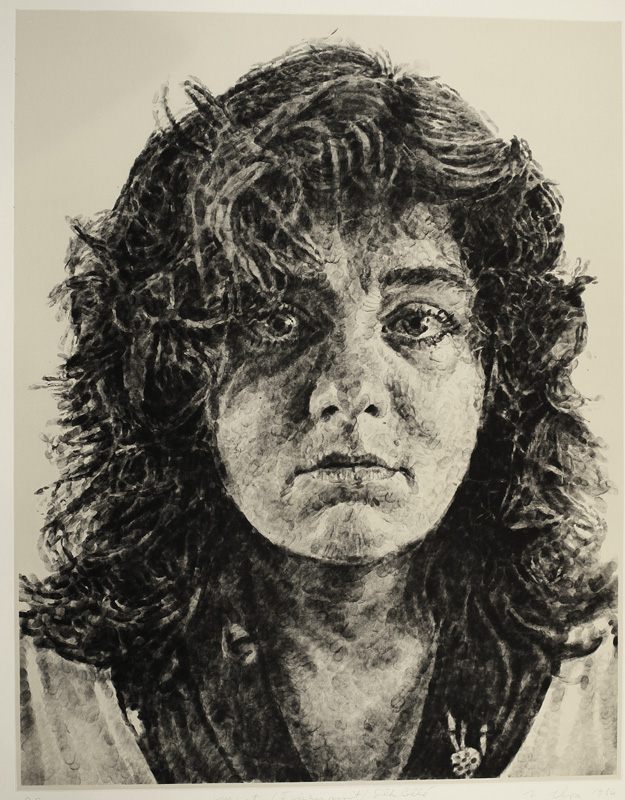 Marta
Chuck Close (b. 1940)
Etching on paper, 1986. John and Mary Papajohn Endowment Fund Purchase. 1995.13
Chuck Close has worked since the early 1970s within a carefully defined practice focused exclusively on monumental portraiture.  Starting with a source photograph, Close carefully transposes the image to a canvas or other surface using a grid.  Referencing painting, drawing, photography, collage and printmaking, the resulting works are hybrid objects that merge manual and mechanical processes and explore the boundaries between the personal and the social, the subjective and the systematic, the abstract and the representational.
After a rare spinal artery collapse in 1988 that left him with partial use of his arms and legs, Close paints with a brush strapped to his hand.  Rather than ending his career, "the event", as he calls it, has pushed his work further into a looser, freer style he was beginning to explore before it occurred.
Close created Marta, the print in the MacNider's collection, by measuring off the grid he uses as the foundation of all his portraits, making marks on a metal plate with his fingerprints, and etching these into the plate with acid.  Ink was then rolled over the surface and into the grooves, paper was laid on top of the plate, and the image was transferred to the paper.  The tan background of Marta is silk glued to the paper during the printing process.
*****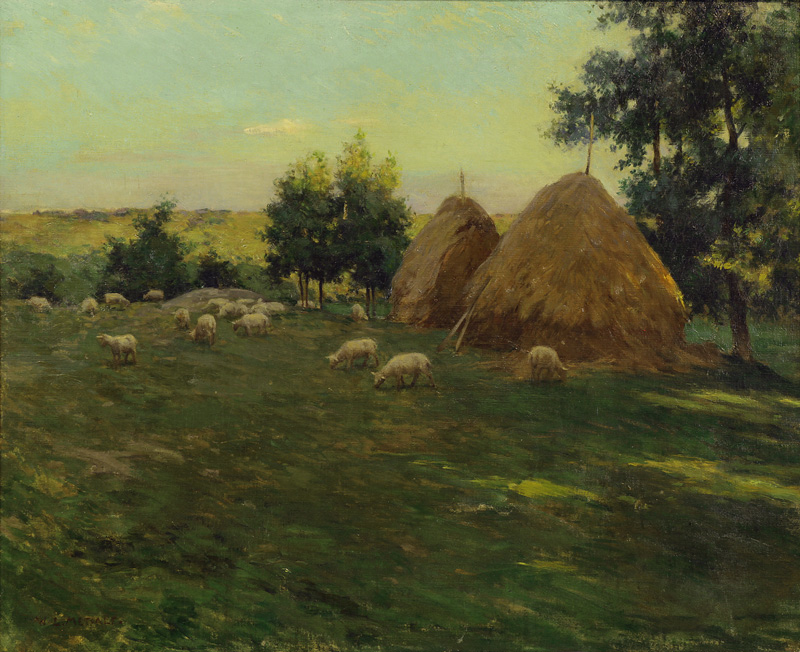 Haystacks
Willard Metcalf (1858-1925)
Oil on canvas, circa 1888. Gift of Mason City Women's Club. 1967.7
Willard Metcalf was an America artist born in Massachusetts who is generally associated with American Impressionism.  After early figure-painting and illustration, he became prominent as a landscape painter.
The French Impressionists astounded the late nineteenth century art world when they took canvases and palettes out of their studios and painted directly from nature.  They were particularly fascinated by a free handling of paint and the changing effect of light on their subjects.  Considered revolutionary at the time, these innovations are the precursors of modernism and eventually, abstract art.
Though Haystacks may not show the dappled sunlight that characterizes the work of the Impressionists, the loose handling of paint and the outdoor scene are typical of the movement.  Metcalf studied in Paris and by 1886 was painting at Monet's Giverny.  After his return to the United States in 1888, his production was erratic, but he is known for his New England landscapes.
*****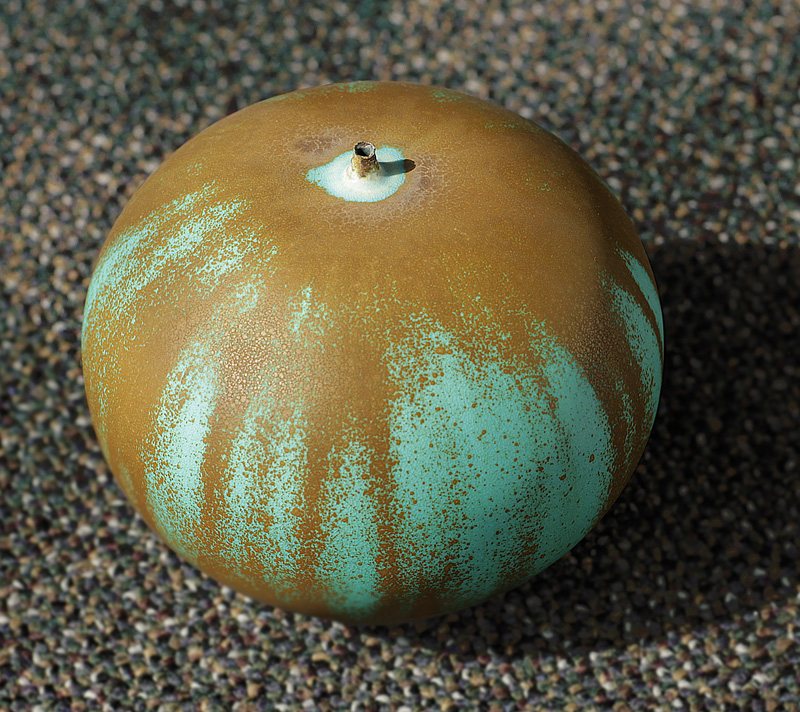 Porcelain Feelie
Rose Cabat (1914-2015)
Clay ceramic. Gift of The Mulcahy Foundation. 1988.2
Rose Cabat was born in New York City in 1914 in the Bronx, and married her childhood sweetheart Erni Cabat in 1936. She began working in ceramics in 1940 after her husband Erni brought home some clay from his job as an assistant to Vally Wiselthier an art deco ceramicist who was making pieces for General Ceramics. After seeing her preliminary pieces, Erni gave Rose a membership at Greenwich House, where Rose learned how to use a potter's wheel.
Shortly after their first son George was born, he was found to have intractable asthma. The Cabat's decided to move to Arizona around 1942 in order to alleviate his condition. Rose worked at a defense plant and was able to make primitive ceramics from the extra clay that Erni was able to obtain from brickyards. Rose was able to make some coil figures until Erni was able to convert a washing machine to a potter's wheel. Eventually, Erni ordered a Randall kickwheel, which Rose used to the end. She made ceramics in her spare time, as she worked in a munitions plant during World War II.
After the war, Rose continued to make craft ceramics such as wind bells, animal shapes and other commodity pieces to help support the family, while Erni worked in Tucson as a graphic artist and in advertising. They became friends with local artists, and helped to start the Art Center, the forerunner of the Tucson Museum of Art.
In 1956, the Cabats took a glaze calculation class at the University of Hawaii which were later applied to the "feelie" forms that become Rose Cabat's signature pieces. In about 1960, Rose hit upon the basic form of the vessel which would become the foundation of the "feelies". She created a pot with a delicate closed neck, which could not hold even a single slender stem or stalk.
By 1966, Rose Cabat was beginning to be recognized as a craft artist, with the exhibition at the Los Angeles County Museum, Craftsmen USA, where she exhibited a casserole. In 1973, her feelies were exhibited in Everyday Life in Early America as contemporary counterparts to pioneering American craftspeople.
Rose and Erni continued to produce ceramics, including feelies and bowls with their signature glazes. While Rose and Erni collaborated on the feelies and other ceramic forms, Erni ran his ad agency in Tucson until the age of 62 when he had felt that the family could be supported with the income from the "feelies" and other ceramics as well as his own artwork.
Rose continued to produce feelies and bowls, despite her decreasing mobility. Cabat died on January 25, 2015 at the age of 100.