Off the Wall showcases pieces from our permanent collection individually so you can learn a little bit more about the pieces in our museum one at a time.
*****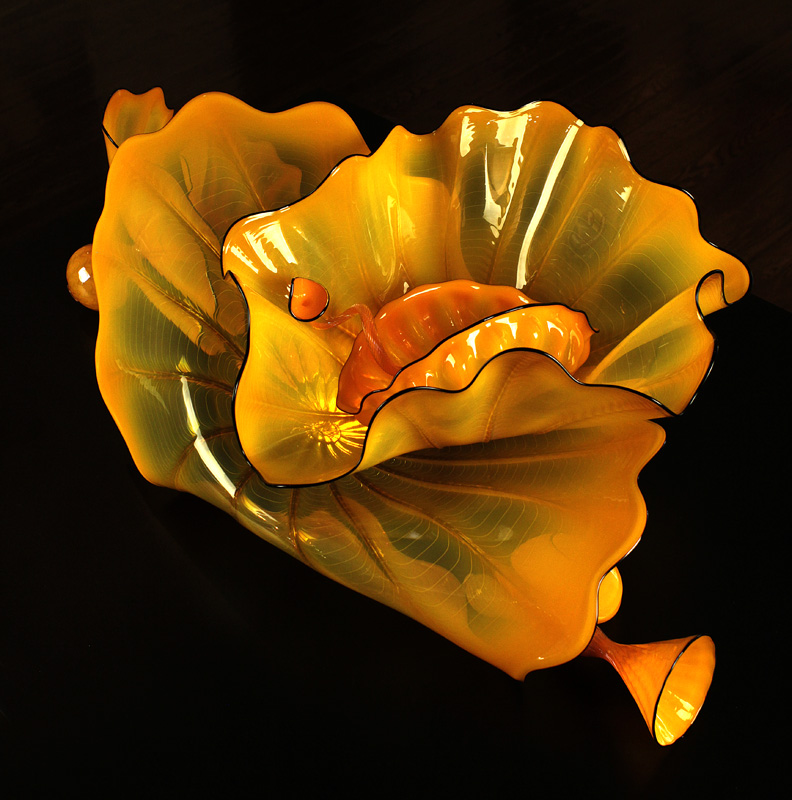 Dale Chihuly, a native of Tacoma Washington, is famous for his dazzling artistic glass creations.  Orbs, cylinders, spikes and spirals – Chilhuly's work appears to defy gravity.  After receiving an undergraduate degree at the University of Washington in Interior Design, he later received a Master's degree in Sculpture from the University of Wisconsin – Madison where he has studied under the famed glass artists Harvey Littleton in 1967.  On a Fulbright scholarship in 1968 he traveled to Venice and received a Masters of Fine Arts at the Rhode Island School of Design.  He founded his own glass school in 1971, named Pilchuck (pill chuck) Glass School, located in Standwood, Washington.
Due to a personal injury to his shoulder sustained in a body surfing accident, Chihuly was forced to give up glass blowing himself, relying on assistants to do the physical labor, while he served as artistic director. He explained his role as "more choreographer than dancer, more supervisor than participant, more director than actor." In the 1970's he began to use a team approach to glass blowing which allowed him to achieve massive glass sculptures that would have been impossible for one artist to accomplish alone.
In recent years, he has made his artwork a household name by his entrepreneurial ventures that include retail stores in high-end areas, documentaries, and artwork prints made for commercial purposes. His team approach made it possible for him to create large works that now reside with many companies who want large-scale impressive instillations in their building. In 2012 the Chihuly Garden and Glass center opened in Seattle.
*****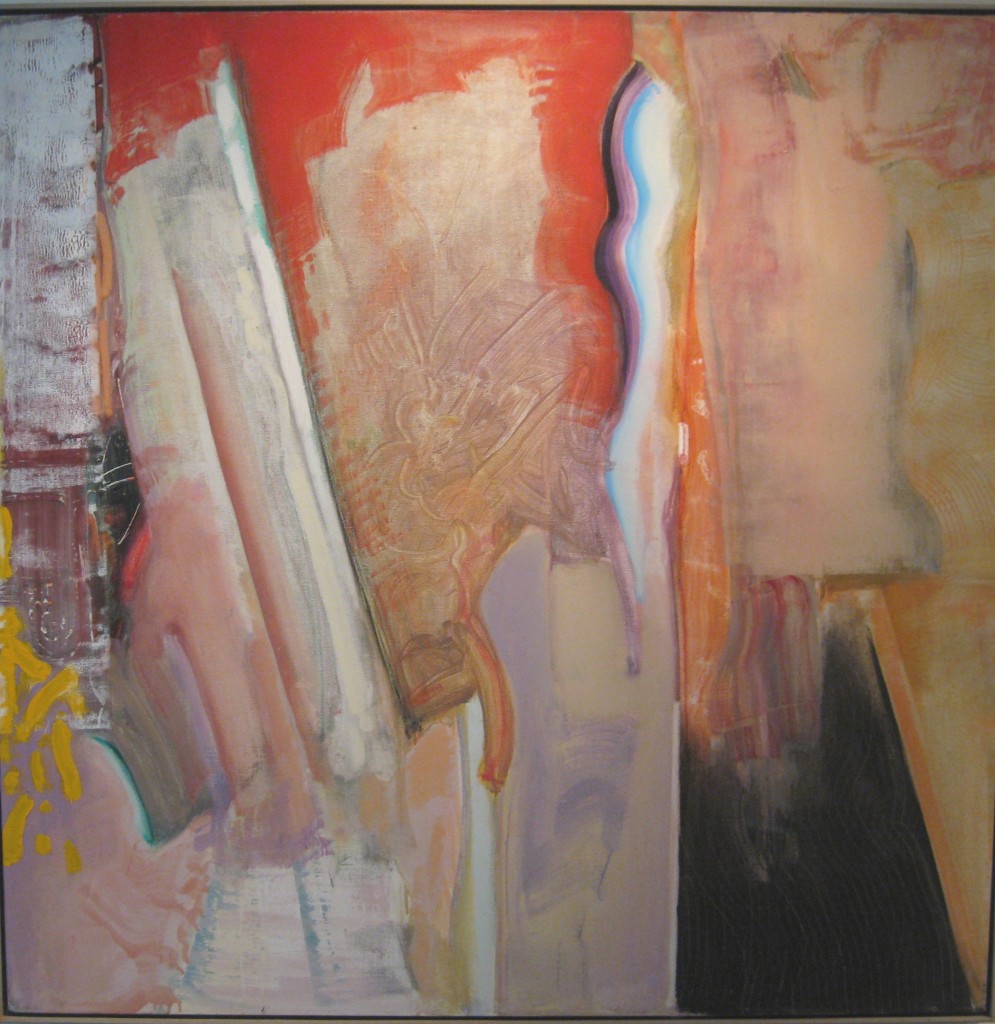 Stephen Greene was born in New York, where he studied at the National Academy of Design from 1935-1936. He continued his studies at the Art Students League, the Richmond Division of the College of William and Mary, and then at the State University of Iowa under Philip Guston. The work of Northern European Renaissance painting and Max Beckmann were also early influences.
Stephen Greene's 1950s paintings of classic religious themes meld the precision and spirituality of the great Renaissance masters with the moody, stylized symbolism of postwar Existentialism. Of his early figurative work, Greene has stated, "I was essentially involved in a psychological state, a prison-like configuration that mirrored contemporary ideas…In painting the events of Christ's passion, I, in the twentieth century, was not returning to another period's aesthetic mode, but dealing with the possible meanings of hallucinations." Greene universalized his religious themes to speak to a post-war culture of anxiety.
The paintings from Greene's first three solo shows at Durlacher Brothers (1947, 1949, 1952) are his best-known figurative work. Of the fifteen paintings from the 1952 exhibition, nearly half are in museum collections, including the Tate Gallery, London (The Return); the Whitney Museum of American Art (The Shadow); the Nelson-Atkins Gallery, Kansas City (The Kiss of Judas); and the Art Museum, Princeton University (The Massacre of the Innocents). Greene was selected for the inclusion in the 1955 traveling exhibition organized by the Whitney Museum of American Art, The New Decade: 35 American Painters and Sculptors.
*****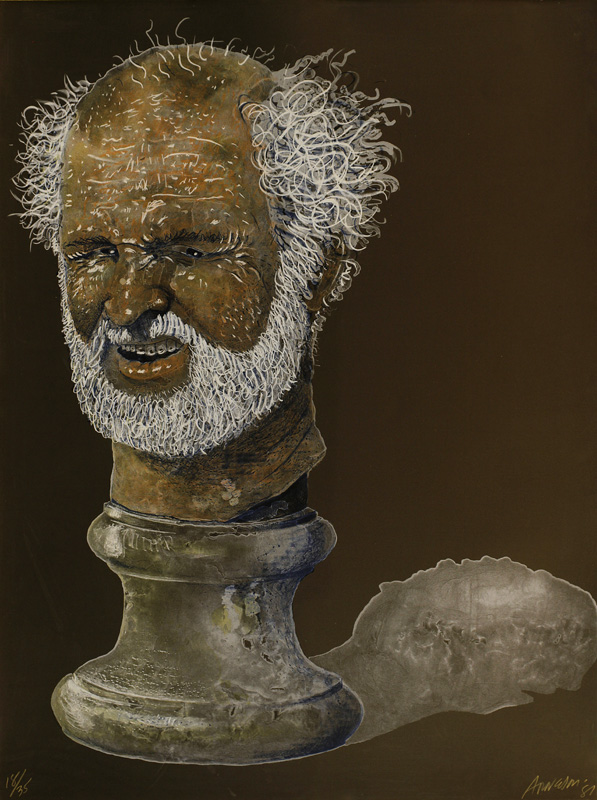 Robert Arneson was born in Benicia, CA in 1930. Between the years of 1949 to 1951 Arneson was going to the College of Marin in Kentfield, CA. Three years later in 1954 he received his BA from California College of Arts and Crafts in Oakland, CA. In 1958, Arneson got his MFA from Mills College in Oakland, CA.
He is well known for his work in Ceramics. He is known as using the ceramics as a vital medium for contemporary figurative sculpture. Many of his pieces of work are found at numerous museums and sites in Hawaii, Japan, California, Ohio, Australia, New York City, Illinois, and many other locations.
One thing that stands out about Robert Arneson is at the Palo Alto Art Center in Palo Alto, CA. He has over 90 ceramic Marquette's on display. They date from 1964 to 1992 and are between 2 to 14 inches in height. It shows his more expressing nature with clay with these Marquette's.
In 1985, Arneson was given the Honorary Doctor of Fine Arts at the Rhode Island School of Design in Providence, RI. Two years later in 1987 from one coast to another in CA he was awarded again the Honorary Doctor of Fine Arts at the San Francisco Art Institute. In 1991, he was awarded the Academy-Institute Award in Art and the next year he joined the Fellowship American Craft Council. In 1992, Robert Arneson died of cancer in Benicia, CA, but will be remembered for his artwork in the world of Ceramicists.
*****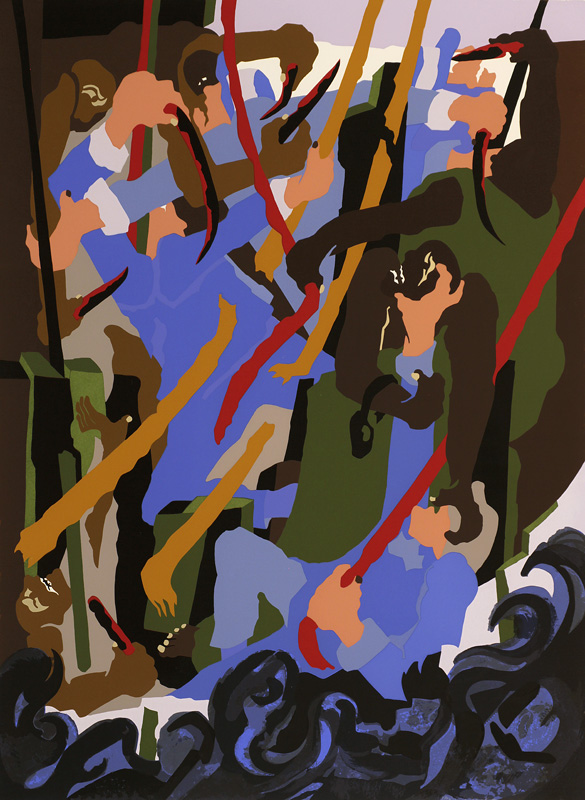 Jacob Lawrence is known for his use of aesthetic elements for social means and the remarkable composition of his works. In 1941 he received widespread recognition for his narrative series, Migration of the Negro. During a time of legalized and institutionalized segregation, he became the first African American artist to receive sustained support from mainstream art museums and patronage outside the black community.
Using the power of semi-abstract forms, Lawrence addressed many of the great social and philosophical themes of the twentieth century especially as they pertain to the histories of African Americans. His work made visible the everyday lives and contributions of black Americans and provided a compassionate counterpoint to stereotypical images.
The tangle of arms and machetes in Revolt on the Amistad communicates the chaos of the slave rebellion on the ship, which precipitated a Supreme Court ruling that advanced the abolitionist cause.
Watch our Art Talk to learn more: https://youtu.be/YCiAa2NCWIY?feature=shared
*****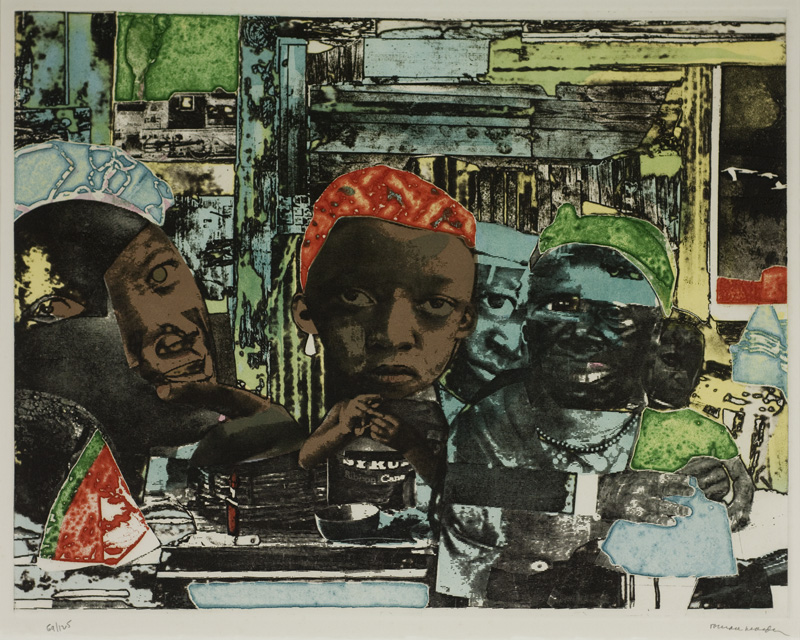 A lifelong student of literature and philosophy, Bearden worked in a variety of media including a stint as a songwriter. He is best known for the way he employed collage in unique and innovative ways.
Born in Charlotte, North Carolina, and growing up in New York during the Harlem Renaissance of the 1920s, much of Bearden's work references his southern childhood and northern upbringing. He made art from observation and memory; the sights, sounds and feelings of his personal history. His art is characterized by images that portray life's universal journey in terms of authentic black experience. He found his voice in the imaginative collages he made from 1964 on, using a fragmented style inspired by the rhythms of jazz and assembled using magazine clippings in dreamlike invocations of the myths and rituals of African American life.
Bearden did not take up printmaking until the late 1960s. Many of his prints are based on existing collages and monotypes. In The Train he recast a 1964 collage by adding new textures and colors. This was accomplished by using mesh screens and photography to generate the photogravure plate, which was subsequently cut up so colored areas could be inked separately and reassembled jigsaw style for printing.
Bearden's images abound with affection for his birthplace in the South For him trains were weighted symbols. They signified the black migration north after slavery. Charlotte, his birthplace, was a hub for railroads. "I never left Charlotte except physically," he said.
The train of this print's title is a small detail in the upper left, but it nonetheless invokes larger issues of migration and segregation. As Bearden stated, trains "could take you away and could also bring you to where you were. And in the little towns it's the black people who live near the trains."
*****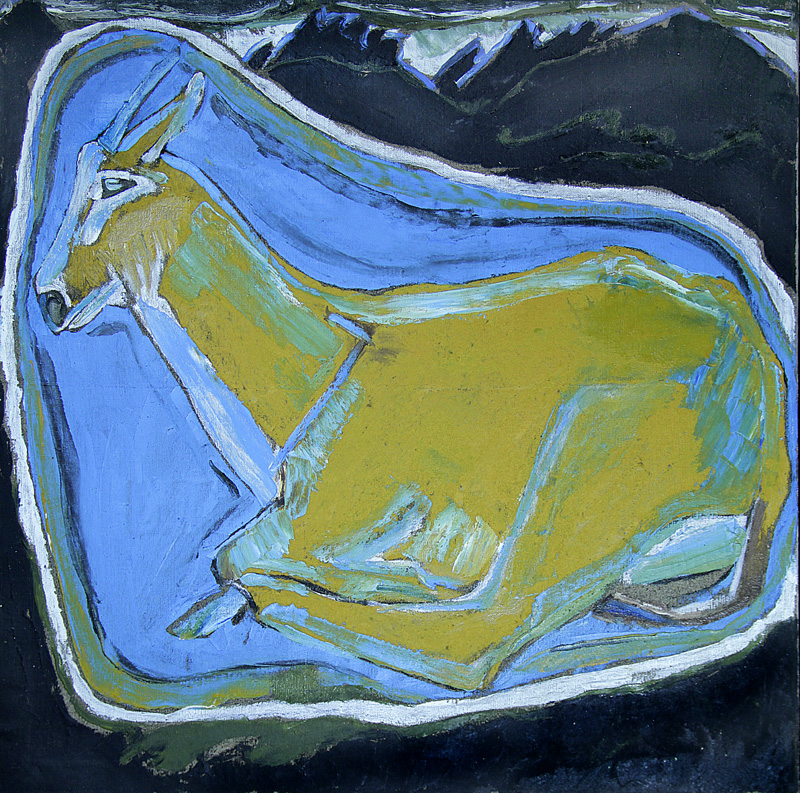 Northwest artist Morris Graves was a passionate observer of the natural world whose work is characterized by the blending of reality and symbol. The MacNider has two early works by Graves, Resting Goat and Snake and Moon. Both are images infused with his unique vision of the natural and mystical world.
As a young man working on American mail line ships sailing the Pacific, Graves fell in love with Japan and the spare Japanese aesthetic. His commitment to his craft was such that he once flew to Kyoto to secure a specific rare and fragile paper he needed for his work. In the 50s and 60s, he spent a decade living in Ireland developing a body of sculpture based on his observations of the night sky.
Though self-taught and living in isolation at his Puget Sound island studio, Graves was anything but provincial. When he left his studio to spend time in Seattle, he gained minor notoriety for outrageous pranks and some of the first Northwest art "happenings.
Watch our Art Talk to learn more: https://youtu.be/0gnKW1WWLCE?feature=shared
*****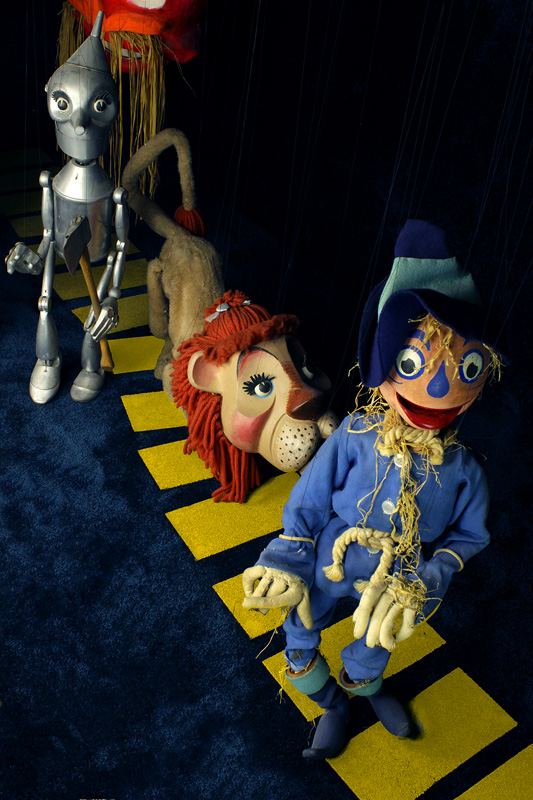 Mason City is home to many talented residents, several of whom have gone on to famous careers. One of the most well known is Bil Baird. Born in Grand Island, Nebraska, in (year), his family moved to Mason City when his father was hired to work for the American Crystal Sugar Company located in Mason City.
Bil began to develop a creative passion for puppetry as a child. By age 14 he was creating his own marionettes and putting on puppet shows such as Treasure Island. In 1921, his life changed forever when he saw traveling puppeteer Tony Sarg perform Rip Van Winkle at the Mason City High School. Bil immediately knew then this was the career for him.
After graduating from High School, Bill enrolled at the University of Iowa. During this time, he continued to make puppets and put on shows with the university band. After graduation from the University of Iowa in 1926, he moved to Chicago to attend the Chicago Academy of Fine Arts for a year, and later traveled to Europe.
He returned to the U.S. in 1928 and landed a job in New York with his original inspiration, Tony Sarg. Prior to Bil, Sarg had been America's most prolific puppeteer and he worked with Sarg for six years. He created The Bil Baird Marionette Theater in 1934. The troupe toured, worked clubs and fairs, theaters, and gained momentum. Hard work and talent paid off for Bil, who was able to make a living and support a family puppeteering.
In addition to storytelling, Baird's puppets were often featured in the medium of advertising. From the mid-1930's till the 1980s when digital effects began to take the place of Baird's characters, his puppets were associated with a variety of products. Examples of Baird's clients included large telephone companies for whom "Telezonia" was created. Chrysler Motors commissioned the "Blockettes" for the 1964/65 World's Fair.
Baird also created puppets for television shows and movies such as Life with Snarky Parker, Art Carney Meets Peter and the Wolf, and Davey Jones' Locker, to name a few. Baird puppets, regulars on television, depicted events such as the Moon Walk and launching the Gemini Capsule. Bil's puppets traveled to many countries such as Russia, Afghanistan, Nepal, and India as representatives of the United States. The MacNider Museum's collection of his puppets also includes a national treasure, his most famous work: the 1965 "Lonely Goatherd" in puppets from the Sound of Music.
Within his 50 + year career it is estimated that Bil created more than 3,000 puppets. A master craftsman, his talents of sculpting, sewing, carving, and manipulation allowed him to create puppets from a variety of materials. The MacNider's collection contains over 500 pieces and is the only museum to have a comprehensive collection of Baird's work. Many modern puppeteers view Bil Baird as the father of modern American puppeteering, inspiring legions of future puppeteers and artists with his work.
Watch our Art Talk to learn more: https://youtu.be/OrHZKQoH0qM
Enjoy a coloring page here: https://bit.ly/3Z8Q2il
*****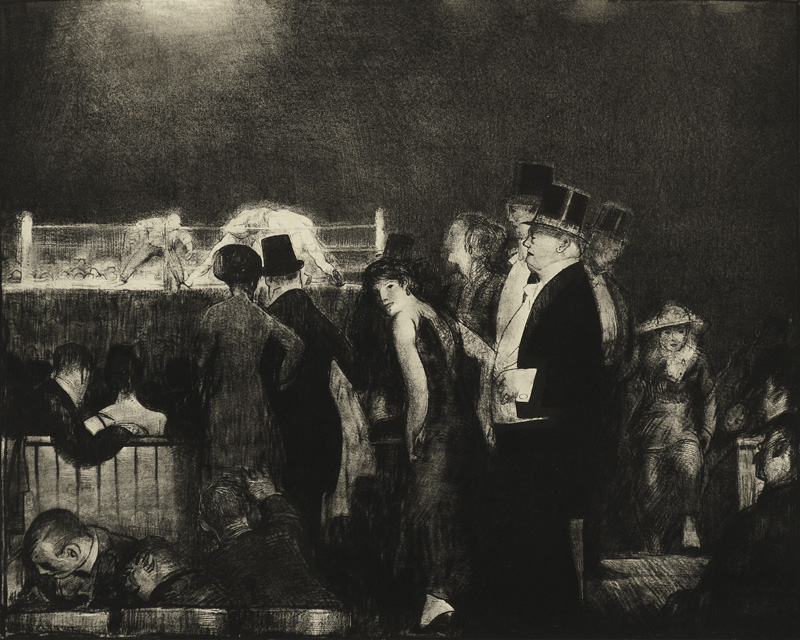 George Bellows was born in Columbus, Ohio on August 19th, 1882. At Ohio State University (1901-1904) Bellows was a talented baseball player but his first love was art and he moved to New York without graduating. Bellows studied at the New York School of Art under Robert Henri, leader of what became known as the Ashcan School. The Ash Can School, sometimes contracted as the Ashcan School, is defined as a realist artistic movement that came into prominence in the United States during the early twentieth century, best known for works portraying scenes of daily life in poor urban neighborhoods. In 1906 he rented a studio and began painting scenes of everyday urban life. He also taught art at the Arts Students League.
Bellows' urban New York scenes depicted the crudity and chaos of working-class people and neighborhoods, and also satirized the upper classes. From 1907 through 1915, he executed a series of paintings depicting New York City under snowfall. These paintings were the main testing ground in which Bellows developed his strong sense of light and visual texture. These exhibited a stark contrast between the blue and white expanses of snow and the rough and grimy surfaces of city structures, and created an aesthetically ironic image of the equally rough and grimy men struggling to clear away the nuisance of the pure snow. However, Bellows' series of paintings portraying amateur boxing matches were arguably his signature contribution to art history. These paintings are characterized by dark atmospheres, through which the bright, roughly lain brushstrokes of the human figures vividly strike with a strong sense of motion and direction.
Growing prestige as a painter brought changes in his life and work. Though he continued his earlier themes, Bellows also began to receive portrait commissions, as well as social invitations, from New York's wealthy elite. Additionally, he followed Henri's lead and began to summer in Maine, painting seascapes on Monhegan and Matinicus islands.
In addition to painting, Bellows made significant contributions to lithography, helping to expand the use of the medium as a fine art in the U.S. He installed a lithography press in his studio in 1916, and between 1921 and 1924 he collaborated with master printer Bolton Brown on more than a hundred images. Bellows also illustrated numerous books in his later career, including several by H.G. Wells.
*****
Andy Warhol was perhaps one of the most famous American artists in the genre of pop art. Pop art is artwork that contains images of popular culture and advertising. Warhol was born Andrej Varhola, Jr. in 1928 in Pittsburgh, Pennsylvania to immigrant parents from Slovakia, and the youngest of 4 children. His father worked in a coal mine, giving the children a middle class childhood despite the Great Depression. In third grade Warhol had complications of Scarlett Fever known as St. Vitus ' dance which kept him bed ridden for long periods of time. During this time he became incredibly close with his mother, and spent his days reading pulp novels, collecting movie star memorabilia, drawing, and listening to the radio. After moving to New York after college, Warhol became a very successful commercial graphic design artist long before he became a pop art icon. This early training and career as a graphic design artist is clear in his trademark focus on images of popular culture.
By the 1960's Warhol was making a serious effort to become a professional artist. He embraced silk screening, which later became his hallmark. By 1962 Warhol had his first solo show, and by the mid- 1960's his iconic images of popular culture such as Coca Cola and celebrities like Marilyn Monroe saw great success in the art world. Production of the prints took on a "factory" atmosphere, with Warhol even naming his studios "the Factory." This mass production for consumers eventually caused Warhol to be criticized; however, Warhol was simply mimicking society, which was in love with mass consumerism.
After Warhol's death in 1987 the Warhol foundation was created. It has become one of the largest granting agencies for the arts in the United States.
*****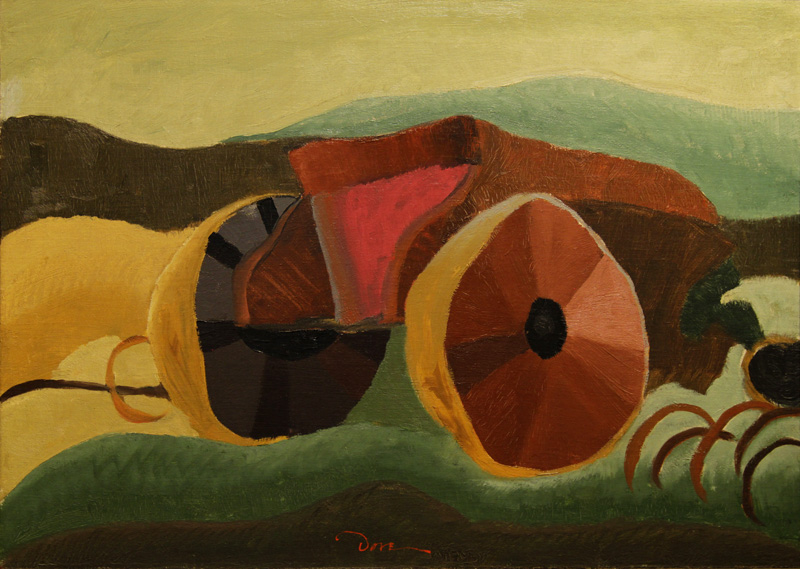 Arthur Dove was the first American artist to paint a completely abstract picture. He did this around 1910, perhaps a little before the Russian-born Kandinsky's first abstract compositions. The difference was that Kandinsky's abstract work happened in the progressive cultural and artistic context of Europe while Dove's debuted in the general indifference of American taste. His own reclusiveness contributed to the lack of impact his work had on the national art scene.
Dove's work was all about nature. He began his art career as an illustrator for the New York press and in 1907 went on a year-and-a-half trip to Europe, spending most of it in Paris. There he fell in with the circle of American expatriate artists. His early work shows the influence of Cezanne and Matisse. As soon as he got back to the United States he "went native," as he put it, spending much of his time camping in the wilderness. "I can claim no background," he once reflected, "except perhaps the woods, running streams, hunting, fishing, camping, and the sky. After he failed at farming in upstate New York, he bought a yawl on which he lived for seven years, sailing the waters of Long Island Sound along the Connecticut shore. These experiences fed into his work, while isolating him from New York's small avant-garde circles
In 1913 Dove explained to a friend his process of abstraction (or, as he sometimes called it, "extraction"): the landscape slowly disappears like the Cheshire cat in the tree, leaving the "abstract" form behind. The first step was to choose from nature a motif in color, and with that motif to paint from nature, the form still being recognizable. The second step was to apply this same principle to form, so that the actual object disappeared, and the means of expression became purely subjective. In this way Dove believed he could arrive at "essences" that would transmit his sense of the spiritual in nature which was the deep concern of his art. Such "essences" were shapes that symbolized life forces and organic growth suggesting (he thought) some inner principle of reality.
Watch our Art Talk to learn more: https://youtu.be/LbyJajn2vhA
Enjoy a coloring page here: https://bit.ly/3Z8Q2il
*****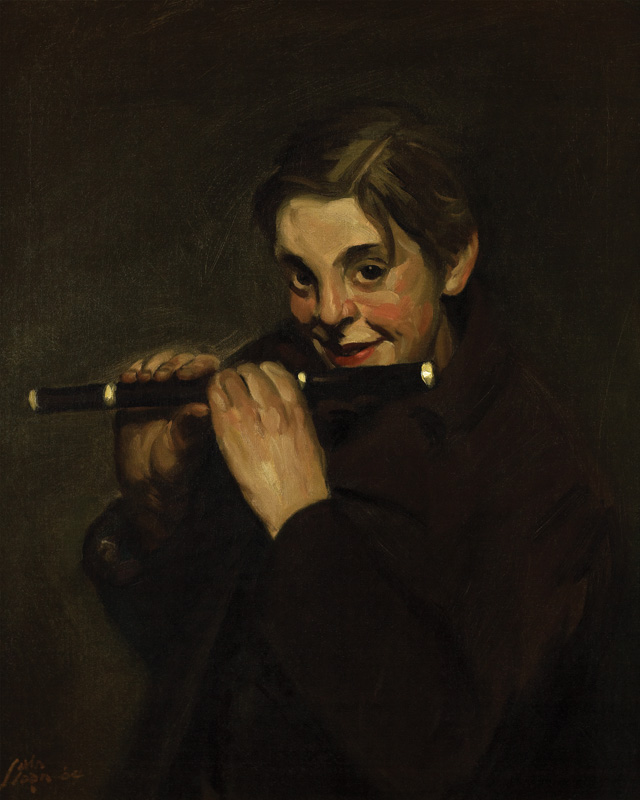 After the invention of photography in the mid-nineteenth century, artists began expanding the way they depicted a human likeness. John Sloan's Boy with Piccolo is not a formally composed portrait; instead the artist has captured a happy moment in the life of an ordinary boy.
Sloan's interest in social reform led him to join with other artists to form a group called The Eight. These American painters were united in opposition to the conservatism of National Academy of Design and wanted to bring painting into direct contact with life.
Later The Eight formed the nucleus of the Ashcan School, which was active through World War I. The artists of the Ashcan School rebelled against American Impressionism which was the leading style of American art at the time. In contrast to Impressionism's emphasis on light, their works were frequently dark in tone, capturing the harsher moments of life and often portraying such subjects as prostitutes, drunks, butchered pigs, overflowing tenements, boxing matches and wrestlers.
The Ashcan artists were action painters who mirrored the ebb and flow of reality with the flux of their brushwork. Like Sloan, many were well prepared for this approach, having started their careers as newspaper illustrators. While they chronicled the lives of poor city dwellers, they were neither social critics nor reformers, but a lively bunch of provincial rebels who created America's first true avant-garde.
*****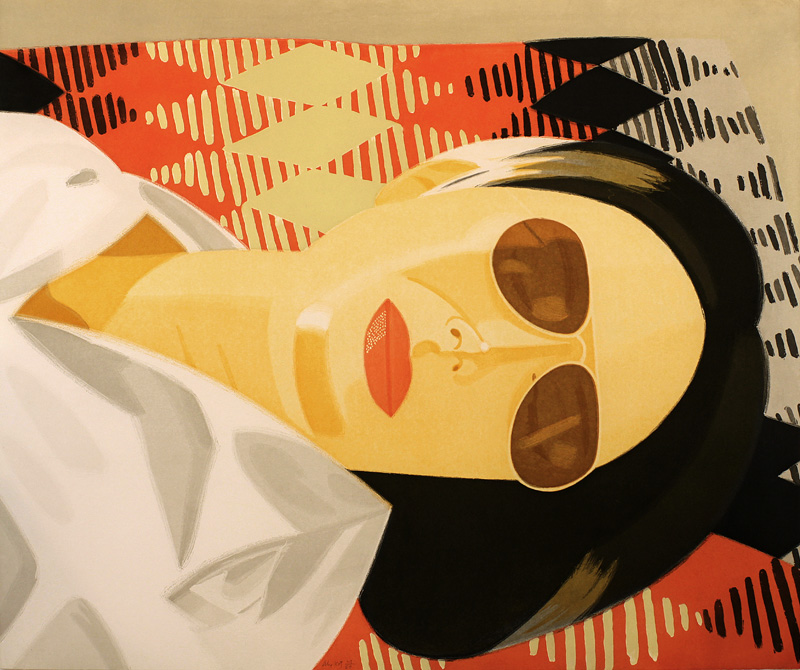 Alex Katz was born on July 24, 1927 in Brooklyn, New York. In 1928 the family moved to St. Albans, Queens. From 1946 to 1949 he studied at The Cooper Union in New York, and from 1949 to 1950 he studied at the Skowhegan School of Painting and Sculpture in Skowhegan, Maine.
His first one-person show came in 1954: an exhibition of paintings at the Roko Gallery in New York. In 1974, The Whitney Museum of American Art showed "Alex Katz Prints", followed by a traveling retrospective exhibition "Alex Katz" in 1986. His first show abroad was in 1995 – "Alex Katz: American Landscape" at Staatliche Kunsthalle in Baden-Baden, Germany.
A summer resident of Lincolnville, Maine since 1954, he has developed a close relationship with local Colby College. The college presented him with an honorary doctorate in 1984. In October 1996, the Colby College Museum of Art opened a wing dedicated to Katz that features more than 400 oil paintings, collages, and prints donated by the artist. In 2007, Katz had a major solo show at the New York State Museum.
Watch our Art Talk to learn more: https://youtu.be/bvbbW0IcnO4
Enjoy a Katz-themed coloring page here: https://bit.ly/3Z8Q2il
*****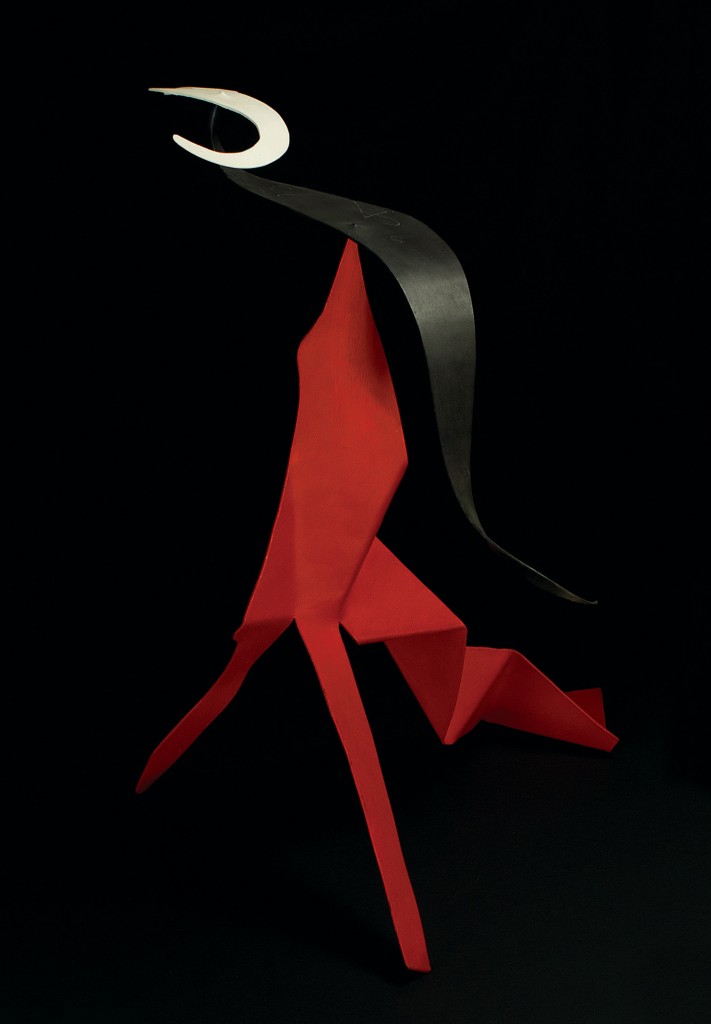 Alexander "Sandy" Calder was born in Pennsylvania in 1898 to a family of artists. As a child some of his first artwork was a small elephant sculpture, and later scraps of copper wired made into jewelry for his sisters dolls. By 1915 Calder worked on sculptures for the 1915 Exposition, the same year he graduated high school.
Although Calder graduated from college with a degree in Engineering and worked several jobs early on as an Engineer, he moved to New York to pursue a career as an artist. He studied during this time with regionalist Thomas Hart Benton, as well as George Luks and John Sloan of the Ashcan school. While still a student he worked for the National Police Gazette as a sketch artist and was assigned to sketch the Ringling Brothers and Barnum and Bailey Circus, which later influenced his work. 1926 he moved to Paris and he established a studio. Due to the urging of others, Calder began to make small toys with a circus theme, even giving small performances. He returned to the United States and designed several kinetic wooden push and pull toys for children which were commercially produced.
Calder's training as an engineer aided him when he created what Marcel Duchamp would call "mobiles" after a French pun for both "mobile" and "motive." By experimenting to develop abstract sculpture that would move with the assistance of cranks and pulleys, he developed what became his signature works –departing from the traditional notion of static objects as art. By 1931 he moved on to sculptures that derived their motion from air currents in the room using shapes that looked as though from natural forms such as fish, leaves, and birds. During WWII the scarcity of metal led Calder to create mobiles out of wood. Once the war had ended, he began to cut out flat shapes from sheet metal.
In addition to sculpture, Calder made prints and jewelry, creating some 1,800 pieces before his death in 1976. During his lifetime he won many awards for his innovative sculpture. Two months after his death Calder was awarded the Presidential Medal of Freedom by President Ford. His work is in hundreds of major museums and collections and he is considered one of the most influential artists in sculpture of the 20th century.
Watch our Art Talk to learn more: https://youtu.be/31gMRlxoN7U
Enjoy a Calder-themed coloring page here: https://bit.ly/3Z8Q2il
Try a Calder-themed project here: https://youtu.be/5S97aHMdsRE
*****