Off the Wall showcases pieces from our permanent collection individually so you can learn a little bit more about the pieces in our museum one at a time.
*****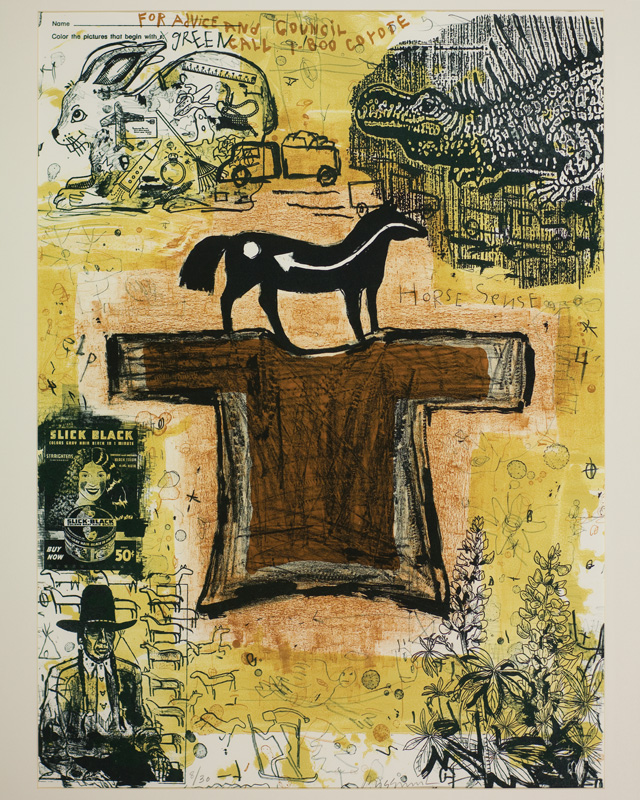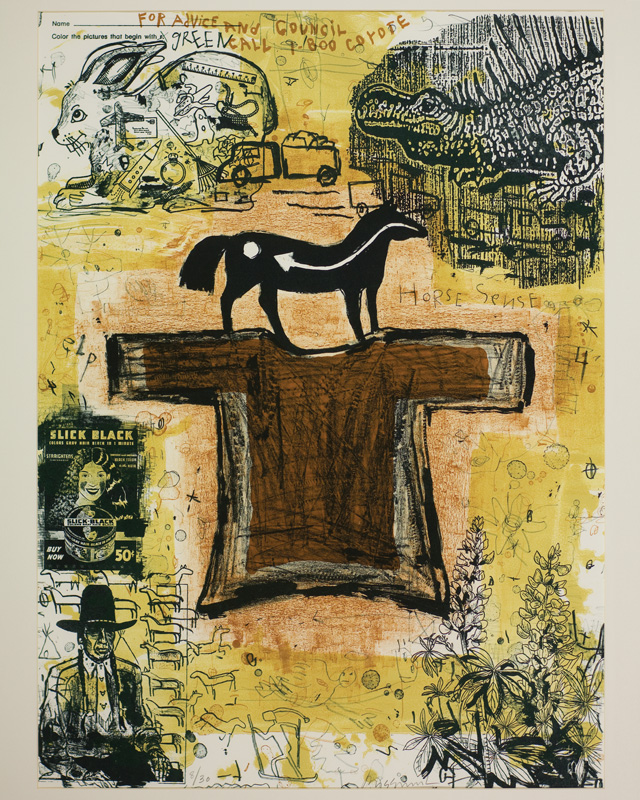 Horse Sense was created by artist, curator, political activist and educator, Jaune Quick-to See Smith.
Quick-to-See Smith was born in Montana and descended from French, Cree and Shoshoni ancestors. Her father was an accomplished horse trainer and trader, but his work meant she moved frequently. When he was not able to care for her, she lived in foster homes and often experienced discrimination in the schools as a Native person. School however, was the place where she was first introduced to art materials and fell in love with making art.
Throughout her career, Quick-to-See Smith has worked in many media and today is an internationally-known painter and printmaker. She is sensitive to the effects of text on images and especially skilled at creating and appropriating texts that capture the paradigms of American culture and open up their meanings. She makes complex juxtapositions that recontextualize the way viewers understand not only relationships between Euro-American and Native culture, but how she, as an artist living in both worlds, views those issues. Her works are thoughtful and thought provoking, raising questions that explode stereotypes and myths about indigenous people.
The layered and nuanced imagery of Horse Sense is packed full of juxtapositions of loaded images and text, inviting us as viewers to explore its messages.
*****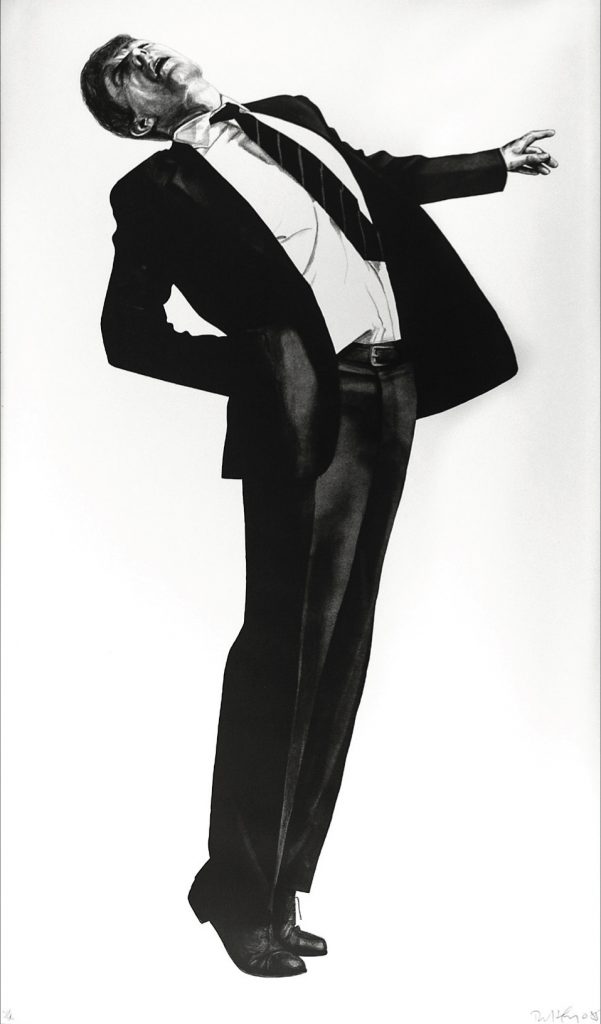 Robert Longo was born in 1953 in New York. He had a childhood fascination with mass media: movies, television, magazines, and comic books, which continue to influence his art.
While in college, Longo and his friends established an avant garde art gallery in their co-op building, the Essex Art Center, which was originally a converted ice factory; the gallery became Hallwalls Contemporary Art Center.
Although he studied sculpture, drawing remained Longo's favorite form of self-expression. However, the sculptural influence pervades his drawing technique, as Longo's "portraits" have a distinctive chiseled line that seems to give the drawings a three-dimensional quality. Longo uses graphite like clay, molding it to create images like the writhing, dancing figures in his seminal "Men in the Cities" series. For that series, Longo photographed his friends lurching backward, collapsing forward or sprawled on invisible pavement. After enlarging the pictures through a projector, he and an artist assistant drew them in sizes ranging from three-quarter scale to larger than life-size.
In the 1980s, Longo directed several music videos, including New Order's "Bizarre Love Triangle", Megadeth's "Peace Sells" and "The One I Love" by R.E.M. He also directed the cyberpunk movie Johnny Mnemonic, starring Keanu Reeves, Dolph Lundgren and Takeshi Kitano, and a short film named Arena Brains.
Commissioned by Italian luxury label Bottega Veneta, Longo photographed models Terron Wood and Alla K for the brand's fall/winter 2010 advertisements, evoking memories of the dancing silhouettes of his Men in the Cities series.
Longo has had retrospective exhibitions at Hamburger Kunstverein and Deichtorhallen, Menil Collection in Houston, the Los Angeles County Museum of Art in 1989, the Museum of Contemporary Art, Chicago in 1990, Hartford Athenaeum, The Isetan Museum of Art in Tokyo, and more recently a "Survey Exhibition 1980-2009," at Musee D'Art Moderne Et D'Art Contemporain de Nice in France in 2009 and at Museu Colecção Berardo in Lisbon, Portugal in 2010.
*****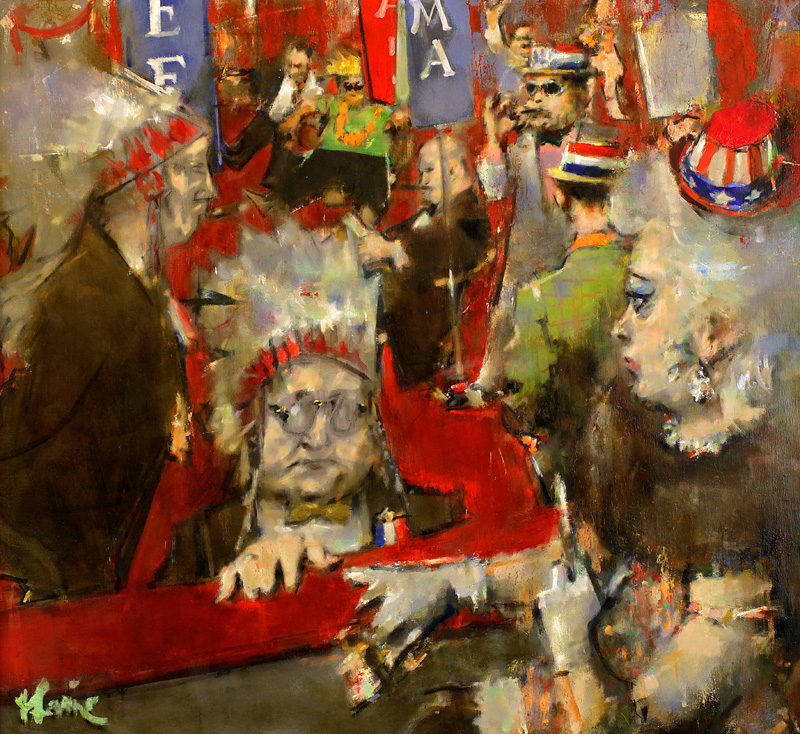 Jack Levine was an American Social Realist painter and printmaker best known for his satires on modern life, political corruption, and biblical narratives.
Born to Lithuanian Jewish parents, Levine grew up in Boston, where he observed a street life composed of European immigrants, poverty, and societal ills, subjects which would inform his work. At Harvard University Levine studied with Denman Ross. As an adolescent, Levine was already, by his own account, "a formidable draftsman". In 1932 Ross included Levine's drawings in an exhibition at the Fogg Art Museum at Harvard, and three years later bequeathed twenty drawings by Levine to the museum's collection. He became associated with the style known as Boston Expressionism.
From 1935 to 1940 he was employed by the Works Progress Administration. His first exhibition of paintings in New York City was at the Museum of Modern Art. In the same year String Quartet was shown at the Whitney Museum of American Art, and purchased in 1942 by the Metropolitan Museum of Art.
From 1942 to 1945 Levine served in the Army. Upon his discharge from service he painted Welcome Home, a lampoon of the arrogance of military power; years later the painting would engender political controversy when it was included in a show of art in Moscow, and along with works by other American artists, raised suspicions in the House Un-American Activities Committee of pro-Communist sympathies.
With a Fulbright grant he traveled to Europe in 1951, and was affected by the work of the Old Masters. After returning he continued to paint biblical subjects. In the 1960s Levine responded not only to political unrest in the United States with works such as Birmingham '63, but to international subjects as well, as in The Spanish Prison (1959–62), and later still, Panethnikon (1978), and The Arms Brokers, 1982-83. In 1979 he was elected into the National Academy of Design as an Associate member and became a full Academician in 1982.
Levine died at his home in Manhattan, New York on November 8, 2010 at the age of 95.
*****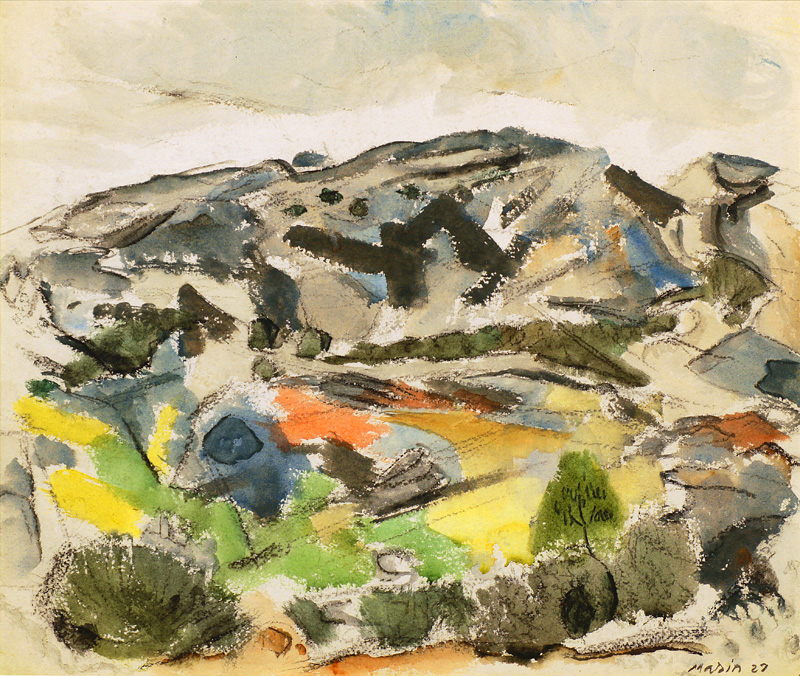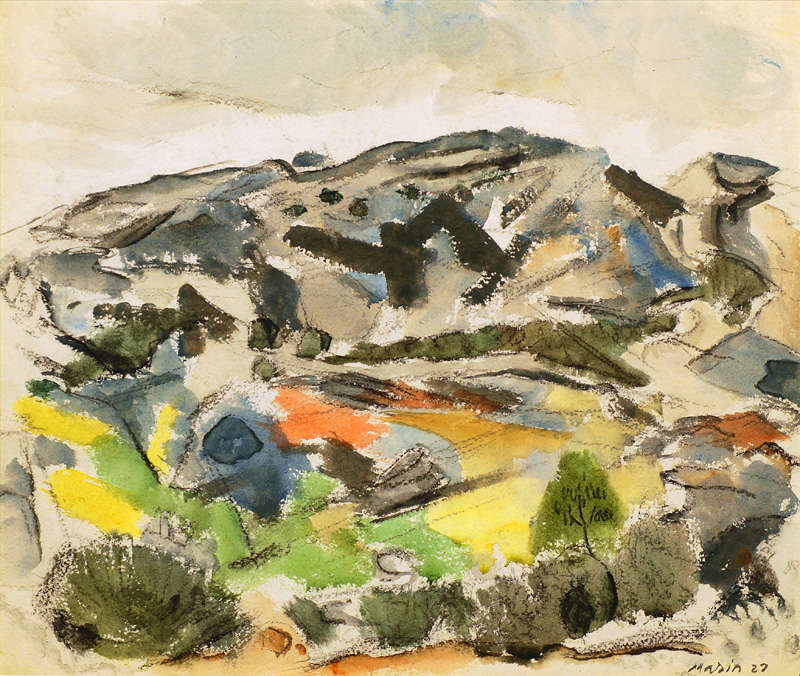 John Marin born in Rutherford, New Jersey was an early American modernist artist. Known for his abstract landscapes and watercolors. John Marin grew up in Weehawken, New Jersey, and attended the Stevens Institute of Technology for a year. His experience with architecture might have contributed to the role played by architectural themes in his paintings and watercolors.
From 1899 to 1901, Marin attended the Pennsylvania Academy of the Fine Arts in Philadelphia. In Philadelphia he studied with Thomas Pollock Anshutz and William Merritt Chase. He also studied at the Art Students League of New York. In 1905 like many American artists Marin went to Europe, initially to Paris. He traveled through Europe for six years. Marin painted in Holland, Belgium, England, and Italy. In Europe he mastered a type of watercolor where he achieved an abstract ambience, almost a pure abstraction with color that ranges from transparency to translucency, accompanied by strong opacities, and linear elements, always with a sense of freedom, which became one of his trademarks.
John Marin believed he had to know a place intimately before he could paint it. When he executed Schooner Yachts, Deer Isle, Maine, he had been painting on the coast of Maine for fifteen summers. A particularly vocal opponent of what he considered the "self-indulgence' of pure abstraction, Marin tried to imbue each painting with his love of the visible world. A critic's observation that Marin painted from an inner vision offended the artist deeply, and was summarily dismissed by him as rubbish. Marin could not conceive of an art of consequence that was not grounded in the act of seeing. To Marin, "seeing" was a "repetition of glimpses" and each painting an opportunity to capture in a single, striking image the "eye of many looking's."
Instilled with a modernist's distrust of illusionism, however, he drew on the resources of his own form of Cubism to explore his response to what he saw and experienced. Marin always insisted that his paintings be both celebrations of the visible world and flat, two-dimensional objects: "I demand of [my paintings] that they are related to experiences … that they have the music of themselves-so that they do stand of themselves as beautiful-forms-lines and paint on beautiful paper or canvas."
*****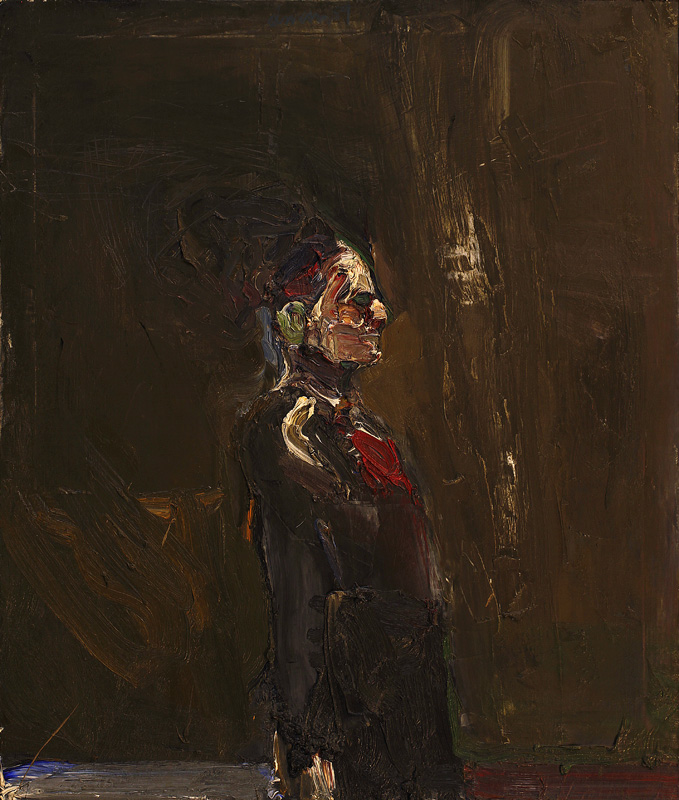 Nathan Oliveira was an American painter, printmaker, and sculptor, born in Oakland, California to immigrant Portuguese parents. Since the late 1950s Oliveira has been the subject of nearly one hundred solo exhibitions in addition to having been included hundreds of group exhibitions, in important museums and galleries worldwide.
Oliveira established an early reputation for his depictions of isolated figures painted in an improvisational style. Over time his subjects and style varied tremendously as he created images of animals, birds of prey, human heads, masks, nudes and still lifes of fetish objects. Oliveira also developed a series of "sites" that told the story of an invented culture with shamanic characteristics. Most of the artist's paintings are either vividly colored but somber human figures or abstract expressionist works that vaguely resemble seascapes.
During his lifetime Oliveira made notable works in a huge range of media including oil paintings, acrylic paintings on paper, drawings in ink, charcoal and pencil, lithographs, etchings, posters, and sculptures in clay, wax and bronze. Nathan Oliveira was especially noted for his work in the monotype medium, in which single printed impressions are made from a painting executed on a metal plate. He was also an accomplished sculptor.
In 1999 Nathan Oliveira was awarded the Distinguished Degree of "Commander" in "The Order of the Infante D. Henrique," awarded by the President of Portugal and the Portuguese government, for his artistic and cultural achievements.
Nathan Oliveira died at his home in Stanford, California on November 13, 2010.
*****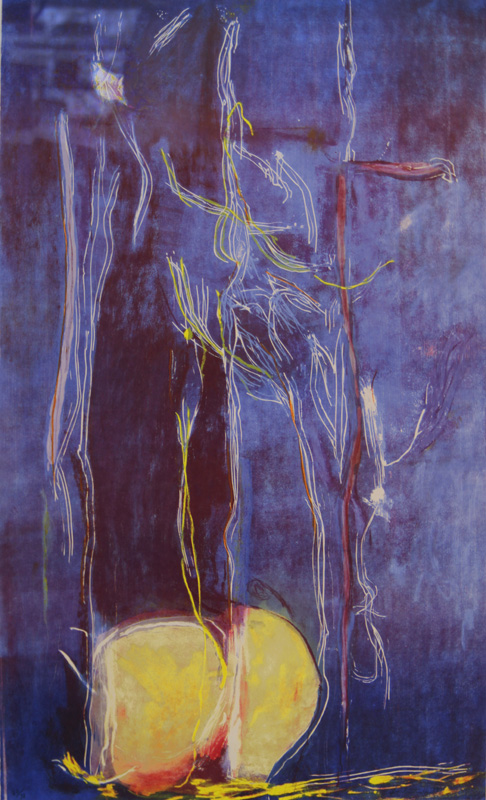 Helen Frankenthaler, one of America's most influential women abstract painters, was born in 1928 in Manhattan. She and her siblings grew up on the Upper East Side, where Helen and her sisters were introduced arts and culture by their intellectual parents at a young age. Her career was launched in 1952 by the work Mountains and Sea, a large painting that appears to be watercolor, however, is in fact an oil.
Originally associated with abstract expressionism, Frankenthaler would be later known as a member of the Color Field School of painting. Color Field is defined by the flat single colors that dominate the work. These painters set themselves apart from the Abstract Expressionists by eliminating the emotional, mythic, or religious content and the highly personal application of the paint associated with Abstract Impressionists. Frankenthaler pioneered the technique called "soak stain" which required diluting oil paints with turpentine so that the colors would soak into the canvas. While revolutionary at the time, unfortunately this led to damage of the canvas long term, as the turpentine caused the canvas to rot away eventually. She used sponges and even windshield wiper blades to create the effect, manipulating the canvas to be visually flat.
Unlike many female artists of her time, she did not consider herself a feminist; in fact she said "For me, being a lady painter was never an issue. I don't resent being a female painter. I don't exploit it. I paint." Art at this time, however, was still a very male dominated field. Some critics criticized her work, calling it "sweet" and "poetic" and other terms often associated with females. But admirers appreciated her gift for freedom and spontaneity.
From 1985 – 1992 she served on the National Council on the Arts of the National Endowment for the Arts and in 2001 she received the National Medal of Arts. She stirred controversy in the 1980's due to her disagreement over funding of individual artists. She felt that artists such as Andres Serrano and Robert Mapplethorpe reflected a trend in which the National Endowment for the Arts was supporting work of "an increasingly dubious quality.
*****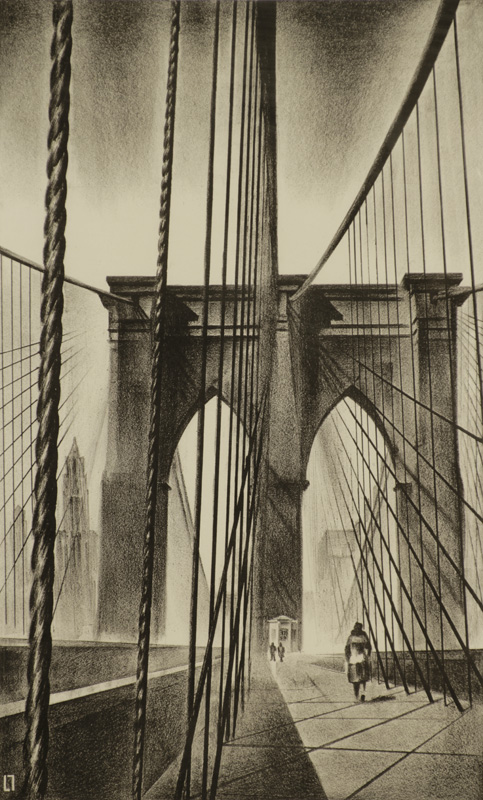 Louis Lozowick was a Russian-American painter and printmaker. He was born in the Russian Empire, came to the United States in 1906, and died in New Jersey in 1973. He is recognized as an Art Deco and Precisionist artist, and mainly produced streamline, urban-inspired monochromatic lithographs in a career that spanned 50 years.
Lozowick attended Kiev Art School from 1904-1906 before he immigrated to the USA, where he continued his studies at the National Academy of Design and Ohio State University. In the mid-1920s he started making his first lithographs.
By 1926, when he joined the editorial board of the left-wing journal, New Masses, he was well-versed in current artistic developments in Europe, such as Constructivism and de Stijl. These hard-edged, linear styles, evident in a lithograph called "New York (Brooklyn Bridge)," suggest the possibility of an efficient reframing of the world, as did the political theories espoused in New Masses. A version of this lithograph was planned as a cover for New Masses that was never published.
In 1943 Lozowick moved to New Jersey where he continued to paint and make prints. The human condition remained a constant theme of his art, and an ongoing interest in nature appears more frequently in his later works
*****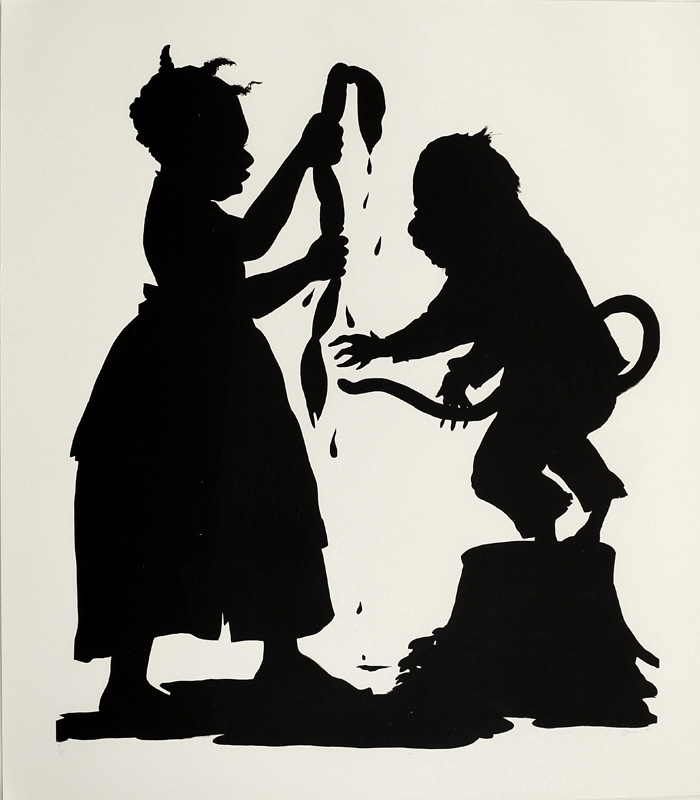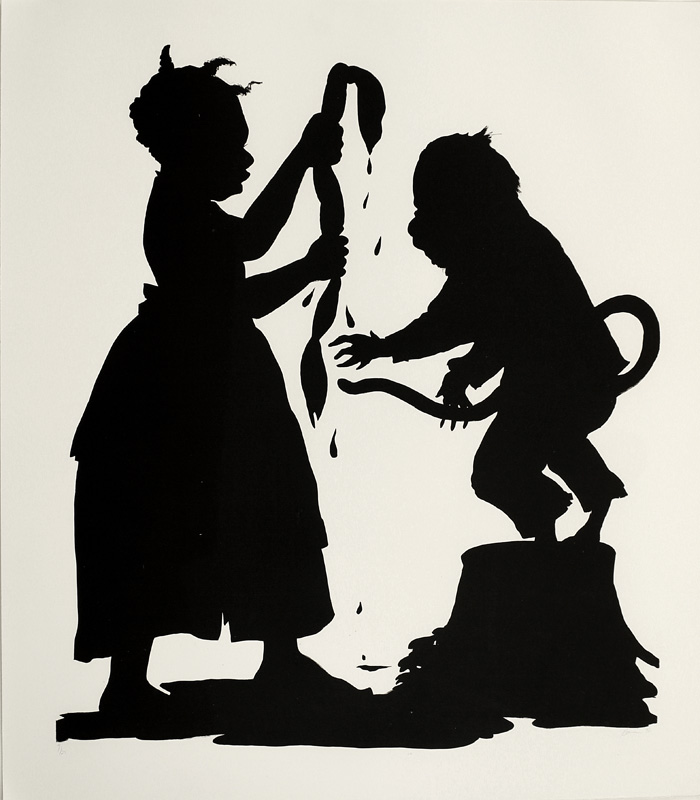 Kara Walker creates dreamlike narratives of nineteenth-century slavery and African-American history using the cut-paper format popular in the Victorian parlor. In her work she challenges historical memory rather than recreates history. She turns the safe and domestic silhouette style on its head to explore racial stereotypes in a lyrical and horrific blend that is part slave narrative, part Harlequin romance, and part fairy-tale illustration.
Walker's silhouettes have elicited an uncomfortable blend of emotions in viewers since she first began showing them. She refers to the images in her work as her "inner plantation" and states, "The whole gamut of images of black people, whether by black people or not, are free rein in my mind. Each of my pieces picks and chooses willy-nilly from images that are fairly benign to fairly charged. They're acting out whatever they're acting out in the same plane; everybody's reduced to the same thing. They would fail in all respects of appealing to a die-hard racist. The audience has to deal with their own prejudices or fears or desires when they look at these images. So, if anything, my work attempts to take those pickaninny images and put them up there and eradicate them."
I'll be a Monkey' Uncle from 1996 is one of Walker's earliest prints. Just a year later, in 1997, she was the youngest artist to receive a prestigious MacArthur Award.
*****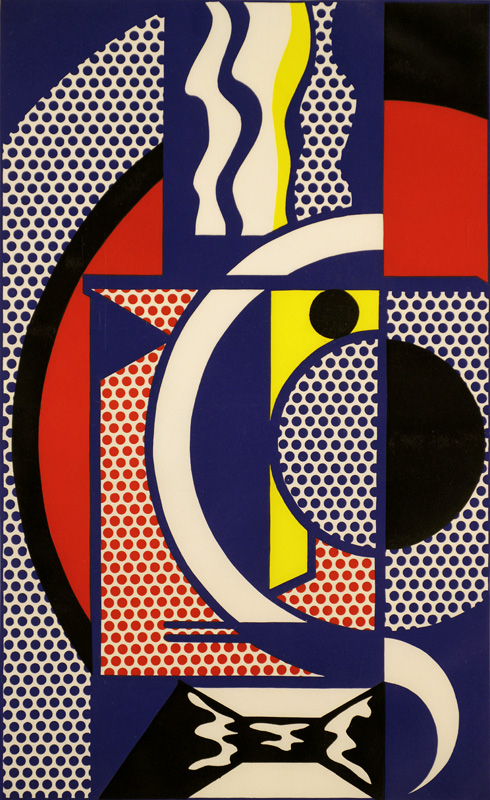 Roy Lichtenstein was an American artist known for his paintings and prints which referenced commercial art and popular culture icons like Mickey Mouse. Composed using Ben-Day dots—the method used by newspapers and comic strips to denote gradients and texture—Lichtenstein's work mimicked the mechanical technique with his own hand on a much larger scale. He was a leading figure in establishing the Pop Art movement, along with Claes Oldenburg, Andy Warhol, and Jasper Johns.
Born on October 27, 1923 in New York, NY, he studied under painting under Reginald Marsh at the Art Students League of New York after graduating from high school. Drafted by the US Army during World War II, he notably encountered the works of European masters and contemporary artists while stationed in France. After the war, he returned to America and completed his degree at Ohio State University, producing paintings in the vein of Abstract Expressionism.
Lichtenstein began teaching art at Rutgers University during the late 1950s, meeting fellow faculty members involved in the New York art scene, including the performance artist Allan Kaprow. By the early 1960s, he had begun showing with Leo Castelli gallery in New York, and made major breakthroughs with works such as Drowning Girl (1963), a satirical take on melodramatic pulp fiction of the era. Themes of irony and cliché prevailed throughout the remainder of Lichtenstein's career, as evinced in his Haystacks (1969), a take on the canonical series by Claude Monet.
The artist died of pneumonia on September 29, 1997 in New York, NY. Today, his works are held in the collections of the Art Institute of Chicago, The Museum of Modern Art in New York, the National Gallery of Art in Washington, D.C., and the Tate Modern in London.
*****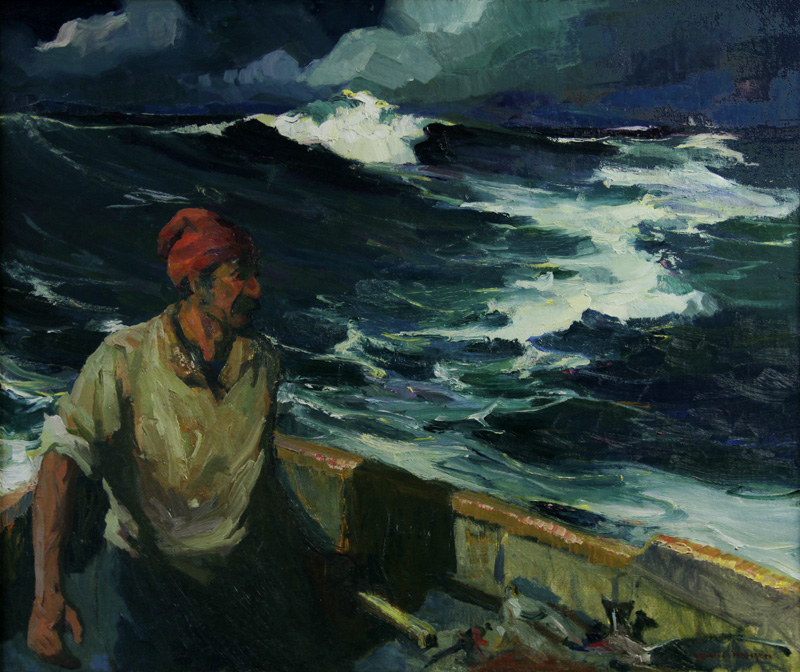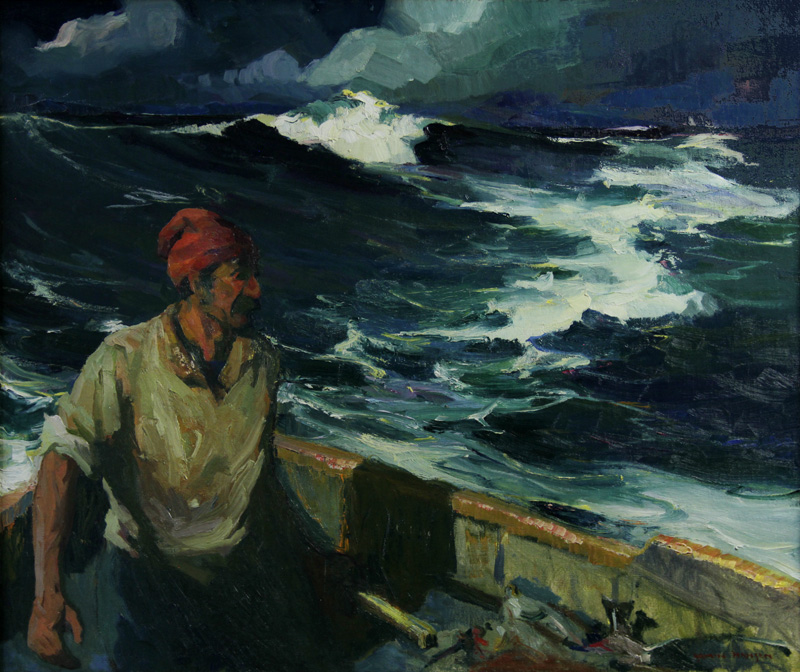 Armin Hansen, native of San Francisco, is prominent American Painter of the En plein air school, best known for his marine canvases. En plein air is a French expression which means "in the open air", and is particularly used to describe the act of painting in the outside environment rather than indoors (such as in a studio). His father Hermann Hansen was also a famous artist of the American West.
At the Mark Hopkins Institute Armin Hansen studied under Arthur Frank Mathews from 1903 to 1906. Arthur Frank Mathews (1860-1945) was an American Tonalist painter who was one of the founders of the American Arts and Crafts movement. Moving to Germany, Hansen became the student of Carlos Grethe at the Stuttgart Royal Academy and also studied at the Academy of Fine Arts, Munich. He also had exposure to the art centers at Paris, Amsterdam and Brugges. Wishing to see the world through marine eyes, he became a deck hand on a number of commercial vessels, one being a Norwegian steam trawler.
After his studies in Germany, Armin Hansen taught at the University of California, Berkeley and in 1913 moved to paint in Monterey, a budding art colony of the era. In this period he utilized both painting and etching techniques in the style of Impressionism. He was a founder of the Carmel Art Association and became enamored of creating marine scenes, particularly involving man's relationship with the sea. In 1914 he produced his Self Portrait.
In the 1930s Hansen's paintings become more intense and use of light more pronounced. One of his masterpieces of this era was Sardine Barge circa 1933, which appropriately is in the permanent collection of the Monterey Museum of Art. Later in Monterey Hansen led a group of artists in opposing a plan to remove Fisherman's Wharf as part of a grandiose redevelopment scheme. Fisherman's Wharf is an historic wharf in Monterey, California. Used as an active wholesale fish market into the 1960s, the wharf eventually became a tourist attraction as commercial fishing tapered off in the area. The wharf was an important subject of their art, besides the fact that Hansen identified with the simple life of a fisherman. These artists were considered a Bohemian group, living in the St. Peter's Gate area of Monterey, but amazingly they prevailed against bigger business interests.
*****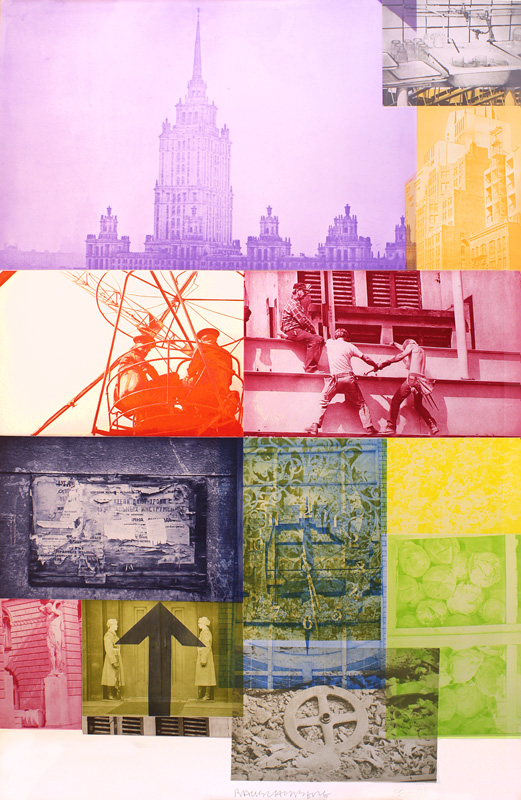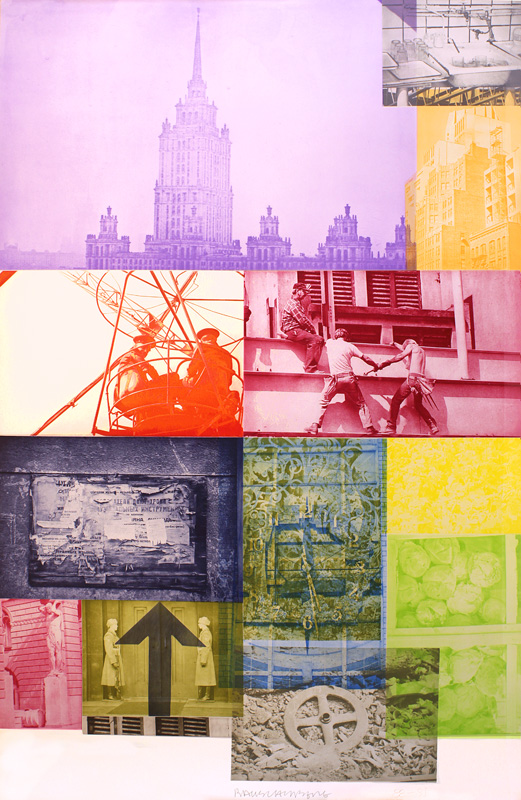 Robert Rauschenberg is regarded as one of the most important figures in the move away from the Abstract Expressionism that dominated American art in the late 1940s and early 1950s.
Rauschenberg's earliest works were minimalist monochromatic paintings, but in the mid-1950s he began to incorporate three-dimensional objects into what he called 'combine paintings'. The best-known example of these is Monogram, which features a stuffed goat with a rubber tire around its middle. Rauschenberg used other castoff objects in his combines including Coca-Cola bottles, fragments of clothing and quilts, electric fans, and radios.
In the 1960s, Rauschenberg returned to working on a flat surface and was particularly active in the medium of silk-screen. He was interested in combining art with new technological developments, and was active in forming Experiments in Art and Technology, an organization to help artists and engineers work together. The print in the MacNider's collection is from his project of the 1980s, Rauschenberg Overseas Culture Exchange, and includes his own photographs of New York and Russia. This undertaking fostered cultural exchange in cities outside the usual contemporary art circuit and reflected his broad interest in social causes.
*****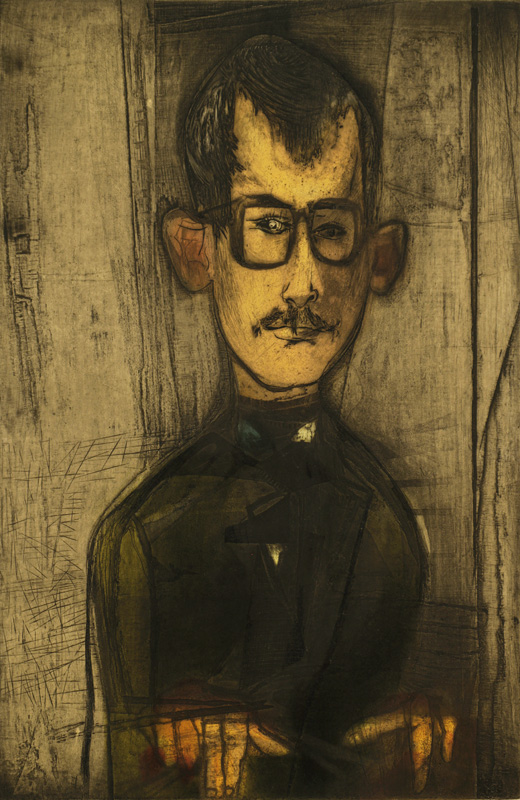 Mauricio Lasansky was an innovative printmaker equally well-known for a series of drawings depicting the horrors of Nazism.
Lasansky was born in Argentina of Eastern European Jewish parents. He came to the United States on a Guggenheim Fellowship in 1943 and spent a year carefully examining more than 100,000 works in the print collection of the Metropolitan Museum in New York. In 1945, Lasansky accepted a teaching position at the University of Iowa where he established a printmaking department that quickly gained international attention.
As a master of printmaking technology, Lasansky along with his students pushed the limits of the medium. He was known for the grand scale of his images and the complex layering of multiple techniques in a single work. His largest prints required as many as 60 different plates to make up the different sections of the image and many trips through the press. He devised a recipe for paper that could withstand the repeated stress his methods required and had it specially milled in France.
Lasansky remained the head of the Art and Art History Department at the University of Iowa until he retired in the mid-1980s. His legacy as an educator can be seen in the many strong printmaking departments his students established at other universities. Lasansky became a citizen of his adopted country and died in 2012 at the age of 97 at his home in Iowa City.
*****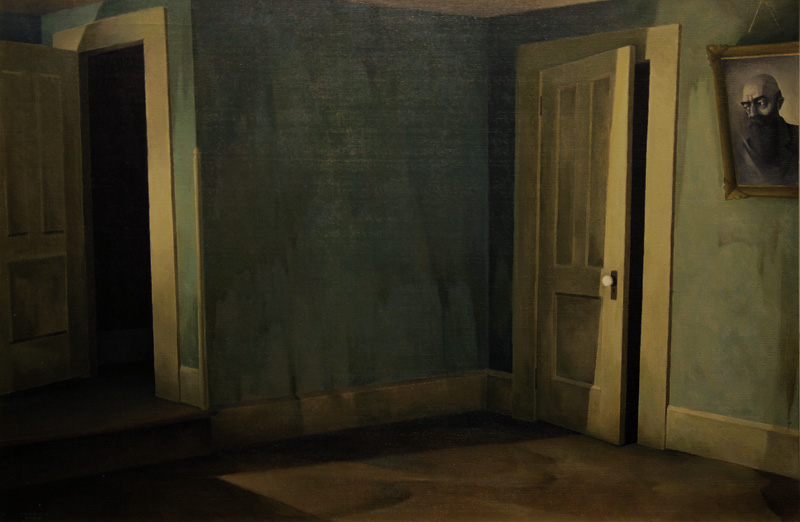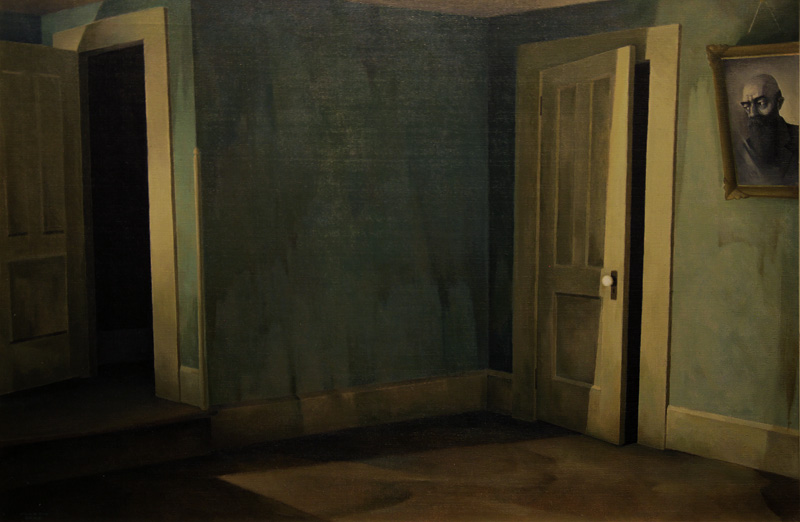 Born in Cedar Rapids, Marvin Cone grew up with fellow Iowa artist Grant Wood. The two remained great friends and painted together throughout their lives. In 1920s, they studied current painting trends in France and during the Great Depression established the short-lived Stone City Art Colony in eastern Iowa. Cone graduated from Coe College in Cedar Rapids in 1914 and taught French there from 1920 to 1934, when he established the art department and continued his long teaching career.
Cone is known for his series of paintings of Iowa farmhouse interiors. He created the realistic but mysterious room in the The Watcher by playing with perspective and color. A portrait of Cone's Uncle Ben, whom he remembered as a grim and quiet figure, hangs crookedly on a wall overlooking two half-opened doorways adding to the painting's intrigue.
*****