Off the Wall showcases pieces from our permanent collection individually so you can learn a little bit more about the pieces in our museum one at a time.
*****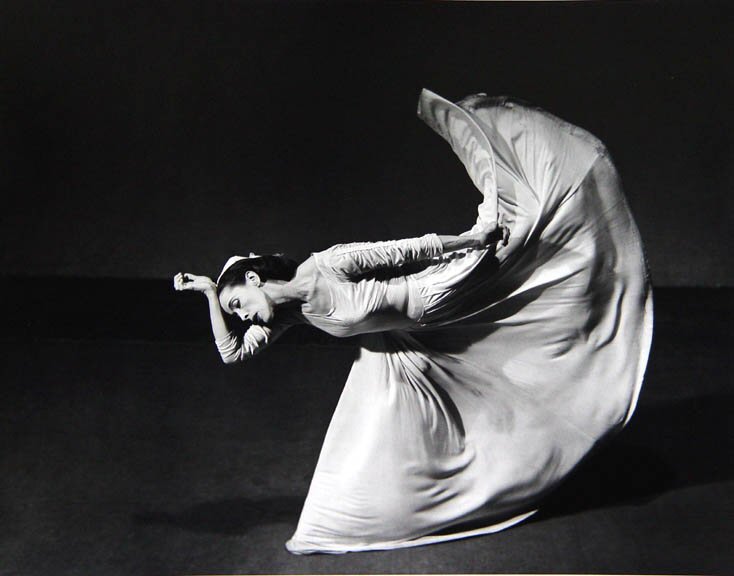 Martha Graham – Letter to the World
Barbara Morgan (1900-1992)
Photography, 1940. Gift of Mr. L. Bradley Camp (via the Ackerman Foundation). 1993.6.1
Perhaps the most recognizable work in the MacNider Art Museum's collection of American photography is Barbara Morgan's silver gelatin print of modern dance innovator Martha Graham. In Martha Graham – Letter to the World (The Kick), Morgan effectively uses dark and light, negative and positive space, and a dynamic sensation of movement to capture the essence of modern dance.
Morgan took up photography in the mid 1920's. From the beginning, she was inclined to explore the rhythmic motions of her subjects and was drawn to the developing field of modern dance. In the United State, modern dance, perhaps more than any other art form, provided artists with fresh ideas to explore. Photography, too, was ripe for experimentation in the 1920's, through manipulated images of photo-montage, light drawings using photography processing, and other constructed forms of image-making. Morgan's dance photographs rank among the classic experiments of Modern American Expressionistic photographic art.
*****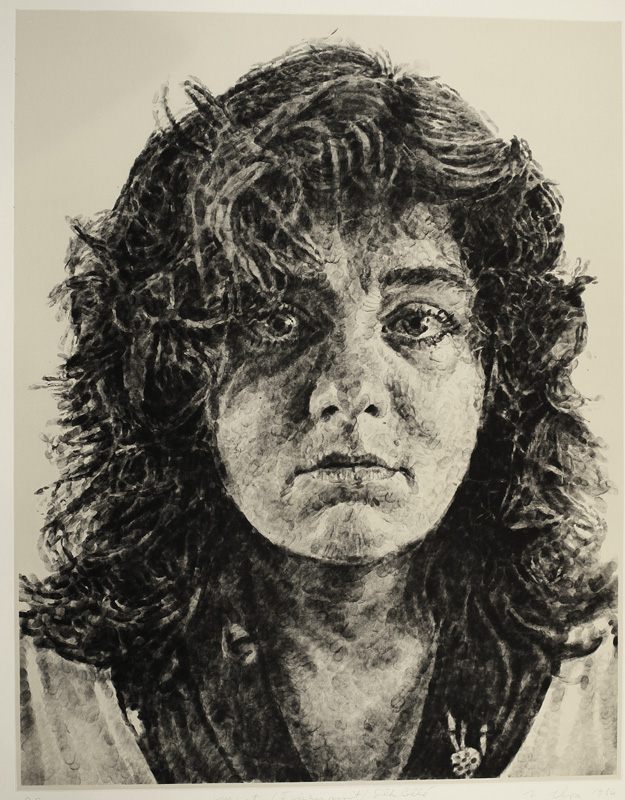 Marta
Chuck Close (b. 1940)
Etching on paper, 1986. John and Mary Papajohn Endowment Fund Purchase. 1995.13
Chuck Close has worked since the early 1970s within a carefully defined practice focused exclusively on monumental portraiture.  Starting with a source photograph, Close carefully transposes the image to a canvas or other surface using a grid.  Referencing painting, drawing, photography, collage and printmaking, the resulting works are hybrid objects that merge manual and mechanical processes and explore the boundaries between the personal and the social, the subjective and the systematic, the abstract and the representational.
After a rare spinal artery collapse in 1988 that left him with partial use of his arms and legs, Close paints with a brush strapped to his hand. Rather than ending his career, "the event", as he calls it, has pushed his work further into a looser, freer style he was beginning to explore before it occurred.
Close created Marta, the print in the MacNider'scollection, by measuring off the grid he uses as the foundation of all his portraits, making marks on a metal plate with his fingerprints, and etching these into the plate with acid. Ink was then rolled over the surface and into the grooves, paper was laid on top of the plate, and the image was transferred to the paper. The tan background of Marta is silk glued to the paper during the printing process.
*****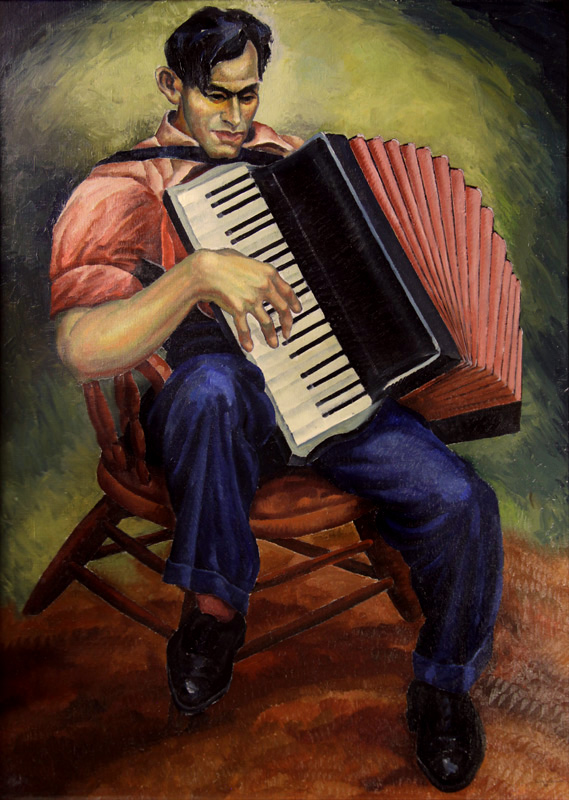 The Accordian Player
Todros Geller (1889-1949)
Oil on canvas, 1938. 1981.005.0001
Noted Jewish artist Todros Geller was born in Vinitza, the Ukraine, Russia, in 1889. He studied art in Odessa at a private academy. In 1906 Geller moved, with his family, to Canada in order to escape the pogroms in his native country. Pogrom is a form of riot directed against a particular group, whether ethnic, religious or other, and characterized by destruction of their homes, businesses and religious centers. Usually pogroms are accompanied by physical violence against the targeted people and even murder or massacre. The term has historically been used to denote extensive violence, either spontaneous or premeditated, against Jews, but has been applied to similar incidents against other, mostly minority, groups.
The years following this move were spent working at odd jobs to enable Geller to study art in the evening. He soon became a photographer. The artist married in 1913 and a few years later immigrated to the United States. Arriving in Chicago in 1918, Geller enrolled at the Art Institute. There, over a period of 5 years, he studied with Norton, Seyffert and Bellows. From 1920-1927, Geller was an instructor at the Jewish People's Institute. He also served as Supervisor of Art for the Board of Jewish Education and Director of Art for the College of Jewish Studies.
Through the professional positions mentioned above, he was able to convey a more sensitive understanding of Jewish art to young people from elementary through the college level. Geller was a prolific artist and worked in many different medias: oil, tempera, watercolor, metal, woodcarving, etching, lithography, stained glass and wood engraving.
*****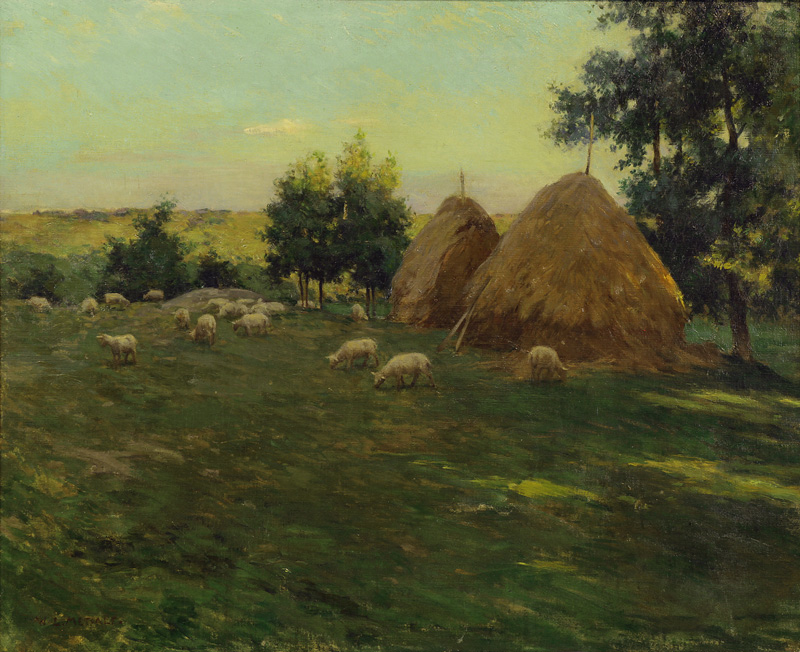 Haystacks
Willard Metcalf (1858-1925)
Oil on canvas, circa 1888. Gift of Mason City Women's Club. 1967.7
Willard Metcalf was an America artist born in Massachusetts who is generally associated with American Impressionism. After early figure-painting and illustration, he became prominent as a landscape painter.
The French Impressionists astounded the late nineteenth century art world when they took canvases and palettes out of their studios and painted directly from nature. They were particularly fascinated by a free handling of paint and the changing effect of light on their subjects. Considered revolutionary at the time, these innovations are the precursors of modernism and eventually, abstract art.
Though Haystacks may not show the dappled sunlight that characterizes the work of the Impressionists, the loose handling of paint and the outdoor scene are typical of the movement. Metcalf studied in Paris and by 1886 was painting at Monet's Giverny. After his return to the United States in 1888, his production was erratic, but he is known for his New England landscapes.
*****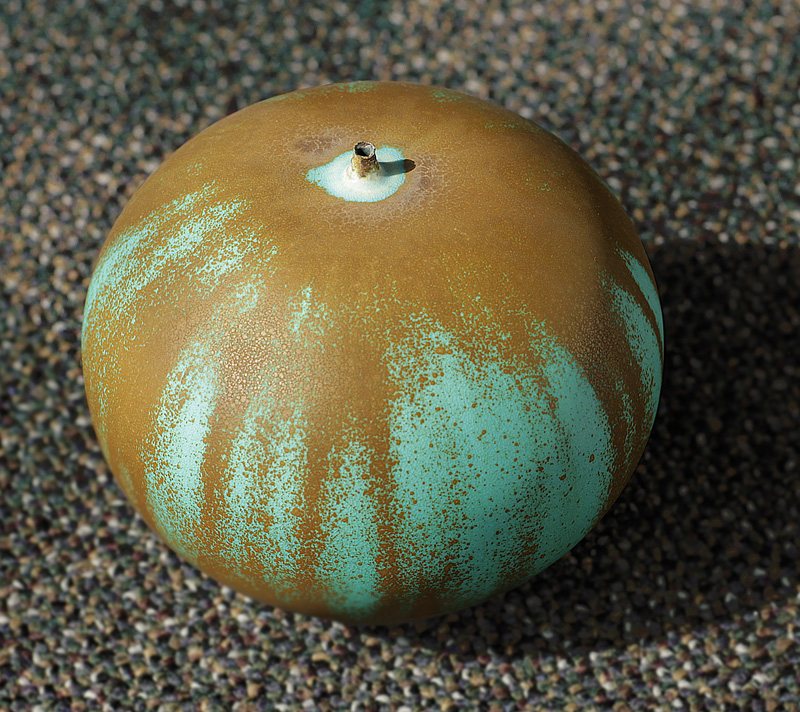 Porcelain Feelie
Rose Cabat (1914-2015)
Clay ceramic. Gift of The Mulcahy Foundation. 1988.2
Rose Cabat was born in New York City in 1914 in the Bronx, and married her childhood sweetheart Erni Cabat in 1936. She began working in ceramics in 1940 after her husband Erni brought home some clay from his job as an assistant to Vally Wiselthier an art deco ceramicist who was making pieces for General Ceramics. After seeing her preliminary pieces, Erni gave Rose a membership at Greenwich House, where Rose learned how to use a potter's wheel.
Shortly after their first son George was born, he was found to have intractable asthma. The Cabat's decided to move to Arizona around 1942 in order to alleviate his condition. Rose worked at a defense plant and was able to make primitive ceramics from the extra clay that Erni was able to obtain from brickyards. Rose was able to make some coil figures until Erni was able to convert a washing machine to a potter's wheel. Eventually, Erni ordered a Randall kickwheel, which Rose used to the end. She made ceramics in her spare time, as she worked in a munitions plant during World War II.
After the war, Rose continued to make craft ceramics such as wind bells, animal shapes and other commodity pieces to help support the family, while Erni worked in Tucson as a graphic artist and in advertising. They became friends with local artists, and helped to start the Art Center, the forerunner of the Tucson Museum of Art.
In 1956, the Cabats took a glaze calculation class at the University of Hawaii which were later applied to the "feelie" forms that become Rose Cabat's signature pieces. In about 1960, Rose hit upon the basic form of the vessel which would become the foundation of the "feelies". She created a pot with a delicate closed neck, which could not hold even a single slender stem or stalk.
By 1966, Rose Cabat was beginning to be recognized as a craft artist, with the exhibition at the Los Angeles County Museum, Craftsmen USA, where she exhibited a casserole. In 1973, her feelies were exhibited in Everyday Life in Early America as contemporary counterparts to pioneering American craftspeople.
Rose and Erni continued to produce ceramics, including feelies and bowls with their signature glazes. While Rose and Erni collaborated on the feelies and other ceramic forms, Erni ran his ad agency in Tucson until the age of 62 when he had felt that the family could be supported with the income from the "feelies" and other ceramics as well as his own artwork.
Rose continued to produce feelies and bowls, despite her decreasing mobility. Cabat died on January 25, 2015 at the age of 100.
*****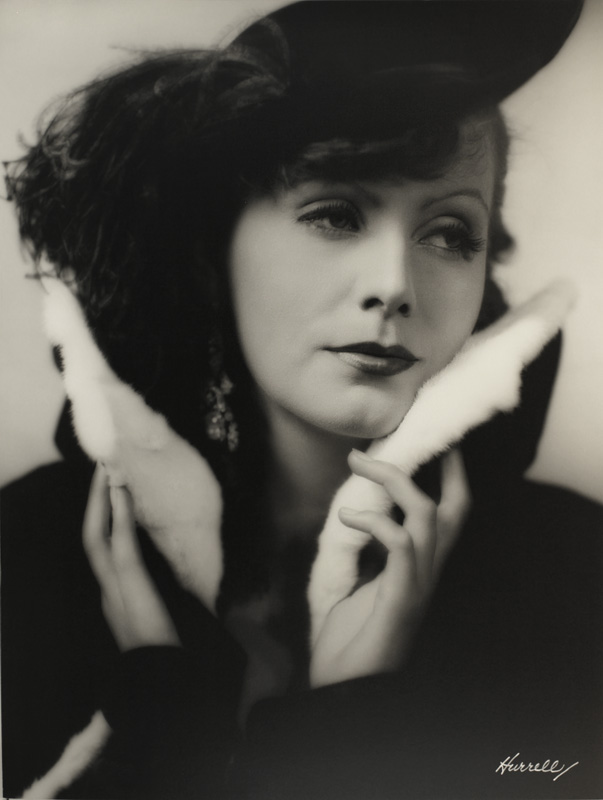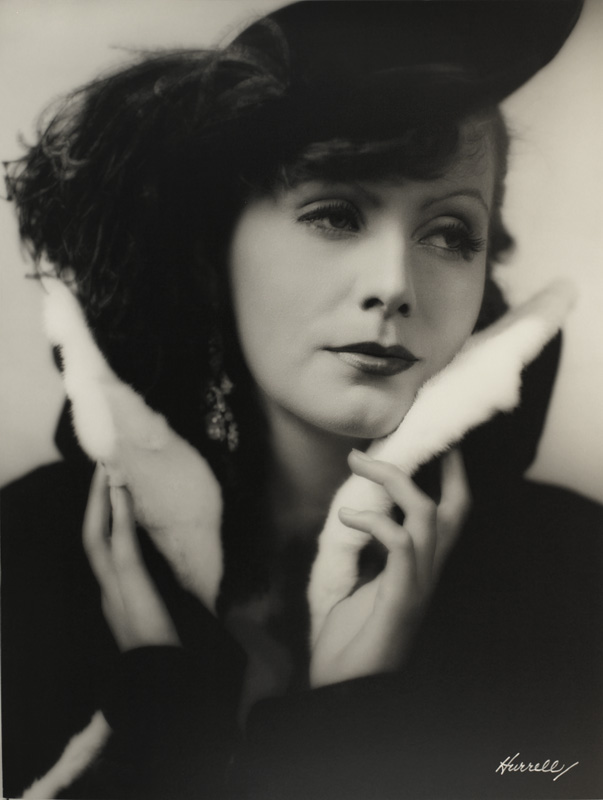 Greta Garbo
George Hurrell (1904-1992)
Gelatin silver print on foam core board, 1930. Gift of Marvin A. Sackner, M.D. 1993.4.3
George Edward Hurrell was a photographer who made a significant contribution to the image of glamour presented by Hollywood during the 1930s and 1940s.
Born in the Walnut Hills district of Cincinnati, Ohio, Hurrell originally studied as a painter with no particular interest in photography. He first began to use photography only as a medium for recording his paintings. After moving to Laguna Beach, Calif. from Chicago in 1925 he met many other painters who had connections. One of those connections was Edward Steichen who encouraged him to pursue photography after seeing some of his works. Hurrell also found that photography was a more reliable source of income than painting.
In the late 1920s, Hurrell was introduced to the actor Ramon Novarro and agreed to take a series of photographs of him. Novarro was impressed with the results and showed them to the actress Norma Shearer, who was attempting to mold her wholesome image into something more glamorous and sophisticated in an attempt to land the title role in the movie "The Divorcee". After she showed these photographs to her husband, MGM production chief Irving Thalberg, Thalberg was so impressed that he signed Hurrell to a contract with MGM Studios, making him head of the portrait photography department. But in 1932, Hurrell left MGM after differences with their publicity head, and from then on until 1938 ran his own studio.
Throughout the decade, Hurrell photographed every star contracted to MGM, and his striking black-and-white images were used extensively in the marketing of these stars. Among the performers regularly photographed by him during these years were Myrna Loy, Robert Montgomery, Jean Harlow, Joan Crawford, Clark Gable, Rosalind Russell, Carole Lombard and Norma Shearer, who was said to have refused to allow herself to be photographed by anyone else.
In the early 1940s Hurrell moved to Warner Brothers Studios photographing, among others Bette Davis, Ann Sheridan, Errol Flynn, Olivia de Havilland, Ida Lupino, Humphrey Bogart and James Cagney. Later in the decade he moved to Columbia Pictures where his photographs were used to help the studio build the career of Rita Hayworth.
He left Hollywood briefly to make training films for the First Motion Picture Unit of the United States Army Air Forces. When he returned to Hollywood in the mid-1950s his old style of glamour had fallen from favour. Where he had worked hard to create an idealized image of his subjects, the new style of Hollywood glamour was more earthy and gritty, and for the first time in his career Hurrell's style was not in demand. He moved to New York and worked for the advertising industry where glamour was still valued. He continued his work for fashion magazines and photographed for print advertisements for several years before returning to Hollywood in the 1960s.
Hurrell died from complications from bladder cancer shortly after completing a TBS documentary about his life. He died on May 17, 1992. Since his death, his vintage works have continued to appreciate in value and examples of his artistic output can be found in the permanent collections of numerous museums around the world.
*****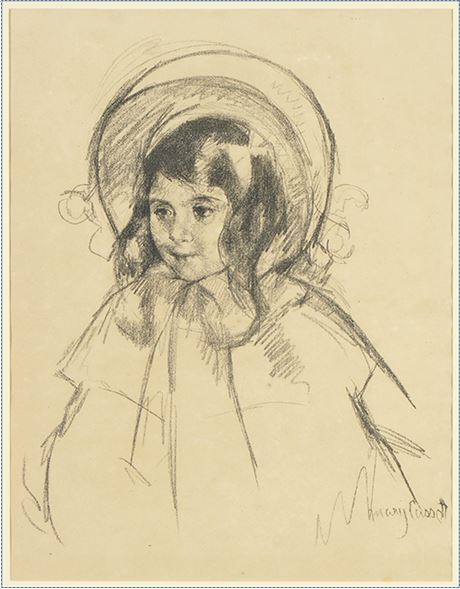 Sara Wearing Her Bonnet and Coat
Mary Cassatt (1844-1926)
Lithograph.
Mary Stevenson Cassatt was born in Allegheny City, Pennsylvania, which is now part of Pittsburgh. She was born into an upper-middle-class family: Her father, Robert Simpson Cassat (later Cassatt), was a successful stockbroker and land speculator. Her mother, Katherine Kelso Johnston, came from a banking family. Katherine Cassatt, educated and well-read, had a profound influence on her daughter. The family moved eastward, first to Lancaster, Pennsylvania, then to the Philadelphia area, where she started her schooling at the age of six. Cassatt grew up in an environment that viewed travel as integral to education; she spent five years in Europe and visited many of the capitals, including London, Paris, and Berlin. While abroad she learned German and French and had her first lessons in drawing and music.
Though her family objected to her becoming a professional artist, Cassatt began studying painting at the Pennsylvania Academy of the Fine Arts in Philadelphia at the early age of 15. Part of her parents' concern may have been Cassatt's exposure to feminist ideas and the bohemian behavior of some of the male students. She continued her studies from 1861 through 1865, the duration of the American Civil War. Impatient with the slow pace of instruction and the patronizing attitude of the male students and teachers, she decided to study the old masters on her own. Female students could not use live models, until somewhat later, and the principal training was primarily drawing from casts.
Cassatt decided to end her studies: At that time, no degree was granted. After overcoming her father's objections, she moved to Paris in 1866, with her mother and family friends acting as chaperones. Since women could not yet attend the École des Beaux-Arts, Cassatt applied to study privately with masters from the school and was accepted to study with Jean-Léon Gérôme, a highly regarded teacher known for his hyper-realistic technique and his depiction of exotic subjects. Cassatt augmented her artistic training with daily copying in the Louvre.
In 1868, one of her paintings, A Mandoline Player, was accepted for the first time by the selection jury for the Paris Salon. Cassatt was one of two American women to first exhibit in the Salon.
Returning to the United States in the late summer of 1870—as the Franco-Prussian War was starting—Cassatt lived with her family in Altoona. Her father continued to resist her chosen vocation, and paid for her basic needs, but not her art supplies. Cassatt placed two of her paintings in a New York gallery and found many admirers but no purchasers. She was also dismayed at the lack of paintings to study while staying at her summer residence. Cassatt traveled to Chicago to try her luck, but lost some of her early paintings in the Great Chicago Fire of 1871. Shortly afterward, her work attracted the attention of the archbishop of Pittsburgh, who commissioned her to paint two copies of paintings by Correggio, advancing her enough money to cover her travel expenses and part of her stay. With Emily Sartain, a fellow artist, Cassatt set out for Europe again.
Within months of her return to Europe in the autumn of 1871, Cassatt's prospects had brightened. Her painting Two Women Throwing Flowers During Carnival was well received in the Salon of 1872, and was purchased. In 1874, she made the decision to take up residence in France. Cassatt opened a studio in Paris.
Cassatt continued to express criticism of the politics of the Salon and the conventional taste that prevailed there. Cassatt saw that works by female artists were often dismissed with contempt unless the artist had a friend or protector on the jury, and she would not flirt with jurors to curry favor. Her cynicism grew when one of the two pictures she submitted in 1875 was refused by the jury, only to be accepted the following year after she darkened the background. Out of her distress and self-criticism, Cassatt decided that she needed to move away from genre paintings and onto more fashionable subjects, in order to attract portrait commissions from American socialites abroad.
In 1877, both her entries were rejected, and for the first time in seven years she had no works in the Salon. At this low point in her career she was invited by Edgar Degas to show her works with the Impressionists, a group that had begun their own series of independent exhibitions in 1874 with much attendant notoriety. The Impressionists had no formal manifesto and varied considerably in subject matter and technique. They tended to prefer plein air painting and the application of vibrant color in separate strokes with little pre-mixing, which allows the eye to merge the results in an "impressionistic" manner. The Impressionists had been receiving the wrath of the critics for several years.
She accepted Degas' invitation with enthusiasm and began preparing paintings for the next Impressionist show. She felt comfortable with the Impressionists and joined their cause enthusiastically. Her style had gained a new spontaneity during the intervening two years. Previously a studio-bound artist, she had adopted the practice of carrying a sketchbook with her while out-of-doors or at the theater, and recording the scenes she saw. She became extremely proficient in the use of pastels, eventually creating many of her most important works in this medium. Degas also introduced her to etching, of which he was a recognized master. The two worked side-by-side for a while, and her draftsmanship gained considerable strength under his tutelage.
The Impressionist exhibit of 1879 was the most successful to date. The group made a profit and sold many works, although the criticism continued as harsh as ever. Although critics claimed that Cassatt's colors were too bright and that her portraits were too accurate to be flattering to the subjects, her work was not savaged as was Monet's, whose circumstances were the most desperate of all the Impressionists at that time. She used her share of the profits to purchase a work by Degas and one by Monet. She participated in the Impressionist Exhibitions that followed in 1880 and 1881, and she remained an active member of the Impressionist circle until 1886.
Cassatt also made several portraits of family members during that period. Cassatt's style then evolved, and she moved away from Impressionism to a simpler, more straightforward approach. She began to exhibit her works in New York galleries as well. After 1886, Cassatt no longer identified herself with any art movement and experimented with a variety of techniques.
Cassatt and her contemporaries enjoyed the wave of feminism that occurred in the 1840s, allowing them access to educational institutions at newly coed colleges and universities. Cassat was an outspoken advocate for women's equality, campaigning with her friends for equal travel scholarships for students in the 1860s, and the right to vote in the 1910s. Although Cassatt did not explicitly make political statements about women's rights in her work, her artistic portrayal of women was consistently done with dignity and the suggestion of a deeper, meaningful inner life. Cassatt objected to being stereotyped as a "woman artist", she supported women's suffrage, and in 1915 showed eighteen works in an exhibition supporting the movement.
Cassatt's reputation is based on an extensive series of rigorously drawn and tenderly observed paintings and prints on the theme of the mother and child. Some of these works depict her own relatives, friends, or clients, although in her later years she generally used professional models in compositions that are often reminiscent of Italian Renaissance depictions of the Madonna and Child. After 1900, she concentrated almost exclusively on mother-and-child subjects.
The 1890s were Cassatt's busiest and most creative period. She had matured considerably and became more diplomatic and less blunt in her opinions. She also became a role model for young American artists who sought her advice. In 1891, she exhibited a series of highly original colored drypoint and aquatint prints, including Woman Bathing and The Coiffure, inspired by the Japanese masters shown in Paris the year before. Cassatt was attracted to the simplicity and clarity of Japanese design, and the skillful use of blocks of color. Also in 1891, Chicago businesswoman Bertha Palmer approached Cassatt to paint a mural about "Modern Woman" for the Women's Building for the World's Columbian Exposition to be held in 1893. Cassatt completed the project over the next two years. The central theme was titled Young Women Plucking the Fruits of Knowledge or Science. The mural displays a community of women apart from their relation to men, as accomplished persons in their own right. Unfortunately the mural did not survive following the run of the exhibition when the building was torn down.
As the new century arrived, Cassatt served as an advisor to several major art collectors and stipulated that they eventually donate their purchases to American art museums. Although instrumental in advising American collectors, recognition of her art came more slowly in the United States. An increasing sentimentality is apparent in her work of the 1900s; her work was popular with the public and the critics, but she was no longer breaking new ground.
A trip to Egypt in 1910 impressed Cassatt with the beauty of its ancient art, but was followed by a crisis of creativity; not only had the trip exhausted her, but she declared herself "crushed by the strength of this Art". Diagnosed with diabetes, rheumatism, neuralgia, and cataracts in 1911, she did not slow down, but after 1914 she was forced to stop painting as she became almost blind. Cassatt died on June 14, 1926 at Château de Beaufresne, near Paris, and was buried in the family vault at Le Mesnil-Théribus, France.
*****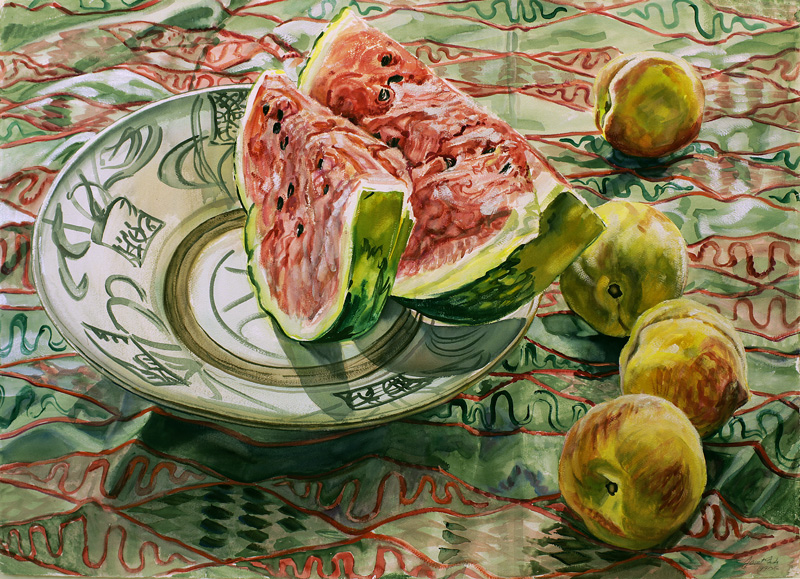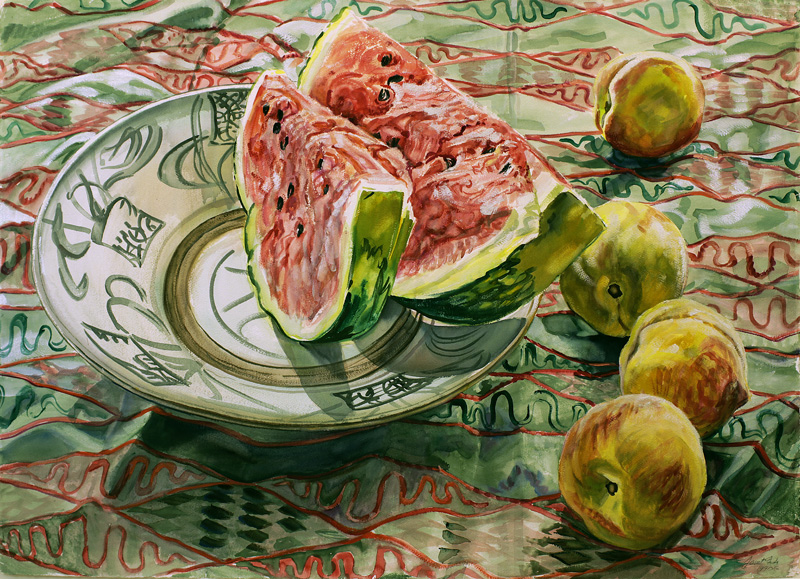 Watermelon and Peaches
Janet Fish (b.1938)
Watercolor on paper, 1990. Museum Purchase, Memorial and Acquisition Funds. 2000.16
Janet Fish was born in Boston, MA in 1938 and grew up on the Island of Bermuda. Her grandfather was an American Impressionist painter, which inspired her. Her father was an Art History teacher and her mother was a sculptor and potter.
She went to Skowhegan Summer School of Painting and Sculpture in Maine, and studied sculpture and printmaking at Smith College in Massachusetts, and graduated from Smith in 1960. She then went on to Yale University School of Art and Architecture in Connecticut, where she received her B.F.A. (Bachelor of Fine Arts) and M.F.A. (Master of Fine Arts) degrees in 1963. (She was one of the first women artists to receive her MFA from Yale.) At Yale some of her classmates included Rackstraw Downes, Chuck Close, Nancy Graves and Brice Marden.
She has shown her work in many major art institutions, including the Metropolitan Museum of Art and the Whitney Museum of American Art, both in New York, as well as the Art Institute of Chicago, and at many venues around the world. She has also won fellowships and awards, including American Academy of Arts and Letters Award, 1994, and a MacDowell Fellowships in 1968, 1968 and 1972. Her work has been published in several books – The Prints of Janet Fish, by Linda Konheim Kramer, Janet Fish by Garret Henry, and Janet Fish: Paintings by Vincent Katz. She is currently represented by D.C. Moore Gallery in New York City, and divides her time between her Soho loft and her farmhouse in Vermont. Her paintings reflect her indoor and outdoor domestic life, often containing still life objects from her collections of glassware and other objects.
*****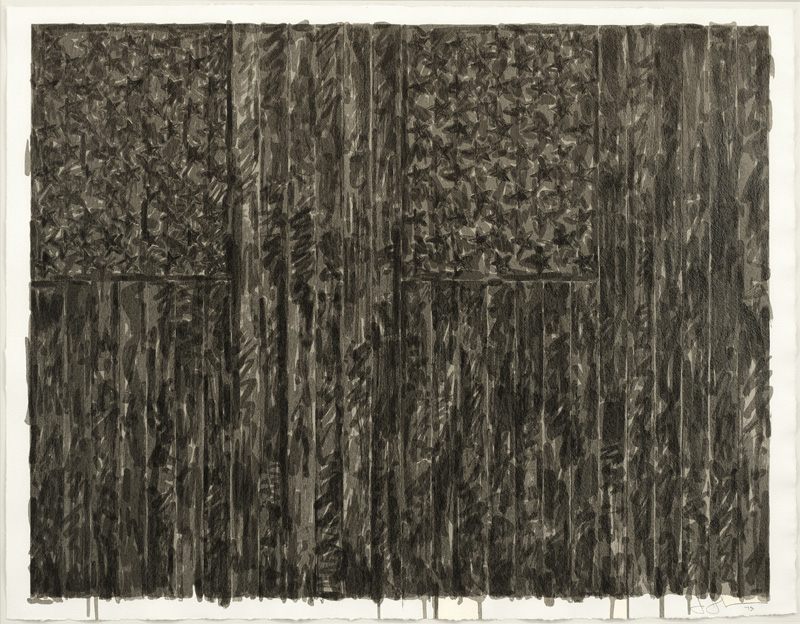 Flags II
Jasper Johns (b. 1930)
Screenprint on paper, 1973. John and Mary Pappajohn Endowment Fund Purchase. 1999.9
Jasper Johns was born on May 15, 1930 in Augusta, Georgia. Johns studied at the University of South Carolina from 1947 to 1948, a total of three semesters. He then moved to New York City and studied briefly at Parsons School of Design in 1949. While in New York, Johns met Robert Rauschenberg, Merce Cunningham, and John Cage. Working together they explored the contemporary art scene, and began developing their ideas on art. In 1952 and 1953, he was stationed in Sendai, Japan during the Korean War.
He is best known for his painting Flag (1954-55), which he painted after having a dream of the American flag. His work is often described as a 'Neo-Dadaist', as opposed to pop art, even though his subject matter often includes images and objects from popular culture. Still, many compilations on pop art include Jasper Johns as a pop artist because of his artistic use of classical iconography.
Most of Johns work can be found mostly on the east coast of the United States. To name a few of the places, Museum of Modern Art in New York, the New York State Theater, Metropolitan Museum of Art in New York, National Gallery of Art in Washington D.C., and many others.
In 1998, the Metropolitan Museum of Art in New York paid more than $20 million for Johns' White Flag. In 2006, private collectors Anne and Kenneth Griffin (founder of the Chicago-based hedge fund Citadel Investment Group) bought Johns' False Start for $80 million. Johns currently lives in Sharon, Connecticut.
*****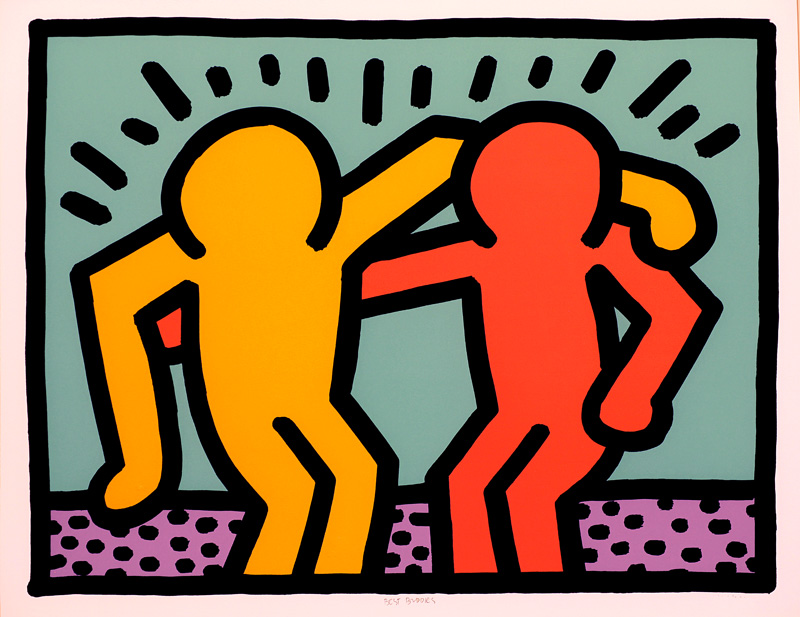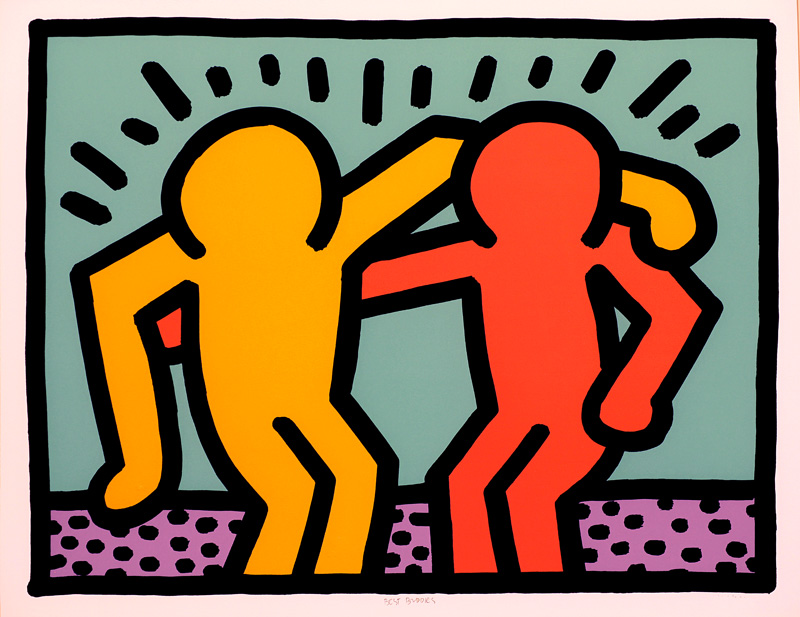 Best Buddies
Keith Haring (1958-1990)
Screenprint on paper, 1990. Gift of Steve, Todd, Derrick, and Tyler Sellergren in Memory of Wife and Mother, Penny K. Sellergren. 2007.1
Keith Haring was an artist and social activist whose work responded to the New York street culture of the 1980s. Growing up in small town Pennsylvania, Haring developed a love for drawing at an early age, learning basic cartooning skills from his father and popular culture, especially Dr. Seuss and Walt Disney. After studying graphic design in Pittsburgh, Haring moved to New York where he found a thriving alternative art community developing outside the gallery and museum system in the downtown streets, subways, clubs and dance halls. He first gained public attention with his subway chalk drawings, sometimes creating as many as 40 drawings in a day as he engaged with spectators. During this time the "Radiant Baby", a simple line drawing of a crawling baby with energized rays emanating from its body, became his symbol.
Haring's brief but intense career spanned the 1980s, and during that decade his work was featured in over 100 solo and group exhibitions. His art attracted a wide audience through his expression of universal concepts of birth, death, love, sex and war, using a primacy of line and directness of message. Haring's imagery has become a universally recognized visual language of the 20th century.
*****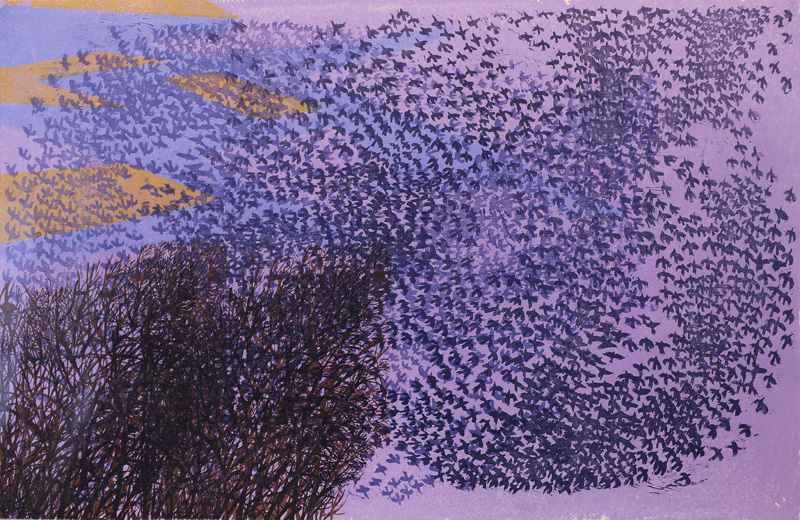 Migration VI
Antonio Frasconi (1919-2013)
Woodcut on paper, 1959. Gift of Dr. and Mrs. John MacGregor in Memory of Henning R. Roden and Jay B. MacGregor. 1977.2
Antonio Frasconi was an Uruguayan – American visual artist, best known for his woodcuts. Antonio Rudolfo Frasconi was born in 1919 on a boat between Argentina & Uruguay. Frasconi's mother managed a restaurant whilst his father was frequently unemployed. By the age of twelve, he was learning a trade at a printers.
During the war, an exhibition of impressionism and post-impression was organized by the French in Latin America. Artists such as Van Gogh and Cézanne captured his imagination. However it was the woodcuts of Paul Gauguin that he was attracted to most.
Frasconi moved to the United States in 1945 at the end of World War II. He worked as a gardener and as a guard at the Santa Barbara Museum of Art. It was at that museum that he had his first dedicated show. His recognition was beginning to grow and within twelve months he had a similar show at the Brooklyn Museum of Art.
In 1959 he was a runner-up for the Caldecott Medal from the U.S. children's librarians, which annually honors the illustrator of the best American picture book for children. Thus The House That Jack Built, which he also wrote, is retrospectively termed a Caldecott Honor Book. In 1962 Frasconi won a Horn Book Fanfare award for The Snow and the Sun – La Nieve y el Sol a book he had created in two languages. He has frequently produced multilingual books.
Between 1981 and 1986 he created a series of woodcuts under the name "Los desaparecidos" (The Disappeared). This series refers directly to the people who were tortured and killed during the Civic-military dictatorship of Uruguay.
Antonio Frasconi died on January 8, 2013.
*****

Dispatches
Glenn Ligon (b. 1960)
Aquatint with spit-bite and dry point on hahnemuhle copperplate bright white 300 gsm, 2011. John and Mary Pappajohn Endowment Fund Purchase.
Glenn Ligon is an American conceptual artist whose work explores race, language, desire, sexuality, and identity. Ligon engages inintertextuality with other works from the visual arts, literature, and history, as well as his own life.
He was born April 20, 1960 in the Bronx. At the age of 7, his divorced, working-class parents got a scholarship for him and his brother to attend Walden School, a high profile progressive private school on Manhattan's Upper West Side. Ligon graduated from Wesleyan University with a B.A. in 1982. After graduating, he worked as a proofreader for a law firm, while in his spare time he painted in the abstract Expressionist style of Willem de Kooning and Jackson Pollock.
Ligon works in multiple media, including painting, neon, video, photography, and digital media such as Adobe Flash for his work Annotations. Ligon's work is greatly informed by his experiences as an African American and as a gay man living in the United States.
Although Ligon's work spans sculptures, prints, drawings, mixed media and even neon signs, painting remains a core activity. His paintings incorporate literary fragments, jokes, and evocative quotes from a selection of authors, which he stencils directly onto the canvas by hand. In 1989, he mounted his first solo show, "How It Feels to Be Colored Me," in Brooklyn. This show established Ligon's reputation for creating large, text-based paintings in which a phrase chosen from literature or other sources is repeated over and over, eventually dissipating into murk. Untitled (I Am a Man) (1988), a reinterpretation of the signs carried during the Memphis Sanitation Strike in 1968 — made famous by Ernest Withers's photographs of the march —, is the first example of his use of text.
Since 2005, Ligon has made neon works. Warm Broad Glow (2005), Ligon's first exploration in neon, uses a fragment of text from Three Lives, the 1909 novel by American author Gertrude Stein. Ligon rendered the words "negro sunshine" in warm white neon, the letters of which were then painted black on the front. In 2008, the piece was selected to participate in the Renaissance Society's group exhibit, "Black Is, Black Ain't"., and appeared on the Whitney Museum's facade in 2011.
In 2009, Ligon completed short film based on Thomas Edison's 1903 silent film Uncle Tom's Cabin. Playing the character of Tom, Ligon had himself filmed re-creating the last scene of Edison's movie, which also provided his film's title: "The Death of Tom." But the film was incorrectly loaded in the hand-crank camera that the artist used so no imagery appeared on film. Embracing this apparent failure, Ligon decided to show his film as an abstract progression of lights and darks with a narrative suggested by the score composed and played by jazz musician Jason Moran.
In 2009, President Barack Obama added Ligon's 1992 Black Like Me No. 2, on loan from the Hirshhorn Museum and Sculpture Garden, to the White House collection, where it was installed in the President's private living quarters. The text in the selected painting is from John Howard Griffin's 1961 memoir Black Like Me, the account of a white man's experiences traveling through the South after he had his skin artificially darkened. The words "All traces of the Griffin I had been were wiped from existence" are repeated in capital letters that progressively overlap until they coalesce as a field of black paint. Art critic Jerry Saltz called this work a "black-and-white beauty."
On the occasion of Ben Stiller and David Zwirner's "Artists For Haiti" charity auction at Christie's in 2011, Jennifer Aniston set a record prize for Glenn Ligon's work by purchasing his Stranger #44 (2011). At $450,000, Aniston beat Ligon's previous record of $434,500 for Invisible Man (Two Views) (1991).
Ligon is represented by Regen Projects in Los Angeles; Luhring Augustine in New York; and Thomas Dane Gallery in London. He currently lives and works in New York City.
*****
*****