Off the Wall showcases pieces from our permanent collection individually so you can learn a little bit more about the pieces in our museum one at a time.
*****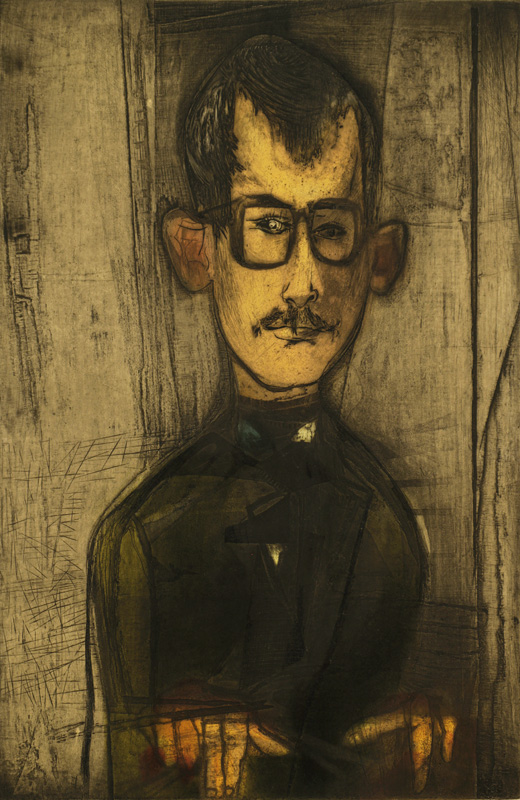 Self-Portrait (48)
Mauricio Lasansky (1914-2012)
Intaglio on paper, 1948. Museum Purchase in Memory of R. Lyle Bergo. 2013.3.1
Mauricio Lasansky was an innovative printmaker equally well-known for a series of drawings depicting the horrors of Nazism.
Lasansky was born in Argentina of Eastern European Jewish parents.  He came to the United States on a Guggenheim Fellowship in 1943 and spent a year carefully examining more than 100,000 works in the print collection of the Metropolitan Museum in New York.  In 1945, Lasansky accepted a teaching position at the University of Iowa where he established a printmaking department that quickly gained international attention.
As a master of printmaking technology, Lasansky along with his students pushed the limits of the medium.  He was known for the grand scale of his images and the complex layering of multiple techniques in a single work.  His largest prints required as many as 60 different plates to make up the different sections of the image and many trips through the press.  He devised a recipe for paper that could withstand the repeated stress his methods required and had it specially milled in France.
Lasansky remained the head of the Art and Art History Department at the University of Iowa until he retired in the mid-1980s.  His legacy as an educator can be seen in the many strong printmaking departments his students established at other universities.  Lasansky became a citizen of his adopted country and died in 2012 at the age of 97 at his home in Iowa City.
*****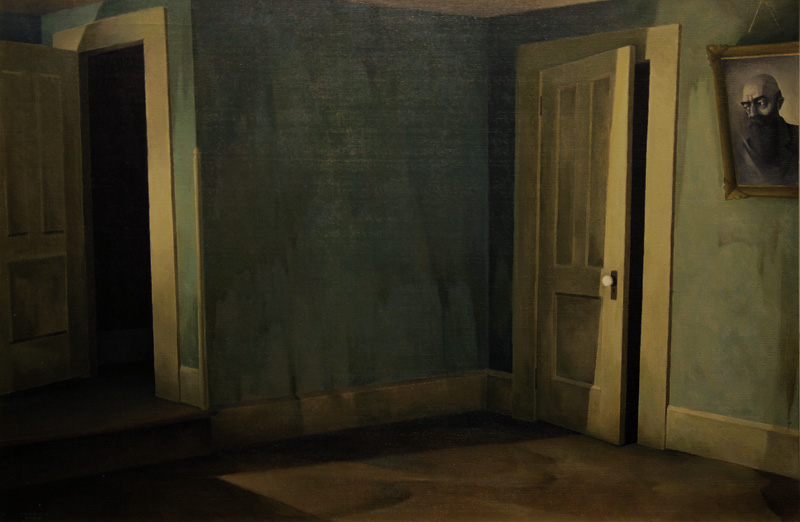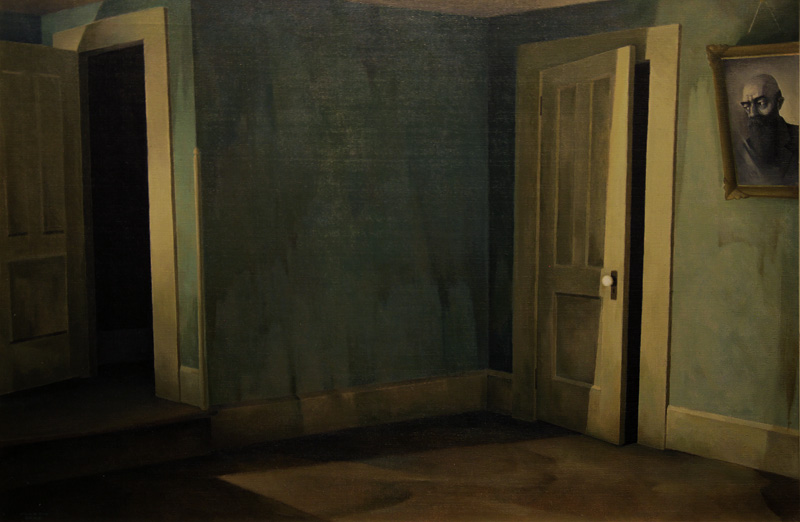 The Watcher
Marvin Cone (1891-1965)
Oil on canvas, 1947.
Museum Purchase with funds from the Roy B. Johnson Memorial. 1976.1
Marvin Cone was born and raised in Cedar Rapids, Iowa where he found a lifelong friendship in the state's most famous artist, Grant Wood. Cone graduated from Coe College at which he'd later teach for more than 40 years. He furthered his education at the Art Institute of Chicago but his studies there were cut short by his service in WWI.
Following the War, Cone studied at the Ecole des Beaux Arts in France. École des Beaux-Arts ("School of Fine Arts") refers to a number of influential Art schools in France. The most famous is the École Nationale Supérieure des Beaux-Arts, now located on the left bank in Paris, across the Seine from the Louvre, in the 6th arrondissement. The school has a history spanning more than 350 years, training many of the great artists in Europe. Beaux Arts style was modeled on classical "antiquities", preserving these idealized forms and passing the style on to future generations.
Upon his return to Iowa, Cone was active in the Cedar Rapids Art Association and was instrumental, along with Grant Wood, in promoting the short-lived Stone City Art Colony. Cone lived his entire life in Cedar Rapids and is remembered for his regionalist interpretive landscapes, unique vision, and long and influential teaching career.
*****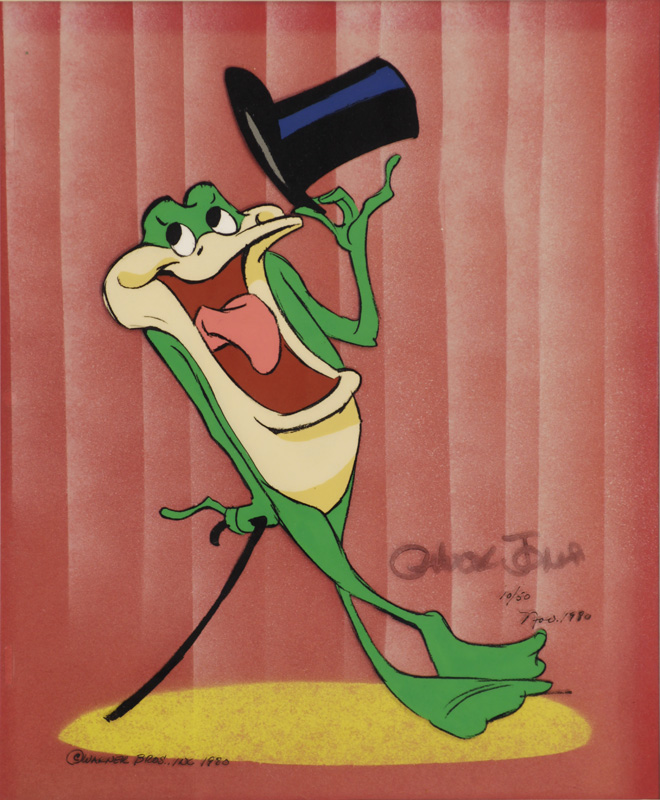 Michigan J. Frog
Chuck Jones (1912-2002)
Animation cel (original hand painted with hand-made background), 1980. Gift of the Clark Family in honor of Beje Clark. 2006.1
Charles Martin "Chuck" Jones was an American animator, cartoon artist, screenwriter, producer, and director of animated films, most memorably of Looney Tunes and Merrie Melodies shorts for the Warner Bros. Cartoons studio. He directed many classic animated cartoon shorts starring Bugs Bunny, Daffy Duck, the Road Runner and Wile E. Coyote, Pepé Le Pew, Porky Pig and a slew of other Warner characters.
Jones was born on September 21, 1912 in Spokane, Washington. He later moved with his parents and three siblings to the Los Angeles, California area. During his artistic education, he worked part-time as a janitor. He worked his way up in the animation industry, starting as a cell washer.
Jones joined Leon Schlesinger Productions, the independent studio that produced Looney Tunes and Merrie Melodies for Warner Bros., in 1933 as an assistant animator. In 1935, he was promoted to animator. During World War II, Jones worked closely with Theodor Geisel, better known as Dr. Seuss, to create the Private Snafu series of Army educational cartoons. Jones later collaborated with Seuss on animated adaptations of Seuss' books, including How the Grinch Stole Christmas! in 1966. Jones directed such shorts as The Weakly Reporter, a 1944 short that related to shortages and rationing on the home front. During the same year, he directed Hell-Bent for Election, a campaign film for Franklin D. Roosevelt.
Jones remained at Warner Bros. throughout the 1950s, except for a brief period in 1953 when Warner closed the animation studio. During this interim, Jones found employment at Walt Disney Productions, where he teamed with Ward Kimball for a four-month period of uncredited work on Sleeping Beauty (1959).
With business partner Les Goldman, Jones started an independent animation studio, Sib Tower 12 Productions, and brought on most of his unit from Warner Bros. In 1963, Metro-Goldwyn-Mayer contracted with Sib Tower 12 to have Jones and his staff produce new Tom and Jerry cartoons as well as a television adaptation of all Tom and Jerry theatricals produced to that date.
As the Tom and Jerry series wound down Jones produced more for television. In 1966, he produced and directed the TV special How the Grinch Stole Christmas!, featuring the voice and facial models based on the readings by Boris Karloff.
MGM closed the animation division in 1970, and Jones once again started his own studio, Chuck Jones Enterprises. He produced a Saturday morning children's TV series for the American Broadcasting Company called The Curiosity Shop in 1971.
Jones resumed working with Warner Bros. in 1976 with the animated TV adaptation of The Carnival of the Animals with Bugs Bunny and Daffy Duck. Through the 1980s and 1990s, Jones was painting cartoon and parody art, sold through animation galleries by his daughter's company, Linda Jones Enterprises.
Jones died of heart failure on February 22, 2002.
*****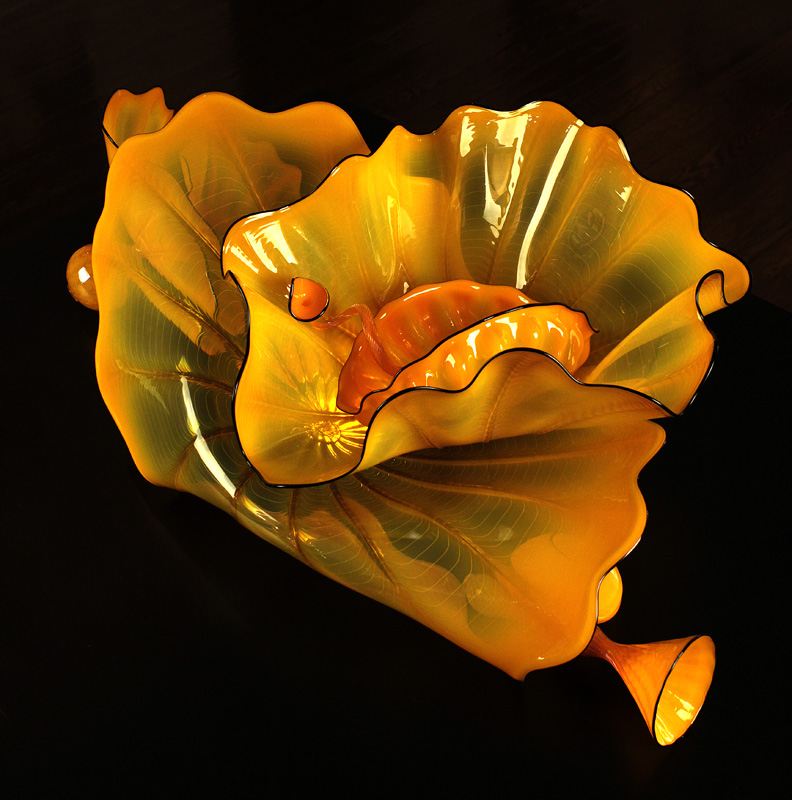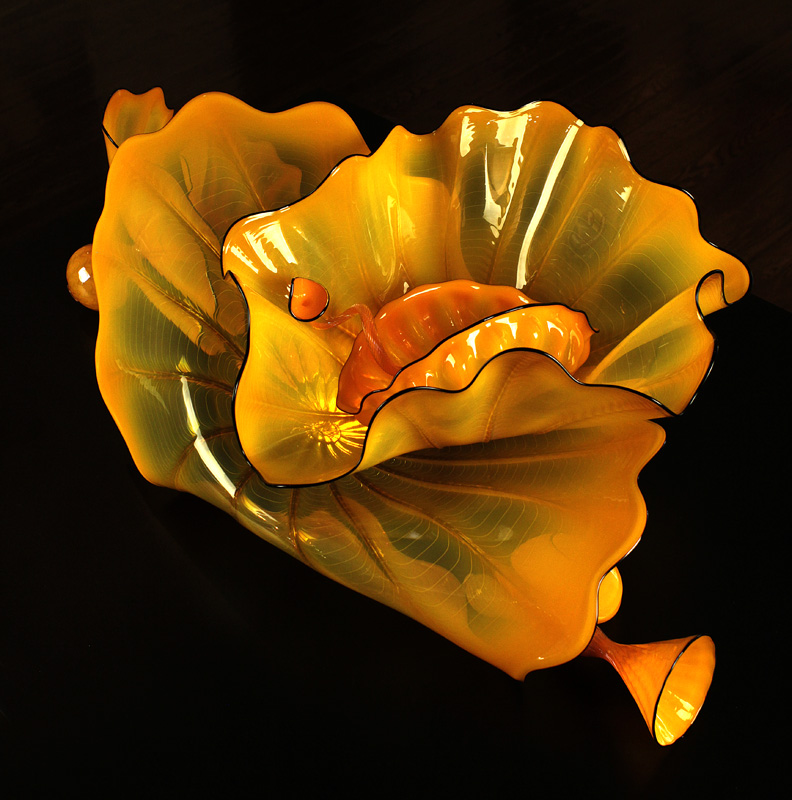 Azteca Yellow Persian Set with Black Lip Wraps
Dale Chihuly (b.1941)
Blown glass, 2000. Museum Purchase Funded by Lena Keithahn. 2001.6
Dale Chihuly , a native of Tacoma Washington, is famous for his dazzling artistic glass creations.  Orbs, cylinders, spikes and spirals – Chilhuly's work appears to defy gravity.  After receiving an undergraduate degree at the University of Washington in Interior Design, he later received a Master's degree in Sculpture from the University of Wisconsin – Madison where he has studied under the famed glass artists Harvey Littleton in 1967.  On a Fulbright scholarship in 1968 he traveled to Venice and received a Masters of Fine Arts at the Rhode Island School of Design.  He founded his own glass school in 1971, named Pilchuck Glass School, located in Standwood, Washington.
Due to a personal injury to his shoulder sustained in a body surfing accident, Chihuly was forced to give up glass blowing himself, relying on assistants to do the physical labor, while he served as artistic director.  He explained his role as "more choreographer than dancer, more supervisor than participant, more director than actor."  In the 1970's he began to use a team approach to glass blowing which allowed him to achieve massive glass sculptures that would have been impossible for one artist to accomplish alone.
In recent years, he has made his artwork a household name by his entrepreneurial ventures that include retail stores in high-end areas, documentaries, and artwork prints made for commercial purposes.  His team approach made it possible for him to create large works that now reside with many companies who want large-scale impressive installations in their building.  In 2012 the Chihuly Garden and Glass center opened in Seattle.
*****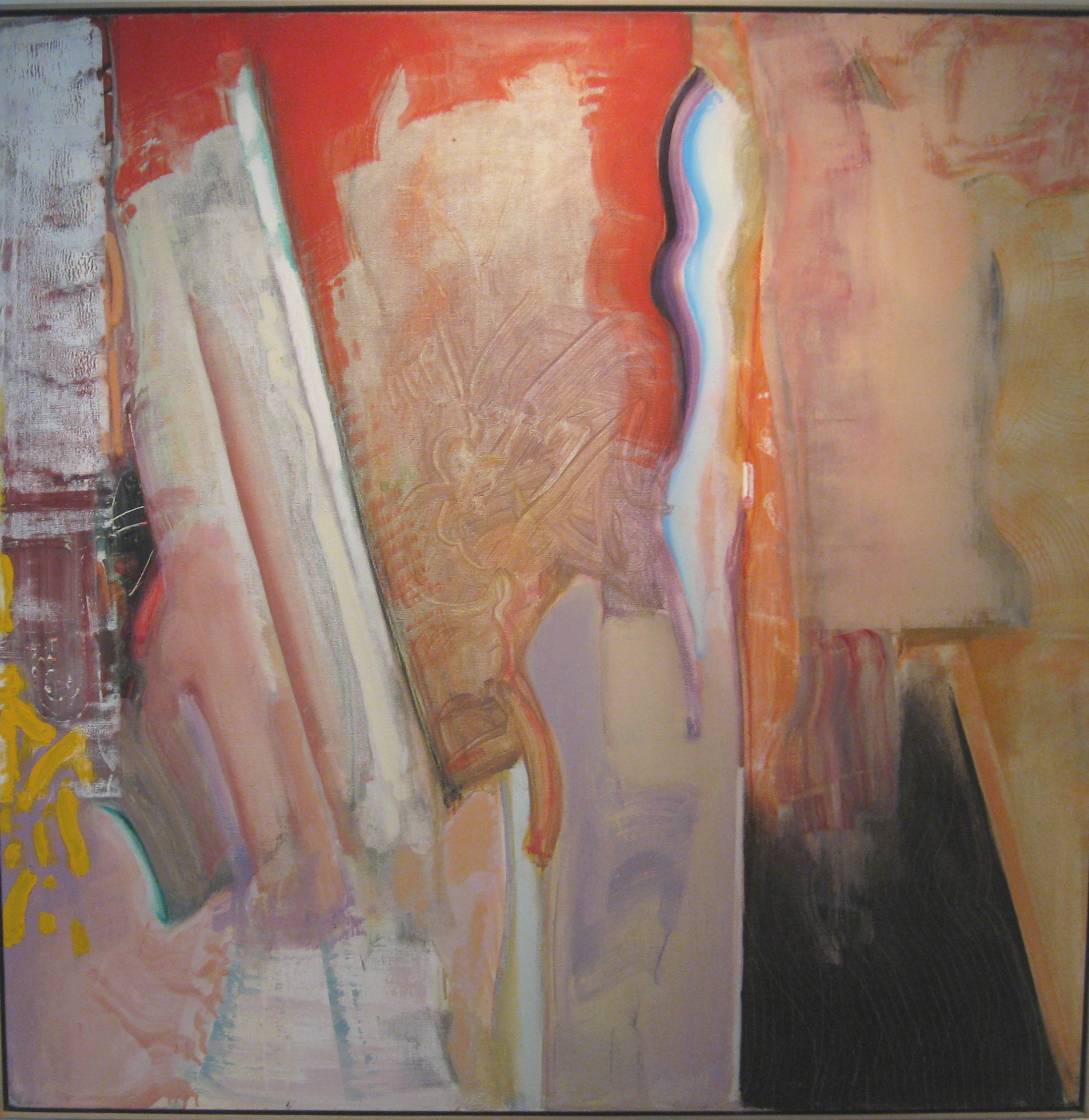 Blue Light
Stephen Greene (1918-1999)
Oil on linen, 1994. Gift of the American Academy of Arts and Letters, New York; Hassam, Speicher, Betts, and Symons Funds 1996. (1996.1)
Stephen Greene was born in New York, where he studied at the National Academy of Design from 1935-1936. He continued his studies at the Art Students League, the Richmond Division of the College of William and Mary, and then at the State University of Iowa under Philip Guston. The work of Northern European Renaissance painting and Max Beckmann were also early influences.
Stephen Greene's 1950s paintings of classic religious themes meld the precision and spirituality of the great Renaissance masters with the moody, stylized symbolism of postwar Existentialism. Of his early figurative work, Greene has stated, "I was essentially involved in a psychological state, a prison-like configuration that mirrored contemporary ideas…In painting the events of Christ's passion, I, in the twentieth century, was not returning to another period's aesthetic mode, but dealing with the possible meanings of hallucinations." Greene universalized his religious themes to speak to a post-war culture of anxiety.
The paintings from Greene's first three solo shows at Durlacher Brothers (1947, 1949, 1952) are his best-known figurative work. Of the fifteen paintings from the 1952 exhibition, nearly half are in museum collections, including the Tate Gallery, London (The Return); the Whitney Museum of American Art (The Shadow); the Nelson-Atkins Gallery, Kansas City (The Kiss of Judas); and the Art Museum, Princeton University (The Massacre of the Innocents). Greene was selected for the inclusion in the 1955 traveling exhibition organized by the Whitney Museum of American Art, The New Decade: 35 American Painters and Sculptors.
*****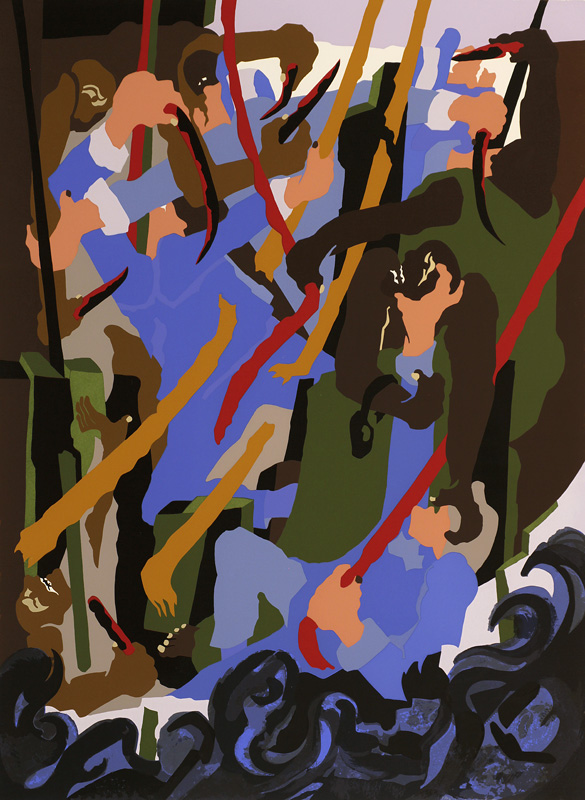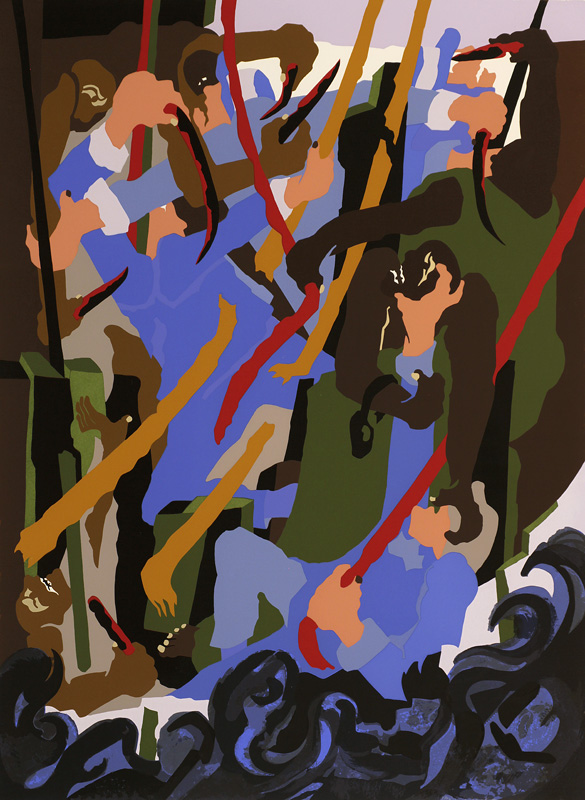 Revolt on the Amistad
Jacob Laurence (1917-2000)
Screenprint in color on Bainbridge 2-ply paper, 1989.
Museum Purchase using funds from the Kelly Paulson Memorial. 2010.2
Jacob Lawrence is known for his use of aesthetic elements for social means and the remarkable composition of his works.  In 1941 he received widespread recognition for his narrative series, Migration of the Negro.   During a time of legalized and institutionalized segregation, he became the first African American artist to receive sustained support from mainstream art museums and patronage outside the black community.
Using the power of semi-abstract forms, Lawrence addressed many of the great social and philosophical themes of the twentieth century especially as they pertain to the histories of African Americans.  His work made visible the everyday lives and contributions of black Americans and provided a compassionate counterpoint to stereotypical images.
The tangle of arms and machetes in Revolt on the Amistad communicates the chaos of the slave rebellion on the ship, which precipitated a Supreme Court ruling that advanced the abolitionist cause.
*****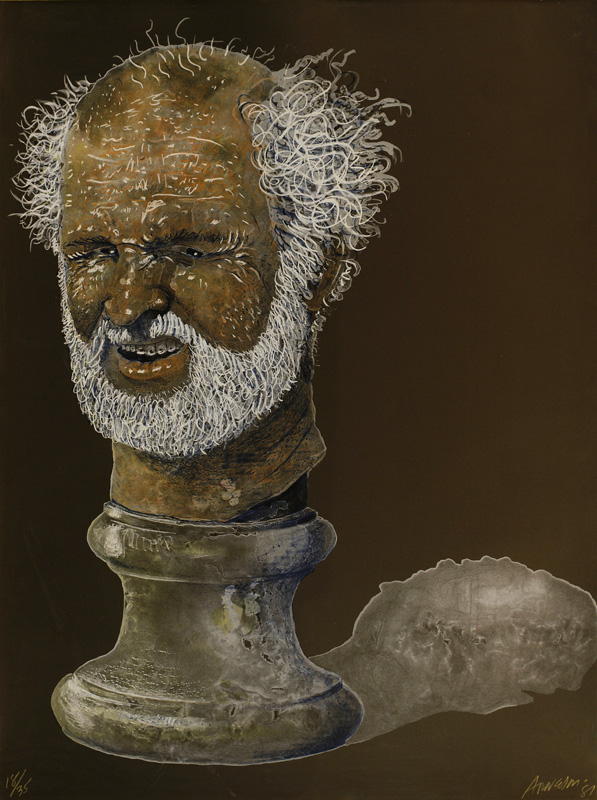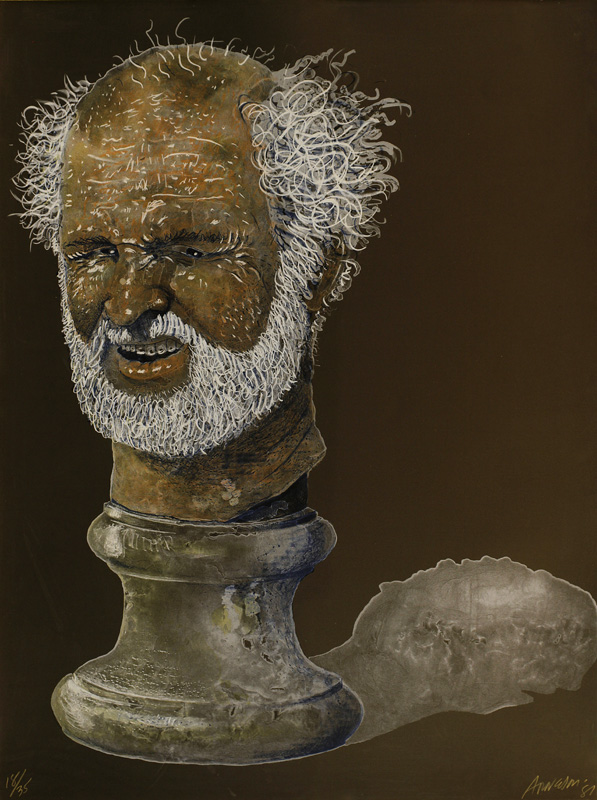 Squint
Robert Arneson (1930-1992)
Color lithograph on brown paper, 1981. John and Mary Pappajohn Endowment Fund Purchase. 1986.4
Robert Arneson was born in Benicia, CA in 1930.  Between the years of 1949 to 1951 Arneson was going to the College of Marin in Kentfield, CA.  Three years later in 1954 he received his BA from California College of Arts and Crafts in Oakland, CA.  In 1958, Arneson got his MFA from Mills College in Oakland, CA.
He is well known for his work in Ceramics.  He is known as using the ceramics as a vital medium for contemporary figurative sculpture.  Many of his pieces of work are found at numerous museums and sites in Hawaii, Japan, California, Ohio, Australia, New York City, Illinois, and many other locations.
One thing that stands out about Robert Arneson is at the Palo Alto Art Center in Palo Alto, CA.  He has over 90 ceramic Marquette's on display.  They date from 1964 to 1992 and are between 2 to 14 inches in height.  It shows his more expressing nature with clay with these Marquette's.
In 1985, Arneson was given the Honorary Doctor of Fine Arts at the Rhode Island School of Design in Providence, RI.  Two years later in 1987 from one coast to another in CA he was awarded again the Honorary Doctor of Fine Arts at the San Francisco Art Institute.  In 1991, he was awarded the Academy-Institute Award in Art and the next year he joined the Fellowship American Craft Council.  In 1992, Robert Arneson died of cancer in Benicia, CA, but will be remembered for his artwork in the world of Ceramicists.
*****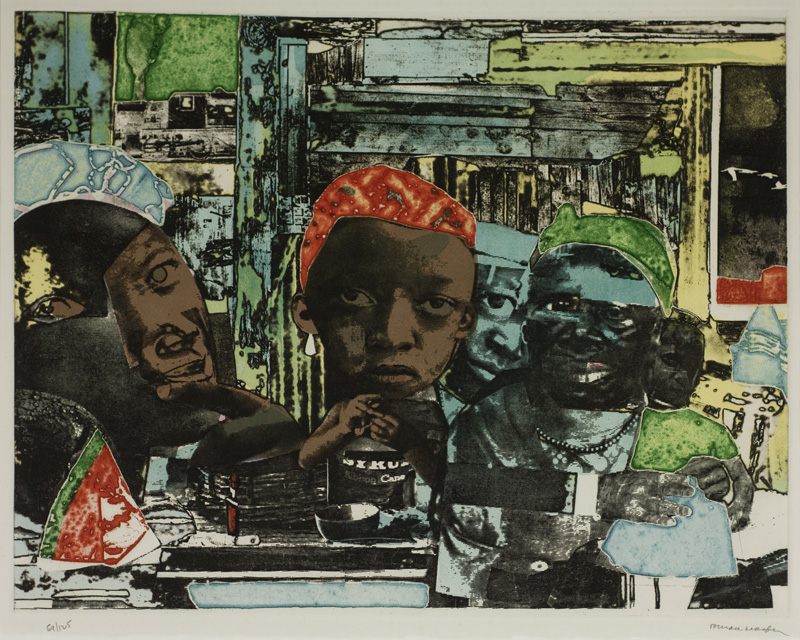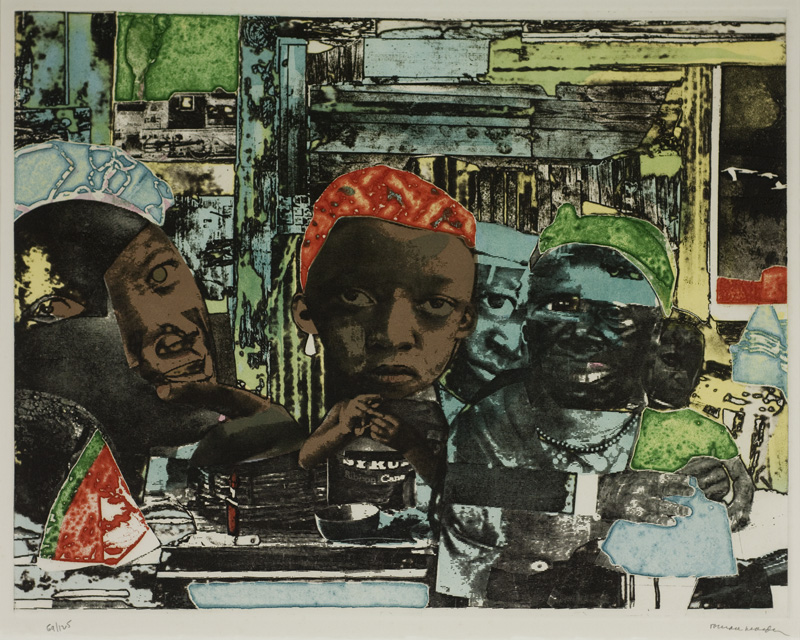 The Train
Romare Bearden (1911-1988)
Color etching and aquatint on Arches paper, 1975.
Museum Purchase in Memory of Frank and Helen Jeffrey. 2012.1
African American artist and writer Romare Bearden was born in Charlotte, North Carolina and grew up in New York during the Harlem Renaissance of the 1920s.  Much of his work references his southern childhood and northern upbringing.  His images abound with affection for his birthplace.  He once said, "I never left Charlotte except physically."
Bearden is best known for the way he used collage in innovative ways to produce dreamlike references to the rituals and myths of African American life.  His collages were assembled with magazine clippings in a fragmented style inspired by the rhythms of jazz.
For Bearden trains were weighted symbols.  They signified the black exodus north after slavery. The train of this print's title is a small detail in the upper left, but it calls to mind larger issues of migration and segregation.  Trains "could take you away and could also bring you to where you were.  And in the little towns it's the black people who live near the trains", Bearden observed.
*****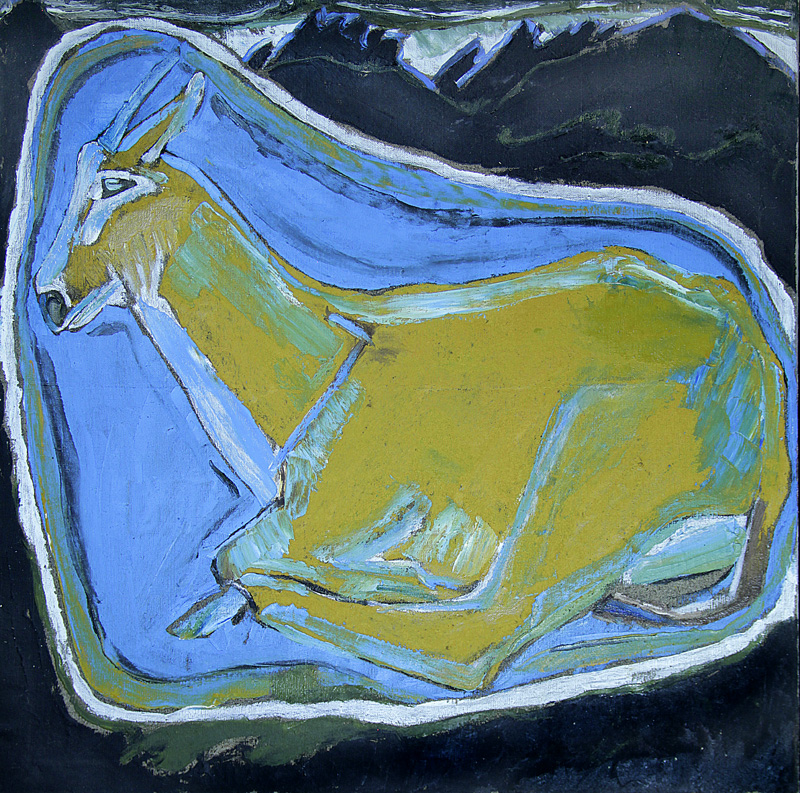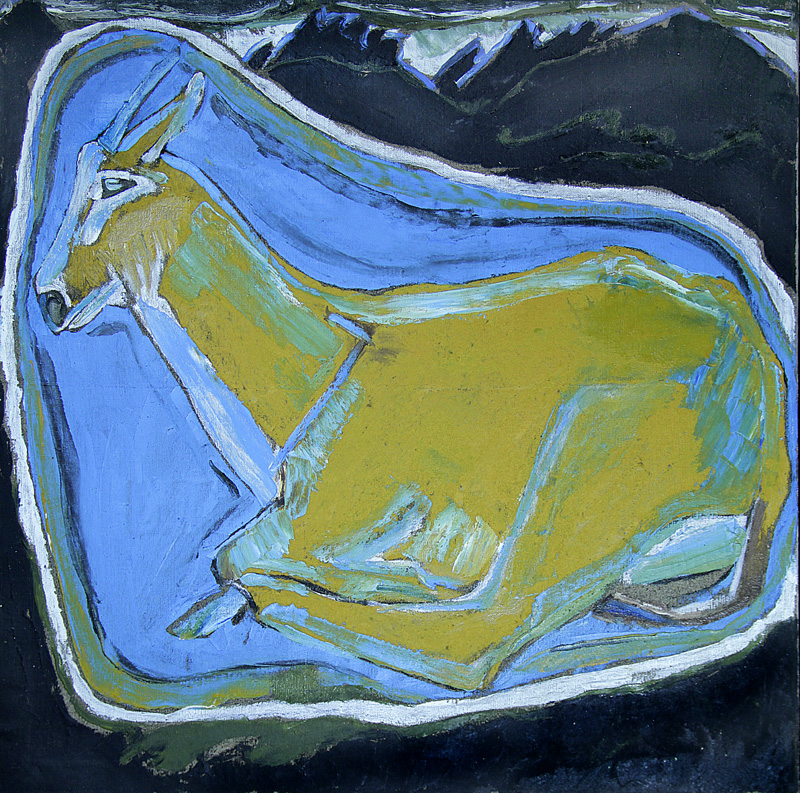 Resting Goat
Morris Graves (1910-2001)
Oil on alfalfa sack, 1935-6.
Museum Purchase, Mr. and Mrs. Donald Winston and the MacNider Art Museum. 1967.3
Northwest artist Morris Graves was a passionate observer of the natural world whose work is characterized by the blending of reality and symbol.  The MacNider has two early works by Graves, Resting Goat and Snake and Moon.  Both are images infused with his unique vision of the natural and mystical world.
As a young man working on American mail line ships sailing the Pacific, Graves fell in love with Japan and the spare Japanese aesthetic.  His commitment to his craft was such that he once flew to Kyoto to secure a specific rare and fragile paper he needed for his work.  In the 50s and 60s, he spent a decade living in Ireland developing a body of sculpture based on his observations of the night sky.
Though self-taught and living in isolation at his Puget Sound island studio, Graves was anything but provincial. When he left his studio to spend time in Seattle, he gained minor notoriety for outrageous pranks and some of the first Northwest art happenings.
*****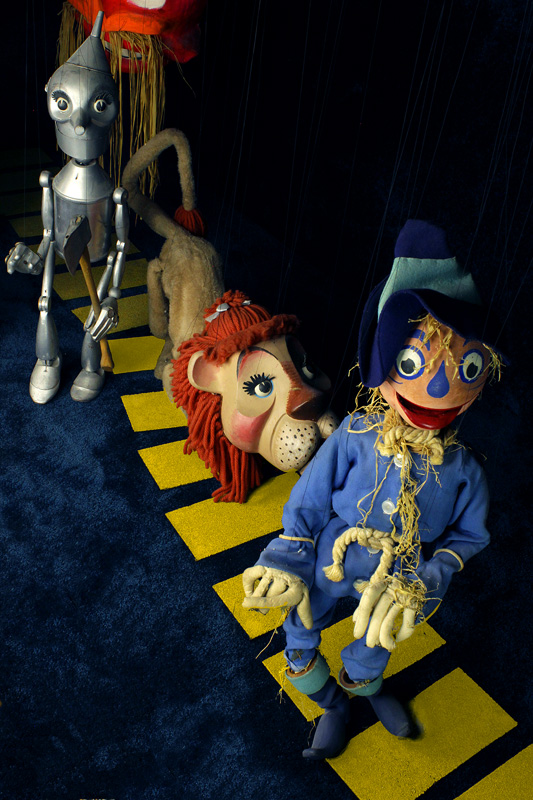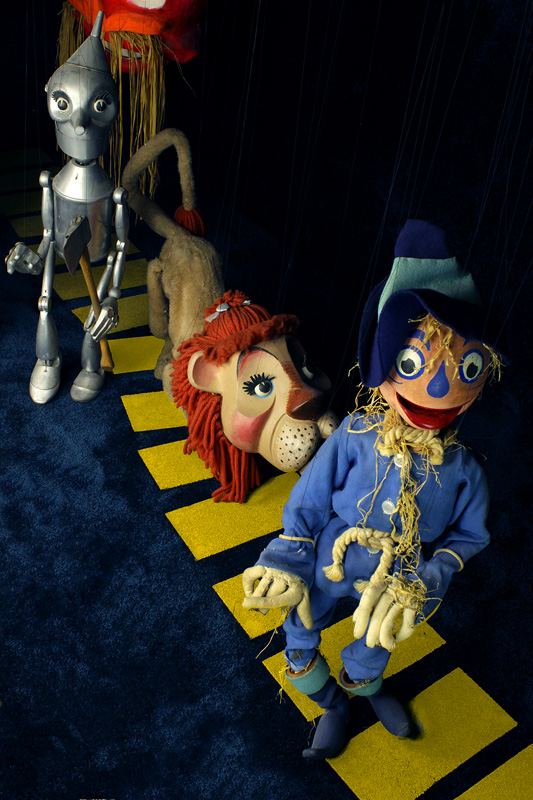 Tin Woodsman, Cowardly Lion, Scarecrow
Bil Baird (1904-1987)
Gift of Bil Baird. 1980.3.14, 1980.5.1, 1980.3.15
Mason City is home to many talented residents, several of whom have gone on to famous careers.  One of the most well known is Bil Baird.  Born in Grand Island, Nebraska, in (year), his family moved to Mason City when his father was hired to work for the American Crystal Sugar Company located in Mason City.
Bil began to develop a creative passion for puppetry as a child. By age 14 he was creating his own marionettes and putting on puppet shows such as Treasure Island.  In 1921, his life changed forever when he saw traveling puppeteer Tony Sarg perform Rip Van Winkle at the Mason City High School.  Bil immediately knew then this was the career for him.
After graduating from High School, Bill enrolled at the University of Iowa.  During this time, he continued to make puppets and put on shows with the university band.  After graduation from the University of Iowa in 1926, he moved to Chicago to attend the Chicago Academy of Fine Arts for a year, and later traveled to Europe.
He returned to the U.S. in 1928 and landed a job in New York with his original inspiration, Tony Sarg.  Prior to Bil, Sarg had been America's most prolific puppeteer and he worked with Sarg for six years. He created The Bil Baird Marionette Theater in 1934.  The troupe toured, worked clubs and fairs, theaters, and gained momentum.  Hard work and talent paid off for Bil, who was able to make a living and support a family puppeteering.
In addition to storytelling, Baird's puppets were often featured in the medium of advertising.  From the mid-1930's till the 1980s when digital effects began to take the place of Baird's characters, his puppets were associated with a variety of products. Examples of Baird's clients included large telephone companies for whom "Telezonia" was created.  Chrysler Motors commissioned the "Blockettes" for the 1964/65 World's Fair.
Baird also created puppets for television shows and movies such as Life with Snarky Parker,  Art Carney Meets Peter and the Wolf, and Davey Jones' Locker, to name a few.  Baird puppets, regulars on television, depicted events such as the Moon Walk and launching the Gemini Capsule.  Bil's puppets traveled to many countries such as Russia, Afghanistan, Nepal, and India as representatives of the United States.  The MacNider Museum's collection of his puppets also includes a national treasure, his most famous work: the 1965 "Lonely Goatherd" in puppets from the Sound of Music.
Within his 50 + year career it is estimated that Bil created more than 3,000 puppets.  A master craftsman, his talents of sculpting, sewing, carving, and manipulation allowed him to create puppets from a variety of materials.  The MacNider's collection contains over 500 pieces and is the only museum to have a comprehensive collection of Baird's work.  Many modern puppeteers view Bil Baird as the father of modern American puppeteering, inspiring legions of future puppeteers and artists with his work.