Off the Wall showcases pieces from our permanent collection individually so you can learn a little bit more about the pieces in our museum one at a time.
*****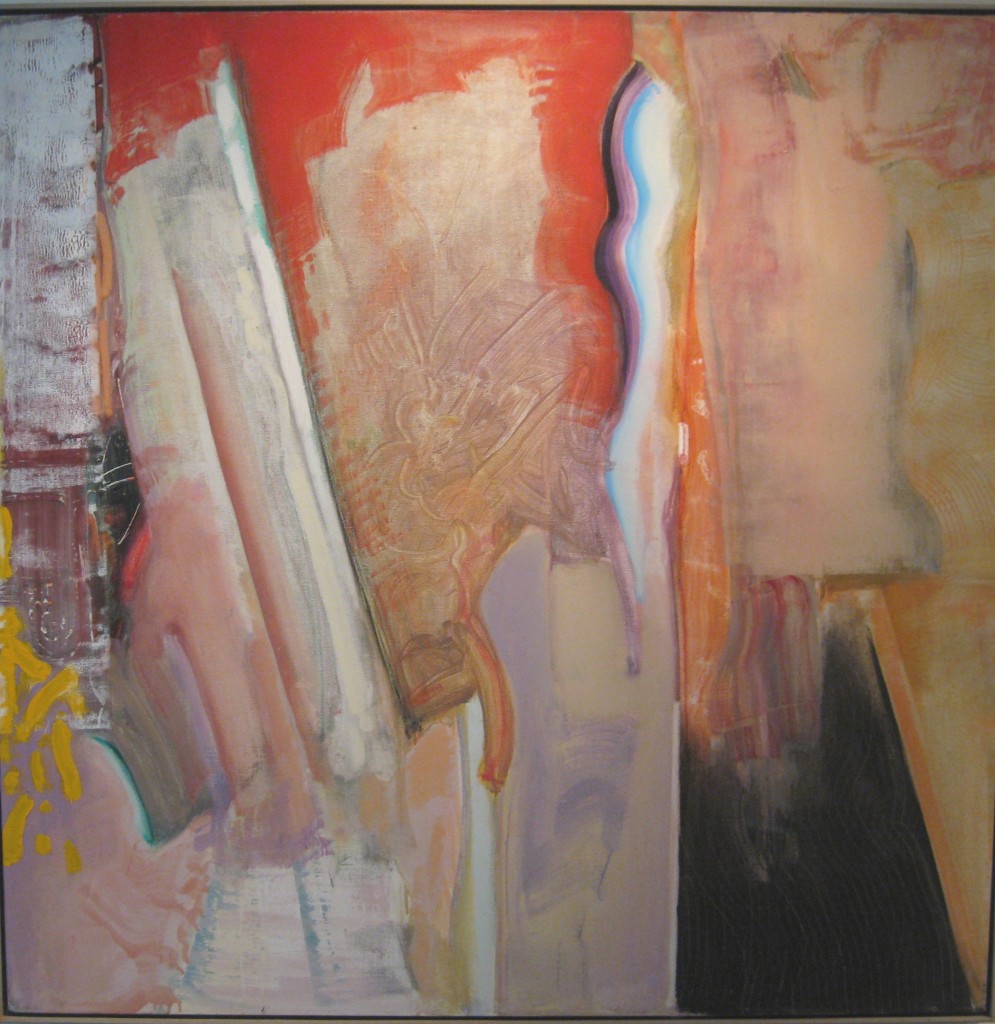 Stephen Greene was born in New York, where he studied at the National Academy of Design from 1935-1936. He continued his studies at the Art Students League, the Richmond Division of the College of William and Mary, and then at the State University of Iowa under Philip Guston. The work of Northern European Renaissance painting and Max Beckmann were also early influences.
Stephen Greene's 1950s paintings of classic religious themes meld the precision and spirituality of the great Renaissance masters with the moody, stylized symbolism of postwar Existentialism. Of his early figurative work, Greene has stated, "I was essentially involved in a psychological state, a prison-like configuration that mirrored contemporary ideas…In painting the events of Christ's passion, I, in the twentieth century, was not returning to another period's aesthetic mode, but dealing with the possible meanings of hallucinations." Greene universalized his religious themes to speak to a post-war culture of anxiety.
The paintings from Greene's first three solo shows at Durlacher Brothers (1947, 1949, 1952) are his best-known figurative work. Of the fifteen paintings from the 1952 exhibition, nearly half are in museum collections, including the Tate Gallery, London (The Return); the Whitney Museum of American Art (The Shadow); the Nelson-Atkins Gallery, Kansas City (The Kiss of Judas); and the Art Museum, Princeton University (The Massacre of the Innocents). Greene was selected for the inclusion in the 1955 traveling exhibition organized by the Whitney Museum of American Art, The New Decade: 35 American Painters and Sculptors.
*****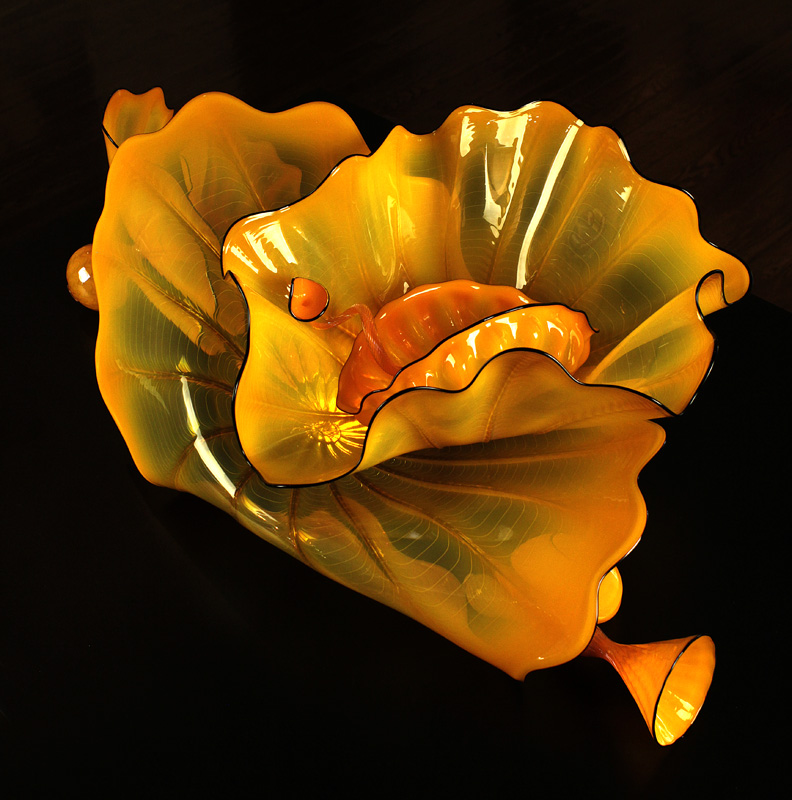 Dale Chihuly , a native of Tacoma Washington, is famous for his dazzling artistic glass creations.  Orbs, cylinders, spikes and spirals – Chilhuly's work appears to defy gravity.  After receiving an undergraduate degree at the University of Washington in Interior Design, he later received a Master's degree in Sculpture from the University of Wisconsin – Madison where he has studied under the famed glass artists Harvey Littleton in 1967.  On a Fulbright scholarship in 1968 he traveled to Venice and received a Masters of Fine Arts at the Rhode Island School of Design.  He founded his own glass school in 1971, named Pilchuck (pill chuck) Glass School, located in Standwood, Washington.
Due to a personal injury to his shoulder sustained in a body surfing accident, Chihuly was forced to give up glass blowing himself, relying on assistants to do the physical labor, while he served as artistic director. He explained his role as "more choreographer than dancer, more supervisor than participant, more director than actor." In the 1970's he began to use a team approach to glass blowing which allowed him to achieve massive glass sculptures that would have been impossible for one artist to accomplish alone.
In recent years, he has made his artwork a household name by his entrepreneurial ventures that include retail stores in high-end areas, documentaries, and artwork prints made for commercial purposes.  His team approach made it possible for him to create large works that now reside with many companies who want large-scale impressive instillations in their building.  In 2012 the Chihuly Garden and Glass center opened in Seattle.
Watch our Art Talk to learn more: https://youtu.be/XJTHaOl1ALQ
*****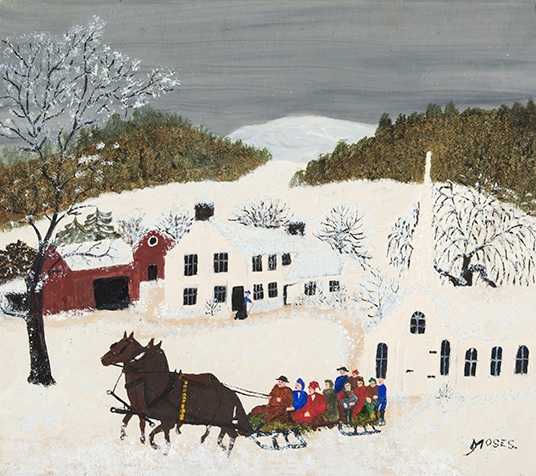 Grandma Moses was an American artist known for her pastoral landscape paintings. Anna Mary Robertson was born in 1860 and grew up on a farm in upstate New York. She worked as a hired girl, helping neighbors and relatives with cleaning, cooking, and sewing. Her father encouraged her to draw on old newsprint, and she used berry and grape juices to brighten her images. She married when she was 27 and moved to a farm in Virginia, where she raised five children.
Grandma Moses did not start painting until she was 78 years old and looking for something to do "to keep busy and out of mischief" after her husband died. Years of representing scenes through the flat patterns of cross-stitching, imbued her canvases with naïve perspectives and decorative color schemes. She painted nostalgic scenes of American life and sold them at country fairs alongside her prize-winning pickles. In 1939 a collector saw her paintings in the window of the local pharmacy and bought them all. Later that year, three of those works were included in the "Contemporary Unknown American Painters" exhibition at The Museum of Modern Art in New York. This led to a solo exhibition at the Galerie St. Etienne in New York in 1940 and over 100 more shows in the following decades. She died at 101, after painting more than fifteen hundred images.
*****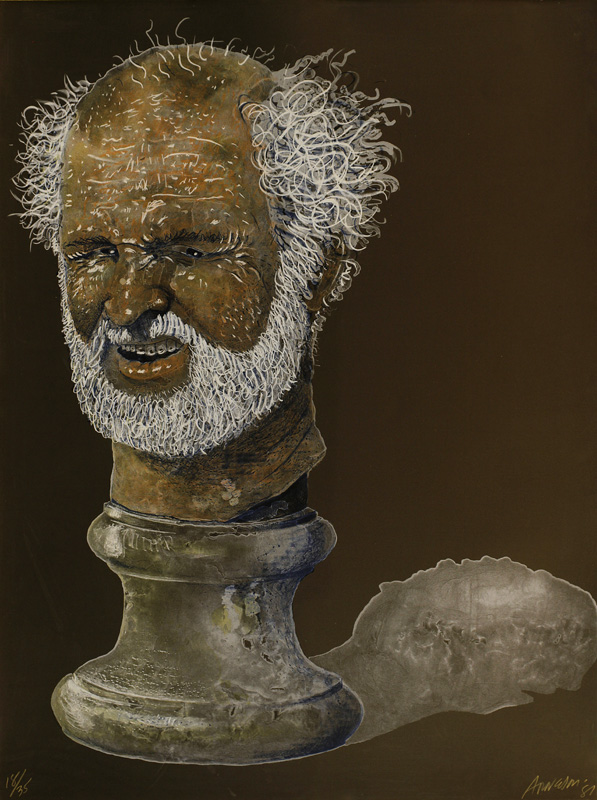 Robert Arneson was born in Benicia, CA in 1930. Between the years of 1949 to 1951 Arneson was going to the College of Marin in Kentfield, CA. Three years later in 1954 he received his BA from California College of Arts and Crafts in Oakland, CA. In 1958, Arneson got his MFA from Mills College in Oakland, CA.
He is well known for his work in Ceramics. He is known as using the ceramics as a vital medium for contemporary figurative sculpture. Many of his pieces of work are found at numerous museums and sites in Hawaii, Japan, California, Ohio, Australia, New York City, Illinois, and many other locations.
One thing that stands out about Robert Arneson is at the Palo Alto Art Center in Palo Alto, CA. He has over 90 ceramic Marquette's on display. They date from 1964 to 1992 and are between 2 to 14 inches in height. It shows his more expressing nature with clay with these Marquette's.
In 1985, Arneson was given the Honorary Doctor of Fine Arts at the Rhode Island School of Design in Providence, RI. Two years later in 1987 from one coast to another in CA he was awarded again the Honorary Doctor of Fine Arts at the San Francisco Art Institute. In 1991, he was awarded the Academy-Institute Award in Art and the next year he joined the Fellowship American Craft Council. In 1992, Robert Arneson died of cancer in Benicia, CA, but will be remembered for his artwork in the world of Ceramicists.
*****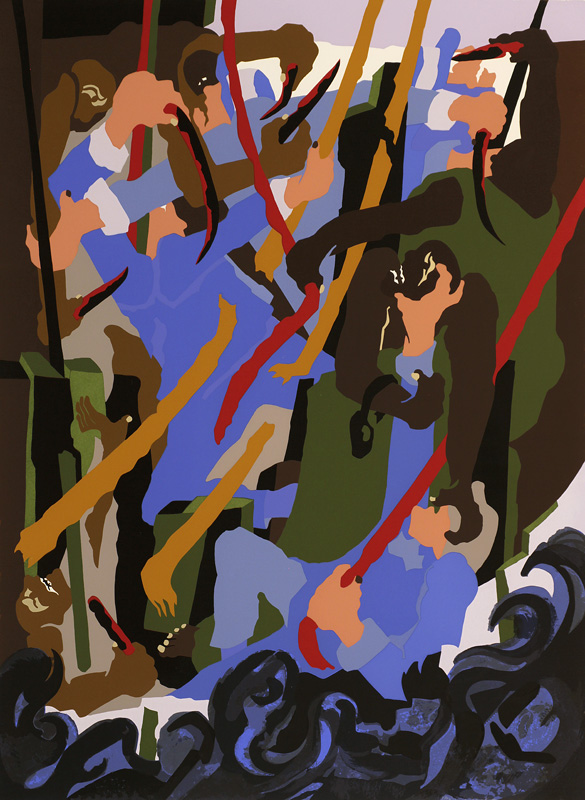 Jacob Lawrence is known for his use of aesthetic elements for social means and the remarkable composition of his works. In 1941 he received widespread recognition for his narrative series, Migration of the Negro. During a time of legalized and institutionalized segregation, he became the first African American artist to receive sustained support from mainstream art museums and patronage outside the black community.
Using the power of semi-abstract forms, Lawrence addressed many of the great social and philosophical themes of the twentieth century, especially as they pertain to the histories of African Americans. His work made visible the everyday lives and contributions of black Americans and provided a compassionate counterpoint to stereotypical images.
The tangle of arms and machetes in Revolt on the Amistad communicates the chaos of the slave rebellion on the ship, which precipitated a Supreme Court ruling that advanced the abolitionist cause
Watch our Art Talk to learn more: https://youtu.be/YCiAa2NCWIY
*****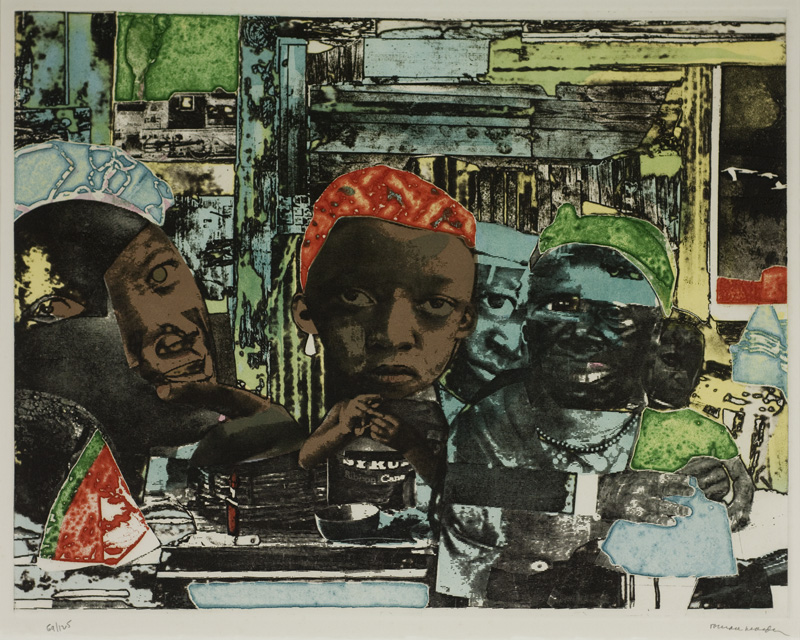 The MacNider Museum is pleased to have recently acquired a signature work by 20th century African American artist Romare Bearden. A lifelong student of literature and philosophy, Bearden worked in a variety of media including a stint as a songwriter. He is best known for the way he employed collage in unique and innovative ways.
Born in Charlotte, North Carolina, and growing up in New York during the Harlem Renaissance of the 1920s, much of Bearden's work references his southern childhood and northern upbringing. He made art from observation and memory; the sights, sounds and feelings of his personal history. His art is characterized by images that portray life's universal journey in terms of authentic black experience. He found his voice in the imaginative collages he made from 1964 on, using a fragmented style inspired by the rhythms of jazz and assembled using magazine clippings in dreamlike invocations of the myths and rituals of African American life.
Bearden did not take up printmaking until the late 1960s. Many of his prints are based on existing collages and monotypes. In The Train he recast a 1964 collage by adding new textures and colors. This was accomplished by using mesh screens and photography to generate the photogravure plate, which was subsequently cut up so colored areas could be inked separately and reassembled jigsaw style for printing.
Bearden's images abound with affection for his birthplace in the South For him trains were weighted symbols. They signified the black migration north after slavery. Charlotte, his birthplace, was a hub for railroads. "I never left Charlotte except physically," he said.
The train of this print's title is a small detail in the upper left, but it nonetheless invokes larger issues of migration and segregation. As Bearden stated, trains "could take you away and could also bring you to where you were. And in the little towns it's the black people who live near the trains."
*****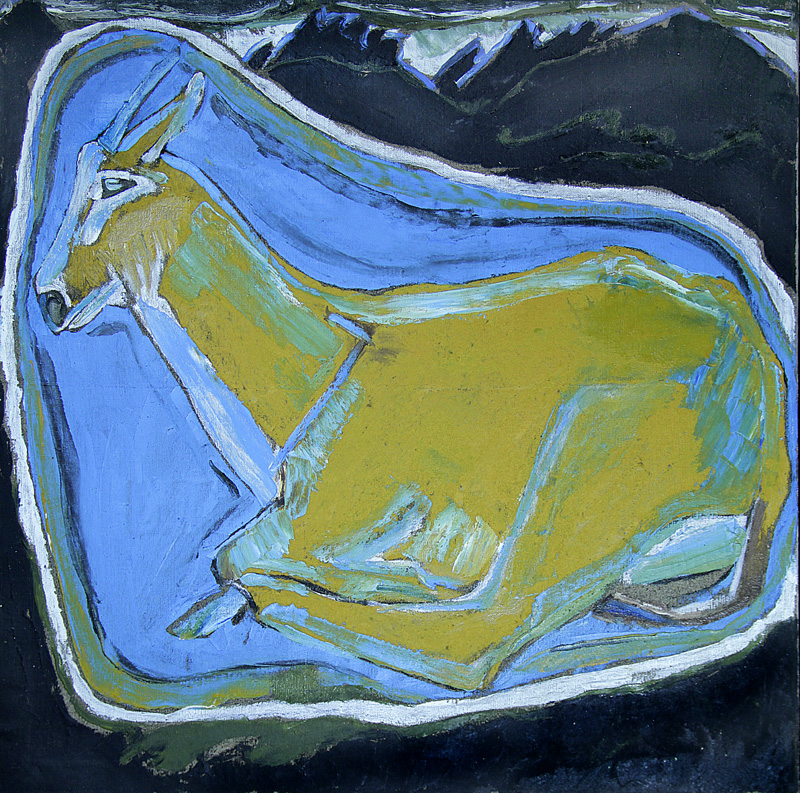 Morris Cole Graves was born the sixth son of a Methodist family in Fox Valley, Oregon, and was a country boy. He was a self-taught artist who perfectly understood color and line. By age 10, he knew he'd be a painter. Graves dropped out of high school after his sophomore year and sailed on three American Mail Line ships with his brother Russell. Upon arriving in Japan, he wrote: "There, I at once had the feeling that this was the right way to do everything. It was the acceptance of nature not the resistance to it. I had no sense that I was to be a painter, but I breathed a different air."
After graduating high school in 1932 in Beaumont, Texas at the urging of his aunt, Graves returned to the Northwest. He spent much of his professional life in Seattle and [La Conner, Washington], sharing a studio for a while with Guy Anderson. Graves early work was in oils and focused on birds touched with strangeness, either blind, or wounded, or immobilized in webs of light. In the early 1930s, Graves studied Zen Buddhism. In 1934, Graves built a small studio on family property in Edmonds, Washington, that burned to the ground in 1935, and with it, almost of his work.
In 1940, Graves began building a house; he named it The Rock, on his Fidalgo Island property and befriended an architect, George Nakashima, who had recently visited Japan. He lived at The Rock with a succession of cats and dogs, all called Edith, in honor of poet Edith Sitwell. In 1942, his paintings were part of the New York Museum of Modern Art's "Americas 1942" exhibit, bringing Graves national recognition. In 1954, Graves staged the first Northwest art "Happening", sending invitations to everyone on the Seattle Art Museum mailing list: "You or your friends are not invited to the exhibition of Bouquet and Marsh paintings by the 8 best painters in the Northwest to be held on the afternoon and evening of the longest day of the year, the first day of summer, June 21, at Morris Graves' palace in exclusive Woodway Park."
His mid-career works were influenced by East Asian philosophy and mysticism, which he used it as a way of approaching nature directly, avoiding theory. Graves adopted certain elements of Chinese and Japanese art, including the use of thin paper and ink drawing. His painted birds, pine trees, and waves. Graves works, such as "Blind Bird" often contain elements of Mark Tobey, who was inspired by Asian calligraphy. Graves switched from oils to gouaches; his bird became psychedelic, mystic, and en route to transcendence. The paintings were bold, applied in a thick impasto with a palette knife, sometimes on coarse feed sacks.
In the 1950s, Graves returned to oils, but also painted in watercolor and tempura. From 1954 through 1964, Graves lived in Ireland and sculpted. Graves moved to Loleta, California, near Eureka in 1964. A museum in Eureka bears his name. His later paintings were increasingly abstract, and while they retained their delicacy, the Asian influence was gone. Morris Graves died the morning of May 5, 2001 at his home in Loleta, hours after suffering a stroke.
Watch our Art Talk to learn more: https://youtu.be/0gnKW1WWLCE
*****
Andy Warhol was perhaps one of the most famous American artists in the genre of pop art. Pop art is artwork that contains images of popular culture and advertising. Warhol was born Andrej Varhola, Jr. in 1928 in Pittsburgh, Pennsylvania to immigrant parents from Slovakia, and the youngest of 4 children. His father worked in a coal mine, giving the children a middle class childhood despite the Great Depression. In third grade Warhol had complications of Scarlett Fever known as St. Vitus ' dance which kept him bed ridden for long periods of time. During this time he became incredibly close with his mother, and spent his days reading pulp novels, collecting movie star memorabilia, drawing, and listening to the radio. After moving to New York after college, Warhol became a very successful commercial graphic design artist long before he became a pop art icon. This early training and career as a graphic design artist is clear in his trademark focus on images of popular culture.
By the 1960's Warhol was making a serious effort to become a professional artist. He embraced silk screening, which later became his hallmark. By 1962 Warhol had his first solo show, and by the mid- 1960's his iconic images of popular culture such as Coca Cola and celebrities like Marilyn Monroe saw great success in the art world. Production of the prints took on a "factory" atmosphere, with Warhol even naming his studios "the Factory." This mass production for consumers eventually caused Warhol to be criticized; however, Warhol was simply mimicking society, which was in love with mass consumerism.
After Wahol's death in 1987 the Warhol foundation was created. It has become one of the largest granting agencies for the arts in the United States.
*****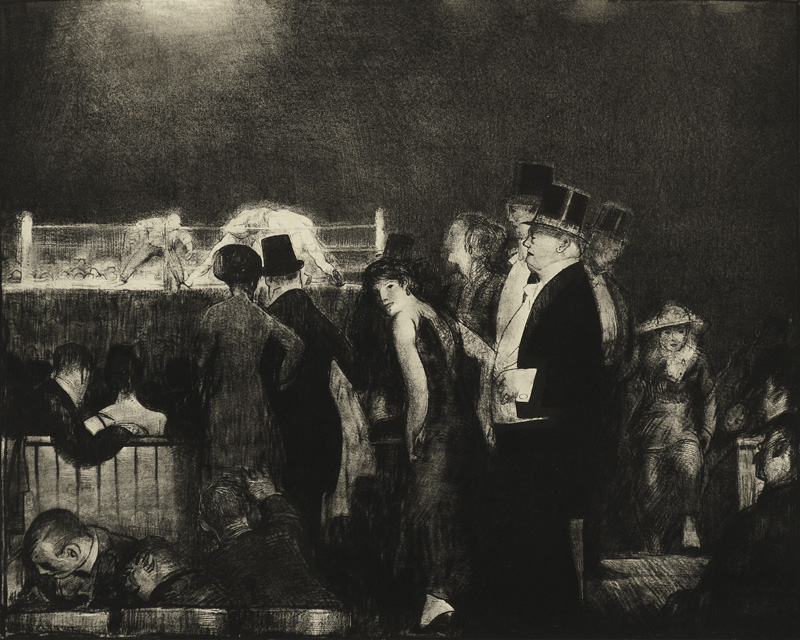 George Bellows was regarded as one of America's greatest artists at his untimely death in 1925 at age 42. His early fame rested on powerful depictions of boxing matches and gritty scenes of New York City's tenement life, but he also painted cityscapes, seascapes, war scenes, and portraits that addressed many of the social, political, and cultural issues of the day.
Bellows' boxing scenes are characterized by a dark atmosphere through which the human figures vividly strike a strong sense of motion and direction. These works capture the passion for boxing that prevailed at the turn of the nineteenth century, reflected also in the writings of Jack London and Theodore Roosevelt's engagement with the sport as an amateur fighter. Bellows recorded brawls at the sleazy athletic club located opposite his studio. Clubs such as these evaded a 1900 ordinance outlawing public prizefighting by selling memberships instead of charging admission. Seizing the essence of raw male aggression in his boxing pictures, Bellows rejected Victorian piety and provoked critical controversy.
Bellows' paintings and lithographs portraying amateur boxing matches were his signature contribution to American art history. Exploring the fundamental theme of human violence through one of the most provocative subjects of his day, he created works that were at once timeless and topical.
*****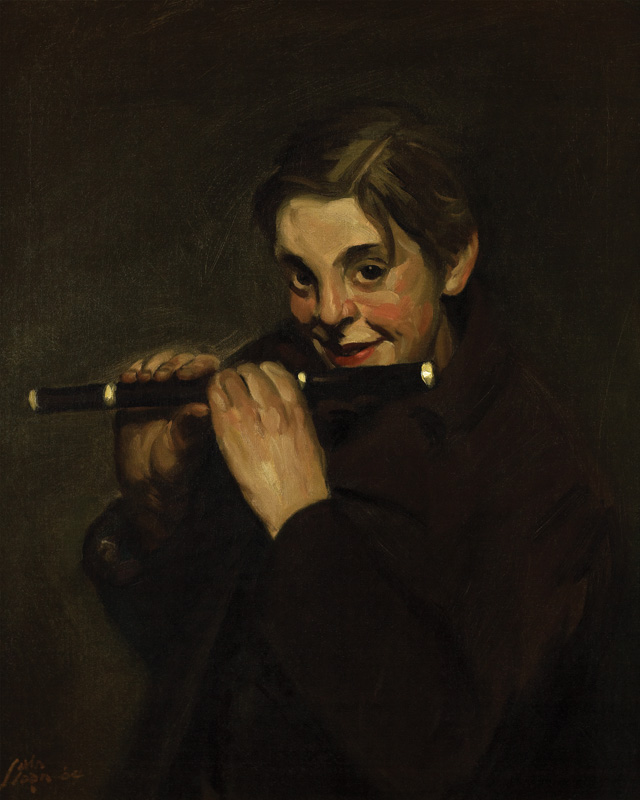 After the invention of photography in the mid-nineteenth century, artists began expanding the way they depicted a human likeness. John Sloan's Boy with Piccolo is not a formally composed portrait; instead the artist has captured a happy moment in the life of an ordinary boy.
Sloan's interest in social reform led him to join with other artists to form a group called The Eight. These American painters were united in opposition to the conservatism of National Academy of Design and wanted to bring painting into direct contact with life.
Later The Eight formed the nucleus of the Ashcan School, which was active through World War I. The artists of the Ashcan School rebelled against American Impressionism which was the leading style of American art at the time. In contrast to Impressionism's emphasis on light, their works were frequently dark in tone, capturing the harsher moments of life and often portraying such subjects as prostitutes, drunks, butchered pigs, overflowing tenements, boxing matches and wrestlers.
The Ashcan artists were action painters who mirrored the ebb and flow of reality with the flux of their brushwork. Like Sloan, many were well prepared for this approach, having started their careers as newspaper illustrators. While they chronicled the lives of poor city dwellers, they were neither social critics nor reformers, but a lively bunch of provincial rebels who created America's first true avant-garde.