Off the Wall showcases pieces from our permanent collection individually so you can learn a little bit more about the pieces in our museum one at a time.
*****

Glenn Ligon is an American conceptual artist whose work explores race, language, desire, sexuality, and identity. Ligon engages inintertextuality with other works from the visual arts, literature, and history, as well as his own life.
He was born April 20, 1960 in the Bronx. At the age of 7, his divorced, working-class parents got a scholarship for him and his brother to attend Walden School, a high profile progressive private school on Manhattan's Upper West Side. Ligon graduated from Wesleyan University with a B.A. in 1982. After graduating, he worked as a proofreader for a law firm, while in his spare time he painted in the abstract Expressionist style of Willem de Kooning and Jackson Pollock. 
Ligon works in multiple media, including painting, neon, video, photography, and digital media such as Adobe Flash for his work Annotations. Ligon's work is greatly informed by his experiences as an African American and as a gay man living in the United States.
Although Ligon's work spans sculptures, prints, drawings, mixed media and even neon signs, painting remains a core activity. His paintings incorporate literary fragments, jokes, and evocative quotes from a selection of authors, which he stencils directly onto the canvas by hand. In 1989, he mounted his first solo show, "How It Feels to Be Colored Me," in Brooklyn. This show established Ligon's reputation for creating large, text-based paintings in which a phrase chosen from literature or other sources is repeated over and over, eventually dissipating into murk. Untitled (I Am a Man) (1988), a reinterpretation of the signs carried during the Memphis Sanitation Strike in 1968 — made famous by Ernest Withers's photographs of the march —, is the first example of his use of text.
Since 2005, Ligon has made neon works. Warm Broad Glow (2005), Ligon's first exploration in neon, uses a fragment of text from Three Lives, the 1909 novel by American author Gertrude Stein. Ligon rendered the words "negro sunshine" in warm white neon, the letters of which were then painted black on the front. 
In 2009, Ligon completed short film based on Thomas Edison's 1903 silent film Uncle Tom's Cabin. Playing the character of Tom, Ligon had himself filmed re-creating the last scene of Edison's movie, which also provided his film's title: "The Death of Tom." But the film was incorrectly loaded in the hand-crank camera that the artist used so no imagery appeared on film. Embracing this apparent failure, Ligon decided to show his film as an abstract progression of lights and darks with a narrative suggested by the score composed and played by jazz musician Jason Moran.
In 2009, President Barack Obama added Ligon's 1992 Black Like Me No. 2, on loan from the Hirshhorn Museum and Sculpture Garden, to the White House collection, where it was installed in the President's private living quarters. The text in the selected painting is from John Howard Griffin's 1961 memoir Black Like Me, the account of a white man's experiences traveling through the South after he had his skin artificially darkened. The words "All traces of the Griffin I had been were wiped from existence" are repeated in capital letters that progressively overlap until they coalesce as a field of black paint. 
Ligon is represented by Regen Projects in Los Angeles; Luhring Augustine in New York; and Thomas Dane Gallery in London. He currently lives and works in New York City.
*****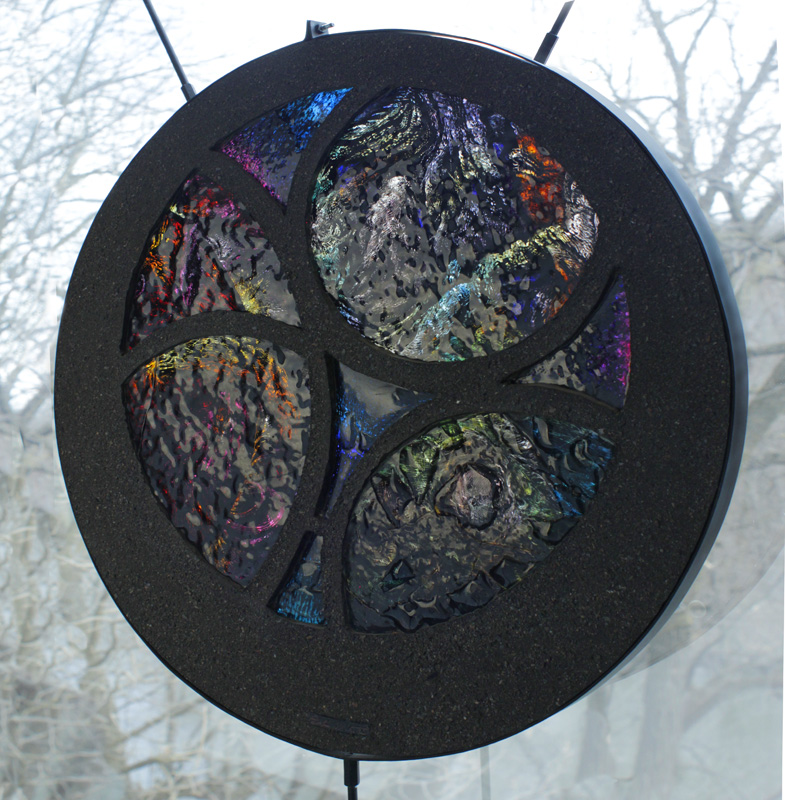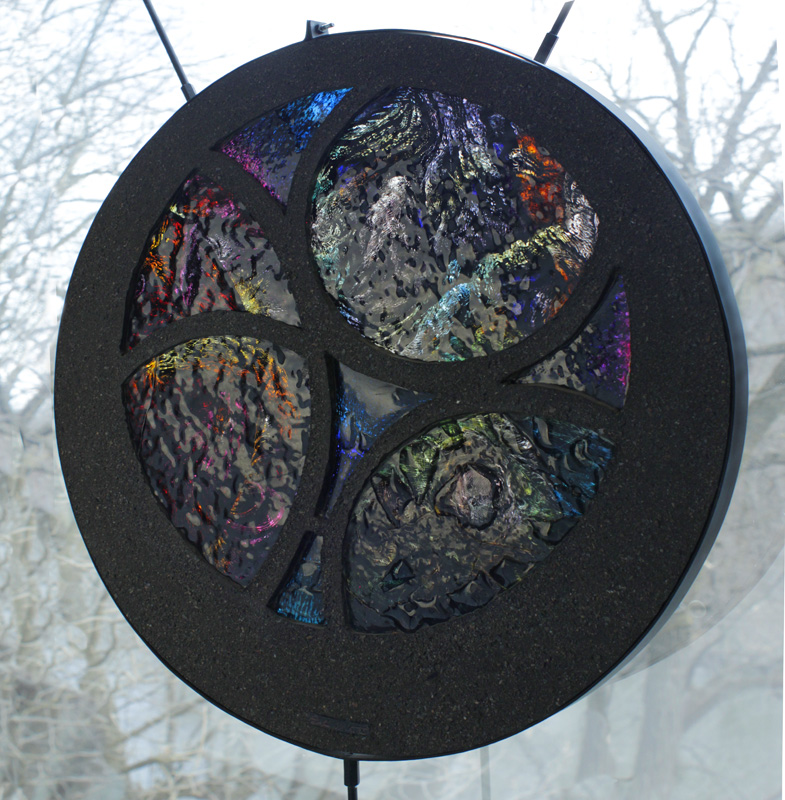 Francis Robert (Bob) White was a native of Oskaloosa, Iowa. By the time he was 10 years old he had an intense interest in art, spending much of his time drawing, studying color, attempting to make statues, and other creative efforts. Rather than prepare for a formal college education, White elected to go to Europe for two years to study firsthand the works of art about which he'd been reading. Seeing the magnificent stained glass of Chartres Cathedral inspired him to study every major European glass work he could find.
White's return to the U.S. was followed by an eclectic combination of work and education, including a stint at the Stone City Art Colony run by Grant Wood. He worked as an apprentice at Wilkes-Barre Art Glass Company in Pennsylvania where he learned the basics of glazing and handling glass. While living in New York he supported himself by making Gothic style stained glass windows. The Whitney Studio Gallery, later to become the Whitney Museum of American Art, commissioned an abstract window from White for their collection. This recognition by the nation's leading institution devoted to American art led to a Guggenheim fellowship on which White returned to Europe to make an intensive study of medieval glass techniques.
White moved to Chicago where he became an administrator for the Chicago offices of the Illinois Arts Project, part of the Works Project Administration and
then became the director of all WPA federal art projects for Iowa from 1937 to 1939. He led the program from the Sioux City Art Center, where he served as director. White served as a naval officer in the Pacific during World War II, earned a Master of Fine Arts degree from Guadalajara University and operated a stained glass studio in Chicago for over thirty years.
Bob White developed and perfected a fused glass technique in which broken pieces, chunks, and granules of colored antique hand-blown glass are layered into a mold. The mold is placed in a small furnace kiln to be fired at over 1,500 degrees, capturing the color inside. When the first fully fused piece, a three-panel abstract study of Christ, was shown in 1964, it won White a much-coveted Louis Comfort Tiffany Foundation prize.
First Presbyterian Church in Mason City worked with Bob White for 27 years to complete a series of large fused glass windows. The Creator Window, the largest fused glass window of its time in 1973, was made from over 200 blocks of glass. Other notable Mason City glass projects include the St. Peter and St. Paul windows of the Greek Orthodox Church of the Transfiguration, the Meredith Willson Chapel Windows at the First Congregational Church United Church of Christ and windows in the Usonian-style Tom MacNider House.
*****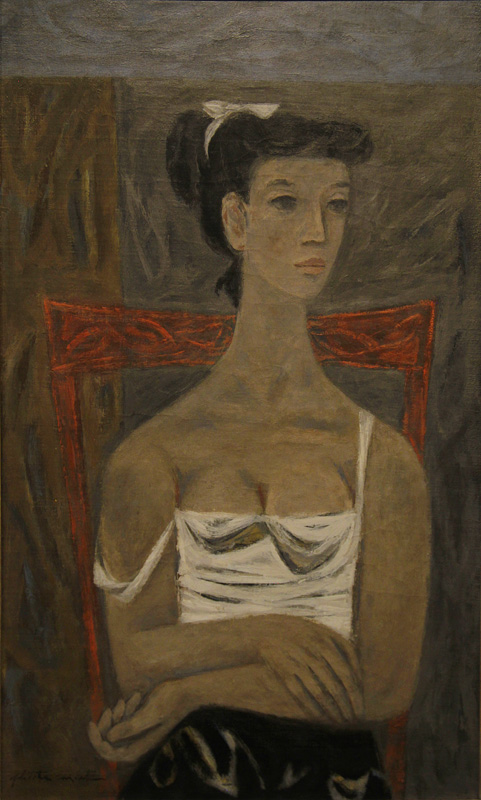 Fletcher Martin was born in 1904 in Palisade, Colorado. His artist's skills were largely self-taught. During his career he taught art at the University of Florida, State University of Iowa, the University of Minnesota, San Antonio Art Institute, and Washington State University. He served as a war correspondent for Life magazine during World War II. He was the recipient of the Walter Lippencott Prize in 1947 and the Benjamin Altman Prize in 1949. His works can be found in the collections of Abbott Laboratories, Brandice University, the Cranbrook Institute, the Denver Art Museum, and the Library of Congress.
With Fletcher Martin's discharge from the Navy in San Francisco in 1926 the young man's growth, personally, artistically, and intellectually began in earnest. He married, found employment in a print shop where his boss recognized and nurtured his artistry, began voraciously reading books on science, mathematics, philosophy, sociology and literature and sought out art and artists so he might learn from experience what he had never had for lack of formal schooling.
In spite of the many teaching situations Martin found himself in over the course of his career, he always doubted the value of a formalized art education. Martin believed that his role as a teacher was to ensure that his student's enthusiasm for teaching themselves was always maintained.

"It takes a certain natural skill, a creative attitude toward life and a profound, unswerving interest to become an artist. The rewards," said Martin, "are abundant but rarely material."
Martin's ability to capture the quality of childhood in his paintings of children suggests that he never lost touch with his own inner child. He once said, "It seems to me that the stimulation and motivation for my painting today is not unlike it was in my youth. The drawings I made as a child were fantasies on a theme, and so, in essence, are all my paintings, with few exceptions…"
*****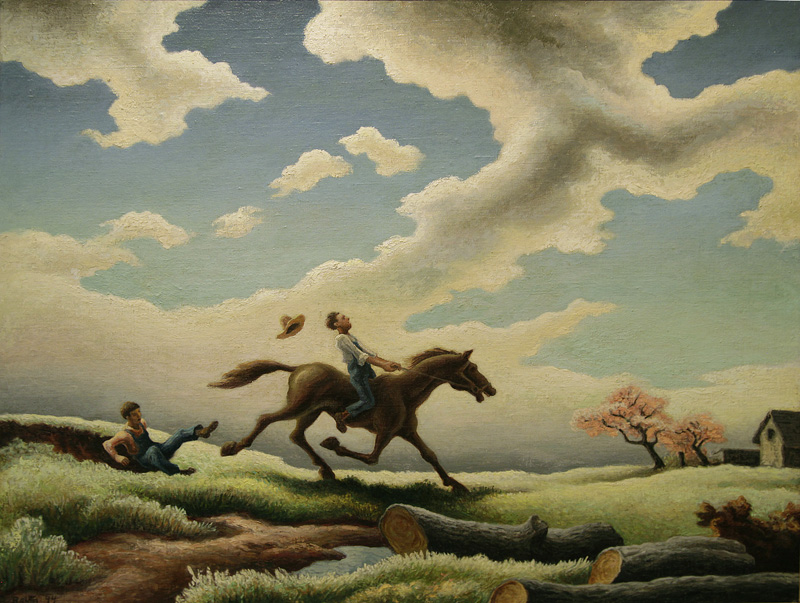 Born in Neosho, Missouri, in 1889, Thomas Hart Benton began his art education at age sixteen in the Art Institute of Chicago and at age nineteen studied in the Latin Quarter of Paris. Returning to America to become a "child controversy," Benton enjoyed one of the most dramatic and interesting careers in American art.
His fluid, almost sculpted paintings showed everyday scenes of the contemporary Midwest, especially bucolic images of pre-industrial farmlands. On return to New York in the early 1920s, Benton declared himself an "enemy of modernism" and began the naturalistic and representational work today known as Regionalism. Benton painted everyday people in an unflattering light, including Ku Klux Klan members in full regalia. The controversy landed Benton on the cover of Time magazine and made him a household name. The mural panels are currently displayed at Indiana University in Bloomington with the majority on display in the "Hall of Murals" at Indiana University Auditorium.
Kansas City afforded Benton greater access to the rural America then disappearing. Benton's sympathy was with the working class and the small farmer, unable to gain material advantage despite the Industrial Revolution. His works often show the melancholy, desperation and beauty of small-town life. His most promising student at that time was Roger Medearis, a talented tempera painter; but Medearis' career was stunted by the later fashion for Abstract Expressionism fostered by a later Benton student.
A revival of all things distinctly American has sparked interest in the works of Thomas Hart Benton in recent years. His works are no longer relegated to back room exhibits, but have gained an audience refined in embracing the artist as a wholly accessible individual skilled in not only 'regionalism' but in poetic color and line combinations which simultaneously inspire and provoke. His art carries the past like no other media to the present day. Images of farmers working by hand in the fields, a lone cowboy standing by his run-down ranch, and a steam locomotive racing along side a horse are as American as one can imagine.
*****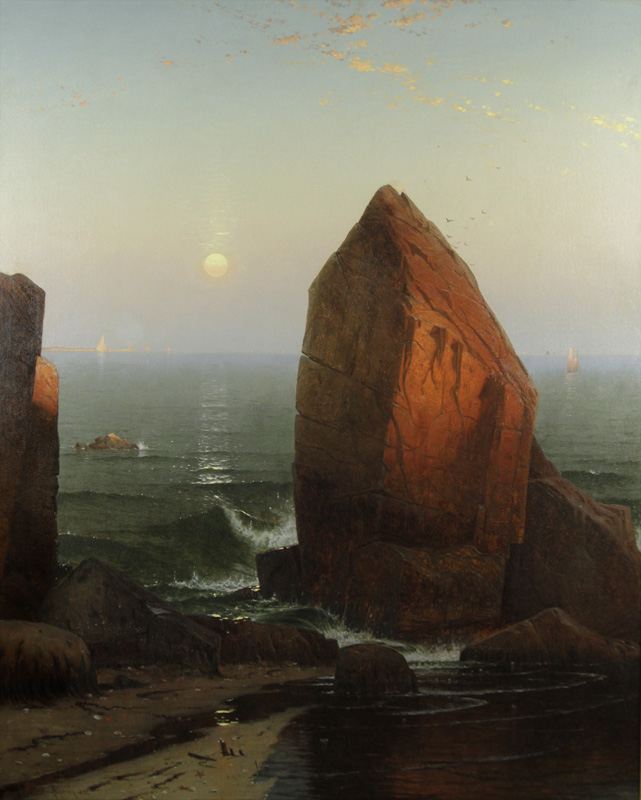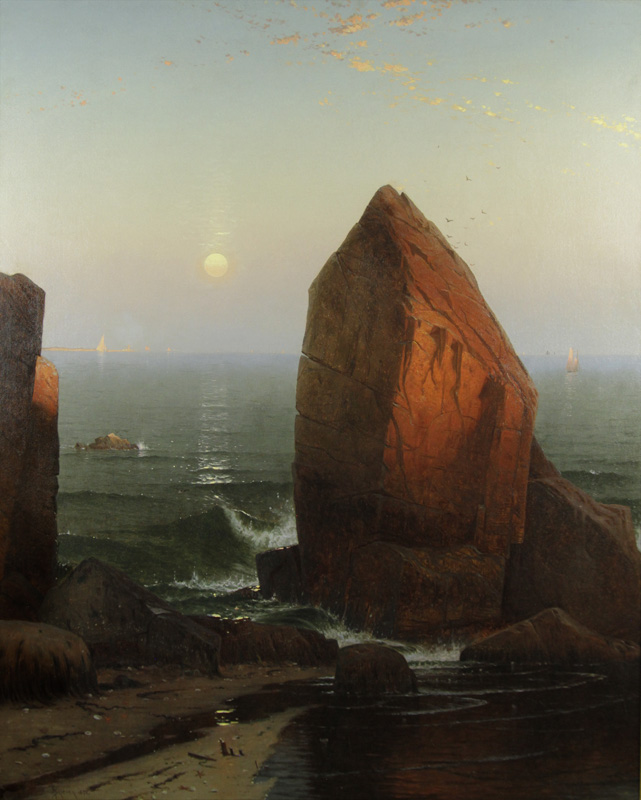 Alfred Thompson Bricher was an American painter who specialized in marine subjects, with particular emphasis on subjects from Maine, the Bay of Fundy, and the Maritime provinces of Canada. Largely self-taught, Alfred Thompson Bricher studied in his leisure hours at the Lowell Institute in Boston and also attended an academy in Newburyport, MA. Bricher was a businessman in Boston from 1851 to 1858 before he became a professional artist. Bricher was often associated with the group of painters known as "the Hudson River School". He espoused a conservative and realistic approach to landscapes, while his interests lay not only in the play of light, water, and air, but in a sense of luminosity and spirituality in nature.
Oddly, Bricher continued painting peaceful scenes of nature even at the height of the horrors of the Civil War, a war in which he younger brother was killed. His perseverance in this style underscores his belief in the eternal forgiveness of Nature and the truism that whatever the acts of man, Nature is the more powerful force.
During the later part of his career, Bricher witnessed the advent of modernism, a movement that seemed to make many of his artistic concerns obsolete – but which, in another sense, owed a debt to the discipline and realism in works by Bricher and other Hudson River painters. He is still considered one of the best maritime painters of the late nineteenth century.
*****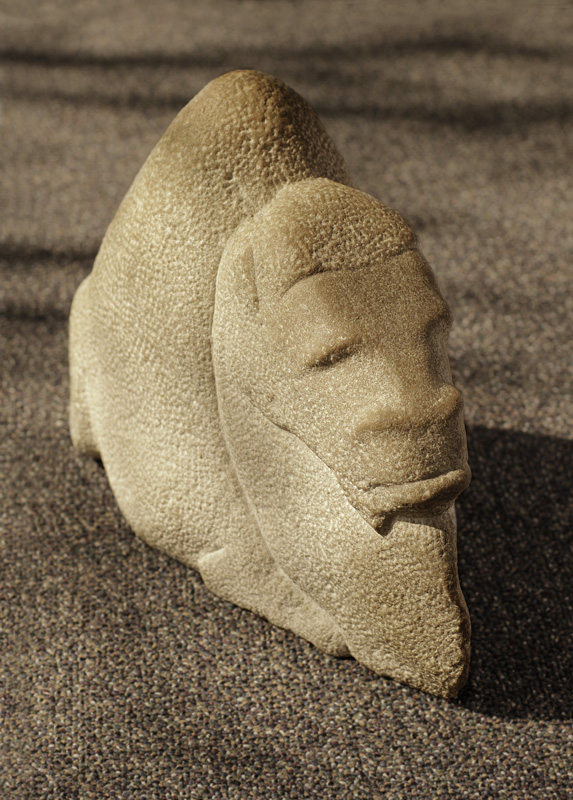 John Bernard Flannagan was born in 1895 in Fargo, North Dakota. His newspaperman father died when John was five, forcing his destitute mother to place him and his sister in an orphanage. Unrelenting poverty plagued him the rest of his life. He got into carving as a youth and moved to Minneapolis in 1914 to study painting at the Minneapolis Institute of Arts. During World War I he served in the Merchant Marines until 1922 and then took up residence in New York to resume his study of painting.
Around 1926, Arthur B. Davies, one of the prime movers and shakers in early 20th century American art circles and a key figure in the implementation of the famous "Armory Show," discovered Flannagan in a state of near-starvation. Davies took the still young artist to one of his farms and nurtured his health and spirit for about a year. Flannagan was still pursuing his study of painting but at the suggestion of Davies in 1927, he tried his hand at wood sculpture, starting on a track that he would follow for the rest of his career. He discovered stone as a medium in 1928 and it became his favorite.
He has been critically acclaimed as one of the best of his generation of artists employing what became known as the "direct carving" approach to making sculpture. Flannagan's own sculpture did not follow the academic traditions, which preceded and still dominated during his time. He worked with fieldstones instead of quarried ones; a choice affected more at first by economics, but one that proved right for his art.
Personality was instilled into the stones touched by his tools and his imagination, capturing and reflecting many moods and mysteries of life. In 1929, in a letter to Carl Zigrosser, John Flannagan said, "My aim is to produce a sculpture…with such ease, freedom and simplicity that it hardly feels carved, but rather to have always been that way."
Art Talk – https://youtu.be/GDYM3UWzQ_Y
*****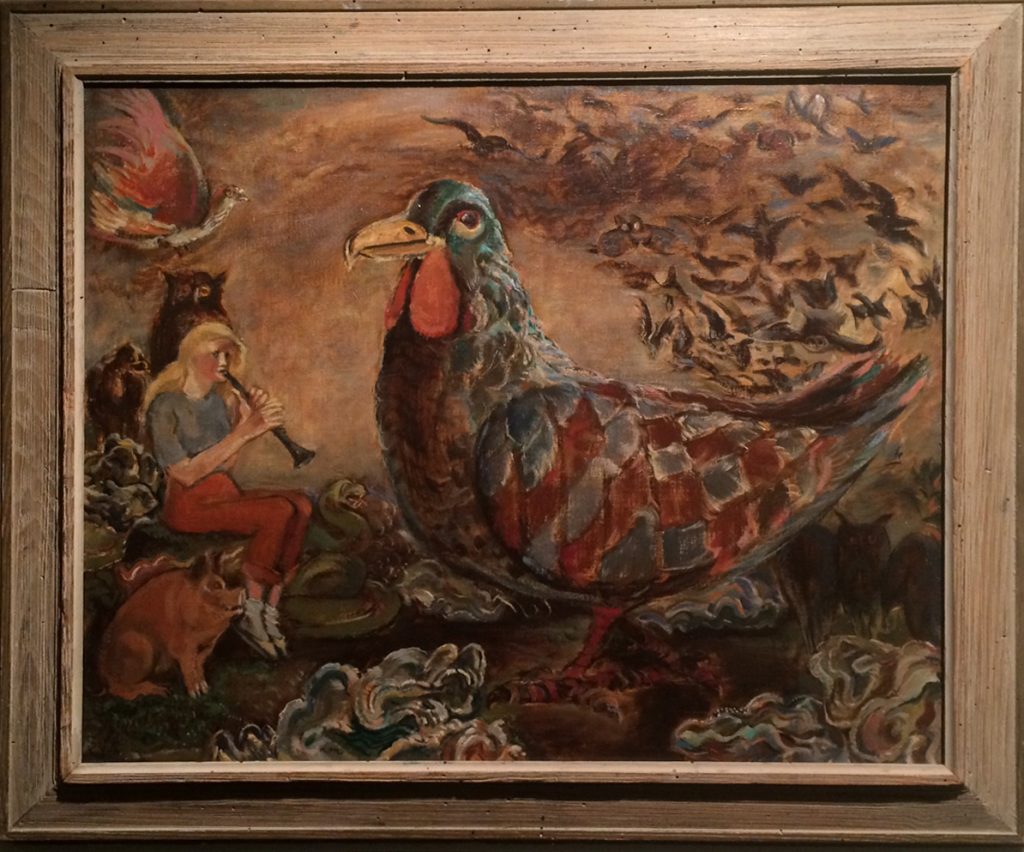 Karl Mattern was born in Durkheim, Germany, on March 22, 1892. He was a painter, and specialized in watercolor.
He came to the U.S. with his family when he was 13. After two years in the East he moved to the Midwest where he worked on a farm. Mattern studied at the Art Institute of Chicago and at the Art Students League. He was a pupil of George Bellows. His career as an artist and teacher began in 1922 when he taught at the Chicago Academy of Fine Arts and at the Denver (CO) Academy from 1923-24. He also taught at University of Kansas, Lawrence in the painting department 1926- 48.
From 1948 until his death in January, 1969, he lived in Des Moines, IA, where he taught in the art department at Drake University. Karl Mattern exhibited his work continuously for over forty-seven years in national and local exhibitions. He painted nearly every day of his life. Mattern died in Des Moines, on Jan. 18, 1969.
*****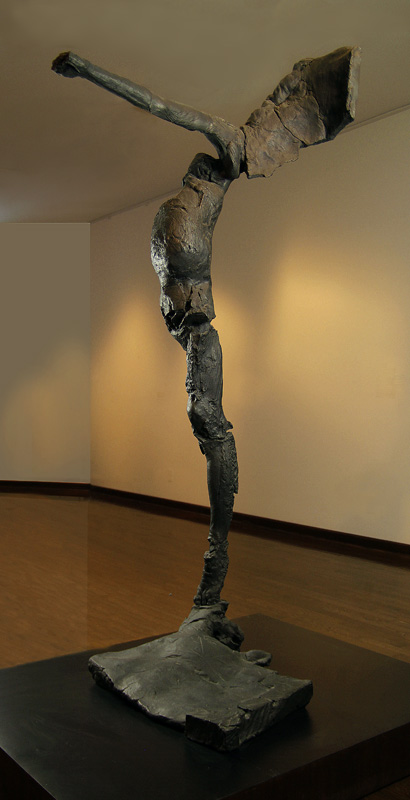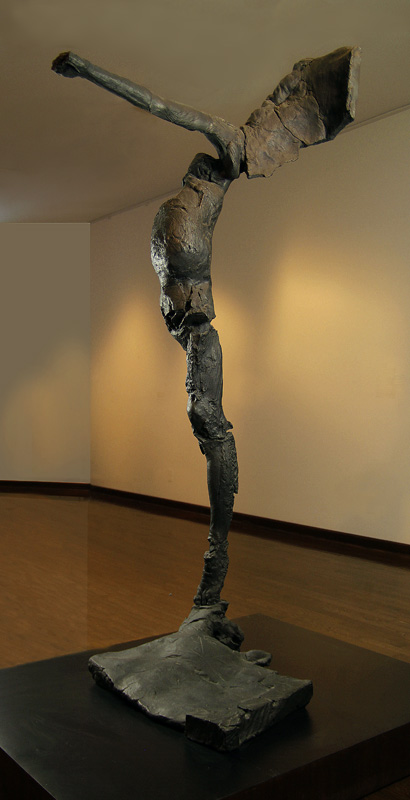 Stephen DeStaebler was born in 1933. He is a nationally known, Bay Area based sculptor whose work is based on the expressive potential of the human figure. His academic work was completed at Princeton University with a thesis on St. Francis.
After working primarily in clay during the 1960's and 1970's, he began to work with bronze in the 1980's and began his association with Artworks Foundry, starting in the early 1980's.
DeStaebler's work can be seen locally at the City Center in Oakland, near the Museum of Modern Art in San Francisco, the M.H. DeYoung Museum in Golden Gate Park and in the Oakland Museum.
His work was the subject of a major museum retrospective in 1988-89, which traveled to San Francisco, Washington, D.C. and other cities. A catalogue of this exhibition, "Stephen DeStaebler: The Figure" was written by Donald Kuspit, and features many works in bronze that were cast by Artworks Foundry.
*****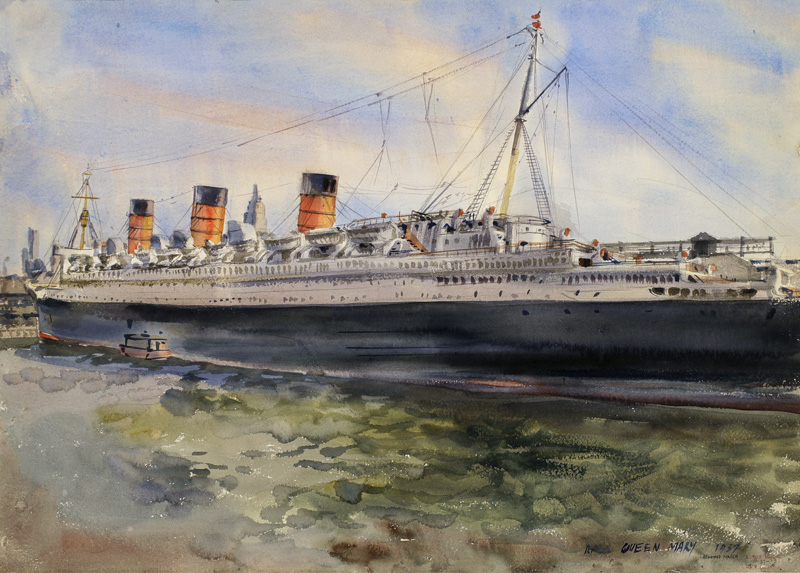 Reginald Marsh was an American painter, born in Paris, most notable for his detailed depictions of life in New York City in the 1920's and 1930's. He painted using egg tempera, a forgotten medium revived in the mid-twentieth century. He also produced many watercolors, oil paintings, Chinese ink drawings, and a number of lithographs and etchings.
Marsh attended the Lawrenceville School and graduated in 1920 from Yale University, he then worked as a freelance illustrator, then for the New York Daily News and for The New Yorker. He also submitted illustrations to the New Masses. Marsh was impressed by the 'old master' paintings he saw on a 1926 European trip. He returned with a desire to utilize the principles he felt were evident in the art of the Renaissance painters, particularly the practice of taking notes from observation of human subjects in their environments. Marsh then studied under Kenneth Hayes Miller, John Sloan and George Luks at the Art Students League of New York, and chose to do fewer commercial assignments.
Reginald Marsh's paintings and drawings combine an almost baroque drawing style with a newspaper reporter's attention to the minutiae of urban public life. Filled with facts, his art is unabashedly topical, often based on his own photographs and numerous on-site sketches. Marsh's headlines, signs, and advertisements are specific and legible while his faces and figures are often indistinguishable.
Marsh was a great draughtsman, but did not think he would be a painter, for as he recalled, "Painting seemed to me then a laborious way to make a bad drawing. . ." He disliked oil, but of watercolor he said, "Watercolor I took up and took to it well, with no introduction." In late 1929 Thomas Hart Benton and Denys Wortman introduced him to egg tempera on a gesso ground, which "opened a new world to me" because it was the perfect medium for a draughtsman. In 1930, having found his subjects and his techniques, Marsh joined the Frank K. M. Rehn Galleries and enjoyed artistic success and recognition for the rest of his life.
*****
Adolph Gottlieb was born on March 14, 1903 in New York. From 1920-1921 he studied at the Art Students League of New York, after which he traveled in France and Germany for a year. In the mid-1930's, he became a teacher using his acquired technical and art history knowledge to teach while he painted.
After his 1930's one-man show he won respect amongst his peers. In 1935, he and nine others, including Ben-Zion, Ilya Bolotwsky, Louis Harris, Jack Kufeld, and Mark Rothko, known as "The Ten" exhibited their works together until 1940. They would come to be known as the Abstract Expressionists.
Gottlieb's work and awards are found in the Dudensing Galleries in New York, the Guggenheim Museum. Other places include Paris, Pennsylvania, Texas, Brazil, and others. One thing that Gottlieb created was "Pictographs" and these are found in New York.
In 1932, he married Esther Dick. In 1970, he suffered a stroke and was confined to a wheelchair because he paralyzed his left side of his body, but he still continued to paint. In 1972, he was elected member of the National Institute of Arts and Letters. On March 4, 1974, Adolph Gottlieb died in New York City.
*****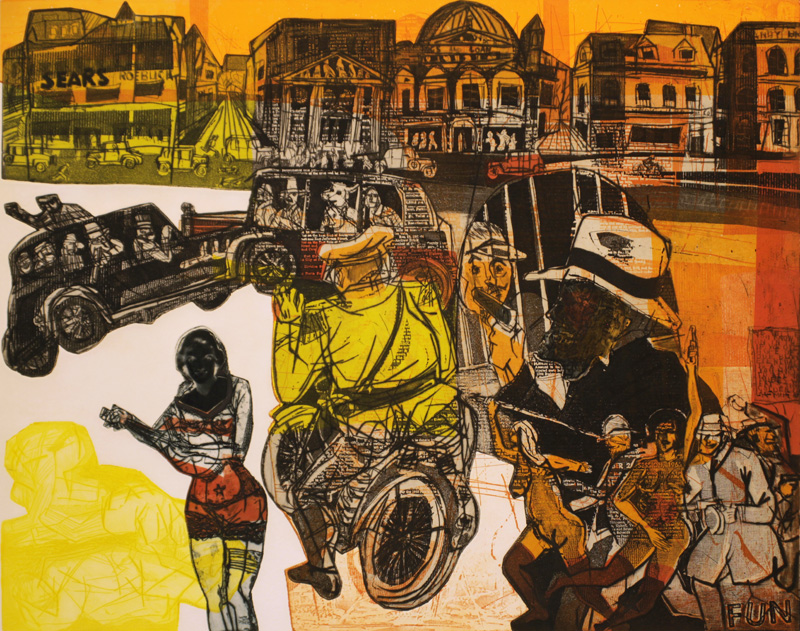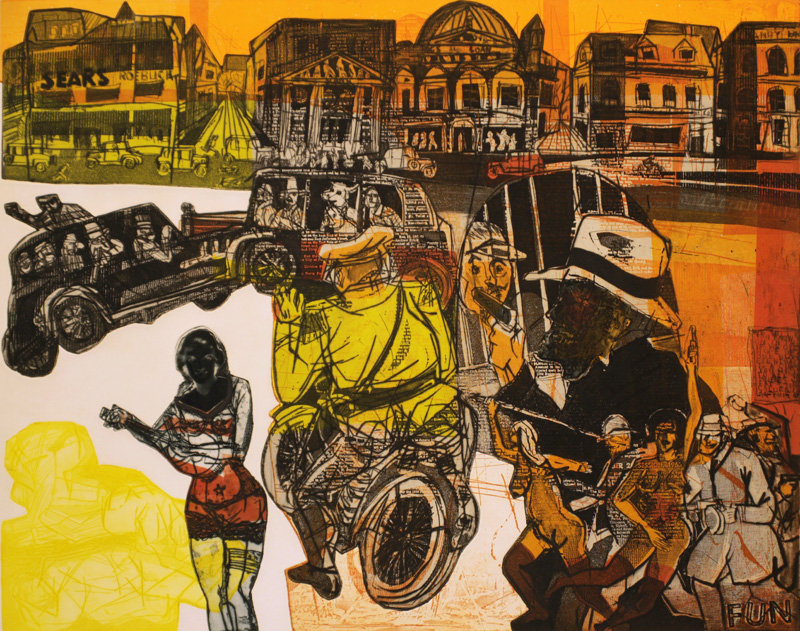 Wisconsin artist Warrington Colescott is best known for his satirical etchings. Born in Oakland, California to parents of Louisiana Creole descent, food, music and Creole culture played a large role in upbringing. Comic strips were also important to the young Colescott, especially the work of Des Moines Register cartoonist, Jay "Ding" Darling. Darling's caricatural and narrative components greatly influenced Colescott's mature work. As a teenager, he discovered vaudeville and burlesque. The broad humor and slapstick, as well as the eroticism of these performances, would inform his art throughout his career.
Colescott created a series of etchings about the Depression-era gangster, John Dillinger, which grew into a suite of images mixing fact and fiction about the farm boy-turned-outlaw who mesmerized the public in the 1930s. Colescott had no compunction about enhancing the narratives with imagined details and anachronistic additions.
Colescott portrayed Dillinger, known at the time as Public Enemy No. 1, as a super anti-hero in the series. For The Mason City Raid, he came to the scene and interviewed locals who had been at the event. Colescott's version of the crime has the feeling of a movie still, with department store signs in the background and gun molls accompanying the thugs. Colescott observed, "The Dillinger men took their girls with them wherever they went. I've tried to convey the feeling of the gang: very rowdy, very adolescent, very sexual."
On March 13, 1934, John Dillinger and his gang robbed the First National Bank in Mason City, Iowa, and escaped with approximately $52,000. Surprised bank employees and citizens were used as shields from police gunfire. A switchboard operator on an upper floor of the bank crawled to a window and shouted news of the holdup to a man in the alley. He brandished a machine gun and shouted back, "You're telling me, lady?" The man was Baby Face Nelson who was standing lookout.
*****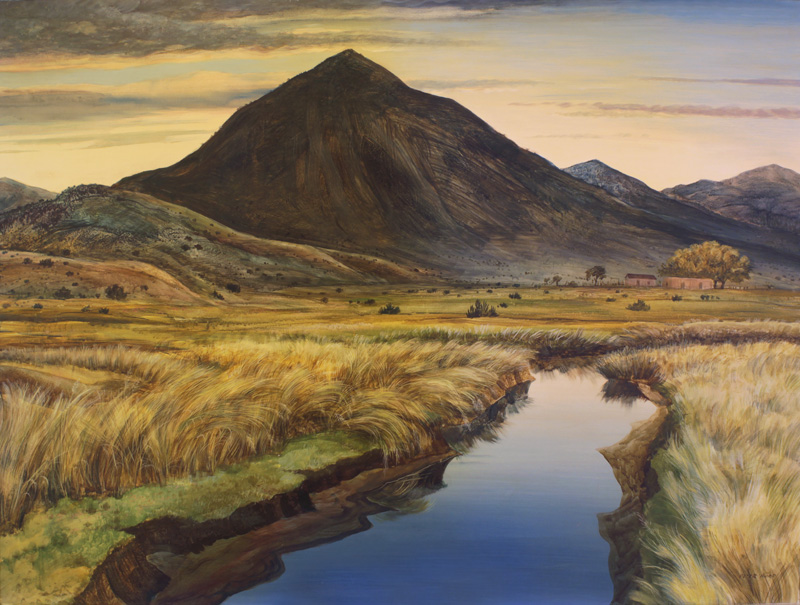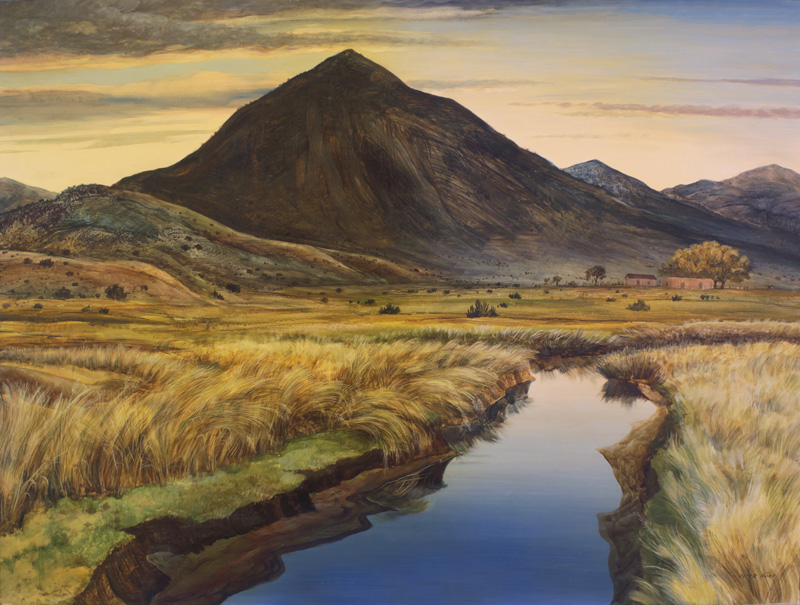 Peter Hurd, the world-renowned western artist, was born in Roswell, New Mexico, on February 22, 1904. His parents named him Harold Hurd, Jr., but called him Pete, and in his early twenties he legally changed his name to Peter. The elder Hurd came from a prominent Boston family, graduated from Columbia University Law School, and established his legal practice in New York City. Peter Hurd grew up in Roswell, where his parents settled for health reasons. Following three years of high school at New Mexico Military Institute in Roswell, Hurd was accepted as a cadet by the United States Military Academy at West Point. He entered as a plebe in July 1921, at the age of seventeen. Within two years, however, he was disillusioned by the rigors and values of military life and was drawn increasingly to art. In 1923 he resigned from West Point in good standing, with his father's reluctant consent. He transferred to Haverford College, where he studied the liberal arts and devoted himself to painting. In December 1923, in Chadds Ford, Pennsylvania, Hurd became acquainted with N. C. Wyeth, an illustrator of children's classics and the father of Andrew Wyeth. He persuaded Wyeth to accept him as a pupil in the spring of 1924. Hurd soon fell in love with Wyeth's eldest daughter, Henriette, herself an excellent painter. In June 1929 they married.
In 1959 Hurd was appointed to the Commission on Fine Arts by President Dwight D. Eisenhower. In 1967, he painted what would have been Lyndon B. Johnson's official portrait. President Johnson only allowed Hurd one sitting, during which he fell asleep. Hurd had to use photographs of Johnson to finish the painting. Johnson did not like his portrait, declaring it "the ugliest thing I ever saw." The painting is now part of the collection of the National Portrait Gallery, in the Smithsonian Institution.
He worked in a variety of media, including oil, lithography, watercolor, egg tempera, charcoal, and fresco. The most notable of his mural paintings depicting the history of southwestern life can be seen in Lubbock, Dallas, and Big Spring, Texas. Hurd achieved the best expression of his personal vision in the tempera paintings of the place he loved best-the small village of San Patricio, New Mexico, fifty miles west of Roswell, where he built Sentinel Ranch in the 1930s. Painting on panels covered with several coats of gesso, Hurd captured the drama of light and shadow on the hills and the vastness of sky and plain in every kind of weather.
*****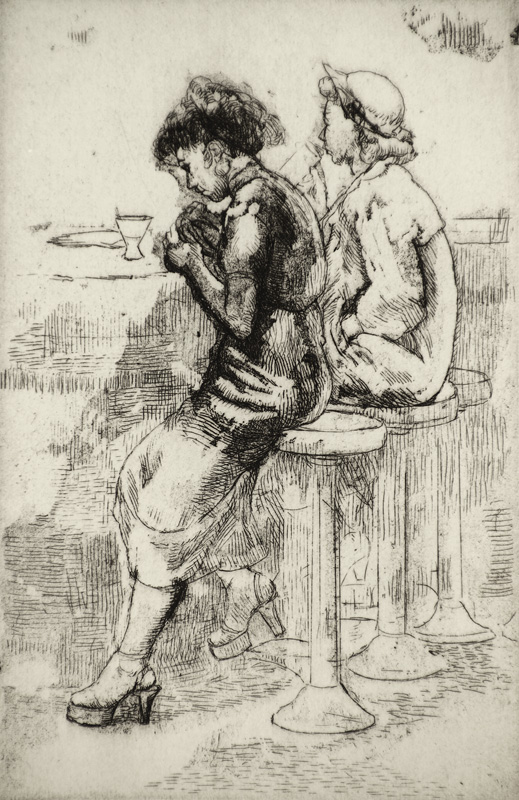 Isabel Bishop was an American painter, draughtsman, and etcher who worked in an urban realist style.
Isabel Bishop grew up in Detroit, Michigan. She moved to New York City at 16 to study commercial art, attending the New York School of Design for Women in 1918. She shifted from commercial drawing to painting in 1920, enrolling at the Art Students League. During this period, she developed a realist technique as well as an approach to light and shadow reminiscent. By 1928 she was working on her own, establishing a reputation as an urban realist. Two years later Bishop assured her reputation with her first show, held at the Dudensing Gallery in New York.
Bishop often depicted moving figures and crowds in New York's Union Square, which the studio that she leased from 1934 to 1978 overlooked. She is best known for her paintings and drawings of working women, hoboes, and students. Also an accomplished draughtsman, she often produced etchings based on her paintings. Her body of work illustrated the changing face of Union Square from the post-Depression milieu of the 1930s to the war protesters and students of the 1960s and '70s.
*****