Off the Wall showcases pieces from our permanent collection individually so you can learn a little bit more about the pieces in our museum one at a time.
*****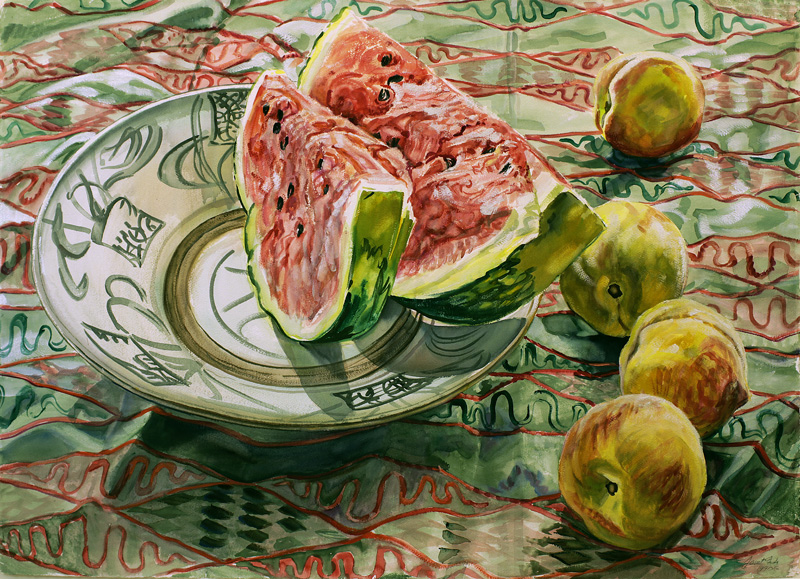 Janet Fish was born in Boston, MA in 1938 and grew up on the Island of Bermuda. Her grandfather was an American Impressionist painter, which inspired her. Her father was an Art History teacher and her mother was a sculptor and potter.
She went to Skowhegan Summer School of Painting and Sculpture in Maine, and studied sculpture and printmaking at Smith College in Massachusetts, and graduated from Smith in 1960. She then went on to Yale University School of Art and Architecture in Connecticut, where she received her B.F.A. (Bachelor of Fine Arts) and M.F.A. (Master of Fine Arts) degrees in 1963. (She was one of the first women artists to receive her MFA from Yale.) At Yale some of her classmates included Rackstraw Downes, Chuck Close, Nancy Graves and Brice Marden.
She has shown her work in many major art institutions, including the Metropolitan Museum of Art and the Whitney Museum of American Art, both in New York, as well as the Art Institute of Chicago, and at many venues around the world. She has also won fellowships and awards, including American Academy of Arts and Letters Award, 1994, and a MacDowell Fellowships in 1968, 1968 and 1972. Her work has been published in several books – The Prints of Janet Fish, by Linda Konheim Kramer, Janet Fish by Garret Henry, and Janet Fish: Paintings by Vincent Katz. She is currently represented by D.C. Moore Gallery in New York City, and divides her time between her Soho loft and her farmhouse in Vermont. Her paintings reflect her indoor and outdoor domestic life, often containing still life objects from her collections of glassware and other objects.
Watch our Art Talk about Janet Fish here: https://youtu.be/0jsFaLX4KeE
*****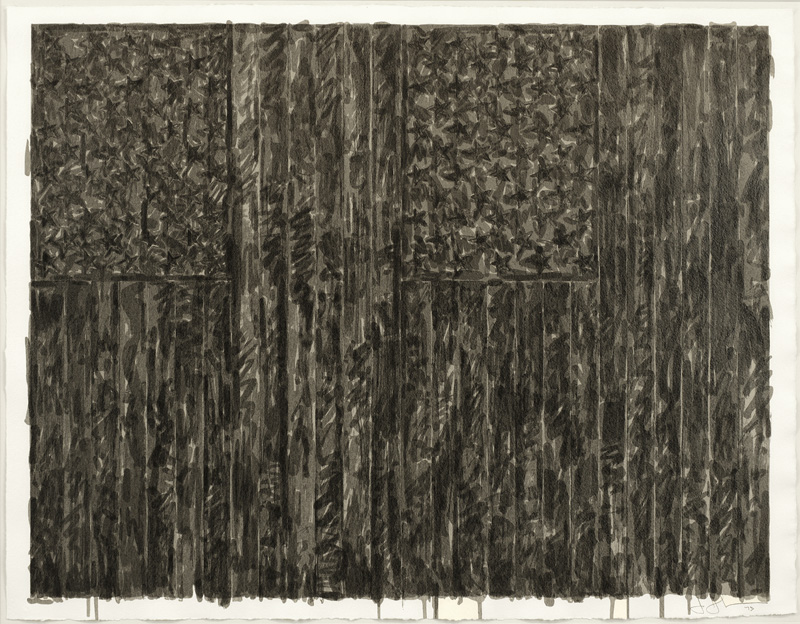 Jasper Johns was born on May 15, 1930 in Augusta, Georgia. Johns studied at the University of South Carolina from 1947 to 1948, a total of three semesters. He then moved to New York City and studied briefly at Parsons School of Design in 1949. While in New York, Johns met Robert Rauschenberg, Merce Cunningham, and John Cage. Working together they explored the contemporary art scene, and began developing their ideas on art. In 1952 and 1953, he was stationed in Sendai, Japan during the Korean War.
He is best known for his painting Flag (1954-55), which he painted after having a dream of the American flag. His work is often described as a 'Neo-Dadaist', as opposed to pop art, even though his subject matter often includes images and objects from popular culture. Still, many compilations on pop art include Jasper Johns as a pop artist because of his artistic use of classical iconography.
Most of Johns work can be found mostly on the east coast of the United States. To name a few of the places, Museum of Modern Art in New York, the New York State Theater, Metropolitan Museum of Art in New York, National Gallery of Art in Washington D.C., and many others. In 1998, the Metropolitan Museum of Art in New York paid more than $20 million for Johns' White Flag. In 2006, private collectors Anne and Kenneth Griffin (founder of the Chicago-based hedge fund Citadel Investment Group) bought Johns' False Start for $80 million. Johns currently lives in Sharon, Connecticut.
*****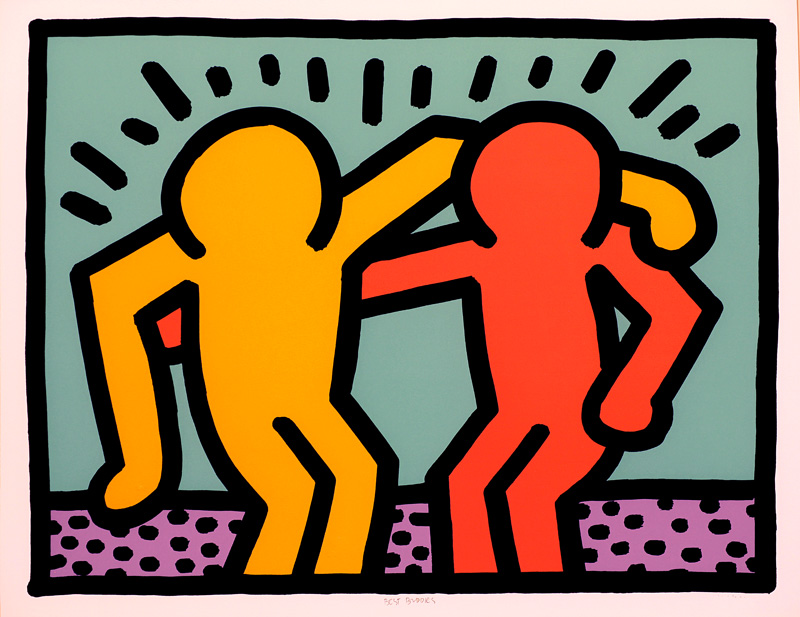 Keith Haring was an artist and social activist whose work responded to the New York street culture of the 1980s. Growing up in small town Pennsylvania, Haring developed a love for drawing at an early age, learning basic cartooning skills from his father and popular culture, especially Dr. Seuss and Walt Disney. After studying graphic design in Pittsburgh, Haring moved to New York where he found a thriving alternative art community developing outside the gallery and museum system in the downtown streets, subways, clubs and dance halls. He first gained public attention with his subway chalk drawings, sometimes creating as many as 40 drawings in a day as he engaged with spectators. During this time the "Radiant Baby", a simple line drawing of a crawling baby with energized rays emanating from its body, became his symbol.
Haring's brief but intense career spanned the 1980s, and during that decade his work was featured in over 100 solo and group exhibitions. His art attracted a wide audience through his expression of universal concepts of birth, death, love, sex and war, using a primacy of line and directness of message. Haring's imagery has become a universally recognized visual language of the 20th century.
Watch our Art Talk to learn more about Keith Haring: https://youtu.be/rPsMTTtd3h8
*****
John Bernard Flannagan was born in 1895 in Fargo, North Dakota. His newspaperman father died when John was five, forcing his destitute mother to place him and his sister in an orphanage. Unrelenting poverty plagued him the rest of his life. He got into carving as a youth and moved to Minneapolis in 1914 to study painting at the Minneapolis Institute of Arts. During World War I he served in the Merchant Marines until 1922 and then took up residence in New York to resume his study of painting.
Around 1926, Arthur B. Davies, one of the prime movers and shakers in early 20th century American art circles and a key figure in the implementation of the famous "Armory Show," discovered Flannagan in a state of near-starvation. Davies took the still young artist to one of his farms and nurtured his health and spirit for about a year. Flannagan was still pursuing his study of painting but at the suggestion of Davies in 1927, he tried his hand at wood sculpture, starting on a track that he would follow for the rest of his career. He discovered stone as a medium in 1928 and it became his favorite.
He has been critically acclaimed as one of the best of his generation of artists employing what became known as the "direct carving" approach to making sculpture. Flannagan's own sculpture did not follow the academic traditions, which preceded and still dominated during his time. He worked with fieldstones instead of quarried ones; a choice affected more at first by economics, but one that proved right for his art.
Personality was instilled into the stones touched by his tools and his imagination, capturing and reflecting many moods and mysteries of life. In 1929, in a letter to Carl Zigrosser, John Flannagan said, "My aim is to produce a sculpture…with such ease, freedom and simplicity that it hardly feels carved, but rather to have always been that way."
Watch our Art Talk about John Flannagan here: https://youtu.be/GDYM3UWzQ_Y
*****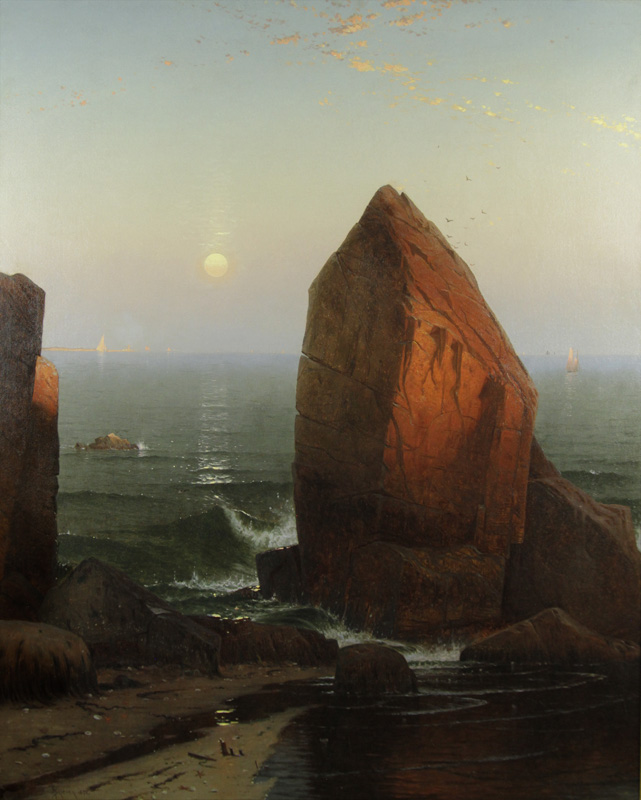 Alfred Thompson Bricher was an American painter who specialized in marine subjects, with particular emphasis on subjects from Maine, the Bay of Fundy, and the Maritime provinces of Canada. Largely self-taught, Alfred Thompson Bricher studied in his leisure hours at the Lowell Institute in Boston and also attended an academy in Newburyport, MA. Bricher was a businessman in Boston from 1851 to 1858 before he became a professional artist. Bricher was often associated with the group of painters known as "the Hudson River School". He espoused a conservative and realistic approach to landscapes, while his interests lay not only in the play of light, water, and air, but in a sense of luminosity and spirituality in nature.
Oddly, Bricher continued painting peaceful scenes of nature even at the height of the horrors of the Civil War, a war in which he younger brother was killed. His perseverance in this style underscores his belief in the eternal forgiveness of Nature and the truism that whatever the acts of man, Nature is the more powerful force.
During the later part of his career, Bricher witnessed the advent of modernism, a movement that seemed to make many of his artistic concerns obsolete – but which, in another sense, owed a debt to the discipline and realism in works by Bricher and other Hudson River painters. He is still considered one of the best maritime painters of the late nineteenth century.
*****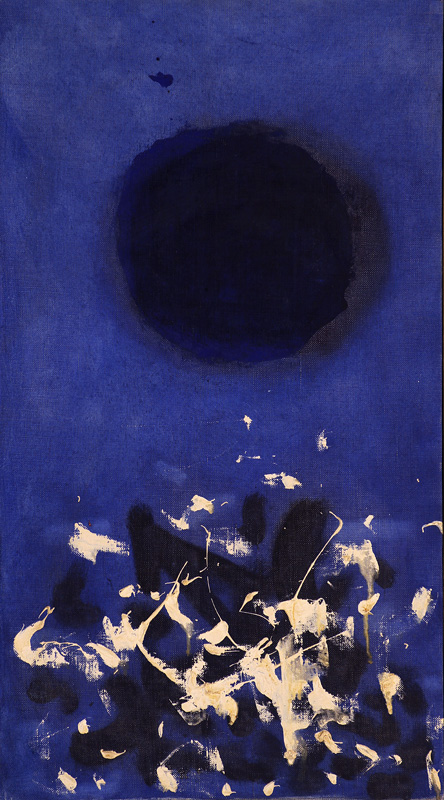 Adolph Gottlieb was born on March 14, 1903 in New York. From 1920-1921 he studied at the Art Students League of New York, after which he traveled in France and Germany for a year. In the mid-1930's, he became a teacher using his acquired technical and art history knowledge to teach while he painted.
After his 1930's one-man show he won respect amongst his peers. In 1935, he and nine others, including Ben-Zion, Ilya Bolotwsky, Louis Harris, Jack Kufeld, and Mark Rothko, known as "The Ten" exhibited their works together until 1940. They would come to be known as the Abstract Expressionists.
Gottlieb's work and awards are found in the Dudensing Galleries in New York, the Guggenheim Museum. Other places include Paris, Pennsylvania, Texas, Brazil, and others. One thing that Gottlieb created was "Pictographs" and these are found in New York.
In 1932, he married Esther Dick. In 1970, he suffered a stroke and was confined to a wheelchair because he paralyzed his left side of his body, but he still continued to paint. In 1972, he was elected member of the National Institute of Arts and Letters. On March 4, 1974, Adolph Gottlieb died in New York City.
*****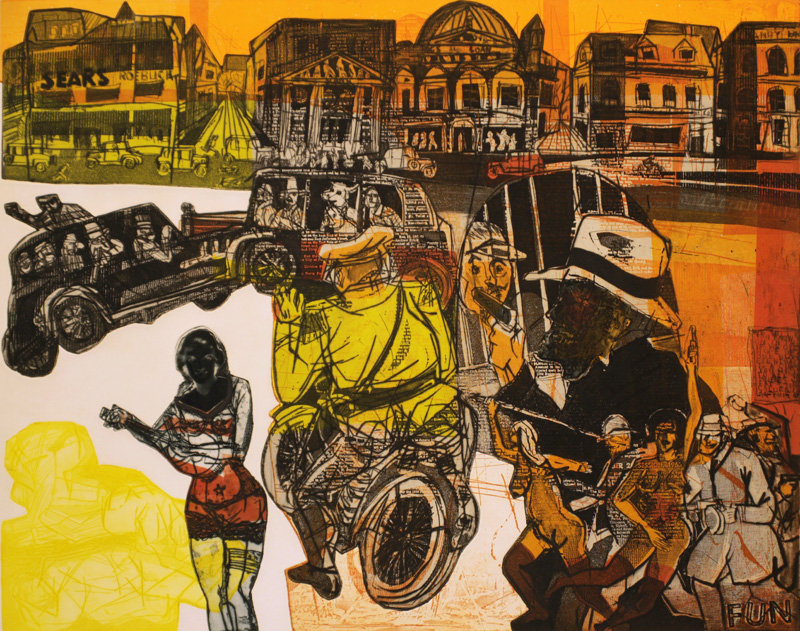 Wisconsin artist Warrington Colescott is best known for his satirical etchings. Born in Oakland, California to parents of Louisiana Creole descent, food, music and Creole culture played a large role in upbringing. Comic strips were also important to the young Colescott, especially the work of Des Moines Register cartoonist, Jay "Ding" Darling. Darling's caricatural and narrative components greatly influenced Colescott's mature work. As a teenager, he discovered vaudeville and burlesque. The broad humor and slapstick, as well as the eroticism of these performances, would inform his art throughout his career.
Colescott created a series of etchings about the Depression-era gangster, John Dillinger, which grew into a suite of images mixing fact and fiction about the farm boy-turned-outlaw who mesmerized the public in the 1930s. Colescott had no compunction about enhancing the narratives with imagined details and anachronistic additions.
Colescott portrayed Dillinger, known at the time as Public Enemy No. 1, as a super anti-hero in the series. For The Mason City Raid, he came to the scene and interviewed locals who had been at the event. Colescott's version of the crime has the feeling of a movie still, with department store signs in the background and gun molls accompanying the thugs. Colescott observed, "The Dillinger men took their girls with them wherever they went. I've tried to convey the feeling of the gang: very rowdy, very adolescent, very sexual."
On March 13, 1934, John Dillinger and his gang robbed the First National Bank in Mason City, Iowa, and escaped with approximately $52,000. Surprised bank employees and citizens were used as shields from police gunfire. A switchboard operator on an upper floor of the bank crawled to a window and shouted news of the holdup to a man in the alley. He brandished a machine gun and shouted back, "You're telling me, lady?" The man was Baby Face Nelson who was standing lookout.
*****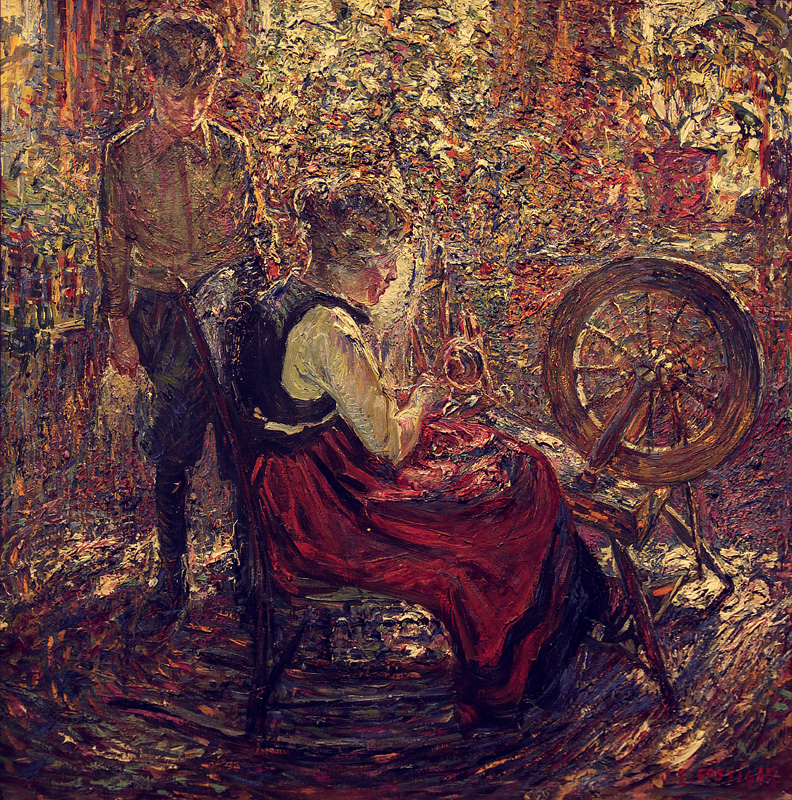 John Edward (J.E.) Costigan was a celebrated American artist widely recognized for his work in three media —oil painting, watercolor and print (etchings and lithographs). It is estimated that, in a career spanning some 50 years, he produced about 500 oils, 250 watercolors, 400 drawings, over 130 etchings, 20 lithographs, and a smattering of pastels and mixed media.
John Costigan was born of Irish-American parents in Providence, Rhode Island, February 29, 1888. He was a cousin of the noted American showman, George M. Cohan, whose parents brought the young Costigan to New York City and was instrumental in starting him on a career in the visual arts. They were less successful in encouraging him to pursue formal studies at the Art Students League (where, however, he later taught) than in exposing him to the commercial art world through the job they had gotten him with the New York lithographing firm that made their theatrical posters.
In addition, Costigan's work has been—and continues to be—included, side-by-side with that of some of America's most high-profile artists, in museum and gallery exhibitions throughout the country. His renown had peaked in the early 1930s, by which time his work had been honored with nearly every major award then being bestowed in the fine arts and had been acquired for the permanent collections of several prestigious American museums, including New York's Metropolitan (which only recently, in 1997, deaccessioned his "Wood Interior," acquired in 1934).
John Costigan died of pneumonia in Nyack, NY, August 5, 1972, just months after receiving his final prestigious award —the Benjamin West Clinedinst Medal of the Artist's Fellowship, Inc., presented in general recognition of his "…achievement of exceptional artistic merit…" in the various media he had mastered in the course of his career.
*****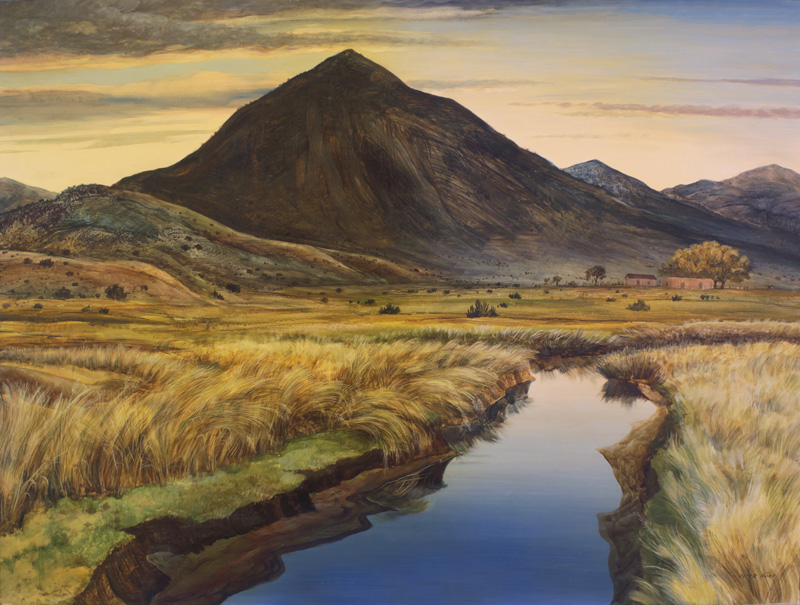 Peter Hurd, the world-renowned western artist, was born in Roswell, New Mexico, on February 22, 1904. His parents named him Harold Hurd, Jr., but called him Pete, and in his early twenties he legally changed his name to Peter. The elder Hurd came from a prominent Boston family, graduated from Columbia University Law School, and established his legal practice in New York City. Peter Hurd grew up in Roswell, where his parents settled for health reasons. Following three years of high school at New Mexico Military Institute in Roswell, Hurd was accepted as a cadet by the United States Military Academy at West Point. He entered as a plebe in July 1921, at the age of seventeen. Within two years, however, he was disillusioned by the rigors and values of military life and was drawn increasingly to art. In 1923 he resigned from West Point in good standing, with his father's reluctant consent. He transferred to Haverford College, where he studied the liberal arts and devoted himself to painting. In December 1923, in Chadds Ford, Pennsylvania, Hurd became acquainted with N. C. Wyeth, an illustrator of children's classics and the father of Andrew Wyeth. He persuaded Wyeth to accept him as a pupil in the spring of 1924. Hurd soon fell in love with Wyeth's eldest daughter, Henriette, herself an excellent painter. In June 1929 they married.
In 1959 Hurd was appointed to the Commission on Fine Arts by President Dwight D. Eisenhower. In 1967, he painted what would have been Lyndon B. Johnson's official portrait. President Johnson only allowed Hurd one sitting, during which he fell asleep. Hurd had to use photographs of Johnson to finish the painting. Johnson did not like his portrait, declaring it "the ugliest thing I ever saw." The painting is now part of the collection of the National Portrait Gallery, in the Smithsonian Institution.
He worked in a variety of media, including oil, lithography, watercolor, egg tempera, charcoal, and fresco. The most notable of his mural paintings depicting the history of southwestern life can be seen in Lubbock, Dallas, and Big Spring, Texas. Hurd achieved the best expression of his personal vision in the tempera paintings of the place he loved best-the small village of San Patricio, New Mexico, fifty miles west of Roswell, where he built Sentinel Ranch in the 1930s. Painting on panels covered with several coats of gesso, Hurd captured the drama of light and shadow on the hills and the vastness of sky and plain in every kind of weather.
*****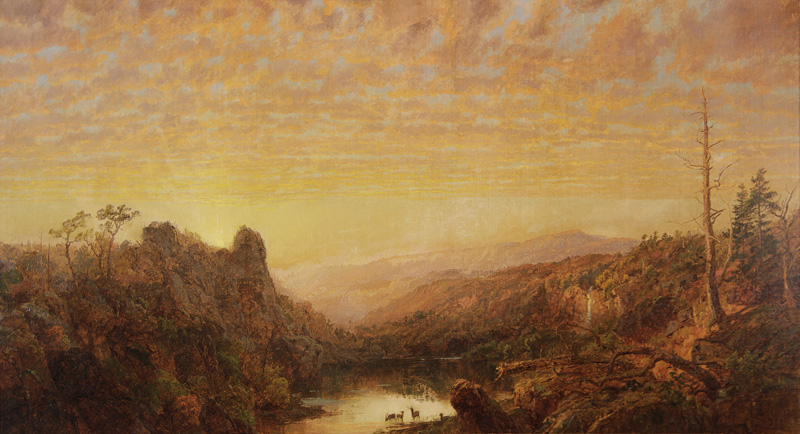 As a young boy, Cropsey had recurring periods of poor health. While absent from school, Cropsey taught himself to draw. His early drawings included architectural sketches and landscapes drawn on notepads and in the margins of his schoolbooks. Cropsey studied watercolor and life drawing at the National Academy of Design and first exhibited at there in 1844. Trained as an architect, he set up his own office in 1843.
Cropsey's interest in architecture continued throughout his life and was a strong influence in his painting, most evident in his precise arrangement and outline of forms. But he was best known for his lavish use of color and, as a first-generation member from the Hudson River School, painted autumn landscapes that startled viewers with their boldness and brilliance. The Hudson River School was a mid-19th century American art movement by a group of landscape painters, whose aesthetic vision was influenced by romanticism. As an artist, he believed landscapes were the highest art form and that nature was a direct manifestation of God. He also felt a patriotic affiliation with nature and saw his paintings as depicting the rugged and unspoiled qualities of America.
Jasper Cropsey is experimenting with the abstract properties of color, light, and form in Twilight. It consists of mostly sky with mountainous and forest-like terrain and also shows little bodies of water with deer drinking from them toward the bottom of the painting. Night is approaching and the clouds are reflected colorfully with the rays from the setting sun to show a beautiful horizon of distant clouds and mountains.
*****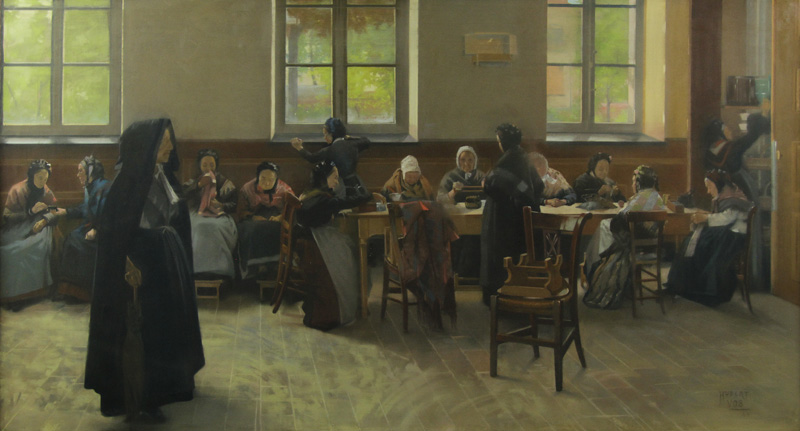 Hubert Vos (1855-1935) was born into a Dutch family that had produced several generations of artists. As his career developed, he identified himself with academic painting and created a stir in the Pont-Aven artist colony for criticizing the paintings of Paul Gauguin. After serving as the Dutch Commissioner to the 1893 Chicago World's Fair, Vos moved to the United States and spent much of his time painting "exotic" racial and ethnic (non-Caucasian) subjects. The Knitting Room appears to represent a European subject from early in his career.
*****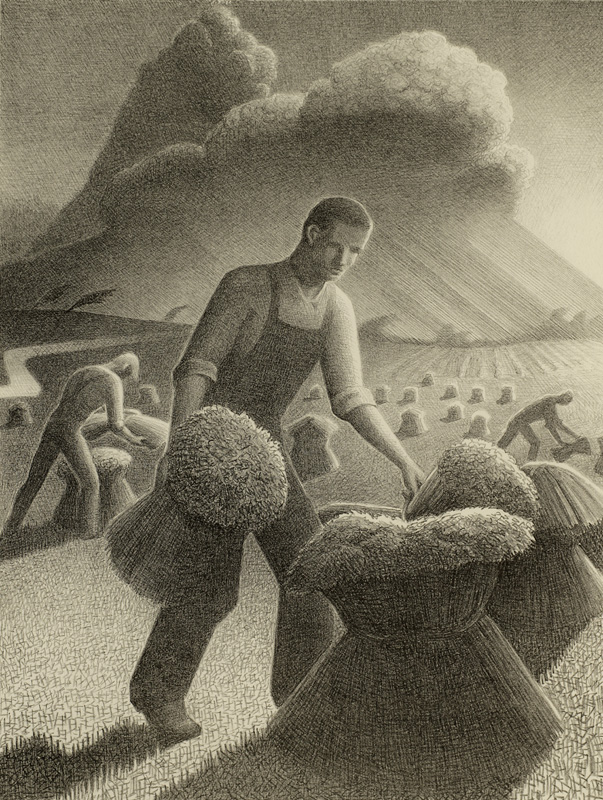 Grant Wood depicted the ordinary people and everyday life of Iowa with both affection and irony. Wood, along with Thomas Hart Benton of Missouri and John Steuart Curry of Kansas comprised the trio of well-known Midwestern Regionalists. These artists rebelled against the abstraction of European Modernism and insisted that American art should present a picture of the American scene. During the Great Depression of the 1930s, when a much higher proportion of the population lived on farms, their work was widely appreciated for its reassuring images of the heartland.
Wood's studied in Europe and was influenced by the precise realism of the early Netherlandish painters. His style matured into the meticulous, sharply-detailed manner for which his work is chiefly known. A combination of perceptive insight and dry caricature makes his figure paintings distinctive among the artists of the Regionalist School.
Wood was born in Anamosa, Iowa in 1892 and spent much of his working life in Cedar Rapids and Iowa City. He was instrumental in capturing images of fast-disappearing farm life. His final paintings were completed from his studio in Clear Lake, Iowa before his death in 1942.
Watch our Art Talk to learn more about Grant Wood: https://youtu.be/LgK0NGb9s7M
*****