Off the Wall showcases pieces from our permanent collection individually so you can learn a little bit more about the pieces in our museum one at a time.
*****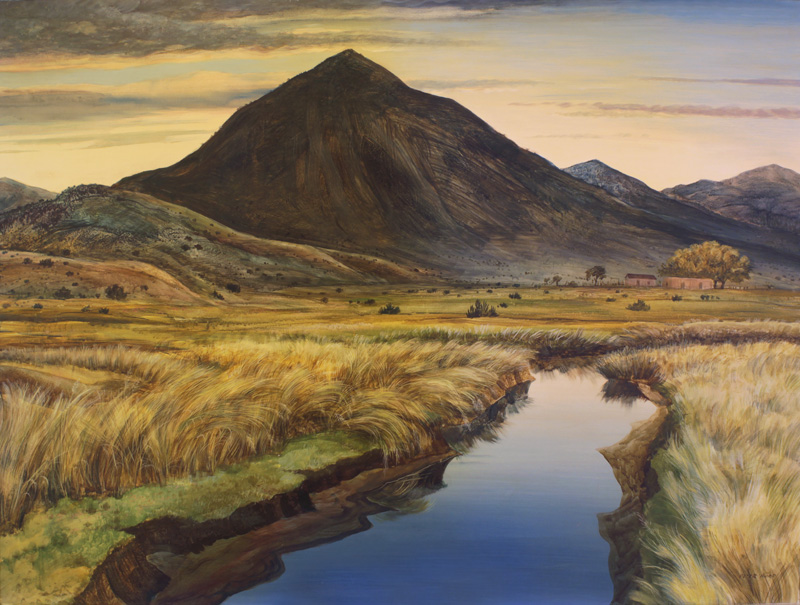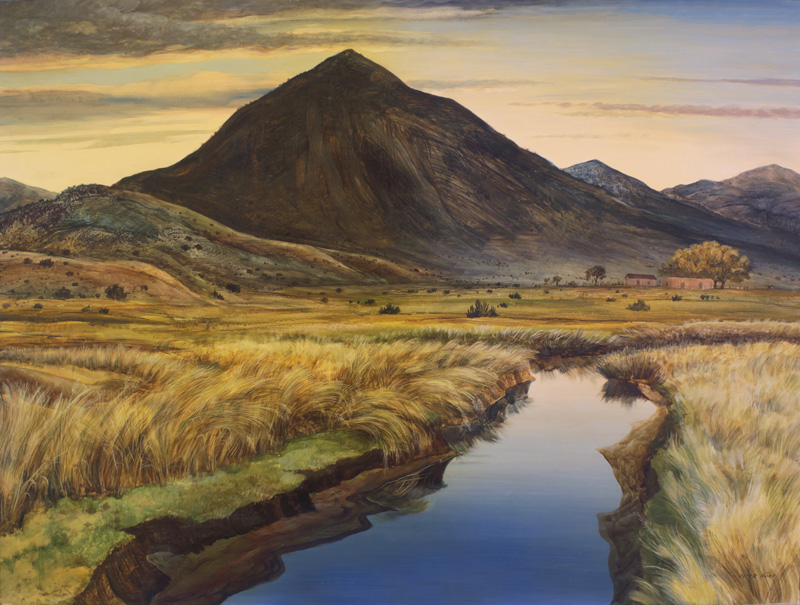 Rio Hondo
Peter Hurd (1904-1984)
Egg tempera on panel. Gift of Mr. and Mrs. Donald Winston. 1978.3.7
Peter Hurd, the world-renowned western artist, was born in Roswell, New Mexico. His parents named him Harold Hurd, Jr., but called him Pete, and in his early twenties he legally changed his name to Peter. Following three years of high school at New Mexico Military Institute in Roswell, Hurd was accepted as a cadet by the United States Military Academy at West Point. He entered as a plebe in July 1921, at the age of seventeen. Within two years, however, he was disillusioned by the rigors and values of military life and was drawn increasingly to art.
In 1923 he resigned from West Point in good standing, with his father's reluctant consent. He transferred to Haverford College, where he studied the liberal arts and devoted himself to painting. In December 1923, in Chadds Ford, Pennsylvania, Hurd became acquainted with N. C. Wyeth, an illustrator of children's classics and the father of Andrew Wyeth. He persuaded Wyeth to accept him as a pupil in the spring of 1924. Hurd soon fell in love with Wyeth's eldest daughter, Henriette, herself an excellent painter. In June 1929 they married.
In 1959 Hurd was appointed to the Commission on Fine Arts by President Dwight D. Eisenhower. In 1967, he painted what would have been Lyndon B. Johnson's official portrait. President Johnson only allowed Hurd one sitting, during which he fell asleep. Hurd had to use photographs of Johnson to finish the painting. Johnson did not like his portrait, declaring it "the ugliest thing I ever saw." The painting is now part of the collection of the National Portrait Gallery, in the Smithsonian Institution.
He worked in a variety of media, including oil, lithography, watercolor, egg tempera, charcoal, and fresco. The most notable of his mural paintings depicting the history of southwestern life can be seen in Lubbock, Dallas, and Big Spring, Texas. Hurd achieved the best expression of his personal vision in the tempera paintings of the place he loved best-the small village of San Patricio, New Mexico, fifty miles west of Roswell, where he built Sentinel Ranch in the 1930s. Painting on panels covered with several coats of gesso, Hurd captured the drama of light and shadow on the hills and the vastness of sky and plain in every kind of weather.
*****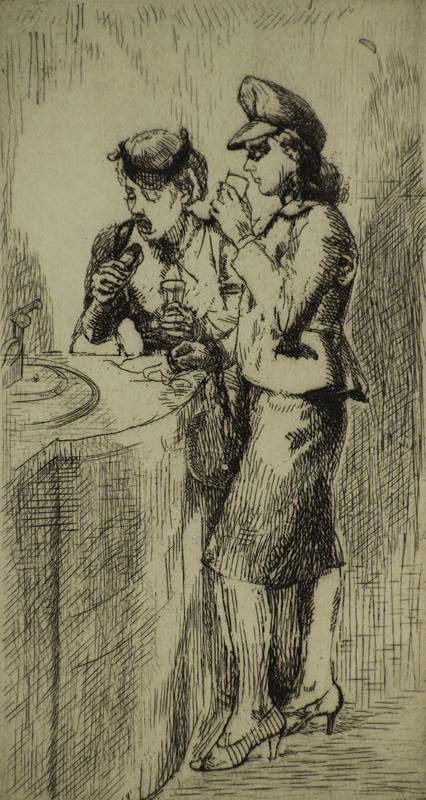 Lunch Counter
Isabel Bishop (1902-1988)
Etching on paper, 1940. Gift of Ann and John MacGregor. 1995.8.2
Isabel Bishop  was an American painter and graphic artist, who produced numerous paintings and prints of working women in realistic urban settings. She was widely exhibited in her lifetime, and was recognized with a number of awards including one for Outstanding Achievement in the Arts, presented to her by President Jimmy Carter in 1979.
Bishop was brought up in Detroit, Michigan, before moving to New York City at the age of 16 to study illustration at the New York School of Applied Design for Women. After two years there she shifted from illustration to painting, and attended the Art Students League for four years until 1924.
During the 1920s and 1930s she developed a realist style of painting, primarily depicting women in their daily routine on the streets of Manhattan.  In 1932, Bishop began showing her work frequently at the newly opened Midtown Galleries, where her work would be represented throughout her career. She returned to the Art Students League as an instructor from 1936 to 1937. In 1940, Bishop was elected into the National Academy of Design as an Associate member, and became a full member in 1941.
Although she never focused on landscape painting per se, many of the remaining early paintings exhibit an interest in natural lighting, trees, still-life, and street scenes, often in a forced 1:3 landscape ratio. Early pieces, of which few survive owing to the artist's intense self-criticism, are often on pressboard.
Bishop's mature works depict the inhabitants of New York's Union Square area, where she maintained a studio between 1934 and 1984. Her subjects are nearly always women who come from a blue-collar background, yet she was also known to produce panoramic landscape studies, and social scenes such as golf tournaments. Bishop also delighted in multiple-figure compositions, often containing two females engaged in various workaday interactions. In the post-war years Bishop's interest turned to more abstracted scenes of New Yorkers walking and traveling, in the streets or on the subways. Her signature changed many times over her career, ranging from the use of various pseudonyms to initials; some early pieces are signed I.B, or I. Bishop in both block and script.
*****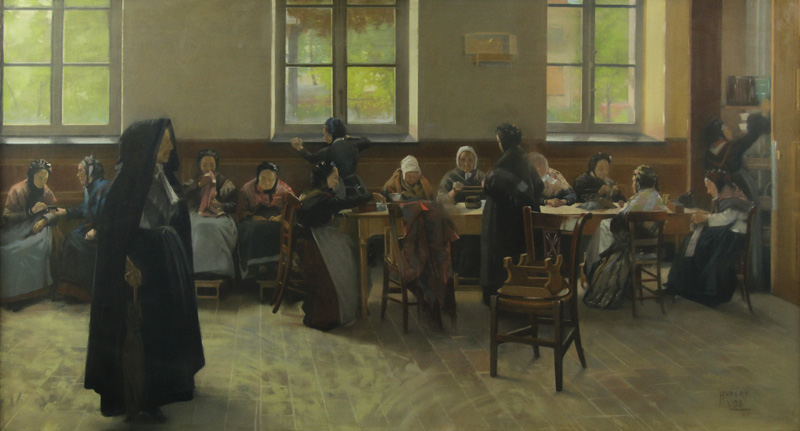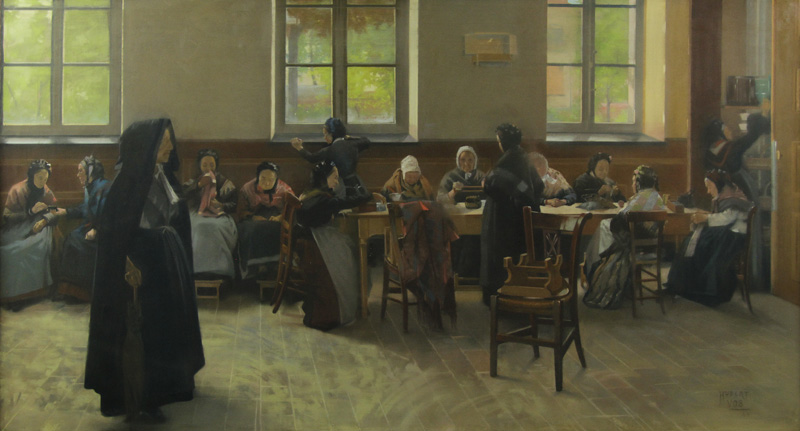 The Knitting Room
Hubert Vos (1855-1935)
Pastel on canvas, 1889.
Museum Purchase with funds from the Memorials and Acquisitions Fund. 2010.1
Hubert Vos was born in 1855 in the Netherlands. Vos worked in oils, pastels and watercolors, and produced house interiors with people, and portraits and full figures, most painted in rural areas and showing destitute and working class people.
He trained as a printer, publisher and book salesman, and established his own printing and publishing firm in Brussels. He soon sold the firm and began studying at the Academie Royal de l'Art in Brussels.  In the late 1880's he began to win prizes for his works.
Apparently his growing international recognition emboldened him to move to London in 1887 where he established a teaching studio. It quickly became a success and he opened two others, one for ladies. Vos befriended James Whistler and was a co-founder of the Society of British Portrait Painters and the Society of Pastellists. For ten years he remained in London, and established a reputation as a portraitist. He continued to paint the poor in the almshouses of Brussels, London, and Northampton, as well as painted portraits of mental patients in asylums in Belgium and England.
In 1892 he was appointed deputy commissioner representing the Netherlands at the Chicago World's Fair of 1893. For his efforts he was never paid but knighted instead. He liked life and opportunities in the United States, decided to stay and sold the London studios. Eventually he obtained American citizenship.
At Chicago's World Fair he was inspired by the ethnic types from around the globe, and decided on a lifelong project to paint pure ethnic types that would take him across the United States, to Hawaii, Japan, China, Korea, Java. In the decades around 1900 Vos travelled through the United States showing his portrait gallery of exotic types. In 1904 he was a member of the jury at the International Exhibition in St. Louis, and co organized a second Dutch art show in America at this occasion.
Vos continued painting portraits, receiving numerous commissions from diplomats, businessmen and wealthy northeastern families, notably from New York City and Newport, Connecticut, where he went to live and work is his studio "Zeerust".
*****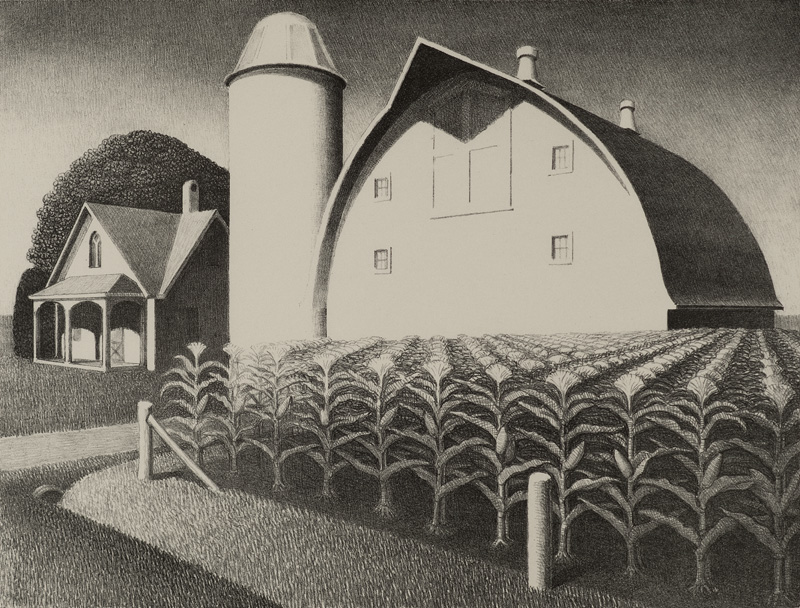 Fertility
Grant Wood (1891-1942)
Lithograph on paper, 1939. Bequest of Katherine M. Zastrow. 1997.14.1
Grant Wood depicted the ordinary people and everyday life of Iowa with both affection and irony.  Wood, along with Thomas Hart Benton of Missouri and John Steuart Curry of Kansas comprised the trio of well-known Midwestern Regionalists. These artists rebelled against the abstraction of European Modernism and insisted that American art should present a picture of the American scene.  During the Great Depression of the 1930s, when a much higher proportion of the population lived on farms, their work was widely appreciated for its reassuring images of the heartland.
Wood's studied in Europe and was influenced by the precise realism of the early Netherlandish painters.  His style matured into the meticulous, sharply-detailed manner for which his work is chiefly known.  A combination of perceptive insight and dry caricature makes his figure paintings distinctive among the artists of the Regionalist School.
Wood was born in Anamosa, Iowa in 1892 and spent much of his working life in Cedar Rapids and Iowa City.  He was instrumental in capturing images of fast-disappearing farm life.  His final paintings were completed from his studio in Clear Lake, Iowa before his death in 1942.
*****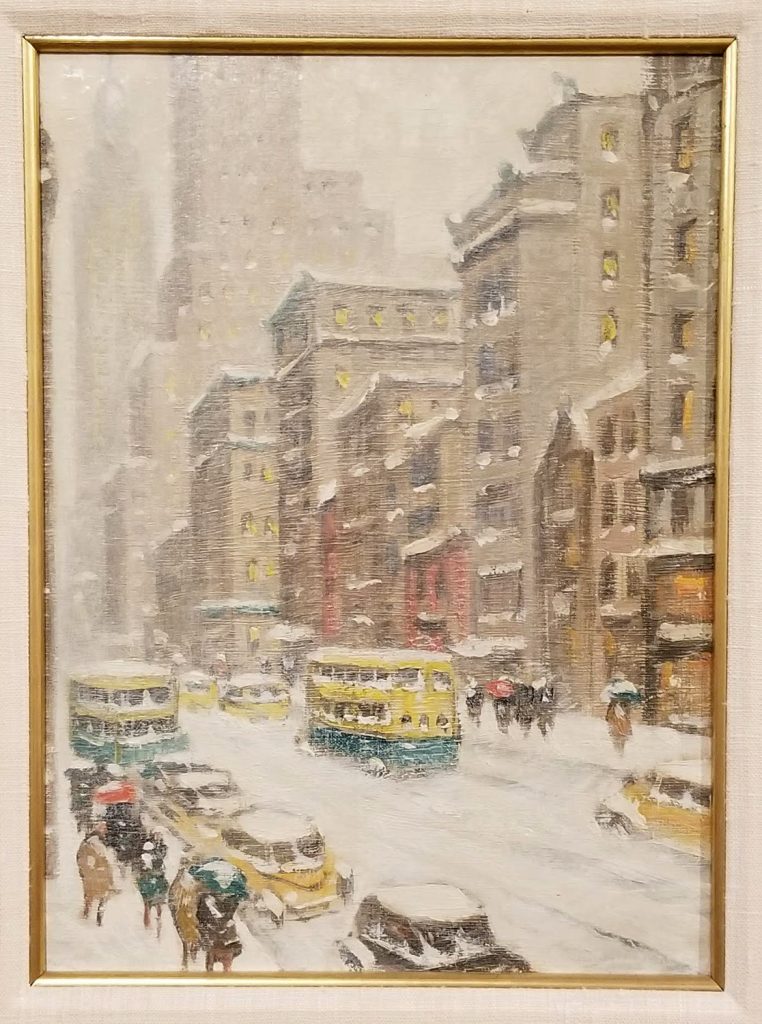 Snowstorm in Midtown Manhattan
Guy Carleton Wiggins (1883-1962)
Oil on canvas board, not dated.
Museum purchase using funds given in honor of Bonnie McCoy. 2018.1
Guy Carleton Wiggins was an American impressionist painter. He was the president of the Connecticut Academy of Fine Arts, and a member of the Old Lyme Art Colony. He did many paintings of New York City's snowy streets, landmarks and towering skyscrapers during winter.
Wiggins was born on February 23, 1883 in Brooklyn. His father Carleton Wiggins was an accomplished artist who gave his son his first training as a painter. 
Wiggins painted in an impressionistic style and often scenes of New York City. He traveled New England painting streams, fields and woodlands capturing on canvas the various seasons of the year. He became one of the youngest members of the Old Lyme Art Colony of Old Lyme, Connecticut, and painted alongside his father. Wiggins began teaching art in Essex, Connecticut in 1937. He did a portrait of President Dwight D. Eisenhower and gave it to the White House in 1959.
Wiggins died in 1962 while on vacation in St. Augustine, Florida, aged 80. His work can be seen in several major museums, including the Art Institute of Chicago, Brooklyn Museum, and Smithsonian American Art Museum.
*****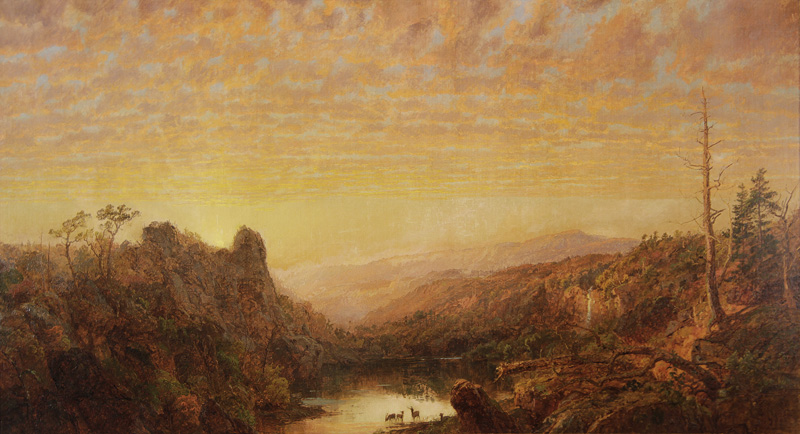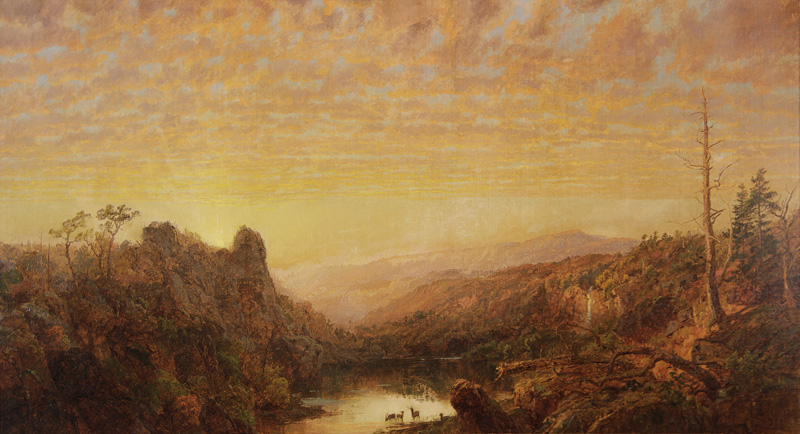 Twilight
Jasper Cropsey (1823-1900)
Oil on canvas, 1877. Museum Purchase. 1979.2
As a young boy, Cropsey had recurring periods of poor health.  While absent from school, Cropsey taught himself to draw.  His early drawings included architectural sketches and landscapes drawn on notepads and in the margins of his schoolbooks. Cropsey studied watercolor and life drawing at the National Academy of Design and first exhibited at there in 1844.  Trained as an architect, he set up his own office in 1843.
Cropsey's interest in architecture continued throughout his life and was a strong influence in his painting, most evident in his precise arrangement and outline of forms.  But he was best known for his lavish use of color and, as a first-generation member from the Hudson River School, painted autumn landscapes that startled viewers with their boldness and brilliance. The Hudson River School was a mid-19th century American art movement by a group of landscape painters, whose aesthetic vision was influenced by romanticism.  As an artist, he believed landscapes were the highest art form and that nature was a direct manifestation of God.  He also felt a patriotic affiliation with nature and saw his paintings as depicting the rugged and unspoiled qualities of America.
Jasper Cropsey is experimenting with the abstract properties of color, light, and form in Twilight.  It consists of mostly sky with mountainous and forest-like terrain and also shows little bodies of water with deer drinking from them toward the bottom of the painting.  Night is approaching and the clouds are reflected colorfully with the rays from the setting sun to show a beautiful horizon of distant clouds and mountains.
*****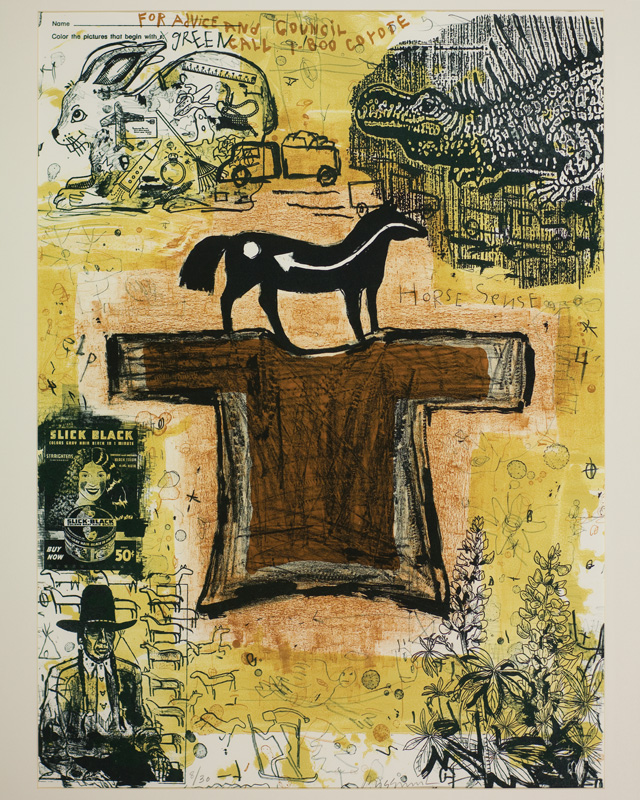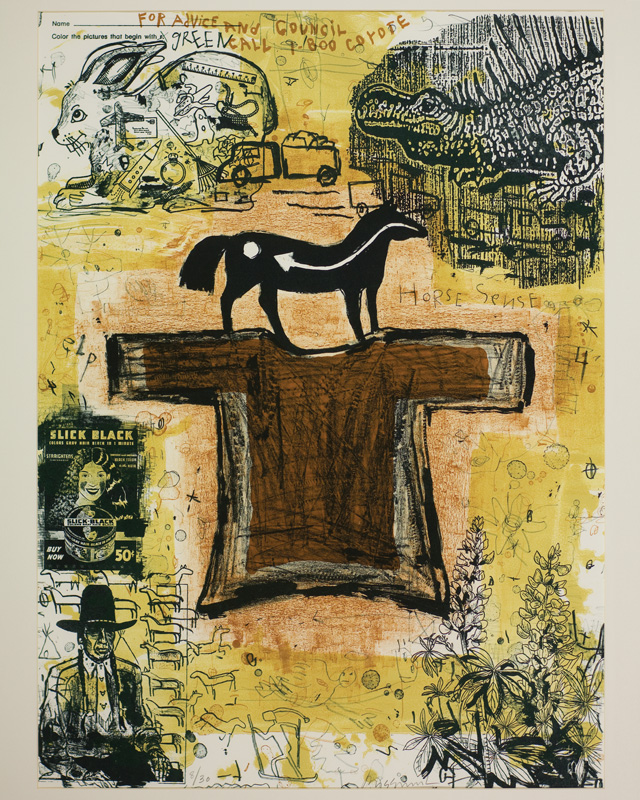 Horse Sense
Jaune Quick-To-See Smith (b. 1940)
Color lithograph on paper, 1994.
Museum Purchase with Funds from the Bill Gildner Memorial Fund. 2009.1
Horse Sense was created by artist, curator, political activist and educator, Jaune Quick-to See Smith.
Quick-to-See Smith was born in Montana and descended from French, Cree and Shoshoni ancestors.  Her father was an accomplished horse trainer and trader, but his work meant she moved frequently. When he was not able to care for her, she lived in foster homes and often experienced discrimination in the schools as a Native person.   School however, was the place where she was first introduced to art materials and fell in love with making art.
Throughout her career, Quick-to-See Smith has worked in many media and today is an internationally-known painter and printmaker.  She is sensitive to the effects of text on images and especially skilled at creating and appropriating texts that capture the paradigms of American culture and open up their meanings. She makes complex juxtapositions that recontextualize the way viewers understand not only relationships between Euro-American and Native culture, but how she, as an artist living in both worlds, views those issues.   Her works are thoughtful and thought provoking, raising questions that explode stereotypes and myths about indigenous people.
The layered and nuanced imagery of Horse Sense is packed full of juxtapositions of loaded images and text, inviting us as viewers to explore its messages
*****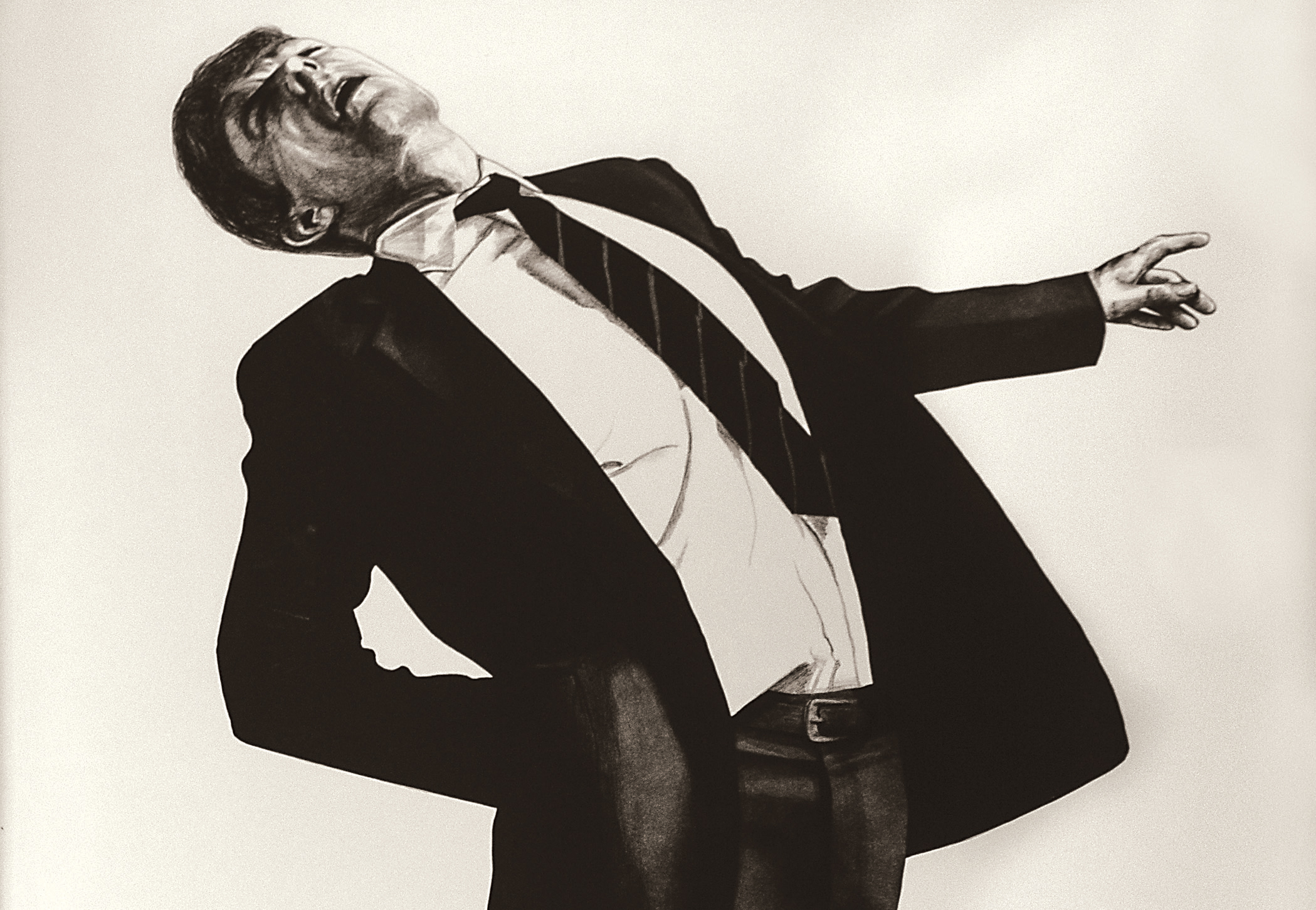 Edmund
Robert Longo (b. 1953)
Lithograph on paper, 1985. John and Mary Pappajohn Endowment Fund Purchase. 1986.1hase. 1986.1
Robert Longo  is an American painter and sculptor. Longo became a rising star in the 1980s for his "Men in the Cities" series, which depicted sharply dressed men and women writhing in contorted emotion. Longo was born in 1953 in Brooklyn, New York and raised in Long Island. He had a childhood fascination with mass media: movies, television, magazines, and comic books, which continue to influence his art.
While in college, Longo and his friends established an avant garde art gallery in their co-op building, the Essex Art Center, which was originally a converted ice factory; the gallery became Hallwalls Contemporary Art Center. Through his gallery efforts, Longo met many local and New York City artists. Longo eventually moved to New York City to join the underground art scene of the 1970s.
Although he studied sculpture, drawing remained Longo's favorite form of self-expression. However, the sculptural influence pervades his drawing technique, as Longo's "portraits" have a distinctive chiseled line that seems to give the drawings a three-dimensional quality. Longo uses graphite like clay, molding it to create images like the writhing, dancing figures in his seminal "Men in the Cities" series. For that series, Longo photographed his friends lurching backward, collapsing forward or sprawled on invisible pavement. After enlarging the pictures through a projector, he and an artist assistant drew them in sizes ranging from three-quarter scale to larger than life-size. In the process, Longo often dramatized poses and always standardized attire into quite formal, black-and-white clothing. He produced about 60 "Men in the Cities" between 1979 and 1982.
To create works such as Barbara and Ralph, Longo projects photographs of his subjects onto paper and traces the figures in graphite, removing all details of the background. After he records the basic contours, his long-time illustrator, Diane Shea, works on the figure for about a week, filling in the details. Next, Longo goes back into the drawing, using graphite and charcoal to provide "all the cosmetic work". Longo continues to work on the drawing, making numerous adjustments until it is completed about a week later.
In the 1980s, Longo directed several music videos, including New Order's "Bizarre Love Triangle", Megadeth's "Peace Sells" and "The One I Love" by R.E.M. He is responsible for the front covers of Glenn Branca's The Ascension from 1981 and The Replacements' 1985 album Tim, while his work has inspired others such as Circlesquare's music video "Dancers".
He also directed the cyberpunk movie Johnny Mnemonic, starring Keanu Reeves, Dolph Lundgren and Takeshi Kitano, and a short film named Arena Brains. During the late 1980s and early 1990s Longo developed a number of performance art theatre pieces, such as "Marble Fog" and "Killing Angels", collaborating with Stuart Argabright, the guitarist Chuck Hammer and Douglas Sloan (filmmaker).
In 2013, Longo's artwork was featured in an article in the men's magazine, Man of the World along with an article discussing his life and career.
*****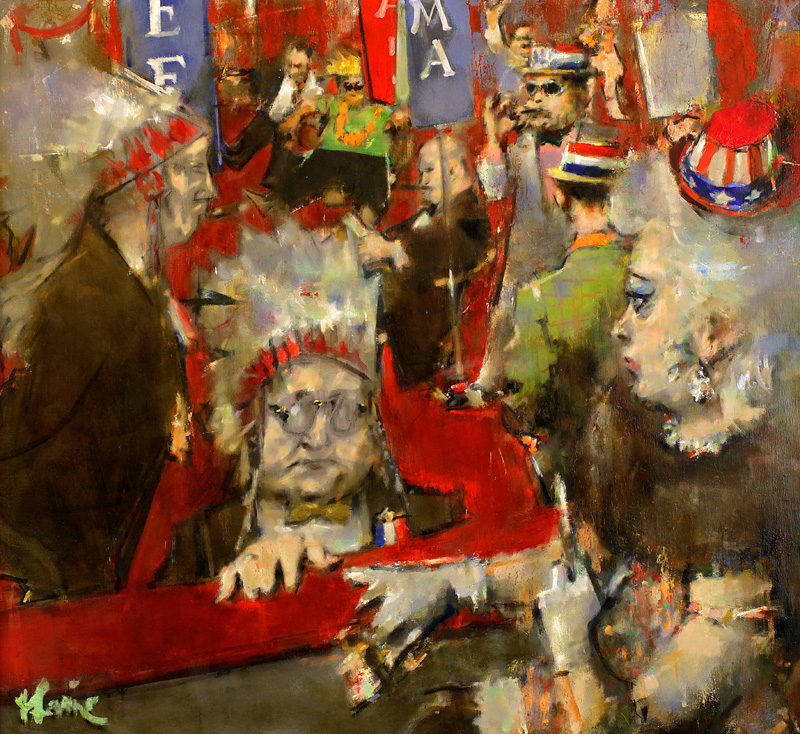 On the Convention Floor
Jack Levine (1915-2010)
Oil on canvas, 1972. Museum Purchase with the aid of Funds from the National Endowment for the Arts, Area Residents, Area Businesses and Organizations. 1973.1.1
Jack Levine was an American Social Realist painter and printmaker best known for his satires on modern life, political corruption, and biblical narratives.
Born to Lithuanian Jewish parents, Levine grew up in Boston, where he observed a street life composed of European immigrants, poverty, and societal ills, subjects which would inform his work. At Harvard University Levine  studied with Denman Ross. As an adolescent, Levine was already, by his own account, "a formidable draftsman". In 1932 Ross included Levine's drawings in an exhibition at the Fogg Art Museum at Harvard, and three years later bequeathed twenty drawings by Levine to the museum's collection. He became associated with the style known as Boston Expressionism.
From 1935 to 1940 he was employed by the Works Progress Administration. His first exhibition of paintings in New York City was at the Museum of Modern Art. In the same year String Quartet was shown at the Whitney Museum of American Art, and purchased in 1942 by the Metropolitan Museum of Art.
From 1942 to 1945 Levine served in the Army. Upon his discharge from service he painted Welcome Home, a lampoon of the arrogance of military power; years later the painting would engender political controversy when it was included in a show of art in Moscow, and along with works by other American artists, raised suspicions in the House Un-American Activities Committee of pro-Communist sympathies.
With a Fulbright grant he traveled to Europe in 1951, and was affected by the work of the Old Masters. After returning he continued to paint biblical subjects. In the 1960s Levine responded not only to political unrest in the United States with works such as Birmingham '63, but to international subjects as well, as in The Spanish Prison (1959–62), and later still, Panethnikon (1978), and The Arms Brokers, 1982-83. In 1979 he was elected into the National Academy of Design as an Associate member and became a full Academician in 1982.
Levine was the subject of a 1989 film documentary entitled Feast of Pure Reason. Levine died at his home in Manhattan, New York on November 8, 2010 at the age of 95.
*****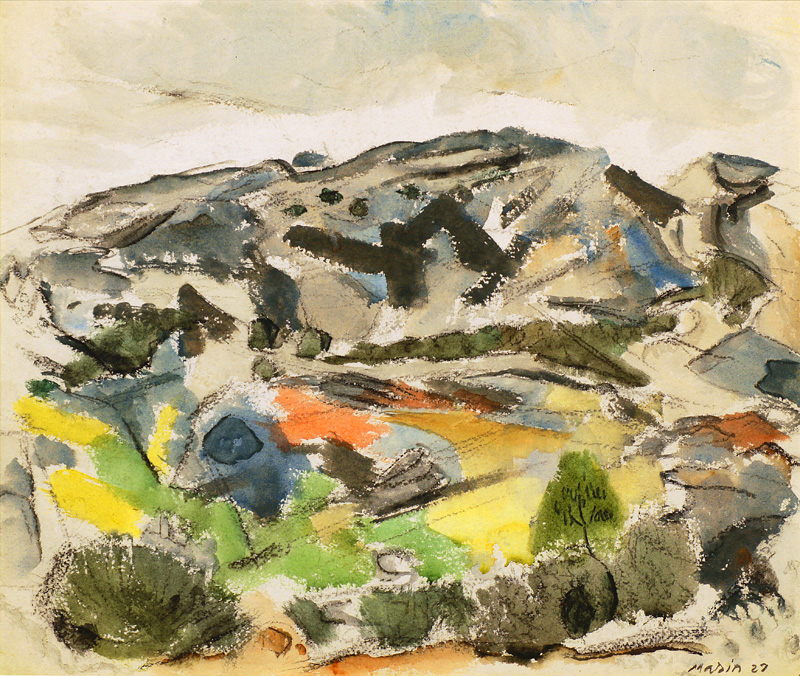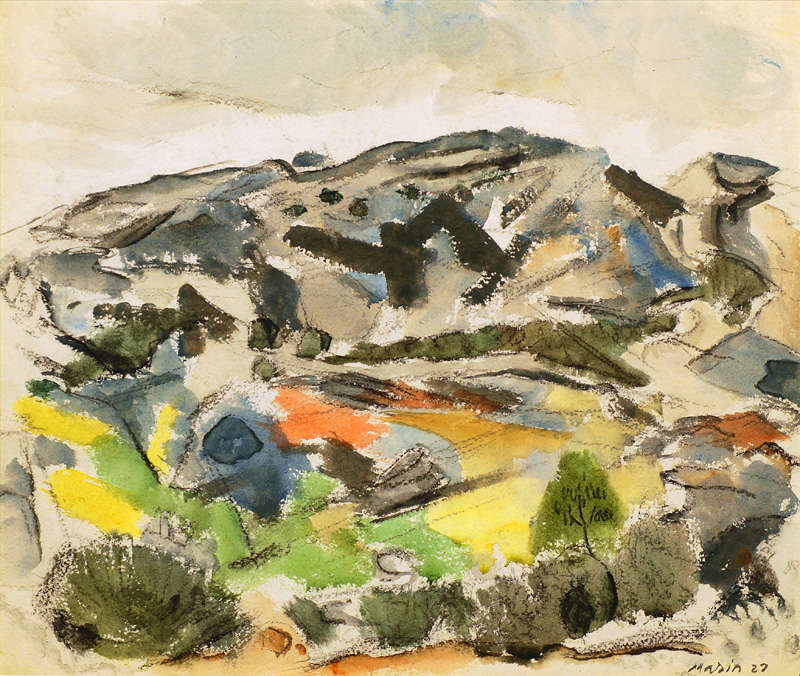 Burnt Hill, Maine
John Marin (1870-1953)
Watercolor on paper, 1927. Museum Purchase with Partial Support of a Grant from the Kinney-Lindstrom Foundation. 1991.1
John Marin born in Rutherford, New Jersey was an early American modernist artist. Known for his abstract landscapes and watercolors.  John Marin grew up in Weehawken, New Jersey, and attended the Stevens Institute of Technology for a year. His experience with architecture might have contributed to the role played by architectural themes in his paintings and watercolors.
From 1899 to 1901, Marin attended the Pennsylvania Academy of the Fine Arts in Philadelphia. In Philadelphia he studied with Thomas Pollock Anshutz and William Merritt Chase. He also studied at the Art Students League of New York. In 1905 like many American artists Marin went to Europe. In Europe he mastered a type of watercolor where he achieved an abstract ambience, almost a pure abstraction with color that ranges from transparency to translucency, accompanied by strong opacities, and linear elements, always with a sense of freedom, which became one of his trademarks.
John Marin believed he had to know a place intimately before he could paint it. When he executed Schooner Yachts, Deer Isle, Maine, he had been painting on the coast of Maine for fifteen summers. A particularly vocal opponent of what he considered the "self-indulgence' of pure abstraction, Marin tried to imbue each painting with his love of the visible world. A critic's observation that Marin painted from an inner vision offended the artist deeply, and was summarily dismissed by him as rubbish. Marin could not conceive of an art of consequence that was not grounded in the act of seeing. To Marin, "seeing" was a "repetition of glimpses" and each painting an opportunity to capture in a single, striking image the "eye of many looking's."
Instilled with a modernist's distrust of illusionism, however, he drew on the resources of his own form of Cubism to explore his response to what he saw and experienced. Marin always insisted that his paintings be both celebrations of the visible world and flat, two-dimensional objects: "I demand of [my paintings] that they are related to experiences … that they have the music of themselves-so that they do stand of themselves as beautiful-forms-lines and paint on beautiful paper or canvas."