Off the Wall showcases pieces from our permanent collection individually so you can learn a little bit more about the pieces in our museum one at a time.
*****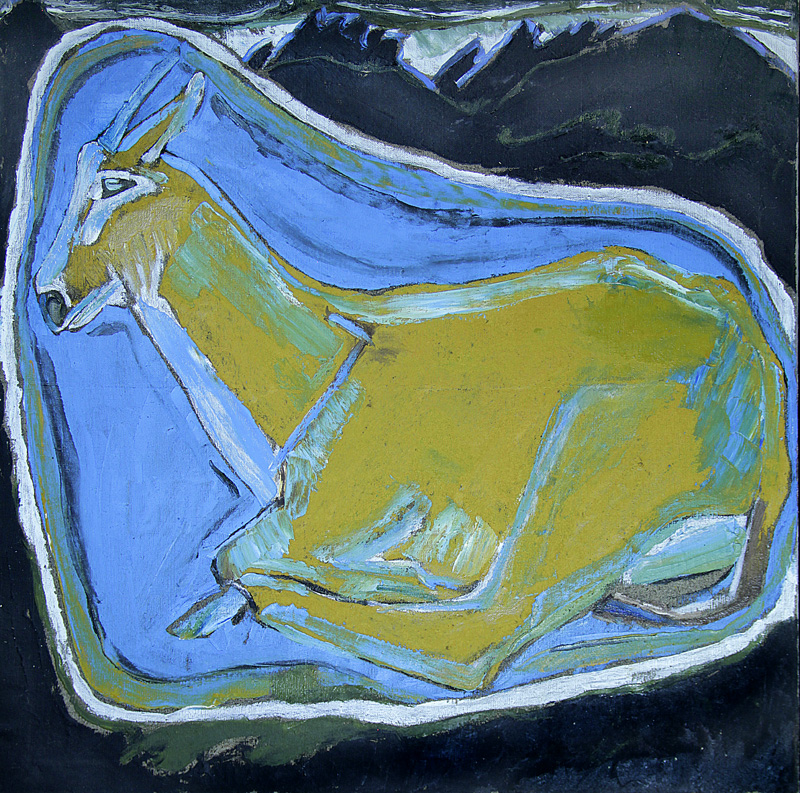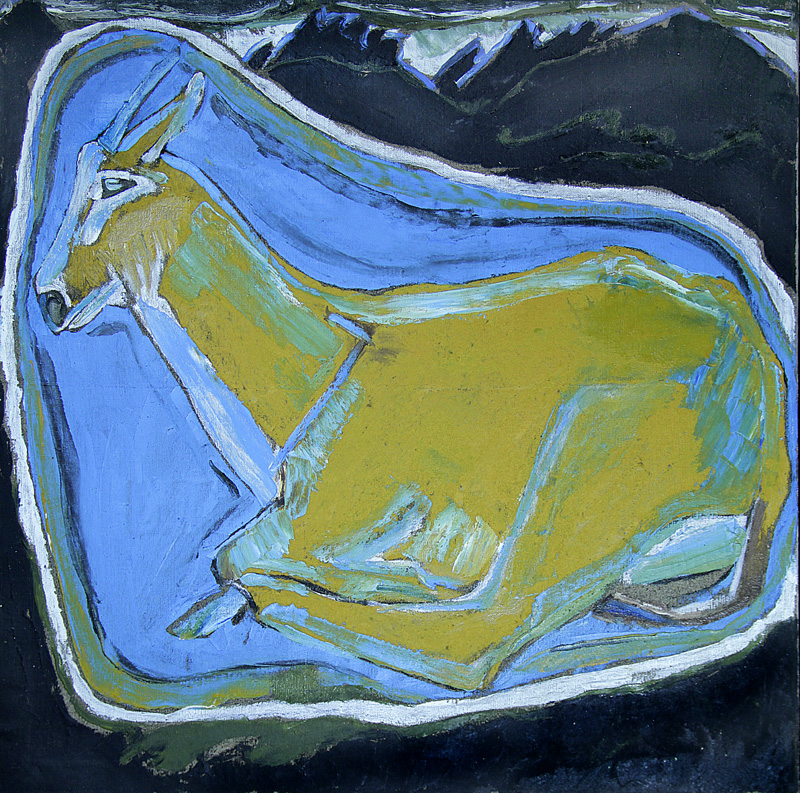 Resting Goat
Morris Graves (1910-2001)
Oil on alfalfa sack, 1935-6.
Museum Purchase, Mr. and Mrs. Donald Winston and the MacNider Art Museum. 1967.3
Northwest artist Morris Graves was a passionate observer of the natural world whose work is characterized by the blending of reality and symbol.  The MacNider has two early works by Graves, Resting Goat and Snake and Moon.  Both are images infused with his unique vision of the natural and mystical world.
As a young man working on American mail line ships sailing the Pacific, Graves fell in love with Japan and the spare Japanese aesthetic.  His commitment to his craft was such that he once flew to Kyoto to secure a specific rare and fragile paper he needed for his work.  In the 50s and 60s, he spent a decade living in Ireland developing a body of sculpture based on his observations of the night sky.
Though self-taught and living in isolation at his Puget Sound island studio, Graves was anything but provincial. When he left his studio to spend time in Seattle, he gained minor notoriety for outrageous pranks and some of the first Northwest art "happenings.
*****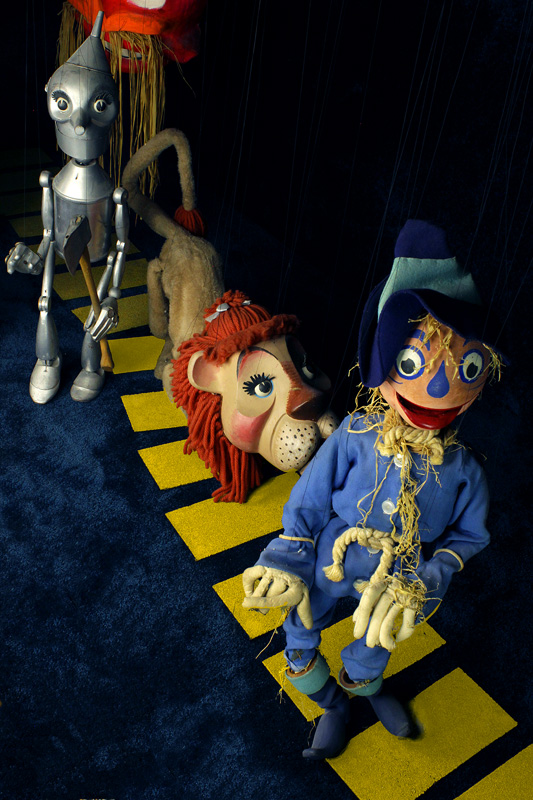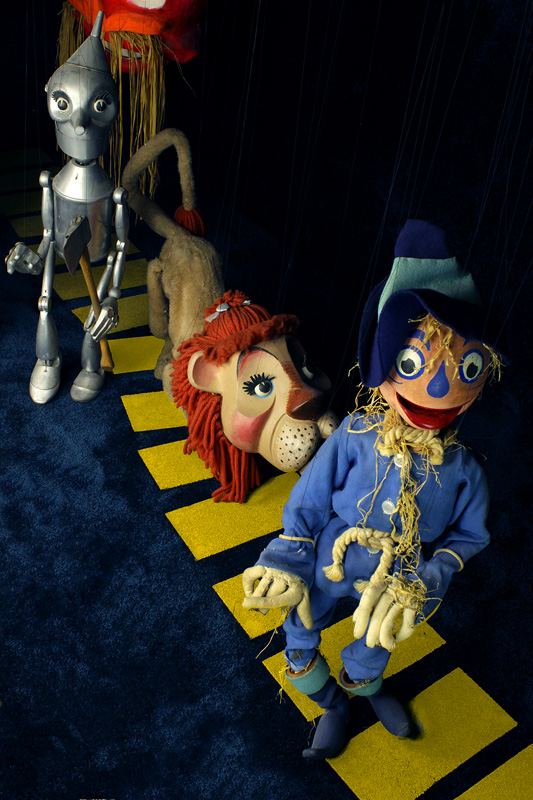 Tin Woodsman, Cowardly Lion, Scarecrow
Bil Baird (1904-1987)
Gift of Bil Baird. 1980.3.14, 1980.5.1, 1980.3.15
Mason City is home to many talented residents, several of whom have gone on to famous careers.  One of the most well known is Bil Baird.  Born in Grand Island, Nebraska, in (year), his family moved to Mason City when his father was hired to work for the American Crystal Sugar Company located in Mason City.
Bil began to develop a creative passion for puppetry as a child. By age 14 he was creating his own marionettes and putting on puppet shows such as Treasure Island.  In 1921, his life changed forever when he saw traveling puppeteer Tony Sarg perform Rip Van Winkle at the Mason City High School.  Bil immediately knew then this was the career for him.
After graduating from High School, Bill enrolled at the University of Iowa.  During this time, he continued to make puppets and put on shows with the university band.  After graduation from the University of Iowa in 1926, he moved to Chicago to attend the Chicago Academy of Fine Arts for a year, and later traveled to Europe.
He returned to the U.S. in 1928 and landed a job in New York with his original inspiration, Tony Sarg.  Prior to Bil, Sarg had been America's most prolific puppeteer and he worked with Sarg for six years. He created The Bil Baird Marionette Theater in 1934.  The troupe toured, worked clubs and fairs, theaters, and gained momentum.  Hard work and talent paid off for Bil, who was able to make a living and support a family puppeteering.
In addition to storytelling, Baird's puppets were often featured in the medium of advertising.  From the mid-1930's till the 1980s when digital effects began to take the place of Baird's characters, his puppets were associated with a variety of products. Examples of Baird's clients included large telephone companies for whom "Telezonia" was created.  Chrysler Motors commissioned the "Blockettes" for the 1964/65 World's Fair.
Baird also created puppets for television shows and movies such as Life with Snarky Parker,  Art Carney Meets Peter and the Wolf, and Davey Jones' Locker, to name a few.  Baird puppets, regulars on television, depicted events such as the Moon Walk and launching the Gemini Capsule.  Bil's puppets traveled to many countries such as Russia, Afghanistan, Nepal, and India as representatives of the United States.  The MacNider Museum's collection of his puppets also includes a national treasure, his most famous work: the 1965 "Lonely Goatherd" in puppets from the Sound of Music.
Within his 50 + year career it is estimated that Bil created more than 3,000 puppets.  A master craftsman, his talents of sculpting, sewing, carving, and manipulation allowed him to create puppets from a variety of materials.  The MacNider's collection contains over 500 pieces and is the only museum to have a comprehensive collection of Baird's work.  Many modern puppeteers view Bil Baird as the father of modern American puppeteering, inspiring legions of future puppeteers and artists with his work.
*****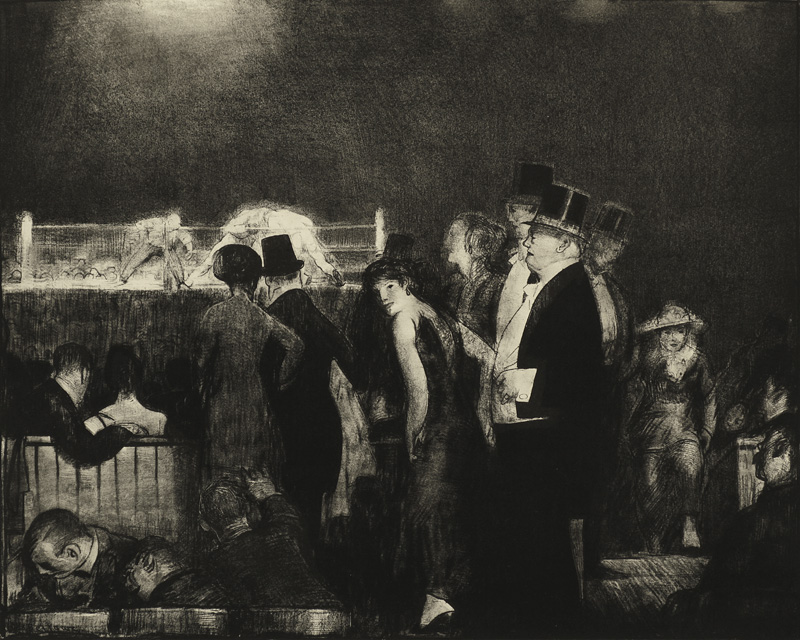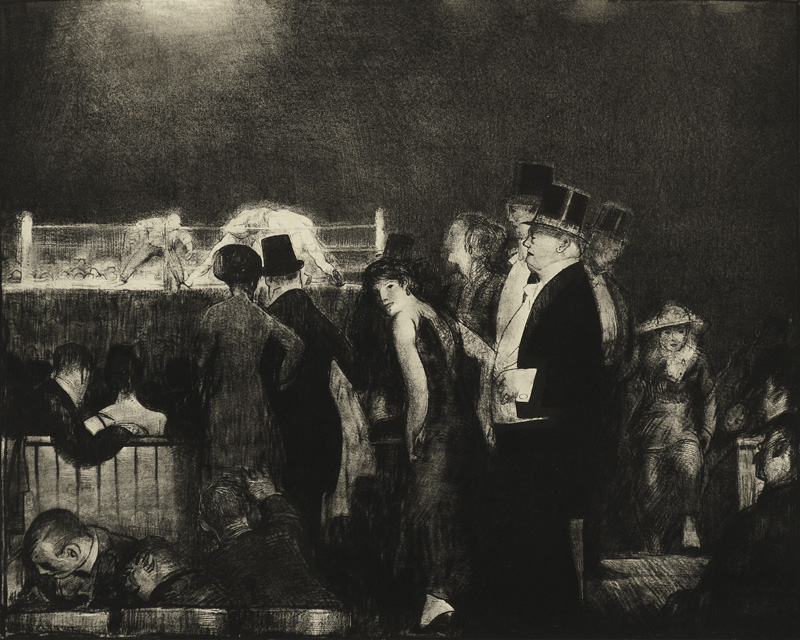 Preliminaries
George Bellows (1882-1925)
Lithograph on paper, 1916. Purchased with Funds Given by Esther L. Strickland. 1993.1
George Bellows was regarded as one of America's greatest artists at his untimely death in 1925 at age 42.  His early fame rested on powerful depictions of boxing matches and gritty scenes of New York City's tenement life, but he also painted cityscapes, seascapes, war scenes, and portraits that addressed many of the social, political, and cultural issues of the day.
Bellows' boxing scenes are characterized by a dark atmosphere through which the human figures vividly strike a strong sense of motion and direction.  These works capture the passion for boxing that prevailed at the turn of the nineteenth century, reflected also in the writings of Jack London and Theodore Roosevelt's engagement with the sport as an amateur fighter.  Bellows recorded brawls at the sleazy athletic club located opposite his studio. Clubs such as these evaded a 1900 ordinance outlawing public prizefighting by selling memberships instead of charging admission.  Seizing the essence of raw male aggression in his boxing pictures, Bellows rejected Victorian piety and provoked critical controversy.
Bellows' paintings and lithographs portraying amateur boxing matches were his signature contribution to American art history.  Exploring the fundamental theme of human violence through one of the most provocative subjects of his day, he created works that were at once timeless and topical.
*****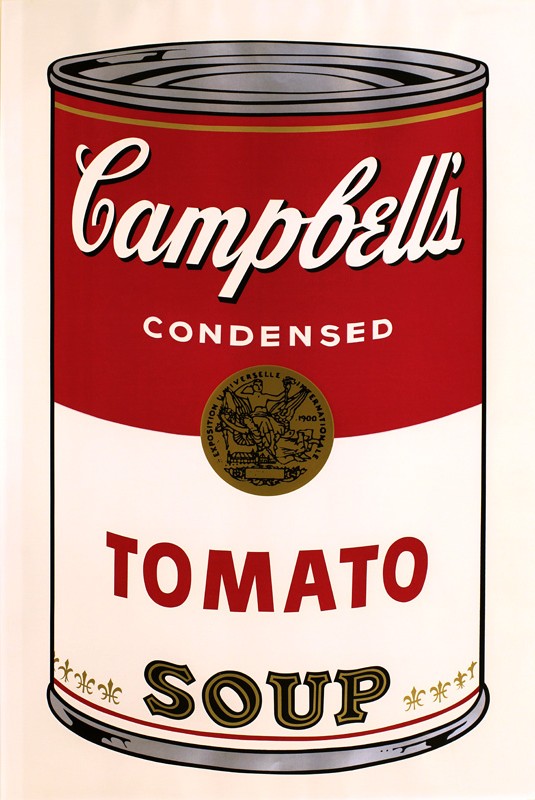 Campbell Soup Can
Andy Warhol (1928-1987) 
Serigraph on paper, 1968. Gift of Dr. and Mrs. Robert Brindley. 1970.7
Andy Warhol was perhaps one of the most famous American artists in the genre of pop art.  Pop art is artwork that contains images of popular culture and advertising.  Warhol was born Andrej Varhola, Jr. in 1928 in Pittsburgh, Pennsylvania to immigrant parents from Slovakia, and the youngest of 4 children.  His father worked in a coal mine, giving the children a middle class childhood despite the Great Depression.  In third grade Warhol had complications of Scarlett Fever known as St. Vitus ' dance which kept him bed ridden for long periods of time.  During this time he became incredibly close with his mother, and spent his days reading pulp novels, collecting movie star memorabilia, drawing, and listening to the radio.  After moving to New York after college, Warhol became a very successful commercial graphic design artist long before he became a pop art icon.  This early training and career as a graphic design artist is clear in his trademark focus on images of popular culture.
By the 1960's Warhol was making a serious effort to become a professional artist.  He embraced silk screening, which later became his hallmark.  By 1962 Warhol had his first solo show, and by the mid- 1960's his iconic images of popular culture such as Coca Cola and celebrities like Marilyn Monroe saw great success in the art world.  Production of the prints took on a "factory" atmosphere, with Warhol even naming his studios "the Factory."  This mass production for consumers eventually caused Warhol to be criticized; however, Warhol was simply mimicking society, which was in love with mass consumerism.
After Wahol's death in 1987 the Warhol foundation was created.  It has become one of the largest granting agencies for the arts in the United States.
*****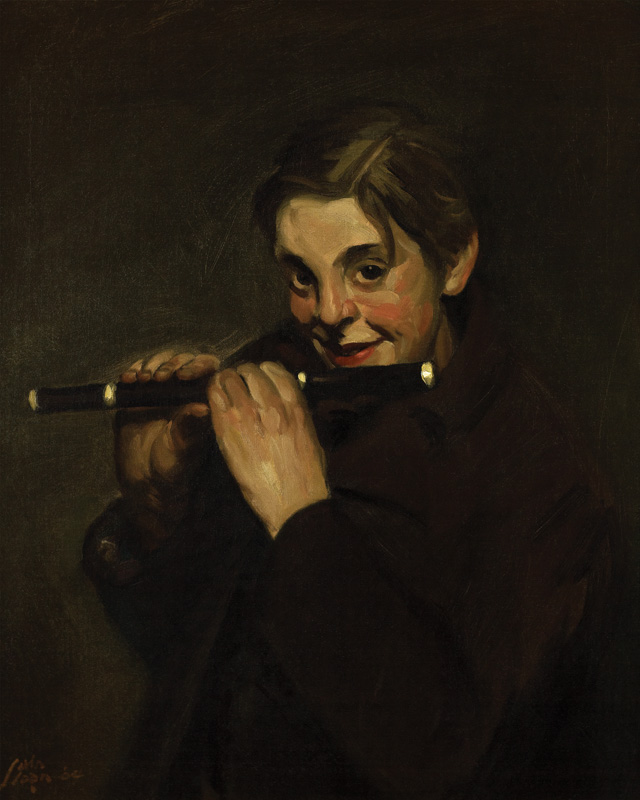 Boy with Piccolo
John Sloan (1871-1951)
Oil on canvas, 1904.
Museum Purchase with a Grant from the Kinney-Lindstrom Foundation. 1985.4
After the invention of photography in the mid-nineteenth century, artists began expanding the way they depicted a human likeness.  John Sloan's Boy with Piccolo is not a formally composed portrait; instead the artist has captured a happy moment in the life of an ordinary boy.
Sloan's interest in social reform led him to join with other artists to form a group called The Eight.  These American painters were united in opposition to the conservatism of National Academy of Design and wanted to bring painting into direct contact with life.
Later The Eight formed the nucleus of the Ashcan School, which was active through World War I.  The artists of the Ashcan School rebelled against American Impressionism which was the leading style of American art at the time.  In contrast to Impressionism's emphasis on light, their works were frequently dark in tone, capturing the harsher moments of life and often portraying such subjects as prostitutes, drunks, butchered pigs, overflowing tenements, boxing matches and wrestlers.
The Ashcan artists were action painters who mirrored the ebb and flow of reality with the flux of their brushwork.  Like Sloan, many were well prepared for this approach, having started their careers as newspaper illustrators.  While they chronicled the lives of poor city dwellers, they were neither social critics nor reformers, but a lively bunch of provincial rebels who created America's first true avant-garde.
*****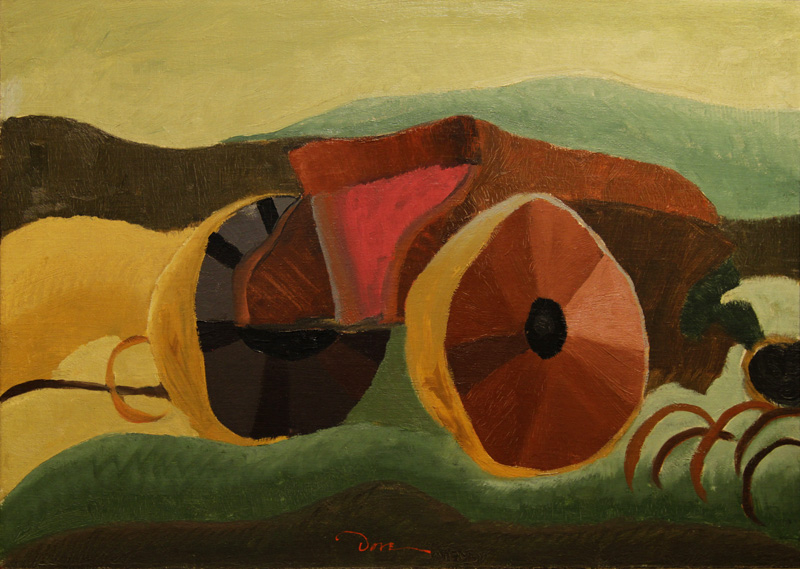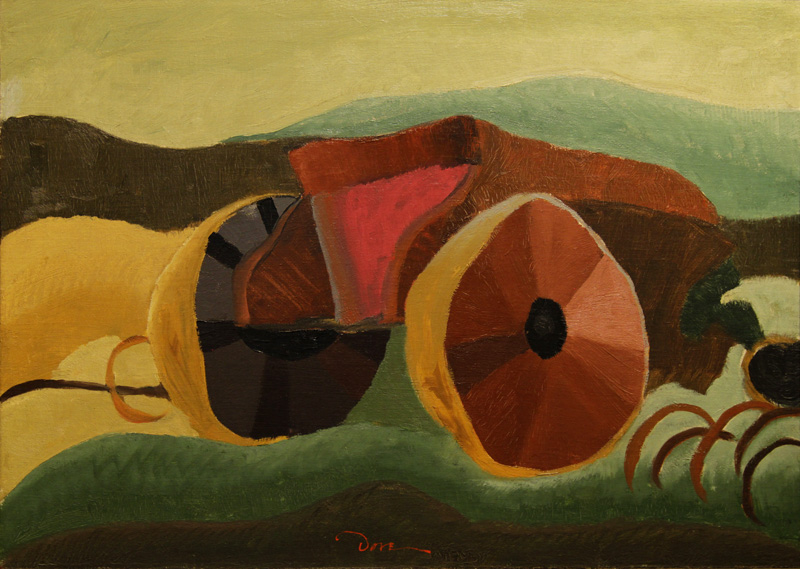 The Clay Wagon
Arthur Dove (1880-1946)
Oil on canvas, 1935. Gift of the Francisca S. Winston Trust. 1965.1
Arthur Dove was the first American artist to paint a completely abstract picture.  He did this around 1910, perhaps a little before the Russian-born Kandinsky's first abstract compositions. The difference was that Kandinsky's abstract work happened in the progressive cultural and artistic context of Europe while Dove's debuted in the general indifference of American taste.  His own reclusiveness contributed to the lack of impact his work had on the national art scene.
Dove's work was all about nature. He began his art career as an illustrator for the New York press and in 1907 went on a year-and-a-half trip to Europe, spending most of it in Paris. There he fell in with the circle of American expatriate artists. His early work shows the influence of Cezanne and Matisse.  As soon as he got back to the United States he "went native," as he put it, spending much of his time camping in the wilderness. "I can claim no background," he once reflected, "except perhaps the woods, running streams, hunting, fishing, camping, and the sky.  After he failed at farming in upstate New York, he bought a yawl on which he lived for seven years, sailing the waters of Long Island Sound along the Connecticut shore. These experiences fed into his work, while isolating him from New York's small avant-garde circles
In 1913 Dove explained to a friend his process of abstraction (or, as he sometimes called it, "extraction"): the landscape slowly disappears like the Cheshire cat in the tree, leaving the "abstract" form behind.  The first step was to choose from nature a motif in color, and with that motif to paint from nature, the form still being recognizable.  The second step was to apply this same principle to form, so that the actual object disappeared, and the means of expression became purely subjective.  In this way Dove believed he could arrive at "essences" that would transmit his sense of the spiritual in nature which was the deep concern of his art. Such "essences" were shapes that symbolized life forces and organic growth suggesting (he thought) some inner principle of reality.
*****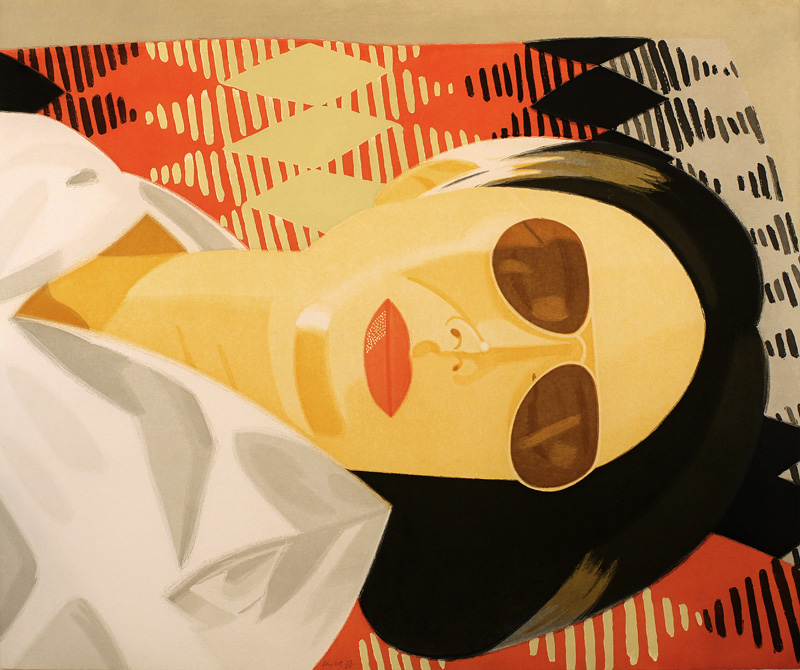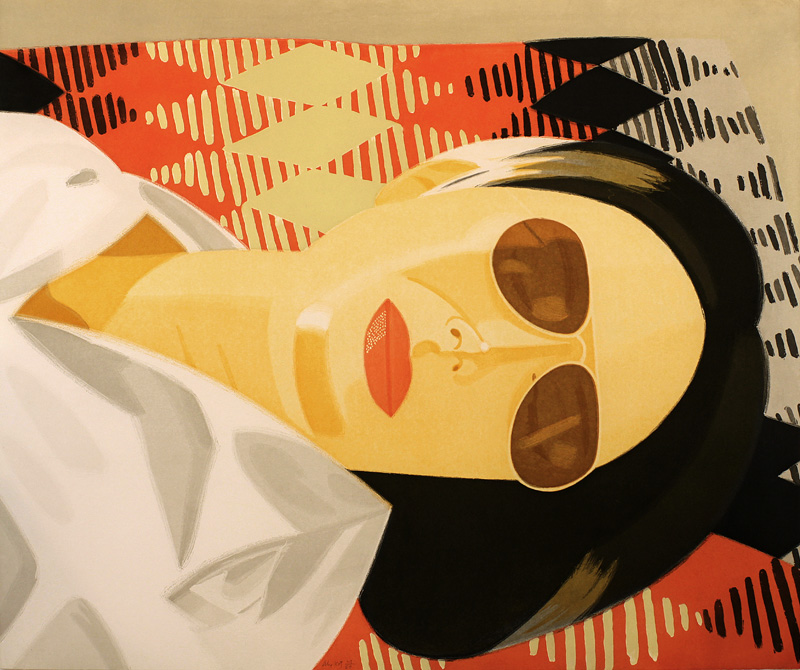 Reclining Figure
Alex Katz (b. 1927)
Aquatint color, etching on paper, 1987.
John and Mary Pappajohn Endowment Fund Purchase. 1988.5
Born and reared in New York, Alex Katz is a prominent artist in the generation of painters who dedicated themselves to the figure when Abstract Expressionism ruled the art world and all but declared the death of portraiture.  Katz's flat expanses of color, reductive compositions and cool ambience are a stark contrast to the Abstract Expressionist splatter and vigorous application of paint.  This measured combination of representation and abstraction in Katz's work has had a lasting influence on generations of artists working today.
Katz is still actively producing art as an octogenarian.  During his long career he has consistently made portraits of his wife, Ada.  These images have achieved iconic status and are extraordinary in their focus on a single figure over many decades.  His work is seldom critically described without mention of its "cool."  This mood is fostered in part by the air of poise and effortless chic radiated by Ada, who has been described as being at once "wife, mother, muse, model, sociable hostess, myth, icon, and New York goddess."
In Reclining Figure, Katz visits his most frequent subject in familiar attire; sunglasses, and plumbs her image once again for more insight.
*****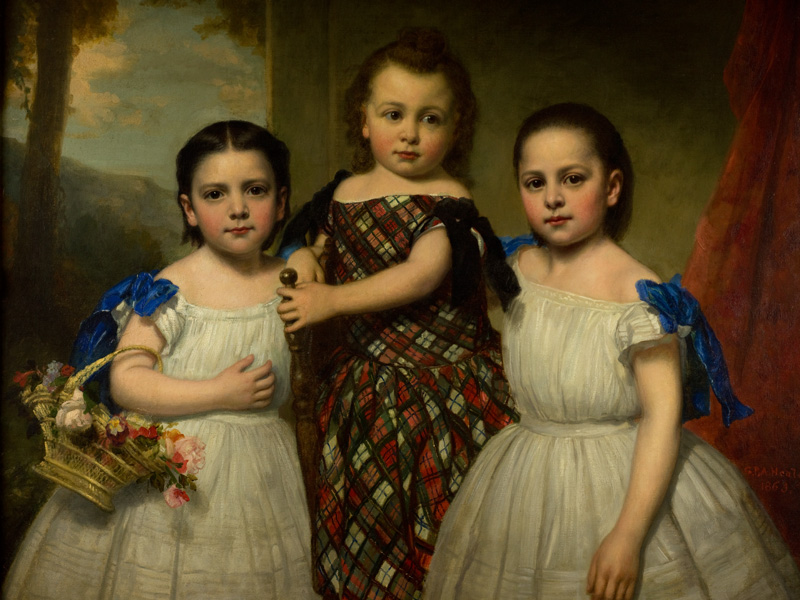 Children of Colonel and Mrs. Turnley
George Peter Alexander Healy (1813-1894)
Oil on canvas, 1863. Purchase with Belle Parker Jackson Bequest. 1970.1
George Peter Alexander Healy was born in 1813 in Boston, the eldest of five children.   When the family was left fatherless he helped to support his mother.  He started to draw at age sixteen and immediately began to pursue a career as an artist.  His very earliest works were reproductions of other artist's work, which he used as a tool to learn, as well as to sell for income.  By age eighteen he was able to make a living painting portraits.
In 1834 Healy traveled to Europe to further his schooling in painting.  He left Europe in 1840 and traveled to Chicago where he remained till 1869, and where this portrait was painted.
Colonel Turnley was from a prominent Southern family, which were frequent customers of Healy's.  This portrait is of three of Turnley's five children: The child in the middle, while dressed in a tartan dress, is actually believed to be their son, Ernest.  Historically it was normal for all children, even males, to wear dresses while young.  On each side in white dresses are their daughters Emma and Ethel.  Common for his portraits, the background of the work is muted to focus attention on the subjects of the work.   Before photography became widely available, it was customary for many wealthy families to immortalize themselves and their families in art.
Healy painted many important portraits of the 19th century including Daniel Webster, John Calhoun, Henry Clay.  One of his most famous works was his posthumous portrait of Abraham Lincoln.  Lincoln sat for Healy in August 1864 and Healy began working on sketches, however, after the president was assassinated, he did not conceive the painting until 1869.  It now hangs in the White House's State Dining Room.  Healy died in 1894, well known and respected as one of America's most prolific portrait painters.
*****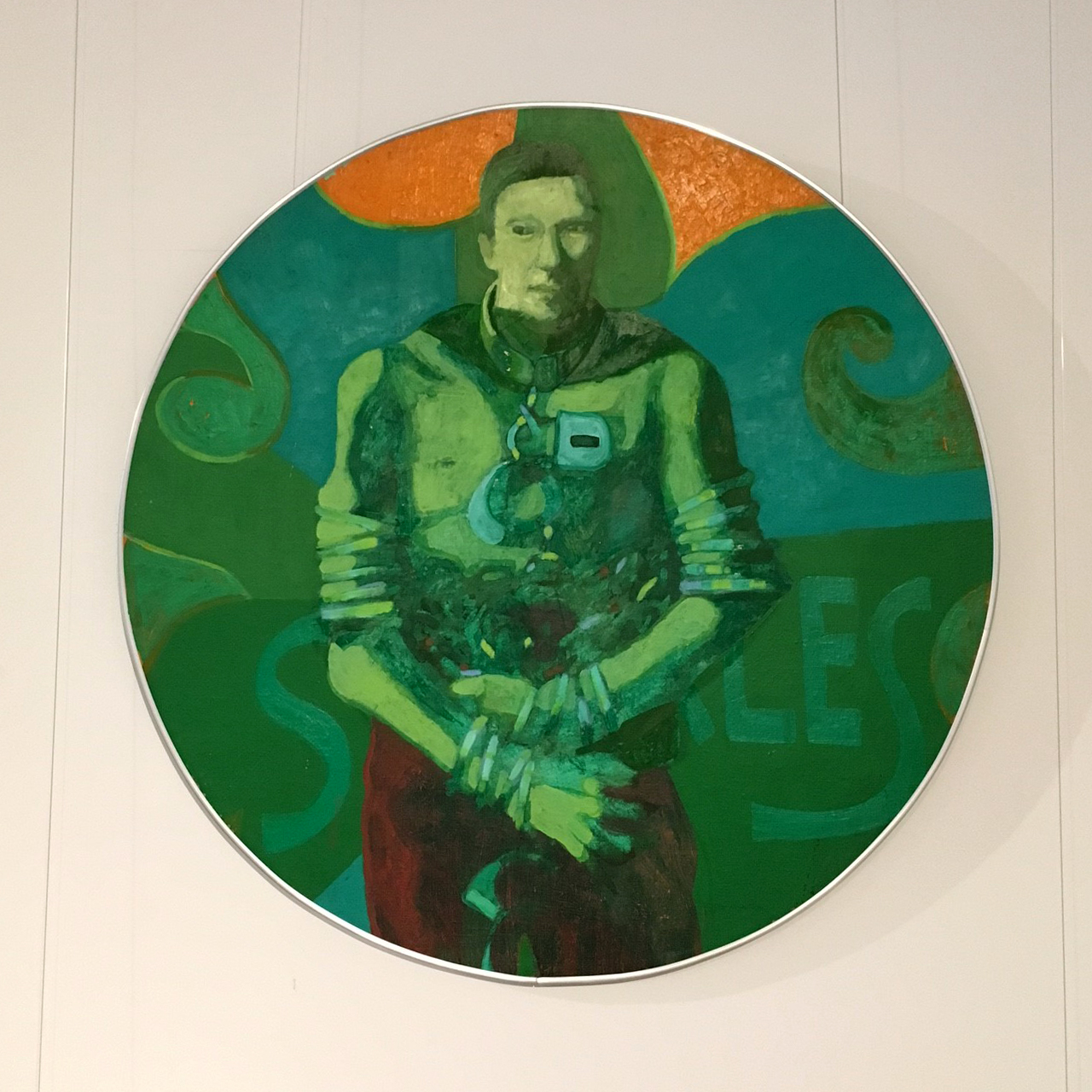 Shackles
Byron Burford (1920-2011)
Oil on canvas, 1965. Museum purchase. 1968.2
Byron Burford was born in Jackson, Mississippi July 12, 1920.  He studied with Grant Wood at the University of Iowa, earning a BFA in 1942.  He returned to the university after serving in the U.S. Air Force during World War II and he received his MFA in 1947.
Upon graduating he was appointed to the faculty and preceded to teach painting until 1986, when he was named professor emeritus.  Additional teaching was done at the University of Minnesota, California College of Arts and Crafts, and the Joslyn Museum.
Burford is known primarily as a painter and printmaker.  Almost all of his work is figurative and done with a muted palette. Many of his collections are found at Walker Art Center in Minneapolis, J.S. Guggenheim Collection in New York, Des Moines Art Center, Nelson Atkins Museum in Kansas City, Joslyn Museum in Omaha, and many others.  He has had exhibits in New York, Washington, Chicago, Venice, Italy, Colombia, Zurich, Switzerland, and others.
One thing that Burford is best known for is the images depicting circus life.  When he was only 14 or 15 years old, he briefly joined the Tom Mix Circus.  Since that time, he has gone out with circuses whenever he can – Clark and Walters, Famous Cole, Franzen Brothers, Great American – often as a drummer in the circus band.  Other bodies of work deal with the military, industry and sports.  Common elements include the passage of time and human endurance.
*****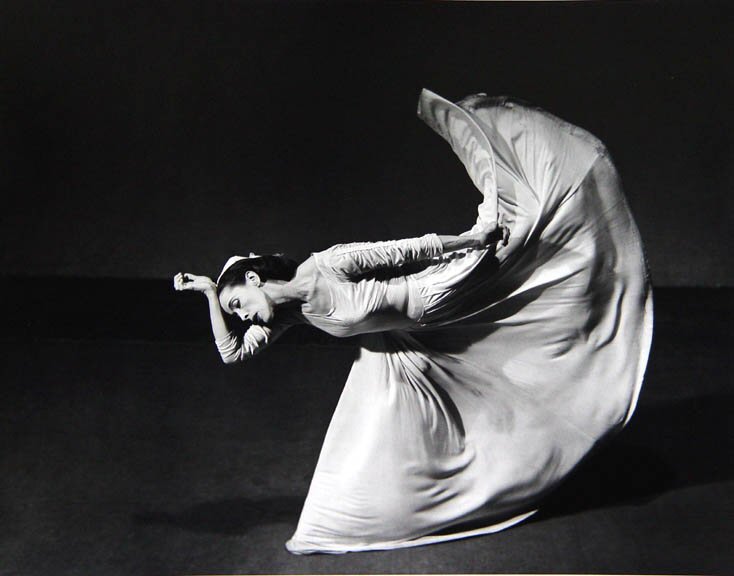 Martha Graham – Letter to the World
Barbara Morgan (1900-1992)
Photography, 1940. Gift of Mr. L. Bradley Camp (via the Ackerman Foundation). 1993.6.1
Perhaps the most recognizable work in the MacNider Art Museum's collection of American photography is Barbara Morgan's silver gelatin print of modern dance innovator Martha Graham. In Martha Graham – Letter to the World (The Kick), Morgan effectively uses dark and light, negative and positive space, and a dynamic sensation of movement to capture the essence of modern dance.
Morgan took up photography in the mid 1920's. From the beginning, she was inclined to explore the rhythmic motions of her subjects and was drawn to the developing field of modern dance. In the United State, modern dance, perhaps more than any other art form, provided artists with fresh ideas to explore. Photography, too, was ripe for experimentation in the 1920's, through manipulated images of photo-montage, light drawings using photography processing, and other constructed forms of image-making. Morgan's dance photographs rank among the classic experiments of Modern American Expressionistic photographic art.