SAVE THE DATE! The next MacNider Arts Festival will be on Saturday, June 8, 2024!
---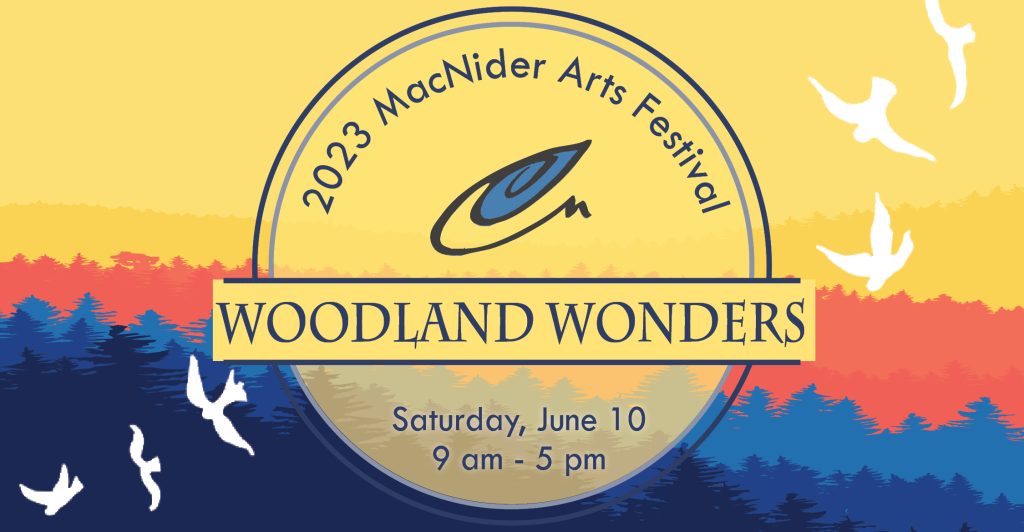 The Charles H. MacNider Art Museum is pleased to announce the theme of the annual MacNider Arts Festival and Outdoor Art Market. This year's "Woodland Wonders" nature theme will encourage children to use their imaginations while creating nature-themed projects on Sat., June 10 from 9 am – 5 pm. Arts activities for children, an Art Market of talented artists, and musical entertainment will all be part of the fun. The FREE Pancake Breakfast is from 9-10 am or until gone. At 10:15 am there will be a sculpture dedication for long time museum director Dick Leet. All events are located on the lawns of the Museum and the adjacent Mason City Public Library at 303 2nd Street SE in Mason City. Admission is free and everyone is welcome.
More than 200 area citizens are being recruited to volunteer during the Festival. If you are interested in volunteering during part of this event, contact the Museum at 641-421-3666 or email Jackie at jmbohl@masoncity.net.
The day begins with the Mayor and City Council's Free Pancake Breakfast at 9 am. This free breakfast is one of the most popular parts of the festival! Starting at 11 am the Museum will sell food for festival goers to purchase, including hamburgers, walking tacos, root beer floats, etc. Proceeds of the food sales benefit the Festival and Museum programming.
Children's activities, including art crafts, face painting, and the Imagination Playground will be offered from 9 am to 5 pm. There will be live musical entertainment on the stage in front of Museum throughout the day, including the Mason City Municipal Band (9-10 am), The Sweet Nuthins (10:30 am – 12:30 pm), Malek's Fishermen Band (1-3 pm), and Ruthless Ruth (3:30-5 pm)! Bring a lawn chair or use the provided picnic tables and bleachers!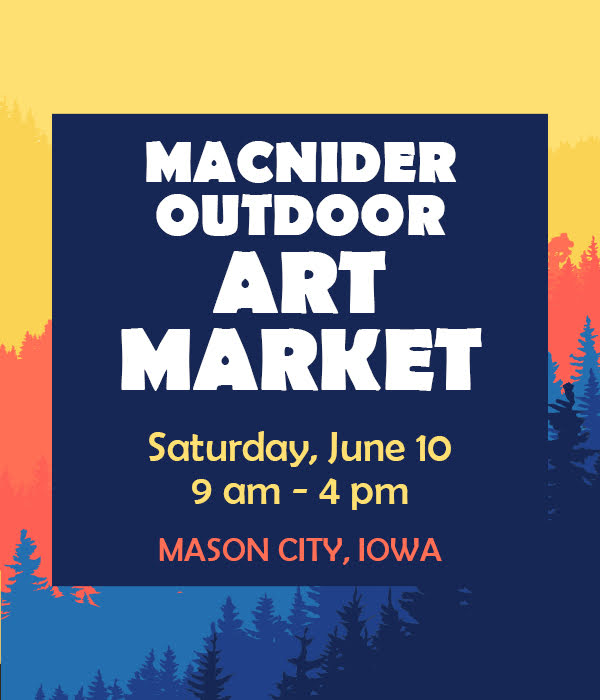 The MacNider Outdoor Art Market will be open from 9 am – 4 pm with many fine artists and crafts persons. This is your opportunity to purchase one-of-a-kind pottery, jewelry, sculptures, glass, and more. By purchasing work from these artists you are not only supporting the local economy and their work, you are purchasing quality unique art. Participating artists are: Art Ciccotti of Ames, TC Dakin of Kensett, Bruce Gordon of Grundy Center, Rich Herrman of Mount Vernon, Shelly Laffe of Charles City, Bruce Litterer of Shell Rock, Elizabeth Long of Central City, Bill Mateer of Sheffield, Dean Schwarz of Decorah, Meagan Steinberg of St. Ansgar, Megan Wassom of Davenport, Chris White of Clear Lake, Andrew Wroble of Harpers Ferry, both Dan & Mickey Johnson and Candida Deree of Waterloo, Jenny Levernier of Minneapolis, Minn., Julie Petit-Thomsen of Austin, Minn., Susan Roskens of Albert Lea, Minn.; and hometown artists from Mason City are: Peggy Cornick, Jaquelyn Hanson, Tonja Ihlenfeldt, Alexis Mulkey, Zoie Papouchis, Mariah Piippo, Janelle Schiltz, and Andreas Soemadi.
2023 Sponsors: Principal Financial Group Foundation Inc., Iowa Arts Council (via operations grant), Tierney Properties, Burgmeier Dental PLLC, Central Park Dentistry, Clear Lake Bank & Trust, Dental Center of North Iowa, First Citizens Bank, Good Shepherd, Hank's Plumbing, Kristy Marquis – State Farm Insurance, Metalcraft, North Iowa Community Credit Union, North Iowa Eye Clinic, Raymond James, Schupick & Associates, The Electricians, and the Generous People of North Iowa!