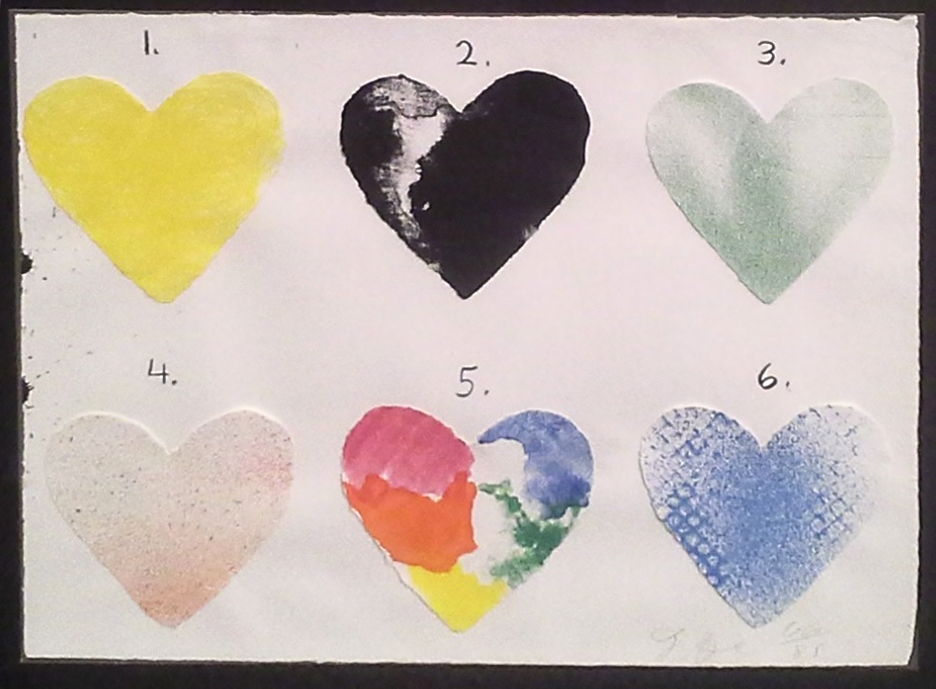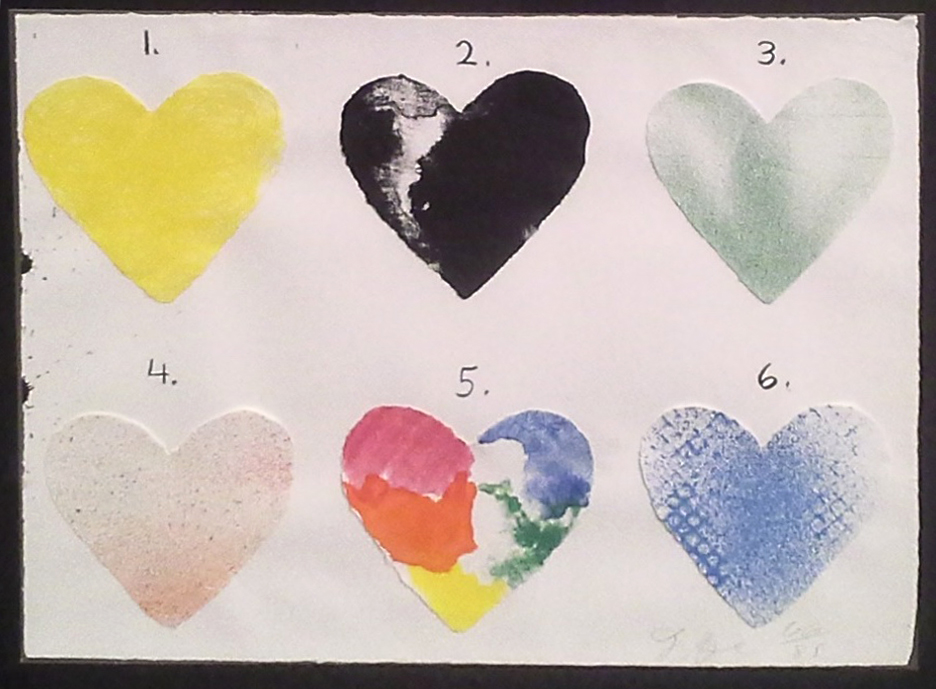 The Charles H. MacNider Art Museum is pleased to announce the acquisition of a new artwork by artist Jim Dine.  The piece was purchased in memory of Kelly Paulson using funds given by her family in honor of the Museum's 50th anniversary.
The new Jim Dine artwork, titled Untitled (Six Hearts), was created in 1970.  It is a lithograph printed in colors, on Hodgkinson handmade paper, with collage.  It is currently being reframed and should be on display the first part of 2019.
Jim Dine is an American artist and poet known for his contributions to the formation of both Performance Art and Pop Art.*  Employing motifs which include Pinocchio, heart shapes, bathrobes, and tools, Dine produces colorful paintings, photographs, prints, and sculptures. "I grew up with tools. I came from a family of people who sold tools, and I've always been enchanted by these objects made by anonymous hands," Dine has said. Born on June 16, 1935 in Cincinnati, OH, he studied poetry at the University of Cincinnati before attending the University of Ohio where he received his BFA in 1957. After moving to New York in 1958, Dine became part of a milieu of artists which included Allan Kaprow and Claes Oldenburg, with whom he began to stage performances at sites in the city, these later became known as "Happenings."
By the early 1960s, Dine had switched his focus towards painting, drawing on his interest in popular imagery and commercial objects. Though he was shown alongside Roy Lichtenstein and Andy Warhol, Dine never considered himself a member of the Pop Art movement. The artist currently lives and works between New York, NY and Walla Walla, WA. His works are included in the collections of The Museum of Modern Art in New York, the Tate Modern in London, the Bilbao Fine Arts Museum, and the Walker Art Center in Minneapolis, among others. *Information gathered from artnet.com
*****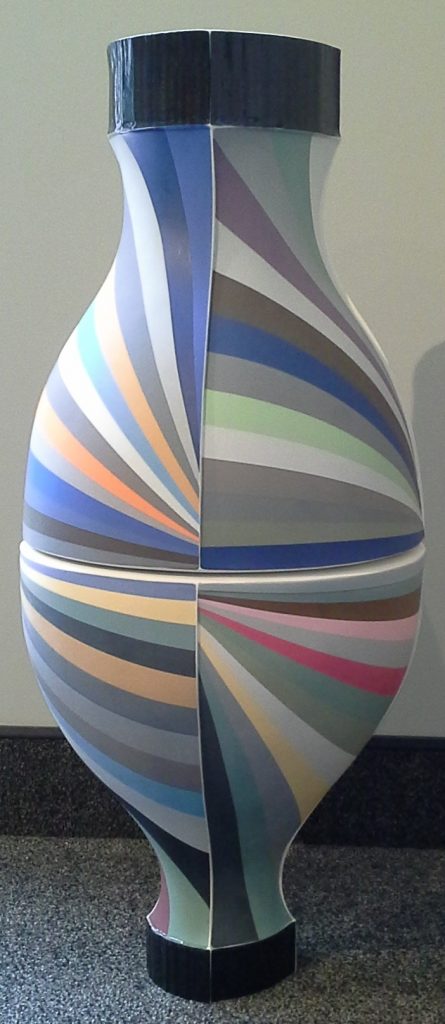 The Charles H. MacNider Art Museum is pleased to announce the acquisition of a new artwork by contemporary ceramic artist Peter Pincus.  The piece was purchase with funds given by the Chang family, and other generous donors, in memory of Betty Chang.
The new artwork, titled A Sibling System (Vessel B), was created in 2016.  It is a ceramic piece made of porcelain, gold luster and PC-11.
Born in Rochester, NY, Peter Pincus is a ceramic artist and instructor. He joined the School for American Crafts as Visiting Assistant Professor in Ceramics in fall 2014. Pincus received his BFA (2005) and MFA (2011) in ceramics from Alfred University, and in between was a resident artist at the Mendocino Art Center in Mendocino, California. Since graduate school, Peter worked as the Studio Manager and Resident Artist Coordinator of the Genesee Center for Arts and Education in Rochester, NY, Adjunct Professor of three dimensional studies at Roberts Wesleyan College and has established a studio in Penfield NY.
Pincus's work has been exhibited in venues such as the Salon Art + Design, SOFA Chicago, Collective Design, Lewis Wexler Gallery, Duane Reed Gallery, Sherry Leedy Contemporary Art, Ferrin Contemporary, Greenwich House Pottery, and National Council on Education for the Ceramic Art.  His work can be found in numerous private and public collections.  You can learn more about Pincus's artwork at peterpincus.com
The Charles H. MacNider Art Museum is free and open to the public.
*****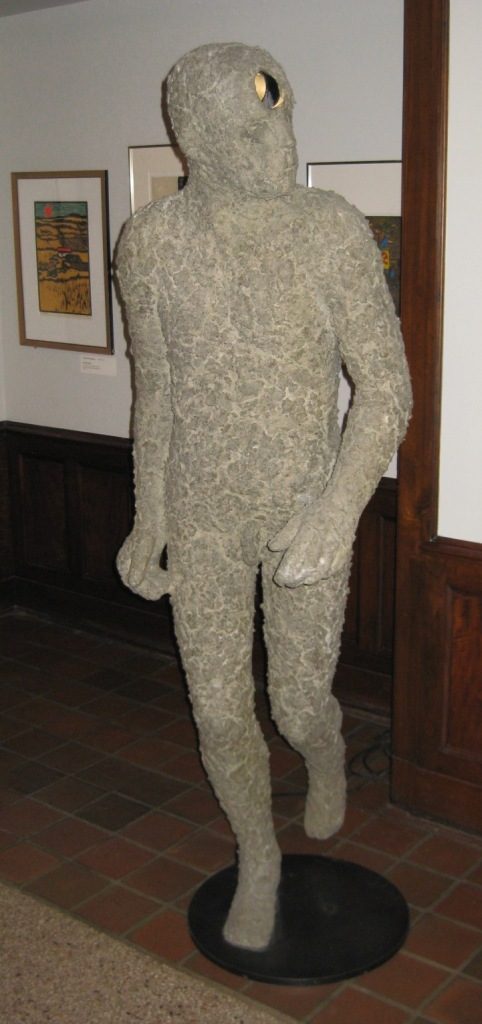 As part of the Charles H. MacNider Art Museum's year-long 50th Anniversary Celebration the Museum has received new artwork.  One piece coming into the permanent collection in 2016 is a life-sized sculpture by artist Jonathan Borofsky.  The piece, Projector No. 3,214,881 (Running Male Figure), was created from 1989-90 and is made of fiberglass, celluclay, resin, projector, steel and wood.
Jonathan Borofsky was born in Boston, Massachusetts.  He received his Bachelor of Fine Arts at Carnegie Mellon University in 1964, after which he continued his studies at France's Ecole de Fontainebleau and received his Master of Fine Arts from Yale University in 1966.
An installation artist, Borofsky has made his reputation with bold, aggressive, diaristic and frequently playful works with underlying philosophical seriousness.  In an interview that he gave in 1993, Borofsky said "I like the word spiritual because I don't really know what it means, but I do believe it applies to finding your connection to the All.  I've always felt that my search, whether I had a particularly chaotic work or a particularly simple one, has been a way to feel connected to the Whole."
Borofsky is perhaps best known for his Hammering Man series of large sculptures.  These feature black metal in the silhouette of a male figure holding a hammer.  The arm holding the hammer moves up and down.  Borofsky states, "The Hammering Man is a symbol for the worker in all of us. The motorized arm of the hammering man continuously swings its hammer back and forth – from the mind to the hand and back again. We all use our minds and our hands to create our world. I like to say that between the mind and the hand, there is the heart."
Projector No. 3,214,881 (Running Male Figure) was given to the Museum by John and Mary Pappajohn in honor of Socrates Pappajohn.
*****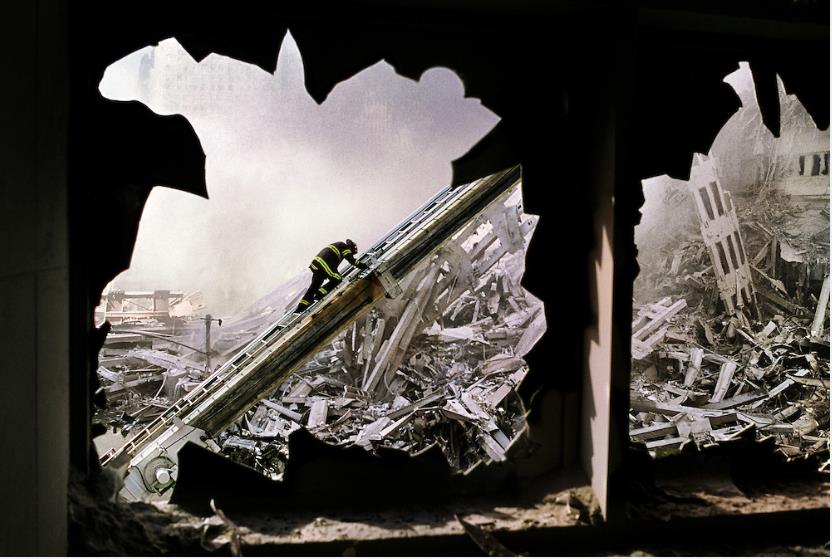 One piece coming into the permanent collection in 2016 is a color photograph entitled Firefighter Scales Ladder by Steve McCurry.
Steve McCurry has been one of the most iconic voices in contemporary photography for more than thirty years, with scores of magazine and book covers, over a dozen books, and countless exhibitions around the world to his name.  Born in a suburb of Philadelphia, Pennsylvania, McCurry studied film at Pennsylvania State University, before going on to work for a local newspaper.  He has since become one of the forerunners in photojournalism.  He is best known for his 1984 photograph "Afghan Girl" which originally appeared on the cover of National Geographic magazine.
"What is important to my work is the individual picture.  I photograph stories on assignment, and of course they have to be put together coherently.  But what matters most is that each picture stands on its own, with its own place and feeling."          -Steve McCurry
Firefighter Scales Ladder is one of the many photographs McCurry took while documenting the events immediately following the attacks on the World Trade Center on September 11, 2001.  The image was taken out of a broken wall in the World Financial Center.  It features a firefighter scaling a ladder amidst the destruction.  The photograph is now on display in the Museum's photography Mezzanine.  Please visit www.stevemccurry.com for more information about the artist and his work.
Firefighter Scales Ladder was purchased by the Museum using funds donated in memory of Dr. Russell Schurtz.  Dr. Schurtz served as a member of the MacNider Art Museum Board of Trustee from 1985 to 2003.  He was a lover of artwork and was a longtime supporter of the Museum in various capacities.  When determining the use for the funds, the family chose an artwork to represent the September 11, 2001 tragedy in recognition of Dr. Schurtz's father's association with firefighting.
*****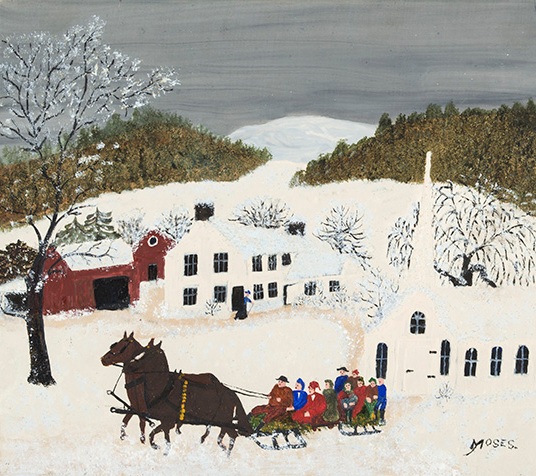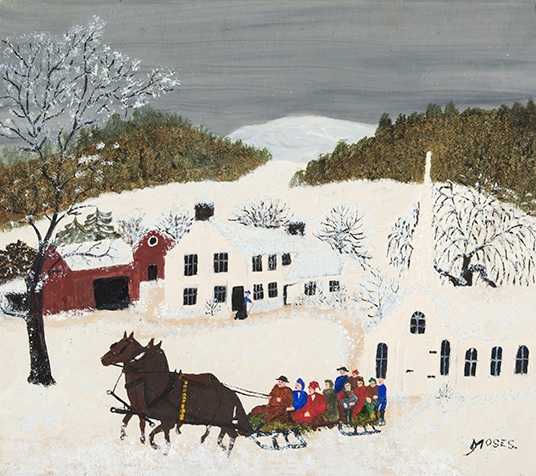 The second work coming into the permanent collection in 2016 is an oil on pressed wood piece entitled Going Home From Church by Anna Mary "Grandma" Moses.
Anna Mary Robertson Moses grew up on a farm in upstate New York, where she worked as a hired girl, helping neighbors and relatives with cleaning, cooking, and sewing.  Her father encouraged her to draw on old newsprint, and she used berry and grape juices to brighten her images.  She married when she was twenty-seven and moved to a farm in Virginia, where she raised five children.  Grandma Moses did not start painting until she was seventy-seven years old and looking for something to do "to keep busy and out of mischief" after her husband died.  She painted nostalgic scenes of American life and sold them at county fairs alongside her prize-winning pickles.  In 1939 a collector saw her paintings in the window of the local pharmacy and bought them all.  Soon after, Hallmark purchased the rights to reproduce her paintings on greeting cards and the name Grandma Moses became known across the country.  She died at 101, after painting more than fifteen hundred images.
Information on Anna Mary "Grandma" Moses gathered from the Luce Foundation Center for American Art.  Please visit www.americanart.si.edu/luce/ for more information.
"If I didn't start painting, I would have raised chickens."
The artist (Anna Mary "Grandma" Moses), quoted in Lewis, "Americana Beauty: Newfangled Feminist Perspectives Aside, Grandma Moses Deserves a Second Look," Washington Post, 2001.
Going Home From Church is now on display in the Museum's MacNider Gallery.  It was purchased by the Museum using funds from the Robert and Lois Bergland Acquisitions Fund in honor of our 50th year in operation.
*****
The first piece given to the permanent collection in 2016 is an acrylic on canvas piece entitled Disrobed by Edwina Sandys.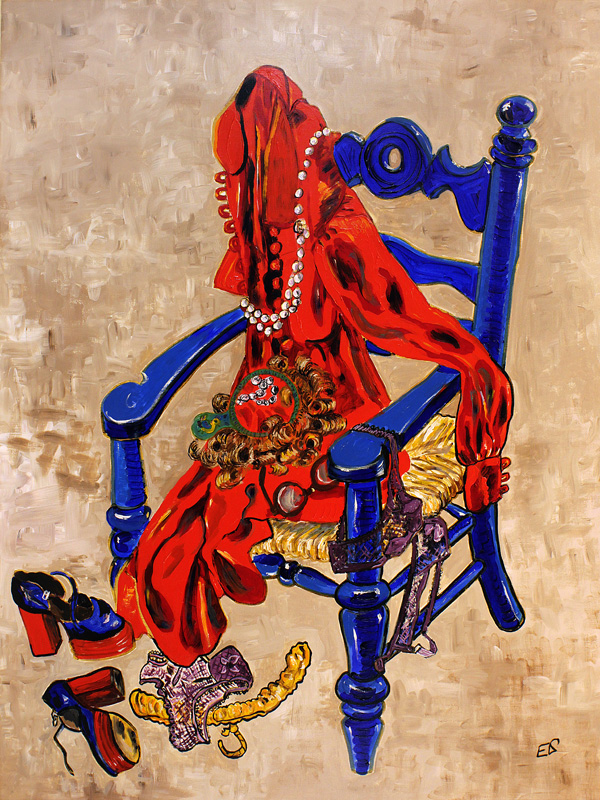 A New Yorker by choice and marriage, Edwina Sandys was born and raised in London.  Not only was her father the British Cabinet Minister, Duncan Sandys, but her grandfather was Winston Churchill. It is telling that these major political figures were both talented artists. Through her richly varied life experience, Edwina is uniquely situated to create work related to the global issues of our time.
During the last 30 years Edwina has created art of international acclaim that includes sculpture, paintings, collage and works on paper.  Her work has reached a wide audience far beyond the realm of the private collector.  Early in her career, for the 1979 United Nations' Year of the Child, she created three monumental sculptures, which are now installed at UN centers in New York, Geneva and Vienna.  A decade later, she used dismantled sections of the Berlin Wall to create an extraordinary sculpture, Breakthrough, now permanently sited at Westminster College in Fulton, Missouri, where Winston Churchill gave his historic "Iron Curtain" speech.
However, she does not focus solely on political subjects, but also frequently explores the relationships between man and woman.
"True Art is always Art for Art's sake – but it can also be other things as well.  Amidst all the pressing needs of the world, Art may seem to some an unnecessary add-on, but consider… what would the World be without the wonders of Art? The legacy of great civilizations is the Art they leave behind – very often Art is all that survives.  The ancients never doubted the power of Art –it was their TV, Movies, and Photos. Think of the superhuman effort required to erect Stonehenge, to sculpt the Easter Island monuments, to build the Pyramids.
My work is often inspired by political and social themes, and also, often quite naturally, reflects my life on a much more personal level – for example, expressions of Joy and Sensuality.  I intend my art to be a potent view of the wit and wisdom I experience on my journey through life."   -Edwina Sandys
Disrobed is now on display in the Museum's Beck Gallery.  It was donated to the Museum by Ann MacGregor in honor of our 50th year in operation.  Please visit www.edwinasandys.com for more information about the artist and her work.
DID YOU KNOW . . .
All artworks in the Charles H. MacNider Art Museum's Permanent Collection have information on their labels about the artist and how the piece was acquired. For example:
Lucy Lewis     (about 1890-1992)
Untitled (ceramic pot)
clay, 1983
Museum Purchase with Funds from the Luke C. Chang Memorial Fund
[2011.1]