The MacNider Art Museum has purchased a painting by American artist Ellsworth Kelly in memory of longtime Museum supporter Soc Pappajohn. The work was purchased with funds donated the Pappajohn family.
Socrates Pappajohn was a lifelong supporter of the arts. He was first appointed to the Charles H. MacNider Museum Board of Trustees in 1973 and remained on the board until 2009. He was instrumental in the creation of the MacNider Museum Foundation in 1996 which allowed for the Museum to use bequests to further the Museum's financial stability. He remained on that board until his passing.
Soc was an art enthusiast who spent many volunteer hours on Museum's acquisition committee, assisting the staff in purchases that would become the core of the Museum's outstanding American art collection. He pushed to acquire pieces that were the most representative of the particular artist in question in order to better educate the public.
The artist Ellsworth Kelly was born in 1923 in Newburgh, New York. As a young child he studied birds with his grandmother which helped form his early ideas related to the use of color. After high school he attended Pratt Institute in Brooklyn, as his parents would not pay for artistic training, only technical training. He attended until 1941 when he joined the army. He served during WWII and later returned to college, using the GI Bill to pay for his education.
He attended the School of Fine Arts in Boston and later traveled abroad to gain artistic experiences. During this time he moved away from figurative works of art into abstract painting. His works emphasized color, line, and form instead of a recognizable figure. Kelly became known for contributions to the color field movement, which is characterized by large swaths of color across the canvas that creates an unbroken plane. By the 1970s he started to incorporate signature curves in his work, similar to the piece donated to the MacNider. Kelly became one of the top abstract artists in the United States by the time of his death in 2015. The acquisition of the Kelly piece is important to the growth of the Museum's collection. "This piece clearly demonstrates the color field movement" explained Museum Director Edith Blanchard. "Soc would frequently suggest when looking for new acquisitions to collect an Ellsworth Kelly piece, but the timing was never right to acquire one. I can think of no better artist to represent Soc in the Museum's collection."
******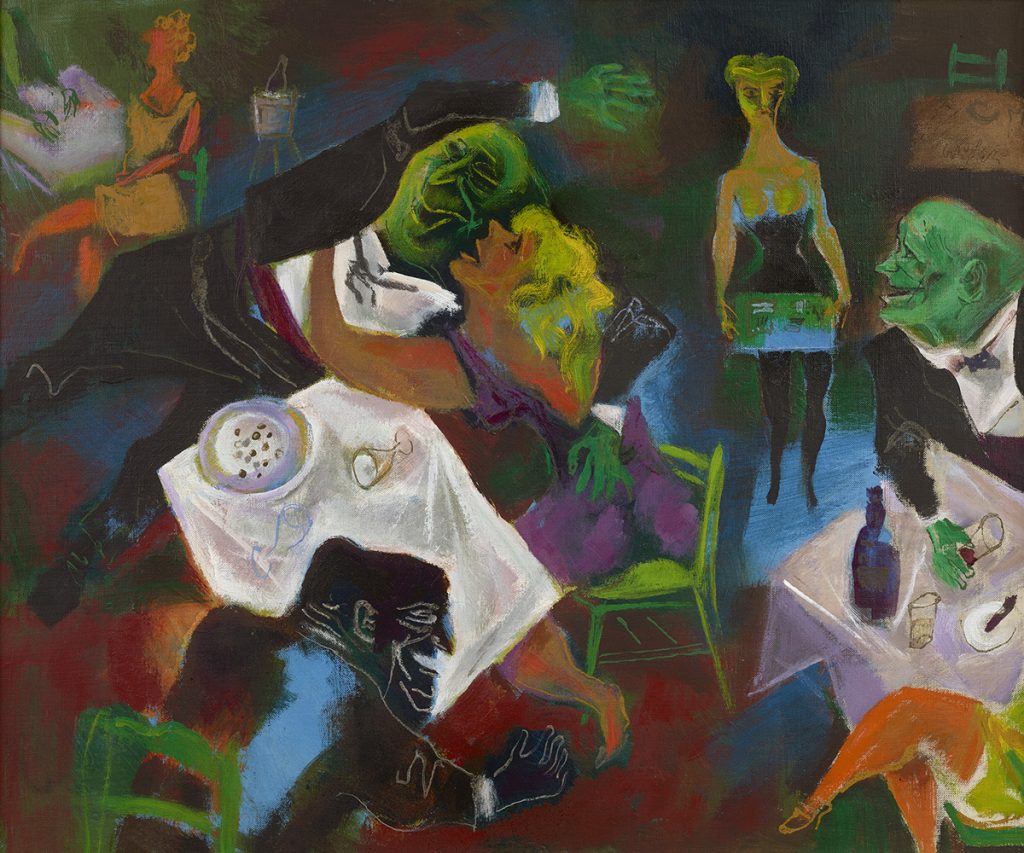 The Charles H. MacNider Art Museum has purchased a painting by American artist William Gropper in memory of longtime Museum volunteer and supporter Terry MacGregor. The work, entitled "Night Club" was purchased with funds donated by the family of Terry MacGregor in her memory. Terry passed away in 2020.
Terry MacGregor was a life-long supporter of the MacNider Art Museum. She was active in a number of the Museum's programs, and was a founding member of the Foreign Film series that eventually found a home at the MacNider Art Museum. An avid photographer, Terry often submitted and exhibited photographs at the Museum's Cerro Gordo Photo Show. Her passion for the arts was evident in her continual enthusiasm for the Museum. "It is wonderful that we are able to honor her memory with such an important piece," said MacNider Art Museum Director Edith Blanchard. "Terry was such an important person to our museum. We are delighted the family had chosen to remember her in this way."
William Gropper was born in New York City in 1897. His youth was marked by poverty and struggles in the ghettos of New York. As a young man he was able to take classes at the National Academy of Design and the New York School of Applied Arts. After studying painting with artists such as Robert Henri and George Bellows, he joined the New York Tribune as a cartoonist. Soon after he began drawing for other publications such as the New York Post, Vanity Fair, and the Morning Freiheit. These cartoons and illustrations often had political commentary as a subject matter. Gropper began painting in 1921. Shaped by his early years in poverty, he followed the style of his mentors Henri and Bellows and chose to paint images of the common person. As an artist he was sought to bring awareness to social ills in American Society. As he continued his career his technique became more abstract and his subject matter, such as "Night Club", often gave commentary on his views of the upper class elites.
*****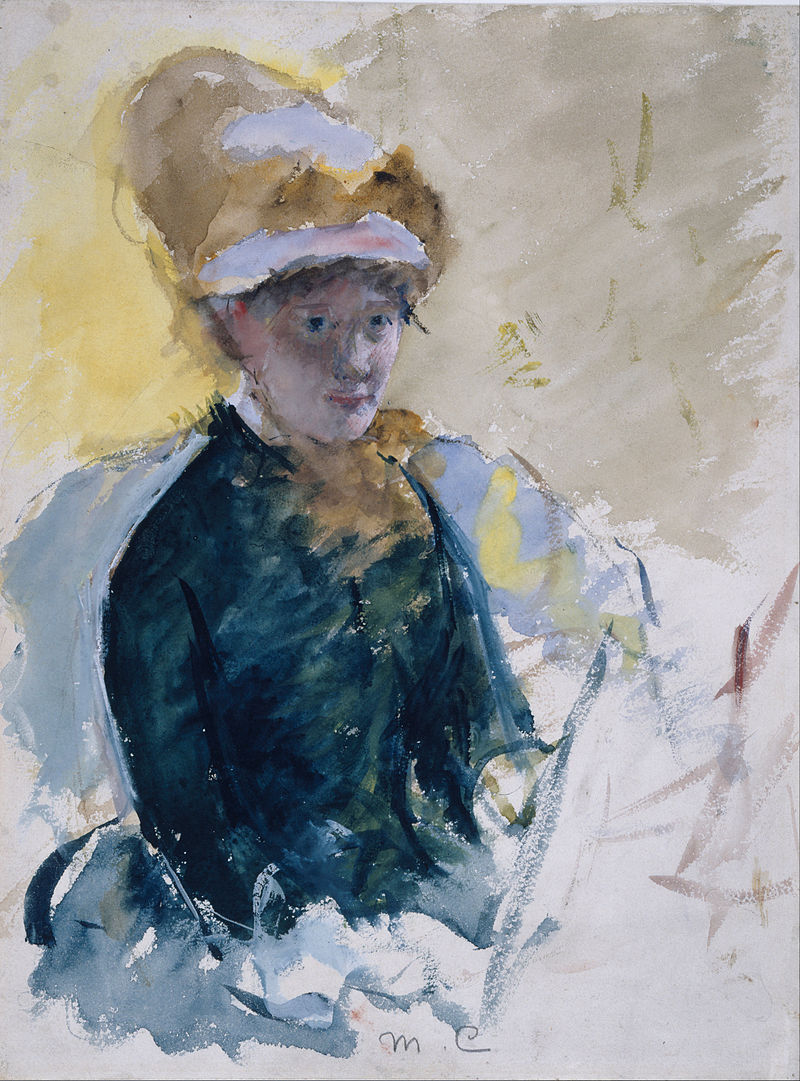 The MacNider Art Museum has purchased a lithograph by famed American artist Mary Cassatt, which once belonged to the MacNider family. The piece was recently auctioned off during the sale of artwork and collectables after the passing of Margaret MacNider.
The Museum Trustees and Acquisitions Committee, realizing the significance of the piece to the community as well as the provenance to the MacNider family, made plans to purchase it earlier in the fall using donations set aside for the purchase of artworks.
The piece was purchased in honor of Margaret, a lifelong museum supporter, and then it was brought to the Museum for a conservation analysis. The artwork was in excellent shape, but it needed reframing. It was reframed and matted using museum-safe archival techniques to preserve the artwork in perpetuity.
Having just returned for the conservation work, the piece will be hung this week in time for the Museum's annual Holiday Open House. "It was fitting to unveil the piece to the collection at this time," said Museum Director Edith Blanchard. "Margaret was an enormous supporter of the museum's annual Holiday Open House both financially and also decorated the banister for many years with greenery."
Mary Cassatt is perhaps one of the most famous American female artists of all time, mastering paints, pastels, and printmaking techniques. She is considered to be one of the few American Impressionist painters, having traveled to Europe to study and work much of her adult life with Impressionist masters.
*****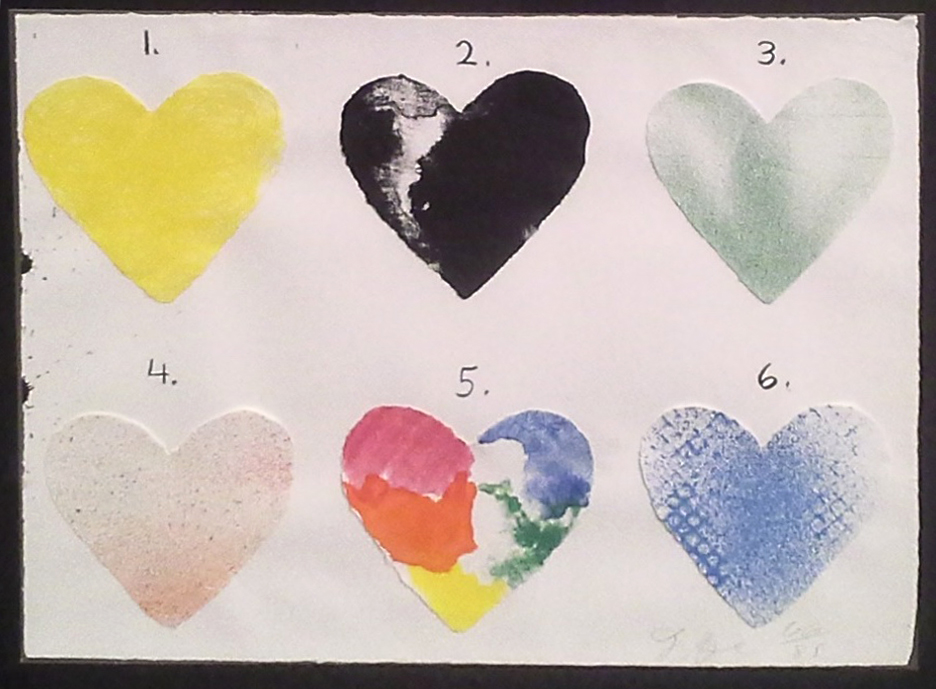 The Charles H. MacNider Art Museum is pleased to announce the acquisition of a new artwork by artist Jim Dine. The piece was purchased in memory of Kelly Paulson using funds given by her family in honor of the Museum's 50th anniversary.
The new Jim Dine artwork, titled Untitled (Six Hearts), was created in 1970. It is a lithograph printed in colors, on Hodgkinson handmade paper, with collage. It is currently being reframed and should be on display the first part of 2019.
Jim Dine is an American artist and poet known for his contributions to the formation of both Performance Art and Pop Art.* Employing motifs which include Pinocchio, heart shapes, bathrobes, and tools, Dine produces colorful paintings, photographs, prints, and sculptures. "I grew up with tools. I came from a family of people who sold tools, and I've always been enchanted by these objects made by anonymous hands," Dine has said. Born on June 16, 1935 in Cincinnati, OH, he studied poetry at the University of Cincinnati before attending the University of Ohio where he received his BFA in 1957. After moving to New York in 1958, Dine became part of a milieu of artists which included Allan Kaprow and Claes Oldenburg, with whom he began to stage performances at sites in the city, these later became known as "Happenings."
By the early 1960s, Dine had switched his focus towards painting, drawing on his interest in popular imagery and commercial objects. Though he was shown alongside Roy Lichtenstein and Andy Warhol, Dine never considered himself a member of the Pop Art movement. The artist currently lives and works between New York, NY and Walla Walla, WA. His works are included in the collections of The Museum of Modern Art in New York, the Tate Modern in London, the Bilbao Fine Arts Museum, and the Walker Art Center in Minneapolis, among others. *Information gathered from artnet.com
*****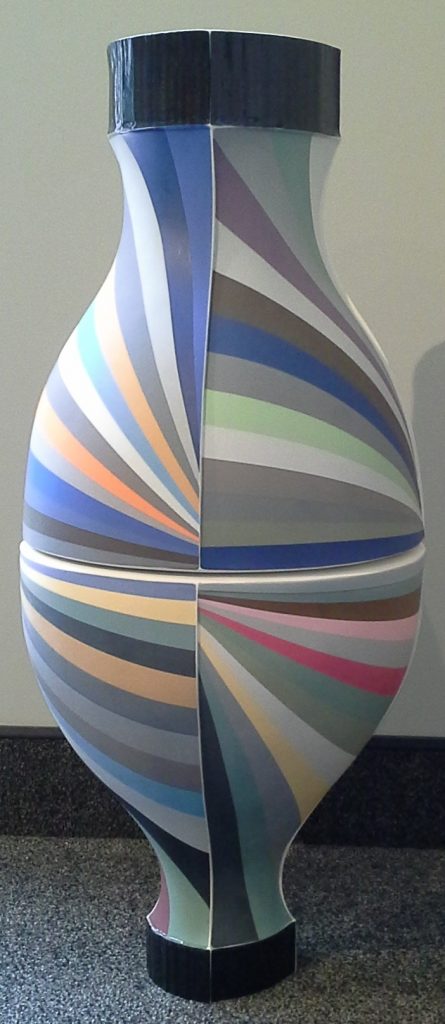 The Charles H. MacNider Art Museum is pleased to announce the acquisition of a new artwork by contemporary ceramic artist Peter Pincus. The piece was purchase with funds given by the Chang family, and other generous donors, in memory of Betty Chang.
The new artwork, titled A Sibling System (Vessel B), was created in 2016. It is a ceramic piece made of porcelain, gold luster and PC-11.
Born in Rochester, NY, Peter Pincus is a ceramic artist and instructor. He joined the School for American Crafts as Visiting Assistant Professor in Ceramics in fall 2014. Pincus received his BFA (2005) and MFA (2011) in ceramics from Alfred University, and in between was a resident artist at the Mendocino Art Center in Mendocino, California. Since graduate school, Peter worked as the Studio Manager and Resident Artist Coordinator of the Genesee Center for Arts and Education in Rochester, NY, Adjunct Professor of three dimensional studies at Roberts Wesleyan College and has established a studio in Penfield NY.
Pincus's work has been exhibited in venues such as the Salon Art + Design, SOFA Chicago, Collective Design, Lewis Wexler Gallery, Duane Reed Gallery, Sherry Leedy Contemporary Art, Ferrin Contemporary, Greenwich House Pottery, and National Council on Education for the Ceramic Art. His work can be found in numerous private and public collections. You can learn more about Pincus's artwork at peterpincus.com
DID YOU KNOW . . .
All artworks in the Charles H. MacNider Art Museum's Permanent Collection have information on their labels about the artist and how the piece was acquired. For example:
Lucy Lewis (about 1890-1992)
Untitled (ceramic pot)
clay, 1983
Museum Purchase with Funds from the Luke C. Chang Memorial Fund
[2011.1]