The Museum offers artistic experiences for birthday celebrations. Your group will receive a tour of the Museum and a hands-on art activity in one of our studio classrooms. You may pick a theme below to indicate what type of activity you would like for your child. The fee includes the services of an art educator, all project materials, and the use of the Museum kitchen facilities.  (Children should wear clothing appropriate for doing art projects.)
COVID & Birthday Parties: . Please see current Artful Birthday Party COVID guidelines below:
Parties can have a max of 12 crafters (ages 5+) and 4 adults in attendance. Less crafters can be invited in order to have more family attend, but there should still be no more than 16 people total in attendance (not counting the teacher).
Masks wearing is recommended for everyone over the age of 2. If someone does not have a mask it can be provided at no cost when entering the Museum.
If there is food or beverages it must be served at the very end of the party. Everyone eating must be seated. This is the only time masks can be removed – while eating and seated.
To-go goodie bags instead of serving cake/pizza are strongly encouraged.
At this time there is no option for a larger party. Artful Birthday Parties will be located in Studios A & B in order to socially distance, but pricing remains at $80 ($63 for members).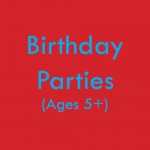 Contact Pam or Laura  for more info by emailing
pjost@masoncity.net or landerson@masoncity.net or calling  641-421-3666!