Kids of all ages (and parents!) please join us in participating in some art challenges while we are home. Using whatever you've got at home (pencils, markers, paint) create an artwork based on the challenge and send it to us by taking a picture and sending it by Facebook messenger or email (lthompson@masoncity.net). Nothing should be dropped off at the museum. Make sure to include the age of the artist and we will draw and post a winner for age groups 18+, 13-17, 8-12, and 7 and under. There will be museum-related prizes that can be picked up at a later date.
We will post a weekly challenge every Monday at noon and request all entries in by Friday at 8am. We can't wait to see what you make!
Here are the week 12 entries: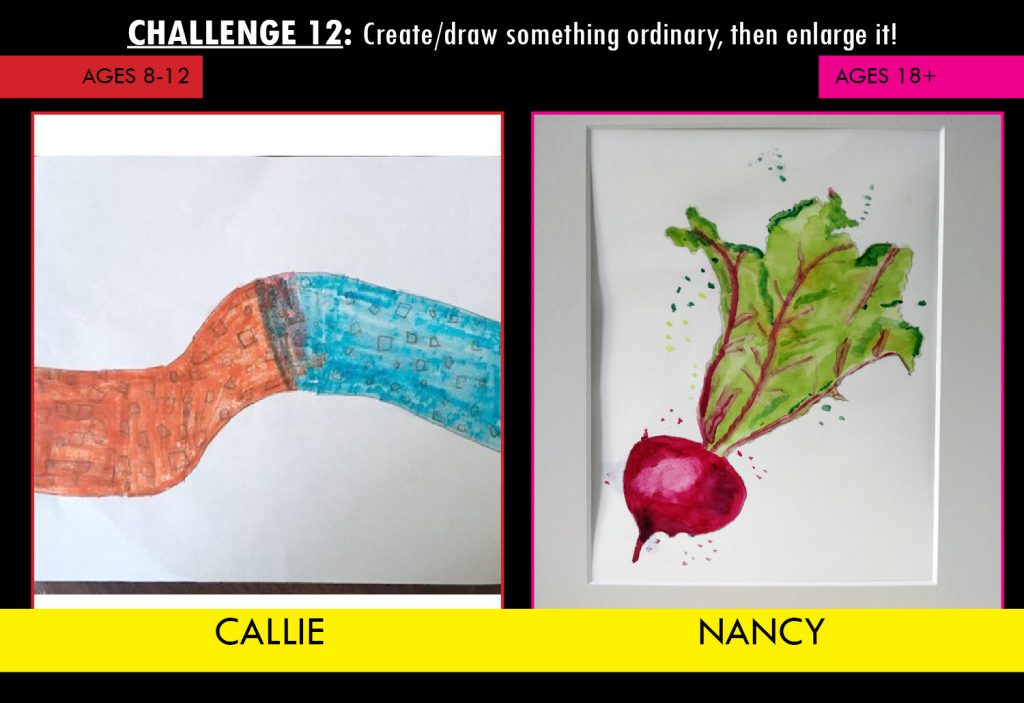 CHALLENGE 12: Create/draw something ordinary, then enlarge it! Find something you have around your home for your inspiration.
Here are some ideas: a carrot, sunscreen, peanut butter jar, video game controller, box of crayons, nail polish, etc.!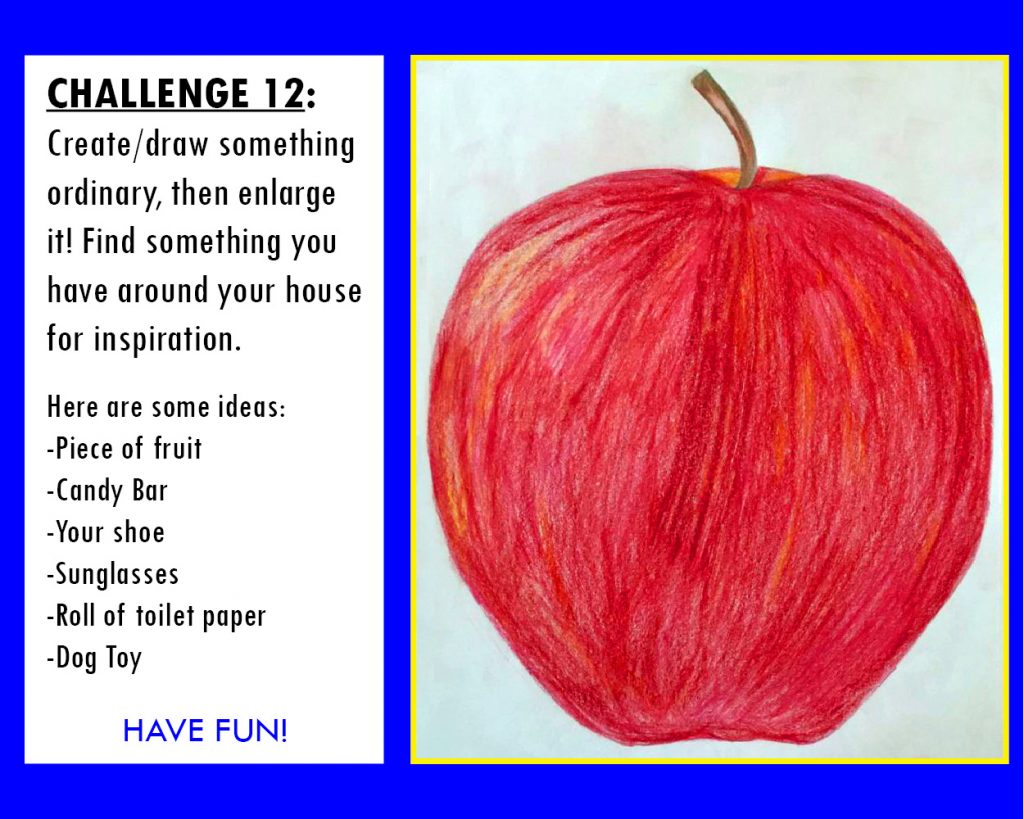 Here are the week 11 entries:
CHALLENGE 11: Draw/create something silly! Think of what makes you laugh – a story you read, a dream you had, a face you made in the mirror!
Here are the week 10 entries:
CHALLENGE 10: Draw/create the inside of a junk drawer, or something you'd find in a junk drawer. Remember- one person's "junk" can be another person's "treasure"!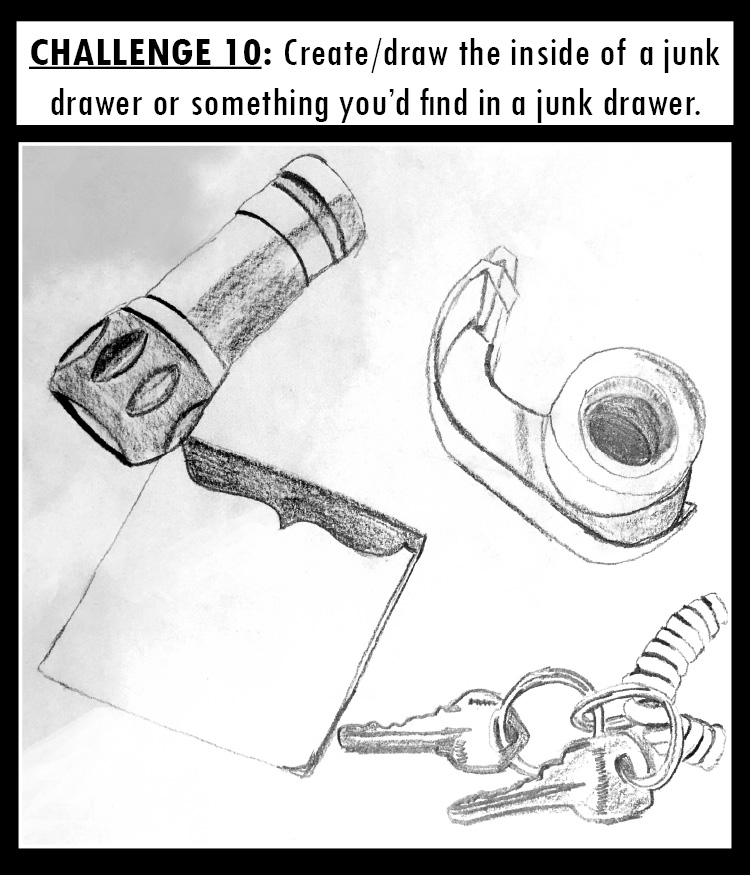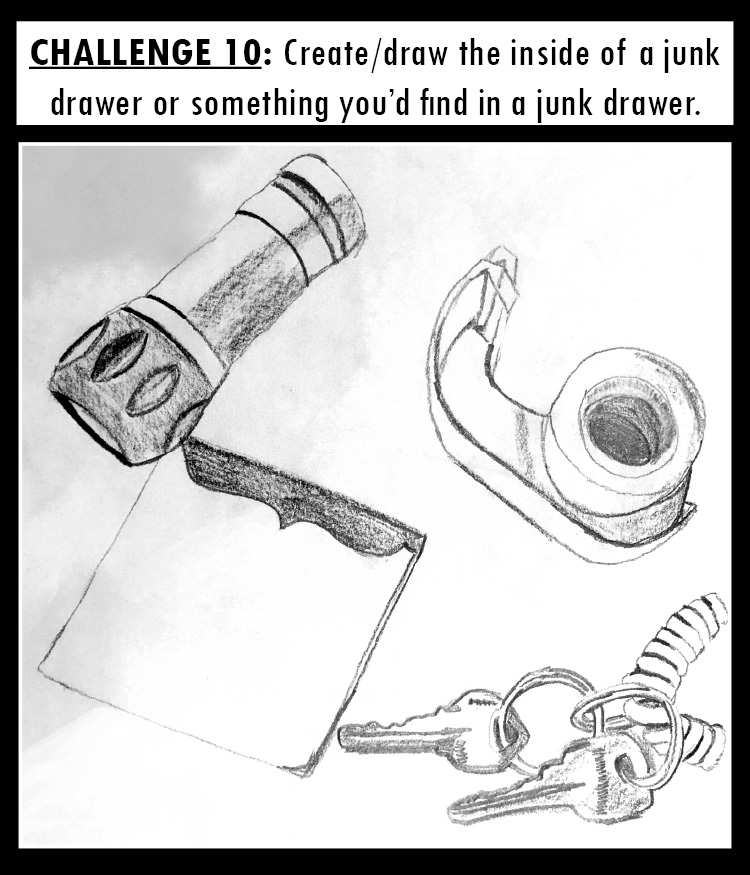 Here are the week 9 entries:
CHALLENGE 9: Create an action drawing. Show us movement – dancing, playing soccer, riding a bike, juggling, swimming, walking the dog, etc.!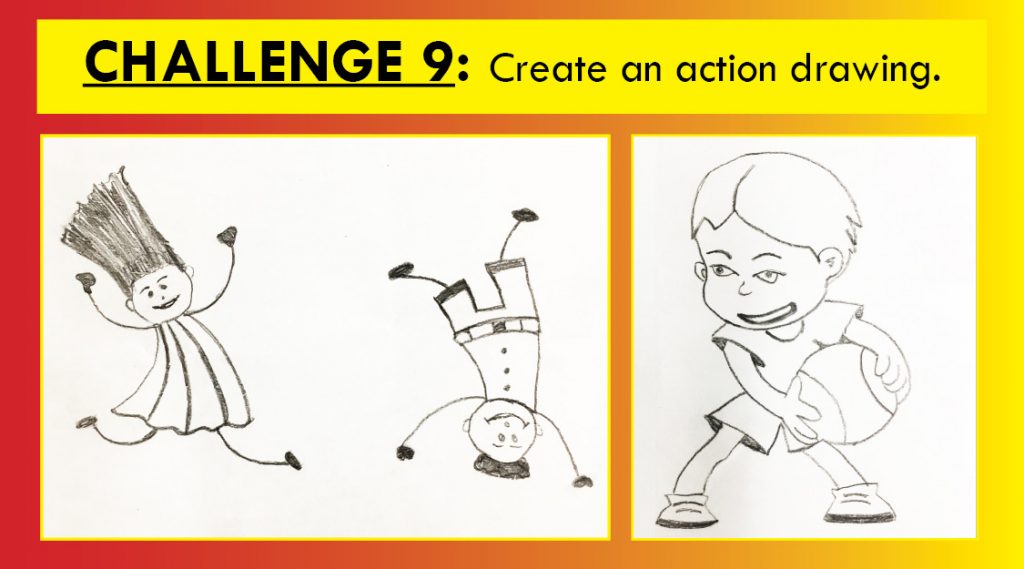 Here are the week 8 entries:
CHALLENGE 8: Draw/create a mythical creature. We want to see unicorns, monsters, mermaids, or a creature imagined by you!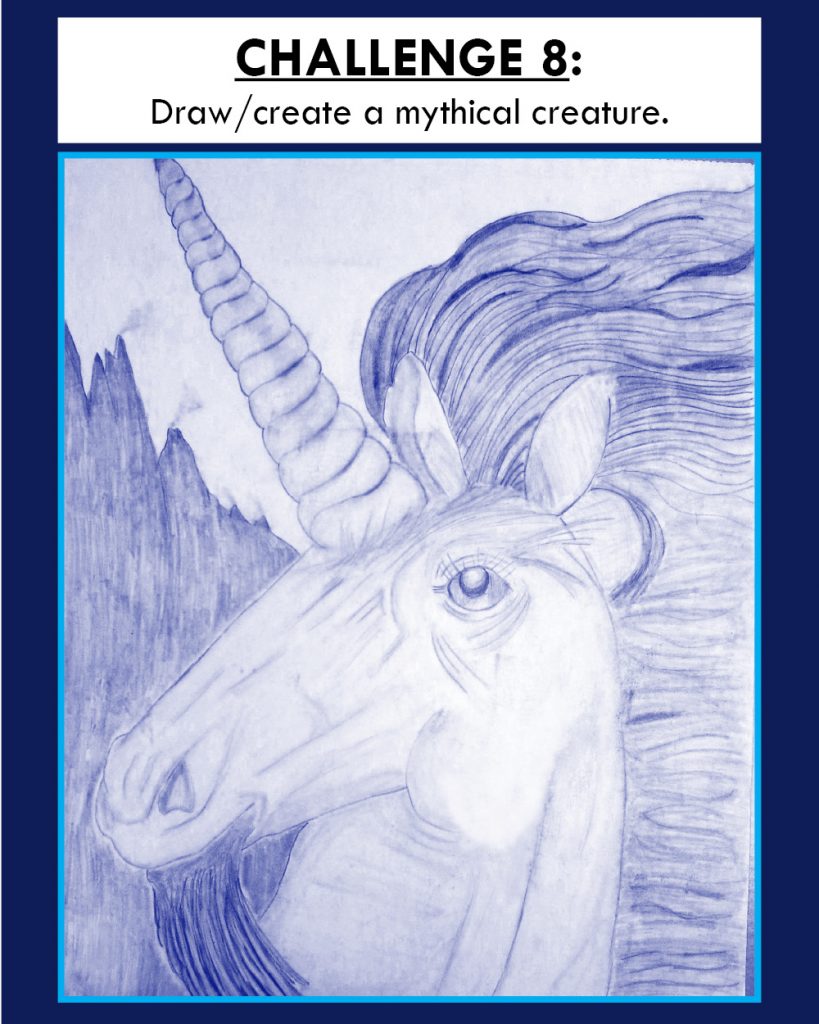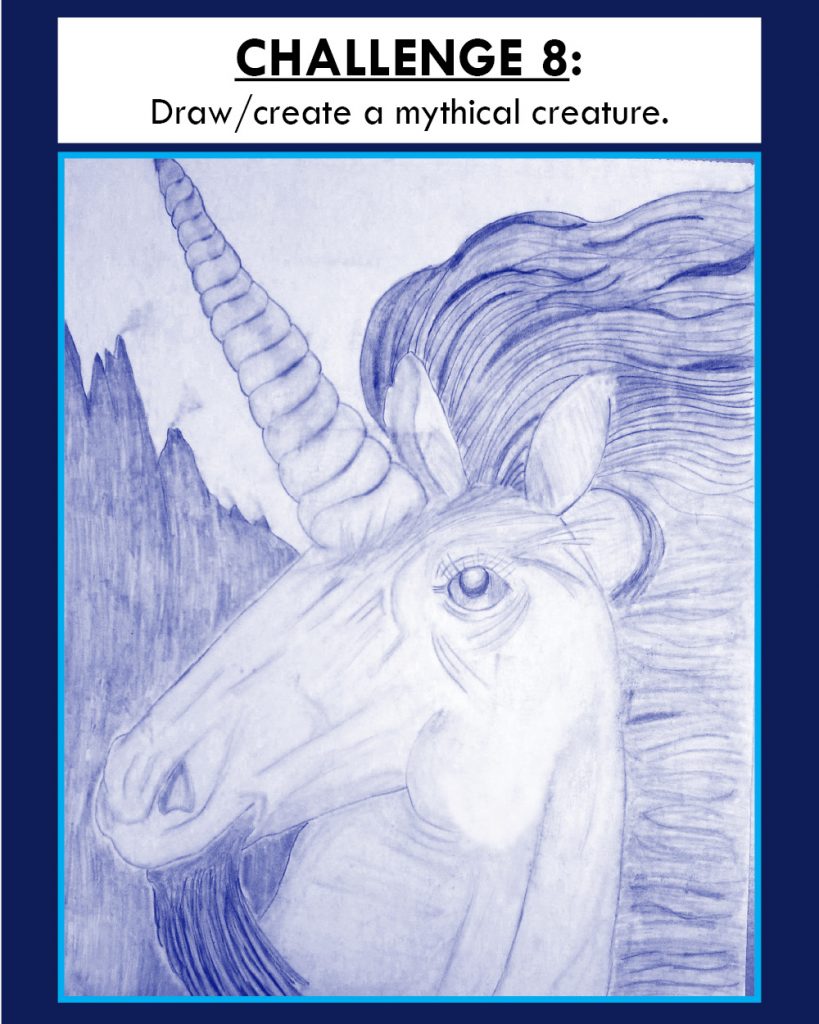 Here are the week 7 entries: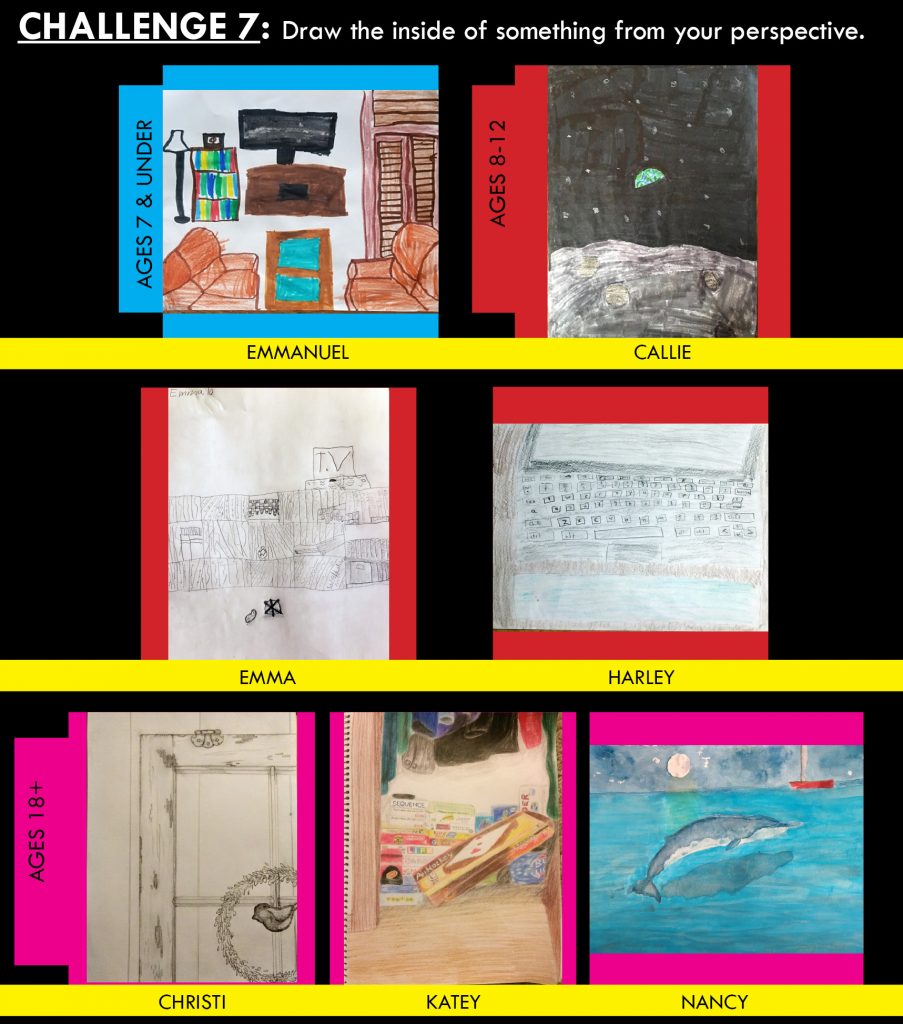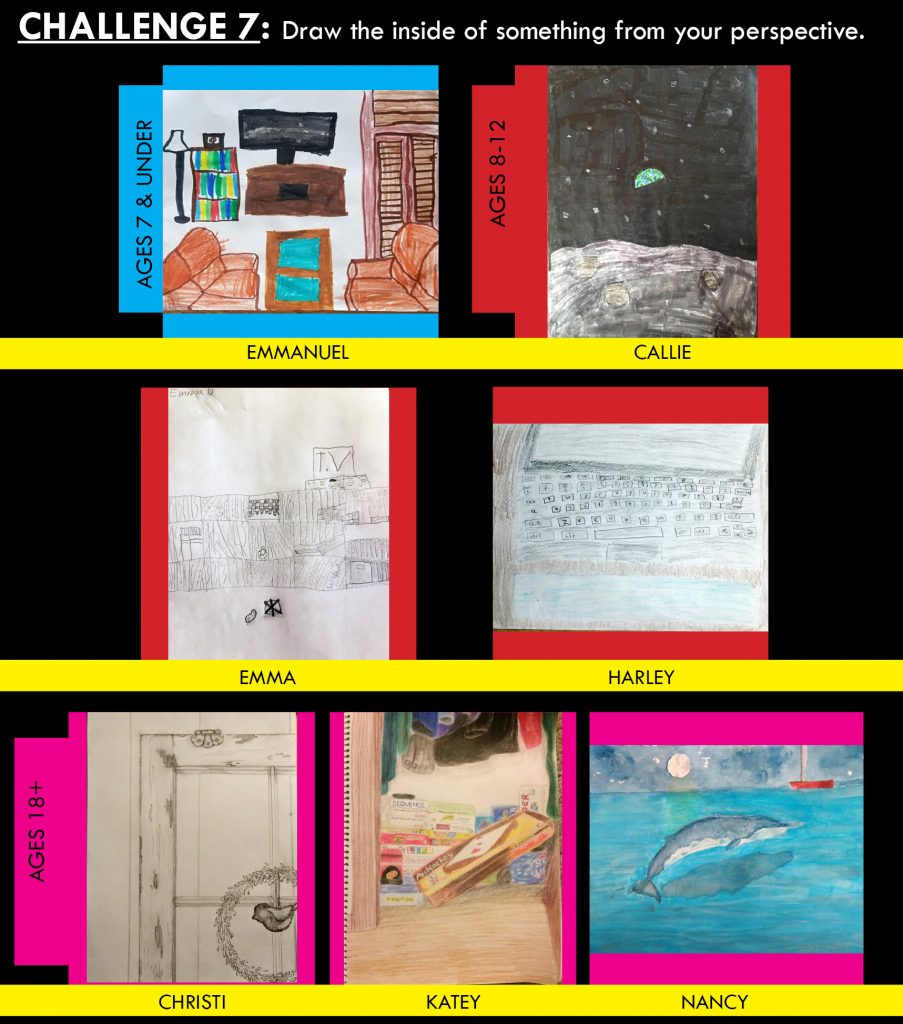 CHALLENGE 7: Draw/create the interior of something from your perspective. Show us what you see – your kitchen, closet, porch, or even a make-believe place!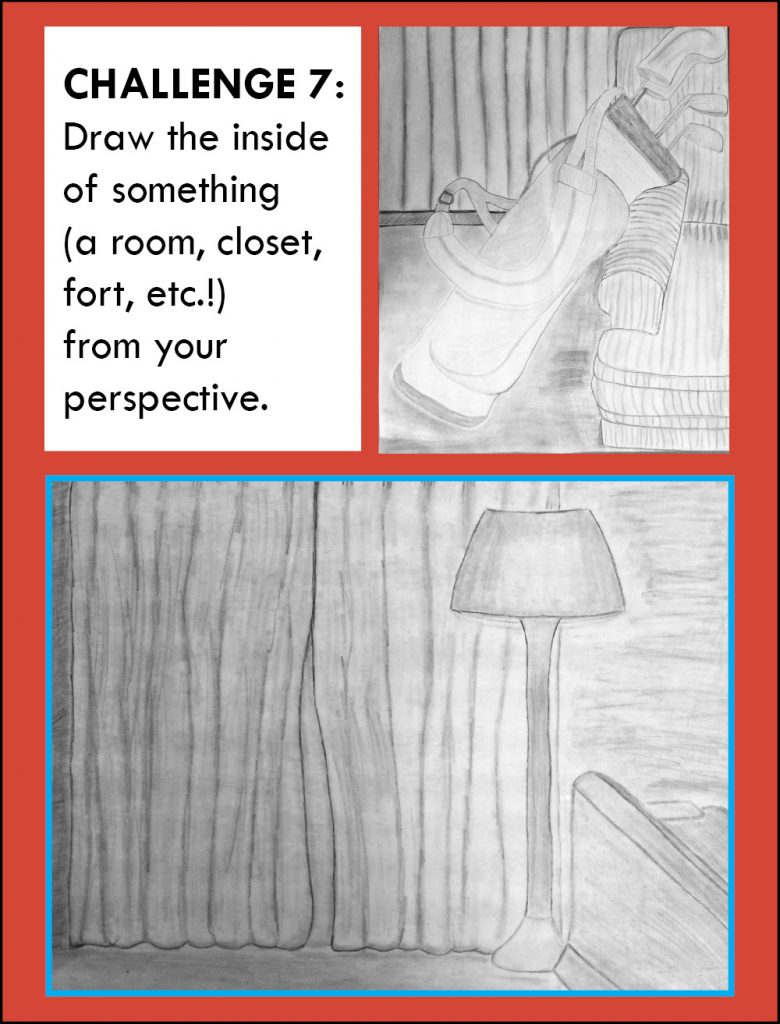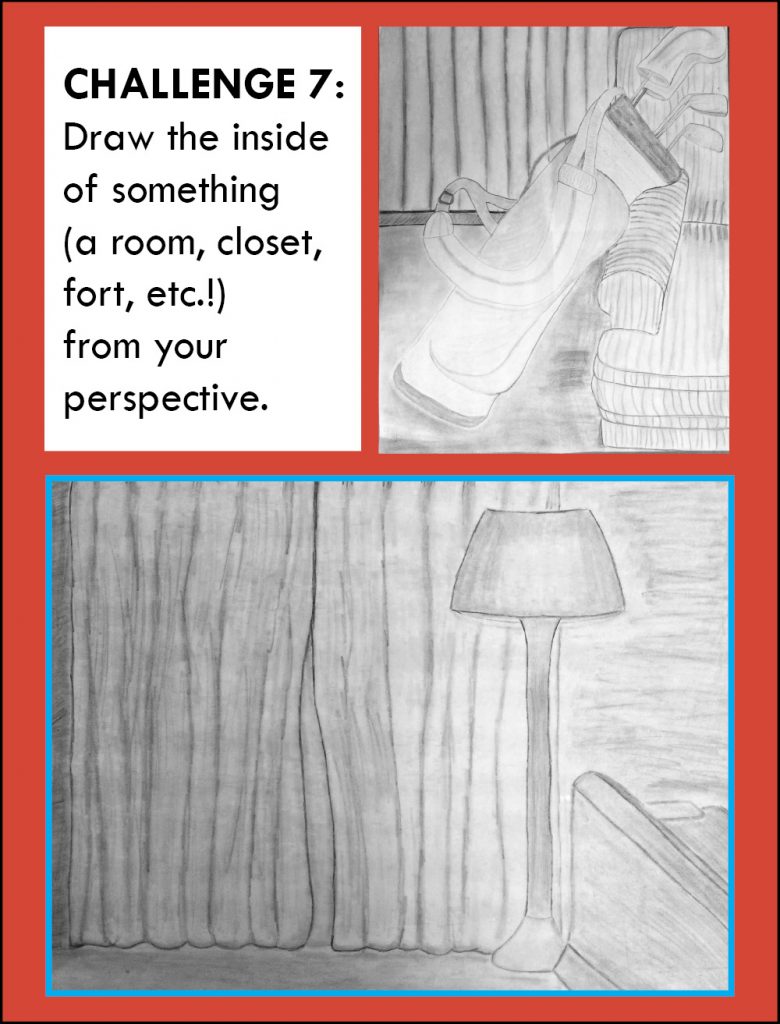 Here are the week 6 entries:
Week 6: Draw/create something made of shapes.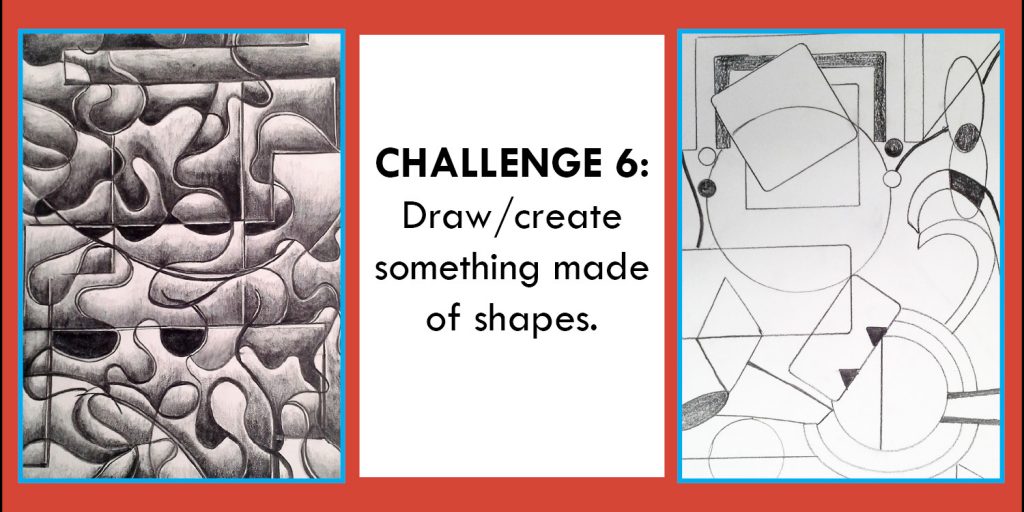 Here are the submissions for week 5!
Challenge 5: Draw/create an animal.
This could be your FAVORITE animal, your pet, an animal you saw on TV, a made-up animal, all animals allowed!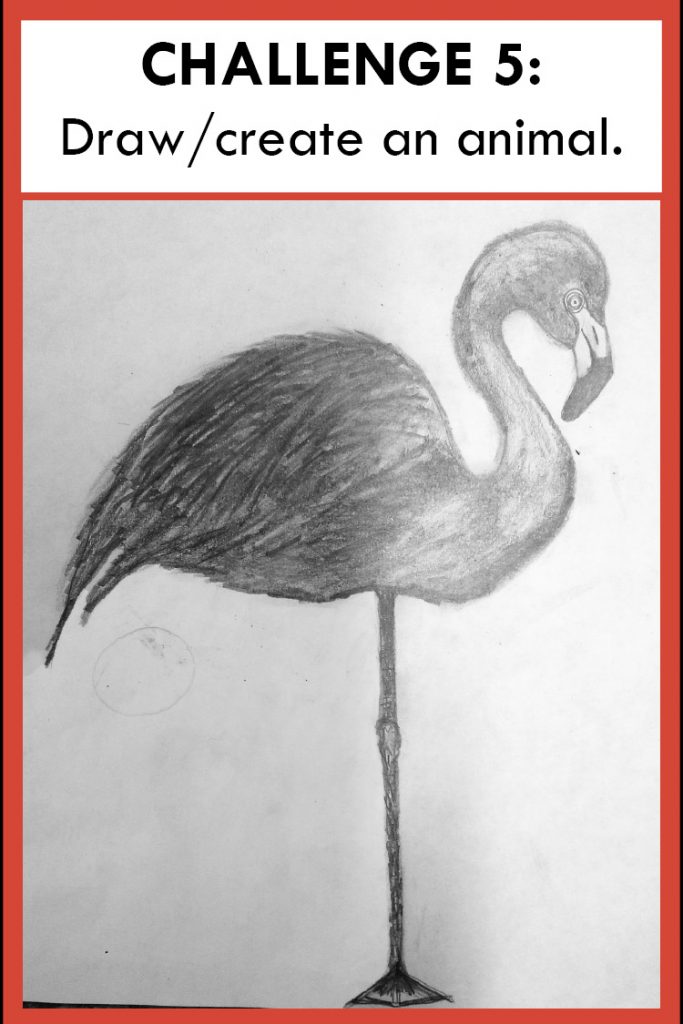 Here are the submissions from week 4!
CHALLENGE 4: Draw/create a landscape.
Show us your neighborhood/backyard, a favorite vacation spot/city, or even made-up location!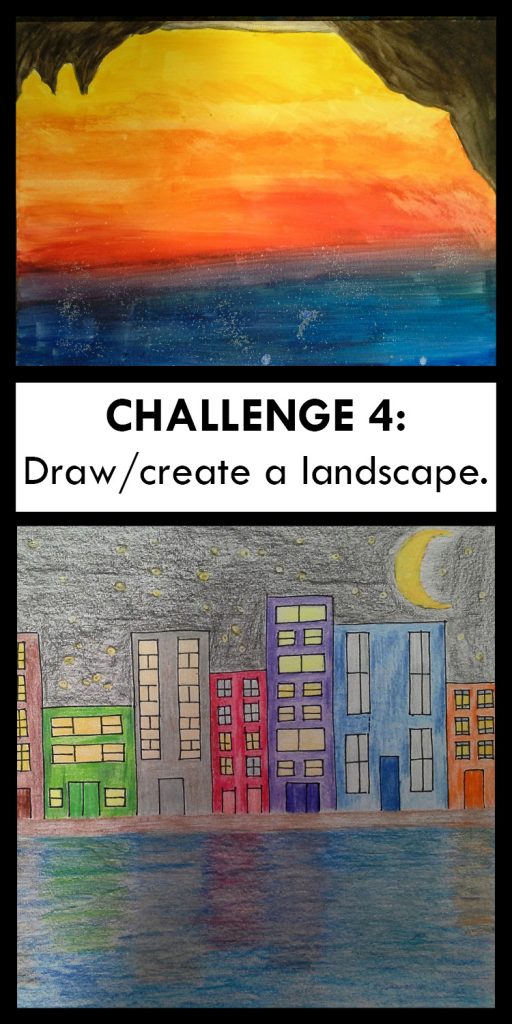 Here are the submissions from week 3!
CHALLENGE 3: Draw/create something from nature.
What can you find in your backyard or park? Flowers, trees, bugs, animals – we want to see it!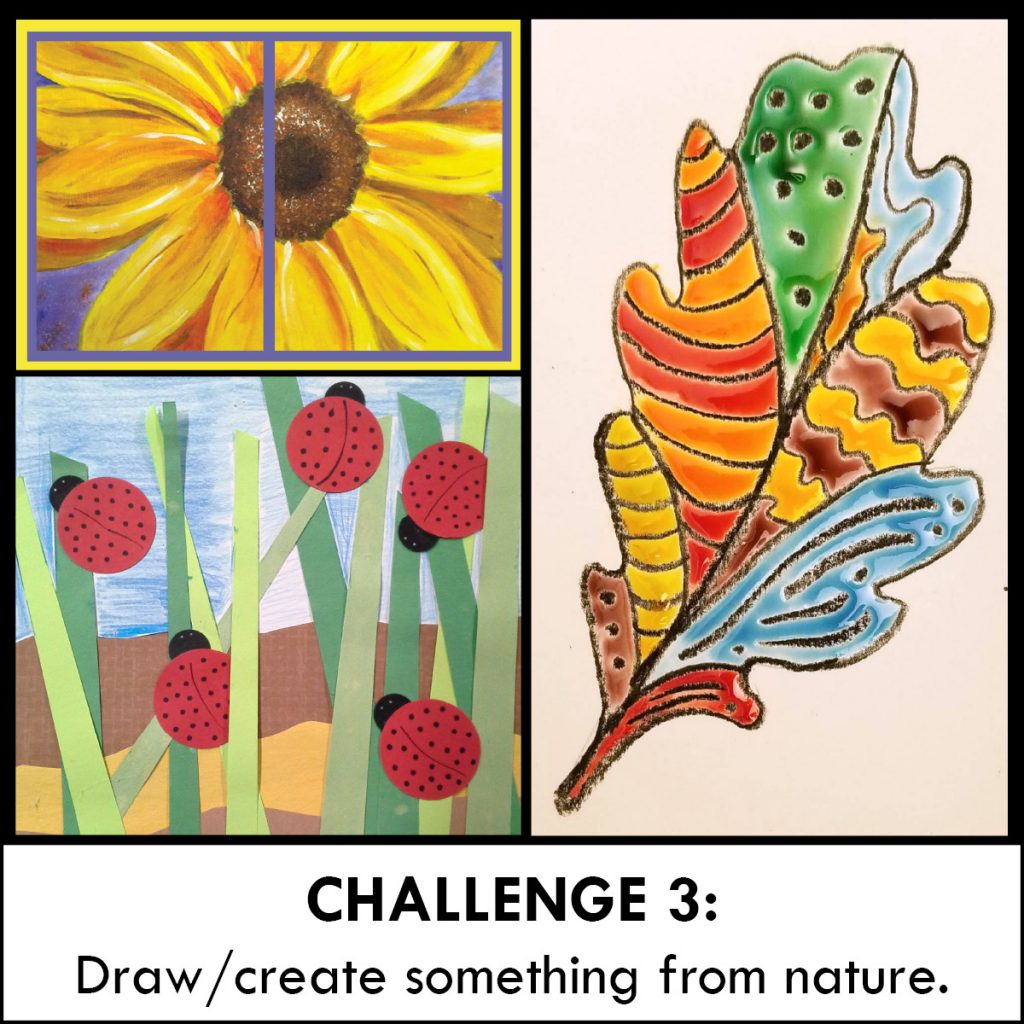 Here are the submissions for week 2!
CHALLENGE 2: Draw a portrait.
A real person you know, a famous person, a fictional person, yourself – all are OK!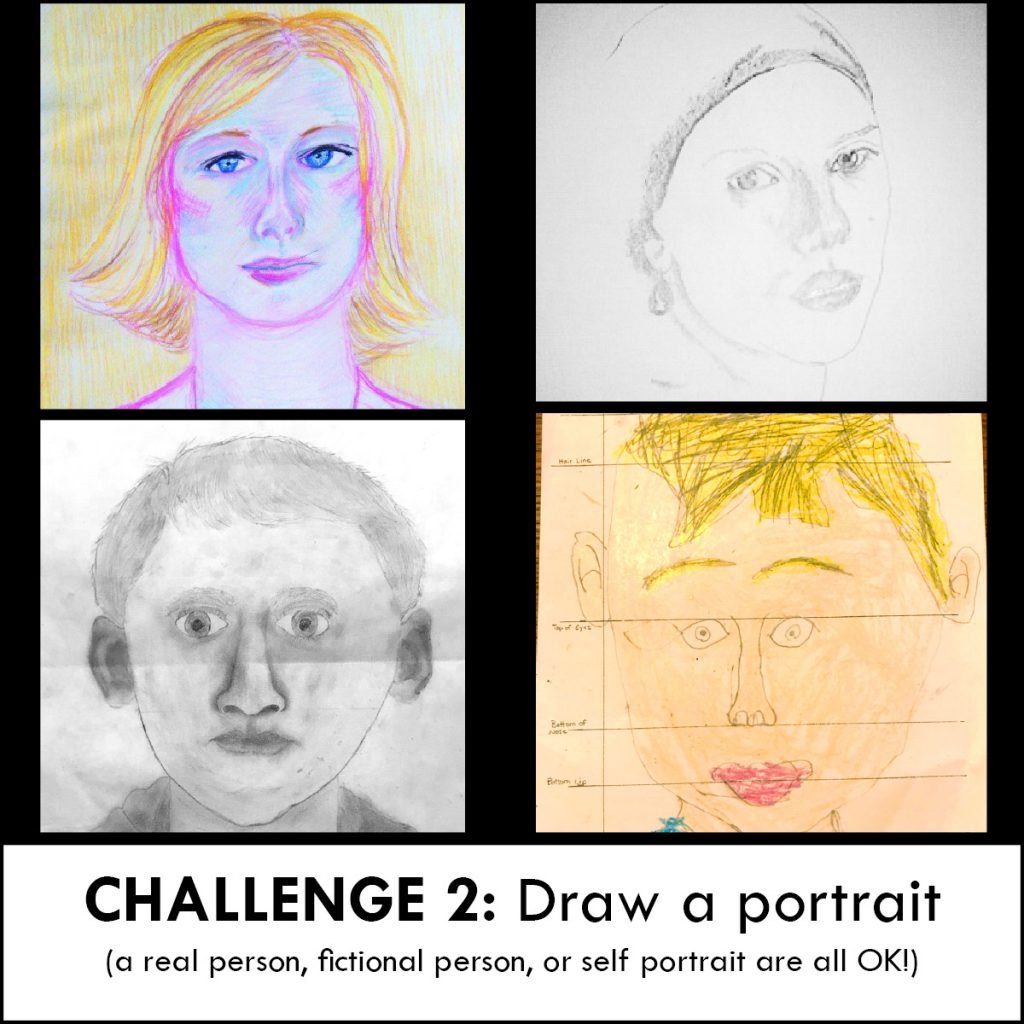 Here are the submissions from week 1!
CHALLENGE 1: Draw a favorite food you have in your house.