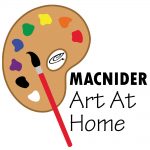 We have loved bringing you art on a daily basis over the past 12 weeks! Starting this week we will reduce our online offerings in order to prepare for reopening the Museum to the public.
The new schedule:
Tuesdays at noon: Art Talk
Thursdays at noon: Items-At-Home Art Project
Saturdays at noon: Coloring/Activity Page
We plan on hosting Kids Club online for the next few months, as well as exploring online art classes for our community. If things go well we hope to have some in person classes offered yet this summer. We look forward to seeing you soon – at the Museum!
WEEKLY ART CHALLENGE
The last Art Challenge was week 12 on June 1-5. Go to the Weekly Art Challenge page to view the galleries of artwork!
ART TALKS
Tuesday – You will be able to learn about a piece of art in the Museum's collection. Art Talks will be hosted by the Museum Director and Curator and will discuss the various works. Art Talks will be posted at noon. Feel free to contact the Museum for suggestion of pieces to discuss.
ITEMS-AT-HOME ART PROJECT
Thursday – Museum educators demonstrate how to make art using items you have in your home. Once again, this video will be posted at noon on Thursdays and every attempt will be made to adjust the project to various age levels.
COLORING PAGES
Saturday – The Museum will post an activity page out of its coloring / activity book of that highlights works in the collection.
TAKE & MAKE PROJECT
Starting on Sun., April 5 we will discontinue our weekly Take & Make projects.
We hope that during this concerning time, the Museum can bring enjoyment into the lives of our citizens through the therapy of art.