January 22 – April 7, 2021
Center Space Gallery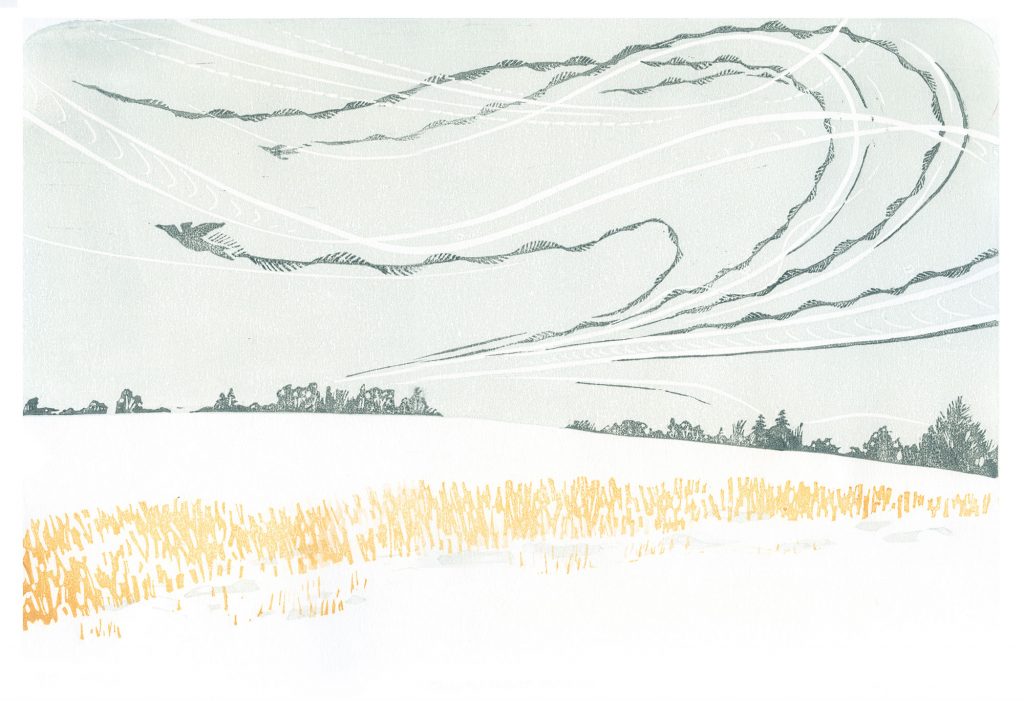 Awards have been announced for Area Show: 47, a competitive exhibition at the Charles H. MacNider Art Museum. The display includes a wide variety of artworks created by artists above high school age living within a 100-mile radius of Mason City. Area Show: 47 is sponsored by NSB Bank.
Entering artists were competing for the opportunity to have their work featured in a solo exhibition and for $1,000 in cash awards. The NSB Bank Best in Show award was given to Lori Biwer-Stewart, of Osage, Iowa, who will be granted a solo exhibition in the fall of 2021, for her color linocut, January Flight Pattern.
Three artists received a $250 Excellence Award; frje Echeverria, of Cedar Falls, Iowa, won jointly for both of his acrylic on linen artworks, Nocturne beside the Statehouse, Annapolis 190704116 and Nocturne beside the Statehouse, Annapolis 1906060316; Wallace Bowling, of Harpers Ferry, Iowa, won for his assemblage, Exquisite Corps #5; and Joel Gonnerman of St. Ansgar, Iowa, won jointly for both of his wood pieces, Ancient Diamonds and Ruby Crystals.
Two Merit Awards, each at $100, were given out; one to Joel Lueck, of Roland, Iowa for his pen and ink drawing, Street Light and one to Larry Gregson, of Mason City, Iowa for his oil on herringbone linen painting entitled Bosveld's Odtaa #1. The $50 Most Daring Award was presented to Megan Roethler, of Independence, Iowa for both of her multimedia installation artworks, It's Okay, Mom (Lucky Charms) and So Close, So Far.
The competition for the show was open to all artists above high school age residing within 100 miles of Mason City, encompassing North Central Iowa and Southern Minnesota. Each entrant was eligible to submit up to two artworks for consideration. This year's show drew a total of 92 entries by 50 artists. The final exhibition includes 36 works by 27 artists.
The juror for Area Show: 47 is Elissa Wenthe, McCosh Professor of Art and Interim Dean for the School of Arts and Sciences at Upper Iowa University.
Many artworks in the exhibition are for sale and can be purchased through the Museum. The exhibition will remain on view in the Museum's Kinney-Lindstrom Gallery through April 7, 2021. Admission is free and open to the public. Please visit the Museum's website, macniderart.org, for the most up to date information and visitor instructions. You can also call the Museum at 641-421-3666.