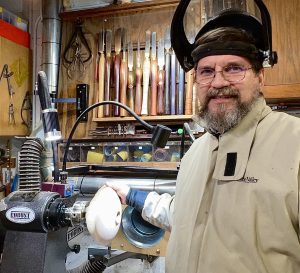 Rob Wallace
November 18, 2023 at 2 pm
The Charles H. MacNider Art Museum is excited to announce that Ames wood artist, Rob Wallace, will be giving an artist talk on Saturday, November 18 at 2 pm in the Museum's Salsbury Room. Seating will be on a first come, first served basis and is free and open to the public.
Rob Wallace will do a live demonstration of turning a wooden bowl on a small wood lathe from a section of log. He will explain the equipment and tools needed to work on turned wooden items, aspects of beginning in woodturning as an art form, and will show the techniques of how the initial shaping of the bowl is done, followed by hollowing the interior. There will also be discussion on how the position of the bowl in the log, along with the shape and proportions of the bowl affect the characteristics of grain, color, and other aspects of aesthetics.
Wallace is a member of the American Association of Woodturners and is president of the Ames Area Woodturners local chapter.  He has been woodturning for over 30 years and does presentations on woodturning at local, regional, and national symposia.  
See:  www.robwallacewoodturner.com for more information.
---
Past ONLINE Lunch 'n' Learns:
Tues., November 24: "Mary Cassatt" with Program Associate Pamela Jost
Tues., October 27: Photography & the North Iowa Photo Club with guest speaker Bruce McKee
Tues., September 29: "Frida Kahlo" with guest speaker Mary Lynn Oertel
Tues., August 25: "Silents at Iverson's" with guest speaker Bob Sherman
Click HERE to view Bob's PowerPoint PDF slides for more info.
Tues., July 28: "How to Cut a Mat" with Associate Curator & Registrar Mara Linskey-Deegan.
Tues., June 30: "A Brief History of M.I. Hummel Art" with Guest Speaker Dean Genth.
Click HERE to view Dean's PowerPoint slides for more info.