Kinney-Lindstrom Gallery
January 20 – March 29, 2023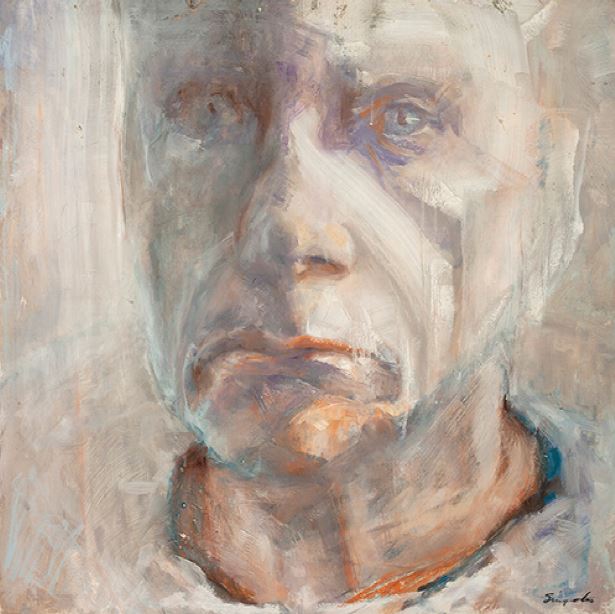 James Singelis: Burning from Within is now open in the Charles H. MacNider Art Museum's Kinney-Lindstrom Gallery. This portrait exhibition is sponsored locally by the Hanson Family Foundation and the Mason City Clinic Charitable Giving Fund.
Born in Warren, Ohio, James Singelis grew up in Connecticut, Maryland, and Illinois, where he attended Lake Forest Academy as a boarding student. He was awarded a Bachelor of Arts from Indiana University in 1967 with a double major in Italian and Art History; he then pursued art history studies for another year at Universita di Bologna, where he found the experience of being immersed in Italian art and architecture as important to his later development as the academic studies themselves. The artist approaches painting as if it were any other kind of job, and he goes to the studio and paints every day whether he feels like it or not.
Singelis started doing self-portraits as an academic exercise, trying at first for an accurate likeness. Then he began to loosen up and let things happen, and this brought unexpected results: the drawings began to seem more real than what he saw in the mirror as well as more engaging and provocative. And although the portraits are not photographic images, they do describe him. They portray something other than what he looks like but show who he honestly is.
He puts a lot of marks on a canvas, and many end up being obliterated or obscured. Those that remain need to feel honest. In the beginning Singelis wanted nothing more than to be a draughtsman, and to this day nothing pleases him more than a tangle of lines that also depicts a face. He tries to create a canvas where the seemingly random play of colors, shapes and lines coalesce into a recognizable image.James Singelis: Burning from Within will be on display at the Charles H. MacNider Art Museum through Wednesday, March 29.