November 27, 2020-February 6, 2021
Center Space Gallery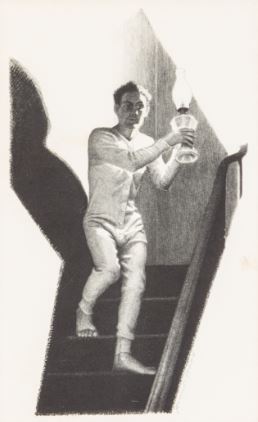 Grant Wood: Nineteen Lithographs opens on Friday, November 27, 2020 in the Charles H. MacNider Art Museum's Center Space Gallery.
In 2019 the Museum was fortunate to have been gifted a Grant Wood lithograph by Dr. Robert and Bonnie McCoy. This lithograph, Midnight Alarm, completes the set of nineteen lithographic prints made by Iowa artist Grant Wood during his artistic career.
Wood depicted the ordinary people and everyday life of Iowa and, along with Thomas Hart Benton and John Steuart Curry, comprised the trio of well-known Midwestern Regionalists.
Influenced by the early Netherlandish painters, Wood's style matured into the meticulous, sharply-detailed manner for which his work is chiefly known. A combination of perceptive insight and dry caricature makes his figure paintings outstanding among the works of the American Regionalist School. Described as the most self-consciously primitive of the artists of his generation, he was instrumental in capturing images of fast-disappearing farm life.
Wood was born in Anamosa, Iowa, in 1891 and spent much of his working life in Cedar Rapids. His final paintings were completed from his studio in Clear Lake, Iowa, before his death in 1942.
The Charles H. MacNider Art Museum's collection of Grant Wood lithographic prints will be on display in the Museum's Center Space Gallery until Saturday, February 6, 2021.