August 6 – October 6, 2021
Kinney-Lindstrom Gallery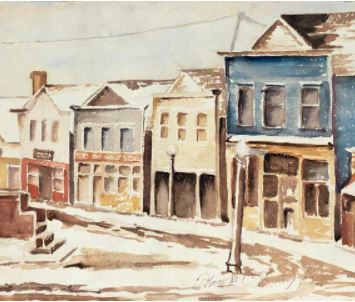 Atlanta C. Sampson was an artist with north Iowa roots who was not "discovered" as an artist until much later in her life. This exhibition highlights her work throughout her career and shines a light on the teacher turned artist from Toeterville, Iowa.
Although Sampson created art for nearly nine decades without recognition or fame, she never gave up despite the many obstacles life put in front of her. Lack of funds did not stop her. When she could not afford materials she painted on grocery bags and on both sides of a canvas. Then she realized her dream: a one-woman show in New York City at age 91. Her work has been sought after ever since.
Join the Charles H. MacNider Art Museum in celebrating this local artist and her artistic legacy. The artwork featured in this exhibition, on loan from the Unionhurst Gallery, is a variety of media and focuses on works she made throughout her life.
In conjunction with the Atlanta C. Sampson exhibition:
Kurtis Meyer will be speaking about "Atlanta Sampson's Lifelong Journey." This free event will take place on Thursday, August 26 at 6 p.m. Kurtis Meyer, an art collector and enthusiast, has frequently presented on the life of Atlanta Constance Sampson. Meyer, a northern Iowa native, met Sampson several times before her death, learning about her works from the artist herself and her family. He recently served for six years on the Iowa Board of Humanities and has served as a consultant to several art Museums over the years. Early in his career he was the Executive Director of the AAM Museum of Art in Wisconsin.
The Charles H. MacNider Art Museum will also offer three free studio art classes for ages 65+ funded by Mason City Clinic. The classes are Mixed Media Abstract on Wednesday, August 18 from 1-3 p.m.; Acrylic Flower Painting on Thursday, September 2 from 1-3 p.m.; Printmaking on Tuesday, September 14 from 1-3 p.m. All three classes are free but registration is required. Call 641-421-3666 to reserve your spot.
Image: Atlanta C. Sampson, Hayfield, Minnesota, watercolor, 1924