November 13, 2020-January 6, 2021
Kinney-Lindstrom Gallery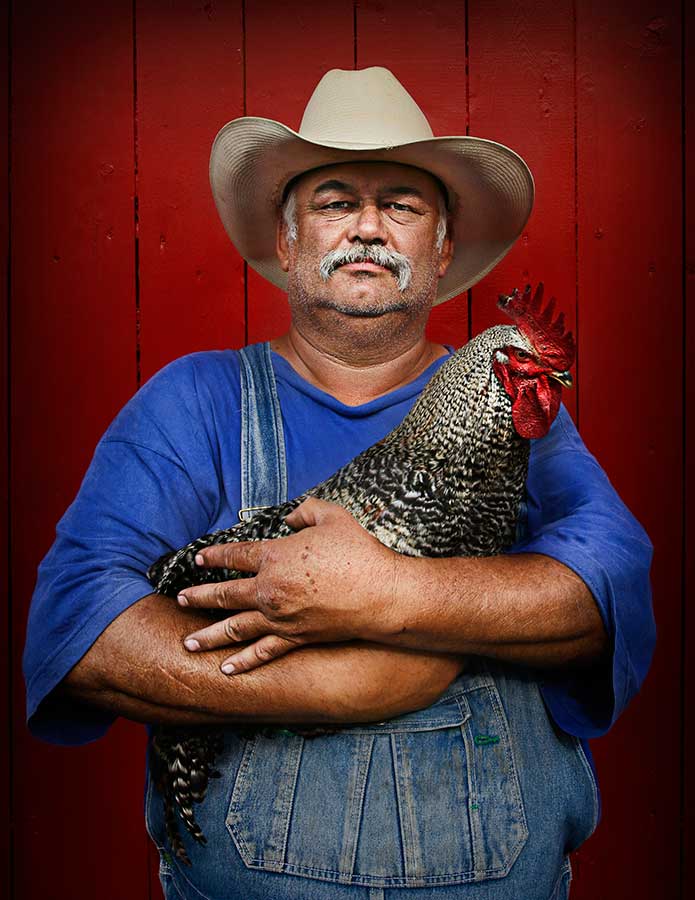 When photographer Paul Mobley set out to capture the soul of our country's farm communities, he encountered an enduring rural culture that remains rooted in the principles of tradition, family, integrity, and hard work. Crisscrossing the country, from Alaska to Florida, Mobley and his camera were welcomed time and time again into the homes of hundreds of farm families. Visit after visit, Mobley came to know the independent farmer's spirit from both behind the lens and across the dinner table. He sought the elusive spirit of agriculture, looking for subjects that mirrored the project's sense of risk and independence. The resulting images show farmers with a strong sense of where they belong in the universe, a close connection to the land and their day-to-day work as it affects the rest of the world. American Farmer is now open at the Charles H. MacNider Art Museum in Mason City.
Out of a collection of more than 200 of these portraits, ExhibitsUSA has distilled a selection of forty-five iconic portraits showing the geographic and cultural diversity of the American Farmer. This vivid portfolio is accompanied by anecdotes and memories in the farmers' own words that are both a testament to their enduring hospitality and a moving glimpse into the hardships and joys of a quickly disappearing way of life—one that once defined our national identity and now struggles to remain vital. From Jim Taber, a young single father raising cattle in Montana, to Shirley Schollenberg, the daughter of Alaskan homesteaders, Mobley's heroic photographs reveal the true face of American farming and remind us what it means to live with simplicity, contentment, and decency in a world that so often forgets.
Paul Mobley is an American photographer who has traveled from remote Alaskan villages to the majestic palaces of Croatia to find the face of a thousand words. Mobley's first book, American Farmer: Portraits from the Heartland, was first published in the fall of 2008 by Welcome Books and received the 2009 Western Heritage Award for Best Photography Book from the National Cowboy and Western Heritage Museum.
This exhibition was curated and organized by ExhibitsUSA, a program of Mid-America Arts Alliance. American Farmer will be on display through Wednesday, January 6, 2021. Admission to the Charles H. MacNider Art Museum is free. Please visit the Museum's website, macniderart.org, for the most up to date information and visitor instructions. You can also call the Museum at 641-421-3666.
About ExhibitsUSA
This exhibition is toured by ExhibitsUSA, a national program of Mid-America Arts Alliance. ExhibitsUSA sends more than twenty-five exhibitions on tour to over 100 small- and mid-sized communities every year. These exhibitions create access to an array of arts and humanities experiences, nurture the understanding of diverse cultures and art forms, and encourage the expanding depth and breadth of cultural life in local communities. For more about ExhibitsUSA, email MoreArt@maaa.org or visit www.eusa.org.
About Mid-America Arts Alliance
Mid-America Arts Alliance (M-AAA) strengthens and supports artists, cultural organizations, and communities throughout our region and beyond. We achieve this primarily through our national traveling exhibition programs, innovative leadership development, and strategic grant making. We are especially committed to enriching the cultural life of historically underserved communities by providing high quality, meaningful, and accessible arts and culture programs and services. We believe in more art for more people. Additional information about M-AAA is available at www.maaa.org.