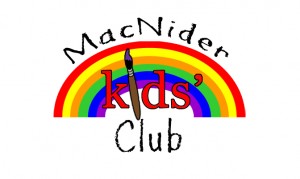 Kids' Club is designed for kids ages 5 through 12, and offers exciting opportunities for children to discover, explore and create art.
Kids' Club Calendar                   
Because it is difficult to have a lot of kids in a class at once, the upcoming Kids' Club events will be held online – with tutorial videos available on Facebook and our website (www.macniderart.org). The Museum will provide 50 Take & Make kits that will be available to pick up in the Museum's entryway 1 day before the event date. Kits are first come, first served. Please take only what you need and leave the rest for others. There will be no registration for these online Kids' Clubs.
Upcoming ONLINE Kids' Clubs:
Saturday, August 27—29                                    Arts Festival/Intergalactic Art
Thursday, September 17, 6:30pm                 Wonderful World of Pipe Cleaners
Saturday, October 17, 9am                               Halloween Creation
Thursday, November 19, 6:30pm                  Thanks for Art
Thurs., July 16  Kits will be available starting at 9 am on Wed., July 15. Tutorial video will be available starting at 6:30 pm on Thurs., July 16. Theme is Model Magic! 
Sat., June 20  Kits will be available starting at 9 am on Fri., June 19. Tutorial video will be available starting at 9 am on Sat., June 20. Theme is Nature Flowers & Showers! 
How do I join??
Those interested in attending Kids' Club can stop by the MacNider Art Museum or call 641-421-3666 to sign up for whatever months they are able to attend. Pre-registration is required for sufficient supplies. First Citizens' Power Saver Club is the official sponsor of MacNider Kids' Club.
How much does it cost?
Nothing! All Kids' Club programming is free thanks to the First Citizens Power Saver Club! Do you bank at First Citizens Bank?  If so, make sure to thank them for sponsoring Kids' Club the next time you stop in!
Would you like to be a Kids' Club volunteer?
If you, or someone you know, would like to help out with this exciting program and are high school age or older please contact Laura Anderson. She will fill you in on what Kids' Club is all about and how you can be part of the FUN!