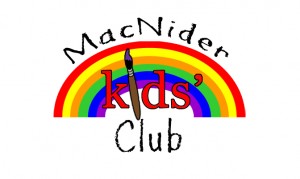 Kids' Club is designed for kids ages 5 through 12, and offers exciting opportunities for children to discover, explore and create art.
Kids' Club Calendar                   
March 2017
Thursday, March 23 from 6:30-7:30 p.m.
Perspective
April 2017
Saturday, April 15 from 9-11 a.m.
Eggs and Cartons
May 2017
Thursday, May 18 from 6:30-7:30 p.m.
Puppets with Bil Baird
June 2017
Saturday, June 10 from 9 a.m. – 5 p.m.
MacNider Arts Festival!
July 2017
Thursday, July 20 from 6:30-7:30 p.m.
Topic TBA
How do I join??
Those interested in becoming a member of Kids' Club can stop by the MacNider Art Museum to sign up. First Citizens' Power Saver Club is the official sponsor of MacNider Kids' Club.
How much does it cost?
Nothing! All Kids' Club programming is free thanks to the First Citizens Power Saver Club! Do you bank at First Citizens Bank?  If so, make sure to thank them for sponsoring Kids' Club the next time you stop in!
Would you like to be a Kids' Club volunteer?
If you, or someone you know, would like to help out with this exciting program and are high school age or older please contact Laura Anderson. She will fill you in on what Kids' Club is all about and how you can be part of the FUN!