COVID-19 Restrictions for Classes: Everyone entering the museum and attending a class will wear a mask. If you do not have one we will provide one, free of charge. All in-person classes have a limit of 10 participants. When a class fills a new one will be created, we will not be going above 10 participants per class at this time. Participants will be spaced at least 6 ft. apart in the studio. Supplies will be set out for each person and not shared with others. We encourage all class registrations to be done over the phone by calling 641-421-3666.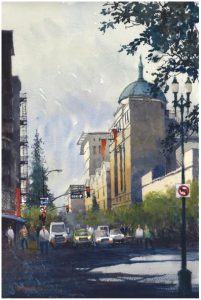 Watercolor Workshop Ages 13-adult
Saturday, August 8
9 am-Noon: Beginner Workshop
1-4 pm: Intermediate/Advanced Workshop
Attend a watercolor workshop taught by Michael Broshar, a member of the Iowa Watercolor Society. Pre-registration is required, class size is a max of 10 students due to social distancing guidelines. Masks are required, museum will provide one at no cost if needed.
Cost: Free (students provide their own supplies)
Watercolor Workshop Supply List – must be purchased by the students:
Watercolor paints

preferably tubes – must have red, yellow, blue
for full blending options = two reds, one cool one warm, two yellows, one cool one warm, two blues, one cool one warm

One round watercolor brush – size #8 or 10
One watercolor mop brush
Pad of good quality watercolor paper (100% cotton, at least 140 lbs+) – should be 11×15" or larger
Intermediate/advanced students can bring additional watercolor supplies if they would like
VINTAGE JEWELRY COLLAGE (Ages 13-Adult)
Go back to the 1970's to create a beautiful, one-of-a-kind collage from donated, vintage jewelry. Choose from a butterfly, tree, heart or star shape to work with. You are welcome to bring any of your own collected jewelry to give it a personal touch, but it is not required.
Saturday, September 26, 12:30pm—4:30pm
Fee: $30, Members $27 Instructor: Laura
POUR A PAINTING (Ages 13-Adult)
Explore methods for making acrylic pour paintings, which are characterized by unpredictable swirls of colorful paint with a glossy finish.
Saturday, November 14, 10am—12pm
Fee: $35, Members $31 Instructor: Pamela


Click here for your class registration form!
Call 641-421-3666 to register!
Please remember to silence your cell phones and refrain from taking calls and texting while attending these classes. Thank you!
As of September 1, 2015 we will no longer offer pro-rated pricing for multiple-day classes if you cannot attend every day. Everyone will need to pay the full price. We want to encourage everyone to attend all scheduled class sessions as most projects in these classes take multiple days to complete. Missing classes may result in not being able to participate in scheduled projects as well as unfinished projects. Please call 641-421-3666 with questions