Off the Wall showcases pieces from our permanent collection individually so you can learn a little bit more about the pieces in our museum one at a time.
*****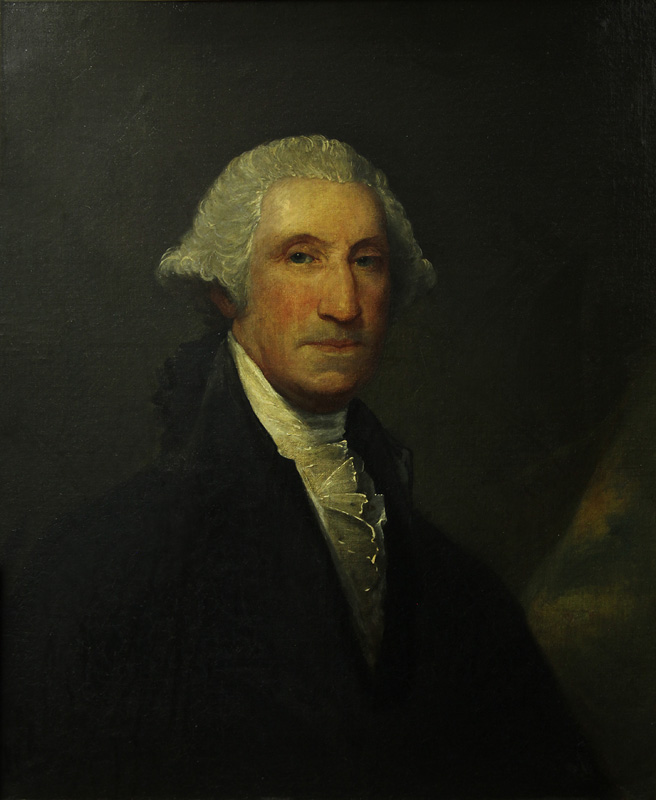 George Washington
Jane Stuart (1812-1888)
Oil on canvas, not dated. Gift of Mr. and Mrs. Jack MacNider. 1983.5
The portrait of George Washington is by Jane Stuart.  Jane was the daughter of Gilbert Stuart, the artist who painted the well-known unfinished painting of our first president. It is probably the most famous portrait in America.  We see it every day on the dollar bill.
Gilbert Stuart didn't sell his unfinished portrait of Washington, but used it to make numerous copies to meet the huge demand for pictures of the president. That was a good thing for Jane.  When Stuart died in 1828 he was a celebrated portrait painter, but he left his family penniless.  Jane had only been allowed to do the menial work of mixing colors and painting backgrounds in his studio, but this experience put her in a good position to understand her father's style.  Though she was the youngest of his 12 children, she was able to support her mother and sisters by continuing the practice of making replicas.
Jane admired her father greatly and worked tirelessly to promote his legacy.  She also established a moderately successful portrait studio of her own in Boston.
*****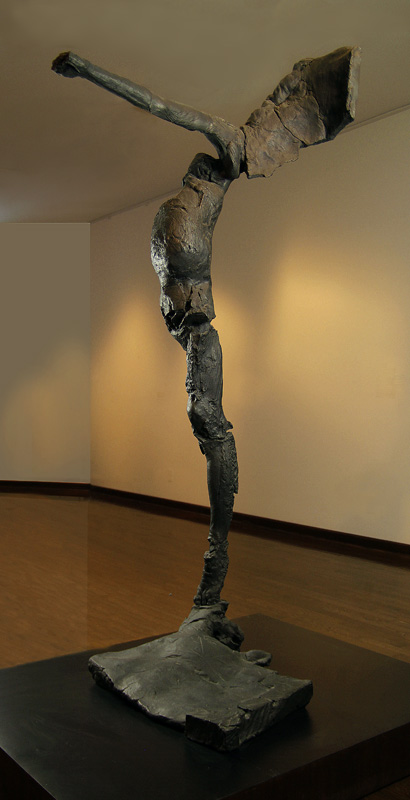 Left-Sided Figure Pointing
Stephen DeStaebler (1933-2011)
Bronze, 1983. Museum Purchase from John Berggruen Gallery, San Francisco, CA. 1990.1
Stephen DeStaebler was born in 1933.  He is a nationally known, Bay Area based sculptor whose work is based on the expressive potential of the human figure.  His academic work was completed at Princeton University with a thesis on St. Francis.
After working primarily in clay during the 1960's and 1970's, he began to work with bronze in the 1980's and began his association with Artworks Foundry, starting in the early 1980's.
DeStaebler's work can be seen locally at the City Center in Oakland, near the Museum of Modern Art in San Francisco, the M.H. DeYoung Museum in Golden Gate Park and in the Oakland Museum.
His work was the subject of a major museum retrospective in 1988-89, which traveled to San Francisco, Washington, D.C. and other cities.  A catalogue of this exhibition, "Stephen DeStaebler: The Figure" was written by Donald Kuspit, and features many works in bronze that were cast by Artworks Foundry.
*****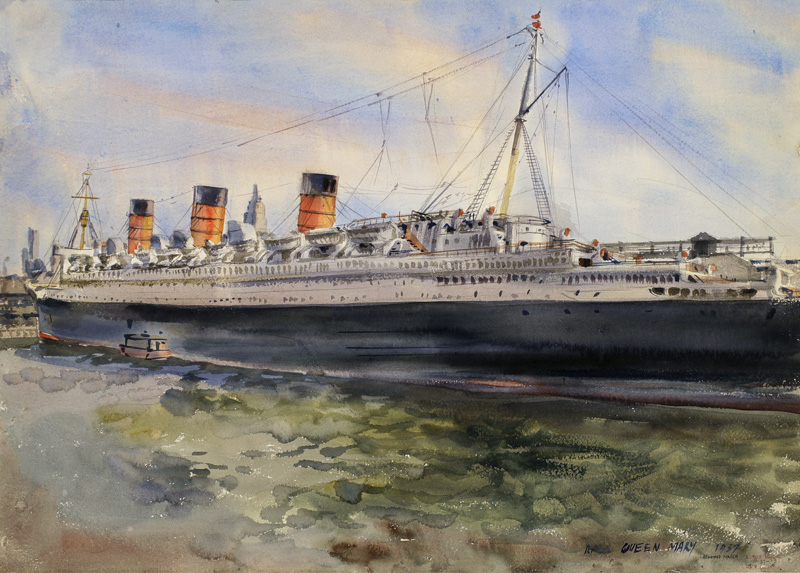 Queen Mary
Reginald Marsh (1898-1954)
Watercolor on paper, 1937. Bequest of Mrs. Felicia Meyer Marsh. 1979.1.5
Reginald Marsh was an American painter, born in Paris, most notable for his detailed depictions of life in New York City in the 1920's and 1930's. He painted using egg tempera, a forgotten medium revived in the mid-twentieth century. He also produced many watercolors, oil paintings, Chinese ink drawings, and a number of lithographs and etchings.
Marsh attended the Lawrenceville School and graduated in 1920 from Yale University, he then worked as a freelance illustrator, then for the New York Daily News and for The New Yorker. He also submitted illustrations to the New Masses. Marsh was impressed by the 'old master' paintings he saw on a 1926 European trip. He returned with a desire to utilize the principles he felt were evident in the art of the Renaissance painters, particularly the practice of taking notes from observation of human subjects in their environments. Marsh then studied under Kenneth Hayes Miller, John Sloan and George Luks at the Art Students League of New York, and chose to do fewer commercial assignments.
Reginald Marsh's paintings and drawings combine an almost baroque drawing style with a newspaper reporter's attention to the minutiae of urban public life. Filled with facts, his art is unabashedly topical, often based on his own photographs and numerous on-site sketches. Marsh's headlines, signs, and advertisements are specific and legible while his faces and figures are often indistinguishable.
Marsh was a great draughtsman, but did not think he would be a painter, for as he recalled, "Painting seemed to me then a laborious way to make a bad drawing. . ." He disliked oil, but of watercolor he said, "Watercolor I took up and took to it well, with no introduction." In late 1929 Thomas Hart Benton and Denys Wortman introduced him to egg tempera on a gesso ground, which "opened a new world to me" because it was the perfect medium for a draughtsman. In 1930, having found his subjects and his techniques, Marsh joined the Frank K. M. Rehn Galleries and enjoyed artistic success and recognition for the rest of his life.
*****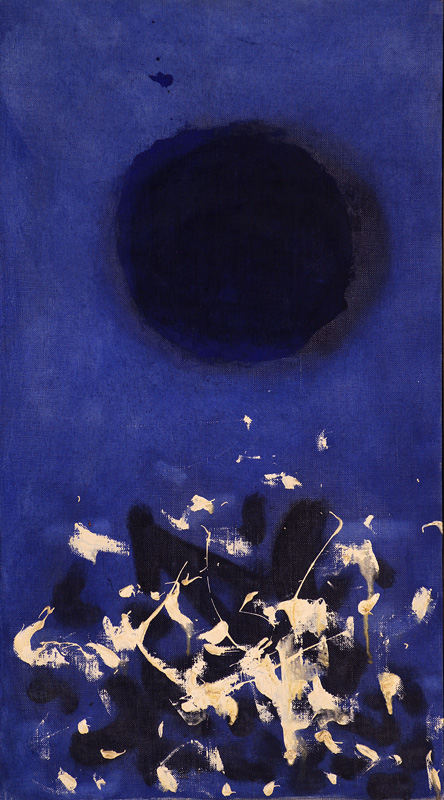 Blues
Adolph Gottlieb (1903-1974)
Oil on canvas, 1959. Gift of Mr. and Mrs. Donald Winston. 1978.3.4
Adolph Gottlieb was born on March 14, 1903 in New York. From 1920-1921 he studied at the Art Students League of New York, after which he traveled in France and Germany for a year. In the mid-1930's, he became a teacher using his acquired technical and art history knowledge to teach while he painted.
After his 1930's one-man show he won respect amongst his peers. In 1935, he and nine others, including Ben-Zion, Ilya Bolotwsky, Louis Harris, Jack Kufeld, and Mark Rothko, known as "The Ten" exhibited their works together until 1940. They would come to be known as the Abstract Expressionists.
Gottlieb's work and awards are found in the Dudensing Galleries in New York, the Guggenheim Museum.  Other places include Paris, Pennsylvania, Texas, Brazil, and others.  One thing that Gottlieb created was "Pictographs" and these are found in New York.
In 1932, he married Esther Dick.  In 1970, he suffered a stroke and was confined to a wheelchair because he paralyzed his left side of his body, but he still continued to paint.  In 1972, he was elected member of the National Institute of Arts and Letters.  On March 4, 1974, Adolph Gottlieb died in New York City.
*****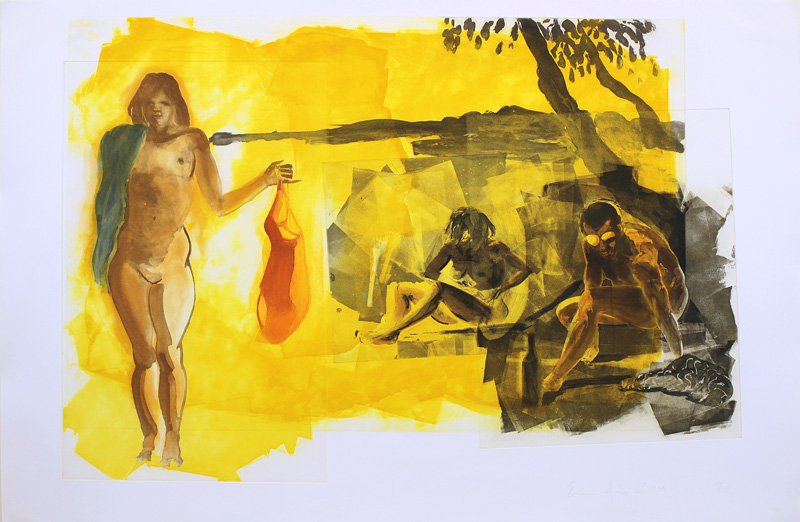 Untitled (Rays)
Eric Fischl (b. 1948)
Aquatint on paper, 1989. John and Mary Pappajohn Endowment Fund Purchase. 2004.1
Born in New York City in 1948, Eric Fischl grew up in the suburbs of Long Island. Against a backdrop of alcoholism and a country club culture obsessed with image over content, Fischl became focused on the rift between what was experienced and what could not be said. Until the late 70's, suburbia was not considered a legitimate genre for art. With his first New York show at the Edward Thorp Gallery, epithets like "psycho-sexual suburban dramas" became velcroed to his disturbing images of dysfunctional family life.
His art education began at Phoenix College, then a year at Arizona State University, then California Institute of the Arts in Valencia, California, where he earned his BFA in 1972. He moved to Chicago, taking a job as a guard at the Museum of Contemporary Art. His own website accounts, "It was in Chicago that Fischl was exposed to the non-mainstr In 1974, he took a job teaching painting at Nova Scotia College of Art and Design, where he met painter April Gornik, with whom he moved back to New York City in 1978 and later married. Currently, Fischl still works and resides in New York City. In addition, he is a senior critic at the New York Academy of Art.
*****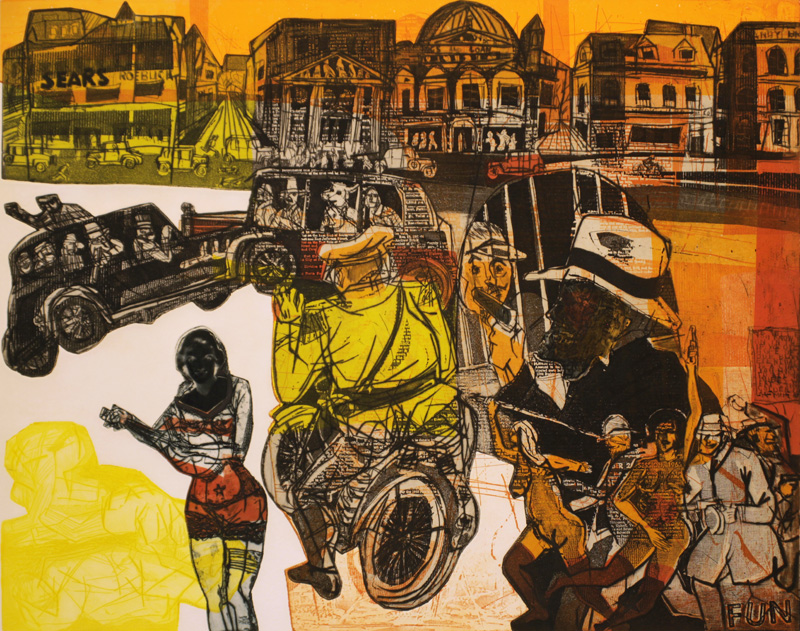 Dillinger: The Great Mason City Raid
Warrington Colescott (1921-2018)
Etching on paper, 1965. Gift of Norwest Bank of Mason City. 1995.11.5
Wisconsin artist Warrington Colescott is best known for his satirical etchings.   Born in Oakland, California to parents of Louisiana Creole descent, food, music and Creole culture played a large role in upbringing.  Comic strips were also important to the young Colescott, especially the work of Des Moines Register cartoonist, Jay "Ding" Darling.  Darling's caricatural and narrative components greatly influenced Colescott's mature work.  As a teenager, he discovered vaudeville and burlesque.  The broad humor and slapstick, as well as the eroticism of these performances, would inform his art throughout his career.
Colescott created a series of etchings about the Depression-era gangster, John Dillinger, which grew into a suite of images mixing fact and fiction about the farm boy-turned-outlaw who mesmerized the public in the 1930s.  Colescott had no compunction about enhancing the narratives with imagined details and anachronistic additions.
Colescott portrayed Dillinger, known at the time as Public Enemy No. 1, as a super anti-hero in the series.  For The Mason City Raid, he came to the scene and interviewed locals who had been at the event.  Colescott's version of the crime has the feeling of a movie still, with department store signs in the background and gun molls accompanying the thugs.  Colescott observed, "The Dillinger men took their girls with them wherever they went.  I've tried to convey the feeling of the gang: very rowdy, very adolescent, very sexual."
On March 13, 1934, John Dillinger and his gang robbed the First National Bank in Mason City, Iowa, and escaped with approximately $52,000.  Surprised bank employees and citizens were used as shields from police gunfire.  A switchboard operator on an upper floor of the bank crawled to a window and shouted news of the holdup to a man in the alley.  He brandished a machine gun and shouted back, "You're telling me, lady?"  The man was Baby Face Nelson who was standing lookout.
*****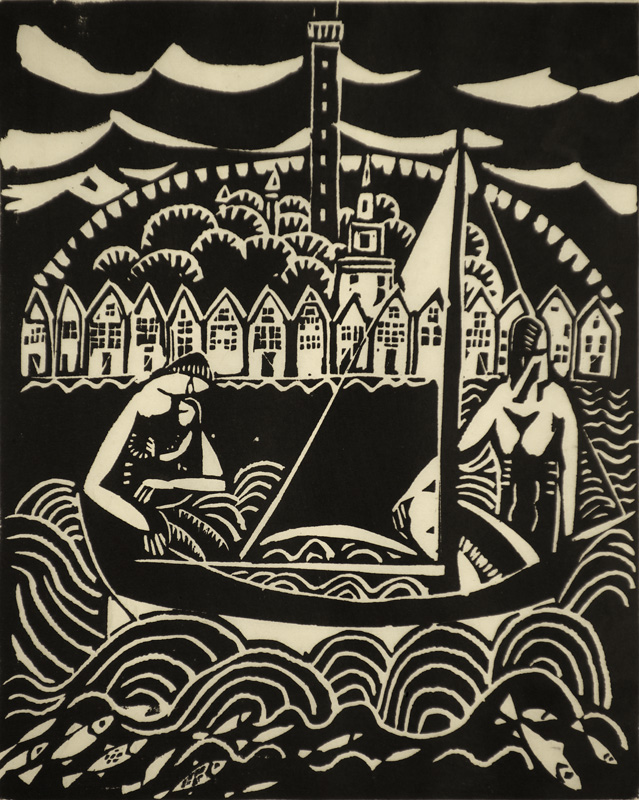 Fisherman (Provincetown)
William Zorach (1889-1966)
Linocut on paper, circa 1916. Gift of Mary MacGregor. 1995.7.8b
William Zorach  was a Lithuanian-born American sculptor, painter, printmaker, and writer. He won the Logan Medal of the arts. He is notable for being at the forefront of American Artists embracing cubism, as well as for his sculpture.
Zorach Gorfinkel was born in 1889 into a Lithuanian Jewish family in Jurbarkas in Lithuania (then a part of the Russian Empire). Zorach (then his given name) emigrated with his family to the United States in 1894. They settled in Cleveland, Ohio under the name "Finkelstein". In school, his first name was changed to "William" by a teacher. Zorach stayed in Ohio for almost 15 years pursuing his artistic endeavors. He worked as a lithographer as a teenager and went on to study painting at the Cleveland School of Art. In 1908, Zorach moved to New York in enroll in the National Academy of Design. In 1910, Zorach moved to Paris with Cleveland artist and lithographer, Elmer Brubeck, to continue his artistic training at the La Palette art school.
While in Paris, Zorach met Marguerite Thompson, a fellow art student of American nationality, whom he would marry in 1912 in New York City. The couple adopted his original given name, Zorach, as a common surname. Zorach and his wife returned to America where they continued to experiment with different media. Both William and Marguerite were heavily influenced by cubism and fauvism. They are credited as being among the premiere artists to introduce European modernist styles to American modernism. During the next seven years, Zorach established himself as a painter, frequently displaying his paintings in gallery shows as venues such as the Society of Independent Artists and the Whitney Studio Club. While Marguerite began to experiment with textiles and created large, fine art tapestries and hooked rugs, William began to experiment with sculpture, which would become his primary medium.
In 1923 the Zorach family purchased a farm on Georgetown Island, Maine where they resided, worked, and entertained guests. Zorach was elected to the American Academy of Arts and Letters in 1953, and received a D.F.A. from Bates College in 1964. He taught at the Art Students League of New York, between 1929 and 1960. He continued to actively work as an artist until his death in Bath, Maine, on November 15, 1966.
*****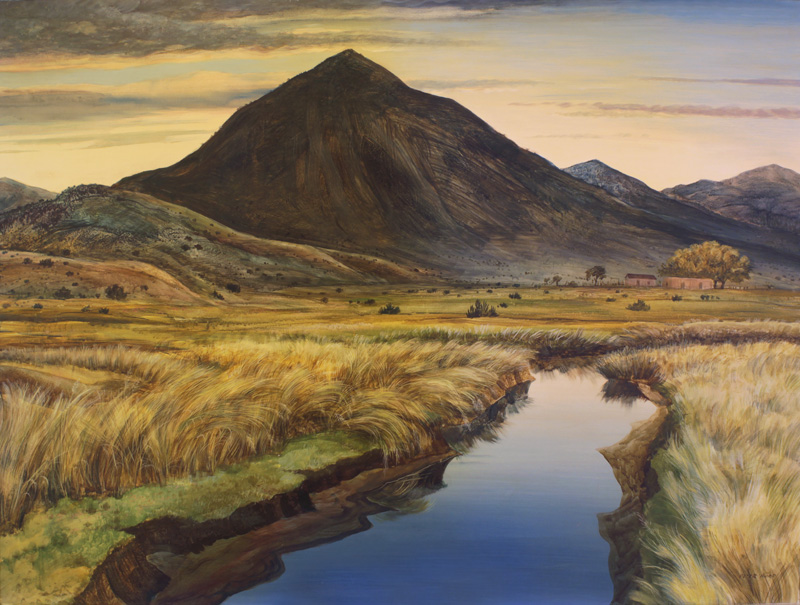 Rio Hondo
Peter Hurd (1904-1984)
Egg tempera on panel. Gift of Mr. and Mrs. Donald Winston. 1978.3.7
Peter Hurd, the world-renowned western artist, was born in Roswell, New Mexico. His parents named him Harold Hurd, Jr., but called him Pete, and in his early twenties he legally changed his name to Peter. Following three years of high school at New Mexico Military Institute in Roswell, Hurd was accepted as a cadet by the United States Military Academy at West Point. He entered as a plebe in July 1921, at the age of seventeen. Within two years, however, he was disillusioned by the rigors and values of military life and was drawn increasingly to art.
In 1923 he resigned from West Point in good standing, with his father's reluctant consent. He transferred to Haverford College, where he studied the liberal arts and devoted himself to painting. In December 1923, in Chadds Ford, Pennsylvania, Hurd became acquainted with N. C. Wyeth, an illustrator of children's classics and the father of Andrew Wyeth. He persuaded Wyeth to accept him as a pupil in the spring of 1924. Hurd soon fell in love with Wyeth's eldest daughter, Henriette, herself an excellent painter. In June 1929 they married.
In 1959 Hurd was appointed to the Commission on Fine Arts by President Dwight D. Eisenhower. In 1967, he painted what would have been Lyndon B. Johnson's official portrait. President Johnson only allowed Hurd one sitting, during which he fell asleep. Hurd had to use photographs of Johnson to finish the painting. Johnson did not like his portrait, declaring it "the ugliest thing I ever saw." The painting is now part of the collection of the National Portrait Gallery, in the Smithsonian Institution.
He worked in a variety of media, including oil, lithography, watercolor, egg tempera, charcoal, and fresco. The most notable of his mural paintings depicting the history of southwestern life can be seen in Lubbock, Dallas, and Big Spring, Texas. Hurd achieved the best expression of his personal vision in the tempera paintings of the place he loved best-the small village of San Patricio, New Mexico, fifty miles west of Roswell, where he built Sentinel Ranch in the 1930s. Painting on panels covered with several coats of gesso, Hurd captured the drama of light and shadow on the hills and the vastness of sky and plain in every kind of weather.
*****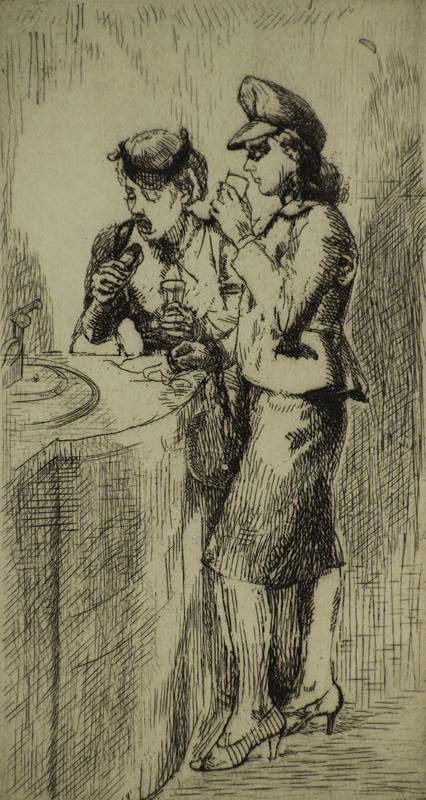 Lunch Counter
Isabel Bishop (1902-1988)
Etching on paper, 1940. Gift of Ann and John MacGregor. 1995.8.2
Isabel Bishop  was an American painter and graphic artist, who produced numerous paintings and prints of working women in realistic urban settings. She was widely exhibited in her lifetime, and was recognized with a number of awards including one for Outstanding Achievement in the Arts, presented to her by President Jimmy Carter in 1979.
Bishop was brought up in Detroit, Michigan, before moving to New York City at the age of 16 to study illustration at the New York School of Applied Design for Women. After two years there she shifted from illustration to painting, and attended the Art Students League for four years until 1924.
During the 1920s and 1930s she developed a realist style of painting, primarily depicting women in their daily routine on the streets of Manhattan.  In 1932, Bishop began showing her work frequently at the newly opened Midtown Galleries, where her work would be represented throughout her career. She returned to the Art Students League as an instructor from 1936 to 1937. In 1940, Bishop was elected into the National Academy of Design as an Associate member, and became a full member in 1941.
Although she never focused on landscape painting per se, many of the remaining early paintings exhibit an interest in natural lighting, trees, still-life, and street scenes, often in a forced 1:3 landscape ratio. Early pieces, of which few survive owing to the artist's intense self-criticism, are often on pressboard.
Bishop's mature works depict the inhabitants of New York's Union Square area, where she maintained a studio between 1934 and 1984. Her subjects are nearly always women who come from a blue-collar background, yet she was also known to produce panoramic landscape studies, and social scenes such as golf tournaments. Bishop also delighted in multiple-figure compositions, often containing two females engaged in various workaday interactions. In the post-war years Bishop's interest turned to more abstracted scenes of New Yorkers walking and traveling, in the streets or on the subways. Her signature changed many times over her career, ranging from the use of various pseudonyms to initials; some early pieces are signed I.B, or I. Bishop in both block and script.
*****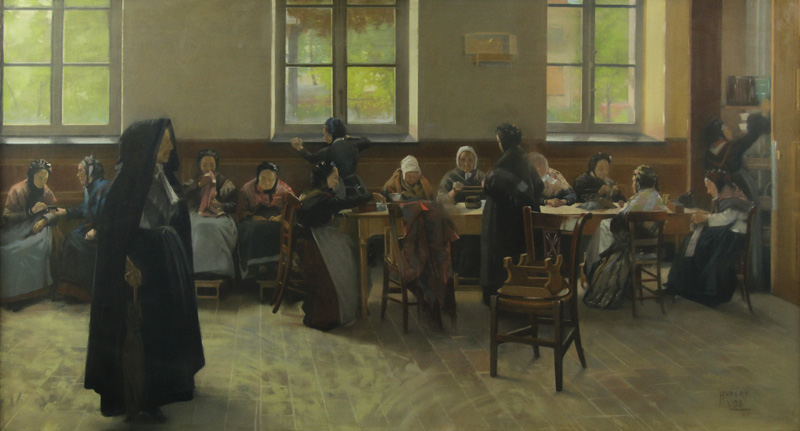 The Knitting Room
Hubert Vos (1855-1935)
Pastel on canvas, 1889.
Museum Purchase with funds from the Memorials and Acquisitions Fund. 2010.1
Hubert Vos was born in 1855 in the Netherlands. Vos worked in oils, pastels and watercolors, and produced house interiors with people, and portraits and full figures, most painted in rural areas and showing destitute and working class people.
He trained as a printer, publisher and book salesman, and established his own printing and publishing firm in Brussels. He soon sold the firm and began studying at the Academie Royal de l'Art in Brussels.  In the late 1880's he began to win prizes for his works.
Apparently his growing international recognition emboldened him to move to London in 1887 where he established a teaching studio. It quickly became a success and he opened two others, one for ladies. Vos befriended James Whistler and was a co-founder of the Society of British Portrait Painters and the Society of Pastellists. For ten years he remained in London, and established a reputation as a portraitist. He continued to paint the poor in the almshouses of Brussels, London, and Northampton, as well as painted portraits of mental patients in asylums in Belgium and England.
In 1892 he was appointed deputy commissioner representing the Netherlands at the Chicago World's Fair of 1893. For his efforts he was never paid but knighted instead. He liked life and opportunities in the United States, decided to stay and sold the London studios. Eventually he obtained American citizenship.
At Chicago's World Fair he was inspired by the ethnic types from around the globe, and decided on a lifelong project to paint pure ethnic types that would take him across the United States, to Hawaii, Japan, China, Korea, Java. In the decades around 1900 Vos travelled through the United States showing his portrait gallery of exotic types. In 1904 he was a member of the jury at the International Exhibition in St. Louis, and co organized a second Dutch art show in America at this occasion.
Vos continued painting portraits, receiving numerous commissions from diplomats, businessmen and wealthy northeastern families, notably from New York City and Newport, Connecticut, where he went to live and work is his studio "Zeerust".