Off the Wall showcases pieces from our permanent collection individually so you can learn a little bit more about the pieces in our museum one at a time.
*****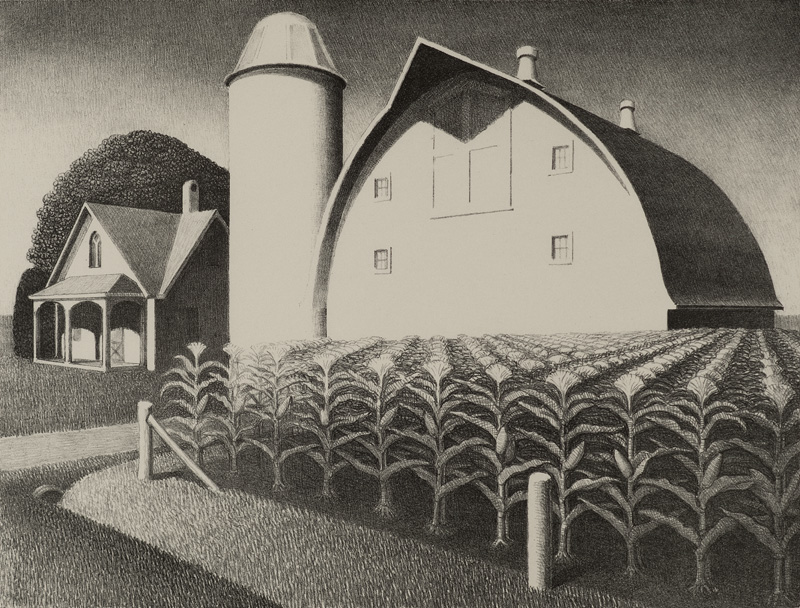 Fertility
Grant Wood (1891-1942)
Lithograph on paper, 1939. Bequest of Katherine M. Zastrow. 1997.14.1
Grant Wood depicted the ordinary people and everyday life of Iowa with both affection and irony.  Wood, along with Thomas Hart Benton of Missouri and John Steuart Curry of Kansas comprised the trio of well-known Midwestern Regionalists. These artists rebelled against the abstraction of European Modernism and insisted that American art should present a picture of the American scene.  During the Great Depression of the 1930s, when a much higher proportion of the population lived on farms, their work was widely appreciated for its reassuring images of the heartland.
Wood's studied in Europe and was influenced by the precise realism of the early Netherlandish painters.  His style matured into the meticulous, sharply-detailed manner for which his work is chiefly known.  A combination of perceptive insight and dry caricature makes his figure paintings distinctive among the artists of the Regionalist School.
Wood was born in Anamosa, Iowa in 1892 and spent much of his working life in Cedar Rapids and Iowa City.  He was instrumental in capturing images of fast-disappearing farm life.  His final paintings were completed from his studio in Clear Lake, Iowa before his death in 1942.
*****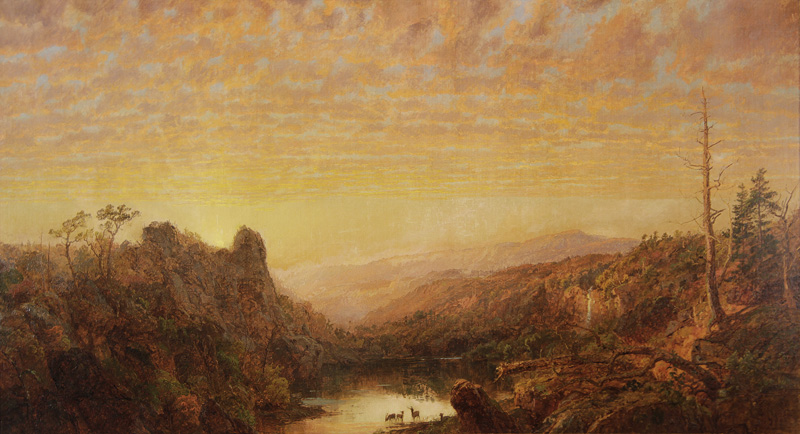 Twilight
Jasper Cropsey (1823-1900)
Oil on canvas, 1877. Museum Purchase. 1979.2
As a young boy, Cropsey had recurring periods of poor health.  While absent from school, Cropsey taught himself to draw.  His early drawings included architectural sketches and landscapes drawn on notepads and in the margins of his schoolbooks. Cropsey studied watercolor and life drawing at the National Academy of Design and first exhibited at there in 1844.  Trained as an architect, he set up his own office in 1843.
Cropsey's interest in architecture continued throughout his life and was a strong influence in his painting, most evident in his precise arrangement and outline of forms.  But he was best known for his lavish use of color and, as a first-generation member from the Hudson River School, painted autumn landscapes that startled viewers with their boldness and brilliance. The Hudson River School was a mid-19th century American art movement by a group of landscape painters, whose aesthetic vision was influenced by romanticism.  As an artist, he believed landscapes were the highest art form and that nature was a direct manifestation of God.  He also felt a patriotic affiliation with nature and saw his paintings as depicting the rugged and unspoiled qualities of America.
Jasper Cropsey is experimenting with the abstract properties of color, light, and form in Twilight.  It consists of mostly sky with mountainous and forest-like terrain and also shows little bodies of water with deer drinking from them toward the bottom of the painting.  Night is approaching and the clouds are reflected colorfully with the rays from the setting sun to show a beautiful horizon of distant clouds and mountains.
*****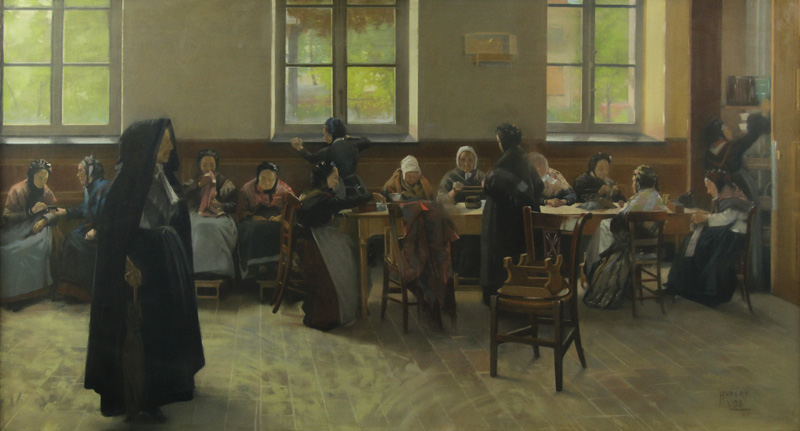 The Knitting Room
Hubert Vos (1855-1935)
Pastel on canvas, 1889. Museum Purchase with funds from the Memorials and Acquisitions Fund. 2010.1
Hubert Vos was born in the Netherlands in 1855 to a family that produced several generations of artists. Vos studied at the Académie des Beaux Arts in Brussels. As his career advanced Vos exhibited his works in Paris, Amsterdam, Brussels Dresden and Munich.
Vos served as a Dutch Commissioner to the 1893 Chicago world's fair, and the experience enamoured him of the United States and also gave him an artisitic epihany. After noting the many portaits of Caucasian subjects he began to be interested in executing portraits of exotic (non-Caucasian) subjects. It was after the fair moved to the United States.
During the early 1900's Vos travelled in the Western United States painted images of American Indian subjects. Vos also served as a fine arts commissioner for the Netherlands at the 1904 World's Fair in St. Louis. In 1905 Hubert Vos took his last trip around the world and became the first European painter to paint a portrait of China's Empress Dowager Tzu Hsi (1835-1908).
In retrospect, Hubert Vos is best known for the paintings he made in Hawaii, Indonesia, Korea, China, and Hong Kong. He is often grouped with the artists who made an effort to capture the life and culture of Old Hawaii before it disappeared. Strongly Eurocentic in his views, Vos had an interest in portraits of exotic racial and ethnic types and felt that a portrait should express "ancestry in race." Among his racial portraits were composite portraits meant to feature common racial characteristics.
*****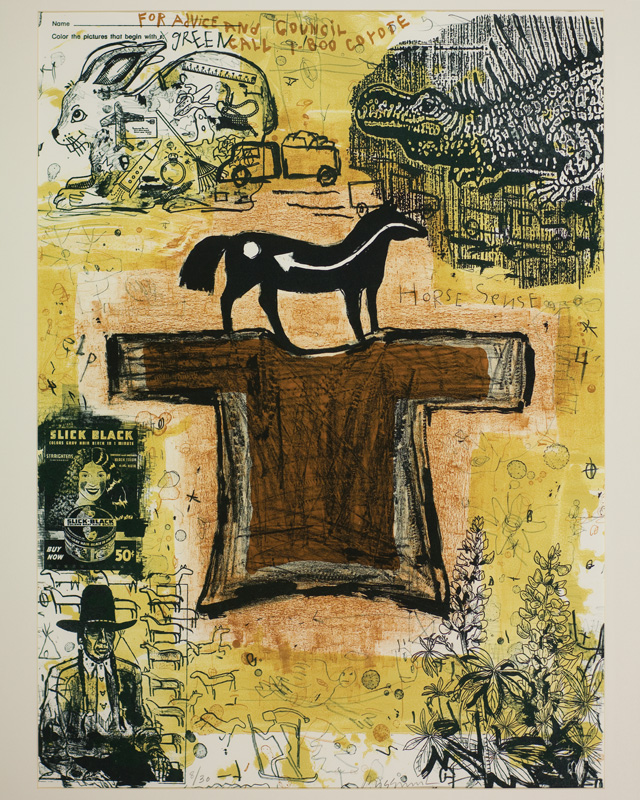 Horse Sense
Jaune Quick-To-See Smith (b. 1940)
Color lithograph on paper, 1994. Museum Purchase with Funds from the Bill Gildner Memorial Fund. 2009.1
Horse Sense was created by artist, curator, political activist and educator, Jaune Quick-to See Smith.
Quick-to-See Smith was born in Montana and descended from French, Cree and Shoshoni ancestors.  Her father was an accomplished horse trainer and trader, but his work meant she moved frequently. When he was not able to care for her, she lived in foster homes and often experienced discrimination in the schools as a Native person.   School however, was the place where she was first introduced to art materials and fell in love with making art.
Throughout her career, Quick-to-See Smith has worked in many media and today is an internationally-known painter and printmaker.  She is sensitive to the effects of text on images and especially skilled at creating and appropriating texts that capture the paradigms of American culture and open up their meanings. She makes complex juxtapositions that recontextualize the way viewers understand not only relationships between Euro-American and Native culture, but how she, as an artist living in both worlds, views those issues.   Her works are thoughtful and thought provoking, raising questions that explode stereotypes and myths about indigenous people.
The layered and nuanced imagery of Horse Sense is packed full of juxtapositions of loaded images and text, inviting us as viewers to explore its messages.
*****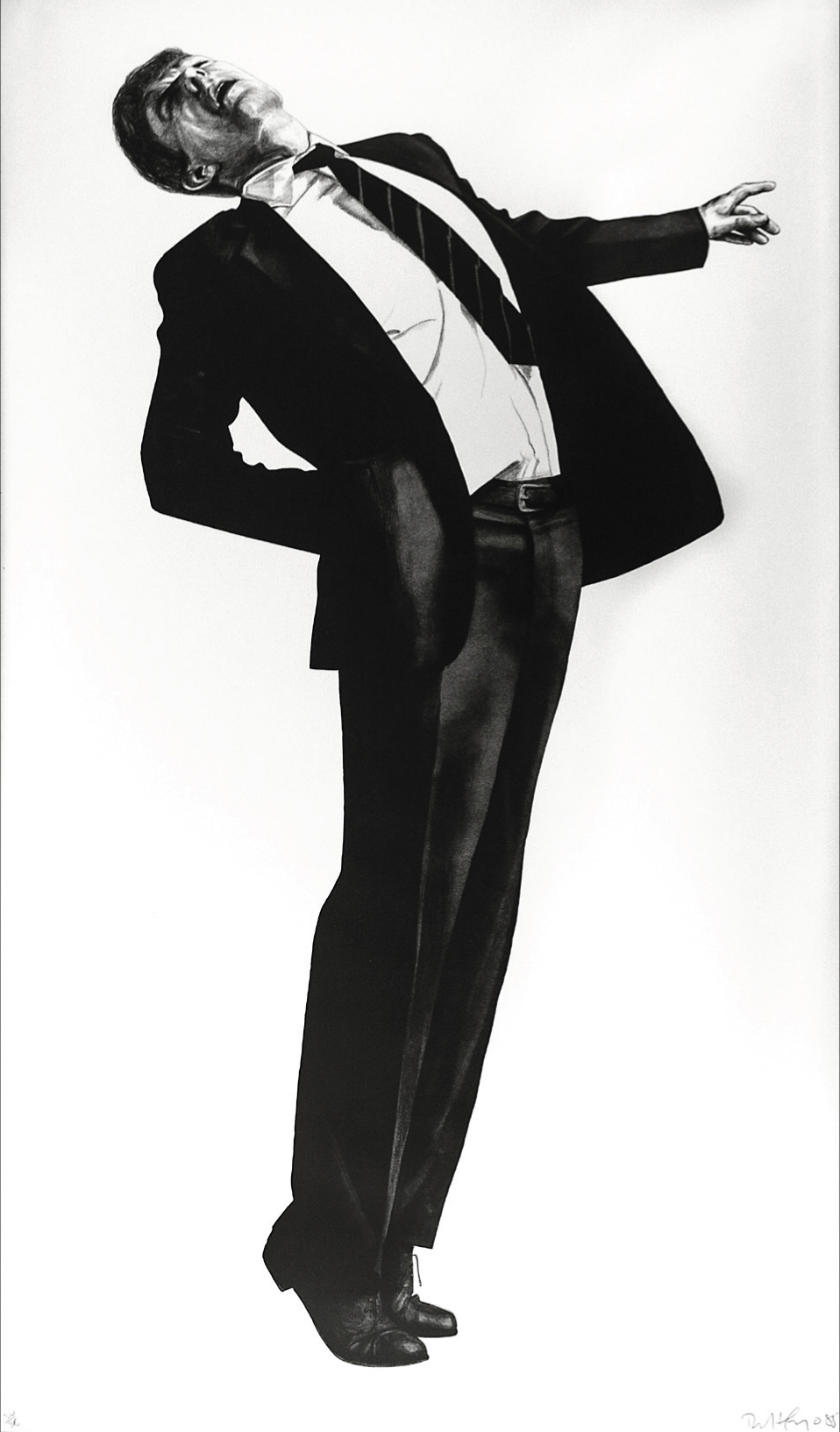 Edmund
Robert Longo (b. 1953)
Lithograph on paper, 1985. John and Mary Pappajohn Endowment Fund Purchase. 1986.1
Robert Longo was born in 1953 in  New York. He had a childhood fascination with mass media: movies, television, magazines, and comic books, which continue to influence his art.
While in college, Longo and his friends established an avant garde art gallery in their co-op building, the Essex Art Center, which was originally a converted ice factory; the gallery became Hallwalls Contemporary Art Center. Longo eventually moved to New York City to join the underground art scene of the 1970s.
Although he studied sculpture, drawing remained Longo's favorite form of self-expression. However, the sculptural influence pervades his drawing technique, as Longo's "portraits" have a distinctive chiseled line that seems to give the drawings a three-dimensional quality. Longo uses graphite like clay, molding it to create images like the writhing, dancing figures in his seminal "Men in the Cities" series. For that series, Longo photographed his friends lurching backward, collapsing forward or sprawled on invisible pavement. After enlarging the pictures through a projector, he and an artist assistant drew them in sizes ranging from three-quarter scale to larger than life-size. In the process, Longo often dramatized poses and always standardized attire into quite formal, black-and-white clothing.
In his 30s, Longo was among the most widely publicized, exhibited and collected artists of the 1980s along with the likes of Cindy Sherman and David Salle. However, several critics have commented that Longo had lost his way as a visual artist by the mid-'80s.
In the 1980s, Longo directed several music videos, including New Order's "Bizarre Love Triangle", Megadeth's "Peace Sells" and "The One I Love" by R.E.M. He also directed the cyberpunk movie Johnny Mnemonic, starring Keanu Reeves, Dolph Lundgren and Takeshi Kitano, and a short film named Arena Brains.
Commissioned by Italian luxury label Bottega Veneta, Longo photographed models Terron Wood and Alla K for the brand's fall/winter 2010 advertisements, evoking memories of the dancing silhouettes of his Men in the Cities series. In 2013, Longo's artwork was featured in an article in the men's magazine, Man of the World along with an article discussing his life and career.
Longo has had retrospective exhibitions at Hamburger Kunstverein and Deichtorhallen, Menil Collection in Houston, the Los Angeles County Museum of Art in 1989, the Museum of Contemporary Art, Chicago in 1990, Hartford Athenaeum, The Isetan Museum of Art in Tokyo, and more recently a "Survey Exhibition 1980-2009," at Musee D'Art Moderne Et D'Art Contemporain de Nice in France in 2009 and at Museu Colecção Berardo in Lisbon, Portugal in 2010.
*****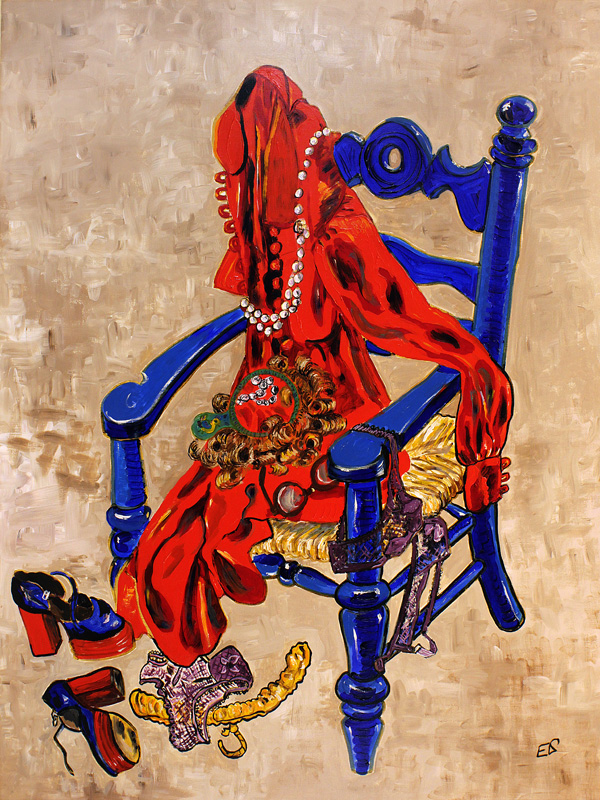 Disrobed
Edwina Sandys (b. 1938.)
Acrylic on canvas, circa 1972. Gift of Ann MacGregor.
A New Yorker by choice and marriage, Edwina Sandys was born and raised in London.  Not only was her father the British Cabinet Minister, Duncan Sandys, but her grandfather was Winston Churchill. It is telling that these major political figures were both talented artists. Through her richly varied life experience, Edwina is uniquely situated to create work related to the global issues of our time.
During the last 30 years Edwina has created art of international acclaim that includes sculpture, paintings, collage and works on paper.  Her work has reached a wide audience far beyond the realm of the private collector.  Early in her career, for the 1979 United Nations' Year of the Child, she created three monumental sculptures, which are now installed at UN centers in New York, Geneva and Vienna.  A decade later, she used dismantled sections of the Berlin Wall to create an extraordinary sculpture, Breakthrough, now permanently sited at Westminster College in Fulton, Missouri, where Winston Churchill gave his historic "Iron Curtain" speech.
However, she does not focus solely on political subjects, but also frequently explores the relationships between man and woman.
"True Art is always Art for Art's sake – but it can also be other things as well.  Amidst all the pressing needs of the world, Art may seem to some an unnecessary add-on, but consider… what would the World be without the wonders of Art? The legacy of great civilizations is the Art they leave behind – very often Art is all that survives.  The ancients never doubted the power of Art –it was their TV, Movies, and Photos. Think of the superhuman effort required to erect Stonehenge, to sculpt the Easter Island monuments, to build the Pyramids.
My work is often inspired by political and social themes, and also, often quite naturally, reflects my life on a much more personal level – for example, expressions of Joy and Sensuality.  I intend my art to be a potent view of the wit and wisdom I experience on my journey through life."   -Edwina Sandys
*****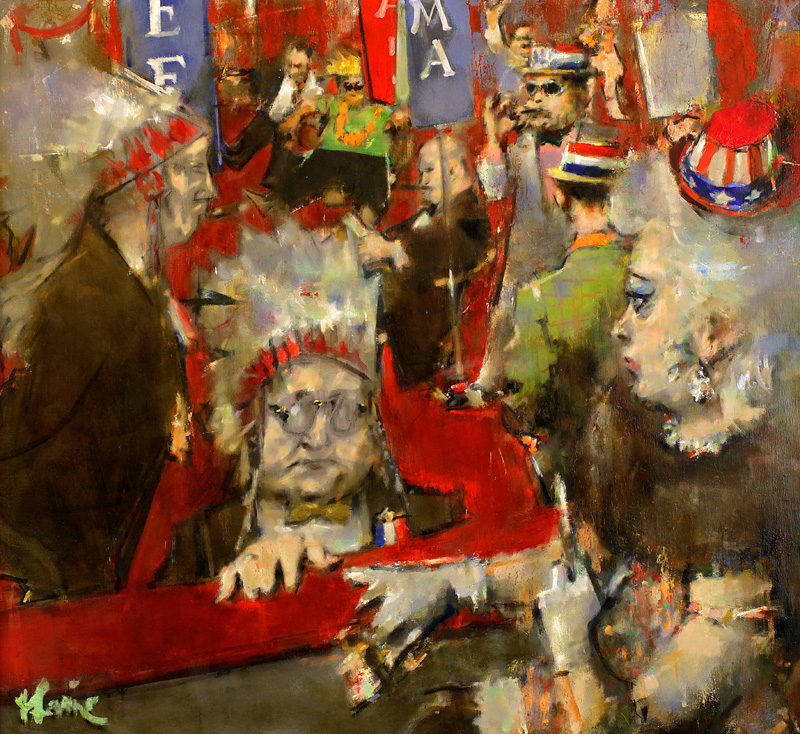 On the Convention Floor
Jack Levine (1915-2010)
Oil on canvas, 1972. Museum Purchase with the aid of Funds from the National Endowment for the Arts, Area Residents, Area Businesses and Organizations. 1973.1.1
Born to Lithuanian Jewish parents, Levine grew up in Boston, where he observed a street life composed of European immigrants, poverty, and societal ills, subjects which would inform his work. At Harvard University Levine  studied with Denman Ross. As an adolescent, Levine was already, by his own account, "a formidable draftsman". In 1932 Ross included Levine's drawings in an exhibition at the Fogg Art Museum at Harvard, and three years later bequeathed twenty drawings by Levine to the museum's collection. He became associated with the style known as Boston Expressionism.
From 1935 to 1940 he was employed by the Works Progress Administration. His first exhibition of paintings in New York City was at the Museum of Modern Art. In the same year String Quartet was shown at the Whitney Museum of American Art, and purchased in 1942 by the Metropolitan Museum of Art.
From 1942 to 1945 Levine served in the Army. Upon his discharge from service he painted Welcome Home, a lampoon of the arrogance of military power; years later the painting would engender political controversy when it was included in a show of art in Moscow, and along with works by other American artists, raised suspicions in the House Un-American Activities Committee of pro-Communist sympathies.
With a Fulbright grant he traveled to Europe in 1951, and was affected by the work of the Old Masters. After returning he continued to paint biblical subjects. In the 1960s Levine responded not only to political unrest in the United States with works such as Birmingham '63, but to international subjects as well, as in The Spanish Prison (1959–62), and later still, Panethnikon (1978), and The Arms Brokers, 1982-83. In 1979 he was elected into the National Academy of Design as an Associate member and became a full Academician in 1982.
Levine was the subject of a 1989 film documentary entitled Feast of Pure Reason. Levine died at his home in Manhattan, New York on November 8, 2010 at the age of 95.
*****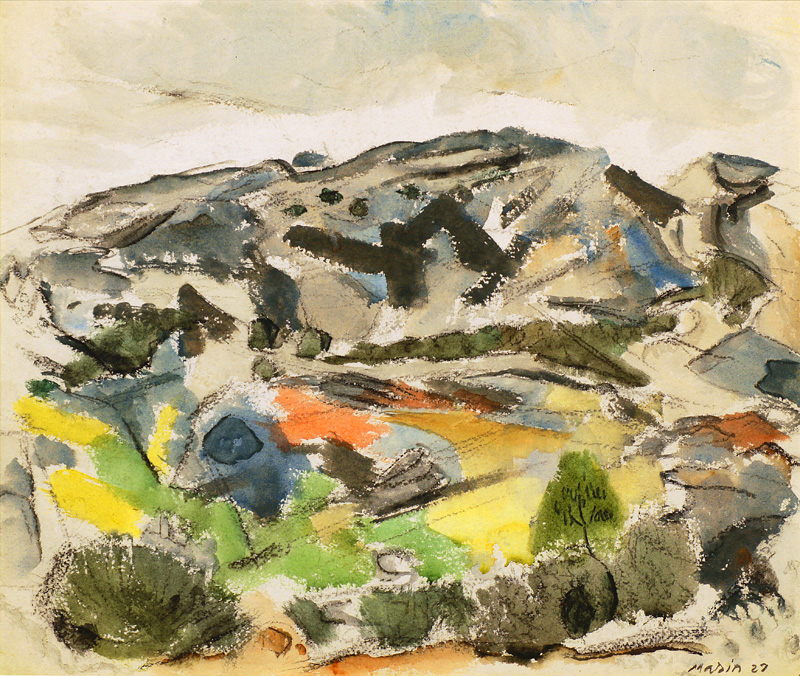 Burnt Hill, Maine
John Marin (1870-1953)
Watercolor on paper, 1927. Museum Purchase with Partial Support of a Grant from the Kinney-Lindstrom Foundation. 1991.1
John Marin born in Rutherford, New Jersey was an early American modernist artist. Known for his abstract landscapes and watercolors.  John Marin grew up in Weehawken, New Jersey, and attended the Stevens Institute of Technology for a year. His experience with architecture might have contributed to the role played by architectural themes in his paintings and watercolors.
From 1899 to 1901, Marin attended the Pennsylvania Academy of the Fine Arts in Philadelphia. In Philadelphia he studied with Thomas Pollock Anshutz and William Merritt Chase. He also studied at the Art Students League of New York. In 1905 like many American artists Marin went to Europe, initially to Paris. He traveled through Europe for six years. Marin painted in Holland, Belgium, England, and Italy. In Europe he mastered a type of watercolor where he achieved an abstract ambience, almost a pure abstraction with color that ranges from transparency to translucency, accompanied by strong opacities, and linear elements, always with a sense of freedom, which became one of his trademarks.
John Marin believed he had to know a place intimately before he could paint it. When he executed Schooner Yachts, Deer Isle, Maine, he had been painting on the coast of Maine for fifteen summers. A particularly vocal opponent of what he considered the "self-indulgence' of pure abstraction, Marin tried to imbue each painting with his love of the visible world. A critic's observation that Marin painted from an inner vision offended the artist deeply, and was summarily dismissed by him as rubbish. Marin could not conceive of an art of consequence that was not grounded in the act of seeing. To Marin, "seeing" was a "repetition of glimpses" and each painting an opportunity to capture in a single, striking image the "eye of many looking's."
Instilled with a modernist's distrust of illusionism, however, he drew on the resources of his own form of Cubism to explore his response to what he saw and experienced. Marin always insisted that his paintings be both celebrations of the visible world and flat, two-dimensional objects: "I demand of [my paintings] that they are related to experiences … that they have the music of themselves-so that they do stand of themselves as beautiful-forms-lines and paint on beautiful paper or canvas."
*****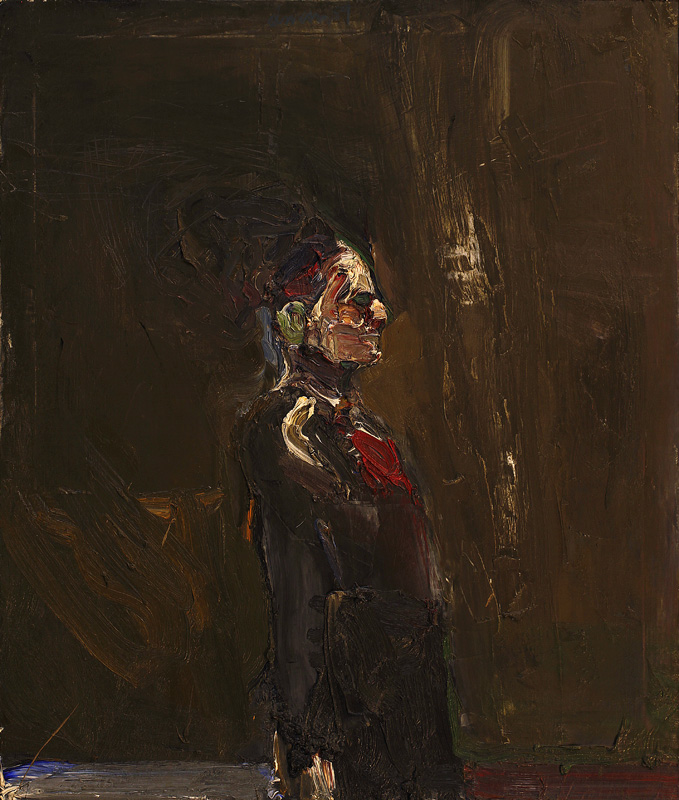 Man with Green Eye
Nathan Oliveira (1928-2010)
Oil, 1959. Gift of Mr. and Mrs. Donald Winston. 1965.2
Nathan Oliveira was an American painter, printmaker, and sculptor, born in Oakland, California to immigrant Portuguese parents. Since the late 1950s Oliveira has been the subject of nearly one hundred solo exhibitions in addition to having been included hundreds of group exhibitions, in important museums and galleries worldwide.
Oliveira established an early reputation for his depictions of isolated figures painted in an improvisational style. Over time his subjects and style varied tremendously as he created images of animals, birds of prey, human heads, masks, nudes and still lifes of fetish objects. Oliveira also developed a series of "sites" that told the story of an invented culture with shamanic characteristics. Most of the artist's paintings are either vividly colored but somber human figures or abstract expressionist works that vaguely resemble seascapes.
During his lifetime Oliveira made notable works in a huge range of media including oil paintings, acrylic paintings on paper, drawings in ink, charcoal and pencil, lithographs, etchings, posters, and sculptures in clay, wax and bronze. Nathan Oliveira was especially noted for his work in the monotype medium, in which single printed impressions are made from a painting executed on a metal plate. He was also an accomplished sculptor.
In 1999 Nathan Oliveira was awarded the Distinguished Degree of "Commander" in "The Order of the Infante D. Henrique," awarded by the President of Portugal and the Portuguese government, for his artistic and cultural achievements.
Nathan Oliveira died at his home in Stanford, California on November 13, 2010.
*****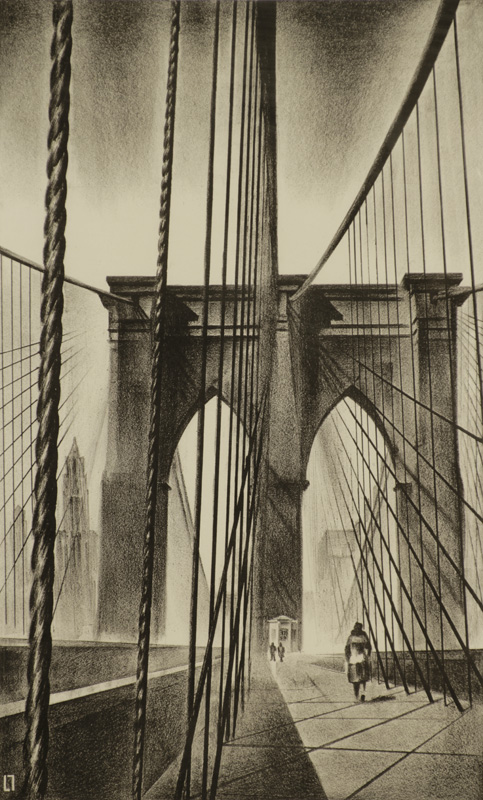 Brooklyn Bridge
Louis Lozowick (1892-1973)
Lithograph on paper, not dated. Gift of Mary MacGregor. 1995.7.4
Louis Lozowick was a Russian-American painter and printmaker. He was born in the Russian Empire, came to the United States in 1906, and died in New Jersey in 1973. He is recognized as an Art Deco and Precisionist artist, and mainly produced streamline, urban-inspired monochromatic lithographs in a career that spanned 50 years.
Lozowick attended Kiev Art School from 1904-1906 before he immigrated to the USA, where he continued his studies at the National Academy of Design and Ohio State University. From 1919 to 1924 Lozowick lived and traveled throughout Europe, spending most of his time in Paris, Berlin and Moscow. In the mid-1920s he started making his first lithographs.
Lozowick was highly interested in the development of the Russian avant–garde and even published a monograph on Russian Constructivism entitled Modern Russian Art.
In 1943 Lozowick moved to New Jersey where he continued to paint and make prints. The human condition remained a constant theme of his art, and an ongoing interest in nature appears more frequently in his later works
*****