Off the Wall showcases pieces from our permanent collection individually so you can learn a little bit more about the pieces in our museum one at a time.
*****
Lee Krasner was a mid twentieth-century Abstract Expressionist artist. Abstract Expressionism, characterized by individuality and spontaneous expression, gained popularity after World War II and was the first specifically American art movement to achieve international influence.
Krasner was born in Brooklyn, New York to Russian Jewish immigrant parents.  Her early art training was at The Cooper Union, Art Students League, and the National Academy of Design in New York.  She was determined to make a career as an artist and worked for the WPA Federal Art Project from 1935 to 1943, taking classes from the famed Hans Hoffman.  Her early work was illustrative, but she quickly moved to modern styles such as Cubism.  By 1940 she had begun showing her works with the American Abstract Artists, a group of painters dedicated to modern form.  In 1945 she married fellow abstract artist Jackson Pollock. 
Krasner's early work consisted of drawings and paintings which she would often cut apart to create collages. Exceedingly critical of herself, she often discarded entire series, leaving few surviving examples of her work. It is believed that this critical eye was important to the development of not only her work but her husband's. Krasner moved away from Cubism and adopted a direction more like her husband's; in her words to "lose Cubism" and "absorb Pollock". As a woman, she struggled with the public's perception of her, especially as the wife of the famous Pollock. She often signed her name by her initials, leaving it genderless. This particular piece has energy with splashes and drips often seen in Pollack's paintings as well.
Krasner died in 1984 at the age of 75. Six months after her death, the Museum of Modern Art in New York City held a major retrospective of her work, an honor that they have bestowed upon few women artists.
*****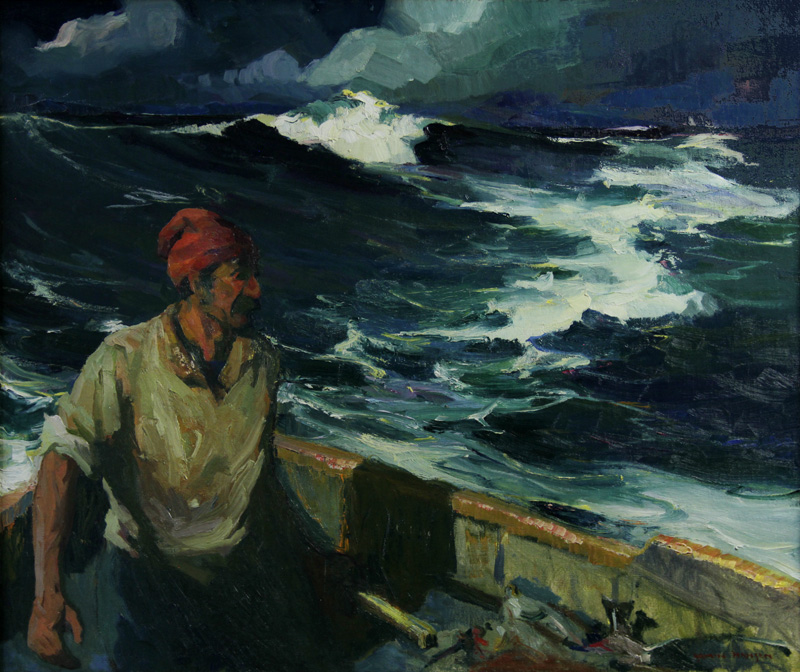 Armin Hansen, native of San Francisco, is prominent American Painter of the En plein air school, best known for his marine canvases. En plein air is a French expression which means "in the open air", and is particularly used to describe the act of painting in the outside environment rather than indoors (such as in a studio). His father Hermann Hansen was also a famous artist of the American West.
At the Mark Hopkins Institute Armin Hansen studied under Arthur Frank Mathews from 1903 to 1906. Arthur Frank Mathews (1860-1945) was an American Tonalist painter who was one of the founders of the American Arts and Crafts movement. Moving to Germany, Hansen became the student of Carlos Grethe at the Stuttgart Royal Academy and also studied at the Academy of Fine Arts, Munich. Wishing to see the world through marine eyes, he became a deck hand on a number of commercial vessels, one being a Norwegian steam trawler.
After his studies in Germany, Armin Hansen taught at the University of California, Berkeley and in 1913 moved to paint in Monterey, a budding art colony of the era. In this period he utilized both painting and etching techniques in the style of Impressionism. He was a founder of the Carmel Art Association and became enamored of creating marine scenes, particularly involving man's relationship with the sea. In 1914 he produced his Self Portrait.
In the 1930s Hansen's paintings become more intense and use of light more pronounced. One of his masterpieces of this era was Sardine Barge circa 1933, which appropriately is in the permanent collection of the Monterey Museum of Art. Later in Monterey Hansen led a group of artists in opposing a plan to remove Fisherman's Wharf as part of a grandiose redevelopment scheme. Fisherman's Wharf is an historic wharf in Monterey, California. Used as an active wholesale fish market into the 1960s, the wharf eventually became a tourist attraction as commercial fishing tapered off in the area. The wharf was an important subject of their art, besides the fact that Hansen identified with the simple life of a fisherman. These artists were considered a Bohemian group, living in the St. Peter's Gate area of Monterey, but amazingly they prevailed against bigger business interests.
*****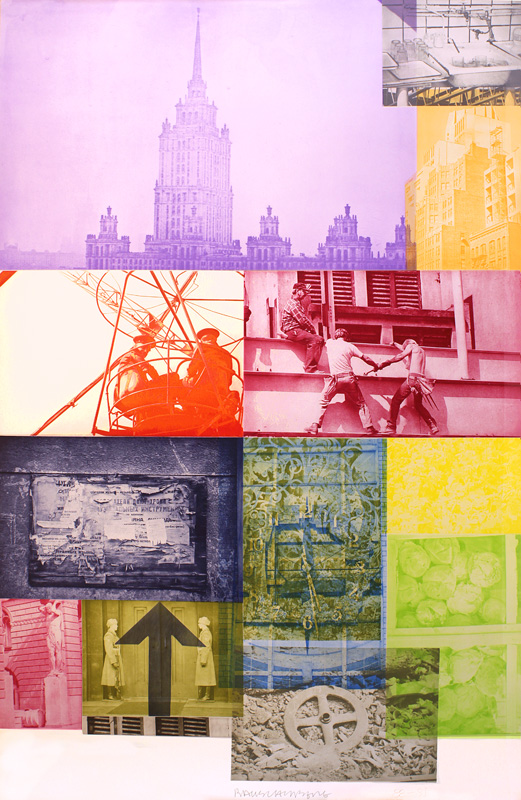 Robert Rauschenberg is regarded as one of the most important figures in the move away from the Abstract Expressionism that dominated American art in the late 1940s and early 1950s.
Rauschenberg's earliest works were minimalist monochromatic paintings, but in the mid-1950s he began to incorporate three-dimensional objects into what he called 'combine paintings'. The best-known example of these is Monogram, which features a stuffed goat with a rubber tire around its middle. Rauschenberg used other castoff objects in his combines including Coca-Cola bottles, fragments of clothing and quilts, electric fans, and radios.
In the 1960s, Rauschenberg returned to working on a flat surface and was particularly active in the medium of silk-screen. He was interested in combining art with new technological developments, and was active in forming Experiments in Art and Technology, an organization to help artists and engineers work together. The print in the MacNider's collection is from his project of the 1980s, Rauschenberg Overseas Culture Exchange, and includes his own photographs of New York and Russia. This undertaking fostered cultural exchange in cities outside the usual contemporary art circuit and reflected his broad interest in social causes.
*****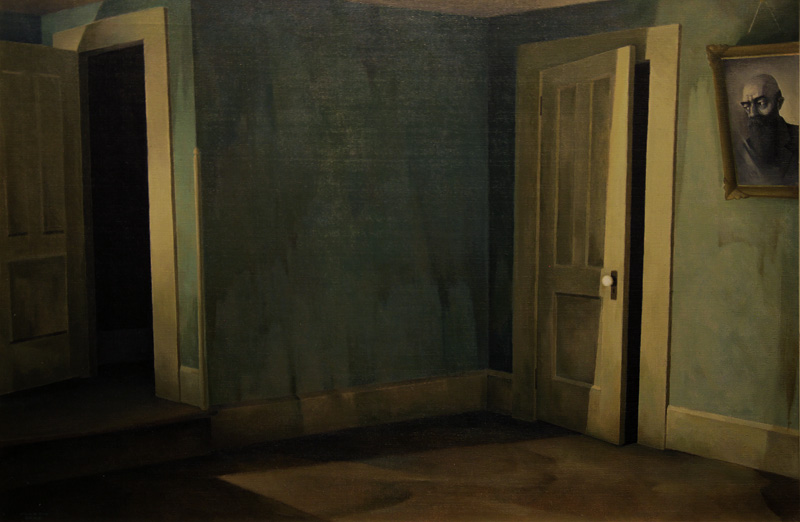 Born in Cedar Rapids, Marvin Cone grew up with fellow Iowa artist Grant Wood. The two remained great friends and painted together throughout their lives. In 1920s, they studied current painting trends in France and during the Great Depression established the short-lived Stone City Art Colony in eastern Iowa. Cone graduated from Coe College in Cedar Rapids in 1914 and taught French there from 1920 to 1934, when he established the art department and continued his long teaching career.
Cone is known for his series of paintings of Iowa farmhouse interiors. He created the realistic but mysterious room in the The Watcher by playing with perspective and color. A portrait of Cone's Uncle Ben, whom he remembered as a grim and quiet figure, hangs crookedly on a wall overlooking two half-opened doorways adding to the painting's intrigue.
Watch our Art Talk to learn more about Marvin Cone : https://youtu.be/nwNyNkLEVlM
*****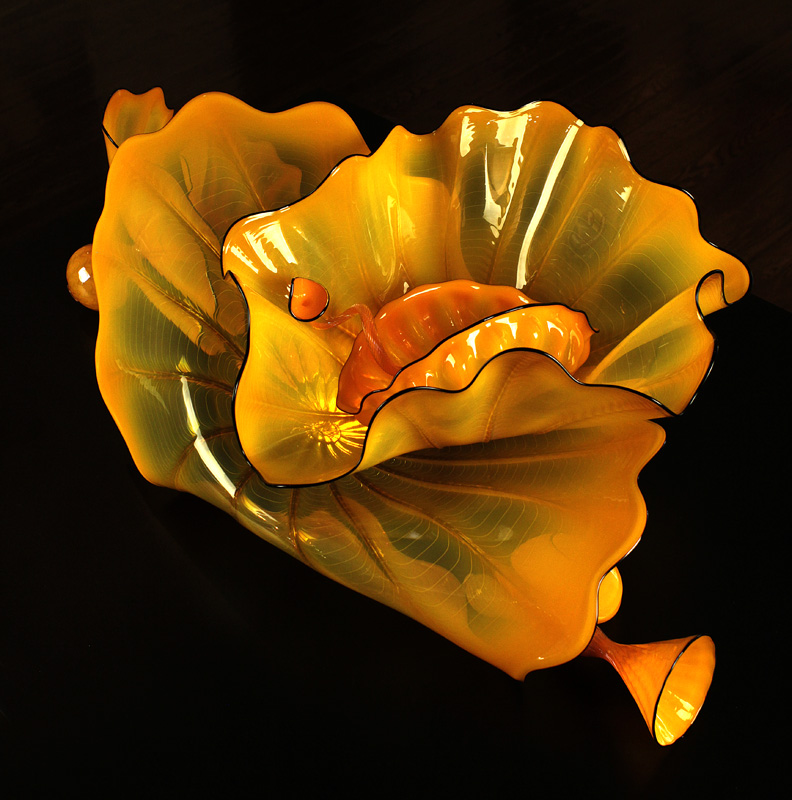 Dale Chihuly was born on September 20, 1941 in Tacoma, WA where he graduated from high school. He had one brother George. After high school he enrolled at the University of Puget Sound in 1959. One year later he transferred to the University of Washington in Seattle where he studied interior design, architecture, and glassblowing. In 1967, he received a Masters of Science in glassblowing from the University of Wisconsin-Madison. In 1968, he got his Master of Fine Arts in sculpture at the Rhode Island School of design.
Chihuly is known for his beautiful work with glass sculptures. Some of his permanent collections are found in Minnesota, California, Colorado, Delaware, Florida, Hawaii, Illinois, Kansas, Ohio, New York, Nebraska, Washington, London, England, and many others across the United States.
He has had many exhibits across the globe and this list includes: Italy, Israel, Nederland, Georgia, Missouri, Michigan, Texas, Pennsylvania, New York, and others. Some of his work covers the ceilings of casinos and hotels around the world, while others are just palm size abstract flowers.
Chihuly uses intense, vibrant colors and linear decoration to bring his work to life; almost all of his works are vibrantly colored. He is also known for using neon and argon. Chihuly is best known for using nature and its surroundings as a setting for his pieces, and for creating his pieces as though they are part of nature. He sometimes entwines his pieces in tree branches and around tree trunks. He also suspends them in space and floats them in water.
Watch our Art Talk about Dale Chihuly here: https://youtu.be/XJTHaOl1ALQ
*****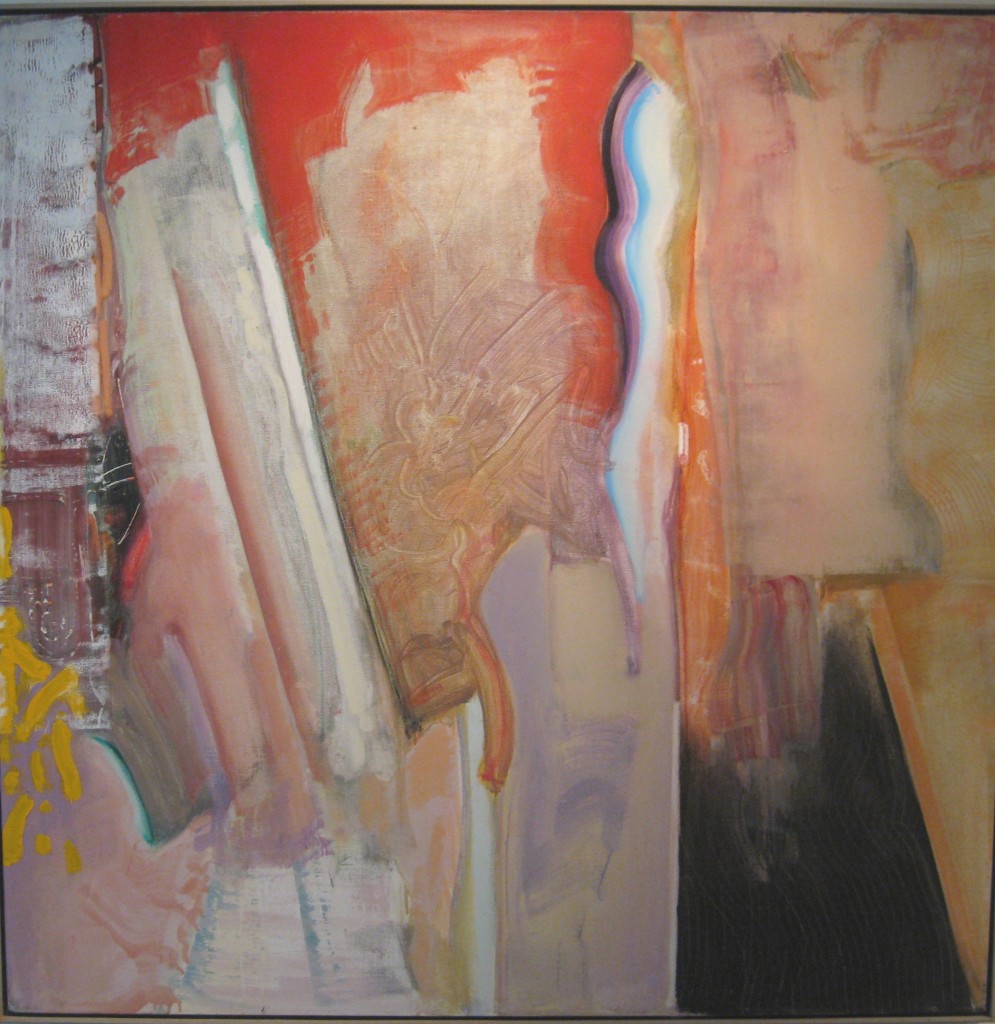 Stephen Greene was born in New York, where he studied at the National Academy of Design from 1935-1936. He continued his studies at the Art Students League, the Richmond Division of the College of William and Mary, and then at the State University of Iowa under Philip Guston. The work of Northern European Renaissance painting and Max Beckmann were also early influences.
Stephen Greene's 1950s paintings of classic religious themes meld the precision and spirituality of the great Renaissance masters with the moody, stylized symbolism of postwar Existentialism. Of his early figurative work, Greene has stated, "I was essentially involved in a psychological state, a prison-like configuration that mirrored contemporary ideas…In painting the events of Christ's passion, I, in the twentieth century, was not returning to another period's aesthetic mode, but dealing with the possible meanings of hallucinations." Greene universalized his religious themes to speak to a post-war culture of anxiety.
The paintings from Greene's first three solo shows at Durlacher Brothers (1947, 1949, 1952) are his best-known figurative work. Of the fifteen paintings from the 1952 exhibition, nearly half are in museum collections, including the Tate Gallery, London (The Return); the Whitney Museum of American Art (The Shadow); the Nelson-Atkins Gallery, Kansas City (The Kiss of Judas); and the Art Museum, Princeton University (The Massacre of the Innocents). Greene was selected for the inclusion in the 1955 traveling exhibition organized by the Whitney Museum of American Art, The New Decade: 35 American Painters and Sculptors.
*****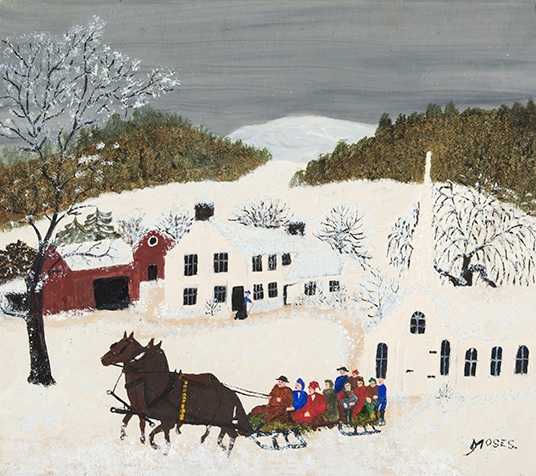 Anna Mary Robertson Moses, or Grandma Moses, was an American artist known for her pastoral landscape paintings. She was born in 1860 and grew up on a farm in upstate New York. She worked as a hired girl, helping neighbors and relatives with cleaning, cooking, and sewing. Her father encouraged her to draw on old newsprint, and she used berry and grape juices to brighten her images. She married when she was 27 and moved to a farm in Virginia, where she raised five children.
Grandma Moses did not start painting until she was 78 years old and looking for something to do "to keep busy and out of mischief" after her husband died. Years of representing scenes through the flat patterns of cross-stitching, imbued her canvases with naïve perspectives and decorative color schemes. She painted nostalgic scenes of American life and sold them at country fairs alongside her prize-winning pickles. In 1939 a collector saw her paintings in the window of the local pharmacy and bought them all. Later that year, three of those works were included in the "Contemporary Unknown American Painters" exhibition at The Museum of Modern Art in New York. This led to a solo exhibition at the Galerie St. Etienne in New York in 1940 and over 100 more shows in the following decades. She died at 101, after painting more than fifteen hundred images.
*****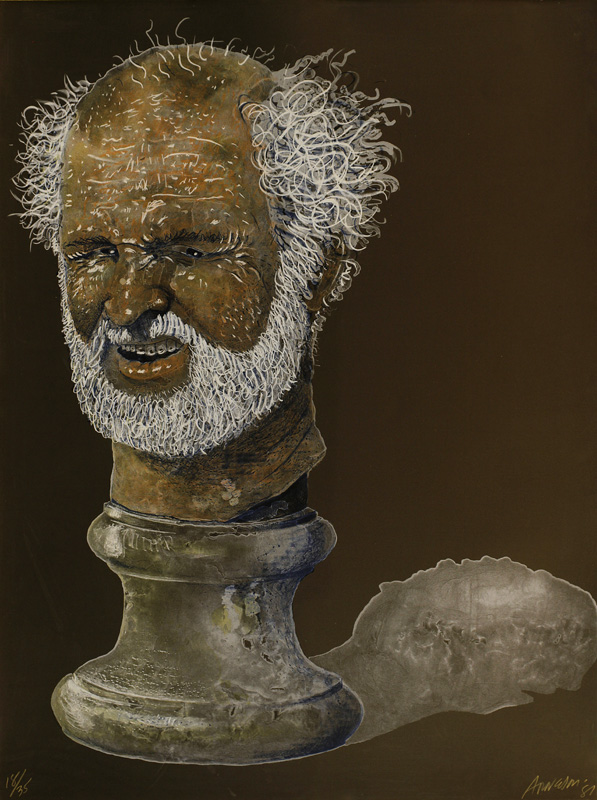 Robert Arneson was born in Benicia, CA in 1930. Between the years of 1949 to 1951 Arneson was going to the College of Marin in Kentfield, CA. Three years later in 1954 he received his BA from California College of Arts and Crafts in Oakland, CA. In 1958, Arneson got his MFA from Mills College in Oakland, CA.
He is well known for his work in Ceramics. He is known as using the ceramics as a vital medium for contemporary figurative sculpture. Many of his pieces of work are found at numerous museums and sites in Hawaii, Japan, California, Ohio, Australia, New York City, Illinois, and many other locations.
One thing that stands out about Robert Arneson is at the Palo Alto Art Center in Palo Alto, CA. He has over 90 ceramic Marquette's on display. They date from 1964 to 1992 and are between 2 to 14 inches in height. It shows his more expressing nature with clay with these Marquette's.
In 1985, Arneson was given the Honorary Doctor of Fine Arts at the Rhode Island School of Design in Providence, RI. Two years later in 1987 from one coast to another in CA he was awarded again the Honorary Doctor of Fine Arts at the San Francisco Art Institute. In 1991, he was awarded the Academy-Institute Award in Art and the next year he joined the Fellowship American Craft Council. In 1992, Robert Arneson died of cancer in Benicia, CA, but will be remembered for his artwork in the world of Ceramicists.
*****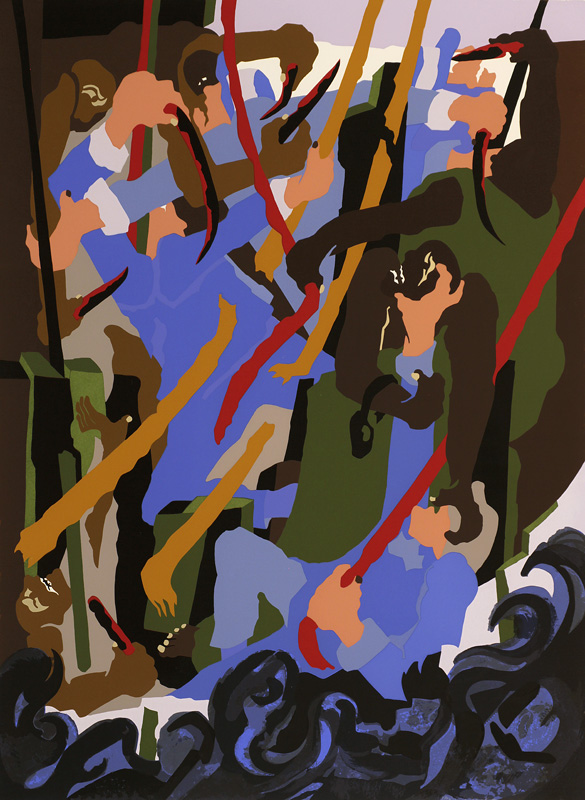 Jacob Lawrence is known for his use of aesthetic elements for social means and the remarkable composition of his works. In 1941 he received widespread recognition for his narrative series, Migration of the Negro. During a time of legalized and institutionalized segregation, he became the first African American artist to receive sustained support from mainstream art museums and patronage outside the black community.
Using the power of semi-abstract forms, Lawrence addressed many of the great social and philosophical themes of the twentieth century especially as they pertain to the histories of African Americans. His work made visible the everyday lives and contributions of black Americans and provided a compassionate counterpoint to stereotypical images.
The tangle of arms and machetes in Revolt on the Amistad communicates the chaos of the slave rebellion on the ship, which precipitated a Supreme Court ruling that advanced the abolitionist cause
Watch our Art Talk about Jacob Lawrence here: https://youtu.be/YCiAa2NCWIY
*****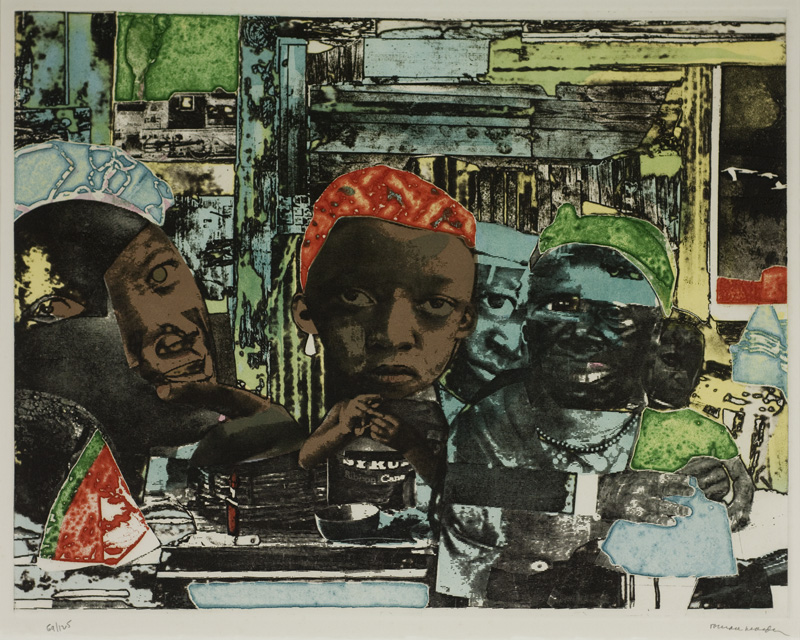 A lifelong student of literature and philosophy, Romare Bearden worked in a variety of media including a stint as a songwriter. He is best known for the way he employed collage in unique and innovative ways.
Born in Charlotte, North Carolina, and growing up in New York during the Harlem Renaissance of the 1920s, much of Bearden's work references his southern childhood and northern upbringing. He made art from observation and memory; the sights, sounds and feelings of his personal history. His art is characterized by images that portray life's universal journey in terms of authentic black experience. He found his voice in the imaginative collages he made from 1964 on, using a fragmented style inspired by the rhythms of jazz and assembled using magazine clippings in dreamlike invocations of the myths and rituals of African American life.
Bearden did not take up printmaking until the late 1960s. Many of his prints are based on existing collages and monotypes. In The Train he recast a 1964 collage by adding new textures and colors. This was accomplished by using mesh screens and photography to generate the photogravure plate, which was subsequently cut up so colored areas could be inked separately and reassembled jigsaw style for printing.
Bearden's images abound with affection for his birthplace in the South For him trains were weighted symbols. They signified the black migration north after slavery. Charlotte, his birthplace, was a hub for railroads. "I never left Charlotte except physically," he said.
The train of this print's title is a small detail in the upper left, but it nonetheless invokes larger issues of migration and segregation. As Bearden stated, trains "could take you away and could also bring you to where you were. And in the little towns it's the black people who live near the trains."
*****