Off the Wall showcases pieces from our permanent collection individually so you can learn a little bit more about the pieces in our museum one at a time.
*****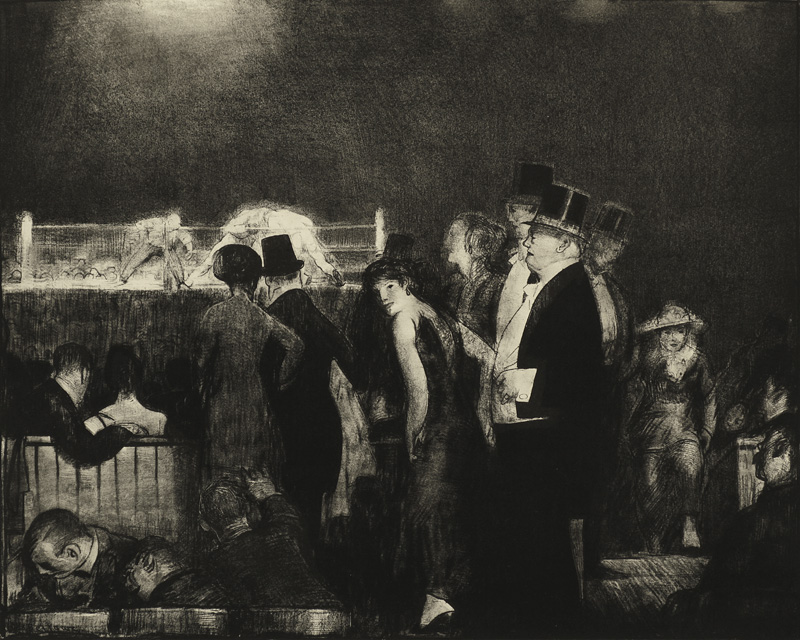 George Bellows was born in Columbus, Ohio on August 19th, 1882. At Ohio State University (1901-1904) Bellows was a talented baseball player but his first love was art and he moved to New York without graduating. Bellows studied at the New York School of Art under Robert Henri, leader of what became known as the Ashcan School. The Ash Can School, sometimes contracted as the Ashcan School, is defined as a realist artistic movement that came into prominence in the United States during the early twentieth century, best known for works portraying scenes of daily life in poor urban neighborhoods. In 1906 he rented a studio and began painting scenes of everyday urban life. He also taught art at the Arts Students League.
Bellows' urban New York scenes depicted the crudity and chaos of working-class people and neighborhoods, and also satirized the upper classes. From 1907 through 1915, he executed a series of paintings depicting New York City under snowfall. These paintings were the main testing ground in which Bellows developed his strong sense of light and visual texture. These exhibited a stark contrast between the blue and white expanses of snow and the rough and grimy surfaces of city structures, and created an aesthetically ironic image of the equally rough and grimy men struggling to clear away the nuisance of the pure snow. However, Bellows' series of paintings portraying amateur boxing matches were arguably his signature contribution to art history. These paintings are characterized by dark atmospheres, through which the bright, roughly lain brushstrokes of the human figures vividly strike with a strong sense of motion and direction.
Growing prestige as a painter brought changes in his life and work. Though he continued his earlier themes, Bellows also began to receive portrait commissions, as well as social invitations, from New York's wealthy elite. Additionally, he followed Henri's lead and began to summer in Maine, painting seascapes on Monhegan and Matinicus islands.
In addition to painting, Bellows made significant contributions to lithography, helping to expand the use of the medium as a fine art in the U.S. He installed a lithography press in his studio in 1916, and between 1921 and 1924 he collaborated with master printer Bolton Brown on more than a hundred images. Bellows also illustrated numerous books in his later career, including several by H.G. Wells.
*****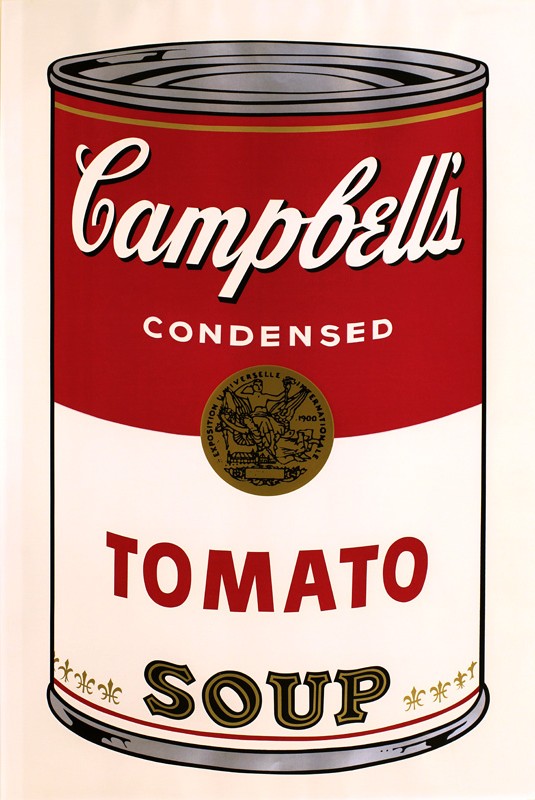 Andy Warhol was perhaps one of the most famous American artists in the genre of pop art. Pop art is artwork that contains images of popular culture and advertising. Warhol was born Andrej Varhola, Jr. in 1928 in Pittsburgh, Pennsylvania to immigrant parents from Slovakia, and the youngest of 4 children. His father worked in a coal mine, giving the children a middle class childhood despite the Great Depression. In third grade Warhol had complications of Scarlett Fever known as St. Vitus ' dance which kept him bed ridden for long periods of time. During this time he became incredibly close with his mother, and spent his days reading pulp novels, collecting movie star memorabilia, drawing, and listening to the radio. After moving to New York after college, Warhol became a very successful commercial graphic design artist long before he became a pop art icon. This early training and career as a graphic design artist is clear in his trademark focus on images of popular culture.
By the 1960's Warhol was making a serious effort to become a professional artist. He embraced silk screening, which later became his hallmark. By 1962 Warhol had his first solo show, and by the mid- 1960's his iconic images of popular culture such as Coca Cola and celebrities like Marilyn Monroe saw great success in the art world. Production of the prints took on a "factory" atmosphere, with Warhol even naming his studios "the Factory." This mass production for consumers eventually caused Warhol to be criticized; however, Warhol was simply mimicking society, which was in love with mass consumerism.
After Wahol's death in 1987 the Warhol foundation was created. It has become one of the largest granting agencies for the arts in the United States.
*****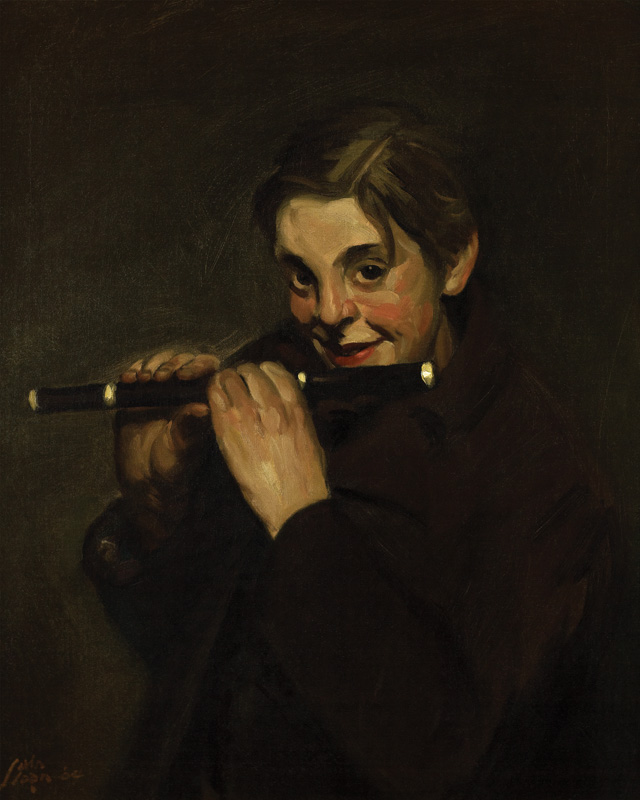 After the invention of photography in the mid-nineteenth century, artists began expanding the way they depicted a human likeness.  John Sloan's Boy with Piccolo is not a formally composed portrait; instead the artist has captured a happy moment in the life of an ordinary boy.
Sloan's interest in social reform led him to join with other artists to form a group called The Eight.  These American painters were united in opposition to the conservatism of National Academy of Design and wanted to bring painting into direct contact with life.
Later The Eight formed the nucleus of the Ashcan School, which was active through World War I.  The artists of the Ashcan School rebelled against American Impressionism which was the leading style of American art at the time.  In contrast to Impressionism's emphasis on light, their works were frequently dark in tone, capturing the harsher moments of life and often portraying such subjects as prostitutes, drunks, butchered pigs, overflowing tenements, boxing matches and wrestlers.  
The Ashcan artists were action painters who mirrored the ebb and flow of reality with the flux of their brushwork.  Like Sloan, many were well prepared for this approach, having started their careers as newspaper illustrators.  While they chronicled the lives of poor city dwellers, they were neither social critics nor reformers, but a lively bunch of provincial rebels who created America's first true avant-garde. 
*****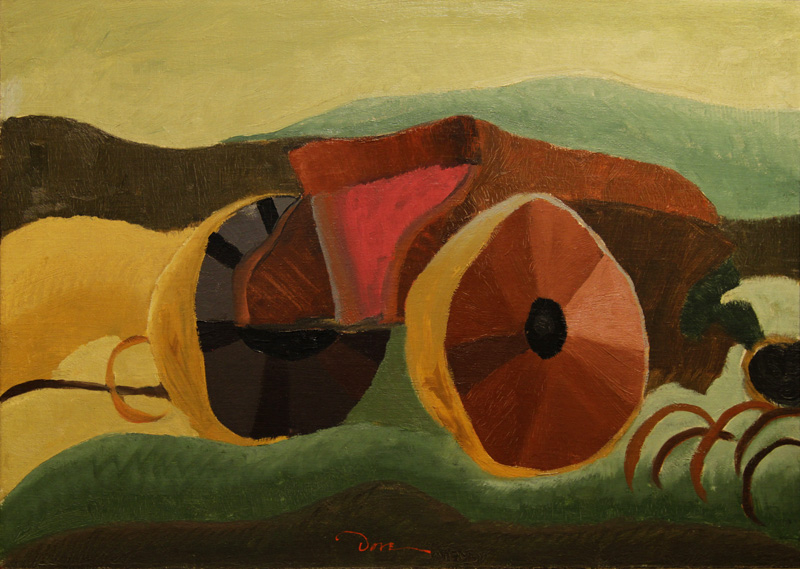 Arthur Dove was the first American artist to paint a completely abstract picture. He did this around 1910, perhaps a little before the Russian-born Kandinsky's first abstract compositions. The difference was that Kandinsky's abstract work happened in the progressive cultural and artistic context of Europe while Dove's debuted in the general indifference of American taste. His own reclusiveness contributed to the lack of impact his work had on the national art scene.
Dove's work was all about nature. He began his art career as an illustrator for the New York press and in 1907 went on a year-and-a-half trip to Europe, spending most of it in Paris. There he fell in with the circle of American expatriate artists. His early work shows the influence of Cezanne and Matisse. As soon as he got back to the United States he "went native," as he put it, spending much of his time camping in the wilderness. "I can claim no background," he once reflected, "except perhaps the woods, running streams, hunting, fishing, camping, and the sky. After he failed at farming in upstate New York, he bought a yawl on which he lived for seven years, sailing the waters of Long Island Sound along the Connecticut shore. These experiences fed into his work, while isolating him from New York's small avant-garde circles
In 1913 Dove explained to a friend his process of abstraction (or, as he sometimes called it, "extraction"): the landscape slowly disappears like the Cheshire cat in the tree, leaving the "abstract" form behind. The first step was to choose from nature a motif in color, and with that motif to paint from nature, the form still being recognizable. The second step was to apply this same principle to form, so that the actual object disappeared, and the means of expression became purely subjective. In this way Dove believed he could arrive at "essences" that would transmit his sense of the spiritual in nature which was the deep concern of his art. Such "essences" were shapes that symbolized life forces and organic growth suggesting (he thought) some inner principle of reality.
*****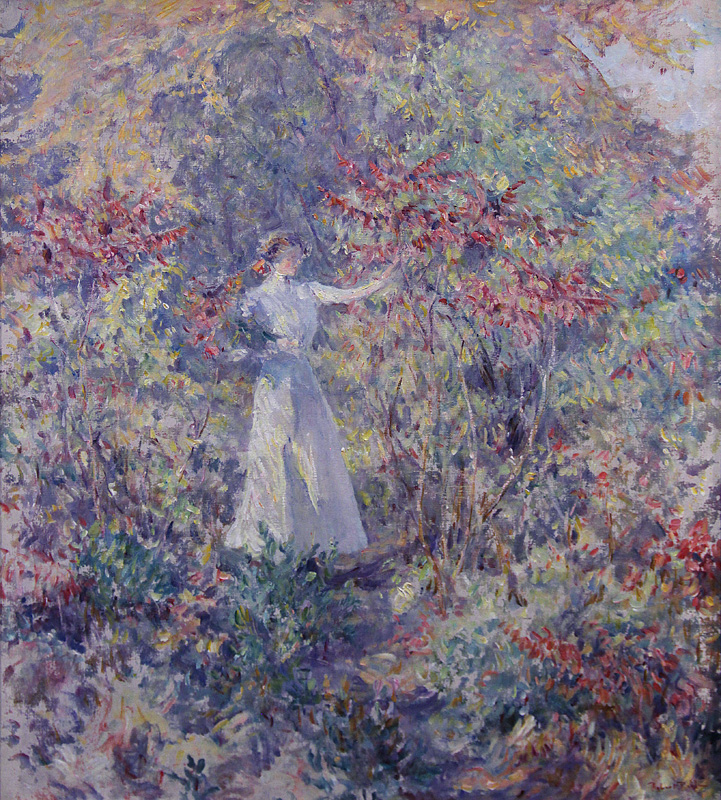 Robert Reid was an American Impressionist painter and muralist. His work tended to be very decorative, much of it centered on depiction of young women set among flowers. He later became known for his murals and designs in stained glass.
Robert Reid was born in Massachusetts, studied in France, lived and taught in New York City. Schooled at the Philips Academy from 1880 to 1884, he was a student and teaching assistant at the Boston Museum School. He studied briefly at the Art Students League in New York then journeyed to Paris for three years of study at the Académie Julian.. His early pictures were figures of French peasants, painted at Étaples. Upon returning to New York in 1889, he worked as a portraitist and later became an instructor at the Art Students League and Cooper Union.
After 1890 he seems to have been inundated with mural commissions: the ​"White City" in Chicago, the Boston State House, the Library of Congress, and many private institutions. It was also at this time that his conversion to impressionist technique began to manifest itself. In 1897 he was inaugurated into the Ten American Painters, the youngest of that number, but affecting a dazzling palette that outshone the more somber tones of his colleagues.
Reid worked on several mural projects around the turn of the century. When he returned to paintings, around 1905, his work was more naturalistic, and his palette tended toward soft pastels.
In 1906 Reid completed a series of ten stained glass windows depicting the Life of Christ for the Unitarian Memorial Church in Fairhaven, Massachusetts. For the Church of St. Paul the Apostle in New York City, he created The Martyrdom of St. Paul Window, located at the southwestern end of the nave.
A man, social by nature and much given to gambling, his expenses exceeded his income and he was impelled to retreat to Colorado Springs where he established an art academy and painted innumerable portraits to recoup his losses. In 1927 he suffered a stroke, but undaunted he learned to paint with his left hand. He died in a New York sanatorium at the age of sixty-seven.
*****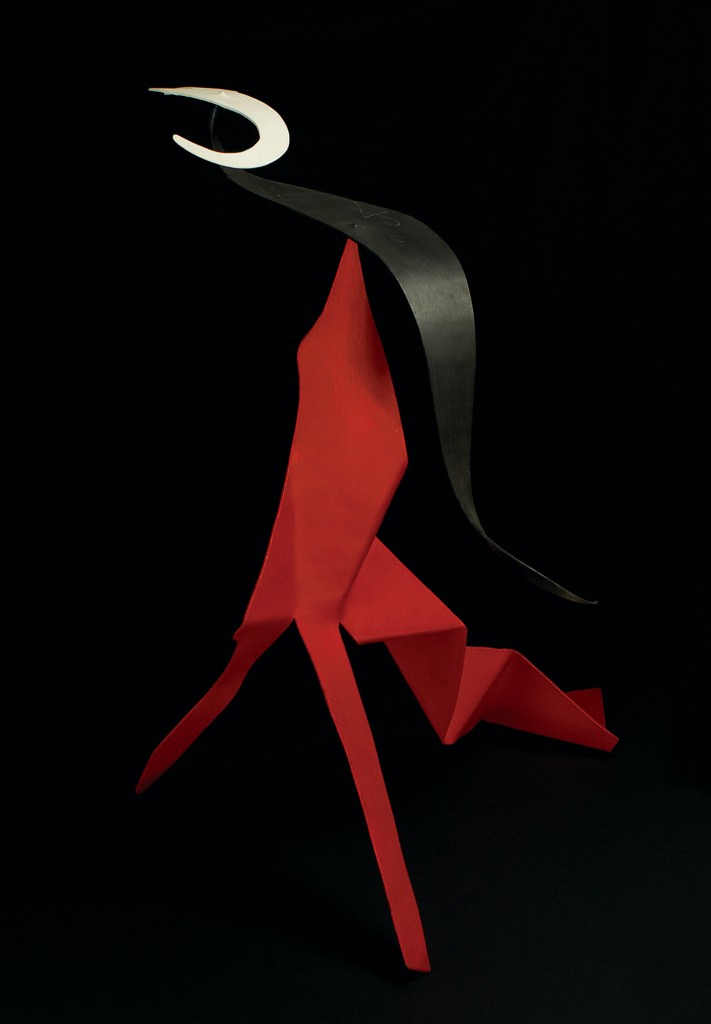 Alexander "Sandy" Calder was born in Pennsylvania in 1898 to a family of artists. As a child some of his first artwork was a small elephant sculpture, and later scraps of copper wired made into jewelry for his sisters dolls. By 1915 Calder worked on sculptures for the 1915 Exposition, the same year he graduated high school.
Although Calder graduated from college with a degree in Engineering and worked several jobs early on as an Engineer, he moved to New York to pursue a career as an artist. He studied during this time with regionalist Thomas Hart Benton, as well as George Luks and John Sloan of the Ashcan school. While still a student he worked for the National Police Gazette as a sketch artist and was assigned to sketch the Ringling Brothers and Barnum and Bailey Circus, which later influenced his work. 1926 he moved to Paris and he established a studio. Due to the urging of others, Calder began to make small toys with a circus theme, even giving small performances. He returned to the United States and designed several kinetic wooden push and pull toys for children which were commercially produced.
Calder's training as an engineer aided him when he created what Marcel Duchamp would call "mobiles" after a French pun for both "mobile" and "motive." By experimenting to develop abstract sculpture that would move with the assistance of cranks and pulleys, he developed what became his signature works –departing from the traditional notion of static objects as art. By 1931 he moved on to sculptures that derived their motion from air currents in the room using shapes that looked as though from natural forms such as fish, leaves, and birds. During WWII the scarcity of metal led Calder to create mobiles out of wood. Once the war had ended, he began to cut out flat shapes from sheet metal. In addition to sculpture, Calder made prints and jewelry, creating some 1,800 pieces before his death in 1976. During his lifetime he won many awards for his innovative sculpture. Two months after his death Calder was awarded the Presidential Medal of Freedom by President Ford. His work is in hundreds of major museums and collections and he is considered one of the most influential artists in sculpture of the 20th century.
*****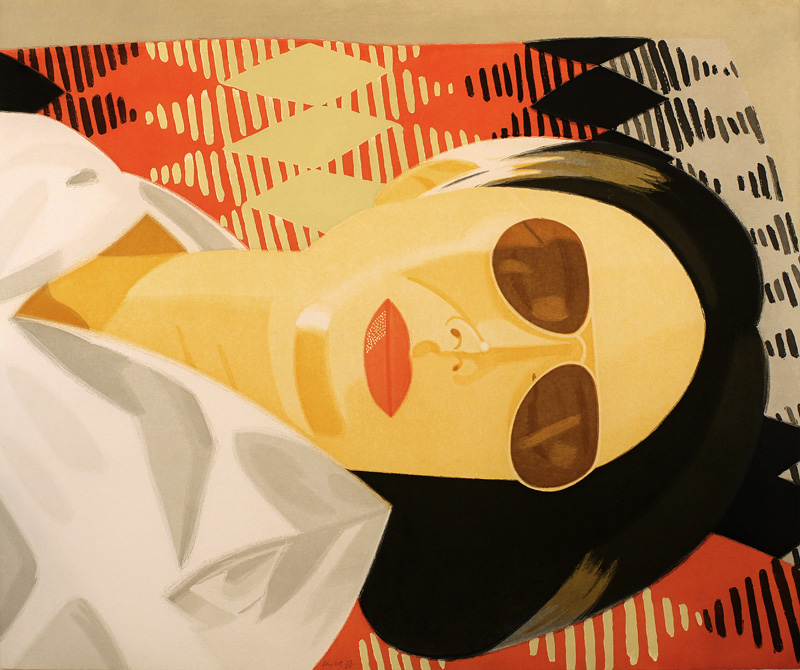 Born and reared in New York, Alex Katz is a prominent artist in the generation of painters who dedicated themselves to the figure when Abstract Expressionism ruled the art world and all but declared the death of portraiture. Katz's flat expanses of color, reductive compositions and cool ambience are a stark contrast to the Abstract Expressionist splatter and vigorous application of paint. This measured combination of representation and abstraction in Katz's work has had a lasting influence on generations of artists working today.
Katz is still actively producing art as an octogenarian. During his long career he has consistently made portraits of his wife, Ada. These images have achieved iconic status and are extraordinary in their focus on a single figure over many decades. His work is seldom critically described without mention of its "cool." This mood is fostered in part by the air of poise and effortless chic radiated by Ada, who has been described as being at once "wife, mother, muse, model, sociable hostess, myth, icon, and New York goddess."
In Reclining Figure, Katz visits his most frequent subject in familiar attire; sunglasses, and plumbs her image once again for more insight.
*****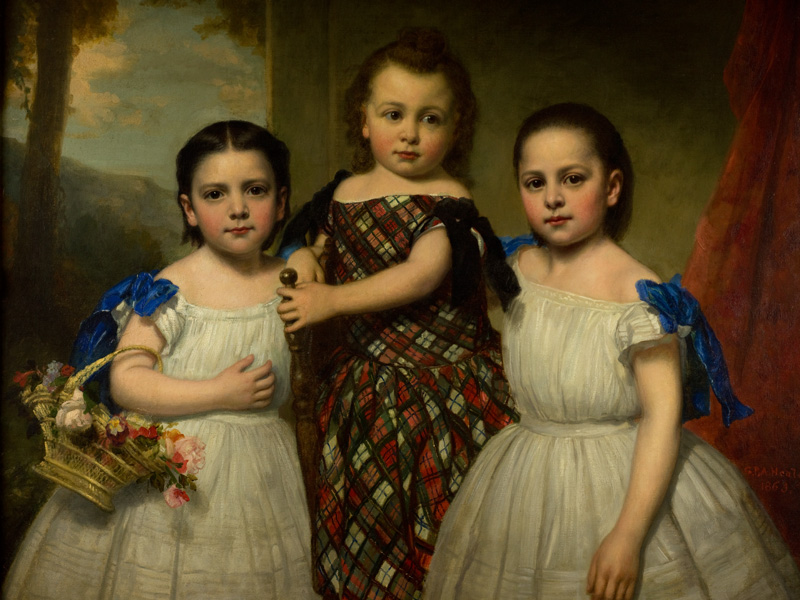 George Peter Alexander Healey was born in 1813 in Boston, the eldest of 5 children. When the family was left fatherless he helped to support his mother. He started to draw at age 16 and immediately began to pursue a career as an artist. His very earliest works were reproductions of other artist's work, which he used as a tool to learn, as well as to sell for income. By age 18 he was able to make a living painting portraits.
In 1834 Healey traveled to Europe to further his schooling in painting. He left Europe in 1840 and traveled to Chicago where he remained till 1869, and where this portrait was painted.
Colonel Turnley was from a prominent Southern family, which were frequent customers of Healey's. This portrait is of three of Turnley's five children: The child in the middle, while dressed in a tartan dress, is actually believed to be their son, Ernest. Historically it was normal for all children, even males, to wear dresses while young. On each side in white dresses are their daughters Emma and Ethel. Common for his portraits, the background of the work is muted to focus attention on the subjects of the work. Before photography became widely available, it was customary for many wealthy families to immortalize themselves and their families in art.
Healey painted many important portraits of the 19th century including Daniel Webster, John Calhoun, Henry Clay. One of his most famous works was his posthumous portrait of Abraham Lincoln. Lincoln sat for Healey in August 1864 and Healey began working on sketches, however, after the president was assassinated, he did not conceive the painting until 1869. It now hangs in the White House's State Dining Room. Healey died in 1894, well known and respected as one of America's most prolific portrait painters.
*****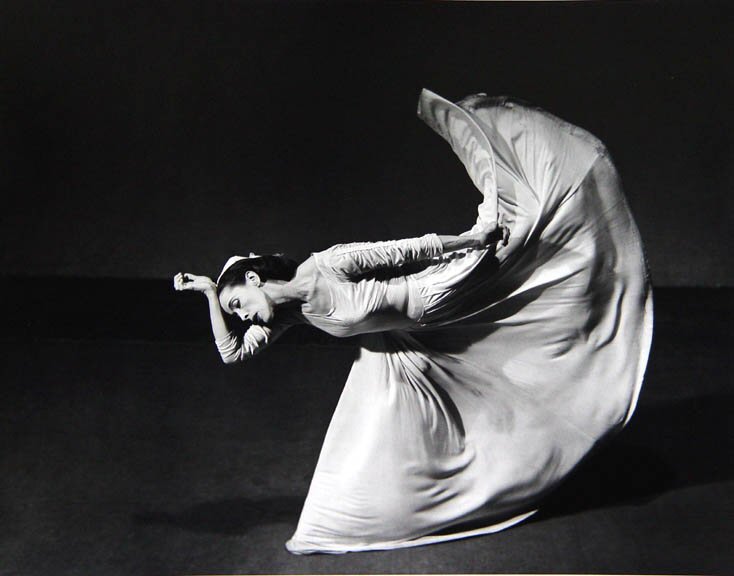 Martha Graham – Letter to the World
Barbara Morgan (1900-1992)
Photography, 1940. Gift of Mr. L. Bradley Camp (via the Ackerman Foundation). 1993.6.1
Perhaps the most recognizable work in the MacNider Art Museum's collection of American photography is Barbara Morgan's silver gelatin print of modern dance innovator Martha Graham. In Martha Graham – Letter to the World (The Kick), Morgan effectively uses dark and light, negative and positive space, and a dynamic sensation of movement to capture the essence of modern dance.
Morgan took up photography in the mid 1920's. From the beginning, she was inclined to explore the rhythmic motions of her subjects and was drawn to the developing field of modern dance. In the United State, modern dance, perhaps more than any other art form, provided artists with fresh ideas to explore. Photography, too, was ripe for experimentation in the 1920's, through manipulated images of photo-montage, light drawings using photography processing, and other constructed forms of image-making. Morgan's dance photographs rank among the classic experiments of Modern American Expressionistic photographic art.
*****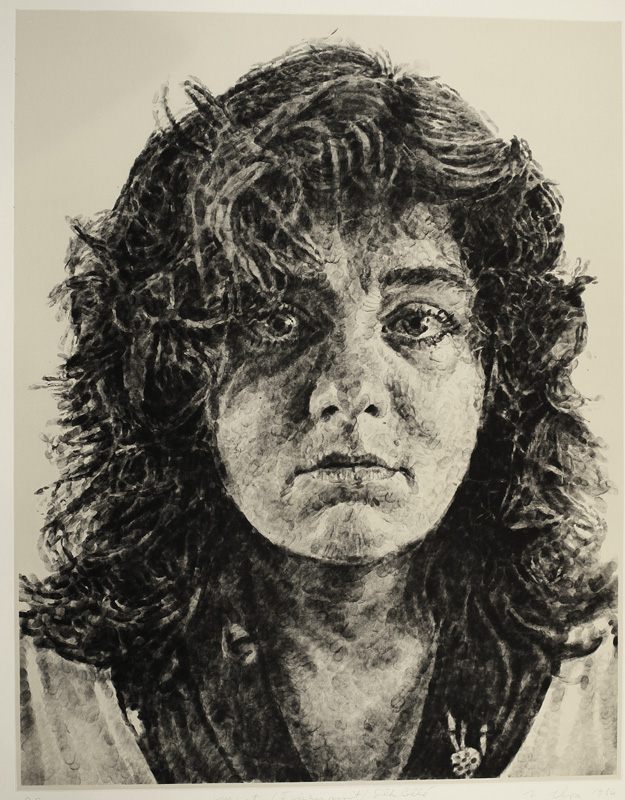 Marta
Chuck Close (b. 1940)
Etching on paper, 1986. John and Mary Papajohn Endowment Fund Purchase. 1995.13
Chuck Close has worked since the early 1970s within a carefully defined practice focused exclusively on monumental portraiture. Starting with a source photograph, Close carefully transposes the image to a canvas or other surface using a grid. Referencing painting, drawing, photography, collage and printmaking, the resulting works are hybrid objects that merge manual and mechanical processes and explore the boundaries between the personal and the social, the subjective and the systematic, the abstract and the representational.
After a rare spinal artery collapse in 1988 that left him with partial use of his arms and legs, Close paints with a brush strapped to his hand. Rather than ending his career, "the event", as he calls it, has pushed his work further into a looser, freer style he was beginning to explore before it occurred.
Close created Marta, the print in the MacNider'scollection, by measuring off the grid he uses as the foundation of all his portraits, making marks on a metal plate with his fingerprints, and etching these into the plate with acid. Ink was then rolled over the surface and into the grooves, paper was laid on top of the plate, and the image was transferred to the paper. The tan background of Marta is silk glued to the paper during the printing process.
*****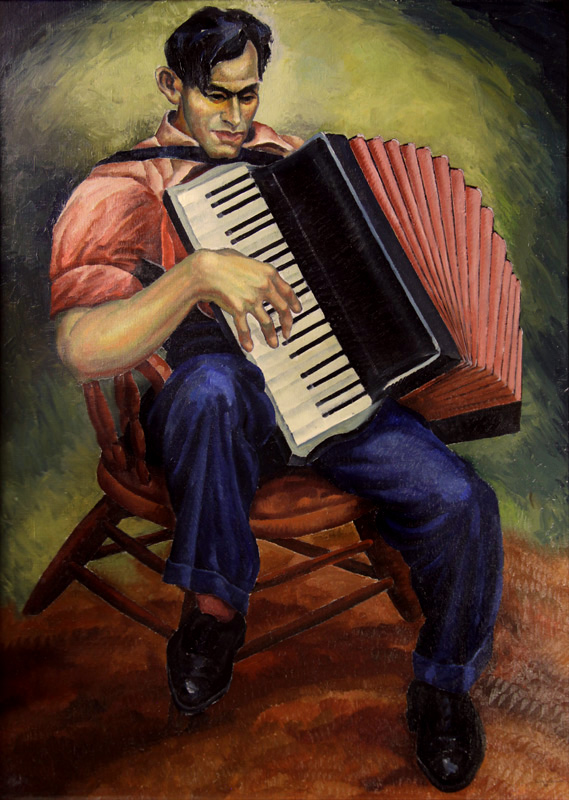 The Accordian Player
Todros Geller (1889-1949)
Oil on canvas, 1938. 1981.005.0001
Noted Jewish artist Todros Geller was born in Vinitza, the Ukraine, Russia, in 1889. He studied art in Odessa at a private academy. In 1906 Geller moved, with his family, to Canada in order to escape the pogroms in his native country. Pogrom is a form of riot directed against a particular group, whether ethnic, religious or other, and characterized by destruction of their homes, businesses and religious centers. Usually pogroms are accompanied by physical violence against the targeted people and even murder or massacre. The term has historically been used to denote extensive violence, either spontaneous or premeditated, against Jews, but has been applied to similar incidents against other, mostly minority, groups.
The years following this move were spent working at odd jobs to enable Geller to study art in the evening. He soon became a photographer. The artist married in 1913 and a few years later immigrated to the United States. Arriving in Chicago in 1918, Geller enrolled at the Art Institute. There, over a period of 5 years, he studied with Norton, Seyffert and Bellows. From 1920-1927, Geller was an instructor at the Jewish People's Institute. He also served as Supervisor of Art for the Board of Jewish Education and Director of Art for the College of Jewish Studies.
Through the professional positions mentioned above, he was able to convey a more sensitive understanding of Jewish art to young people from elementary through the college level. Geller was a prolific artist and worked in many different medias: oil, tempera, watercolor, metal, woodcarving, etching, lithography, stained glass and wood engraving.
*****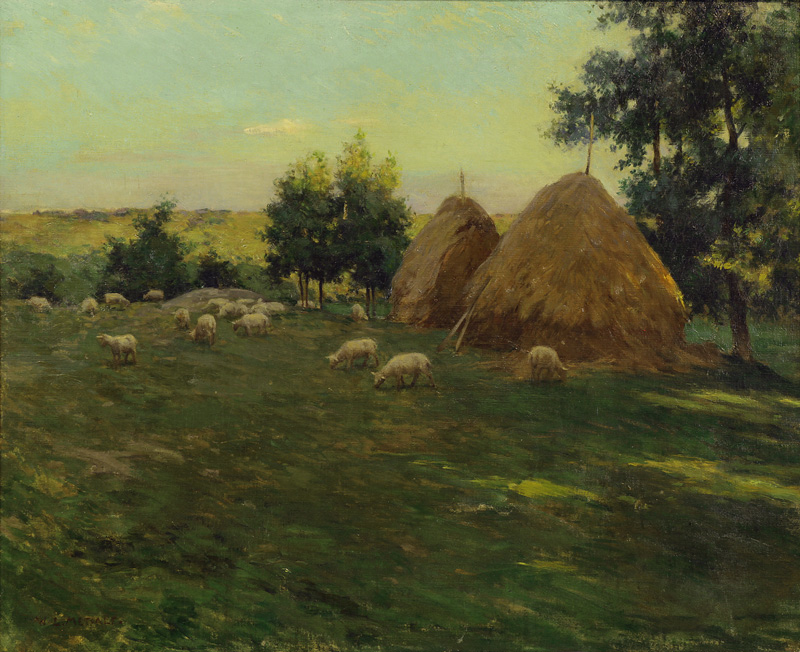 Haystacks
Willard Metcalf (1858-1925)
Oil on canvas, circa 1888. Gift of Mason City Women's Club. 1967.7
Willard Metcalf was an America artist born in Massachusetts who is generally associated with American Impressionism. After early figure-painting and illustration, he became prominent as a landscape painter.
The French Impressionists astounded the late nineteenth century art world when they took canvases and palettes out of their studios and painted directly from nature. They were particularly fascinated by a free handling of paint and the changing effect of light on their subjects. Considered revolutionary at the time, these innovations are the precursors of modernism and eventually, abstract art.
Though Haystacks may not show the dappled sunlight that characterizes the work of the Impressionists, the loose handling of paint and the outdoor scene are typical of the movement. Metcalf studied in Paris and by 1886 was painting at Monet's Giverny. After his return to the United States in 1888, his production was erratic, but he is known for his New England landscapes.
*****
*****