Off the Wall showcases pieces from our permanent collection individually so you can learn a little bit more about the pieces in our museum one at a time.
*****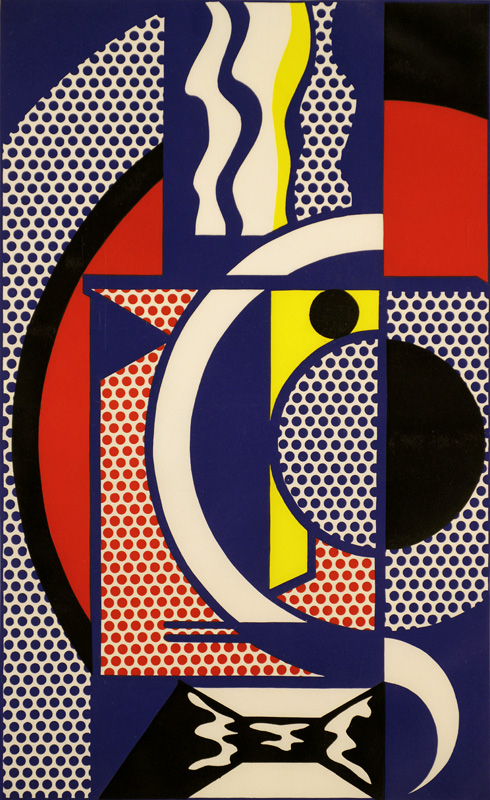 Roy Lichtenstein was an American artist known for his paintings and prints which referenced commercial art and popular culture icons like Mickey Mouse. Composed using Ben-Day dots—the method used by newspapers and comic strips to denote gradients and texture—Lichtenstein's work mimicked the mechanical technique with his own hand on a much larger scale. He was a leading figure in establishing the Pop Art movement, along with Claes Oldenburg, Andy Warhol, and Jasper Johns.
Born on October 27, 1923 in New York, NY, he studied under painting under Reginald Marsh at the Art Students League of New York after graduating from high school. Drafted by the US Army during World War II, he notably encountered the works of European masters and contemporary artists while stationed in France. After the war, he returned to America and completed his degree at Ohio State University, producing paintings in the vein of Abstract Expressionism.
Lichtenstein began teaching art at Rutgers University during the late 1950s, meeting fellow faculty members involved in the New York art scene, including the performance artist Allan Kaprow. By the early 1960s, he had begun showing with Leo Castelli gallery in New York, and made major breakthroughs with works such as Drowning Girl (1963), a satirical take on melodramatic pulp fiction of the era. Themes of irony and cliché prevailed throughout the remainder of Lichtenstein's career, as evinced in his Haystacks (1969), a take on the canonical series by Claude Monet. 
The artist died of pneumonia on September 29, 1997 in New York, NY. Today, his works are held in the collections of the Art Institute of Chicago, The Museum of Modern Art in New York, the National Gallery of Art in Washington, D.C., and the Tate Modern in London.
*****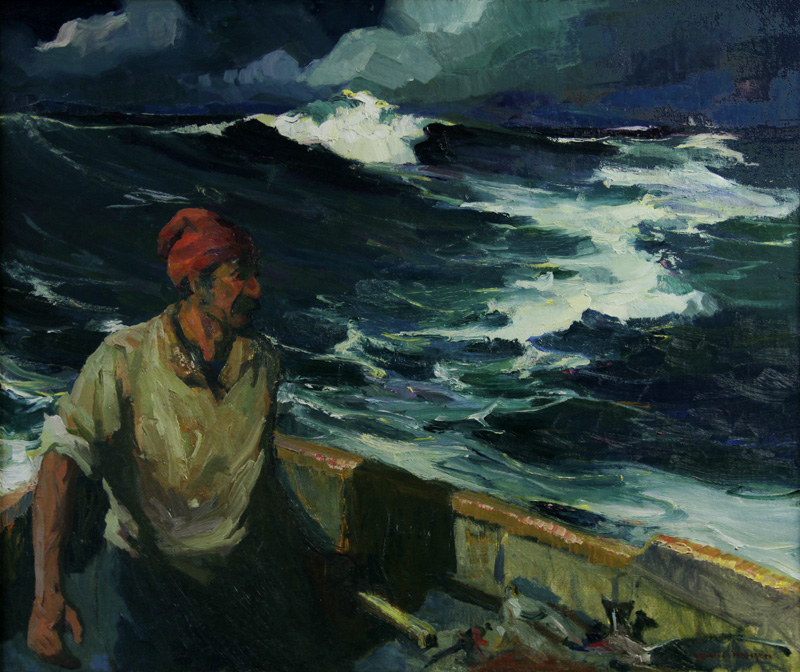 Armin Hansen, native of San Francisco, is prominent American Painter of the En plein air school, best known for his marine canvases. En plein air is a French expression which means "in the open air", and is particularly used to describe the act of painting in the outside environment rather than indoors (such as in a studio).  His father Hermann Hansen was also a famous artist of the American West.
At the Mark Hopkins Institute Armin Hansen studied under Arthur Frank Mathews from 1903 to 1906. Arthur Frank Mathews (1860-1945) was an American Tonalist painter who was one of the founders of the American Arts and Crafts movement.  Moving to Germany, Hansen became the student of Carlos Grethe at the Stuttgart Royal Academy and also studied at the Academy of Fine Arts, Munich. He also had exposure to the art centers at Paris, Amsterdam and Brugges. Wishing to see the world through marine eyes, he became a deck hand on a number of commercial vessels, one being a Norwegian steam trawler.
After his studies in Germany, Armin Hansen taught at the University of California, Berkeley and in 1913 moved to paint in Monterey, a budding art colony of the era. In this period he utilized both painting and etching techniques in the style of Impressionism. He was a founder of the Carmel Art Association and became enamored of creating marine scenes, particularly involving man's relationship with the sea. In 1914 he produced his Self Portrait.
In the 1930s Hansen's paintings become more intense and use of light more pronounced. One of his masterpieces of this era was Sardine Barge circa 1933, which appropriately is in the permanent collection of the Monterey Museum of Art.  Later in Monterey Hansen led a group of artists in opposing a plan to remove Fisherman's Wharf as part of a grandiose redevelopment scheme. Fisherman's Wharf is an historic wharf in Monterey, California. Used as an active wholesale fish market into the 1960s, the wharf eventually became a tourist attraction as commercial fishing tapered off in the area.  The wharf was an important subject of their art, besides the fact that Hansen identified with the simple life of a fisherman. These artists were considered a Bohemian group, living in the St. Peter's Gate area of Monterey, but amazingly they prevailed against bigger business interests.
*****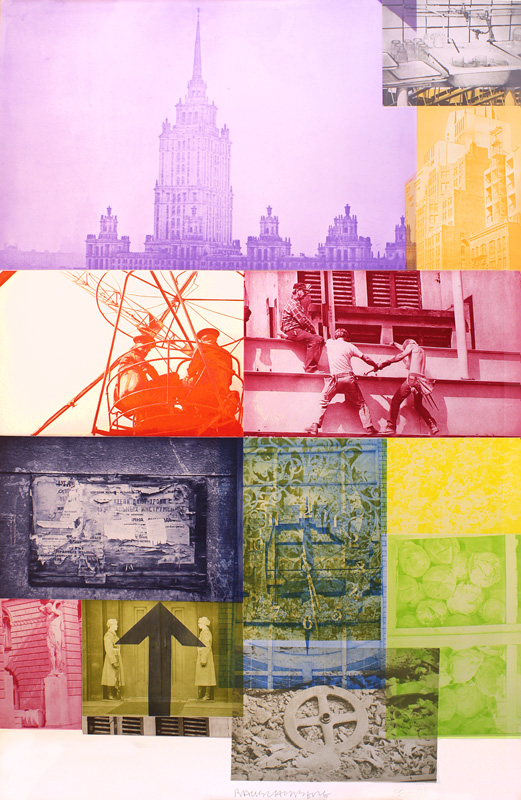 Robert Rauschenberg is regarded as one of the most important figures in the move away from the Abstract Expressionism that dominated American art in the late 1940s and early 1950s.
Rauschenberg's earliest works were minimalist monochromatic paintings, but in the mid-1950s he began to incorporate three-dimensional objects into what he called 'combine paintings'. The best-known example of these is Monogram, which features a stuffed goat with a rubber tire around its middle. Rauschenberg used other castoff objects in his combines including Coca-Cola bottles, fragments of clothing and quilts, electric fans, and radios.
In the 1960s, Rauschenberg returned to working on a flat surface and was particularly active in the medium of silk-screen. He was interested in combining art with new technological developments, and was active in forming Experiments in Art and Technology, an organization to help artists and engineers work together. The print in the MacNider's collection is from his project of the 1980s, Rauschenberg Overseas Culture Exchange, and includes his own photographs of New York and Russia. This undertaking fostered cultural exchange in cities outside the usual contemporary art circuit and reflected his broad interest in social causes.
*****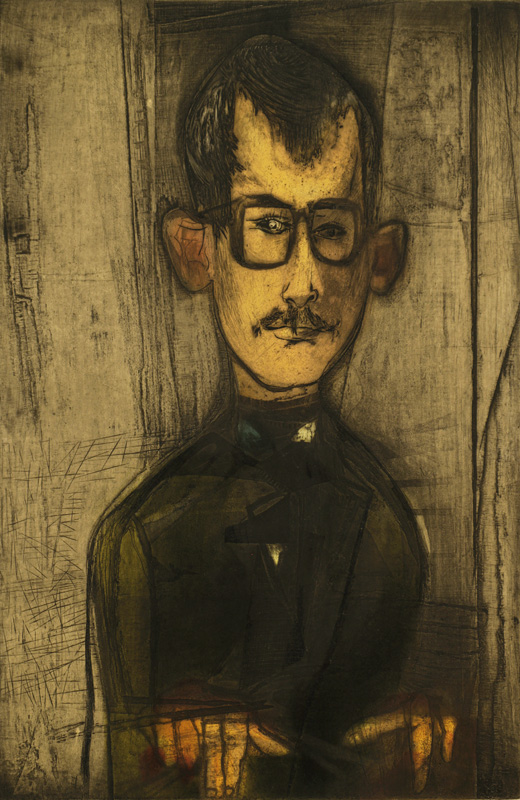 Mauricio Lasansky was an innovative printmaker equally well-known for a series of drawings depicting the horrors of Nazism.
Lasansky was born in Argentina of Eastern European Jewish parents. He came to the United States on a Guggenheim Fellowship in 1943 and spent a year carefully examining more than 100,000 works in the print collection of the Metropolitan Museum in New York. In 1945, Lasansky accepted a teaching position at the University of Iowa where he established a printmaking department that quickly gained international attention.
As a master of printmaking technology, Lasansky along with his students pushed the limits of the medium. He was known for the grand scale of his images and the complex layering of multiple techniques in a single work. His largest prints required as many as 60 different plates to make up the different sections of the image and many trips through the press. He devised a recipe for paper that could withstand the repeated stress his methods required and had it specially milled in France.
Lasansky remained the head of the Art and Art History Department at the University of Iowa until he retired in the mid-1980s. His legacy as an educator can be seen in the many strong printmaking departments his students established at other universities. Lasansky became a citizen of his adopted country and died in 2012 at the age of 97 at his home in Iowa City.
*****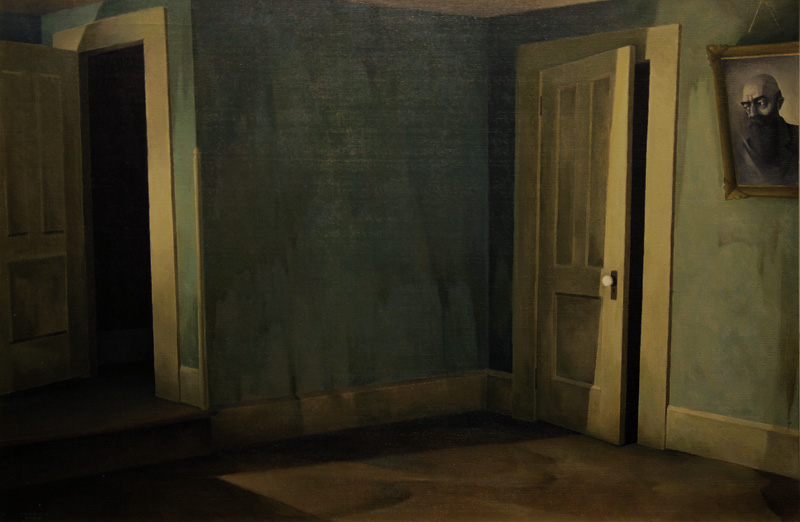 Born in Cedar Rapids, Marvin Cone grew up with fellow Iowa artist Grant Wood. The two remained great friends and painted together throughout their lives. In 1920s, they studied current painting trends in France and during the Great Depression established the short-lived Stone City Art Colony in eastern Iowa. Cone graduated from Coe College in Cedar Rapids in 1914 and taught French there from 1920 to 1934, when he established the art department and continued his long teaching career.
Cone is known for his series of paintings of Iowa farmhouse interiors. He created the realistic but mysterious room in the The Watcher by playing with perspective and color. A portrait of Cone's Uncle Ben, whom he remembered as a grim and quiet figure, hangs crookedly on a wall overlooking two half-opened doorways adding to the painting's intrigue.
*****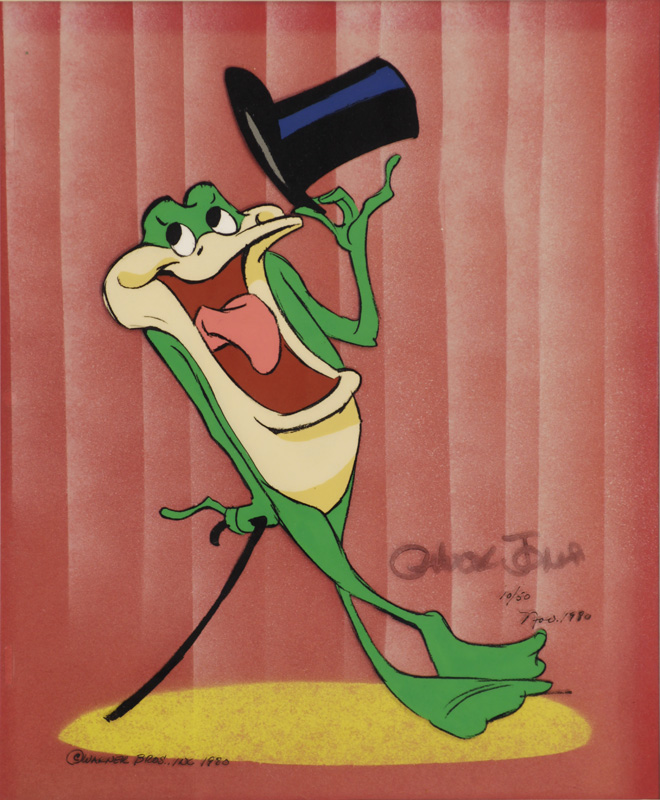 Charles Martin "Chuck" Jones was an American animator, cartoon artist, screenwriter, producer, and director of animated films, most memorably of Looney Tunes and Merrie Melodies shorts for the Warner Bros. Cartoons studio. He directed many classic animated cartoon shorts starring Bugs Bunny, Daffy Duck, the Road Runner and Wile E. Coyote, Pepé Le Pew, Porky Pig and a slew of other Warner characters.
Jones was born on September 21, 1912 in Spokane, Washington. He later moved with his parents and three siblings to the Los Angeles, California area.
In his autobiography, Chuck Amuck, Jones credits his artistic bent to circumstances surrounding his father, who was an unsuccessful businessman in California in the 1920's. His father would start every new business venture by purchasing new stationery and new pencils with the company name on them. When the business failed, his father would quietly turn the huge stacks of useless stationery and pencils over to his children, requiring them to use up all the material as fast as possible. Armed with an endless supply of high-quality paper and pencils, the children drew constantly.
During his artistic education, he worked part-time as a janitor. He worked his way up in the animation industry, starting as a cell washer. While at Iwerks, he met a cell painter named Dorothy Webster, who later became his first wife. Jones joined Leon Schlesinger Productions, the independent studio that produced Looney Tunes and Merrie Melodies for Warner Bros., in 1933 as an assistant animator. In 1935, he was promoted to animator.
During World War II, Jones worked closely with Theodor Geisel, better known as Dr. Seuss, to create the Private Snafu series of Army educational cartoons. Jones later collaborated with Seuss on animated adaptations of Seuss' books, including How the Grinch Stole Christmas! in 1966. Jones directed such shorts as The Weakly Reporter, a 1944 short that related to shortages and rationing on the home front. During the same year, he directed Hell-Bent for Election, a campaign film for Franklin D. Roosevelt.
Jones created characters through the late 1940s and the 1950s, which include Claude Cat, Marc Antony and Pussyfoot, Charlie Dog, Michigan J. Frog, and his three most popular creations, Marvin the Martian, Pepe LePew, Wile E. Coyote and The Road Runner. Jones remained at Warner Bros. throughout the 1950s, except for a brief period in 1953 when Warner closed the animation studio. During this interim, Jones found employment at Walt Disney Productions, where he teamed with Ward Kimball for a four-month period of uncredited work on Sleeping Beauty (1959).
With business partner Les Goldman, Jones started an independent animation studio, Sib Tower 12 Productions, and brought on most of his unit from Warner Bros. In 1963, Metro-Goldwyn-Mayer contracted with Sib Tower 12 to have Jones and his staff produce new Tom and Jerry cartoons as well as a television adaptation of all Tom and Jerry theatricals produced to that date. In 1964, Sib Tower 12 was absorbed by MGM and was renamed MGM Animation/Visual Arts.
As the Tom and Jerry series wound down Jones produced more for television. In 1966, he produced and directed the TV special How the Grinch Stole Christmas!, featuring the voice and facial models based on the readings by Boris Karloff.
MGM closed the animation division in 1970, and Jones once again started his own studio, Chuck Jones Enterprises. He produced a Saturday morning children's TV series for the American Broadcasting Company called The Curiosity Shop in 1971. Jones resumed working with Warner Bros. in 1976 with the animated TV adaptation of The Carnival of the Animals with Bugs Bunny and Daffy Duck. From 1977–1978, Jones wrote and drew the newspaper comic strip Crawford for the Chicago Tribune-NY News Syndicate.
Through the 1980s and 1990s, Jones was painting cartoon and parody art, sold through animation galleries by his daughter's company, Linda Jones Enterprises. Jones died of heart failure on February 22, 2002.
Jones was nominated for an Academy Award eight times and won three times, receiving awards for the cartoons For Scent-imental Reasons, So Much for So Little, and The Dot and the Line. He received an Honorary Academy Award in 1996 for his work in the animation industry. Jones was a historical authority as well as a major contributor to the development of animation throughout the 20th century. For his contribution to the motion picture industry, Jones has a star on the Hollywood Walk of Fame at 7011 Hollywood Blvd. Jones' life and legacy were celebrated January 12, 2012, with the official grand opening of The Chuck Jones Experience at Circus Circus Las Vegas.
You can view our Art Talk about Chuck Jones here: https://youtu.be/slN1XMXmW0Q
*****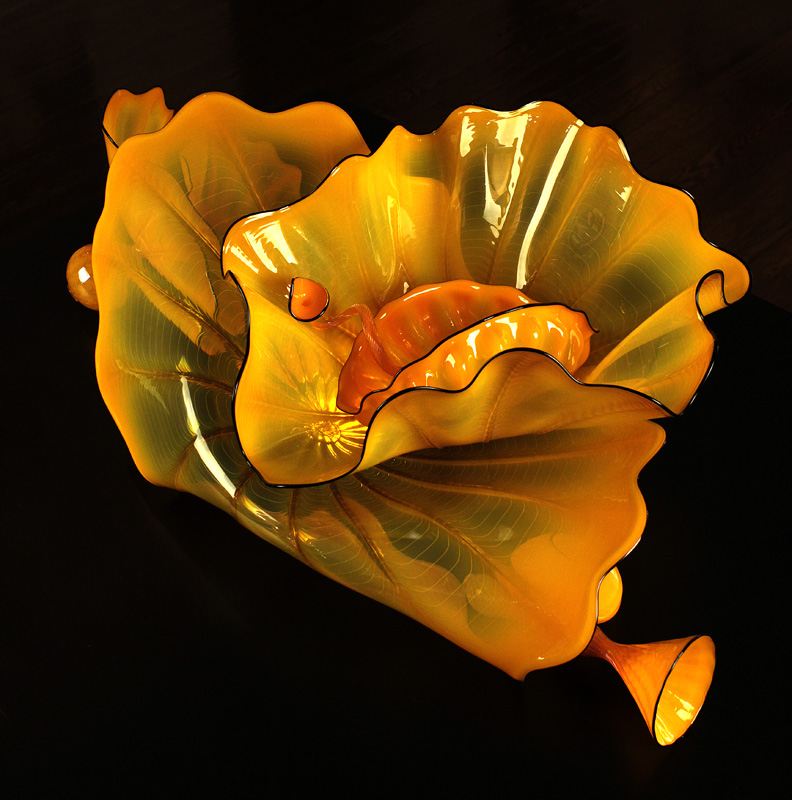 Dale Chihuly, a native of Tacoma Washington, is famous for his dazzling artistic glass creations. Orbs, cylinders, spikes and spirals – Chilhuly's work appears to defy gravity. After receiving an undergraduate degree at the University of Washington in Interior Design, he later received a Master's degree in Sculpture from the University of Wisconsin – Madison where he has studied under the famed glass artists Harvey Littleton in 1967. On a Fulbright scholarship in 1968 he traveled to Venice and received a Masters of Fine Arts at the Rhode Island School of Design. He founded his own glass school in 1971, named Pilchuck (pill chuck) Glass School, located in Standwood, Washington.
Due to a personal injury to his shoulder sustained in a body surfing accident, Chihuly was forced to give up glass blowing himself, relying on assistants to do the physical labor, while he served as artistic director. He explained his role as "more choreographer than dancer, more supervisor than participant, more director than actor." In the 1970's he began to use a team approach to glass blowing which allowed him to achieve massive glass sculptures that would have been impossible for one artist to accomplish alone.
In recent years, he has made his artwork a household name by his entrepreneurial ventures that include retail stores in high-end areas, documentaries, and artwork prints made for commercial purposes. His team approach made it possible for him to create large works that now reside with many companies who want large-scale impressive instillations in their building. In 2012 the Chihuly Garden and Glass center opened in Seattle.
You can view our Dale Chihuly Art Talk here: https://youtu.be/XJTHaOl1ALQ
*****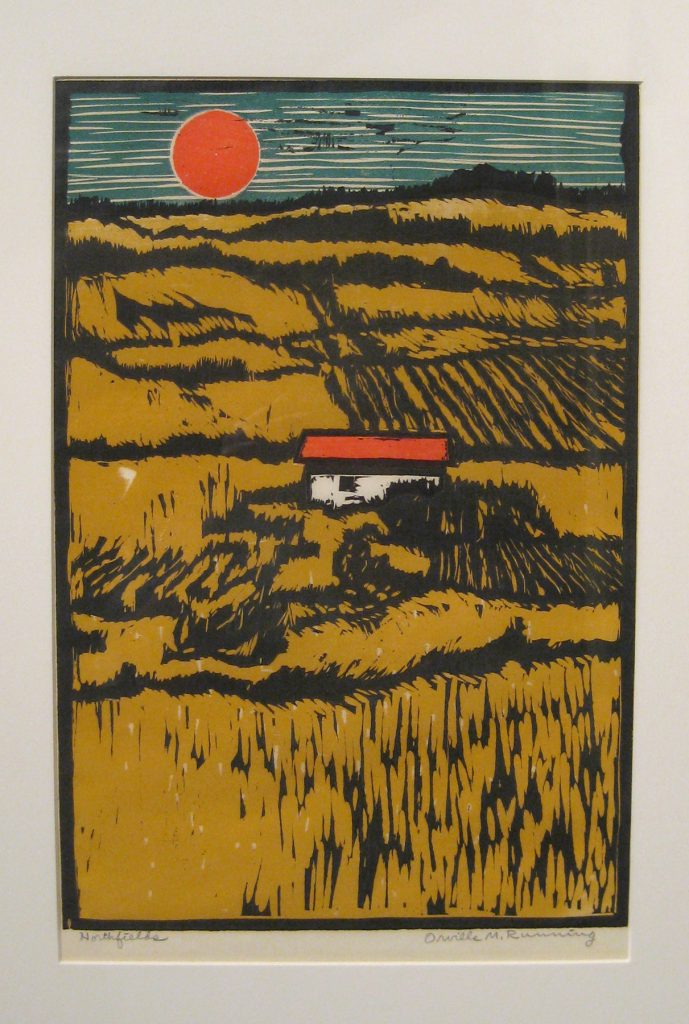 Orville Magnus Running was born on September 19, 1910 in Veblen, South Dakota to Rev. Alfred Running and Sophia Olsen Running. He graduated with a Bachelors Degree from St. Olaf College (Northfield, Minnesota) in 1931 and attended the Luther Theological Seminary, graduating and being ordained in 1934. Running served as pastor of Bethlehem Lutheran Church in Tacoma, Washington, and later moved to serve at the Christ Lutheran Church in Chicago, where he renewed his interest in art by attending night classes at the Chicago Art Institute.
In 1946, Running signed a contract with Luther College to "instruct in art and religious education," and for the next thirty years worked as head of the art department helping to build a viable art program at the college. After the faculty senate voted to institute an art major at Luther College in 1957, Running helped expand the faculty and equipment for the department. Along with Dean Schwarz, former Art Department faculty member, Running handcrafted forty-two potter's wheels using a design by master potter Marguerite Wildenhain. He also helped build easels for painting and tables for drawing. Running oversaw construction of a kiln house and designed a press that allowed the College to offer classes in printmaking.
Along with teaching and leading the Art Department at Luther College, Running managed the Fine Arts Festivals, an annual festival for the arts at the College, which extended from 1957-1966. Eighty-one works in Luther's collection were purchased from these festivals. As an ordained Lutheran minister, Running also taught courses in the Religion Department, delivered chapel talks, and preached in area churches. In 1976 he retired from full-time teaching, but continued to teach printmaking at Luther for the next decade. Running passed away on February 6, 2012, in Decorah, Iowa.
Known primarily for his colorful and highly popular woodcuts, Running was also an accomplished painter and draftsman who created liturgical commissions in wood and metal, fine calligraphy, and musical/theater backdrops. His work was shown in many college and university exhibitions throughout the Midwest and was included in a traveling exhibition of relief prints organized by the Iowa Arts Council in 1970. For several years his prints hung in the reception room of the American Embassy in Oslo, Norway. Generations of students and colleagues have collected his work, distributing it nationally to private collections and to numerous foreign countries.
*****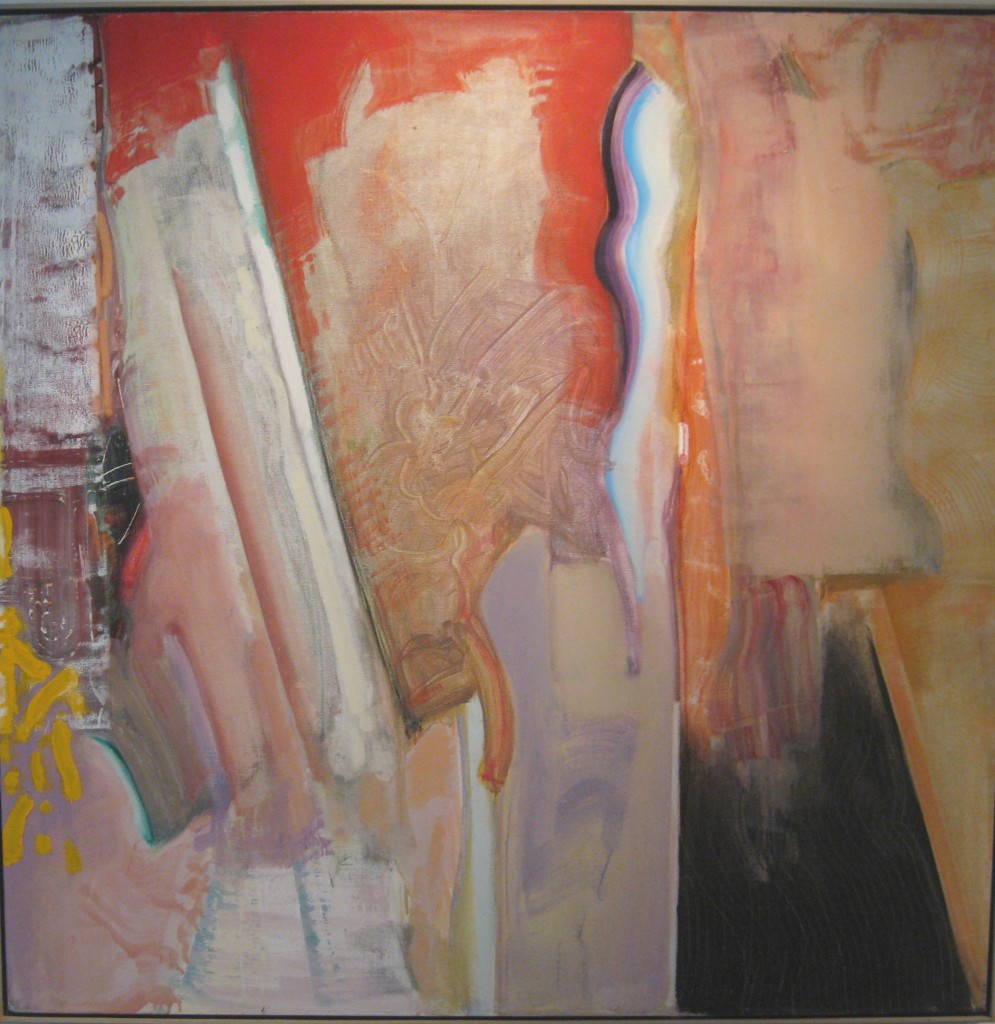 Stephen Greene was born in New York, where he studied at the National Academy of Design from 1935-1936. He continued his studies at the Art Students League, the Richmond Division of the College of William and Mary, and then at the State University of Iowa under Philip Guston. The work of Northern European Renaissance painting and Max Beckmann were also early influences.
Stephen Greene's 1950s paintings of classic religious themes meld the precision and spirituality of the great Renaissance masters with the moody, stylized symbolism of postwar Existentialism. Of his early figurative work, Greene has stated, "I was essentially involved in a psychological state, a prison-like configuration that mirrored contemporary ideas…In painting the events of Christ's passion, I, in the twentieth century, was not returning to another period's aesthetic mode, but dealing with the possible meanings of hallucinations." Greene universalized his religious themes to speak to a post-war culture of anxiety.
The paintings from Greene's first three solo shows at Durlacher Brothers (1947, 1949, 1952) are his best-known figurative work. Of the fifteen paintings from the 1952 exhibition, nearly half are in museum collections, including the Tate Gallery, London (The Return); the Whitney Museum of American Art (The Shadow); the Nelson-Atkins Gallery, Kansas City (The Kiss of Judas); and the Art Museum, Princeton University (The Massacre of the Innocents). Greene was selected for the inclusion in the 1955 traveling exhibition organized by the Whitney Museum of American Art, The New Decade: 35 American Painters and Sculptors.
*****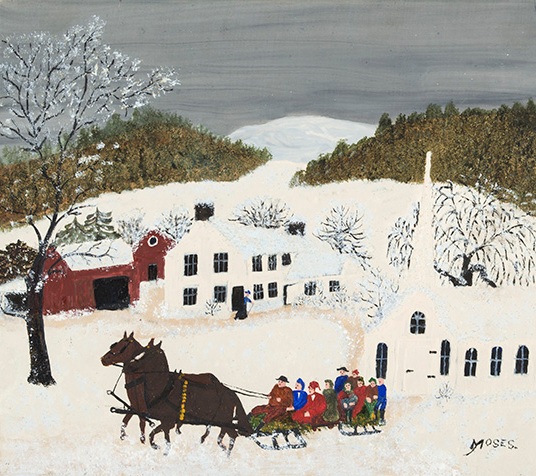 Grandma Moses was an American artist known for her pastoral landscape paintings. Anna Mary Robertson was born in 1860 and grew up on a farm in upstate New York. She worked as a hired girl, helping neighbors and relatives with cleaning, cooking, and sewing. Her father encouraged her to draw on old newsprint, and she used berry and grape juices to brighten her images. She married when she was 27 and moved to a farm in Virginia, where she raised five children.
Grandma Moses did not start painting until she was 78 years old and looking for something to do "to keep busy and out of mischief" after her husband died. Years of representing scenes through the flat patterns of cross-stitching, imbued her canvases with naïve perspectives and decorative color schemes. She painted nostalgic scenes of American life and sold them at country fairs alongside her prize-winning pickles. In 1939 a collector saw her paintings in the window of the local pharmacy and bought them all. Later that year, three of those works were included in the "Contemporary Unknown American Painters" exhibition at The Museum of Modern Art in New York. This led to a solo exhibition at the Galerie St. Etienne in New York in 1940 and over 100 more shows in the following decades. She died at 101, after painting more than fifteen hundred images.
*****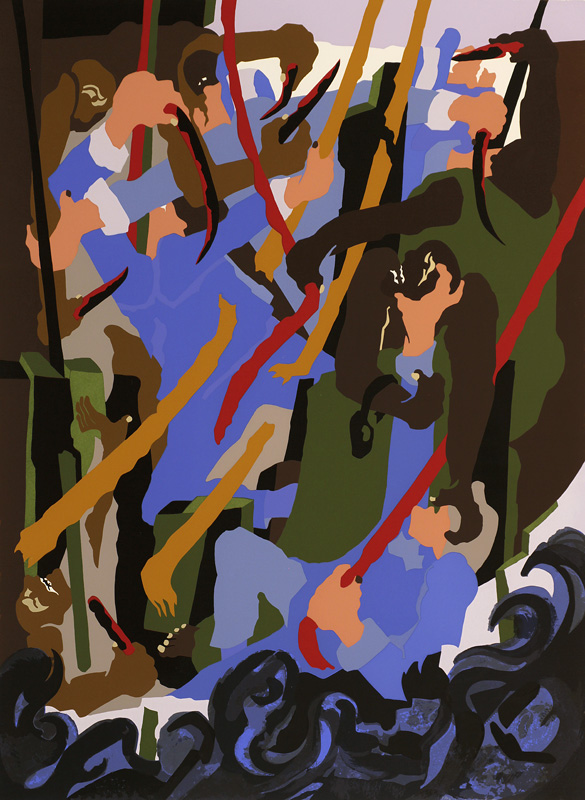 Jacob Lawrence is known for his use of aesthetic elements for social means and the remarkable composition of his works. In 1941 he received widespread recognition for his narrative series, Migration of the Negro. During a time of legalized and institutionalized segregation, he became the first African American artist to receive sustained support from mainstream art museums and patronage outside the black community.
Using the power of semi-abstract forms, Lawrence addressed many of the great social and philosophical themes of the twentieth century especially as they pertain to the histories of African Americans. His work made visible the everyday lives and contributions of black Americans and provided a compassionate counterpoint to stereotypical images.
The tangle of arms and machetes in Revolt on the Amistad communicates the chaos of the slave rebellion on the ship, which precipitated a Supreme Court ruling that advanced the abolitionist cause
*****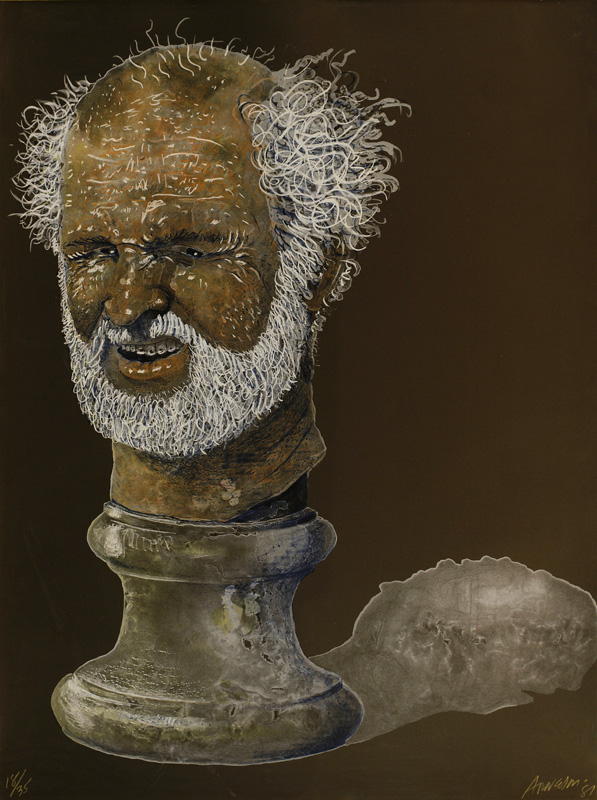 Robert Arneson was born in Benicia, CA in 1930. Between the years of 1949 to 1951 Arneson was going to the College of Marin in Kentfield, CA. Three years later in 1954 he received his BA from California College of Arts and Crafts in Oakland, CA. In 1958, Arneson got his MFA from Mills College in Oakland, CA.
He is well known for his work in Ceramics. He is known as using the ceramics as a vital medium for contemporary figurative sculpture. Many of his pieces of work are found at numerous museums and sites in Hawaii, Japan, California, Ohio, Australia, New York City, Illinois, and many other locations.
One thing that stands out about Robert Arneson is at the Palo Alto Art Center in Palo Alto, CA. He has over 90 ceramic Marquette's on display. They date from 1964 to 1992 and are between 2 to 14 inches in height. It shows his more expressing nature with clay with these Marquette's.
In 1985, Arneson was given the Honorary Doctor of Fine Arts at the Rhode Island School of Design in Providence, RI. Two years later in 1987 from one coast to another in CA he was awarded again the Honorary Doctor of Fine Arts at the San Francisco Art Institute. In 1991, he was awarded the Academy-Institute Award in Art and the next year he joined the Fellowship American Craft Council. In 1992, Robert Arneson died of cancer in Benicia, CA, but will be remembered for his artwork in the world of Ceramicists.
*****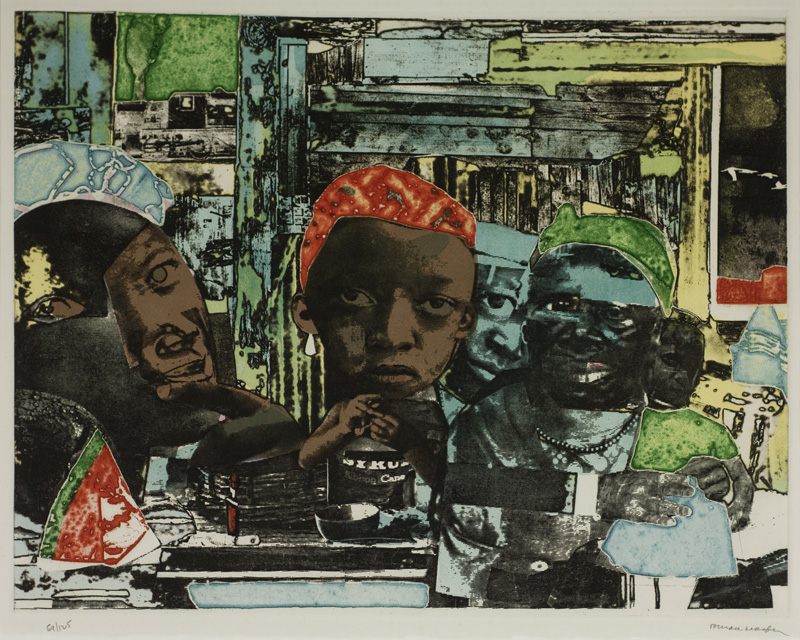 The MacNider Museum is pleased to have recently acquired a signature work by 20th century African American artist Romare Bearden. A lifelong student of literature and philosophy, Bearden worked in a variety of media including a stint as a songwriter. He is best known for the way he employed collage in unique and innovative ways.
Born in Charlotte, North Carolina, and growing up in New York during the Harlem Renaissance of the 1920s, much of Bearden's work references his southern childhood and northern upbringing. He made art from observation and memory; the sights, sounds and feelings of his personal history. His art is characterized by images that portray life's universal journey in terms of authentic black experience. He found his voice in the imaginative collages he made from 1964 on, using a fragmented style inspired by the rhythms of jazz and assembled using magazine clippings in dreamlike invocations of the myths and rituals of African American life.
Bearden did not take up printmaking until the late 1960s. Many of his prints are based on existing collages and monotypes. In The Train he recast a 1964 collage by adding new textures and colors. This was accomplished by using mesh screens and photography to generate the photogravure plate, which was subsequently cut up so colored areas could be inked separately and reassembled jigsaw style for printing.
Bearden's images abound with affection for his birthplace in the South For him trains were weighted symbols. They signified the black migration north after slavery. Charlotte, his birthplace, was a hub for railroads. "I never left Charlotte except physically," he said.
The train of this print's title is a small detail in the upper left, but it nonetheless invokes larger issues of migration and segregation. As Bearden stated, trains "could take you away and could also bring you to where you were. And in the little towns it's the black people who live near the trains."
*****