Off the Wall showcases pieces from our permanent collection individually so you can learn a little bit more about the pieces in our museum one at a time.
*****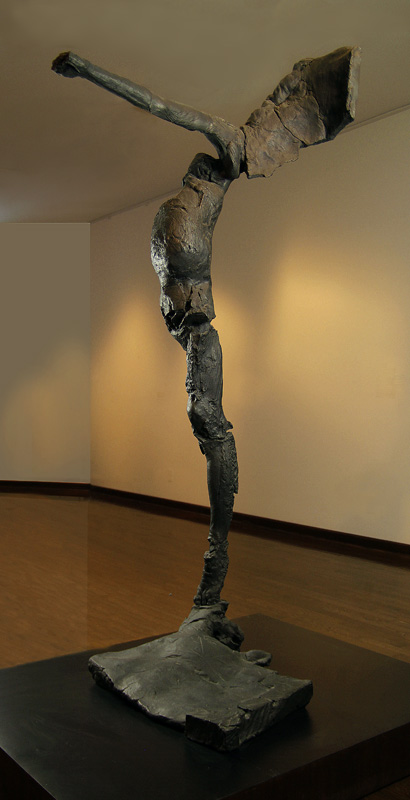 Left-Sided Figure Pointing
Stephen DeStaebler (1933-2011)
Bronze, 1983. Museum Purchase from John Berggruen Gallery, San Francisco, CA. 1990.1
Stephen DeStaebler was born in 1933.  He was a nationally known, Bay Area based sculptor whose work is based on the expressive potential of the human figure.  His academic work was completed at Princeton University with a thesis on St. Francis. After working primarily in clay during the 1960's and 1970's, he began to work with bronze in the 1980's and began his association with Artworks Foundry, starting in the early 1980's.
DeStaebler's work can be seen locally at the City Center in Oakland, near the Museum of Modern Art in San Francisco, the M.H. DeYoung Museum in Golden Gate Park and in the Oakland Museum.
His work was the subject of a major museum retrospective in 1988-89, which traveled to San Francisco, Washington, D.C. and other cities.  A catalogue of this exhibition, "Stephen DeStaebler: The Figure" was written by Donald Kuspit, and features many works in bronze that were cast by Artworks Foundry.
*****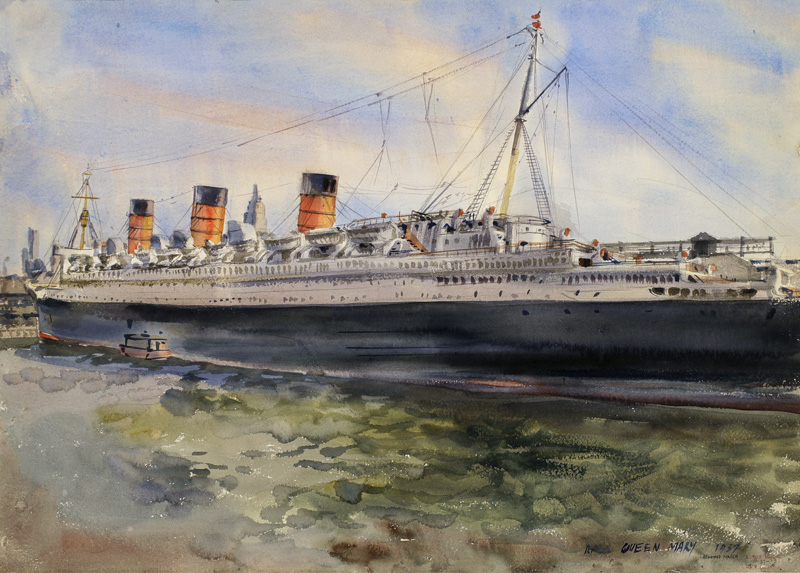 Queen Mary
Reginald Marsh (1898-1954)
Watercolor on paper, 1937. Bequest of Mrs. Felicia Meyer Marsh. 1979.1.5
Reginald Marsh was an American painter, born in Paris, most notable for his depictions of life in New York City in the 1920s and 1930s. Crowded Coney Island beach scenes, popular entertainments such as vaudeville and burlesque, women, and jobless men on the Bowery are subjects that reappear throughout his work. He painted in egg tempera and in oils, and produced many watercolors, ink and ink wash drawings, and prints.
Reginald Marsh was born in an apartment in Paris above the Café du Dome. He was the second son born to parents who were both artists. His mother, Alice Randall was a miniaturist painter and his father, Frederick Dana Marsh, was a muralist. When Marsh was two years old his family moved to Nutley, New Jersey.
Marsh attended the Lawrenceville School and graduated in 1920 from Yale University. At Yale Art School he worked as the star illustrator and cartoonist for campus humor magazine The Yale Record. He moved to New York after graduation, where his ambition was to find work as a freelance illustrator. In 1922 he was hired to sketch vaudeville and burlesque performers for a regular New York Daily News feature, and when The New Yorker began publication in 1925, Marsh and fellow Yale Record alum Peter Arno were among the magazine's first cartoonists.
A casual interest in learning to paint led Marsh, in 1921, to begin taking classes at the Art Students League of New York, where his first teacher was John Sloan. By 1923 Marsh began to paint seriously. In 1925 Marsh visited Paris for the first time since he had lived there as a child and he fell in love with what the city had to offer him. Although Marsh had appreciated the drawings of Raphael, Leonardo da Vinci and Michelangelo since he was a child—his father's studio was full of reproductions of the old masters' work—the famous paintings that he saw at the Louvre and other museums stimulated in him a new fascination with the old masters.
While exploring the works of European painters such as Titian, Tintoretto, and Rubens, Marsh met Thomas Hart Benton in one of the galleries in France. Benton, known today as a social realist, and regionalist painter, was also a great student of the Baroque masters. The resemblance Marsh saw between Tintoretto's famous works and Benton's motivated Marsh to try to paint in a similar way.
Marsh enjoyed experimentation with all his artworks and was therefore renowned for his unique techniques. In the early 1920s he began to work with watercolor and oil. He did not take to oil naturally and decided to stick to watercolor for the next decade. Yet, in 1929 he discovered egg tempera, which he found to be somewhat like watercolor but with more depth and body.
Reginald Marsh rejected modern art, which he found sterile. Marsh's style can best be described as social realism. Marsh's main attractions were the burlesque stage, the hobos on the Bowery, crowds on city streets and at Coney Island, and women. His deep devotion to the old masters led to his creating works of art in a style that reflects certain artistic traditions, and his work often contained religious metaphors.
Marsh was also drawn to the ports of New York. In the 1930s the harbors were extremely busy with people and commerce due to the country's necessity for economic recovery. The Great Depression brought about a decline in raw materials and therefore the demand for those materials grew dramatically, resulting in bustling harbors in big cities such as New York. Marsh would sketch the seaports, focusing on the tugboats coming in and out of the harbor, and capturing the details of the boats such as the masts, the bells, the sirens, and the deck chairs.
During the 1940s and for many years Reginald Marsh became an important teacher at the Art Students League of New York, which ran a summer camp where Marsh's students included Roy Lichtenstein. Lichtenstein was influenced by Marsh's subject matter in his work. Also in the 40s Marsh began making drawings for magazines such as Esquire, Fortune, and Life.
Shortly before his death he received the Gold Medal for Graphic Arts awarded by the American Academy and the National Institute for Arts and Letters. Marsh died from a heart attack in Dorset, Vermont on July 3, 1954.
*****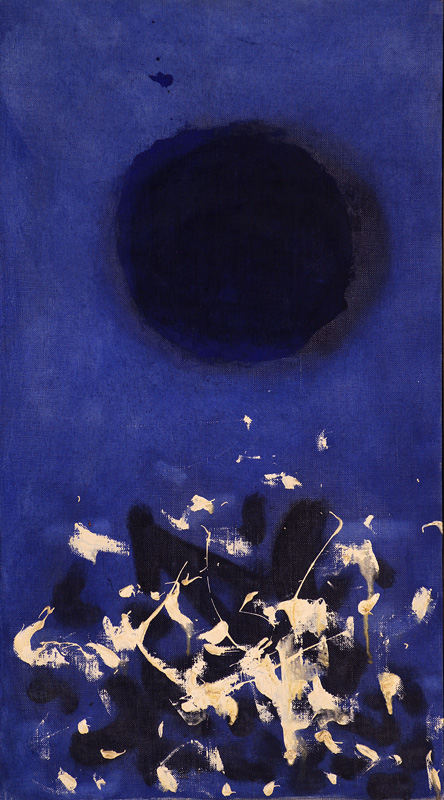 Blues
Adolph Gottlieb (1903-1974)
Oil on canvas, 1959. Gift of Mr. and Mrs. Donald Winston. 1978.3.4
Adolph Gottlieb was born on March 14, 1903 in New York. From 1920-1921 he studied at the Art Students League of New York, after which he traveled in France and Germany for a year. In the mid-1930's, he became a teacher using his acquired technical and art history knowledge to teach while he painted.
After his 1930's one-man show he won respect amongst his peers. In 1935, he and nine others, including Ben-Zion, Ilya Bolotwsky, Louis Harris, Jack Kufeld, and Mark Rothko, known as "The Ten" exhibited their works together until 1940. They would come to be known as the Abstract Expressionists.
Gottlieb's work and awards are found in the Dudensing Galleries in New York, the Guggenheim Museum.  Other places include Paris, Pennsylvania, Texas, Brazil, and others.  One thing that Gottlieb created was "Pictographs" and these are found in New York.
In 1932, he married Esther Dick.  In 1970, he suffered a stroke and was confined to a wheelchair because he paralyzed his left side of his body, but he still continued to paint.  In 1972, he was elected member of the National Institute of Arts and Letters.  On March 4, 1974, Adolph Gottlieb died in New York City.
*****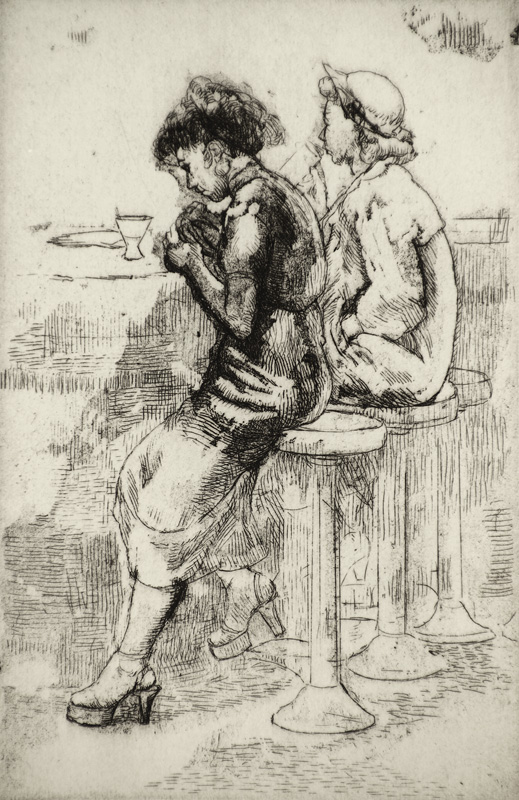 Snack Bar
Isabel Bishop (1902-1988)
Etching on paper, 1959. Gift of Ann and John MacGregor. 1995.8.8
Isabel Bishop was an American painter and graphic artist, who produced numerous paintings and prints of working women in realistic urban settings. She was widely exhibited in her lifetime, and was recognized with a number of awards including one for Outstanding Achievement in the Arts, presented to her by President Jimmy Carter in 1979.
Bishop was born in Cincinnati, Ohio and brought up in Detroit, Michigan, before moving to New York City at the age of 16 to study illustration at the New York School of Applied Design for Women. After two years there she shifted from illustration to painting, and attended the Art Students League for four years until 1924. It was there that she studied with Guy Pène du Bois and with Kenneth Hayes Miller, from whom she adapted a technique which owed much to baroque Flemish painting. During the early 1920s she also studied and painted in Woodstock, New York.
During the 1920s and 1930s she developed a realist style of painting, primarily depicting women in their daily routine on the streets of Manhattan. Her work was greatly influenced by Peter Paul Rubens and other Dutch and Flemish painters that she had discovered during trips to Europe. In 1932, Bishop began showing her work frequently at the newly opened Midtown Galleries, where her work would be represented throughout her career.
She returned to the Art Students League as an instructor from 1936 to 1937. In 1940, Bishop was elected into the National Academy of Design as an Associate member, and became a full member in 1941.
In 1938 she painted a post office mural, Great Men Came from the Hills in New Lexington, Ohio as a part of the Federal Art Project.
Bishop's mature works depict the inhabitants of New York's Union Square area, where she maintained a studio between 1934 and 1984. Her subjects are nearly always women who come from a blue-collar background, yet she was also known to produce panoramic landscape studies, and social scenes such as golf tournaments. Her portraits are often studies of individual heads Butler Institute of American Art; the emphasis securely on the subject's expression – or of solitary nudes. Bishop also delighted in multiple-figure compositions, often containing two females engaged in various workaday interactions. In the post-war years Bishop's interest turned to more abstracted scenes of New Yorkers walking and traveling, in the streets or on the subways.
*****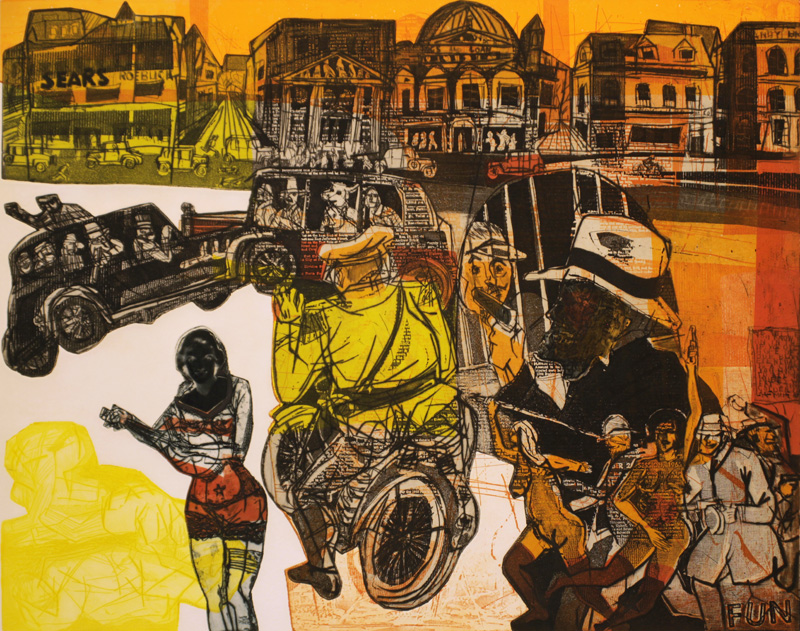 Dillinger: The Great Mason City Raid
Warrington Colescott (b.1921)
Etching on paper, 1965. Gift of Norwest Bank of Mason City. 1995.11.5
Wisconsin artist Warrington Colescott is best known for his satirical etchings.   Born in Oakland, California to parents of Louisiana Creole descent, food, music and Creole culture played a large role in upbringing.  Comic strips were also important to the young Colescott, especially the work of Des Moines Register cartoonist, Jay "Ding" Darling.  Darling's caricatural and narrative components greatly influenced Colescott's mature work.  As a teenager, he discovered vaudeville and burlesque.  The broad humor and slapstick, as well as the eroticism of these performances, would inform his art throughout his career.
Colescott created a series of etchings about the Depression-era gangster, John Dillinger, which grew into a suite of images mixing fact and fiction about the farm boy-turned-outlaw who mesmerized the public in the 1930s.  Colescott had no compunction about enhancing the narratives with imagined details and anachronistic additions.
Colescott portrayed Dillinger, known at the time as Public Enemy No. 1, as a super anti-hero in the series.  For The Mason City Raid, he came to the scene and interviewed locals who had been at the event.  Colescott's version of the crime has the feeling of a movie still, with department store signs in the background and gun molls accompanying the thugs.  Colescott observed, "The Dillinger men took their girls with them wherever they went.  I've tried to convey the feeling of the gang: very rowdy, very adolescent, very sexual."
On March 13, 1934, John Dillinger and his gang robbed the First National Bank in Mason City, Iowa, and escaped with approximately $52,000.  Surprised bank employees and citizens were used as shields from police gunfire.  A switchboard operator on an upper floor of the bank crawled to a window and shouted news of the holdup to a man in the alley.  He brandished a machine gun and shouted back, "You're telling me, lady?"  The man was Baby Face Nelson who was standing lookout.
*****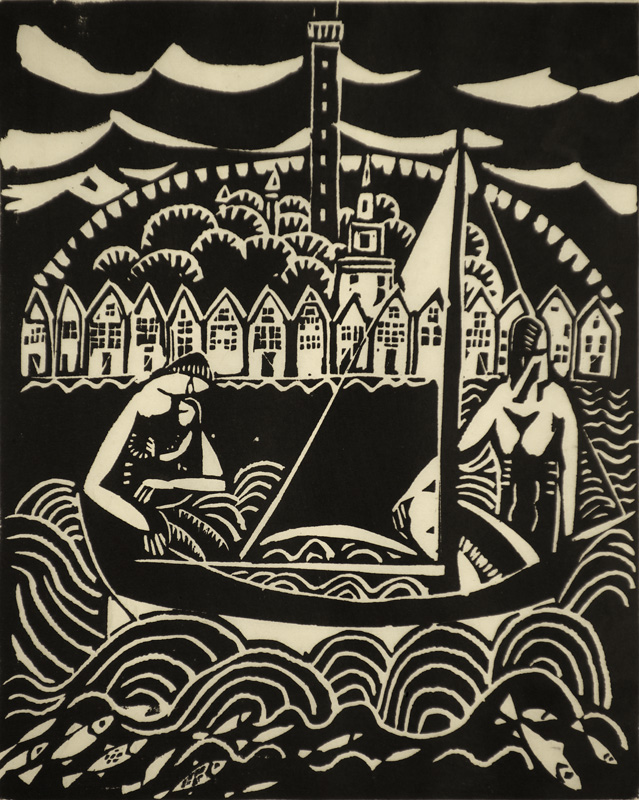 Fisherman (Provincetown)
William Zorach (1887-1966)
Linocut on paper, circa 1916. Gift of Mary MacGregor. 1995.7.8b
William Zorach was a Lithuanian-born American sculptor, painter, printmaker, and writer. He won the Logan Medal of the arts. He is notable for being at the forefront of American Artists embracing cubism, as well as for his sculpture.
Zorach Gorfinkel was born in 1889 into a Lithuanian Jewish family in Jurbarkas in Lithuania as the eighth of ten children, Zorach (then his given name) emigrated with his family to the United States in 1894. They settled in Cleveland, Ohio under the name "Finkelstein". In school, his first name was changed to "William" by a teacher. Zorach stayed in Ohio for almost 15 years pursuing his artistic endeavors. He worked as a lithographer as a teenager and went on to study painting with Henry G. Keller at the Cleveland School of Art from 1905 to 1907. In 1908, Zorach moved to New York in enroll in the National Academy of Design. In 1910, Zorach moved to Paris with Cleveland artist and lithographer, Elmer Brubeck, to continue his artistic training at the La Palette art school.
While in Paris, Zorach met Marguerite Thompson, a fellow art student of American nationality, whom he would marry in 1912. The couple adopted his original given name, Zorach, as a common surname. Zorach and his wife returned to America where they continued to experiment with different media. In 1913, works by both Zorach and Marguerite, were included in the now famous Armory Show, introducing his work to the general public as well as art critics and collectors. Both William and Marguerite were heavily influenced by cubism and fauvism. They are credited as being among the premiere artists to introduce European modernist styles to American modernism. During the next seven years, Zorach established himself as a painter, frequently displaying his paintings in gallery shows as venues such as the Society of Independent Artists and the Whitney Studio Club. While Marguerite began to experiment with textiles and created large, fine art tapestries and hooked rugs, William began to experiment with sculpture, which would become his primary medium.
Zorach was elected to the American Academy of Arts and Letters in 1953, and received a D.F.A. from Bates College in 1964. He taught at the Art Students League of New York, between 1929 and 1960. He continued to actively work as an artist until his death in Bath, Maine, on November 15, 1966.
Zorach's works can be found in numerous private, corporate, and public collections across the country including such acclaimed locales as the Smithsonian American Art Museum, the Museum of Fine Arts, Boston, the Metropolitan Museum of Art, the Whitney Museum of Art, the National Gallery of Art, Radio City Music Hall, the Currier Museum of Art as well as numerous college and university collections.
*****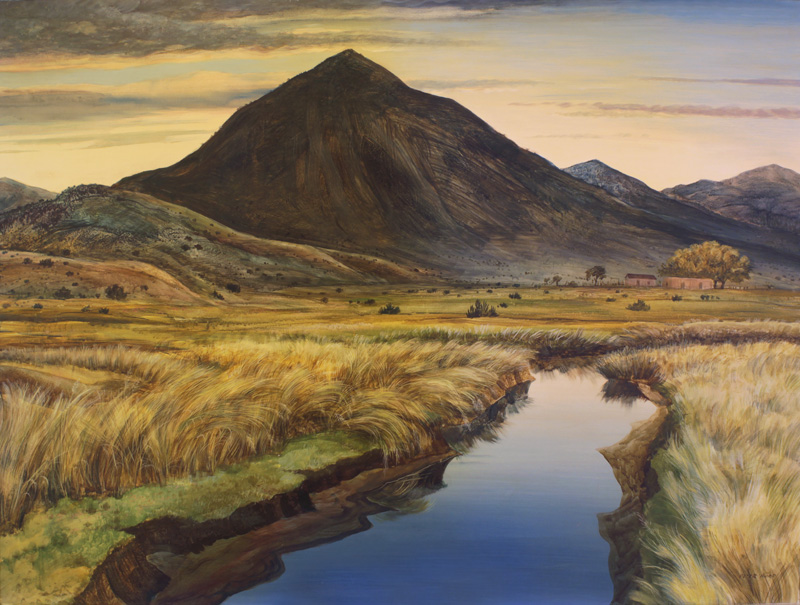 Rio Hondo
Peter Hurd (1904-1984)
Egg tempera on panel. Gift of Mr. and Mrs. Donald Winston. 1978.3.7
Peter Hurd was an American painter who lived and worked in San Patricio, New Mexico. He is equally acclaimed for his western landscapes and his portraits. He studied under the famous illustrator NC Wyeth and was married to Wyeth's eldest daughter, Henriette Wyeth, also an accomplished painter.
Peter originally attended military school before he realized he loved painting and wanted to pursue it professionally. He attended the New Mexico Military academy in Roswell and was half way through West Point when he changed course to follow his true calling. After graduating from the Pennsylvania Academy of Fine Arts, he became a private pupil of N. C. Wyeth. the famous illustrator and painter. Hurd worked alongside Wyeth's own children, Andrew and Henriette, who were also studying under their father. Hurd worked as Wyeth's assistant at Chadds Ford, Pennsylvania, for a number of years. In 1929, he married Henriette Wyeth. They would have three children, Peter, Carol, and Michael Hurd.
In the mid-30's the Hurds moved to San Patricio, New Mexico, settling on 40 acres that would grow into the 2200 acre Sentinel Ranch. The ranch and its surrounds provided endless material for their work, as their painting careers developed side by side. Henriette focused on floral studies, oil portraits and still life paintings. Peter worked at capturing the landscape and the people who lived within it and brought it into being. His large egg tempera paintings of the local landscape earned him national recognition, and were published in Life magazine. Later, during WW2, Life magazine sent Peter Hurd all over the world as a combat correspondent with the US Air Force. He covered almost all the fronts of the far-flung battle line, creating hundreds of War Sketches that range from poignant to comic.
Hurd's years with the Air Force had a profound effect on his artistic work. He had always been a careful and precise worker when he worked in tempera, but as an embedded war reporter documenting urgent or fleeting moments, he had to draw much more quickly. He also began using watercolor, which he soon mastered. When he returned to painting the New Mexico landscapes, his work was characterized by a new freedom and looseness, but still displaying all the subtle tones of an innately gifted colorist.
Some of Peter Hurd's most well-known portraits were of his neighbors, family and friends at Sentinel Ranch. He loved to paint people who were deeply connected to the land, and always showed them outdoors, against the hills and sky.
Hurd also painted the official portraits two heads of state, President Lyndon B. Johnson and the Saudi King Faisal. LBJ famously rejected the 1967 Hurd portrait, for reasons unknown. The painting is now part of the collection of the National Portrait Gallery, in the Smithsonian Institution.
Many of his works, along with those of Henriette Wyeth, NC Wyeth, and Michael Hurd, can be seen at the Hurd-La Rinconada Gallery in San Patricio, New Mexico.
*****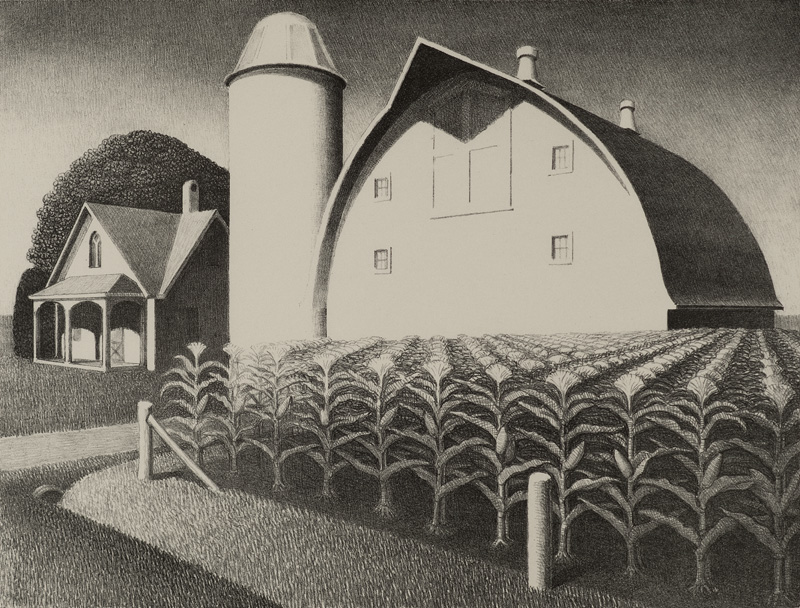 Fertility
Grant Wood (1891-1942)
Lithograph on paper, 1939. Bequest of Katherine M. Zastrow. 1997.14.1
Grant DeVolson Wood was an American painter born four miles east of Anamosa, Iowa. He is best known for his paintings depicting the rural American Midwest, particularly the painting American Gothic, an iconic image of the 20th century.
His family moved to Cedar Rapids after his father died in 1901. Soon thereafter he began as an apprentice in a local metal shop. After graduating from Washington High School, Wood enrolled in an art school in Minneapolis in 1910, and returned a year later to teach in a one-room schoolhouse. In 1913 he enrolled at the School of the Art Institute of Chicago and performed some work as a silversmith. In 1932, Wood helped found the Stone City Art Colony near his hometown to help artists get through the Great Depression.
Wood was an active painter from an extremely young age until his death, and although he is best known for his paintings, he worked in a large number of media, including lithography, ink, charcoal, ceramics, metal, wood and found objects.
Throughout his life, he hired out his talents to many Iowa-based businesses as a steady source of income. This included painting advertisements, sketching rooms of a mortuary house for promotional flyers and, in one case, designing the corn-themed decor (including chandelier) for the dining room of a hotel. In addition, his 1928 trip to Munich was to oversee the making of the stained glass windows he had designed for a Veterans Memorial Building in Cedar Rapids. He again returned to Cedar Rapids to teach Junior High students after serving in the army as a camouflage painter.
Wood is considered the patron artist of Cedar Rapids, and his childhood country school is depicted on the 2004 Iowa State Quarter.
Wood's best known work is his 1930 painting American Gothic, which is also one of the most famous paintings in American art, and one of the few images to reach the status of universally recognized cultural icon, comparable to Leonardo da Vinci's Mona Lisa and Edvard Munch's The Scream.
It was first exhibited in 1930 at the Art Institute of Chicago, where it is still located.
Wood taught painting at the University of Iowa's School of Art from 1934 to 1941. During that time, he supervised mural painting projects, mentored students, produced a variety of his own works, and became a key part of the University's cultural community. On February 12, 1942, one day before his 51st birthday, Wood died at the university hospital of pancreatic cancer. When Wood died, his estate went to his sister, Nan Wood Graham, the woman portrayed in American Gothic. When she died in 1990, her estate, along with Wood's personal effects and various works of art, became the property of the Figge Art Museum in Davenport, Iowa.
*****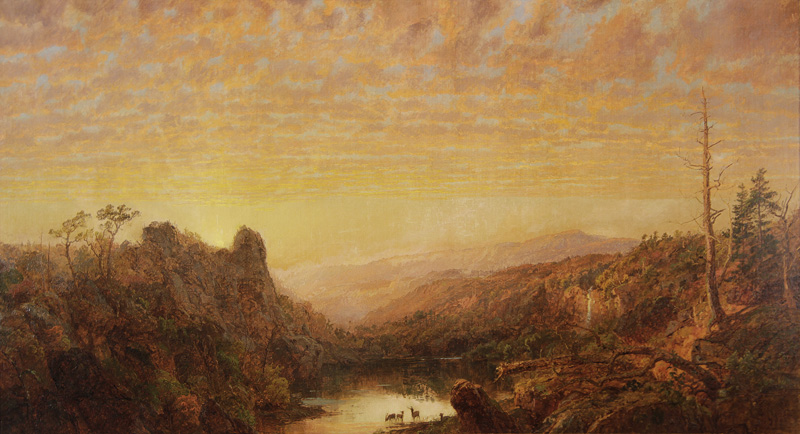 Twilight
Jasper Francis Cropsey (1823-1900)
Oil on canvas, 1877. 1979.002
Born on his father's farm in upstate New York in 1823, Jasper Cropsey had recurring periods of poor health as a child.  While absent from school, Cropsey taught himself to draw.  His early drawings included architectural sketches and landscapes drawn on notepads and in the margins of his schoolbooks. Trained as an architect, he set up his own office in 1843. While traveling abroad for much of his early life, he returned home to New York and opened a studio where he specialized in landscape paintings of the Northeastern United States.
Cropsey's interest in architecture continued throughout his life and was a strong influence in his painting, most evident in his precise arrangement and outline of forms.  But he was best known for his idealized and lavish use of color and, as a first-generation member from the Hudson River School, painted autumn landscapes that startled viewers with their boldness and brilliance. The Hudson River School was a mid-19th century American art movement by a group of landscape painters, whose aesthetic vision was influenced by romanticism.  As artists, they believed landscapes were the highest art form and that nature was a direct manifestation of God.  They felt a patriotic affiliation with nature and saw his paintings as depicting the rugged and unspoiled qualities of America.
As with most of his works, Cropsey experimented with the abstract properties of color, light, and form in this work.  The magnificent mountains dominate this work, while the small deer drinking at the bottom of the painting demonstrate the enormity of the landscape comparatively.  Cropsey uses color to suggest to the viewer, that night is indeed approaching.
*****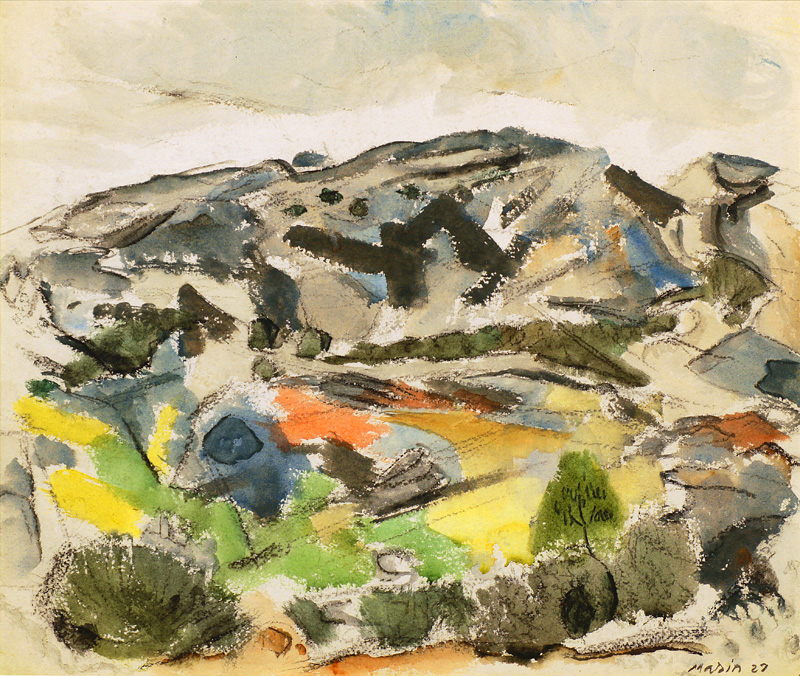 Burnt Hill, Maine
John Marin (1870-1953)
Watercolor on paper, 1927. Museum Purchase with Partial Support of a Grant from the Kinney-Lindstrom Foundation. 1991.1
John Marin born in Rutherford, New Jersey was an early American modernist artist. Known for his abstract landscapes and watercolors.  John Marin grew up in Weehawken, New Jersey, and attended the Stevens Institute of Technology for a year. His experience with architecture might have contributed to the role played by architectural themes in his paintings and watercolors.
From 1899 to 1901, Marin attended the Pennsylvania Academy of the Fine Arts in Philadelphia. In Philadelphia he studied with Thomas Pollock Anshutz and William Merritt Chase. He also studied at the Art Students League of New York. In 1905 like many American artists Marin went to Europe, initially to Paris. He traveled through Europe for six years. Marin painted in Holland, Belgium, England, and Italy. In Europe he mastered a type of watercolor where he achieved an abstract ambience, almost a pure abstraction with color that ranges from transparency to translucency, accompanied by strong opacities, and linear elements, always with a sense of freedom, which became one of his trademarks.
John Marin believed he had to know a place intimately before he could paint it. When he executed Schooner Yachts, Deer Isle, Maine, he had been painting on the coast of Maine for fifteen summers. A particularly vocal opponent of what he considered the "self-indulgence' of pure abstraction, Marin tried to imbue each painting with his love of the visible world. A critic's observation that Marin painted from an inner vision offended the artist deeply, and was summarily dismissed by him as rubbish. Marin could not conceive of an art of consequence that was not grounded in the act of seeing. To Marin, "seeing" was a "repetition of glimpses" and each painting an opportunity to capture in a single, striking image the "eye of many looking's."
Instilled with a modernist's distrust of illusionism, however, he drew on the resources of his own form of Cubism to explore his response to what he saw and experienced. Marin always insisted that his paintings be both celebrations of the visible world and flat, two-dimensional objects: "I demand of [my paintings] that they are related to experiences … that they have the music of themselves-so that they do stand of themselves as beautiful-forms-lines and paint on beautiful paper or canvas."