Off the Wall showcases pieces from our permanent collection individually so you can learn a little bit more about the pieces in our museum one at a time.
*****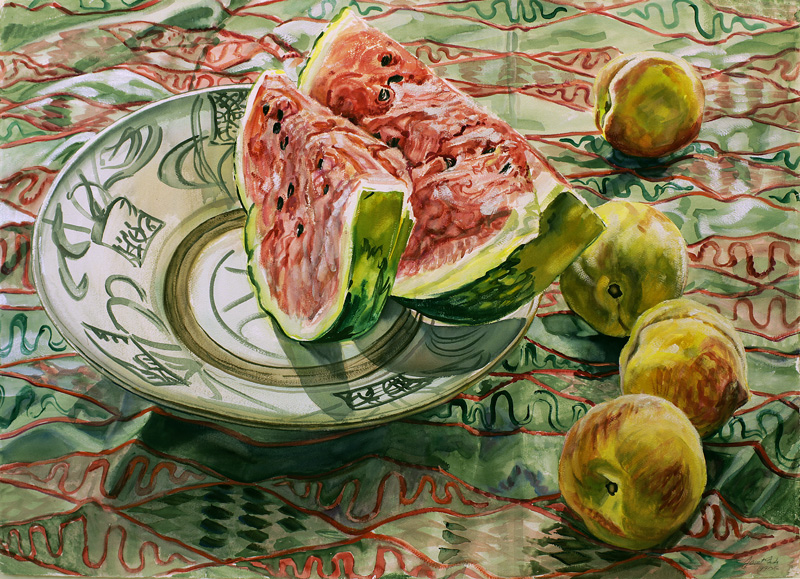 Watermelon and Peaches
Janet Fish (b. 1938)
Watercolor on paper, 1990. Museum Purchase, Memorial and Acquisition Funds. 2000.16
Janet Fish was born in Boston, MA in 1938 and grew up on the Island of Bermuda.  Her grandfather was an American Impressionist painter, which inspired her.  Her father was an Art History teacher and her mother was a sculptor and potter.
She went to Skowhegan Summer School of Painting and Sculpture in Maine, and studied sculpture and printmaking at Smith College in Massachusetts, and graduated from Smith in 1960. She then went on to Yale University School of Art and Architecture in Connecticut, where she received her B.F.A. (Bachelor of Fine Arts) and M.F.A. (Master of Fine Arts) degrees in 1963. (She was one of the first women artists to receive her MFA from Yale.) At Yale some of her classmates included Rackstraw Downes, Chuck Close, Nancy Graves and Brice Marden.
She has shown her work in many major art institutions, including the Metropolitan Museum of Art and the Whitney Museum of American Art, both in New York, as well as the Art Institute of Chicago, and at many venues around the world. She has also won fellowships and awards, including American Academy of Arts and Letters Award, 1994, and a MacDowell Fellowships in 1968, 1968 and 1972. Her work has been published in several books – The Prints of Janet Fish, by Linda Konheim Kramer, Janet Fish by Garret Henry, and Janet Fish: Paintings by Vincent Katz. She is currently represented by D.C. Moore Gallery in New York City, and divides her time between her Soho loft and her farmhouse in Vermont. Her paintings reflect her indoor and outdoor domestic life, often containing still life objects from her collections of glassware and other objects.
*****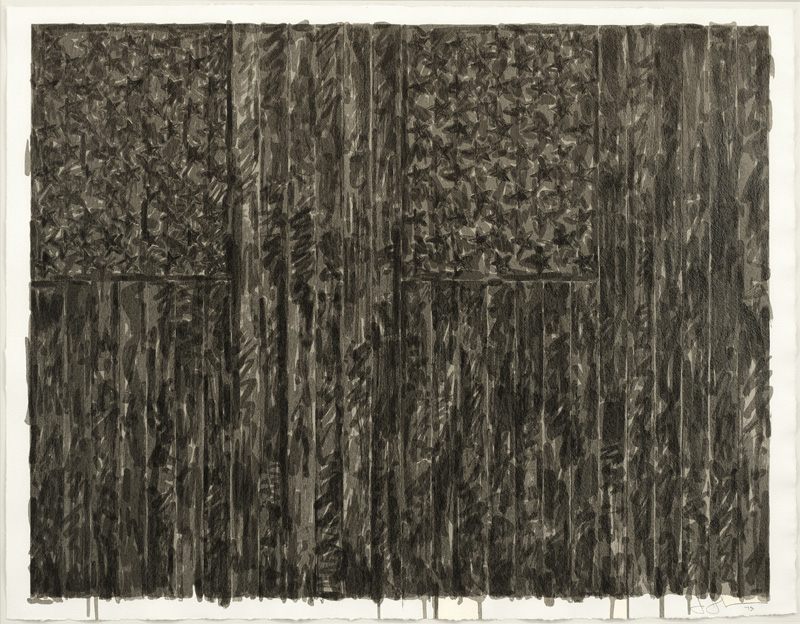 Flags II
Jasper Johns (b. 1930)
Screenprint on paper, 1973. John and Mary Pappajohn Endowment Fund Purchase. 1999.9
Jasper Johns was born on May 15, 1930 in Augusta, Georgia.  Johns studied at the University of South Carolina from 1947 to 1948, a total of three semesters.  He then moved to New York City and studied briefly at Parsons School of Design in 1949.  While in New York, Johns met Robert Rauschenberg, Merce Cunningham, and John Cage.  Working together they explored the contemporary art scene, and began developing their ideas on art.  In 1952 and 1953, he was stationed in Sendai, Japan during the Korean War.
He is best known for his painting Flag (1954-55), which he painted after having a dream of the American flag.  His work is often described as a 'Neo-Dadaist', as opposed to pop art, even though his subject matter often includes images and objects from popular culture.  Still, many compilations on pop art include Jasper Johns as a pop artist because of his artistic use of classical iconography.
Most of Johns work can be found mostly on the east coast of the United States.  To name a few of the places, Museum of Modern Art in New York, the New York State Theater, Metropolitan Museum of Art in New York, National Gallery of Art in Washington D.C., and many others.
In 1998, the Metropolitan Museum of Art in New York paid more than $20 million for Johns' White Flag.  In 2006, private collectors Anne and Kenneth Griffin (founder of the Chicago-based hedge fund Citadel Investment Group) bought Johns' False Start for $80 million.  Johns currently lives in Sharon, Connecticut.
*****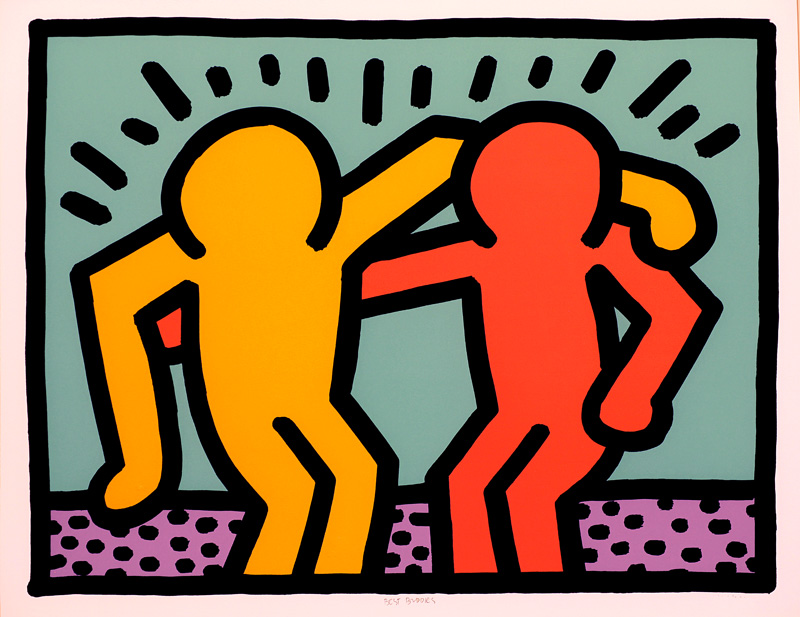 Best Buddies
Keith Haring (1958-1990)
Screenprint on paper, 1990. Gift of Steve, Todd, Derrick, and Tyler Sellergren in Memory of Wife and Mother, Penny K. Sellergren. 2007.1
Keith Haring was an artist and social activist whose work responded to the New York street culture of the 1980s.  Growing up in small town Pennsylvania, Haring developed a love for drawing at an early age, learning basic cartooning skills from his father and popular culture, especially Dr. Seuss and Walt Disney.  After studying graphic design in Pittsburgh, Haring moved to New York where he found a thriving alternative art community developing outside the gallery and museum system in the downtown streets, subways, clubs and dance halls.  He first gained public attention with his subway chalk drawings, sometimes creating as many as 40 drawings in a day as he engaged with spectators.  During this time the "Radiant Baby", a simple line drawing of a crawling baby with energized rays emanating from its body, became his symbol.
Haring's brief but intense career spanned the 1980s, and during that decade his work was featured in over 100 solo and group exhibitions.  His art attracted a wide audience through his expression of universal concepts of birth, death, love, sex and war, using a primacy of line and directness of message.  Haring's imagery has become a universally recognized visual language of the 20th century.
*****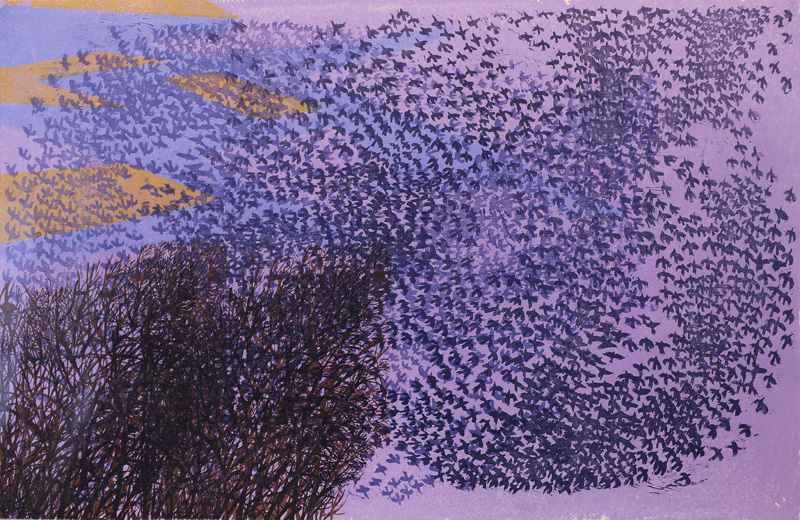 Migration VI
Antonio Frasconi (1919-2013)
Woodcut on paper, 1959. Gift of Dr. and Mrs. John MacGregor in Memory of Henning R. Roden and Jay B. MacGregor. 1977.2
Antonio Frasconi was an Uruguayan – American visual artist, best known for his woodcuts. He was raised in Montevideo, Uruguay, and lived in the United States since 1945.
Antonio Rudolfo Frasconi was born in 1919 on a boat between Argentina & Uruguay. Frasconi's mother managed a restaurant whilst his father was frequently unemployed. By the age of twelve, he was learning a trade at a printers. During his teenage years he admired Gustave Doré and Goya, whilst indulging in creating caricatures of political figures.
During the war, an exhibition of impressionism and post-impression was organized by the French in Latin America. Artists such as Van Gogh and Cézanne captured his imagination. However it was the woodcuts of Paul Gauguin that he was attracted to most.
Frasconi moved to the United States in 1945 at the end of World War II. He worked as a gardener and as a guard at the Santa Barbara Museum of Art. It was at that museum that he had his first dedicated show. His recognition was beginning to grow and within twelve months he had a similar show at the Brooklyn Museum of Art.
In 1959 he was a runner-up for the Caldecott Medal from the U.S. children's librarians, which annually honors the illustrator of the best American picture book for children. Thus The House That Jack Built, which he also wrote, is retrospectively termed a Caldecott Honor Book. In 1962 Frasconi won a Horn Book Fanfare award for The Snow and the Sun – La Nieve y el Sol a book he had created in two languages. He has frequently produced multilingual books.
Between 1981 and 1986 he created a series of woodcuts under the name "Los desaparecidos" (The Disappeared). This series refers directly to the people who were tortured and killed during the Civic-military dictatorship of Uruguay.
Antonio Frasconi died on January 8. 2013.
*****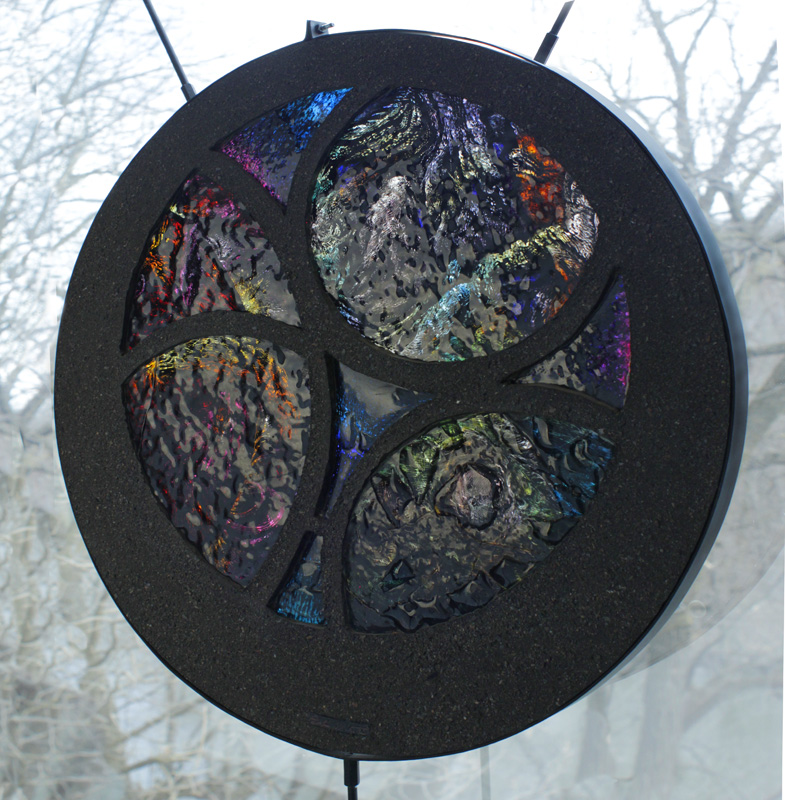 Spacescape
Bob White (1907-1986)
Fused Glass, 1947. B. Raymond Weston Memorial Fund Purchase. 1981.1
Francis Robert (Bob) White was a native of Oskaloosa, Iowa.  By the time he was 10 years old he had an intense interest in art, spending much of his time drawing, studying color, attempting to make statues, and other creative efforts.  Rather than prepare for a formal college education, White elected to go to Europe for two years to study firsthand the works of art about which he'd been reading.  Seeing the magnificent stained glass of Chartres Cathedral inspired him to study every major European glass work he could find.
White's return to the U.S. was followed by an eclectic combination of work and education, including a stint at the Stone City Art Colony run by Grant Wood.  He worked as an apprentice at Wilkes-Barre Art Glass Company in Pennsylvania where he learned the basics of glazing and handling glass.  While living in New York he supported himself by making Gothic style stained glass windows. The Whitney Studio Gallery, later to become the Whitney Museum of American Art, commissioned an abstract window from White for their collection. This recognition by the nation's leading institution devoted to American art led to a Guggenheim fellowship on which White returned to Europe to make an intensive study of medieval glass techniques.
White moved to Chicago where he became an administrator for the Chicago offices of the Illinois Arts Project, part of the Works Project Administration and
then became the director of all WPA federal art projects for Iowa from 1937 to 1939.  He led the program from the Sioux City Art Center, where he served as director.  White served as a naval officer in the Pacific during World War II, earned a Master of Fine Arts degree from Guadalajara University and operated a stained glass studio in Chicago for over thirty years.
Bob White developed and perfected a fused glass technique in which broken pieces, chunks, and granules of colored antique hand-blown glass are layered into a mold.  The mold is placed in a small furnace kiln to be fired at over 1,500 degrees, capturing the color inside.  When the first fully fused piece, a three-panel abstract study of Christ, was shown in 1964, it won White a much-coveted Louis Comfort Tiffany Foundation prize.
First Presbyterian Church in Mason City worked with Bob White for 27 years to complete a series of large fused glass windows.  The Creator Window, the largest fused glass window of its time in 1973, was made from over 200 blocks of glass.  Other notable Mason City glass projects include the St. Peter and St. Paul windows of the Greek Orthodox Church of the Transfiguration, the Meredith Willson Chapel Windows at the First Congregational Church United Church of Christ and windows in the Usonian-style Tom MacNider House.
*****

Dispatches
Glenn Ligon (b. 1960)
Aquatint with spit-bite and dry point on hahnemuhle copperplate bright white 300 gsm, 2011. John and Mary Pappajohn Endowment Fund Purchase. 2014.1a-d
Glenn Ligon is an American conceptual artist whose work explores race, language, desire, sexuality, and identity. Ligon engages in intertextuality with other works from the visual arts, literature, and history, as well as his own life.
He was born April 20, 1960 in the Bronx. At the age of 7, his divorced, working-class parents got a scholarship for him and his brother to attend Walden School, a high profile progressive private school on Manhattan's Upper West Side. After graduating, he worked as a proofreader for a law firm, while in his spare time he painted in the abstract Expressionist style.
Ligon works in multiple media, including painting, neon, video, photography, and digital media such as Adobe Flash for his work Annotations. Ligon's work is greatly informed by his experiences as an African American and as a gay man living in the United States.
Although Ligon's work spans sculptures, prints, drawings, mixed media and even neon signs, painting remains a core activity. His paintings incorporate literary fragments, jokes, and evocative quotes from a selection of authors, which he stencils directly onto the canvas by hand. In 1989, he mounted his first solo show, "How It Feels to Be Colored Me," in Brooklyn. This show established Ligon's reputation for creating large, text-based paintings in which a phrase chosen from literature or other sources is repeated over and over, eventually dissipating into murk.
Since 2005, Ligon has made neon works. Warm Broad Glow (2005), Ligon's first exploration in neon, uses a fragment of text from Three Lives, the 1909 novel by American author Gertrude Stein. Ligon rendered the words "negro sunshine" in warm white neon, the letters of which were then painted black on the front.
In 2009, President Barack Obama added Ligon's 1992 Black Like Me No. 2, on loan from the Hirshhorn Museum and Sculpture Garden, to the White House collection, where it was installed in the President's private living quarters. The text in the selected painting is from John Howard Griffin's 1961 memoir Black Like Me, the account of a white man's experiences traveling through the South after he had his skin artificially darkened. The words "All traces of the Griffin I had been were wiped from existence" are repeated in capital letters that progressively overlap until they coalesce as a field of black paint.
On the occasion of Ben Stiller and David Zwirner's "Artists For Haiti" charity auction at Christie's in 2011, Jennifer Aniston set a record prize for Glenn Ligon's work by purchasing his Stranger #44 (2011). At $450,000, Aniston beat Ligon's previous record of $434,500 for Invisible Man (Two Views) (1991).
Ligon is represented by Regen Projects in Los Angeles; Luhring Augustine in New York; and Thomas Dane Gallery in London.  He currently lives and works in New York City.
*****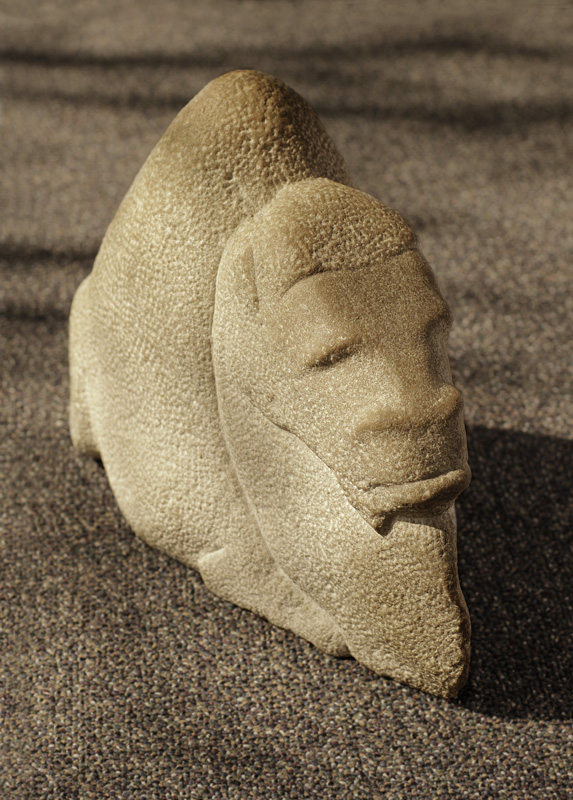 Camel
John B. Flannagan (1895-1942)
Fieldstone. Museum Purchase in Memory of Jerome F. Paulson with Funds Given by his Family. 1988.8
John Bernard Flannagan was born in 1895 in Fargo, North Dakota.  His newspaperman father died when John was five, forcing his destitute mother to place him and his sister in an orphanage.  Unrelenting poverty plagued him the rest of his life.  He got into carving as a youth and moved to Minneapolis in 1914 to study painting at the Minneapolis Institute of Arts.  During World War I he served in the Merchant Marines until 1922 and then took up residence in New York to resume his study of painting.
Around 1926, Arthur B. Davies, one of the prime movers and shakers in early 20th century American art circles and a key figure in the implementation of the famous "Armory Show," discovered Flannagan in a state of near-starvation.  Davies took the still young artist to one of his farms and nurtured his health and spirit for about a year.  Flannagan was still pursuing his study of painting but at the suggestion of Davies in 1927, he tried his hand at wood sculpture, starting on a track that he would follow for the rest of his career.  He discovered stone as a medium in 1928 and it became his favorite.
He has been critically acclaimed as one of the best of his generation of artists employing what became known as the "direct carving" approach to making sculpture.  Flannagan's own sculpture did not follow the academic traditions, which preceded and still dominated during his time.  He worked with fieldstones instead of quarried ones; a choice affected more at first by economics, but one that proved right for his art.
Personality was instilled into the stones touched by his tools and his imagination, capturing and reflecting many moods and mysteries of life.  In 1929, in a letter to Carl Zigrosser, John Flannagan said, "My aim is to produce a sculpture…with such ease, freedom and simplicity that it hardly feels carved, but rather to have always been that way."
*****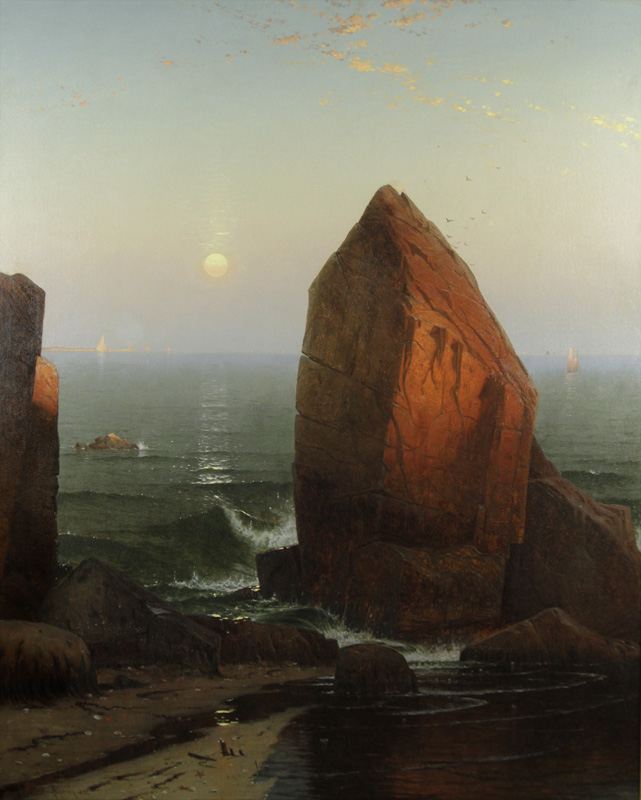 Gateways to the Sea
Alfred Thompson Bricher (1837-1908)
Oil on canvas mounted on board, 1875. Gift of Mr. and Mrs. F.T. Davison. 1994.9
Alfred Thompson Bricher was an American painter who specialized in marine subjects, with particular emphasis on subjects from Maine, the Bay of Fundy, and the Maritime provinces of Canada. Largely self-taught, Alfred Thompson Bricher studied in his leisure hours at the Lowell Institute in Boston and also attended an academy in Newburyport, MA.  Bricher was a businessman in Boston from 1851 to 1858 before he became a professional artist.  Bricher was often associated with the group of painters known as "the Hudson River School". He espoused a conservative and realistic approach to landscapes, while his interests lay not only in the play of light, water, and air, but in a sense of luminosity and spirituality in nature.
Oddly, Bricher continued painting peaceful scenes of nature even at the height of the horrors of the Civil War, a war in which he younger brother was killed. His perseverance in this style underscores his belief in the eternal forgiveness of Nature and the truism that whatever the acts of man, Nature is the more powerful force.
During the later part of his career, Bricher witnessed the advent of modernism, a movement that seemed to make many of his artistic concerns obsolete – but which, in another sense, owed a debt to the discipline and realism in works by Bricher and other Hudson River painters.  He is still considered one of the best maritime painters of the late nineteenth century.
*****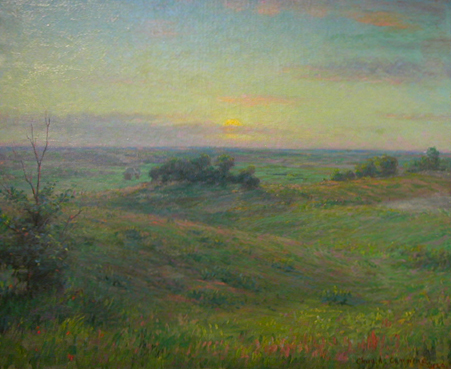 Sunset (Farewell to Iowa)
Charles Atherton Cumming (1858-1932)
Oil, 1926. 2000.012
Charles Atherton Cumming was born in Rochester, Illinois to parents of French and Scottish descent, he became a leading painter in Iowa and also a key figure in establishing art related studies. He studied briefly at Reading College Academy in Abingdon, Illinois, and then enrolled at Cornell College in Mount Vernon, Iowa. His talent was evident, and he was encouraged to attend the Art Institute of Chicago and there studied with Lawrence C. Earle. Lawrence Carmichael Earle was the first artist that Grand Rapids could call its own.
By 1895 Cumming became director of a young Des Moines Academy of Art. It enjoyed so much success under his leadership that in 1900 it was renamed the Cumming School of Art! In 1909 he was invited to establish an art department at the University of Iowa. Charles Cumming served as a superintendent of the Department of Art at the State Fair. He helped form the Iowa Art Guild in 1914 that was active into the 1970s. Cumming died in 1932, one of the earliest Iowans to become widely recognized as an accomplished painter, teacher and arts administrator.
His approach in painting as in his teaching was from an academic perspective.  He believed in fundamentals and in a personal discipline to be applied to the creation of art.  He produced images of still life, landscape, and many important people as one of the state's most active portrait painters.  He had a special relationship with the State Historical Society of Iowa and was called on often to work on subjects that would become part of the Society's collection.  At least twenty-four of his portraits are held by the Society, more than by any other artist.
As time and tide changed in the approach to teaching and creating art, in large part due to the advancement of "modernist" theories and practices, Cumming's influence lessened and his name and his work has not remained in the limelight as much as he perhaps deserves.  It is, however, obvious when one reviews the record that Charles Atherton Cumming's hand not only touched but also was at the root or seedling stage of much that happened in art in Iowa around the turn of and into the twentieth century.  And even though he didn't "go with the flow," Cumming put in a lot of the foundation blocks for all that we do and for all that we have in Iowa today.  We should not forget.
*****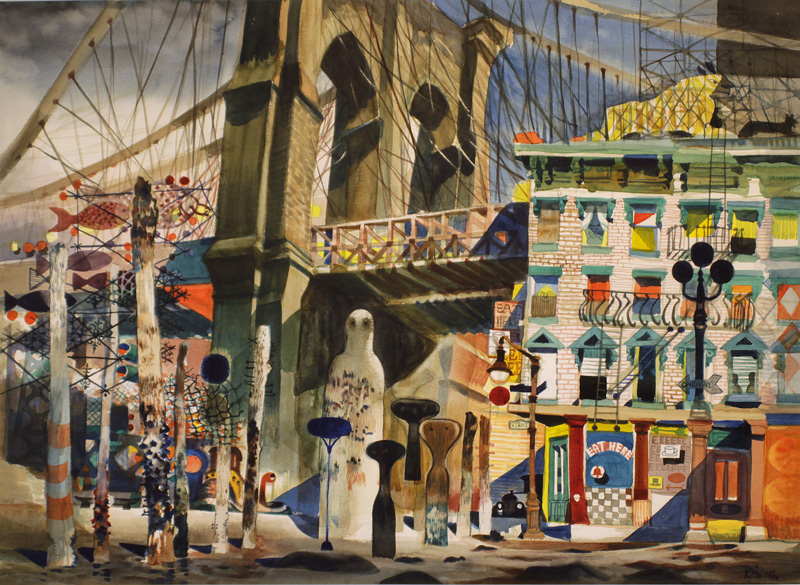 Bridge and White Building
Dong Kingman (1911-2000)
Watercolor on paper, 1951. Museum Purchase Made Possible by a Gift form Mr. and Mrs. Frank Jeffrey. 1994.8
Dong Kingman was a Chinese American artist and one of America's leading watercolor masters. As a painter on the forefront of the California Style School of painting, he was known for his urban and landscape paintings, as well as his graphic design work in the Hollywood film industry.
Dong Kingman was born in Oakland, California, the son of Chinese immigrants from Hong Kong. At age five, he traveled with his family back to Hong Kong, where his father established a dry goods business.
Kingman continued his education at the Chan Sun Wen School, where he excelled at calligraphy and watercolor painting. Kingman returned to the United States in his late teens. In 1929 he attended the Fox Morgan Art School while holding down a variety of jobs. It was at this time that he chose to concentrate on watercolor painting.
His critical breakthrough occurred in 1936, when he gained a solo exhibition at the San Francisco Art Association. This exhibition brought him national recognition and success.
In the late 1930s, Kingman served as an artist in the Works Progress Administration, painting over 300 works with the relief program. In 1942 and 1944, Kingman received the Guggenheim Fellowship. During World War II, he was drafted into the U.S. Army, but was transferred to work as a map artist in the Office of Strategic Services at Camp Beal, California and Washington, D.C, by a fan of his work, Eleanor Roosevelt.
Kingman settled in Brooklyn, New York after the war, where he held a position as an art instructor at Columbia University and Hunter College from 1946 for the next ten years.
In the 1950s and 1960s, Kingman worked as an illustrator in the film industry, designing the backgrounds for a number of major motion pictures including "55 Days at Peking", The Sand Pebbles and the Hollywood adaptation of "Flower Drum Song". Over 300 of his film-related works are permanently housed at the Fairbanks Center for Motion Picture Study in Beverly Hills, California.
In 1981, Kingman made history as the first American artist to be featured in a solo exhibition following the resumption of diplomatic relations between the U.S. and China when the Ministry of Culture of the People's Republic of China hosted a critically acclaimed exhibition that drew over 100,000 people.
Dong Kingman died of pancreatic cancer in his home in New York City in 2000, at age 89.