Off the Wall showcases pieces from our permanent collection individually so you can learn a little bit more about the pieces in our museum one at a time.
*****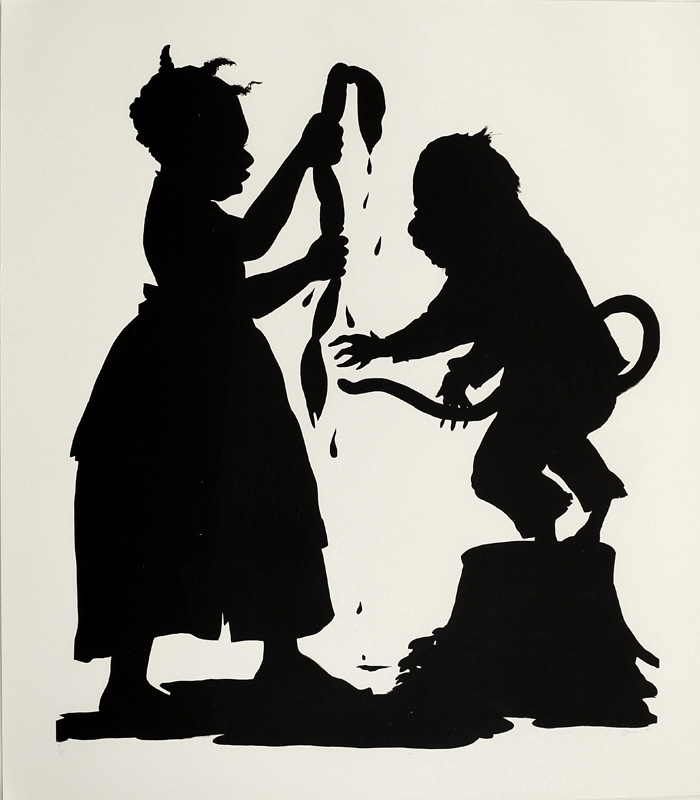 I'll Be A Monkey's Uncle
Kara Walker (b. 1969)
Lithograph on paper, 1996. John and Mary Pappajohn Endowment Fund Purchase. 2003.1
Kara Walker creates dreamlike narratives of nineteenth-century slavery and African-American history using the cut-paper format popular in the Victorian parlor.  In her work she challenges historical memory rather than recreates history.  She turns the safe and domestic silhouette style on its head to explore racial stereotypes in a lyrical and horrific blend that is part slave narrative, part Harlequin romance, and part fairy-tale illustration.
Walker's silhouettes have elicited an uncomfortable blend of emotions in viewers since she first began showing them.  She refers to the images in her work as her "inner plantation" and states, "The whole gamut of images of black people, whether by black people or not, are free rein in my mind.  Each of my pieces picks and chooses willy-nilly from images that are fairly benign to fairly charged.  They're acting out whatever they're acting out in the same plane; everybody's reduced to the same thing.  They would fail in all respects of appealing to a die-hard racist.  The audience has to deal with their own prejudices or fears or desires when they look at these images.  So, if anything, my work attempts to take those pickaninny images and put them up there and eradicate them."
I'll be a Monkey' Uncle from 1996 is one of Walker's earliest prints. Just a year later, in 1997, she was the youngest artist to receive a prestigious MacArthur Award.
*****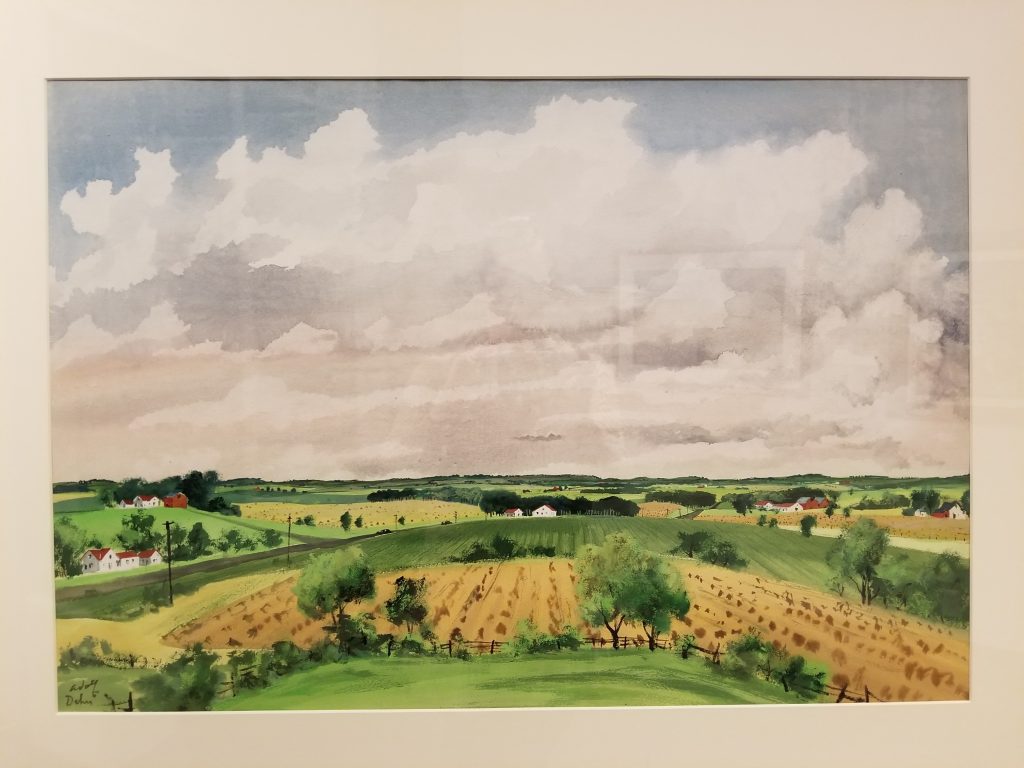 Birdseye View from St. Olafs
Adolf Dehn (1895-1968)
Watercolor on paper, 1953. Museum Purchase, Kinney-Lindstrom Foundation Acquisition Grant. 1986.2
Outside his days of working odd jobs such as painting lampshades, running errands for a magazine, and working as a night watchman, Adolf Dehn expressed himself through caricature and landscape themes.
Dehn, who had gained a reputation as a rogue sensualist with a twinkle in his eye, frequented nightclubs in New York, capturing blues singers, jazz dancers and burlesque queens.
At one point in his career, Dehn's renewed interest in landscape art temporarily brought him back to his Minnesota roots where he painted fields, barns, grain elevators, and other humble monuments of the rural Minnesota scene.
*****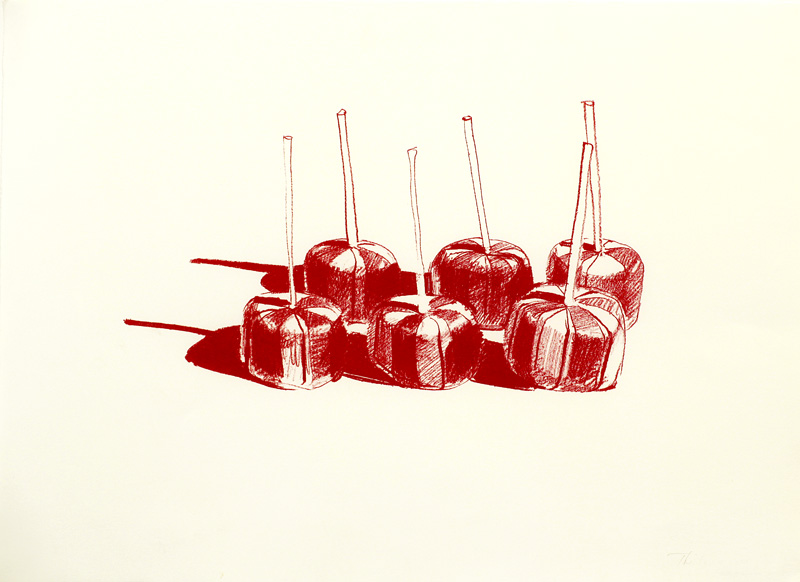 Suckers State II
Wayne Thiebaud (b. 1920)
Lithograph on paper, 1968. John and Mary Pappajohn Endowment Fund Purchase. 1994.3
Wayne Thiebaud is an American painter best known for his still lifes of edible treats and everyday objects in his singular illustrative style. His most popular subject matter includes colorful cakes, slices of pie, candy pieces, such as lollipops, and the winding streets of San Francisco. Thiebaud is associated with the pop art movement because of his interest in objects of mass culture, although his early works, executed during the fifties and sixties, slightly predate the works of the classic pop artists. Thiebaud uses heavy pigment and exaggerated colors to depict his subjects, and the well-defined shadows characteristic of advertisements are almost always included in his work.
Born Morton Wayne Thiebaud on November 15, 1920 in Mesa, AZ, the painter moved to California soon after, where he became interested in stage design and lighting. One summer during his high school years he apprenticed at Walt Disney Studios drawing "in-betweens" of Goofy, Pinocchio, and Jiminy Cricket. He began his career as a commercial artist, but switched to fine art.
Thiebaud subsequently began teaching at Sacramento City College. In 1960, he became assistant professor at the University of California, Davis, where he remained through 1991 and influenced numerous art students.
On a leave of absence during 1956–57, he spent time in New York City, where he became friends with Elaine and Willem de Kooning and Franz Kline, and was much influenced by these abstractionists as well as by proto-pop artists Robert Rauschenberg and Jasper Johns. During this time, he began a series of very small paintings based on images of food displayed in windows, and he focused on their basic shapes.
In 1960, he had his first solo show in San Francisco, and shows in New York City. These shows received little notice, but two years later, a Sidney Janis Gallery exhibition in New York officially launched Pop Art, bringing Thiebaud national recognition.
In 1962, Thiebaud's work was included, along with Roy Lichtenstein, Andy Warhol, Jim Dine, Edward Ruscha, and Robert Dowd, in the historically important and ground-breaking "New Painting of Common Objects," curated by Walter Hopps at the Pasadena Art Museum. This exhibition is historically considered one of the first Pop Art exhibitions in America.
In 1963, he turned increasingly to figure painting: wooden and rigid, with each detail sharply emphasized. In 1964, he made his first prints at Crown Point Press, and has continued to make prints throughout his career.
Although he continued to show on the East Coast, Thiebaud has remained in the Bay Area, and his work can be found in the collections of the Whitney Museum, the Los Angeles County Museum of Art, and the San Francisco Museum of Modern Art, among others. On October 14, 1994, Thiebaud was presented with the National Medal of Arts by President Clinton.
*****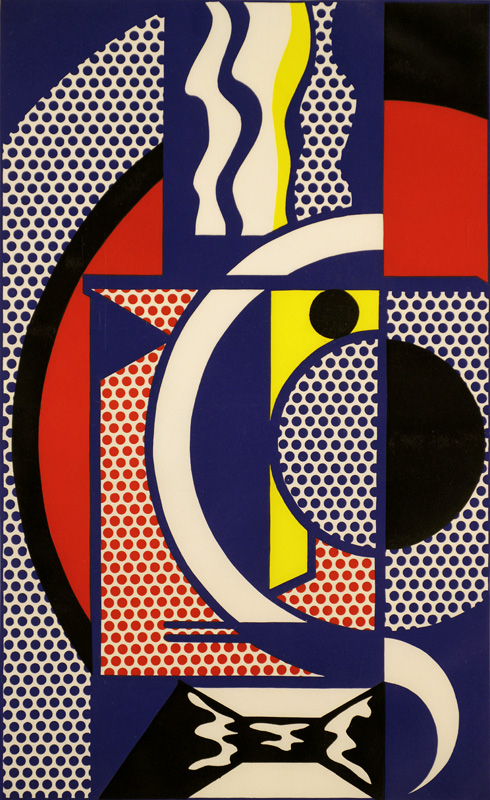 Modern Head No. 1
Roy Lichtenstein (1923-1997)
Woodcut on paper, 1970. John and Mary Pappajohn Endowment Fund Purchase. 1985.2
Roy Lichtenstein was one of the most influential and innovative artists of the second half of the twentieth century. He is preeminently identified with Pop Art, a movement he helped originate, and his first fully achieved paintings were based on imagery from comic strips and advertisements and rendered in a style mimicking the crude printing processes of newspaper reproduction. These paintings reinvigorated the American art scene and altered the history of modern art.
Roy Fox Lichtenstein was born on October 27, 1923, in New York City. Roy showed artistic and musical ability early on: he drew, painted and sculpted as a teenager, and spent many hours in the American Museum of Natural History and the Museum of Modern Art.
In 1943, Lichtenstein was drafted, and he was sent to Europe in 1945. He made sketches throughout his time in Europe and, after peace was declared, he intended to study at the Sorbonne. Lichtenstein arrived in Paris in October 1945 and enrolled in classes in French language and civilization, but soon learned that his father was gravely ill. He returned to New York in January 1946.
In the late 1940s and early 1950s, Lichtenstein began working in series and his iconography was drawn from printed images. Lichtenstein then took an ironic look at nineteenth-century American genre paintings he saw in history books, creating Cubist interpretations of cowboys and Indians spiked with a faux-primitive whimsy.
As with his most celebrated Pop paintings of the 1960s, Lichtenstein gravitated toward what he would characterize as the "dumbest" or "worst" visual item he could find and then went on to alter or improve it. Well before finding his signature mode of expression in 1961, Lichtenstein called attention to the artifice of conventions and taste that permeated art and society. What others dismissed as trivial fascinated him.
He had his first solo show in New York in 1951. Lichtenstein accepted a position as an assistant professor at the State University of New York at Oswego, hired to teach industrial design, beginning in September 1957. At the same time, Lichtenstein was embedding comic-book characters figures such as Mickey Mouse and Donald Duck in brushy, expressionistic backgrounds. Lichtenstein returned to the idea he had fooled around with, which was to combine cartoon characters from comic books with abstract backgrounds. Most famously, Lichtenstein appropriated the Benday dots, the minute mechanical patterning used in commercial engraving, to convey texture and gradations of color—a stylistic language synonymous with his subject matter. The dots became a trademark device forever identified with Lichtenstein and Pop Art.
The first exhibition of the comic-book paintings was held at the Leo Castelli Gallery in 1962. The show sold out and made Lichtenstein notorious. By the time of Lichtenstein's second solo exhibition at Castelli in September 1963, his work had been showcased in museums and galleries around the country.
With the advent of critical and commercial success, Lichtenstein made significant changes in his life and continued to investigate new possibilities in his art. The artist ventured beyond comic book subjects, essaying paintings based on oils by Cézanne, Mondrian and Picasso, as well as still lifes and landscapes.
Lichtenstein became a prolific printmaker and expanded into sculpture, and in both two- and three-dimensional pieces, he employed a host of industrial or "non-art" materials, and designed mass-produced editioned objects that were less expensive than traditional paintings and sculpture. Wanting to grow, Lichtenstein turned away from the comic book subjects that had brought him prominence. In the late 1960s his work became less narrative and more abstract, as he continued to meditate on the nature of the art enterprise itself. Brushstrokes are conventionally conceived as vehicles of expression, but Lichtenstein made them into a subject.
The search for new forms and sources was even more emphatic after 1970, when Lichtenstein bought property in Southampton, New York, and made it their primary residence. During the fertile decade of the 1970s, Lichtenstein probed an aspect of perception that had steadily preoccupied him: how easily the unreal is validated as the real because viewers have accepted so many visual conceptions that they don't analyze what they see. Another entire panoply of works produced during the 1970s were complex encounters with Cubism, Futurism, Purism, Surrealism and Expressionism. Lichtenstein expanded his palette beyond red, blue, yellow, black, white and green, and invented and combined forms. He was not merely isolating found images, but juxtaposing, overlapping, fragmenting and recomposing them.
In the early 1980s, Lichtenstein was at the apex of a busy mural career. In the 1960s and 1970s, he had completed four murals; between 1983 and 1990, he created five. He also completed major commissions for public sculptures in Miami Beach, Columbus, Minneapolis, Paris, Barcelona and Singapore
In August 1997, Lichtenstein fell ill with pneumonia. He died unexpectedly of complications from the disease on September 29, 1997, at age 73, in New York City.
*****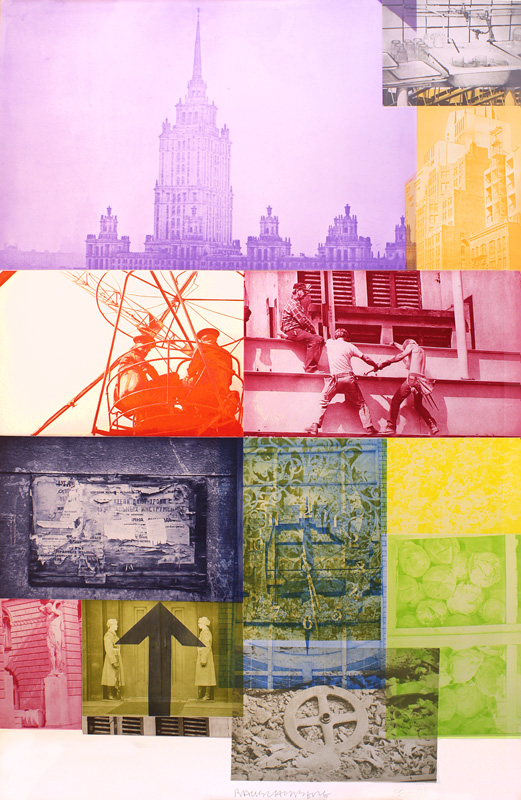 Soviet American Array VII
Robert Rauschenberg
Intaglio w/photogravure in color on paper. Museum Purchase. 2005.2
Robert Rauschenberg is regarded as one of the most important figures in the move away from the Abstract Expressionism that dominated American art in the late 1940s and early 1950s.
Rauschenberg's earliest works were minimalist monochromatic paintings, but in the mid-1950s he began to incorporate three-dimensional objects into what he called 'combine paintings'.  The best-known example of these is Monogram, which features a stuffed goat with a rubber tire around its middle.  Rauschenberg used other castoff objects in his combines including Coca-Cola bottles, fragments of clothing and quilts, electric fans, and radios.
In the 1960s, Rauschenberg returned to working on a flat surface and was particularly active in the medium of silk-screen.  He was interested in combining art with new technological developments, and was active in forming Experiments in Art and Technology, an organization to help artists and engineers work together. The print in the MacNider's collection is from his project of the 1980s, Rauschenberg Overseas Culture Exchange, and includes his own photographs of New York and Russia.  This undertaking fostered cultural exchange in cities outside the usual contemporary art circuit and reflected his broad interest in social causes.
*****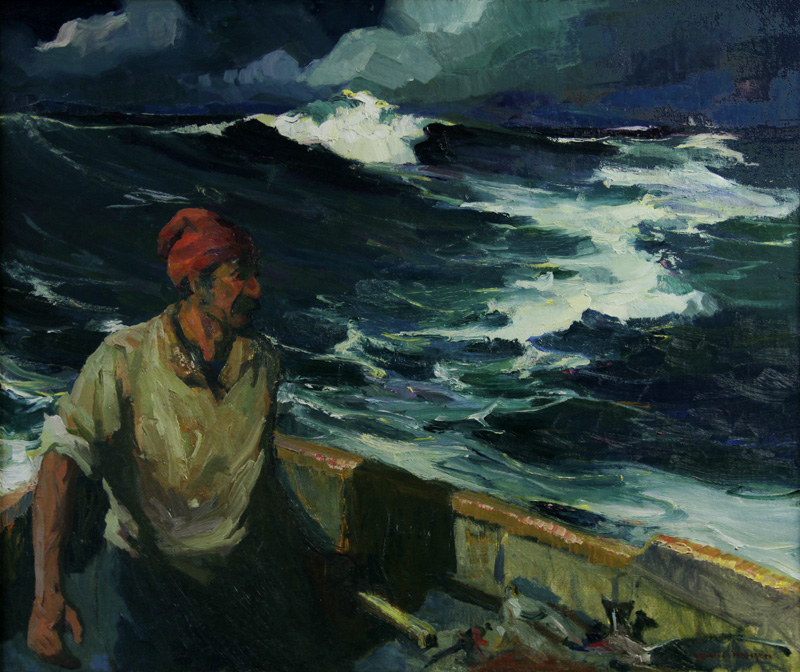 The Sea
Armin Hansen
Oil on canvas, not dated. Gift of Mr. and Mrs. Donald Winston. 1978.3.6
Armin Hansen, native of San Francisco, is prominent American Painter of the En plein air school, best known for his marine canvases. En plein air is a French expression which means "in the open air", and is particularly used to describe the act of painting in the outside environment rather than indoors (such as in a studio).  His father Hermann Hansen was also a famous artist of the American West.
At the Mark Hopkins Institute Armin Hansen studied under Arthur Frank Mathews from 1903 to 1906. Arthur Frank Mathews (1860-1945) was an American Tonalist painter who was one of the founders of the American Arts and Crafts movement.  Moving to Germany, Hansen became the student of Carlos Grethe at the Stuttgart Royal Academy and also studied at the Academy of Fine Arts, Munich. He also had exposure to the art centers at Paris, Amsterdam and Brugges. Wishing to see the world through marine eyes, he became a deck hand on a number of commercial vessels, one being a Norwegian steam trawler.
After his studies in Germany, Armin Hansen taught at the University of California, Berkeley and in 1913 moved to paint in Monterey, a budding art colony of the era. In this period he utilized both painting and etching techniques in the style of Impressionism. He was a founder of the Carmel Art Association and became enamored of creating marine scenes, particularly involving man's relationship with the sea. In 1914 he produced his Self Portrait.
In the 1930s Hansen's paintings become more intense and use of light more pronounced. One of his masterpieces of this era was Sardine Barge circa 1933, which appropriately is in the permanent collection of the Monterey Museum of Art.  Later in Monterey Hansen led a group of artists in opposing a plan to remove Fisherman's Wharf as part of a grandiose redevelopment scheme. Fisherman's Wharf is an historic wharf in Monterey, California. Used as an active wholesale fish market into the 1960s, the wharf eventually became a tourist attraction as commercial fishing tapered off in the area.  The wharf was an important subject of their art, besides the fact that Hansen identified with the simple life of a fisherman. These artists were considered a Bohemian group, living in the St. Peter's Gate area of Monterey, but amazingly they prevailed against bigger business interests.
*****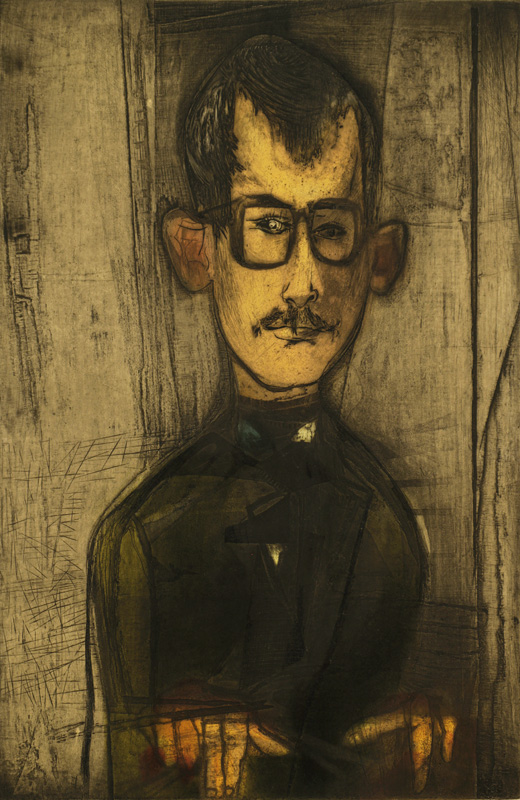 Self-Portrait (48)
Mauricio Lasansky (1914-2012)
Intaglio on paper, 1948. Museum Purchase in Memory of R. Lyle Bergo. 2013.3.1
Lasansky was born in Argentina of Eastern European Jewish parents.  He came to the United States on a Guggenheim Fellowship in 1943 and spent a year carefully examining more than 100,000 works in the print collection of the Metropolitan Museum in New York.  In 1945, Lasansky accepted a teaching position at the University of Iowa where he established a printmaking department that quickly gained international attention.
As a master of printmaking technology, Lasansky along with his students pushed the limits of the medium.  He was known for the grand scale of his images and the complex layering of multiple techniques in a single work.  His largest prints required as many as 60 different plates to make up the different sections of the image and many trips through the press.  He devised a recipe for paper that could withstand the repeated stress his methods required and had it specially milled in France.
Lasansky remained the head of the Art and Art History Department at the University of Iowa until he retired in the mid-1980s.  His legacy as an educator can be seen in the many strong printmaking departments his students established at other universities.  Lasansky became a citizen of his adopted country and died in 2012 at the age of 97 at his home in Iowa City.
*****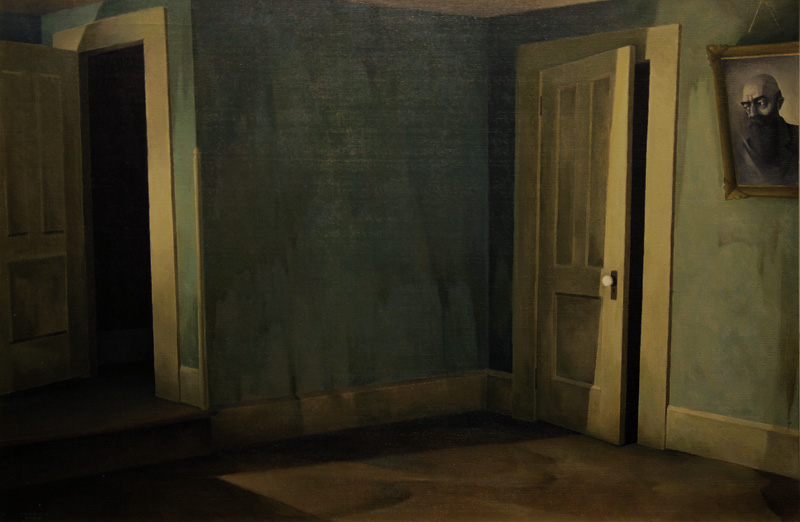 The Watcher
Marvin Cone (1891-1965)
Oil on canvas, 1947. Museum Purchase with funds from the Roy B. Johnson Memorial. 1976.1
Born in Cedar Rapids, Marvin Cone grew up with fellow Iowa artist Grant Wood.  The two remained great friends and painted together throughout their lives.  In 1920s, they studied current painting trends in France and during the Great Depression established the short-lived Stone City Art Colony in eastern Iowa.  Cone graduated from Coe College in Cedar Rapids in 1914 and taught French there from 1920 to 1934, when he established the art department and continued his long teaching career.
Cone is known for his series of paintings of Iowa farmhouse interiors.  He created the realistic but mysterious room in the The Watcher by playing with perspective and color.  A portrait of Cone's Uncle Ben, whom he remembered as a grim and quiet figure, hangs crookedly on a wall overlooking two half-opened doorways adding to the painting's intrigue.
*****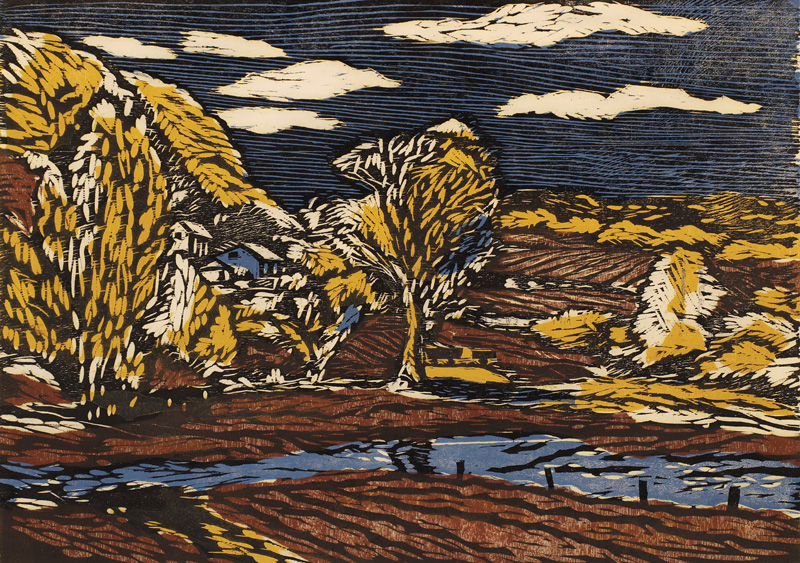 Landshapes
Orville M. Running (1910-2012)
Color woodcut on paper, circa 1960. Gift of Mr. and Mrs. R. J. Zimmer. 1993.12
Orville Magnus Running was born in 1910 in  South Dakota to Rev. Alfred Running and Sophia Olsen Running. He graduated with a Bachelors Degree from St. Olaf College in 1931 and attended the Luther Theological Seminary, graduating and being ordained in 1934. Running served as pastor of Bethlehem Lutheran Church in Tacoma, Washington, and later moved to serve at the Christ Lutheran Church in Chicago, where he renewed his interest in art by attending night classes at the Chicago Art Institute.
In 1946, Running signed a contract with Luther College to "instruct in art and religious education," and for the next thirty years worked as head of the art department helping to build a viable art program at the college. After the faculty senate voted to institute an art major at Luther College in 1957, Running helped expand the faculty and equipment for the department.  Along with Dean Schwarz, former Art Department faculty member, Running handcrafted forty-two potter's wheels using a design by master potter Marguerite Wildenhain. He also helped build easels for painting and tables for drawing. Running oversaw construction of a kiln house and designed a press that allowed the College to offer classes in printmaking.
Running also managed the Fine Arts Festivals, an annual festival for the arts at the College, which extended from 1957-1966. Eighty-one works in Luther's collection were purchased from these festivals. As an ordained Lutheran minister, Running also taught courses in the Religion Department, delivered chapel talks, and preached in area churches. In 1976 he retired from full-time teaching, but continued to teach printmaking at Luther for the next decade. Running passed away on February 6, 2012, in Decorah, Iowa.
Known primarily for his colorful and highly popular woodcuts, Running was also an accomplished painter and draftsman who created liturgical commissions in wood and metal, fine calligraphy, and musical/theater backdrops. His work was shown in many college and university exhibitions throughout the Midwest and was included in a traveling exhibition of relief prints organized by the Iowa Arts Council in 1970. 
*****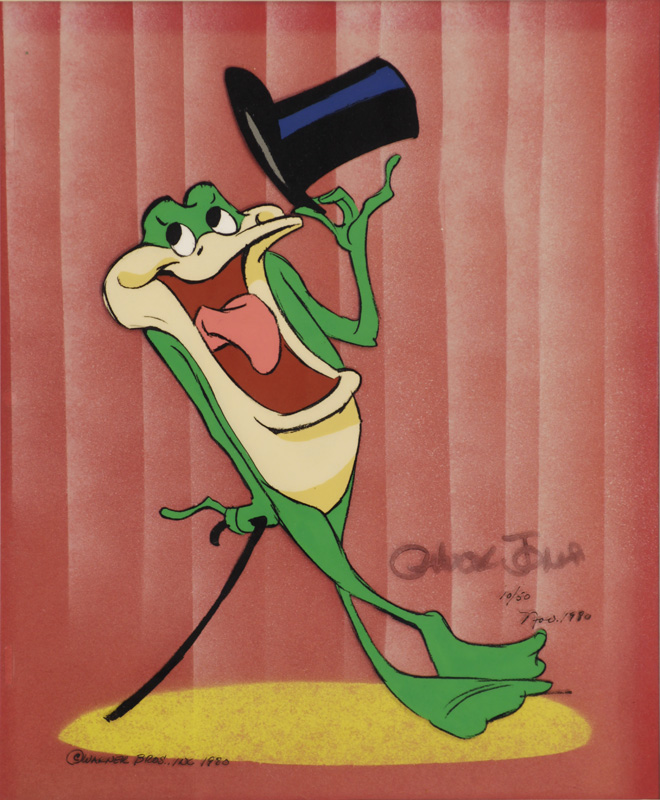 Michigan J. Frog
Chuck Jones (1912-2002)
Animation cel (original hand painted with hand-made background), 1980. Gift of the Clark Family in honor of Beje Clark. 2006.1
Charles Martin "Chuck" Jones was an American animator, cartoon artist, screenwriter, producer, and director of animated films, most memorably of Looney Tunes and Merrie Melodies shorts for the Warner Bros. Cartoons studio. He directed many classic animated cartoon shorts starring Bugs Bunny, Daffy Duck, the Road Runner and Wile E. Coyote, Pepé Le Pew, Porky Pig and a slew of other Warner characters.
In his autobiography, Chuck Amuck, Jones credits his artistic bent to circumstances surrounding his father, who was an unsuccessful businessman in California in the 1920's. His father would start every new business venture by purchasing new stationery and new pencils with the company name on them. When the business failed, his father would quietly turn the huge stacks of useless stationery and pencils over to his children, requiring them to use up all the material as fast as possible. Armed with an endless supply of high-quality paper and pencils, the children drew constantly.
During his artistic education, he worked part-time as a janitor. He worked his way up in the animation industry, starting as a cell washer. While at Iwerks, he met a cell painter named Dorothy Webster, who later became his first wife.
During World War II, Jones worked closely with Theodor Geisel, better known as Dr. Seuss, to create the Private Snafu series of Army educational cartoons. Jones later collaborated with Seuss on animated adaptations of Seuss' books, including How the Grinch Stole Christmas! in 1966.
Jones created characters through the late 1940s and the 1950s, which include Claude Cat, Marc Antony and Pussyfoot, Charlie Dog, Michigan J. Frog, and his three most popular creations, Marvin the Martian, Pepe LePew, Wile E. Coyote and The Road Runner.
With business partner Les Goldman, Jones started an independent animation studio, Sib Tower 12 Productions. In 1963, Metro-Goldwyn-Mayer contracted with Sib Tower 12 to have Jones and his staff produce new Tom and Jerry cartoons as well as a television adaptation of all Tom and Jerry theatricals produced to that date.  As the Tom and Jerry series wound down Jones produced more for television.
MGM closed the animation division in 1970, and Jones once again started his own studio, Chuck Jones Enterprises. He produced a Saturday morning children's TV series for the American Broadcasting Company called The Curiosity Shop in 1971From 1977–1978, Jones wrote and drew the newspaper comic strip Crawford for the Chicago Tribune-NY News Syndicate.
Through the 1980s and 1990s, Jones was painting cartoon and parody art. Jones died of heart failure on February 22, 2002.
Jones was nominated for an Academy Award eight times and won three times, receiving awards for the cartoons For Scent-imental Reasons, So Much for So Little, and The Dot and the Line. He received an Honorary Academy Award in 1996 for his work in the animation industry. Jones was a historical authority as well as a major contributor to the development of animation throughout the 20th century. For his contribution to the motion picture industry, Jones has a star on the Hollywood Walk of Fame.
*****