Off the Wall showcases pieces from our permanent collection individually so you can learn a little bit more about the pieces in our museum one at a time.
*****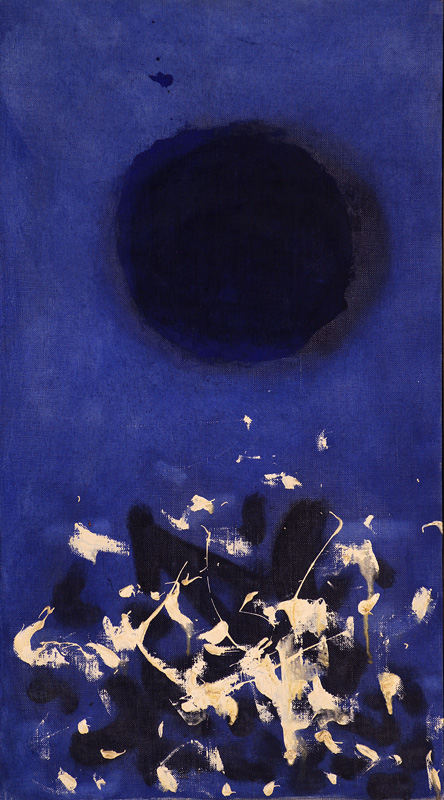 Blues
Adolph Gottlieb (1903-1974) 
Oil on canvas, 1959. Gift of Mr. and Mrs. Donald Winston. 1978.3.4
Adolph Gottlieb was born on March 14, 1903 in New York. From 1920-1921 he studied at the Art Students League of New York, after which he traveled in France and Germany for a year. In the mid-1930's, he became a teacher using his acquired technical and art history knowledge to teach while he painted.
After his 1930's one-man show he won respect amongst his peers. In 1935, he and nine others, including Ben-Zion, Ilya Bolotwsky, Louis Harris, Jack Kufeld, and Mark Rothko, known as "The Ten" exhibited their works together until 1940. They would come to be known as the Abstract Expressionists.
Gottlieb's work and awards are found in the Dudensing Galleries in New York, the Guggenheim Museum.  Other places include Paris, Pennsylvania, Texas, Brazil, and others.  One thing that Gottlieb created was "Pictographs" and these are found in New York.
In 1932, he married Esther Dick.  In 1970, he suffered a stroke and was confined to a wheelchair because he paralyzed his left side of his body, but he still continued to paint.  In 1972, he was elected member of the National Institute of Arts and Letters.  On March 4, 1974, Adolph Gottlieb died in New York City.
*****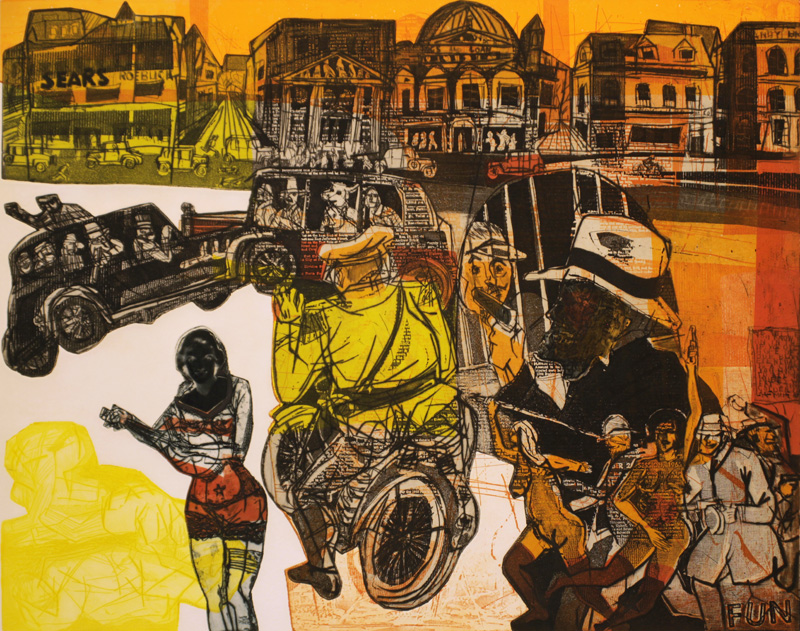 Dillinger: The Great Mason City Raid
Warrington Colescott (b.1921) 
Etching on paper, 1965. Gift of Norwest Bank of Mason City. 1995.11.5
Wisconsin artist Warrington Colescott is best known for his satirical etchings.   Born in Oakland, California to parents of Louisiana Creole descent, food, music and Creole culture played a large role in upbringing.  Comic strips were also important to the young Colescott, especially the work of Des Moines Register cartoonist, Jay "Ding" Darling.  Darling's caricatural and narrative components greatly influenced Colescott's mature work.  As a teenager, he discovered vaudeville and burlesque.  The broad humor and slapstick, as well as the eroticism of these performances, would inform his art throughout his career.
Colescott created a series of etchings about the Depression-era gangster, John Dillinger, which grew into a suite of images mixing fact and fiction about the farm boy-turned-outlaw who mesmerized the public in the 1930s.  Colescott had no compunction about enhancing the narratives with imagined details and anachronistic additions.
Colescott portrayed Dillinger, known at the time as Public Enemy No. 1, as a super anti-hero in the series.  For The Mason City Raid, he came to the scene and interviewed locals who had been at the event.  Colescott's version of the crime has the feeling of a movie still, with department store signs in the background and gun molls accompanying the thugs.  Colescott observed, "The Dillinger men took their girls with them wherever they went.  I've tried to convey the feeling of the gang: very rowdy, very adolescent, very sexual."
On March 13, 1934, John Dillinger and his gang robbed the First National Bank in Mason City, Iowa, and escaped with approximately $52,000.  Surprised bank employees and citizens were used as shields from police gunfire.  A switchboard operator on an upper floor of the bank crawled to a window and shouted news of the holdup to a man in the alley.  He brandished a machine gun and shouted back, "You're telling me, lady?"  The man was Baby Face Nelson who was standing lookout.
*****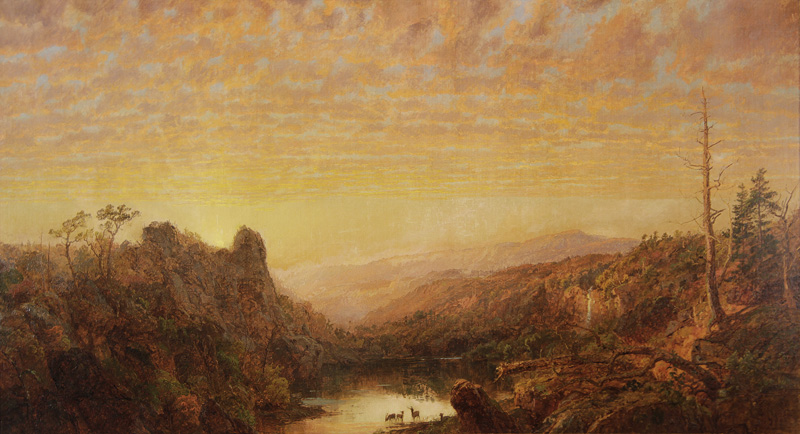 Twilight
Jasper Cropsey (1823-1900)
Oil on canvas. Museum purchase, 1979.002
Born on his father's farm in upstate New York in 1823, Jasper Cropsey had recurring periods of poor health as a child.  While absent from school, Cropsey taught himself to draw.  His early drawings included architectural sketches and landscapes drawn on notepads and in the margins of his schoolbooks. Trained as an architect, he set up his own office in 1843. While traveling abroad for much of his early life, he returned home to New York and opened a studio where he specialized in landscape paintings of the Northeastern United States.
Cropsey's interest in architecture continued throughout his life and was a strong influence in his painting, most evident in his precise arrangement and outline of forms.  But he was best known for his idealized and lavish use of color and, as a first-generation member from the Hudson River School, painted autumn landscapes that startled viewers with their boldness and brilliance. The Hudson River School was a mid-19th century American art movement by a group of landscape painters, whose aesthetic vision was influenced by romanticism.  As artists, they believed landscapes were the highest art form and that nature was a direct manifestation of God.  They felt a patriotic affiliation with nature and saw his paintings as depicting the rugged and unspoiled qualities of America.
As with most of his works, Cropsey experimented with the abstract properties of color, light, and form in this work.  The magnificent mountains dominate this work, while the small deer drinking at the bottom of the painting demonstrate the enormity of the landscape comparatively.  Cropsey uses color to suggest to the viewer, that night is indeed approaching.
*****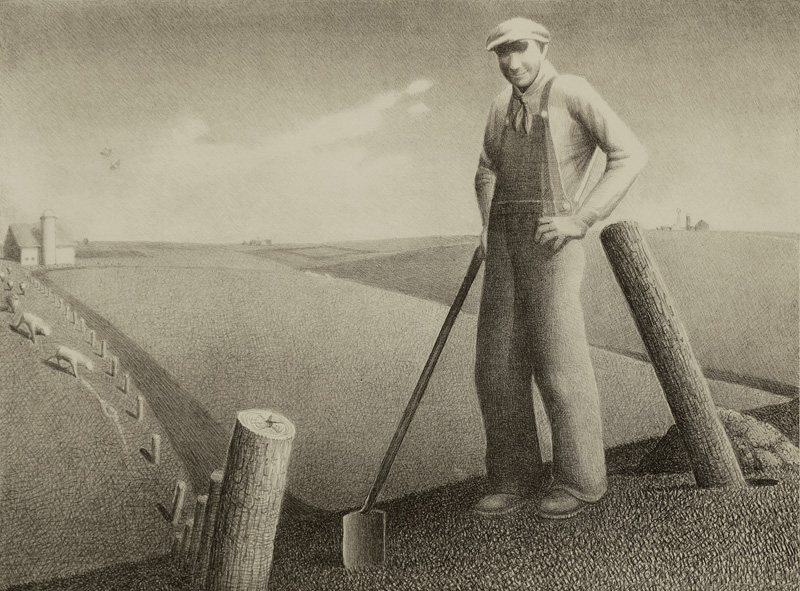 In the Spring
Grant Wood (1891-1942)
Lithograph on paper, 1939. Bequest of Katherine M. Zastrow. 1997.14.2
Grant Wood depicted the ordinary people and everyday life of Iowa with both affection and irony.  Wood, along with Thomas Hart Benton of Missouri and John Steuart Curry of Kansas comprised the trio of well-known Midwestern Regionalists. These artists rebelled against the abstraction of European Modernism and insisted that American art should present a picture of the American scene.  During the Great Depression of the 1930s, when a much higher proportion of the population lived on farms, their work was widely appreciated for its reassuring images of the heartland.
Wood's studied in Europe and was influenced by the precise realism of the early Netherlandish painters.  His style matured into the meticulous, sharply-detailed manner for which his work is chiefly known.  A combination of perceptive insight and dry caricature makes his figure paintings distinctive among the artists of the Regionalist School.
Wood was born in Anamosa, Iowa in 1892 and spent much of his working life in Cedar Rapids and Iowa City.  He was instrumental in capturing images of fast-disappearing farm life.  His final paintings were completed from his studio in Clear Lake, Iowa before his death in 1942.
*****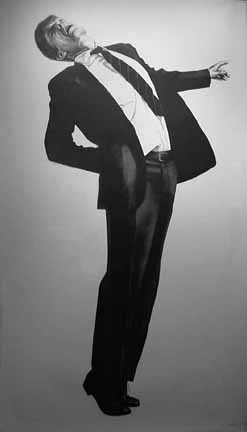 Edmund
Robert Longo (b. 1953)
Lithograph on paper, 1985. John and Mary Pappajohn Endowment Fund Purchase.
Robert Longo was born in 1953 in Brooklyn, New York and raised in Long Island. He had a childhood fascination with mass media: movies, television, magazines, and comic books, which continue to influence his art.
Although he studied sculpture, drawing remained Longo's favorite form of self-expression. However, the sculptural influence pervades his drawing technique, as Longo's "portraits" have a distinctive chiseled line that seems to give the drawings a three-dimensional quality.
Longo uses graphite like clay, molding it to create images like the writhing, dancing figures in his seminal "Men in the Cities" series. For that series, Longo photographed his friends lurching backward, collapsing forward or sprawled on invisible pavement. After enlarging the pictures through a projector, he and an artist assistant drew them in sizes ranging from three-quarter scale to larger than life-size. In the process, Longo often dramatized poses and always standardized attire into quite formal, black-and-white clothing.
Longo has had retrospective exhibitions at Hamburger Kunstverein and Deichtorhallen, Menil Collection in Houston, the Los Angeles County Museum of Art in 1989, the Museum of Contemporary Art, Chicago in 1990, and more recently a "Survey Exhibition 1980-2009," at Musee D'Art Moderne Et D'Art Contemporain de Nice in France in 2009 and at Museu Colecção Berardo in Lisbon, Portugal in 2010.
*****
Burnt Hill, Maine
John Marin (1870-1953)
Watercolor on paper, 1927. Museum purchase with partial support of  a grant from the Kinney-Lindstrom Foundation. 1991.001.
John Marin born in Rutherford, New Jersey was an early American modernist artist. Known for his abstract landscapes and watercolors.  John Marin grew up in Weehawken, New Jersey, and attended the Stevens Institute of Technology for a year. His experience with architecture might have contributed to the role played by architectural themes in his paintings and watercolors.
From 1899 to 1901, Marin attended the Pennsylvania Academy of the Fine Arts in Philadelphia. In Philadelphia he studied with Thomas Pollock Anshutz and William Merritt Chase. He also studied at the Art Students League of New York. In 1905 like many American artists Marin went to Europe, initially to Paris. He traveled through Europe for six years. Marin painted in Holland, Belgium, England, and Italy. In Europe he mastered a type of watercolor where he achieved an abstract ambience, almost a pure abstraction with color that ranges from transparency to translucency, accompanied by strong opacities, and linear elements, always with a sense of freedom, which became one of his trademarks.
John Marin believed he had to know a place intimately before he could paint it. When he executed Schooner Yachts, Deer Isle, Maine, he had been painting on the coast of Maine for fifteen summers. A particularly vocal opponent of what he considered the "self-indulgence' of pure abstraction, Marin tried to imbue each painting with his love of the visible world. A critic's observation that Marin painted from an inner vision offended the artist deeply, and was summarily dismissed by him as rubbish. Marin could not conceive of an art of consequence that was not grounded in the act of seeing. To Marin, "seeing" was a "repetition of glimpses" and each painting an opportunity to capture in a single, striking image the "eye of many looking's."
Instilled with a modernist's distrust of illusionism, however, he drew on the resources of his own form of Cubism to explore his response to what he saw and experienced. Marin always insisted that his paintings be both celebrations of the visible world and flat, two-dimensional objects: "I demand of [my paintings] that they are related to experiences … that they have the music of themselves-so that they do stand of themselves as beautiful-forms-lines and paint on beautiful paper or canvas."
*****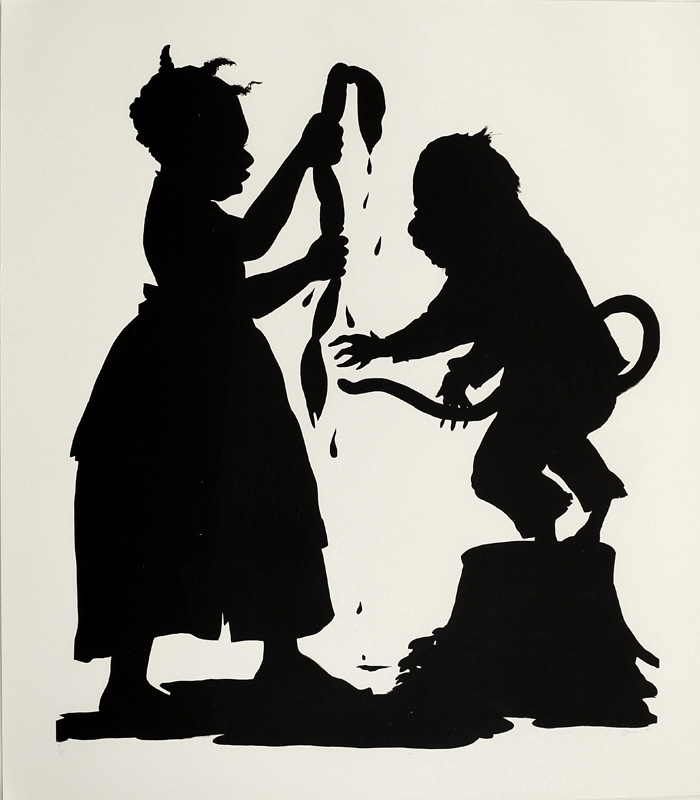 I'll Be A Monkey's Uncle
Kara Walker (b. 1969)
Lithograph on paper, 1996. John and Mary Pappajohn Endowment Fund Purchase. 2003.1
Kara Walker is an African American contemporary artist and painter who explores race, gender, sexuality, violence and identity in her work. She is best known for her room-size tableaux of black cut-paper silhouettes. Walker lives in New York City and has taught extensively at Columbia University. She is currently serving a five-year term as Tepper Chair in Visual Arts at the Mason Gross School of the Arts, Rutgers University.
Walker was born in Stockton, California in 1969. Walker received her BFA from the Atlanta College of Art in 1991 and her MFA from the Rhode Island School of Design in 1994.Walker found herself uncomfortable and afraid to address race within her art during her early college years. However, she found her voice on this topic while attending Rhode Island School of Design for her Master's, where she began introducing race into her art. She had a distinct worry that having race as the nucleus of her content would be received as "typical" or "obvious."
Walker is best known for her panoramic friezes of cut-paper silhouettes, usually black figures against a white wall, which address the history of American slavery and racism through violent and unsettling imagery. She has also produced works in gouache, watercolor, video animation, shadow puppets, "magic-lantern" projections, as well as large-scale sculptural installations like her ambitious public exhibition with Creative Time called A Subtlety (2014). The black and white silhouettes confront the realities of history, while also using the stereotypes from the era of slavery to relate to persistent modern-day concerns. Her exploration of American racism can be applied to other countries and cultures regarding relations between race and gender, and reminds us of the power of art to defy conventions.
She first came to the art world's attention in 1994 with her mural Gone, An Historical Romance of a Civil War as It Occurred Between the Dusky Thighs of One Young Negress and Her Heart. This cut-paper silhouette mural, presenting an old-timey south filled with sex and slavery was an instant hit. At the age of 27, she became the second youngest recipient of the John D. and Catherine T. MacArthur Foundation's "genius" grant, second only to renowned Mayanist David Stuart. In 2007, the Walker Art Center exhibition Kara Walker: My Complement, My Oppressor, My Enemy, My Love was the artist's first full-scale U.S. museum survey. Walker currently lives in New York, where she has been a professor of visual arts in the MFA program at Columbia University since 2001.
Walker's silhouette images work to bridge unfinished folklore in the Antebellum South, raising identity and gender issues for African American women in particular. However, because of her confrontational approach to the topic, Walker's artwork is reminiscent of Andy Warhol's Pop Art during the 1960s (indeed, Walker says she adored Warhol growing up as a child). Her nightmarish yet fantastical images incorporate a cinematic feel. Walker uses images from historical textbooks to show how African American slaves were depicted during Antebellum South.
In 2005, The New School unveiled Walker's first public art installation, a site-specific mural titled Event Horizon and placed along a grand stairway leading from the main lobby to a major public program space.
In May 2014, Walker debuted her first sculpture, a monumental piece and public artwork entitled A Subtlety, or the Marvelous Sugar Baby, an Homage to the unpaid and overworked Artisans who have refined our Sweet tastes from the cane fields to the Kitchens of the New World on the Occasion of the demolition of the Domino Sugar Refining Plant. The massive work was installed in the derelict Domino Sugar Refinery in Brooklyn and commissioned by Creative Time.
*****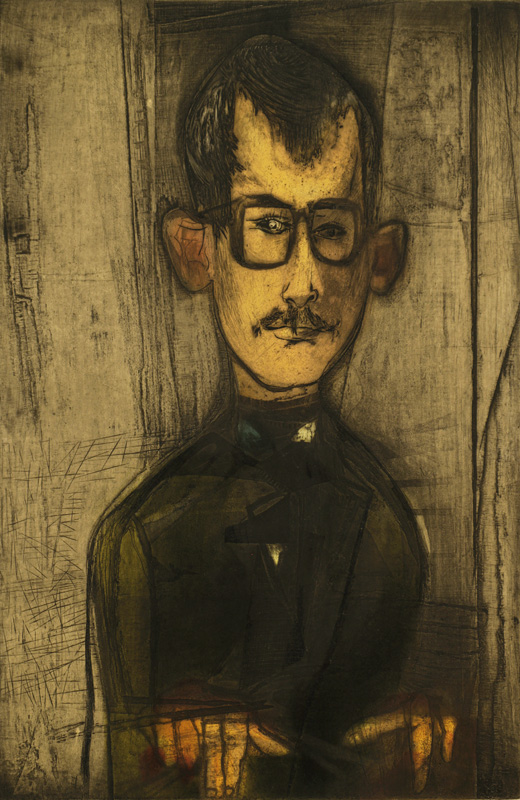 Self-Portrait (48)
Mauricio Lasansky (1914-2012)
Intaglio on paper, 1948. Museum Purchase in Memory of R. Lyle Bergo.
Mauricio Lasansky was an innovative printmaker equally well-known for a series of drawings depicting the horrors of Nazism.
Lasansky was born in Argentina of Eastern European Jewish parents.  He came to the United States on a Guggenheim Fellowship in 1943 and spent a year carefully examining more than 100,000 works in the print collection of the Metropolitan Museum in New York.  In 1945, Lasansky accepted a teaching position at the University of Iowa where he established a printmaking department that quickly gained international attention.
As a master of printmaking technology, Lasansky along with his students pushed the limits of the medium.  He was known for the grand scale of his images and the complex layering of multiple techniques in a single work.  His largest prints required as many as 60 different plates to make up the different sections of the image and many trips through the press.  He devised a recipe for paper that could withstand the repeated stress his methods required and had it specially milled in France.
Lasansky remained the head of the Art and Art History Department at the University of Iowa until he retired in the mid-1980s.  His legacy as an educator can be seen in the many strong printmaking departments his students established at other universities.  Lasansky became a citizen of his adopted country and died in 2012 at the age of 97 at his home in Iowa City.
*****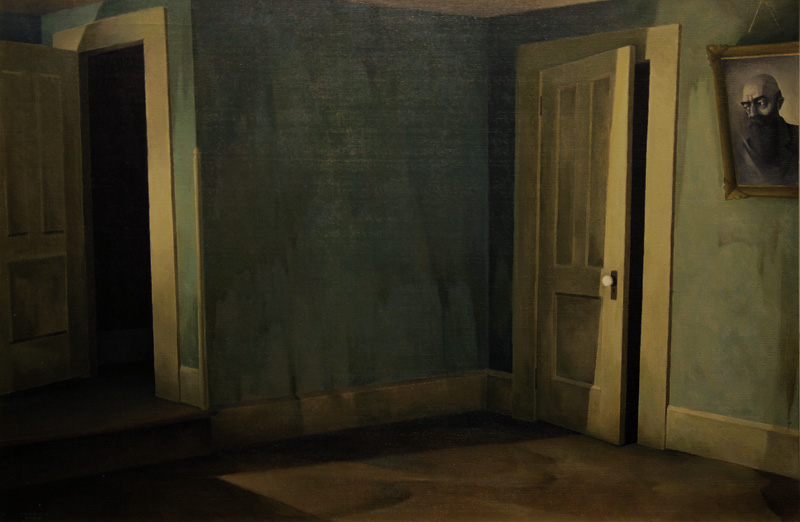 The Watcher
Marvin Cone (1891-1965)
Oil on canvas, 1947. Museum Purchase with funds from the Roy B. Johnson Memorial.
Born in Cedar Rapids, Marvin Cone grew up with fellow Iowa artist Grant Wood.  The two remained great friends and painted together throughout their lives.  In 1920s, they studied current painting trends in France and during the Great Depression established the short-lived Stone City Art Colony in eastern Iowa.  Cone graduated from Coe College in Cedar Rapids in 1914 and taught French there from 1920 to 1934, when he established the art department and continued his long teaching career.
Cone is known for his series of paintings of Iowa farmhouse interiors.  He created the realistic but mysterious room in the The Watcher by playing with perspective and color.  A portrait of Cone's Uncle Ben, whom he remembered as a grim and quiet figure, hangs crookedly on a wall overlooking two half-opened doorways adding to the painting's intrigue.
*****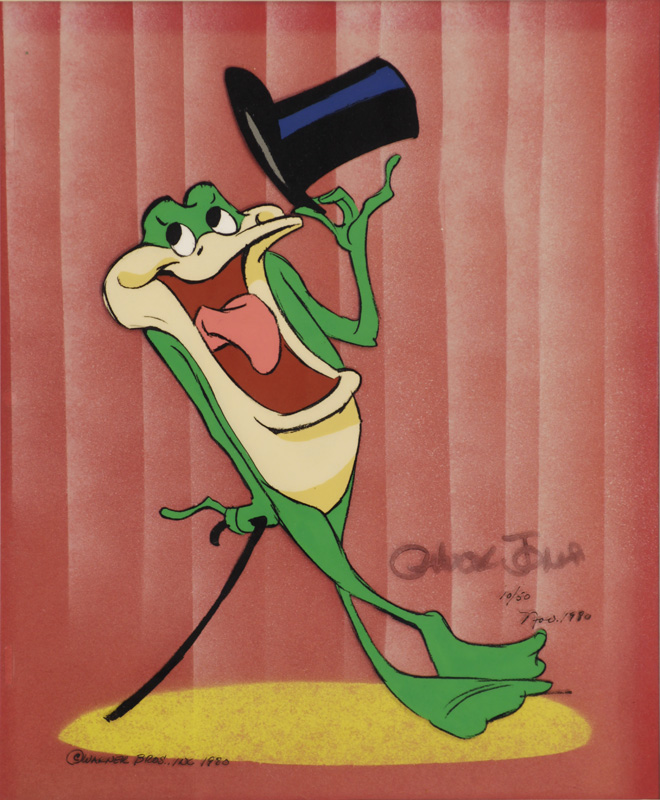 Michigan J. Frog
Chuck Jones (1912-2002)
Animation cel (original hand painted with hand-made background), 1980. Gift of the Clark Family in honor of Beje Clark.
Charles Martin "Chuck" Jones was an American animator, cartoon artist, screenwriter, producer, and director of animated films, most memorably of Looney Tunes and Merrie Melodies shorts for the Warner Bros. Cartoons studio. He directed many classic animated cartoon shorts starring Bugs Bunny, Daffy Duck, the Road Runner and Wile E. Coyote, Pepé Le Pew, Porky Pig and a slew of other Warner characters.
Jones was born on September 21, 1912 in Spokane, Washington. He later moved with his parents and three siblings to the Los Angeles, California area.
In his autobiography, Chuck Amuck, Jones credits his artistic bent to circumstances surrounding his father, who was an unsuccessful businessman in California in the 1920's. His father would start every new business venture by purchasing new stationery and new pencils with the company name on them. When the business failed, his father would quietly turn the huge stacks of useless stationery and pencils over to his children, requiring them to use up all the material as fast as possible. Armed with an endless supply of high-quality paper and pencils, the children drew constantly.
During his artistic education, he worked part-time as a janitor. He worked his way up in the animation industry, starting as a cell washer. While at Iwerks, he met a cell painter named Dorothy Webster, who later became his first wife.
Jones joined Leon Schlesinger Productions, the independent studio that produced Looney Tunes and Merrie Melodies for Warner Bros., in 1933 as an assistant animator. In 1935, he was promoted to animator.
During World War II, Jones worked closely with Theodor Geisel, better known as Dr. Seuss, to create the Private Snafu series of Army educational cartoons. Jones later collaborated with Seuss on animated adaptations of Seuss' books, including How the Grinch Stole Christmas! in 1966. Jones directed such shorts as The Weakly Reporter, a 1944 short that related to shortages and rationing on the home front. During the same year, he directed Hell-Bent for Election, a campaign film for Franklin D. Roosevelt.
Jones created characters through the late 1940s and the 1950s, which include Claude Cat, Marc Antony and Pussyfoot, Charlie Dog, Michigan J. Frog, and his three most popular creations, Marvin the Martian, Pepe LePew, Wile E. Coyote and The Road Runner. Jones remained at Warner Bros. throughout the 1950s, except for a brief period in 1953 when Warner closed the animation studio. During this interim, Jones found employment at Walt Disney Productions, where he teamed with Ward Kimball for a four-month period of uncredited work on Sleeping Beauty (1959).
In the early 1960s, Jones and his wife Dorothy wrote the screenplay for the animated feature Gay Purr-ee. The finished film would feature the voices of Judy Garland, Robert Goulet and Red Buttons as cats in Paris, France. Jones moonlighted to work on the film, since he had an exclusive contract with Warner Bros. When Warner Bros. discovered that Jones had violated his exclusive contract with them, they terminated him. Jones' former animation unit was laid off after completing the final cartoon in their pipeline, The Iceman Ducketh, and the rest of the Warner Bros.
With business partner Les Goldman, Jones started an independent animation studio, Sib Tower 12 Productions, and brought on most of his unit from Warner Bros. In 1963, Metro-Goldwyn-Mayer contracted with Sib Tower 12 to have Jones and his staff produce new Tom and Jerry cartoons as well as a television adaptation of all Tom and Jerry theatricals produced to that date. In 1964, Sib Tower 12 was absorbed by MGM and was renamed MGM Animation/Visual Arts.
As the Tom and Jerry series wound down Jones produced more for television. In 1966, he produced and directed the TV special How the Grinch Stole Christmas!, featuring the voice and facial models based on the readings by Boris Karloff.
MGM closed the animation division in 1970, and Jones once again started his own studio, Chuck Jones Enterprises. He produced a Saturday morning children's TV series for the American Broadcasting Company called The Curiosity Shop in 1971.
Jones resumed working with Warner Bros. in 1976 with the animated TV adaptation of The Carnival of the Animals with Bugs Bunny and Daffy Duck. From 1977–1978, Jones wrote and drew the newspaper comic strip Crawford for the Chicago Tribune-NY News Syndicate.
Through the 1980s and 1990s, Jones was painting cartoon and parody art, sold through animation galleries by his daughter's company, Linda Jones Enterprises. Jones died of heart failure on February 22, 2002.
Jones was nominated for an Academy Award eight times and won three times, receiving awards for the cartoons For Scent-imental Reasons, So Much for So Little, and The Dot and the Line. He received an Honorary Academy Award in 1996 for his work in the animation industry. Jones was a historical authority as well as a major contributor to the development of animation throughout the 20th century. For his contribution to the motion picture industry, Jones has a star on the Hollywood Walk of Fame at 7011 Hollywood Blvd. Jones' life and legacy were celebrated January 12, 2012, with the official grand opening of The Chuck Jones Experience at Circus Circus Las Vegas.