Off the Wall showcases pieces from our permanent collection individually so you can learn a little bit more about the pieces in our museum one at a time.
*****
The Accordian Player
Todros Geller (1889-1949) 
Oil on canvas, 1938. Gift of the Mason City Community School System. 1981.5.1
Noted Jewish artist Todros Geller was born in Vinitza, the Ukraine, Russia, in 1889.  He studied art in Odessa at a private academy.  In 1906 Geller moved, with his family, to Canada in order to escape the pogroms in his native country. Pogrom is a form of riot directed against a particular group, whether ethnic, religious or other, and characterized by destruction of their homes, businesses and religious centers. Usually pogroms are accompanied by physical violence against the targeted people and even murder or massacre. The term has historically been used to denote extensive violence, either spontaneous or premeditated, against Jews, but has been applied to similar incidents against other, mostly minority, groups.
The years following this move were spent working at odd jobs to enable Geller to study art in the evening.  He soon became a photographer.  The artist married in 1913 and a few years later immigrated to the United States.  Arriving in Chicago in 1918, Geller enrolled at the Art Institute.  There, over a period of 5 years, he studied with Norton, Seyffert and Bellows.  From 1920-1927, Geller was an instructor at the Jewish People's Institute.  He also served as Supervisor of Art for the Board of Jewish Education and Director of Art for the College of Jewish Studies.
Through the professional positions mentioned above, he was able to convey a more sensitive understanding of Jewish art to young people from elementary through the college level.  Geller was a prolific artist and worked in many different medias: oil, tempera, watercolor, metal, woodcarving, etching, lithography, stained glass and wood engraving.
*****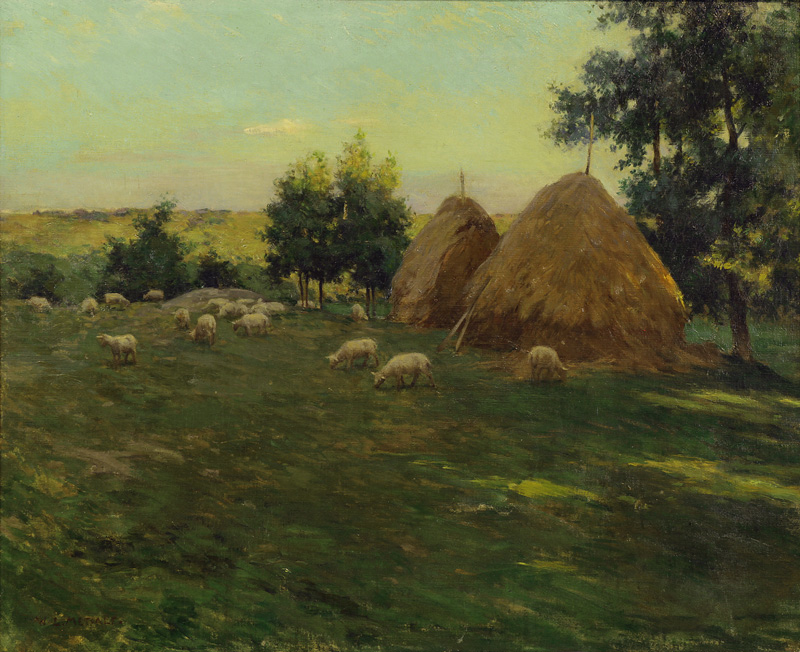 Haystacks
Willard Metcalf (1858-1925)
Oil on canvas, circa 1888. Gift of Mason City Women's Club. 1967.7
Willard Metcalf was an America artist born in Massachusetts who is generally associated with American Impressionism.  After early figure-painting and illustration, he became prominent as a landscape painter.
The French Impressionists astounded the late nineteenth century art world when they took canvases and palettes out of their studios and painted directly from nature.  They were particularly fascinated by a free handling of paint and the changing effect of light on their subjects.  Considered revolutionary at the time, these innovations are the precursors of modernism and eventually, abstract art.
Though Haystacks may not show the dappled sunlight that characterizes the work of the Impressionists, the loose handling of paint and the outdoor scene are typical of the movement.  Metcalf studied in Paris and by 1886 was painting at Monet's Giverny.  After his return to the United States in 1888, his production was erratic, but he is known for his New England landscapes.
*****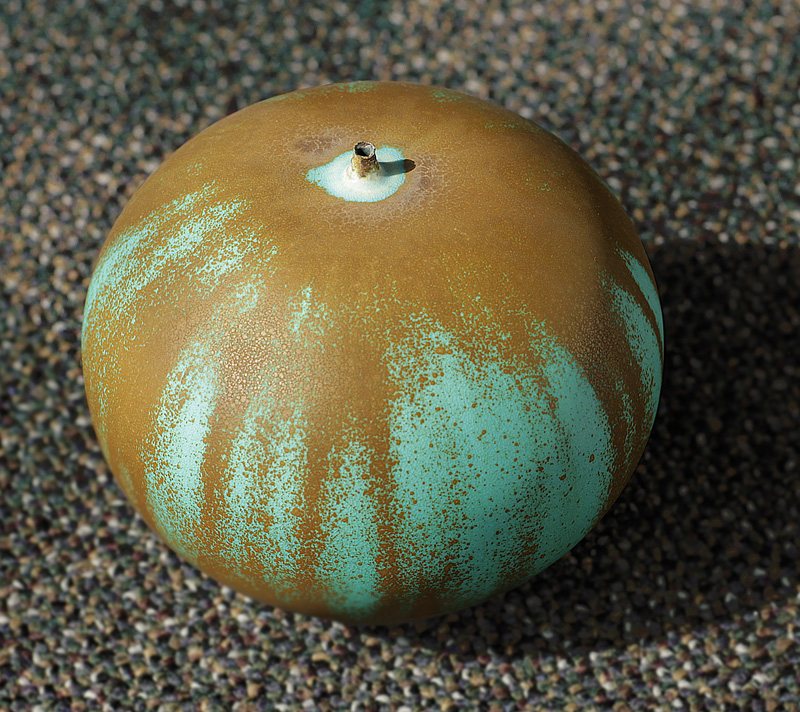 Porcelain Feelie
Rose Cabat (1914-2015)
Clay ceramic. Gift of The Mulcahy Foundation. 1988.2
Rose Cabat was an American studio ceramicist, classified as part of the Mid-Century modern movement who was best known for her innovative glazes upon small porcelain pots called 'feelies' often in the shape of onions and figs, and bowls.
Rose Cabat was born in New York City in 1914 in the Bronx, and married her childhood sweetheart Erni Cabat in 1936. She began working in ceramics in 1940 after her husband Erni brought home some clay from his job as an assistant to Vally Wiselthier an art deco ceramicist who was making pieces for General Ceramics in Keasbey, New Jersey.
Shortly after their first son George was born, he was found to have intractable asthma. The Cabat's decided to move to Arizona around 1942 in order to alleviate his condition. Rose worked at a defense plant and was able to make primitive ceramics from the extra clay that Erni was able to obtain from brickyards. Rose was able to make some coil figures until Erni was able to convert a washing machine to a potter's wheel. Eventually, Erni ordered a Randall kickwheel, which Rose used to the end. She made ceramics in her spare time, as she worked in a munitions plant during World War II.
After the war, Rose continued to make craft ceramics such as wind bells, animal shapes and other commodity pieces to help support the family, while Erni worked in Tucson as a graphic artist and in advertising. He also wrote several children's books. They became friends with local artists, and helped to start the Art Center, the forerunner of the Tucson Museum of Art.
In 1956, the Cabats took a glaze calculation class at the University of Hawaii which were later applied to the "feelie" forms that become Rose Cabat's signature pieces. In about 1960, Rose hit upon the basic form of the vessel which would become the foundation of the "feelies". She created a pot with a delicate closed neck, which could not hold even a single slender stem or stalk. She stated, "A vase can hold weeds or flowers, but can't it just be a spot of beauty?"
In 1973, her feelies were exhibited in Everyday Life in Early America as contemporary counterparts to pioneering American craftspeople. The Tucson Art Museum loaned one of Rose Cabat's blue-green Feelies to the Mansion of the Vice President, Walter Mondale at the time, to be displayed in the living room along with other works of art.
Rose and Erni continued to produce ceramics, including feelies and bowls with their signature glazes. While Rose and Erni collaborated on the feelies and other ceramic forms, Erni ran his ad agency in Tucson until the age of 62 when he had felt that the family could be supported with the income from the "feelies" and other ceramics as well as his own artwork. Erni ran the business, weighed out the glaze components, while Rose did the craft and the art. On November 8, 1994, Erni died in his sleep.
After 1994, Rose continued to produce feelies and bowls, despite her decreasing mobility, with her daughter June running the business end of things. Cabat died on January 25, 2015 at the age of 100.
*****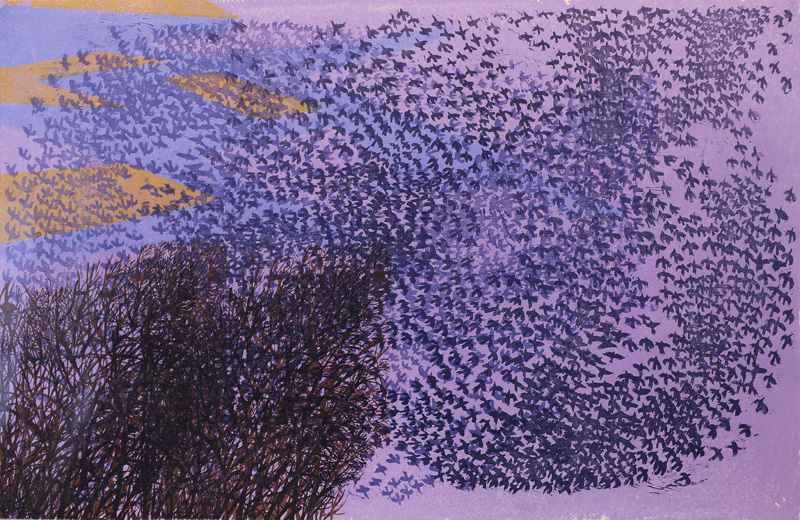 Migration VI
Antonio Frasconi (1919-2013)
Woodcut on paper, 1959. Gift of Dr. and Mrs. John MacGregor in Memory of Henning R. Roden and Jay B. MacGregor. 1977.2
Antonio Frasconi was an Uruguayan – American visual artist, best known for his woodcuts. Frasconi was born April 28, 1919 on a boat between Argentina & Uruguay and was raised in Montevideo, Uruguay. Frasconi's mother managed a restaurant whilst his father was frequently unemployed. Frasconi frequently quotes his mother and her view of his talents. He said that his mother talked of art at the church where she was brought up as if it had been done by God rather than man. She felt that if Frasconi had been born with a gift, he would already be a famous artist rather than working like her each day.
By the age of twelve, he was learning a trade at a printers after abandoning a course at Círculo de Bellas Artes. During his teenage years he admired Gustave Doré and Goya, whilst indulging in creating caricatures of political figures.
During the war, an exhibition of impressionism and post-impression was organised by the French in Latin America. Artists such as Van Gogh and Cézanne captured his imagination. However it was the woodcuts of Paul Gauguin that he was attracted to most. Frasconi moved to the United States in 1945 at the end of World War II. He worked as a gardener and as a guard at the Santa Barbara Museum of Art. It was at that museum that he had his first dedicated show. His recognition was beginning to grow and within twelve months he had a similar show at the Brooklyn Museum of Art.
In 1959 he was a runner-up for the Caldecott Medal from the U.S. children's librarians, which annually honors the illustrator of the best American picture book for children. Thus The House That Jack Built, which he also wrote, is retrospectively termed a Caldecott Honor Book.
In 1962 Frasconi won a Horn Book Fanfare award for The Snow and the Sun – La Nieve y el Sol a book he had created in two languages. He has frequently produced multilingual books. Also in 1962, he was elected into the National Academy of Design as an Associate member, and became a full Academician in 1969.
In 1982 Frasconi was the Distinguished Teaching Professor of Visual Arts at the State University of New York at Purchase.
*****

Dispatches
Glenn Ligon (b.1960)
Aquatint with spit-bite and dry point on hahnemuhle copperplate bright white 300 gsm, 2011. John and Mary Pappajohn Endowment Fund Purchase. 2014.1a-d
Glenn Ligon is an American conceptual artist whose work explores race, language, desire, sexuality, and identity. Ligon engages inintertextuality with other works from the visual arts, literature, and history, as well as his own life.
Ligon works in multiple media, including painting, neon, video, photography, and digital media such as Adobe Flash for his work Annotations. Ligon's work is greatly informed by his experiences as an African American and as a gay man living in the United States.
Although Ligon's work spans sculptures, prints, drawings, mixed media and even neon signs, painting remains a core activity. His paintings incorporate literary fragments, jokes, and evocative quotes from a selection of authors, which he stencils directly onto the canvas by hand. In 1989, he mounted his first solo show, "How It Feels to Be Colored Me," in Brooklyn. This show established Ligon's reputation for creating large, text-based paintings in which a phrase chosen from literature or other sources is repeated over and over, eventually dissipating into murk. Untitled (I Am a Man) (1988), a reinterpretation of the signs carried during the Memphis Sanitation Strike in 1968 — made famous by Ernest Withers's photographs of the march —, is the first example of his use of text.
Since 2005, Ligon has made neon works. Warm Broad Glow (2005), Ligon's first exploration in neon, uses a fragment of text from Three Lives, the 1909 novel by American author Gertrude Stein. Ligon rendered the words "negro sunshine" in warm white neon, the letters of which were then painted black on the front. In 2008, the piece was selected to participate in the Renaissance Society's group exhibit, "Black Is, Black Ain't"., and appeared on the Whitney Museum's facade in 2011.
In 2009, President Barack Obama added Ligon's 1992 Black Like Me No. 2, on loan from the Hirshhorn Museum and Sculpture Garden, to the White House collection, where it was installed in the President's private living quarters. The text in the selected painting is from John Howard Griffin's 1961 memoir Black Like Me, the account of a white man's experiences traveling through the South after he had his skin artificially darkened. The words "All traces of the Griffin I had been were wiped from existence" are repeated in capital letters that progressively overlap until they coalesce as a field of black paint. Art critic Jerry Saltz called this work a "black-and-white beauty."
On the occasion of Ben Stiller and David Zwirner's "Artists For Haiti" charity auction at Christie's in 2011, Jennifer Aniston set a record prize for Glenn Ligon's work by purchasing his Stranger #44 (2011). At $450,000, Aniston beat Ligon's previous record of $434,500 for Invisible Man (Two Views) (1991).
Ligon is represented by Regen Projects in Los Angeles; Luhring Augustine in New York; and Thomas Dane Gallery in London.  He currently lives and works in New York City.
*****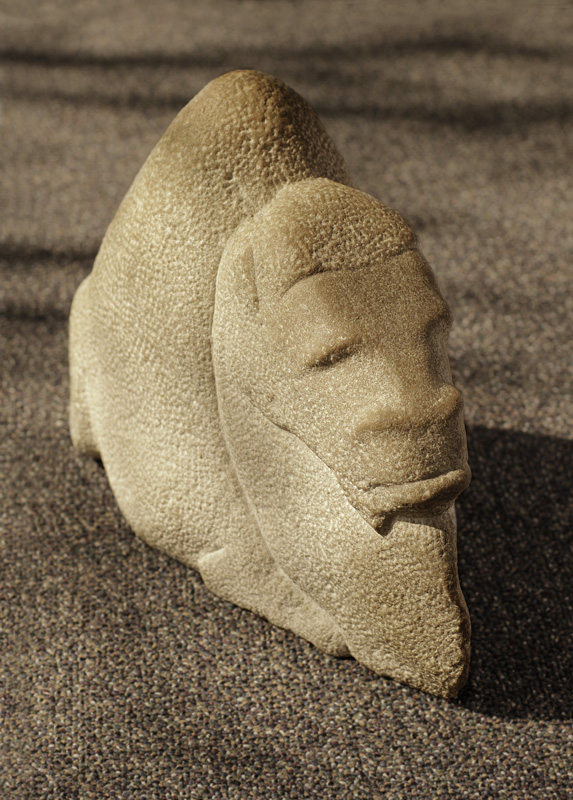 Camel
John B. Flannagan (1895-1942)
Fieldstone. Museum Purchase in Memory of Jerome F. Paulson with Funds Given by his Family. 1988.8
John Bernard Flannagan was born in 1895 in Fargo, North Dakota.  His newspaperman father died when John was five, forcing his destitute mother to place him and his sister in an orphanage.  Unrelenting poverty plagued him the rest of his life.  He got into carving as a youth and moved to Minneapolis in 1914 to study painting at the Minneapolis Institute of Arts.  During World War I he served in the Merchant Marines until 1922 and then took up residence in New York to resume his study of painting.
Around 1926, Arthur B. Davies, one of the prime movers and shakers in early 20th century American art circles and a key figure in the implementation of the famous "Armory Show," discovered Flannagan in a state of near-starvation.  Davies took the still young artist to one of his farms and nurtured his health and spirit for about a year.  Flannagan was still pursuing his study of painting but at the suggestion of Davies in 1927, he tried his hand at wood sculpture, starting on a track that he would follow for the rest of his career.  He discovered stone as a medium in 1928 and it became his favorite.
He has been critically acclaimed as one of the best of his generation of artists employing what became known as the "direct carving" approach to making sculpture.  Flannagan's own sculpture did not follow the academic traditions, which preceded and still dominated during his time.  He worked with fieldstones instead of quarried ones; a choice affected more at first by economics, but one that proved right for his art.
Personality was instilled into the stones touched by his tools and his imagination, capturing and reflecting many moods and mysteries of life.  In 1929, in a letter to Carl Zigrosser, John Flannagan said, "My aim is to produce a sculpture…with such ease, freedom and simplicity that it hardly feels carved, but rather to have always been that way."
*****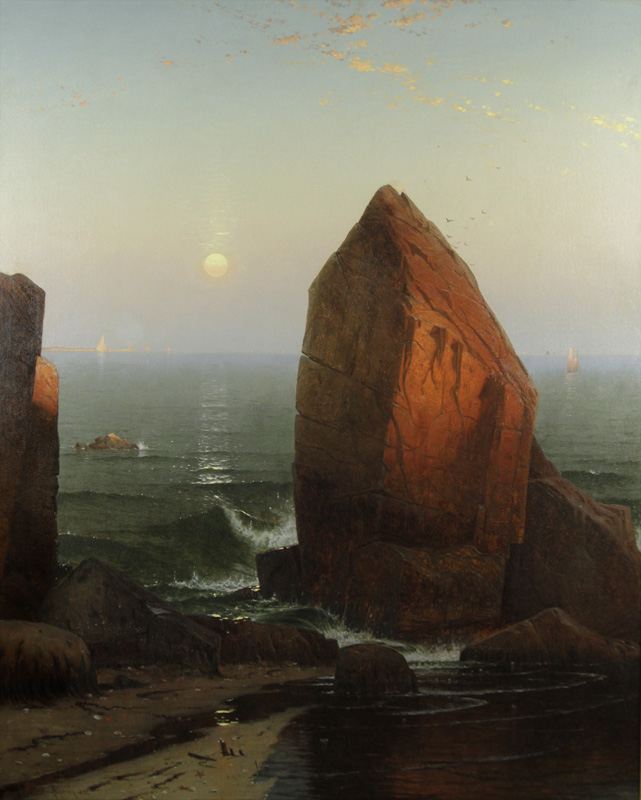 Gateways to the Sea
Alfred Thompson Bricher (1837-1908)
Oil on canvas mounted on board, 1875. Gift of Mr. and Mrs. F.T. Davison. 1994.9
Alfred Thompson Bricher was an American painter who specialized in marine subjects, with particular emphasis on subjects from Maine, the Bay of Fundy, and the Maritime provinces of Canada. Largely self-taught, Alfred Thompson Bricher studied in his leisure hours at the Lowell Institute in Boston and also attended an academy in Newburyport, MA.  Bricher was a businessman in Boston from 1851 to 1858 before he became a professional artist.  Bricher was often associated with the group of painters known as "the Hudson River School". He espoused a conservative and realistic approach to landscapes, while his interests lay not only in the play of light, water, and air, but in a sense of luminosity and spirituality in nature.
Oddly, Bricher continued painting peaceful scenes of nature even at the height of the horrors of the Civil War, a war in which he younger brother was killed. His perseverance in this style underscores his belief in the eternal forgiveness of Nature and the truism that whatever the acts of man, Nature is the more powerful force.
During the later part of his career, Bricher witnessed the advent of modernism, a movement that seemed to make many of his artistic concerns obsolete – but which, in another sense, owed a debt to the discipline and realism in works by Bricher and other Hudson River painters.  He is still considered one of the best maritime painters of the late nineteenth century.