Off the Wall showcases pieces from our permanent collection individually so you can learn a little bit more about the pieces in our museum one at a time.
*****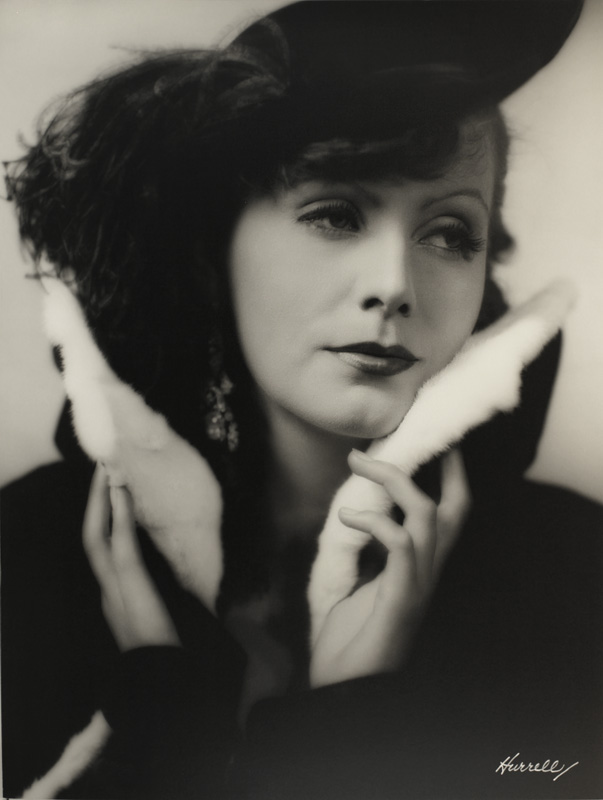 Greta Garbo
George Hurrell (1904-1992)
Gelatin silver print on foam core board, 1930. Gift of Marvin A. Sackner, M.D. 1993.4.3
One of the most famous American photographers of all time was George Hurrell.  Born in 1904, he first studied painting at art school.  During this time it was common to use photography to capture outdoor images during the summer months so artists could continue to paint indoors during the winter.  After moving to Laguna Beach, California in 1925, he found that he did not need to use the camera to capture summer scenes, as it never was as cold as Chicago.  He shelved his camera for some time, eventually bringing it out to photograph friends such the aviator Pancho Barnes, who often posed for him. He eventually opened a photographic studio in Los Angeles.  It was Barnes, a wealthy socialite, eventually introduced him to many of Hollywood's stars in the late 1920s.
He began by taking a series of photos for the actor, Ramon Novarro, who was secretly going outside his contract to explore other options.  Eventually other stars and starlets approached him, his reputation growing.  He was eventually hired by MGM in 1929 and became their head of portrait photography until 1932.  During this time images Hurrell took were used to market the images of the stars and create the glamour images this period of Hollywood history is known for.  From 1932 until 1938 he ran his own studio at 8706 Sunset Boulevard.
By the 1940s Hurrell joined the Warner Brothers studios and photographed such famous actors and actresses as Bette Davis, Ann Sheridan, Errol Flynn, Olivia de Havilland, Alexis Smith, Maxine Fife, Humphrey Bogart and James Cagney. Later in the decade he moved to Columbia Pictures where his photographs were used to help the studio build the career of Rita Hayworth.  During World War II he left Hollywood to make training films for the United States Army Air Force.  After the war, he found that the glamour image of Hollywood was no longer desired and studios were turning toward a more gritty image.  Knowing his strengths were in beauty images, he moved to New York where he worked for fashion magazines before returning to Hollywood in the 1960s.
The Museum has many Hurrell images in the collection – all highlighting the glamour era of Hollywood.  Hurrell died in 1992 after complications from cancer.
*****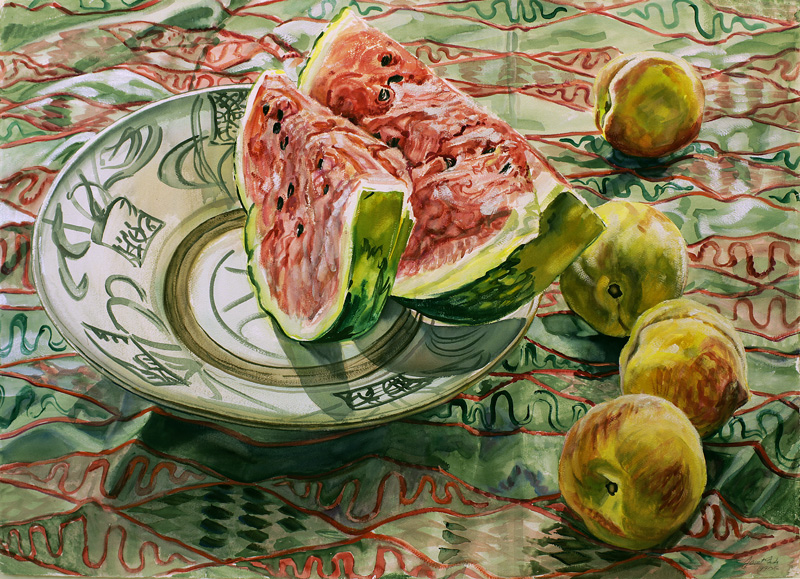 Watermelon and Peaches
Janet Fisch (b. 1938)
Watercolor on paper, 1990. Museum Purchase, Memorial and Acquisition Funds. 2000.16
Janet Fish was born in Boston, MA in 1938 and grew up on the Island of Bermuda.  Her grandfather was an American Impressionist painter, which inspired her.  Her father was an Art History teacher and her mother was a sculptor and potter.
She went to Skowhegan Summer School of Painting and Sculpture in Maine, and studied sculpture and printmaking at Smith College in Massachusetts, and graduated from Smith in 1960. She then went on to Yale University School of Art and Architecture in Connecticut, where she received her B.F.A. (Bachelor of Fine Arts) and M.F.A. (Master of Fine Arts) degrees in 1963. (She was one of the first women artists to receive her MFA from Yale.) At Yale some of her classmates included Rackstraw Downes, Chuck Close, Nancy Graves and Brice Marden.
She has shown her work in many major art institutions, including the Metropolitan Museum of Art and the Whitney Museum of American Art, both in New York, as well as the Art Institute of Chicago, and at many venues around the world. She has also won fellowships and awards, including American Academy of Arts and Letters Award, 1994, and a MacDowell Fellowships in 1968, 1968 and 1972. Her work has been published in several books – The Prints of Janet Fish, by Linda Konheim Kramer, Janet Fish by Garret Henry, and Janet Fish: Paintings by Vincent Katz. She is currently represented by D.C. Moore Gallery in New York City, and divides her time between her Soho loft and her farmhouse in Vermont. Her paintings reflect her indoor and outdoor domestic life, often containing still life objects from her collections of glassware and other objects.
*****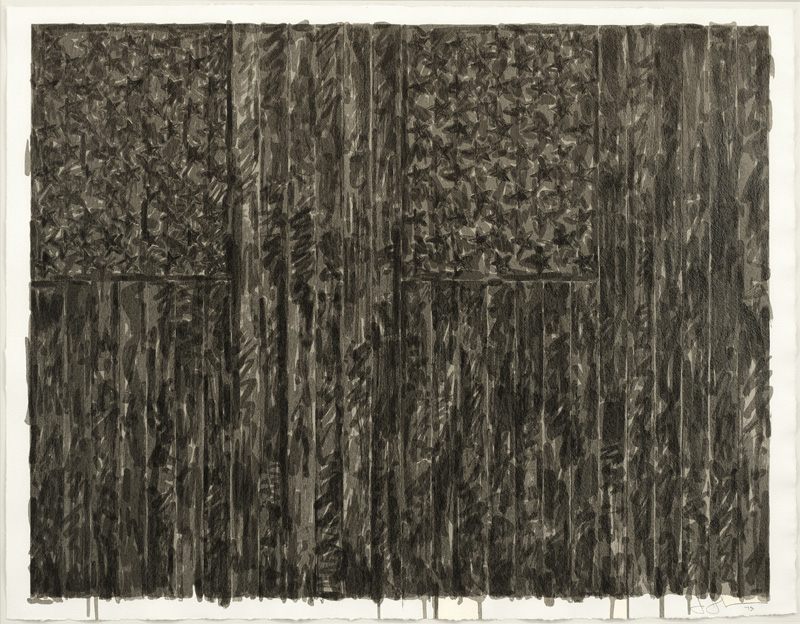 Flags II
Jasper Johns (b. 1930)
Screenprint on paper, 1973. John and Mary Pappajohn Endowment Fund Purchase. 1999.9
Jasper Johns is an American painter and printmaker. Born in Augusta, Georgia, Jasper Johns spent his early life in Allendale, South Carolina, with his paternal grandparents after his parents' marriage failed. Johns studied a total of three semesters at the University of South Carolina, from 1947 to 1948. He then moved to New York City and studied briefly at the Parsons School of Design in 1949. In 1952 and 1953 he was stationed in Sendai, Japan, during the Korean War.
In 1954, after returning to New York, Johns met Robert Rauschenberg and they became long-term lovers. Working together they explored the contemporary art scene, and began developing their ideas on art. In 1958, gallery owner Leo Castelli discovered Johns while visiting Rauschenberg's studio. Castelli gave him his first solo show. It was here that Alfred Barr, the founding director of New York's Museum of Modern Art, purchased four works from this show.
Johns is best known for his painting Flag (1954–55), which he painted after having a dream of the American flag. His work is often described as a Neo-Dadaist, as opposed to pop art, even though his subject matter often includes images and objects from popular culture. Still, many compilations on pop art include Jasper Johns as a pop artist because of his artistic use of classical iconography.
Early works were composed using simple schema such as flags, maps, targets, letters and numbers. Johns' treatment of the surface is often lush and painterly; he is famous for incorporating such media as encaustic and plaster relief in his paintings. Johns played with and presented opposites, contradictions, paradoxes, and ironies. Johns also produces intaglio prints, sculptures and lithographs with similar motifs.
Johns makes his sculptures in wax first, working the surfaces in a complex pattern of textures, often layering collaged elements such as impressions of newsprint, or of a key, a cast of his friend's foot, or one of his own hand. He then casts the waxes in bronze, and, finally, works over the surface again, applying the patina. 
In 1998, the Metropolitan Museum of Art in New York bought Johns' White Flag. While the Museum would not disclose how much was paid, The New York Times reported that "experts estimate [the painting's] value at more than $20 million." The National Gallery of Art acquired about 1,700 of Johns' proofs in 2007. This made the gallery home to the largest number of Johns' works held by a single institution.
Johns was elected a Fellow of the American Academy of Arts and Sciences in 1984. In 1990, he was awarded the National Medal of Arts. On February 15, 2011 he received the Presidential Medal of Freedom from President Barack Obama, becoming the first painter or sculptor to receive a Presidential Medal of Freedom since Alexander Calder in 1977.
His large-scale paintings are much favored by collectors and because of their rarity are extremely difficult to acquire. Skate's Art Market Research, a New York based advisory firm servicing private and institutional investors in the art market, has ranked Jasper Johns as the 30th most valuable artist in the world.
*****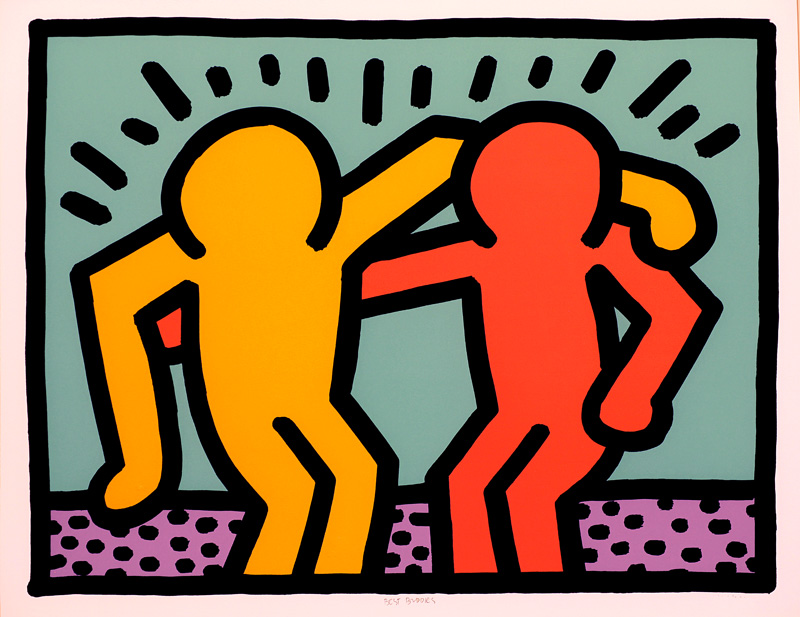 Best Buddies
Keith Haring (1958-1990)
Screenprint on paper, 1990.
Gift of Steve, Todd, Derrick, and Tyler Sellergren in Memory of
Wife and Mother, Penny K. Sellergren. 2007.1
Keith Haring was an artist and social activist whose work responded to the New York street culture of the 1980s.  Growing up in small town Pennsylvania, Haring developed a love for drawing at an early age, learning basic cartooning skills from his father and popular culture, especially Dr. Seuss and Walt Disney.  After studying graphic design in Pittsburgh, Haring moved to New York where he found a thriving alternative art community developing outside the gallery and museum system in the downtown streets, subways, clubs and dance halls.  He first gained public attention with his subway chalk drawings, sometimes creating as many as 40 drawings in a day as he engaged with spectators.  During this time the "Radiant Baby", a simple line drawing of a crawling baby with energized rays emanating from its body, became his symbol.
Haring's brief but intense career spanned the 1980s, and during that decade his work was featured in over 100 solo and group exhibitions.  His art attracted a wide audience through his expression of universal concepts of birth, death, love, sex and war, using a primacy of line and directness of message.  Haring's imagery has become a universally recognized visual language of the 20th century.
*****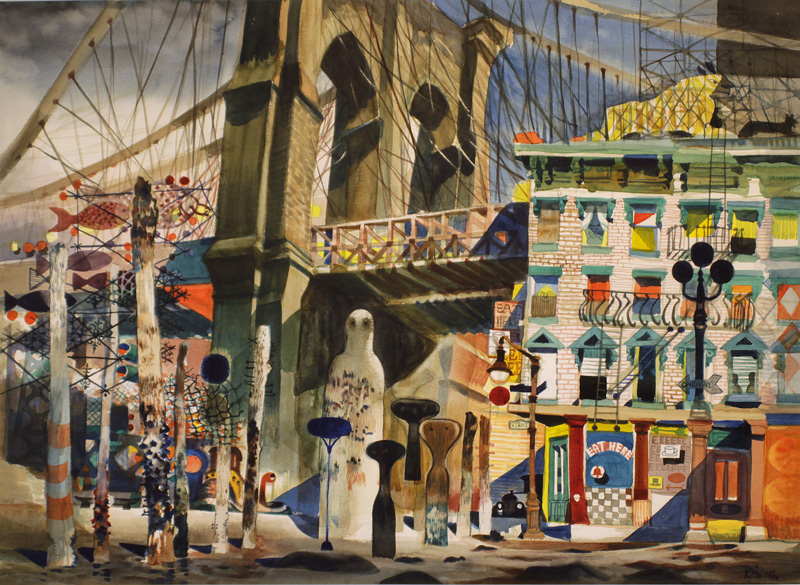 Bridge and White Building
Dong Kingman (1911-2000)
Watercolor on paper, 1951.
Museum Purchase Made Possible by a Gift form Mr. and Mrs. Frank Jeffrey. 1994.8
Dong Kingman was a Chinese American artist and one of America's leading watercolor masters. As a painter on the forefront of the California Style School of painting, he was known for his urban and landscape paintings, as well as his graphic design work in the Hollywood film industry. He has won widespread critical acclaim and his works are included in over 50 public and private collections worldwide.
Dong Kingman was born Dong Moy Shu in Oakland, California, the son of Chinese immigrants from Hong Kong. At the age of five and a half, he traveled with his family back to Hong Kong. He began his formal education at the Bok Jai School, where he was given a school name in accordance with Chinese customs. Hearing that he aspired to be an artist, his instructor gave him the name "King Man". He would later combine the two names into Kingman, placing his family name first in accordance with Chinese naming conventions, creating the name Dong Kingman.
Kingman returned to the United States in his late teens. In 1929 he attended the Fox Morgan Art School while holding down a variety of jobs. It was at this time that he chose to concentrate on watercolor painting. His critical breakthrough occurred in 1936, when he gained a solo exhibition at the San Francisco Art Association. This exhibition brought him national recognition and success.
In the late 1930s, Kingman served as an artist in the Works Progress Administration, painting over 300 works with the relief program. In 1942 and 1944, Kingman received the Guggenheim Fellowship. During World War II, he was drafted into the U.S. Army, but was transferred to work as a map artist in the Office of Strategic Services at Camp Beal, California and Washington, D.C, by a fan of his work, Eleanor Roosevelt.
Kingman settled in Brooklyn, New York after the war, where he held a position as an art instructor at Columbia University and Hunter College from 1946 for the next ten years.
During the 1950s, Kingman served as a United States cultural ambassador and international lecturer for the Department of State. In the 1950s and 1960s, Kingman worked as an illustrator in the film industry, designing the backgrounds for a number of major motion pictures including "55 Days at Peking", The Sand Pebbles and the Hollywood adaptation of "Flower Drum Song".
In 1981, Kingman made history as the first American artist to be featured in a solo exhibition following the resumption of diplomatic relations between the U.S. and China when the Ministry of Culture of the People's Republic of China hosted a critically acclaimed exhibition that drew over 100,000 people.
Dong Kingman died of pancreatic cancer in his home in New York City in 2000, at age 89.
*****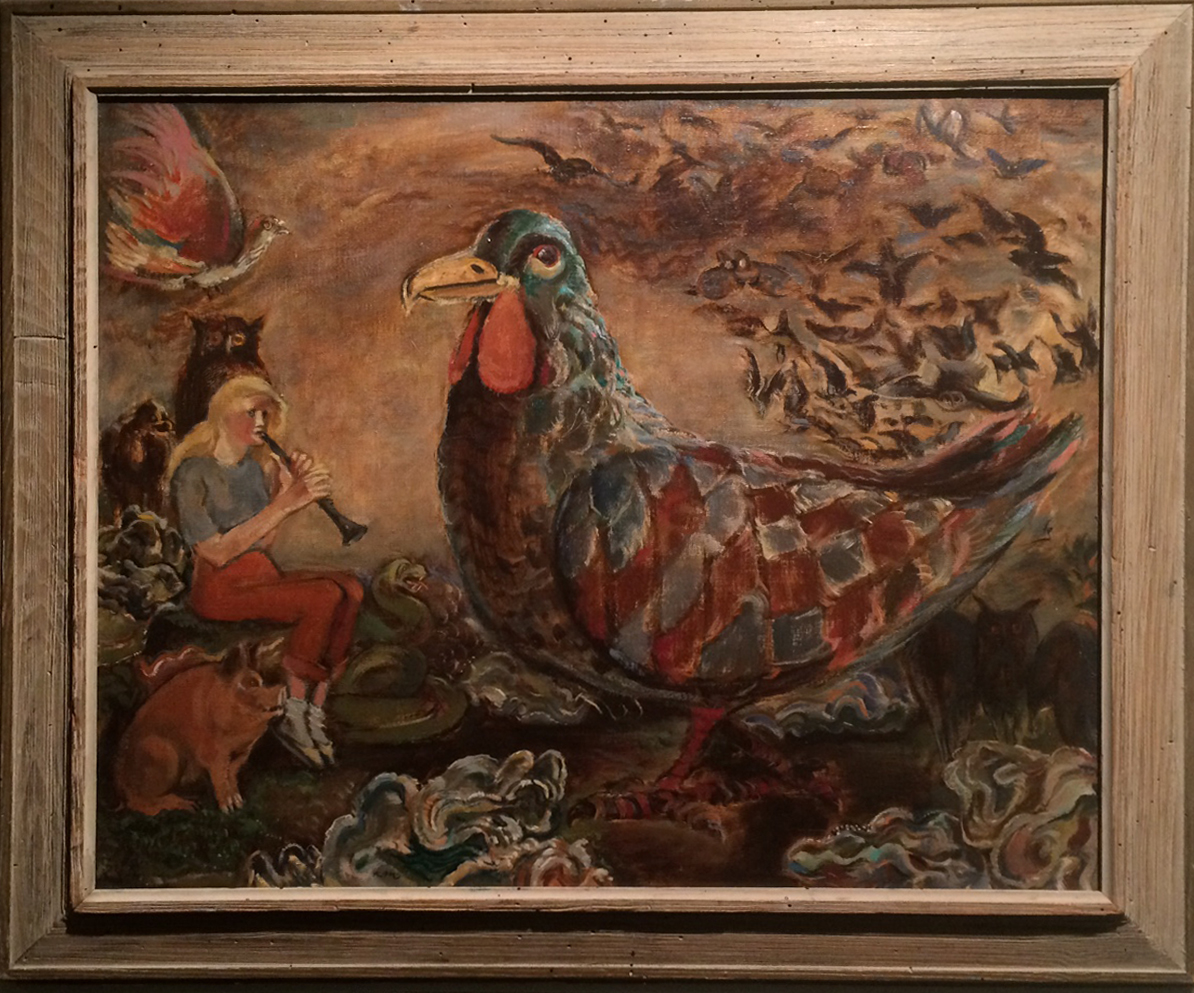 Music Hath…
Karl Mattern (1892-1969)
Oil on canvas, 1945. Gift of Miss Julia Annette Keeler. 1970.4.1
Karl Mattern was born in  Germany, on March 22, 1892. He studied at the Gymnasium in Germany, receiving art instruction there. After his father's death, Mattern left Germany and traveled to New York where he spent two years doing odd jobs. He then traveled to Kansas to be with family friends. From Kansas, he moved to Denver where he was able to study painting for the first time. After a few years, he moved yet again, to Chicago, where he enrolled at the Chicago Art Institute. There he learned the techniques of drawing, painting and illustration taught in part by the artist George Bellows.
Mattern taught classes from 1922-1923 at the Chicago Academy of Art. The artist Albert Bloch, a painter who was associated with the Bauhaus group in Weimar and Dessau, invited Mattern to teach at the University of Kansas in 1925. During his time at Kansas, Mattern supervised and coordinated some Works Progress Administration artists working in Kansas. In 1948, Mattern and his wife, Mary, moved to Des Moines, Iowa, where he began to teach at Drake University. In Iowa, he served on the Acquisitions Committee at the Des Moines Art Center which opened that same year.
*****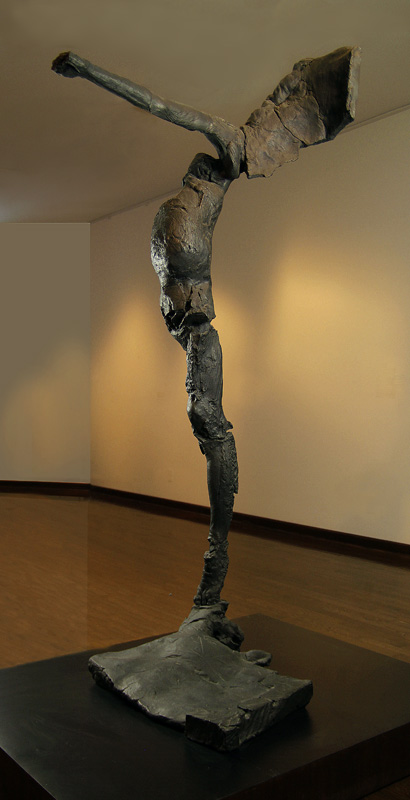 Left-Sided Figure Pointing
Stephen DeStaebler (1933-2011)
Bronze, 1983. Museum Purchase from John Berggruen Gallery, San Francisco, CA. 1990.1
Stephen DeStaebler was born in 1933.  He was a nationally known, Bay Area based sculptor whose work is based on the expressive potential of the human figure.  His academic work was completed at Princeton University with a thesis on St. Francis. After working primarily in clay during the 1960's and 1970's, he began to work with bronze in the 1980's and began his association with Artworks Foundry, starting in the early 1980's.
DeStaebler's work can be seen locally at the City Center in Oakland, near the Museum of Modern Art in San Francisco, the M.H. DeYoung Museum in Golden Gate Park and in the Oakland Museum.
His work was the subject of a major museum retrospective in 1988-89, which traveled to San Francisco, Washington, D.C. and other cities.  A catalogue of this exhibition, "Stephen DeStaebler: The Figure" was written by Donald Kuspit, and features many works in bronze that were cast by Artworks Foundry.
*****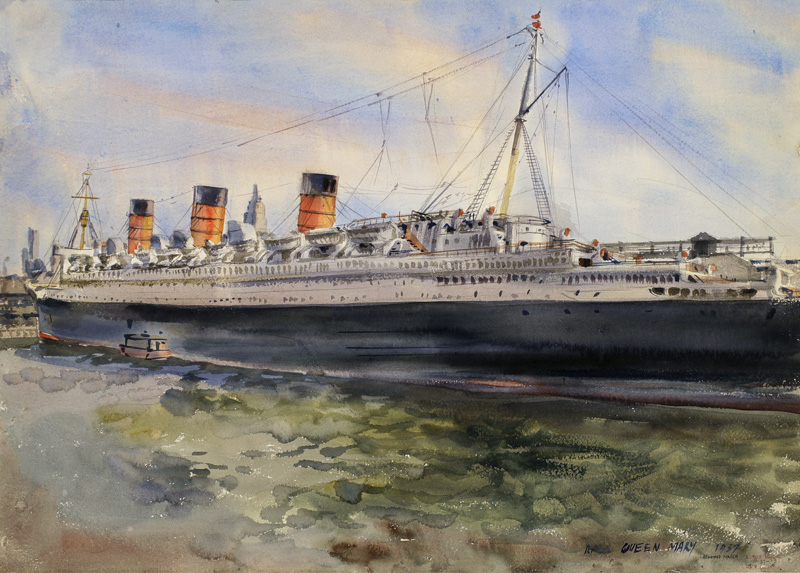 Queen Mary
Reginald Marsh (1898-1954)
Watercolor on paper, 1937. Bequest of Mrs. Felicia Meyer Marsh. 1979.1.5
Reginald Marsh was an American painter, born in Paris, most notable for his depictions of life in New York City in the 1920s and 1930s. Crowded Coney Island beach scenes, popular entertainments such as vaudeville and burlesque, women, and jobless men on the Bowery are subjects that reappear throughout his work. He painted in egg tempera and in oils, and produced many watercolors, ink and ink wash drawings, and prints.
Reginald Marsh was born in an apartment in Paris above the Café du Dome. He was the second son born to parents who were both artists. His mother, Alice Randall was a miniaturist painter and his father, Frederick Dana Marsh, was a muralist. When Marsh was two years old his family moved to Nutley, New Jersey.
Marsh attended the Lawrenceville School and graduated in 1920 from Yale University. At Yale Art School he worked as the star illustrator and cartoonist for campus humor magazine The Yale Record. He moved to New York after graduation, where his ambition was to find work as a freelance illustrator. In 1922 he was hired to sketch vaudeville and burlesque performers for a regular New York Daily News feature, and when The New Yorker began publication in 1925, Marsh and fellow Yale Record alum Peter Arno were among the magazine's first cartoonists.
A casual interest in learning to paint led Marsh, in 1921, to begin taking classes at the Art Students League of New York, where his first teacher was John Sloan. By 1923 Marsh began to paint seriously. In 1925 Marsh visited Paris for the first time since he had lived there as a child and he fell in love with what the city had to offer him. Although Marsh had appreciated the drawings of Raphael, Leonardo da Vinci and Michelangelo since he was a child—his father's studio was full of reproductions of the old masters' work—the famous paintings that he saw at the Louvre and other museums stimulated in him a new fascination with the old masters.
While exploring the works of European painters such as Titian, Tintoretto, and Rubens, Marsh met Thomas Hart Benton in one of the galleries in France. Benton, known today as a social realist, and regionalist painter, was also a great student of the Baroque masters. The resemblance Marsh saw between Tintoretto's famous works and Benton's motivated Marsh to try to paint in a similar way.
Marsh enjoyed experimentation with all his artworks and was therefore renowned for his unique techniques. In the early 1920s he began to work with watercolor and oil. He did not take to oil naturally and decided to stick to watercolor for the next decade. Yet, in 1929 he discovered egg tempera, which he found to be somewhat like watercolor but with more depth and body.
Reginald Marsh rejected modern art, which he found sterile. Marsh's style can best be described as social realism. Marsh's main attractions were the burlesque stage, the hobos on the Bowery, crowds on city streets and at Coney Island, and women. His deep devotion to the old masters led to his creating works of art in a style that reflects certain artistic traditions, and his work often contained religious metaphors.
Marsh was also drawn to the ports of New York. In the 1930s the harbors were extremely busy with people and commerce due to the country's necessity for economic recovery. The Great Depression brought about a decline in raw materials and therefore the demand for those materials grew dramatically, resulting in bustling harbors in big cities such as New York. Marsh would sketch the seaports, focusing on the tugboats coming in and out of the harbor, and capturing the details of the boats such as the masts, the bells, the sirens, and the deck chairs.
During the 1940s and for many years Reginald Marsh became an important teacher at the Art Students League of New York, which ran a summer camp where Marsh's students included Roy Lichtenstein. Lichtenstein was influenced by Marsh's subject matter in his work. Also in the 40s Marsh began making drawings for magazines such as Esquire, Fortune, and Life.
Shortly before his death he received the Gold Medal for Graphic Arts awarded by the American Academy and the National Institute for Arts and Letters. Marsh died from a heart attack in Dorset, Vermont on July 3, 1954.
*****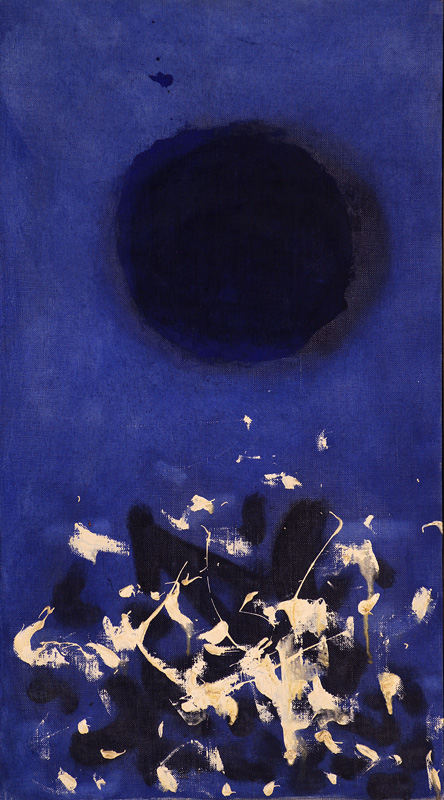 Blues
Adolph Gottlieb (1903-1974)
Oil on canvas, 1959. Gift of Mr. and Mrs. Donald Winston. 1978.3.4
Adolph Gottlieb was born on March 14, 1903 in New York. From 1920-1921 he studied at the Art Students League of New York, after which he traveled in France and Germany for a year. In the mid-1930's, he became a teacher using his acquired technical and art history knowledge to teach while he painted.
After his 1930's one-man show he won respect amongst his peers. In 1935, he and nine others, including Ben-Zion, Ilya Bolotwsky, Louis Harris, Jack Kufeld, and Mark Rothko, known as "The Ten" exhibited their works together until 1940. They would come to be known as the Abstract Expressionists.
Gottlieb's work and awards are found in the Dudensing Galleries in New York, the Guggenheim Museum.  Other places include Paris, Pennsylvania, Texas, Brazil, and others.  One thing that Gottlieb created was "Pictographs" and these are found in New York.
In 1932, he married Esther Dick.  In 1970, he suffered a stroke and was confined to a wheelchair because he paralyzed his left side of his body, but he still continued to paint.  In 1972, he was elected member of the National Institute of Arts and Letters.  On March 4, 1974, Adolph Gottlieb died in New York City.
*****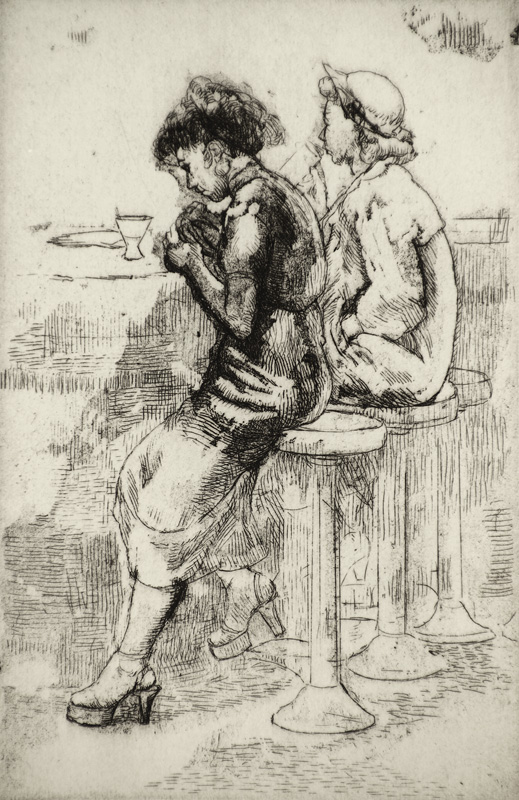 Snack Bar
Isabel Bishop (1902-1988)
Etching on paper, 1959. Gift of Ann and John MacGregor. 1995.8.8
Isabel Bishop was an American painter and graphic artist, who produced numerous paintings and prints of working women in realistic urban settings. She was widely exhibited in her lifetime, and was recognized with a number of awards including one for Outstanding Achievement in the Arts, presented to her by President Jimmy Carter in 1979.
Bishop was born in Cincinnati, Ohio and brought up in Detroit, Michigan, before moving to New York City at the age of 16 to study illustration at the New York School of Applied Design for Women. After two years there she shifted from illustration to painting, and attended the Art Students League for four years until 1924. It was there that she studied with Guy Pène du Bois and with Kenneth Hayes Miller, from whom she adapted a technique which owed much to baroque Flemish painting. During the early 1920s she also studied and painted in Woodstock, New York.
During the 1920s and 1930s she developed a realist style of painting, primarily depicting women in their daily routine on the streets of Manhattan. Her work was greatly influenced by Peter Paul Rubens and other Dutch and Flemish painters that she had discovered during trips to Europe. In 1932, Bishop began showing her work frequently at the newly opened Midtown Galleries, where her work would be represented throughout her career.
She returned to the Art Students League as an instructor from 1936 to 1937. In 1940, Bishop was elected into the National Academy of Design as an Associate member, and became a full member in 1941.
In 1938 she painted a post office mural, Great Men Came from the Hills in New Lexington, Ohio as a part of the Federal Art Project.
Bishop's mature works depict the inhabitants of New York's Union Square area, where she maintained a studio between 1934 and 1984. Her subjects are nearly always women who come from a blue-collar background, yet she was also known to produce panoramic landscape studies, and social scenes such as golf tournaments. Her portraits are often studies of individual heads Butler Institute of American Art; the emphasis securely on the subject's expression – or of solitary nudes. Bishop also delighted in multiple-figure compositions, often containing two females engaged in various workaday interactions. In the post-war years Bishop's interest turned to more abstracted scenes of New Yorkers walking and traveling, in the streets or on the subways.
*****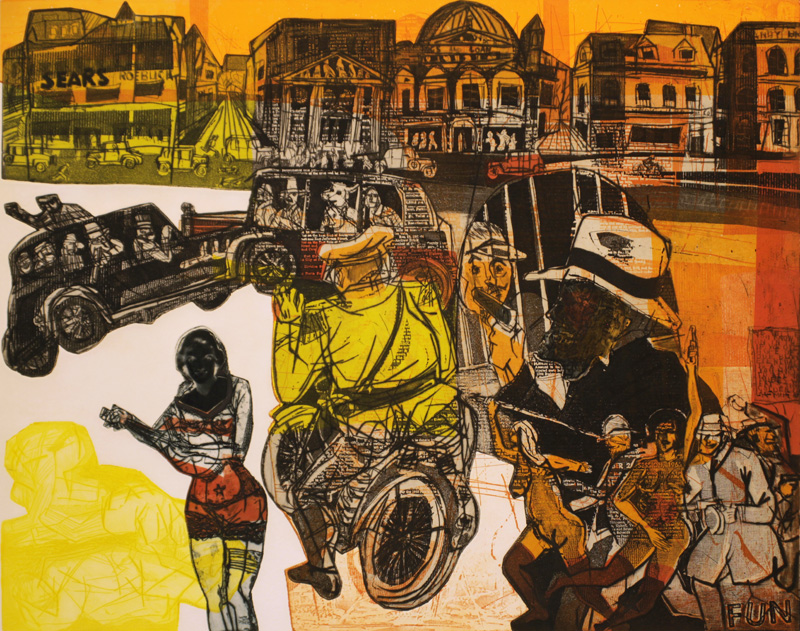 Dillinger: The Great Mason City Raid
Warrington Colescott (b.1921)
Etching on paper, 1965. Gift of Norwest Bank of Mason City. 1995.11.5
Wisconsin artist Warrington Colescott is best known for his satirical etchings.   Born in Oakland, California to parents of Louisiana Creole descent, food, music and Creole culture played a large role in upbringing.  Comic strips were also important to the young Colescott, especially the work of Des Moines Register cartoonist, Jay "Ding" Darling.  Darling's caricatural and narrative components greatly influenced Colescott's mature work.  As a teenager, he discovered vaudeville and burlesque.  The broad humor and slapstick, as well as the eroticism of these performances, would inform his art throughout his career.
Colescott created a series of etchings about the Depression-era gangster, John Dillinger, which grew into a suite of images mixing fact and fiction about the farm boy-turned-outlaw who mesmerized the public in the 1930s.  Colescott had no compunction about enhancing the narratives with imagined details and anachronistic additions.
Colescott portrayed Dillinger, known at the time as Public Enemy No. 1, as a super anti-hero in the series.  For The Mason City Raid, he came to the scene and interviewed locals who had been at the event.  Colescott's version of the crime has the feeling of a movie still, with department store signs in the background and gun molls accompanying the thugs.  Colescott observed, "The Dillinger men took their girls with them wherever they went.  I've tried to convey the feeling of the gang: very rowdy, very adolescent, very sexual."
On March 13, 1934, John Dillinger and his gang robbed the First National Bank in Mason City, Iowa, and escaped with approximately $52,000.  Surprised bank employees and citizens were used as shields from police gunfire.  A switchboard operator on an upper floor of the bank crawled to a window and shouted news of the holdup to a man in the alley.  He brandished a machine gun and shouted back, "You're telling me, lady?"  The man was Baby Face Nelson who was standing lookout.