Center Space Gallery
February 9 – April 13, 2024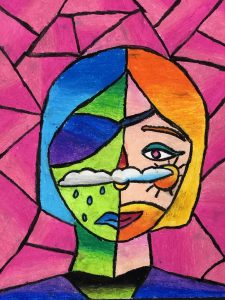 The Charles H. MacNider Art Museum sponsors an exhibition of student artwork each year with the annual School Art Exhibition to celebrate Youth Art Month (March). It honors both the inventiveness of students as well as the dedicated and resourceful work of art teachers in the schools. This year the spotlight shines on students in grades 5-8, celebrating their creativity and inspiration.
The purpose of Youth Art Month, traditionally observed in March, is to emphasize the value of art education for all students and to encourage support for quality school art programs. Demonstrated outcomes of art education have been shown to be development of critical thinking skills, self-esteem, appreciation of the work of others, self-expression and cooperative working skills. Art teachers from Central Rivers Area Education Agency, Clear Lake Regional Office schools are invited to enter the artwork of their students.
On Saturday, March 23, at 11 am we will celebrate the students' accomplishments and recognize their dedicated teachers. Recognition Certificates will be handed out at 11:30 am.
A special thank you to Alpha Delta Kappa, an honor sorority for women in education, for sponsoring the reception.