October 26, 2018 – January 2, 2019
Kinney-Lindstrom Gallery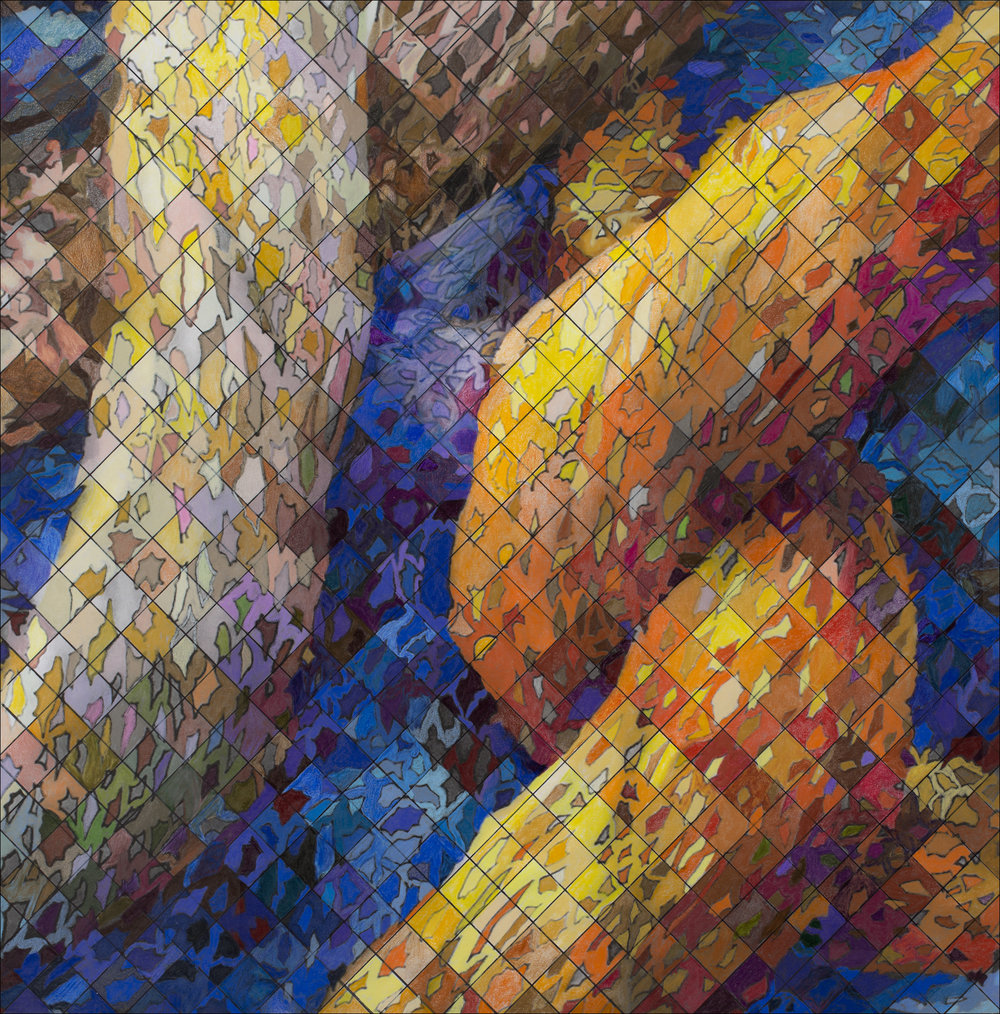 The Charles H. MacNider Art Museum is pleased to announce an exhibition of recent drawings, paintings and fiber sculptures by artist Sharon Kagan.  Sharon Kagan: Exploring Fiber is now open in the Museum's Kinney-Lindstrom Gallery.
Through her recent visionary paintings and drawings of highly abstracted fibrous forms, Sharon Kagan wants to expand and reinvigorate an elevated consciousness of being and of non-separateness. In her artist's notes she writes, "I am looking to make the eye vibrate." In so doing she anticipates creating a multi-dimensional sensorial and perceptual experience for the viewer that will render it unforgettable.
At the heart of Kagan's art are massively enlarged, blurry, 3 mega-pixel photographs of close-up details of knitted stitches which she then transforms using Prismacolor pencils and acrylic paint. The artist's enlarged color-speckled strand-like forms seem to operatically swerve and loop within the field of vision. That field is a deep space that is given breadth and dimensionality by the artist's application of a linear superstructure of gridded units that imbue her work with a rational system.
Sharon Kagan's intensely detailed, finely colored and systematized paintings and drawings reveal a unique approach to image-making and a vision that straddles the worlds of appearances and essences. Her unique tonalities and systematized touch create radiant artworks that appear to be illuminated from within. The artist's specially fabricated wall structures are canvas-covered wood panels with beveled edges that give the optical sensation of hovering in front of the wall as her intricate compositions emanate with other-worldly, vibratory power.
Sharon Kagan received her MFA from Otis Art institute in 1979. She received her BA in Painting and Sculpture from UCLA in 1976. Kagan teaches in the art department at Santa Monica College and previously at Antioch University in Los Angeles. In 2003 Kagan co-wrote with Sarah La Saulle Healing a Broken Heart (Simon and Shuster). She has had a number of notable solo and group exhibitions at well-known venues such as the Santa Monica Museum of Art, Pete and Susan Barrett Gallery Santa Monica College Art Gallery, Gallery 825, and Patricia Correia Gallery.
Sharon Kagan: Exploring Fiber will be on display until January 2, 2019.  The Charles H. MacNider Art Museum is free and open to the public during regular business hours.