September 3 – October 16, 2019
Kinney-Lindstrom Gallery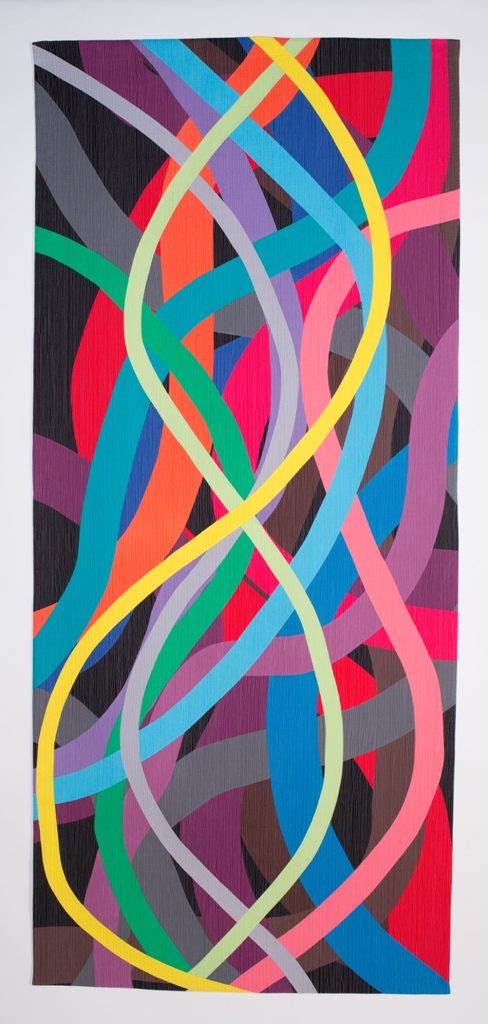 Material Pulses: Seven Viewpoints, an exhibition focused on the art of quilt-making, presents seventeen works by seven fiber artists representing the United States, Canada, and the United Kingdom. Curated by internationally renowned artist and teacher Nancy Crow, Material Pulses contributes to the dialogue of contemporary textile arts. Says Crow, "Material Pulses is the culmination of my mission to bring back the majesty, strength, and energy of textile works, particularly large quilts." The exhibitionopens September 3 at The Charles H. MacNider Art Museum. It is sponsored locally by the Mason City Clinic, PC and the David & Phyllis Murphy Charitable Foundation.
Crow has seen trends in the medium follow a track of smaller quilts in more neutral colors, and asked, why? The pull of quilting lies in its large, forceful presence and the freedom to use color joyously. Making a quilt is a physical activity, involving piecing parts on working spaces that can span entire walls.
The exhibition features quilts, mixed media, and installation work. Quilts of up to 101 inches high will be featured, for dramatic scale of an art form that is often relegated to its functional qualities. The artists investigate color, pattern, and size through traditional and experimental quilt-making applications. The curator balances a focus on shapes with oversized works, exploring excellence in machine quilting and surface design.
The exhibition's artists bring their techniques and vision to realizing this celebration of contemporary textile arts. Among them, Elizabeth Brandt balances large geometric and organic shapes, while at the same time flirting with a demanding dark palette. Jayne Willoughby's work on one side seems contemplative, while the other spouts riotous color systems. Mary Lou Alexander has been exploring shibori (a Japanese dyeing method) for decades, and utilized this technique to exemplify the beauty of mark-making. Barb Wills printed her fabrics, both cotton and silk, with original woodcuts created from Shina wood, using cutting tools from Japan.
The exhibition artists are Denise L. Roberts, Albright, WV; Claire Benn, Surrey, England; Jayne Willoughby, Edmonton, Alberta, Canada; Mary Lou Alexander, Hubbard, OH; Christine Mauersberger, Cleveland, OH; Barb Wills, Prescott, AZ; and Elizabeth Brandt, Holland, MI.
Curator Nancy Crow has taught quilt-making as an art form in Australia, Austria, Belgium, Canada, Denmark, England, Finland, Germany, Ireland, Japan, New Zealand, South Africa, Spain, Switzerland, and the United States. She is the cofounder of Quilt Surface Design and Quilt National. The exhibition is organized by ExhibitsUSA, a program of Mid-America Arts Alliance.
About ExhibitsUSA
This exhibition is toured by ExhibitsUSA, a national program of Mid-America Arts Alliance. ExhibitsUSA sends more than twenty-five exhibitions on tour to over 100 small- and mid-sized communities every year. These exhibitions create access to an array of arts and humanities experiences, nurture the understanding of diverse cultures and art forms, and encourage the expanding depth and breadth of cultural life in local communities. For more about ExhibitsUSA, email MoreArt@maaa.org or visit www.eusa.org.
About Mid-America Arts Alliance
Mid-America Arts Alliance (M-AAA) strengthens and supports artists, cultural organizations, and communities throughout our region and beyond. We achieve this primarily through our national traveling exhibition programs, innovative leadership development, and strategic grant making. We are especially committed to enriching the cultural life of historically underserved communities by providing high quality, meaningful, and accessible arts and culture programs and services. We believe in more art for more people. Additional information about M-AAA is available at www.maaa.org.
Material Pulses: Seven Viewpoints will be on display at the Charles H. MacNider Art Museum through noon on October 16. Admission to the museum is free. Regular hours are: Tuesday, Thursday – 9 a.m. – 8 p.m.; Wednesday, Friday, Saturday – 9 a.m. – 5 p.m.; Sunday, Monday – closed.
In conjunction with the Material Pulses: Seven Viewpoints exhibition there will also be a contemporary quilt making workshop held at the Museum on September 28-29. The September 24 Lunch 'n' Learn topic will also be quilt themed.