August 17 – October 10, 2018
Kinney-Lindstrom Gallery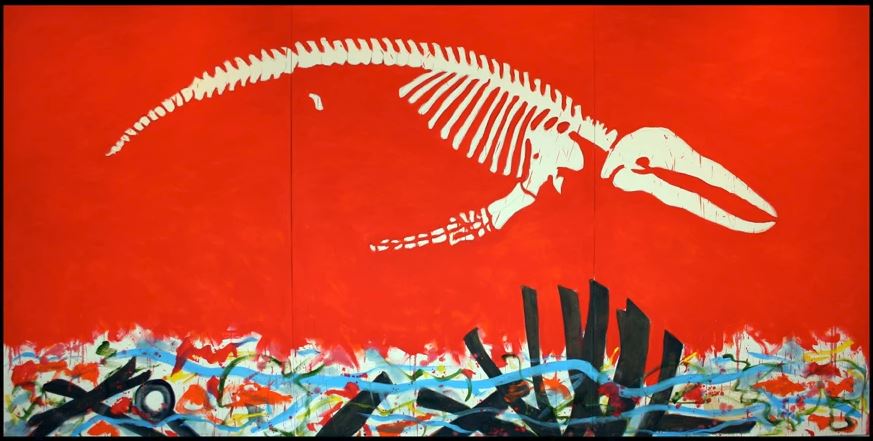 Kim Bromley – Moby Dick: In the Heart of the Sea opens in the Charles H. MacNider Art Museum's Kinney-Lindstrom Gallery on Friday, August 17.  The exhibition will run through Wednesday, October 10.
Kim Bromley – Moby Dick: In the Heart of the Sea features twenty-five oil paintings inspired by the books Moby Dick and In the Heart of the Sea.  The smaller In the Heart of the Sea artworks merge seamlessly with the larger, more colorful, Moby Dick paintings to create a wonderfully complete show.  Viewers do not need to have read either of the books to feel the impact of the exhibition.
In discussing his Moby Dick series Kim states: "One encounters many surprises in life, some good, others not so good. My 'Moby-Dick' series of paintings are works of art dealing with the many issues involving these surprises life presents. These paintings develop from my own personal life experiences, life experiences as Melville presents aboard the Pequod. These experiences are human experiences we can all relate to in some way."
Originally from Iowa, Kim teaches painting and drawing as a professor of art at North Dakota State University.  He joined NDSU as Coordinator of the Department of Visual Arts in 1996. Previously, he taught at Kentucky Wesleyan College, Owensboro Community College, DePaul University and Prairie State College. He and his wife Gretchen live in their new home, designed by Gretchen, by their pond just outside Pelican Rapids, MN.
For more information about Kim Bromley and his artwork please visit www.kimblebromley.com