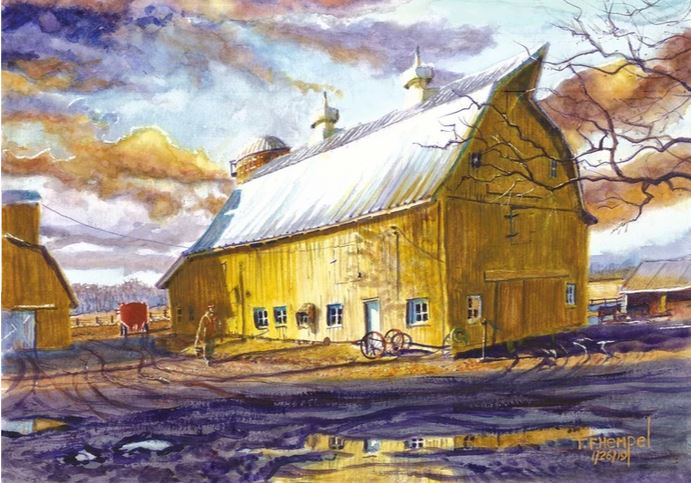 The Charles H. MacNider Art Museum is pleased to present the Iowa Watercolor Society's 2019 – 2020 Traveling Show, opening Wednesday, July 8, in the Museum's Center Space Gallery.
The Iowa Watercolor Society (IWS) is an organization with over 170 members that are beginning, amateur and professional artists. The IWS offers the opportunity for watercolorists of all skill levels to network with artists statewide. The only requirement for membership is an interest in watercolor painting. The IWS, organized in 1977 by a group of devoted artists that loved watercolor painting, was first led by Joe Messner of Cedar Rapids.
Each year the IWS sponsors an annual meeting, a juried exhibition, a luncheon with an award ceremony and workshops. The organization's primary purpose is to promote and encourage interest in water based media in Iowa. Please visit www.iowawatercolorsociety.org for more information.
The 2019-2020 IWS Exhibition consisted of sixty paintings chosen from 150 entries from IWS members across Iowa. The traveling exhibit of thirty paintings was selected from the main exhibition and includes the five IWS Awards of Excellence, Best Transparent Watercolor and Honorable Mentions. One can truly say that the Traveling Show is the best of the best.
Alexis Lavine, as signature member of the National Watercolor Society, juried this year's annual IWS exhibition. Lavine has devoted the last two decades to watercolor painting and teaching. She has recently been designated as one of Watercolor Artist Magazine's "Ones to Watch." This is an accolade of great distinction. She lives and paints in central North Carolina, except in winter, when she migrates to the Virgin Islands.

Alexis Lavine has a B.A. in Studio Art from the University of Maryland and a M.A. in Medical Illustration from Johns Hopkins University. She is a signature and life member of the Transparent Watercolor Society of America and the Baltimore Watercolor Society. Lavine is also a signature member of the National Watercolor Society, the Watercolor USA Honor Society, Watercolor West, the North East Watercolor Society, the Southern Watercolor Society, the Watercolor Society of North Carolina and the Piedmont Outdoor Painting Society.
The Iowa Watercolor Society's 2019 – 2020 Traveling Show will be on display at the Charles H. MacNider Art Museum from July 8 to August 26, 2020.
Please Note: Museum hours and access to the building have changed. Please visit the Museum's website, macniderart.org, for the most up to date information and visitor instructions. You can also call the Museum at 641-421-3666.
#30#
Image: Tom Hempel, Yellow Barn, watercolor, 2019 – Honorable Mention award winner