March 3 – April 29, 2017
Center Space Gallery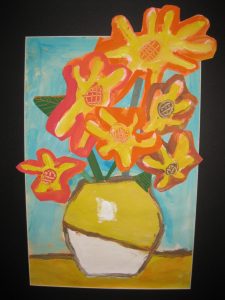 The Charles H. MacNider Art Museum sponsors an exhibition of student artwork each year with the annual School Art Exhibition to celebrate Youth Art Month (March).  It honors both the imagination of students as well as the dedicated and resourceful work of art teachers in the schools.  This year's show features the artwork of elementary school students. Visit this fun and creative exhibition and see what future generations of artists are creating right now!
On Saturday, March 25, at 10 a.m. we will celebrate the students' accomplishments and recognize their dedicated teachers.  Award Certificates will be handed out at 10:30 a.m.
Image from the previous elementary school art exhibition in 2014 – Haden Weber, "Van Gogh Inspired Arrangement", Roosevelt – 1st Grade.